Wherever you go in Spain, from the rolling hills of the Basque Country to the rugged coast of Asturias, you'll be enticed by the country's irresistible cheeses. 
A veritable culinary powerhouse, Spain produces over 100 different types of cheese, with each region offering up its own varieties. 
Are you planning a trip to Spain and want to taste your way through the country? Or just a foodie seeking to learn more about Spain's lip-smacking cheeses? Then this guide is for you.
Read on to learn everything you need to know about Spanish cheeses — why they're so delicious and which ones you must try.
About Spanish Cheese
What Makes Spanish Cheeses So Special?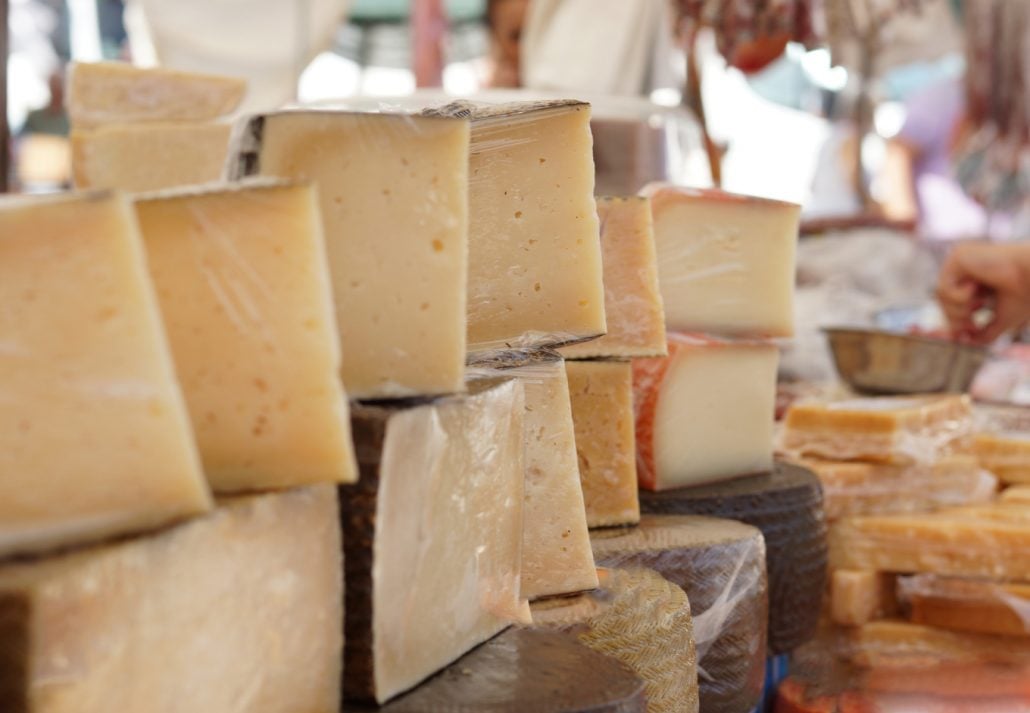 Spain produces well over 100 different varieties of cheese, each with its unique spin and flavor. Factors like the type of milk (cow, sheep, goat, or a mixture), the region, the production methods, and the aging/curing process all affect the final product.
And even though you'll find a great emphasis on sheep and goat cheese, cow's milk cheeses account for the greatest cheese production in the country —  they're just less famous than sheep's milk Manchego and The Drunken Goat™, which are the best-known Spanish cheeses.
Recommended Read 7 Great Things To Do In Bilbao, Spain
In Which Regions Are The Spanish Cheeses Made?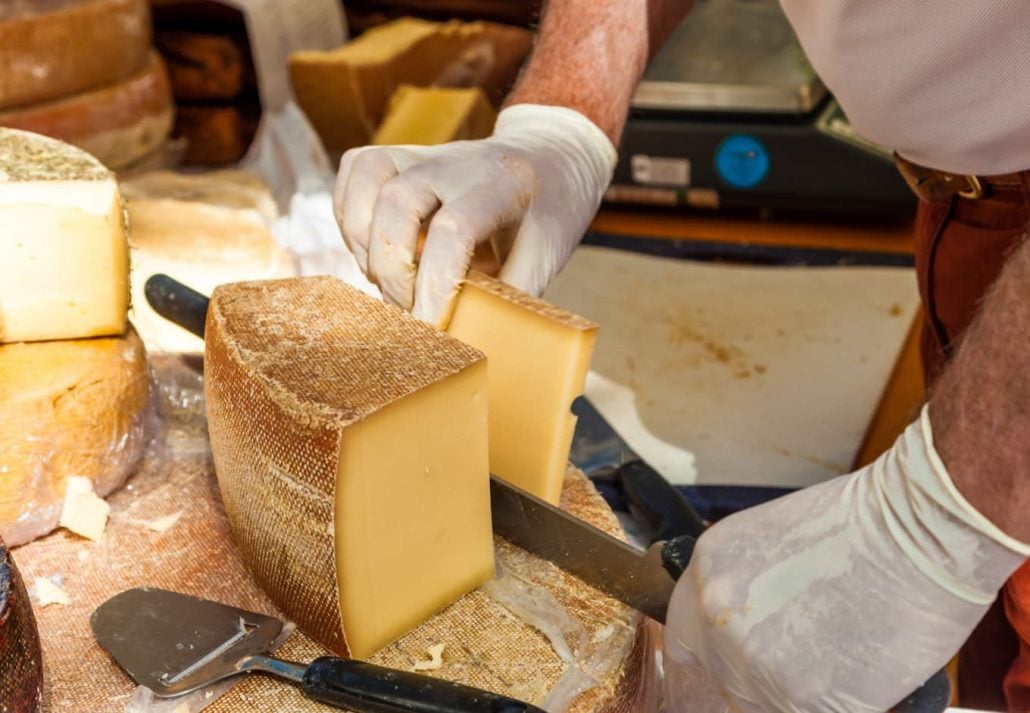 Thanks to Spain's diversity in climate and geography, the country is able to produce a rich variety of cheese. Cow's milk cheeses are found in the north, along the Cantabrian coast and northern Cantabric Mountain Range, from Galicia to the Basque Country, and in the Pyrenees.
Goat's milk cheeses are produced mainly along the regions of the Mediterranean coast, from Catalonia to Andalucia, while the Canary Islands and the Balearic Islands produce both goat's milk cheese and mixed milk cheeses, the quesos mezcla.
Spain uses the DOP system for its cheese classification, and 28 kinds of cheese are classified as Protected Designation of Origin (D.O.P.—Denominación de Origen Protegida) by Spain and the European Union, with more being added over time.
These origin controls regulate every aspect of production – from which hills animals can graze on, to how humid the curing room can be – to ensure the quality of the product.
The DOP Regions are:
Afuega L'Pitu – Asturias
Arzua-Ulloa – A Coruna
Cabrales – Asturias
Queixo de Cabreiro – Ourense
Gamonedo – Asturias
Queso de L'Alt & La Cerdanya – Catalonia
Picon / Bejes /Tresviso – Ciudad Real
Queso Camerano – Badajoz
Queso Casin – Asturias
Queso de la Serana – Badajoz
Queso de Mahon – Menorca
Queso de Murcia – Murcia
Murcia al Vino – Murcia
Mahon – Menorca
Picon – Ciudad Real
Queixo de Cabreiro – Ourense
Queso Flor de Guia – Las Palmas
Queso Ibores – Caseres
Queso Idiazabel – Gibuzkoa
Queso Majorero – Fuerteventura
Queso Manchego – Ciudad Real
Queso Nata de Cantabria – Cantabria
Queso Palmero – La Palma
Queso Roncal – Navarra
Queso Tetilla – Galicia
Queso Zamorano – Zamora
Quesucos de Liebana – Cantabria
Roncal – Navarra
San Simon de Costa – Galicia
Torta del Casar – Exremadura
Types of Spanish Cheese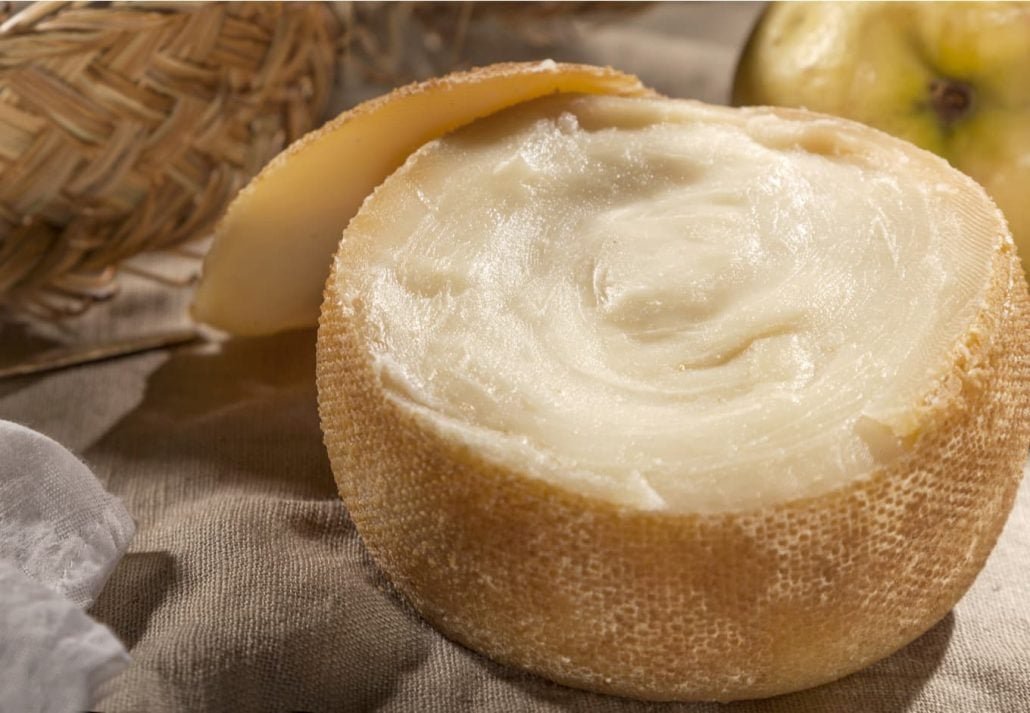 Spanish cheeses can be divided into three main categories:
Queso Fresco (Fresh Cheese): This is a cheese that has not been cured or aged in any way. As it has to be eaten within days of being produced, you can only find it in the Spanish region it's made in.
Queso Semi Curado (Semi-Cured): The semi-cured cheese that has been aged for around two to five months.
Queso Curado (Cured): Firm, nutty and crunchy, this is a cheese that has been cured for 5 months or more.
The 10 Best Spanish Cheeses To Try
Manchego Cheese
Found in tapas bars across the country and known in the four corners of the world, Manchego is the most famous Spanish cheese. The cheese is made in the arid plains of the La Mancha region, in central Spain, from the milk of the Manchego sheep (that's why it's called Manchego). 
There are two types of Manchego cheese: semi-cured, which is aged for at least 2 months, and cured, which is aged for 9-12 months. 
Not by chance, the Manchego cheese can vary in flavor and texture depending on how long it has been aged. Semi-cured Manchego cheeses are more moist and supple. More mature versions have a drier and crumblier texture.
Pairs well with: This versatile cheese goes perfectly with red wine, fruits such as figs, nuts, sun-dried tomatoes, and extra virgin olive oil.
Recommended Read The 9 Best Places To Visit In Mallorca, Spain
Queso Cabrales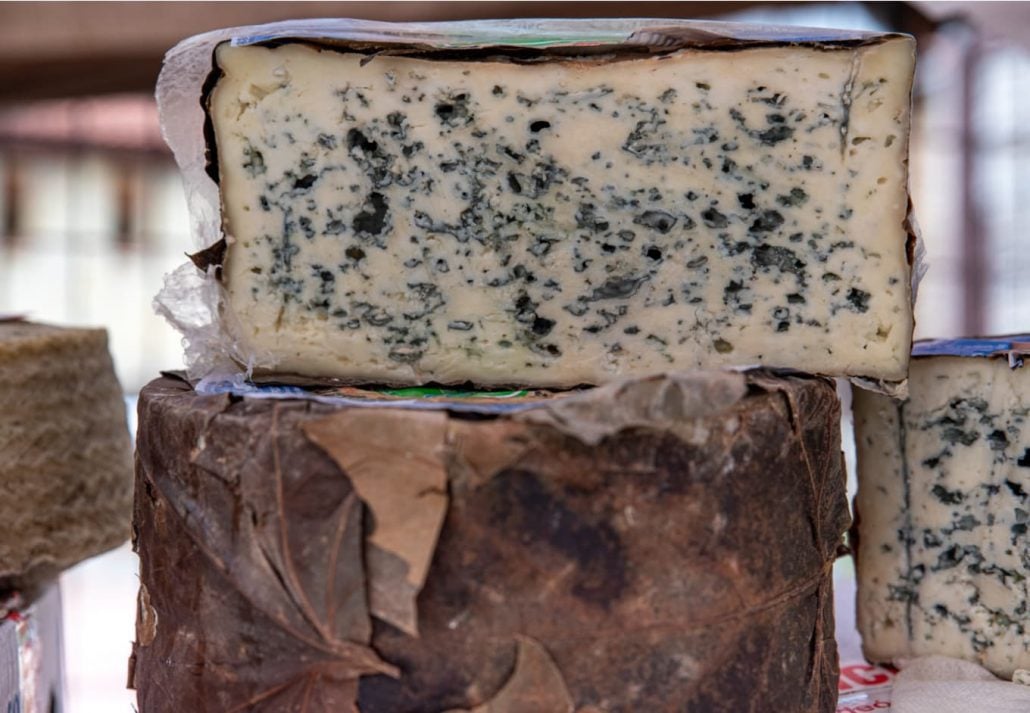 Also known as Quesu Cabrales, and Cabraliego, the flavorful Cabrales cheese is Spain's best-known blue cheese. It's made with cow, goat, and sheep's milk in the caves of the Picos de Europa mountains, in the Asturias region of northwest Spain. 
Made by rural dairy farmers, the Cabrales cheese has a penetrating aroma, and a sharp, acidic, and slightly salty flavor. The initial curing period takes around two weeks, and then the cheese is aged for a further to 2 to 5 months in natural caves in the limestone mountains of the area. 
Pairs well with: Known for its intense flavor, the Cabrales cheese pairs perfectly with sweet things like fresh figs, honey, dried fruits, and orange jam.
Torta del Casar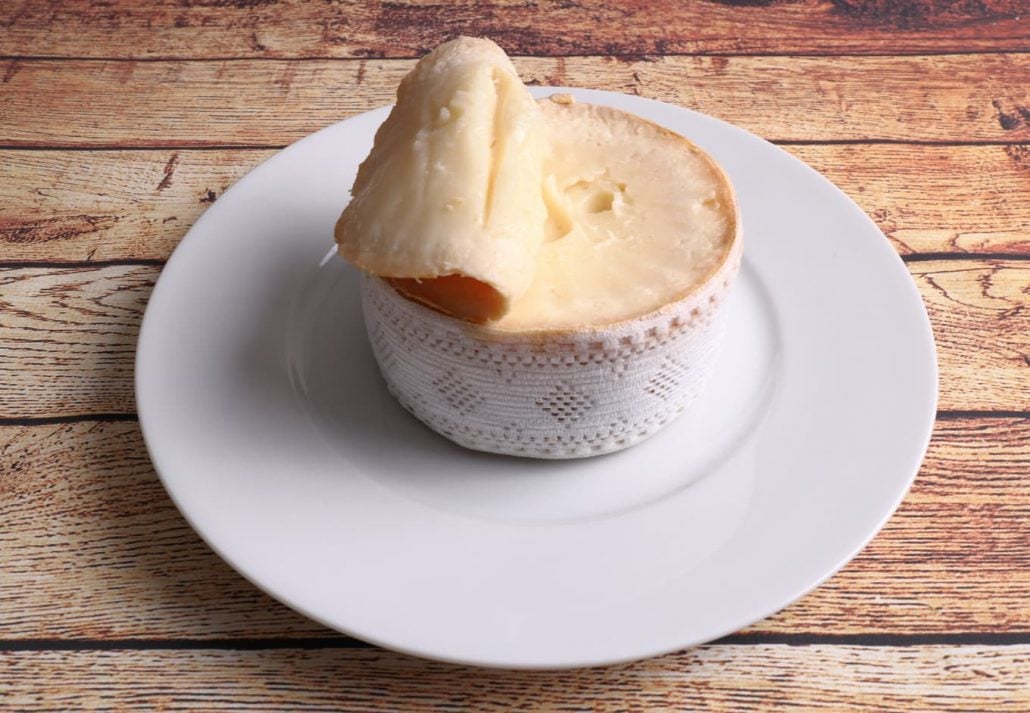 Encompassing mountains, forests, and nature reserves, Extremadura is the Spanish region where the unique Torta del Casar cheese is made. This extremely creamy cheese is made from the raw milk from Merino and Entrefino sheep. Named after Casar de Cáceres, its city of origin, this cheese is shaped like a cake, or "torta".
While maturing for at least 60 days, Torta del Casar develops a semi-hard and yellow/ochre crust. On the inside, the cheese has a spreadable, creamy, and runny paste.
Trying Torta del Casar is a mouthwatering experience that will tantalize your tastebuds. The cheese, which is traditionally eaten as an appetizer or a dessert should first be brought to room temperature and eaten by slicing off the top and scooping out the creamy ripe filling inside.
Be sure to keep the top layer that should be used as a cover so that the cheese does not dry out when you finish eating it.
Pairs well with: Crusty bread and slices of chorizo or Jamón serrano. Sparkling wines like Cava also go well with Torta del Casar.
Recommended Read The 12 Best Things To Do in Valencia, Spain
Mahón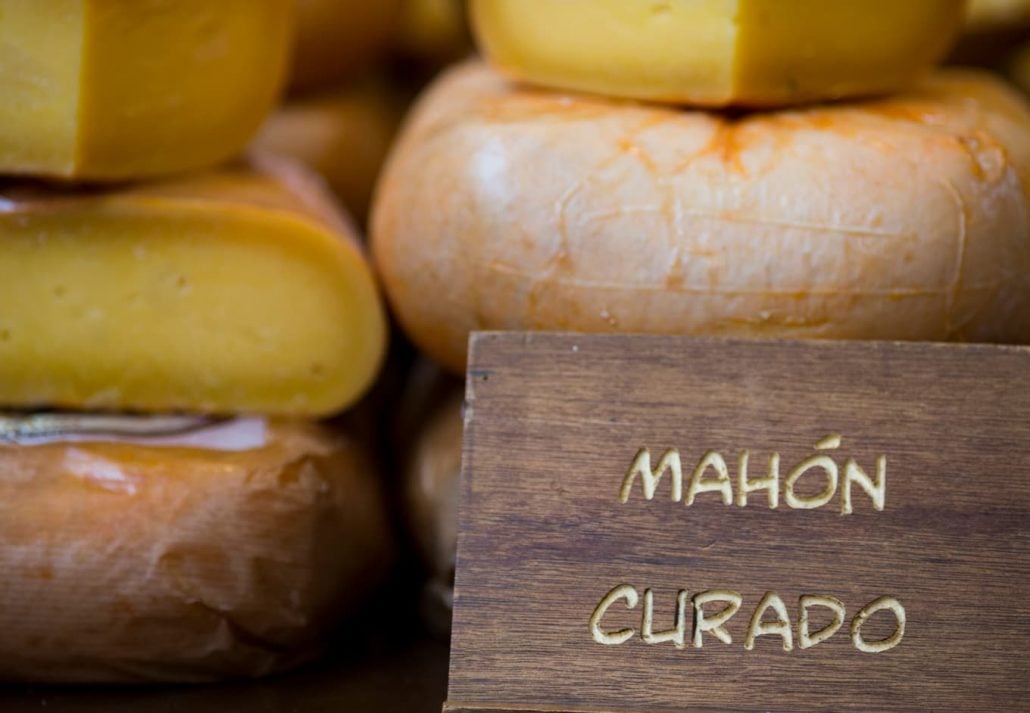 While sheep and goat's milk cheese are the best-known varieties in Spain, the country also produces some lip-smacking cheeses made from raw cows' milk. One of the most delicious is, unarguably, the Mahón cheese, which is named after the port of Maó, on the island of Menorca, off Spain's Mediterranean coast.
Crumbly and dense, this semi-hard cheese can be made with either raw or pasteurized milk, and it has a nutty, slightly sweet, and buttery flavor. The cheese ages from 2 to 10 months, and during the maturating process, Mahón is hand-rubbed butter, paprika, or oil for extra flavor.
The Artesano Mahón (Artisanal Mahón) is made with raw milk and aged from 2 to 3 months, and it's superior in flavor to the aged version. The Mahón Reserva (Aged Mahón), is harder and drier in texture, and saltier in taste.
Pairs well with: This crumbly, buttery cheese can be paired with artisanal chorizo and dried fruit, but if you want to eat it the traditional way, just sprinkle it with freshly ground black pepper, olive oil, and tarragon.
Tetilla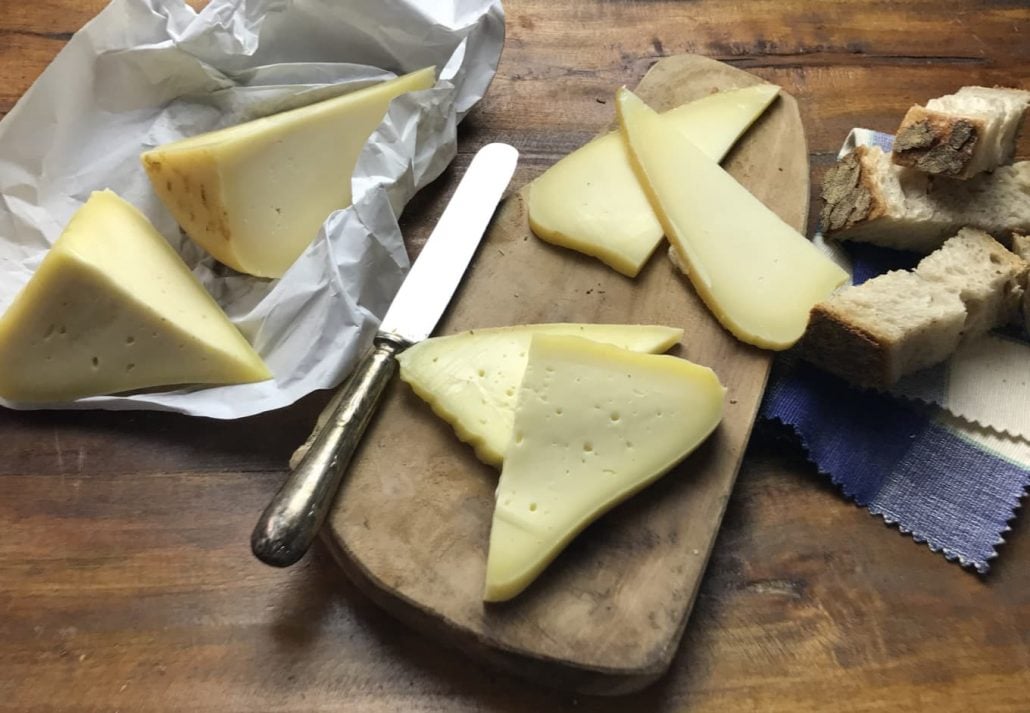 Tetilla is a semi-soft creamy and buttery cheese made with cow's milk in the region o Galicia, in the North of Spain, which is known for its predominantly farming culture.
Named after the Spanish word "tetilla", which means nipple in Spanish, this cone-shaped cheese can be made from pasteurized or unpasteurized cow's milk from the herd of Friesians, Alpine Browns, and Rubia Gallega cows. 
The maturing process takes place between 10 and 30 days, making the texture range from soft to firmer, depending on how long it's aged.
Tetilla Cheese has a thick straw yellow crust, and it's smooth and spreadable on the inside, with a creamy mouthfeel and a buttery flavor.
Pairs well with: Nuts, honey, jamón Serrano, and chorizo.
Recommended Read 50 + Interesting & Fun Facts About Barcelona, Spain
Idiazábal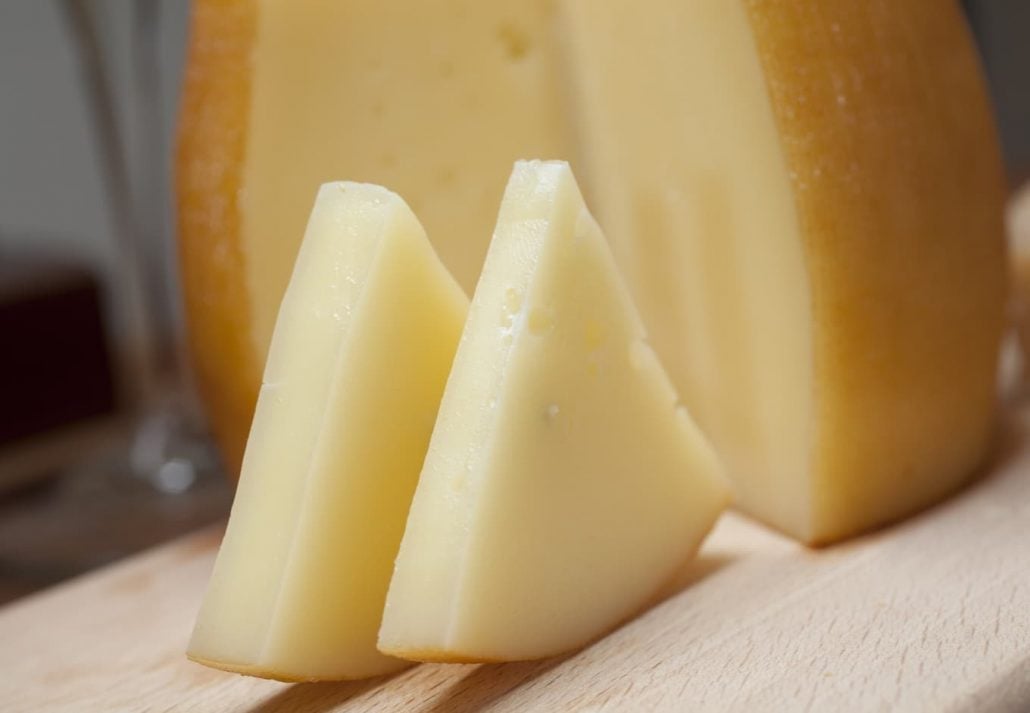 Named after the village where it's produced, the Idiazabal cheese is made from the milk of Latxa and Carranzana sheep, in the Basque Country and Navarre region of Spain.
This sheep's milk cheese is dry, but not crumbly, and it has a tantalizing lightly smoked flavor that is reminiscent of burnt caramel and bacon. That's because, at the end of the aging process, the cheese is smoked with cherry wood, hawthorn, or beech wood. The intensity of the smoked taste depends upon the intensity and length of the process, as well as the woods used. 
Pairs well with: This traditional Spanish cheese goes best with a simple red wine like tempranillo, or fruity beers.
Torta de la Serena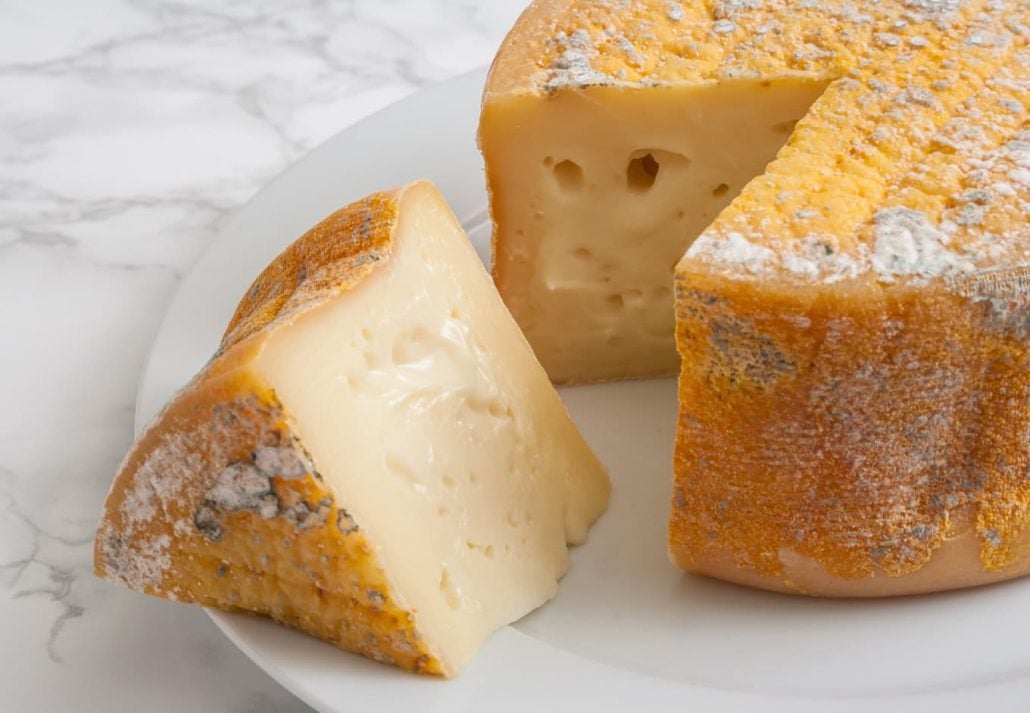 Simply called La Serena, Torta de La Serena is a popular Spanish cheese made from Merino sheep's milk in the county of La Serena, in Extremadura. Matured for a minimum of 60 days, the cheese has a buttery and spreadable texture and a remarkable aroma of aged sheep milk.
The flavor varies according to the cheese's age — buttery when it's young, and bitter when it's mature.
This creamy soft cheese should be consumed at room temperature, removing the top and spooning it out with some bread.
Pairs well with: Bread, and a glass of Cava or Port.
Recommended Read Basque Country — Food Culture and Top Locations
Garrotxa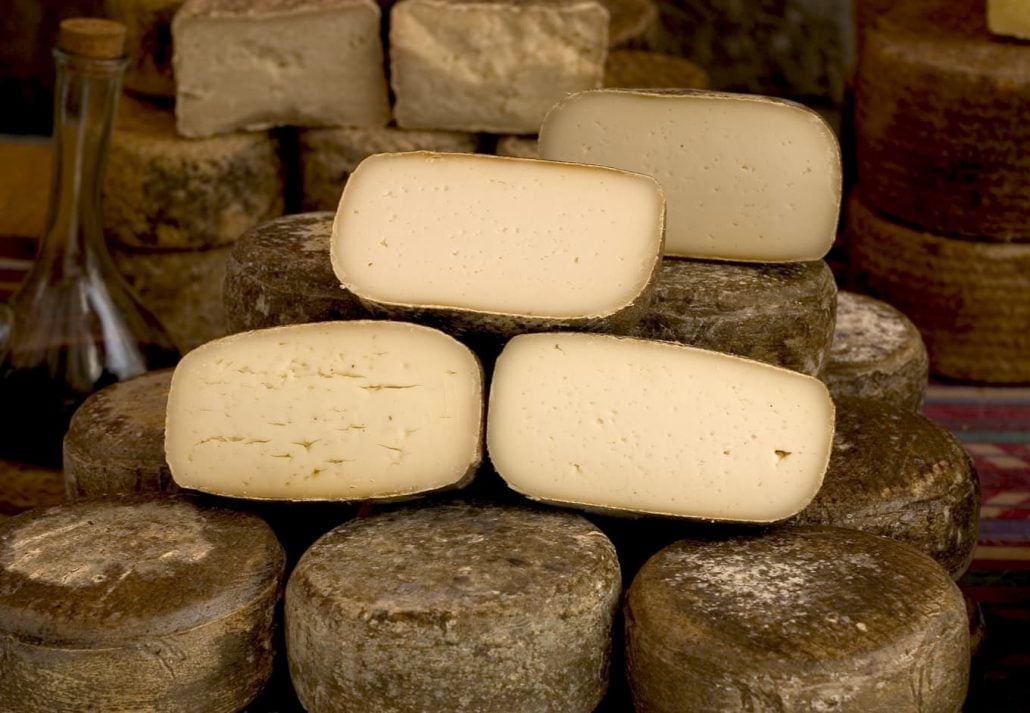 Produced in the foothills of the Pyrenees, in Northern Spain, Garrotxa is a Catalan cheese made from pasteurized goat's milk. Creamy, and flaky, this superb cheese was almost extinct when some young cheesemakers reviver it in 1981, and it's currently crafted by a small number of artisans.
Aged for 75 days in natural caves, Garrotxa is a semi-firm cheese with a creamy texture and an herbaceous and nutty flavor.
Pairs well with: Crusty bread, walnuts Spanish ham, and white wines like Pinot Gris, Verdejo, or Chardonnay.
Nata de Cantabria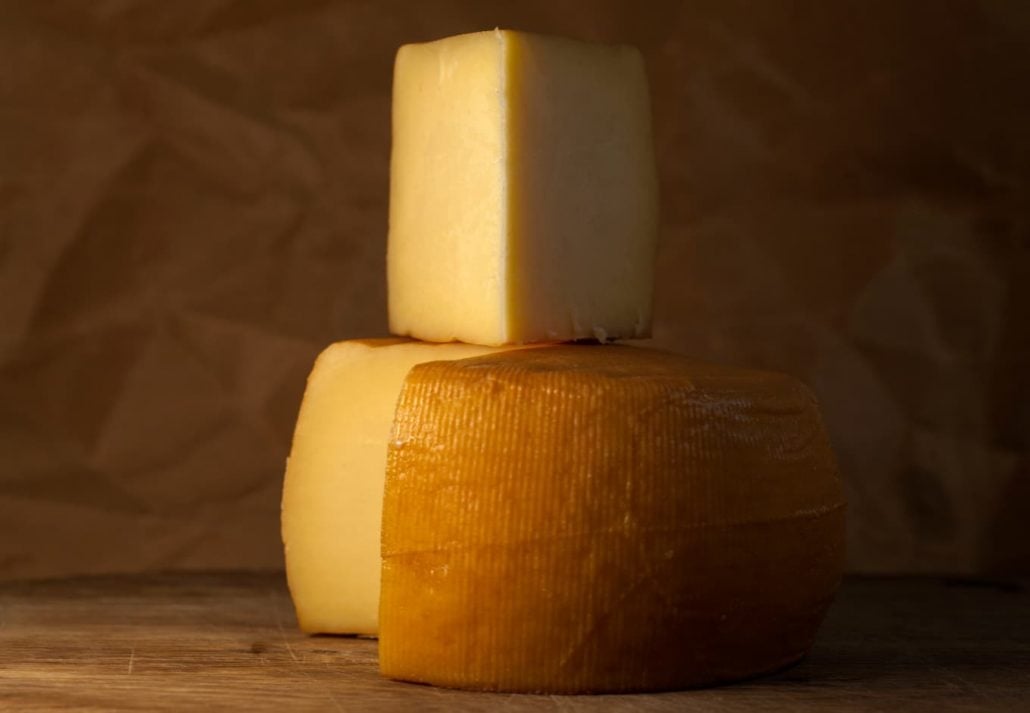 Produced in the coastal region of Cantabria, in Northern Spain, Nata de Cantabria is a hard cheese made from raw cow's milk. The cheese is aged for at least 7 days, and usually between 14 days and two months.
The flavor of Queso Nata de Cantabria is mild, sweet, and sharp, and the texture is firm, smooth, and buttery.
Pairs well with: Bread, nuts, and white and red light wines.
Recommended Read A Complete Guide To The 15 Best Festivals In Spain
Roncal Cheese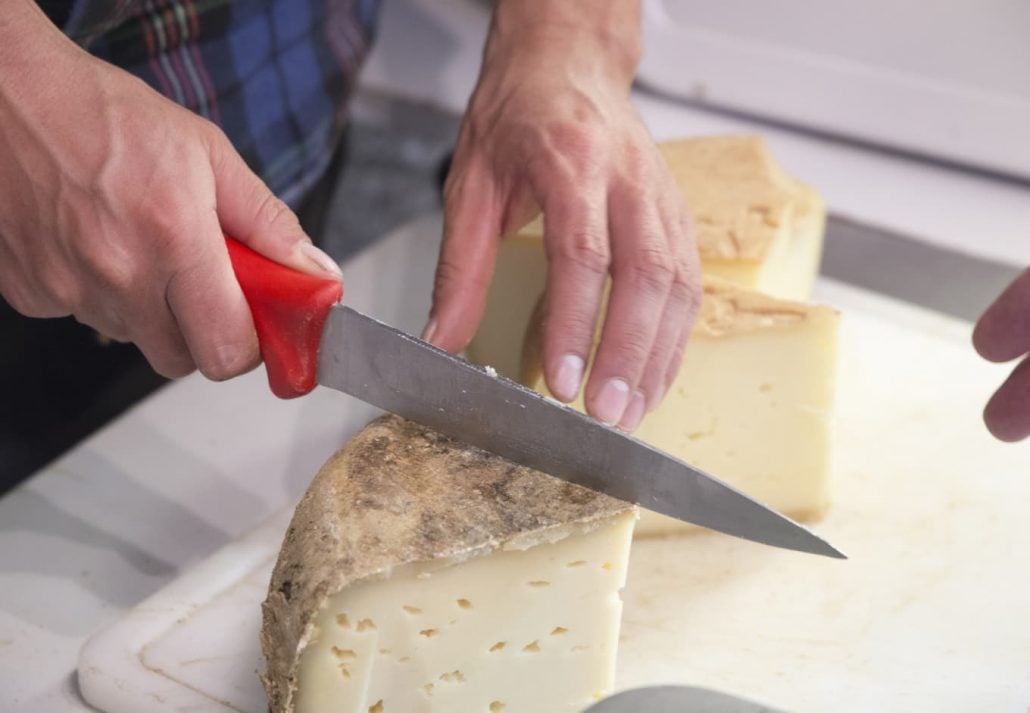 Produced in the Roncal Valley, in the Basque territory, with a recipe dating back 3,000 years Roncal is a wheel-shaped cheese often considered a suitable alternative to Manchego.
This traditional artisan cheese from Spain is made from raw sheep's milk aged for about 6 months, and features complex flavors, with notes of lanolin and butterscotch.
Roncal cheese is firm but still creamy, and it has a cheddar-like saltiness.
Pairs well with: The cheese is great with raw vegetables, and cured pork, and it can be cubed up and served with fruits and nuts.
FAQ
What is the most popular cheese in Spain?
The Manchego cheese is the most popular one in the country.
What cheeses do they eat in Spain?
There are almost 200 types of cheese produced in Spain. The most popular are the Manchego, Idiazabal, Tetilla, and Torta del Casar.
Is cheese popular in Spain?
Yes. They eat it as appetizers, tapas, or even as dessert. Some Spanish cheeses, like Manchego, are also known worldwide.
Is Iberico cheese the same as Manchego?
They're different. Similar to Manchego, Iberico is made from a blend of cow's, goat's, and sheep's milk
What is the best Spanish cheese?
It all depends on your taste. If you want a creamier cheese, try Torta del Casar, or Tetilla. If you're craving a slice of blue cheese, try Queso Cabrales.
How do you eat Spanish cheese?
This also depends on the type of cheese. Some are great with nuts, others with fruits such as figs, and others with a slice of rustic bread. You can also eat them as tapas and pair them with jamón, chorizo, and olives.
Browse. Book. Stay.
CuddlyNest provides all accommodations to all travelers at an unbeatable price. Find unlimited travel inspiration on our blog and social media channels.
You May Also Like:
Best Vegan Restaurants in Alicante, Spain
Top Spain Travel Apps
Spain Culture Travel Tips
Tourist Attractions in Barcelona
Best Cities to Visit in Spain
Madrid With Kids: 12 Fun Things To Do In The City
Best Museums In Madrid, Spain
Tourist Attractions in Barcelona
Best Cities to Visit in Spain
La Tomatina Festival, Spain
Eating Tapas In Granada, Spain
The Ultimate Guide to Lobos Island, Spain
The Best Time To Visit Madrid, Spain