Christmas is a date of great importance for the whole family and their loved ones. But New Year's Eve is also a precious day, as families and friends reunite to celebrate an exciting new beginning. And there's no better way to welcome a new year than by traveling to an exciting and new destination.
A holiday trip, either with family or friends, can be a great opportunity to breathe new air, recharge, and enjoy the happy atmosphere that takes place all over the world.
Across the globe, there are several different events that celebrate New Year so, in case you're still deciding on where to go, there is a showcase of destinations to choose from.
For a cosmopolitan holiday surrounded by skyscrapers, museums, and hype restaurants, go to New York and watch the ball drop in Times Square on New Year's eve. For some relaxed time around nature, ring in the new year by spending a few days in Thailand, where you stay at a wellness boutique hotel in front of the ocean. The options are endless.
With the cancellation of several New Year's Eve parties across the world, a good idea is to opt for a staycation in a nearby city, or travel internationally (if you can) and rent a cozy vacation home in your destination of choice. That way you can host a dinner party with a few close people, open a bottle of champagne, and watch the fabulous fireworks display online. You can also use the ideas from this list to plan a New Year trip for the upcoming years!
For you to experience the most memorable New Year's Eve in 2023 or in a near future, we've gathered the top travel destinations where you can see spectacular fireworks, light shows, and a great deal of fun to ring in the year with a bang.
Note: Make sure to double-check COVID 19 precautions, protocols, and operating hours before you visit any of these sites.
Best New Year's Eve Celebrations Around The World
Berlin, Germany
Take advantage of the holidays and go to Berlin for a trip filled with culture, art, and good beer. The city is known for hosting an annual New Year's Eve Party Between the Brandenburg Gate and the Victory Column. This superb and huge open-air party brings together live music, DJs, and an amazing fireworks display at midnight, and attracts hundreds of people. There are also sought-after New Year's Eve parties in Berlin, including the famous Spreespeicher, for instance, which takes place in the waterfront open-air Spree Terrace.
After a night of celebration, which can happen either at a party or at dinner at your vacation rental in Berlin, a great idea is to take a tour around the city and cure the hangover by trying some of the most delicious German must-eats.
Find Hotels in Berlin, Germany
Paris, France
Paris is always a good idea. A perfect destination at any time of year, the City of Lights also happens to be one of the best places to ring in the new year. During the holiday season, Paris is even more beautiful, as it gets filled with themed decorations and even more dazzling lights. A true winter wonderland, the city usually hosts a series of parties, dinner cruises, cabaret shows, and many other fun events on New Year's eve.
Starting at around 900 pm on New Years Eve, people usually head over to the Champs Elysée for the famous countdown and a gorgeous light show Along the way to Champs Elysée, you'll be able to marvel at the Eiffel Tower, which is a true sight to be seen.
After ringing in the New Year, make sure the party continues by popping some authentic French Champagne with a stunning view of the Eiffel tower.
Find Hotels in Paris, France | Find Homes in Paris, France
Koh Phangan, Thailand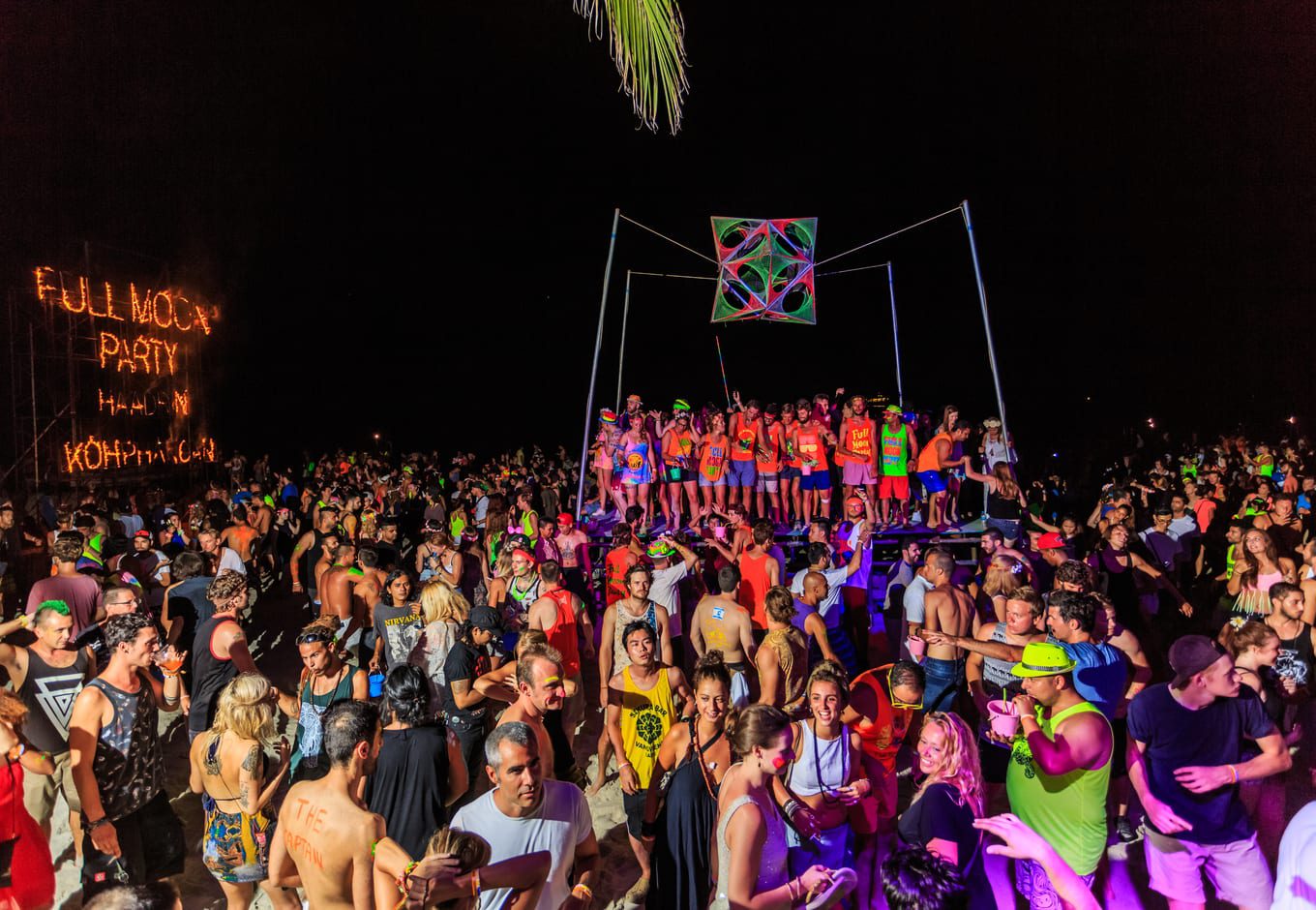 New Year's Eve Celebrations in Thailand became famous because of the iconic Full Moon Party. This iconic celebration is an all-night beach party that originated in 1985, taking place every year on the night, before, or after every full moon.
Well, if your idea is to spend the last night of the year surrounded by madness in the company of your friends, this is your place. As soon as the sun sets the dance party starts at Sunrise Beach and it does not end until … until one wants to.
You can even start the first dawn of the year with a good dip on the beach while watching the sunrise. It sounds good, right? This iconic celebration is an all-night dance party that originated in 1985, taking place every year on the night, before, or after every full moon.
This year, why not go for something more chill, and maybe try going on a yoga retreats in Thailand? Surrounded by natural features, such as forested hills and pristine beaches, the country is an authentic health and wellness retreat.
So, a great idea for the New Year 2023 is to replace crowded spaces and celebrations with more secluded destinations, where you can indulge in some outdoor activities, be around nature, and recharge. That way you can still celebrate the New Year, but respecting the social distancing and keeping yourself safe.
Find Hotels in Thailand | Find Homes in Thailand
New York City, United States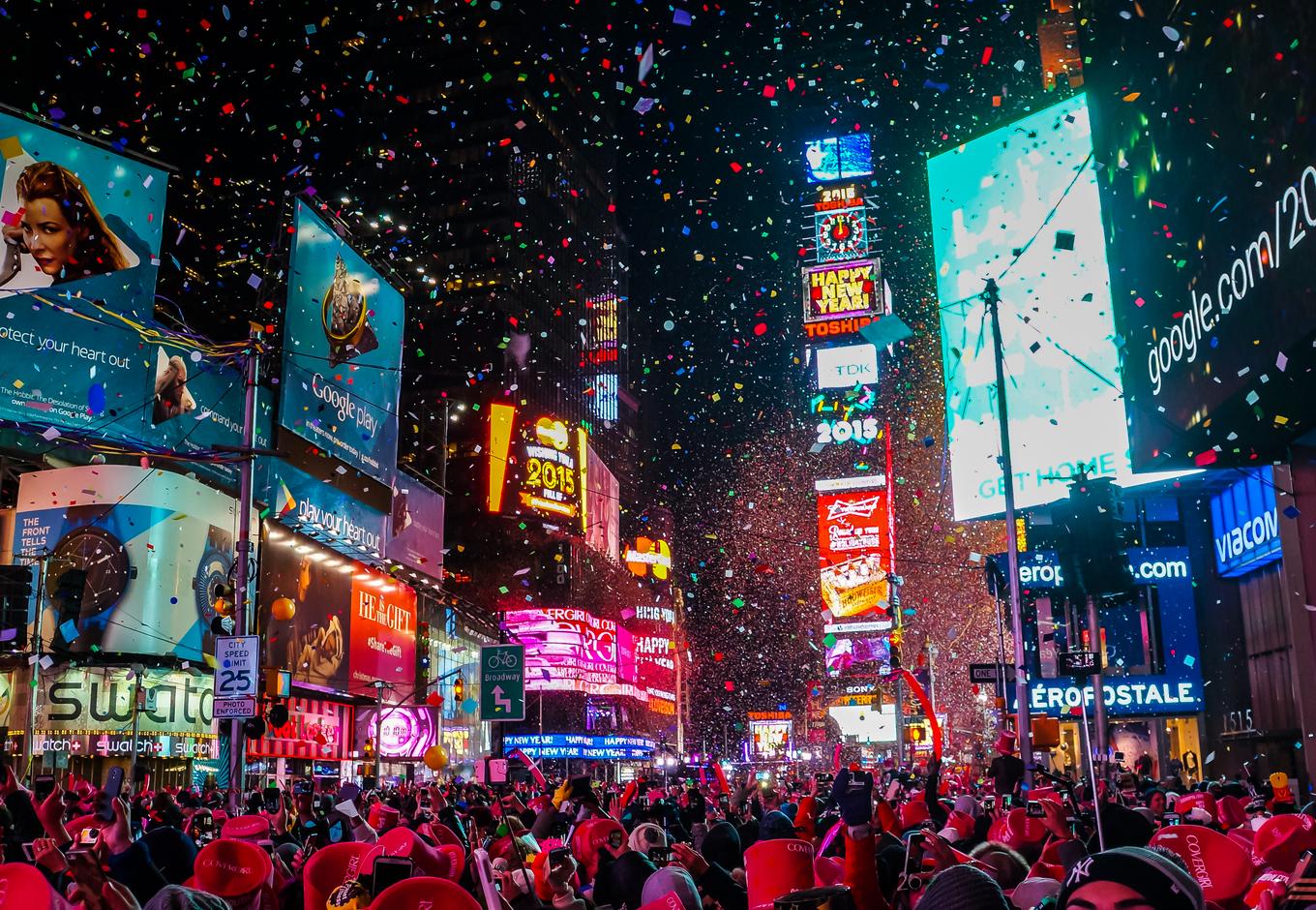 Aside from being one of the most amazing cities for a Christmas holiday, New York also happens to be one of the best destinations to celebrate New Year's Eve. During the winter, New York gets even more dazzling, and the city sparkles with a slew of holiday lights, which create the perfect environment for some celebration time.
A typical New Year celebration in New York usually involves heading over to the famous Times Square for the countdown and fireworks. This iconic celebration brings together thousands of people from all around the world, to marvel at the famous New Year's Ball Drop, in Times Square.
Travelers who are planning to go to New York City to celebrate New Year can also enjoy the city's skyscrapers and amazing holiday attractions, such as the ice rink at Rockefeller Center.
For a less crowded experience, welcome the New Year by having dinner with loved ones at your vacation rental in New York. Just grab a bottle of Champagne and tune in to watch the Times Square countdown and you're good to go!
Find Hotels in New York, New York | Find Homes in New York, New York
Sydney, Australia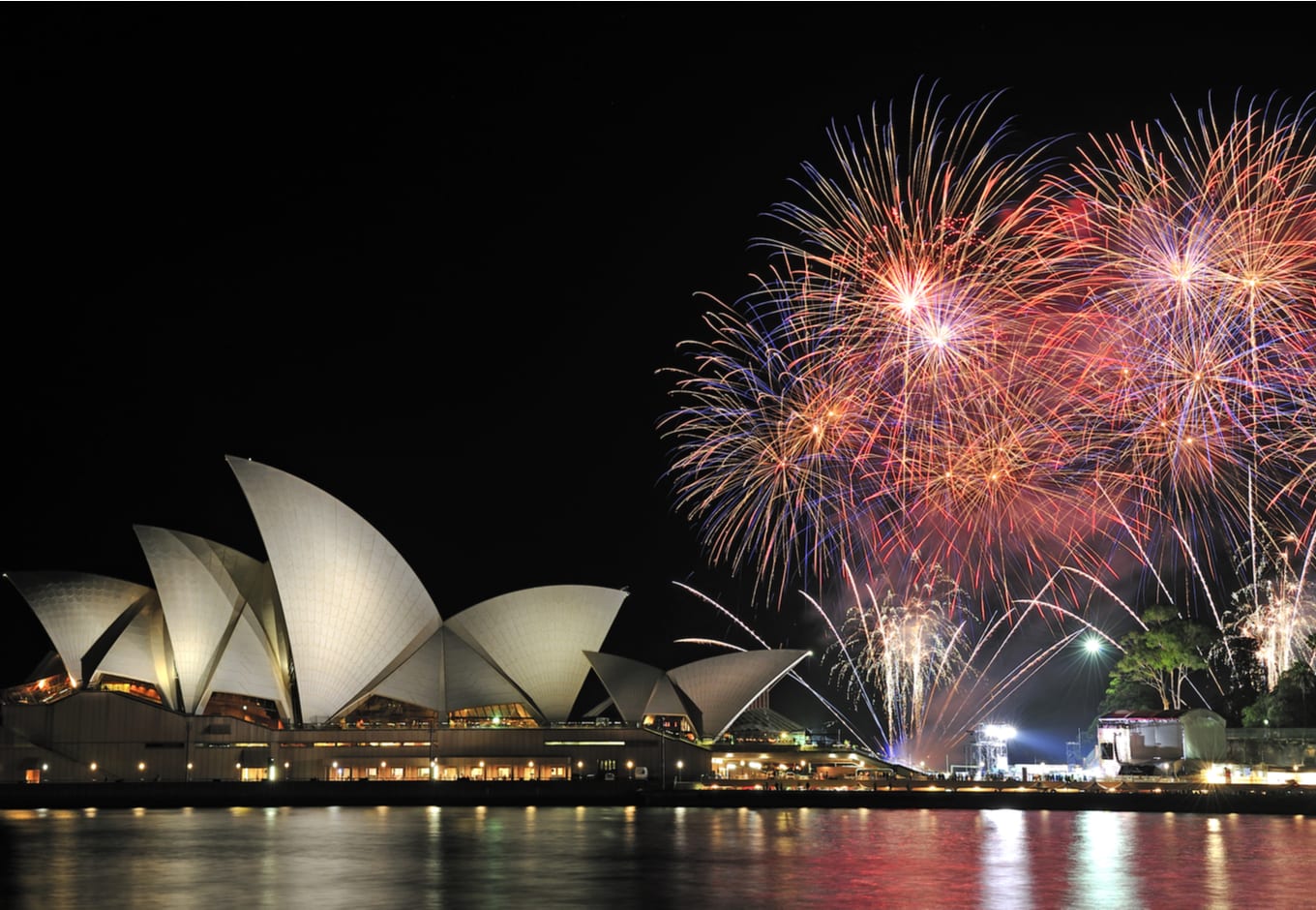 Aside from the party in Times Square, the New Year s eve fireworks show in Sydney, Australia, is probably the most famous New Years' Eve celebration in the world. Sydney is the first major international city to greet the new year at midnight, and this huge event is held every year on the Sydney Harbour Bridge. The party features two amazing fireworks displays: the 9 pm Family Fireworks and the Midnight Fireworks.
Both of them are televised nationally, and Midnight Fireworks is televised globally. Each year, a new theme for the event is chosen and is usually viewed by more than one million people surrounding the area of the harbor and one billion worldwide for the Midnight Fireworks.
A great idea is to celebrate New Year in Sydney by taking a boat tour while you enjoy the fantastic fireworks with the famous Opera House as a backdrop.
After you celebrate the New Year in Sydney, why not take a road trip to explore the most charming small towns in Australia? This will surely kick off your 2022 the right way!
Find Hotels in Sydney, Australia
Rio de Janeiro, Brazil
Get ready for a very tropical New Year, because Rio de Janeiro will provide you with the ultimate summer holiday. At the end of each year, this vibrant and bustling city gets even more festive thanks to its traditional New Year's Eve Celebration in Copacabana Beach.
The event, which is the biggest New Years' Eve party in the world, actually started in the '80s as a religious celebration, which gathered only the people who lived nearby in the area. But the party became extremely popular, and now it brings together around 3 million people from all around the world. Aside from a spectacular and colorful fireworks display that takes about 18 minutes, the party at Copacabana also features live music.
During the New Year in Brazil, it's common for people to wear white, in order to bring good luck. And one of the most famous traditions all across the country is for people to "jump the 7 waves". At midnight, they go to the ocean and literally jump 7 waves in order to bring good luck for the next year.
If you decide to spend New Year in Rio de Janeiro, you can also enjoy the local beaches, and have a private dinner with close people to ring in the New Year. Boasting warm tropical weather at any time of year, the city is one of the most Instagrammable places in the world to visit during the summer.
Find Hotels in Rio de Janeiro, Brazil | Find Homes in Rio de Janeiro, Brazil
Cape Town, South Africa
Cape Town hosts a myriad of fun events to celebrate New Year. The most famous one is New Years' Eve at the V&A Waterfront Cape Town, which also happens to be the biggest New Year's Eve party in South Africa. Located in South Africa's oldest working Harbor, on the Atlantic shore, the Victoria & Alfred (V&A) Waterfront is a 123 hectares complex developed for mixed-used, harboring both residential and commercial buildings. The event features several outdoor entertainment areas, aside from carnival-themed shows, and light installations, from 6 pm to midnight.
Find Hotels in Cape Town, South Africa| Find Homes in Cape Town, South Africa
New Orleans, United States
In case you're planning to travel with a group of friends, New Orleans, Louisiana, is definitely one of the best places to spend the New Year, as it's filled with street parties, live music, and plenty of fun activities for you to have a good time.
One of the most famous New Year's Eve celebrations in New Orleans, Louisiana, is the Bourbon Street Party. Located in the heart of the French Quarter of New Orleans, Bourbon Street is a historic area and well-known for having a showcase of outdoor bars and strip clubs. On New Year's Eve, this iconic street gets filled with excitement, featuring nonstop parties at the local bars, fireworks, and a midnight champagne toast.
Another well-known party in New Orleans is Dick Clark's New Year's Rockin' Eve, at Jackson Square. This huge, free party is open to all and features fireworks, live music performances, and the iconic "fleur-de-lis-drop", which is the New Orleans version of the Times Square Ball Drop. Definitely a more family-friendly option than the Bourbon Street Party.
Find Hotels in New Orleans, Louisiana | Find Homes in New Orleans, Louisiana
Queenstown, New Zealand
New Zealand is not only one of the best destinations for outdoor lovers and adrenaline seekers. The country is also one of the best places to spend the new year. So, in case you chose New Zealand as your destination, you might wanna consider bringing in the new year in Queenstown. The city is located on the shores of the South Island's Lake Wakatipu, and it's a famed spot for adventure sports such as bungee jumping and jet-boating.
Offering some of the best views of Lake Wakapitu and the surrounding snowy mountains, this resort city hosts a handful of pub crawls during New Years eve.
For a more family-friendly experience, you can head over to the Marine Parade and watch the fireworks over Queenstown Bay, or to Earnslaw Park, which hosts an annual party with live music, food trucks, and fireworks.
Find Hotels Near Queenstown, New Zealand
Las Vegas, United States
The New Year's Eve fireworks display at Sunset Strip is one of the most iconic New Years celebrations in Las Vegas. Lasting up to eight minutes, the fireworks spectacle has been a staple event in Sin City for years and, in January 2023, more than 80,000 colorful fireworks illuminated the Strip during the New Years Eve celebration in Las Vegas.
A true bucket-list New Year destination, Las Vegas attracts visitors from all over the world during the holiday season thanks to its lively atmosphere all year round. In Las Vegas, locals and visitors can marvel at the city's traditional fireworks spectacle that rings in the New Year with a bang. There is also a robust lineup of events and parties, especially in the casinos and hotels.
Find Hotels in Las Vegas, Nevada | Find Homes in Las Vegas, Nevada
Prague, Czech Republic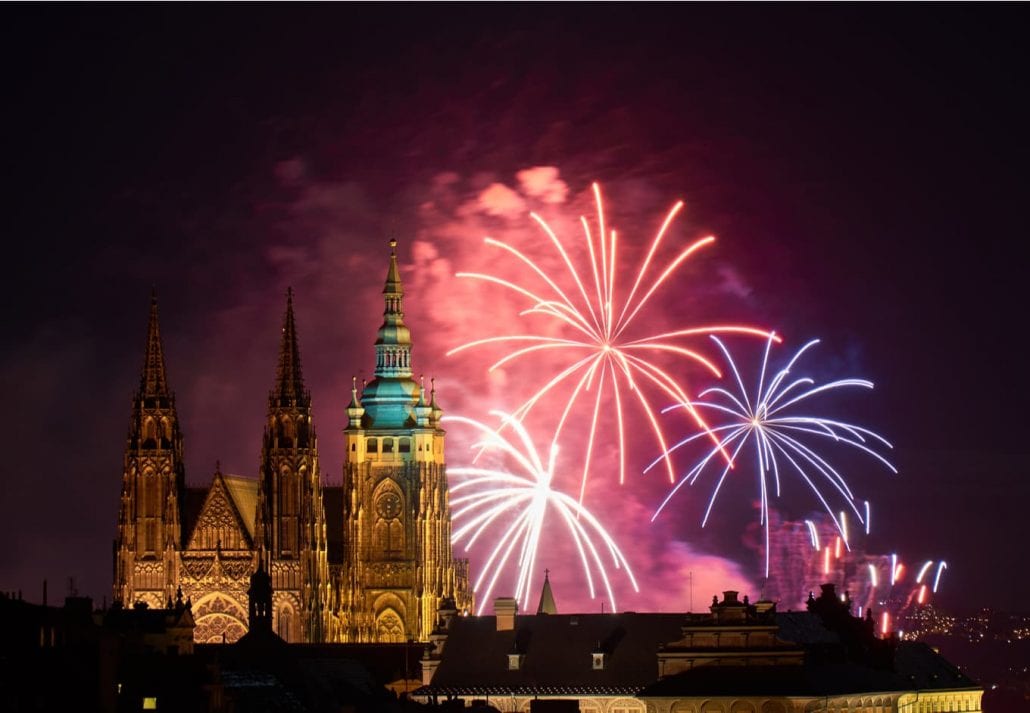 Often regarded as one of the world's most beautiful cities, Prague also happens to be one of the best places to celebrate New Year in Europe. While some restaurants in the city offer a simple, yet delicious, dinner, the local bars, and pubs host thrilling parties throughout Prague. The city, by the way, is also known for having one of the best nightlife in the world!
For some free entertainment on New Year's Eve, head over to the city's main squares, the Old Town Square and Wenceslas Square, by the river, or over Prague Castle to watch a fantastic fireworks display when the clock strikes midnight.
Another great way of spending the New Year in Prague is by going on a river cruise to marvel at a close-up view of the fireworks at Charles Bridge with a breathtaking backdrop of Prague Castle.
Edinburgh, Scotland
Edinburgh's Hogmanay is one of the world's greatest New Year celebrations. The event kicks off on 30 December, with a Viking-style torchlight procession along the Royal Mile.
Starting out from one of 3 main points in Edinburgh's Old Town – North Bridge, South Bridge, and St. Giles Cathedral – the procession takes jostling crowds to march to the beat of pipers, drummers, and fanfare.
Another sought-after event in Edinburgh is the street party along Princes Street, which features exciting DJ sets and plenty of dancing.
Hong Kong
NYE in Hong Kong is, unarguably, one of the most fun celebrations in the world. The city hosts a massive countdown at Victoria Harbour. The party features a set of sensational fireworks that brighten up the sky over the harbor and last for ten minutes. The party takes up the whole city, and people party on local boats, rooftop terraces, and bars until the sun rises!
Of course, there are thousands of destinations to spend New Years Eve. Luckily for you, we can offer you the best accommodation in each place, so wherever you are, you'll always feel at home.
Browse. Book. Stay.
CuddlyNest provides all accommodations to all travelers at the best price. Find unlimited travel inspiration on our blog and social media channels.
Here are some curated readings for you:
European Cities For Chinese New Year
Best Christmas Destinations U.S.
Destinations For Thai New Year
You might also like:
Workouts You Can Do Anytime
Perfect Time to Take an Online Course
Travel Advice During the Coronavirus Outbreak