There's nothing like a lake vacation for reinvigorating you. Offering everything from scenic hiking trails, and gorgeous vistas, to sandy beaches, and cozy vacation rentals, lakeside getaways are the perfect way of indulging in the great outdoors and unwinding around nature.
Whether you're looking for a serene family vacation or a cozy romantic getaway, these are our top picks for the 10 best lake destinations in the United States.
Choose your next destination and get ready to enjoy some quality time away from the big cities!
The 10 Best Lake Vacations in the U.S.
Lake Tahoe, California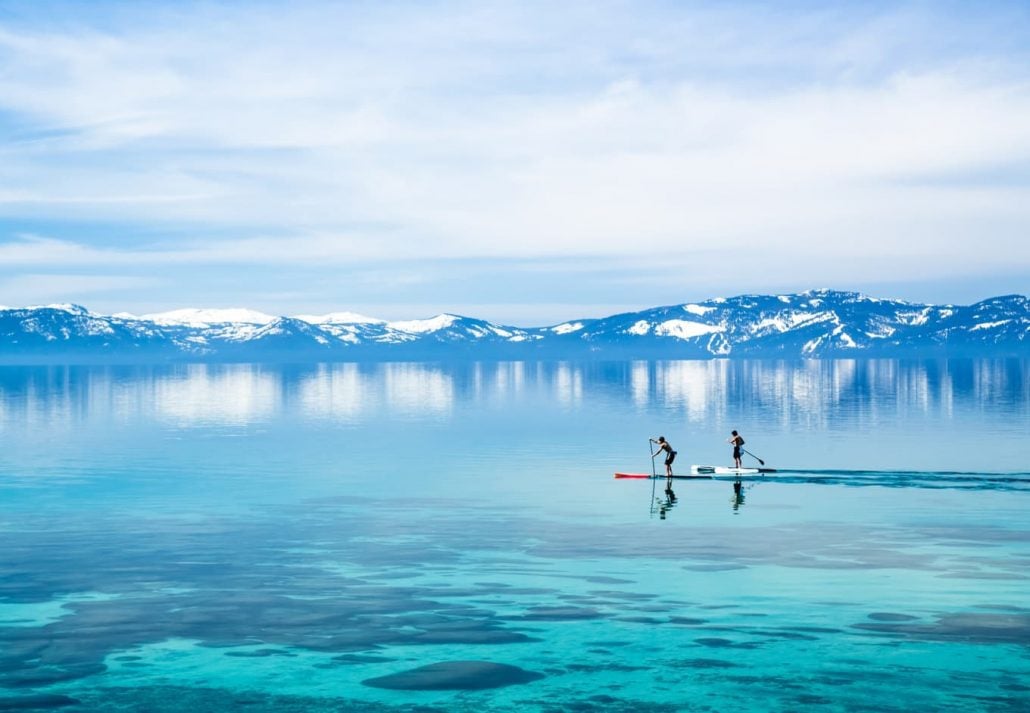 Located on the California-Nevada border, the mighty Lake Tahoe is North America's largest alpine lake, framed by steep granite cliff sides and towering mountaintops, its sparkling azure waters create the perfect conditions for indulging in a variety of water sports, like world-class fishing, swimming, and boating.
Thanks to its immense natural beauty, this massive lake has become a coveted weekend getaway in California, welcoming upward of 2.7 million people a year. Plus, Lake Tahoe was ranked, one of the best Father's Day getaways for 2022!
Find Places To Stay Near Lake Tahoe, California
Lake Clark National Park and Preserve, Alaska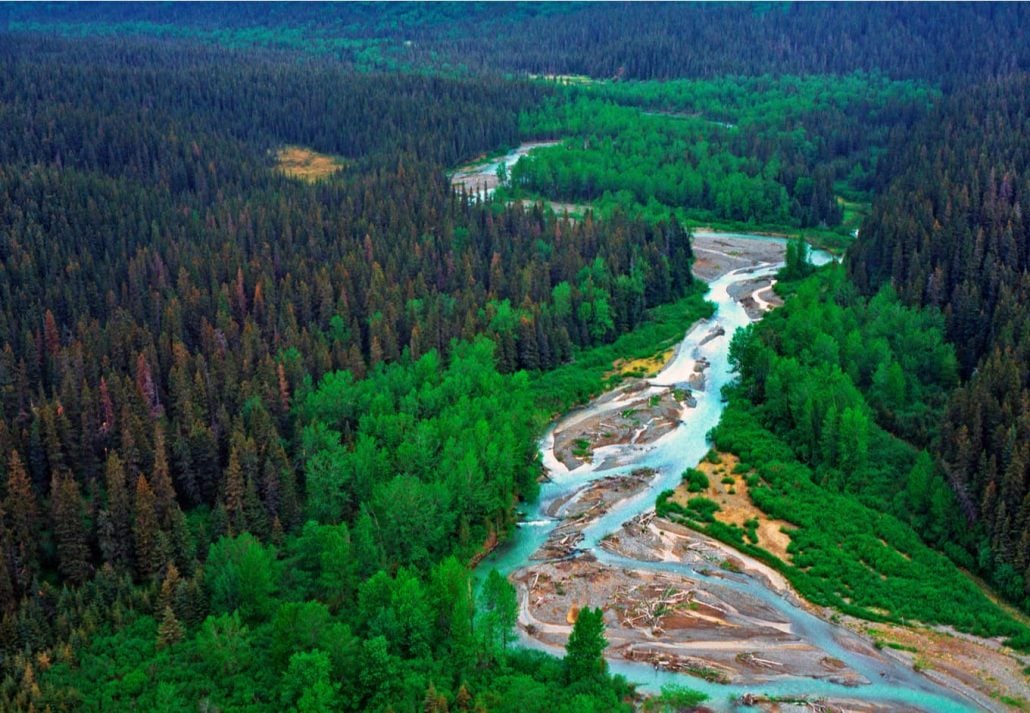 Out of the best US lake vacations, and accessible by only boat or airplane, Lake Clark is one of the best-preserved national parks in the United States. Resting in southwest Alaska, about 100 miles southwest of Anchorage, this achingly beautiful preserve is known for its looming volcanoes, craggy mountains, and bountiful wildlife. 
The park's most visited feature, however, is Crescent Lake. Nestled in the heart of the Chigmit Mountains, the lake rewards visitors with outstanding bear viewing and fishing opportunities. Sockeye (red salmon), arrive during the month of July, while coho (silver) salmon come in mid-August through early September. Dolly Varden, lake trout, and Chinook (king salmon) also visit the lake.
Recommended Read: The Best National Parks in The USA
Find Places To Stay Near Lake Clark National Park and Preserve, Alaska
Crater Lake National Park, Oregon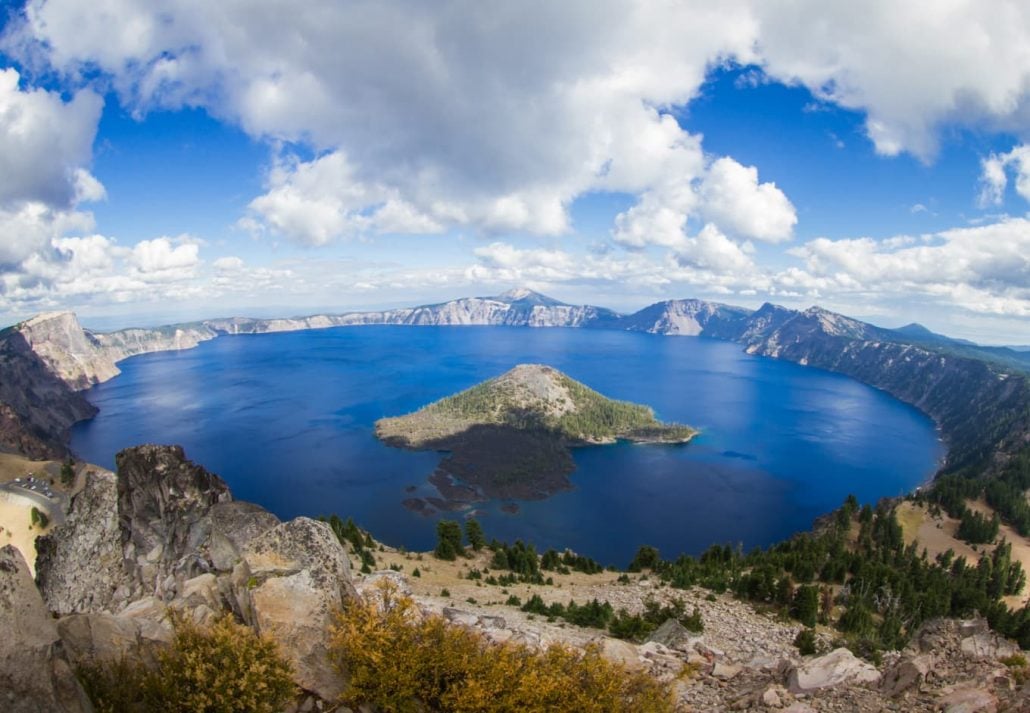 Formed 7,700 years ago after a violent eruption collapsed an ancient volcano, this is the deepest lake in the U.S. Located in southern Oregon, the lake lies within a sprawling protected area that encompasses century-old sheer cliffs, and otherworldly natural formations.
The best way to explore Crater Lake? By going on a scenic 1-hour boat tour, which takes passengers to see up-close natural formations like Wizard Island and Phantom Ship.
Adventure-seekers can also walk along the rim of Pinnacle Valley to indulge in stunning views of the volcanic spires, stroll through old-growth forests, or meander their way through lush meadows with views of the creek.
Find Places To Stay Near Crater Lake National Park, Oregon
Lake Havasu City, Arizona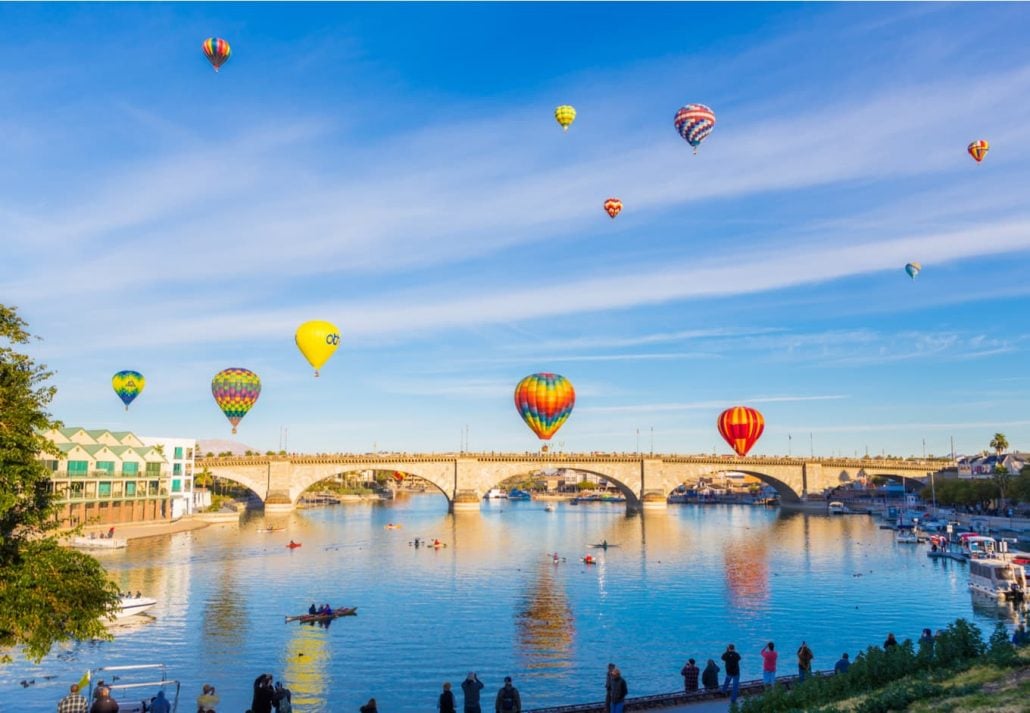 Lake Havasu City is the crown jewel of Arizona. Boasting 60 miles of uninterrupted navigable waterways, 300 days of sunshine, and 400 miles of river coastline, this enviable lake destination is visited by more than 1 million people every year.
Its diverse landscape encompasses white sandy beaches, red rock mountains, and swinging palm trees, which create the most perfect setting for a myriad of activities — from swimming to scuba diving and hiking.
Lake Havasu is also recognized as one of the country's top lake towns for water sports, offering visitors the opportunity to go kayaking, canoeing, and paddleboarding.
A visit to Lake Havasu State Park is another bucket list experience in the city. Located near the famous London Bridge of Lake Havasu City, this showstopping park is truly a watersport haven that gives adventure-seekers the chance to go boating, swimming, and fishing in the Colorado River.
Find Places To Stay In Lake Havasu City, Arizona
Lake Powell, Arizona & Utah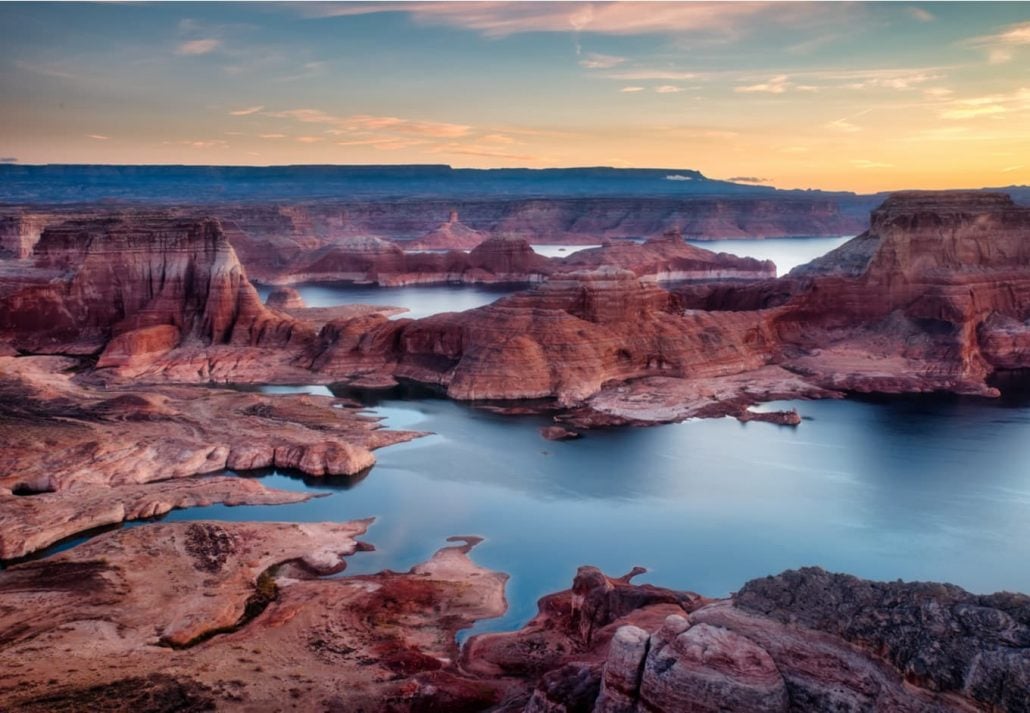 Part of the Colorado River in Glen Canyon National Recreation Area, Arizona, Lake Powell spoils visitors with a showcase of nature-centric activities. Stretching up into southern Utah, this scenic reservoir is praised for its placid blue waters that are a veritable playground for water-sport enthusiasts. Aside from boating, water skiing, and fishing, visitors can take the opportunity to explore the park's dramatic scenery, which is made up of an endless network of canyons.
Find Places To Stay Near Lake Powell, Arizona
Lake Michigan, Michigan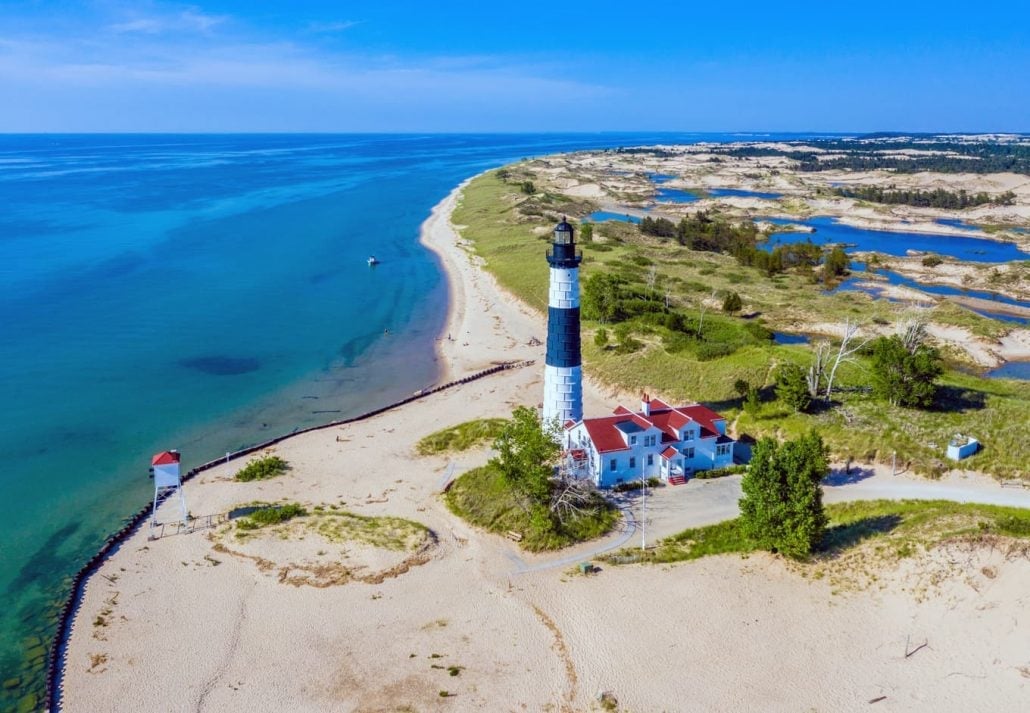 Spanning the entire west coast of Michigan's Lower Peninsula, this is one of the best lake vacation spots in the USA. With a water surface area of 22,300 square miles, Lake Michigan is the third largest of the Great Lakes, and it boasts an expansive shoreline dotted with jaw-dropping dune regions like the Sleeping Bear Dunes National Lakeshore, the Nordhouse Dunes, and the Warren Dunes State Park.
Lake Michigan is shared, from west to east, by the states of Wisconsin, Illinois, Indiana, and Michigan, and can be enjoyed through scenic boat cruises, or through a memorable road trip following the encircling state highways. If opting for the road trip, expect to come across over 80 iconic lighthouses that lace the Lake Michigan shoreline.
Find Places To Stay Near Lake Michigan, Michigan
Finger Lakes, New York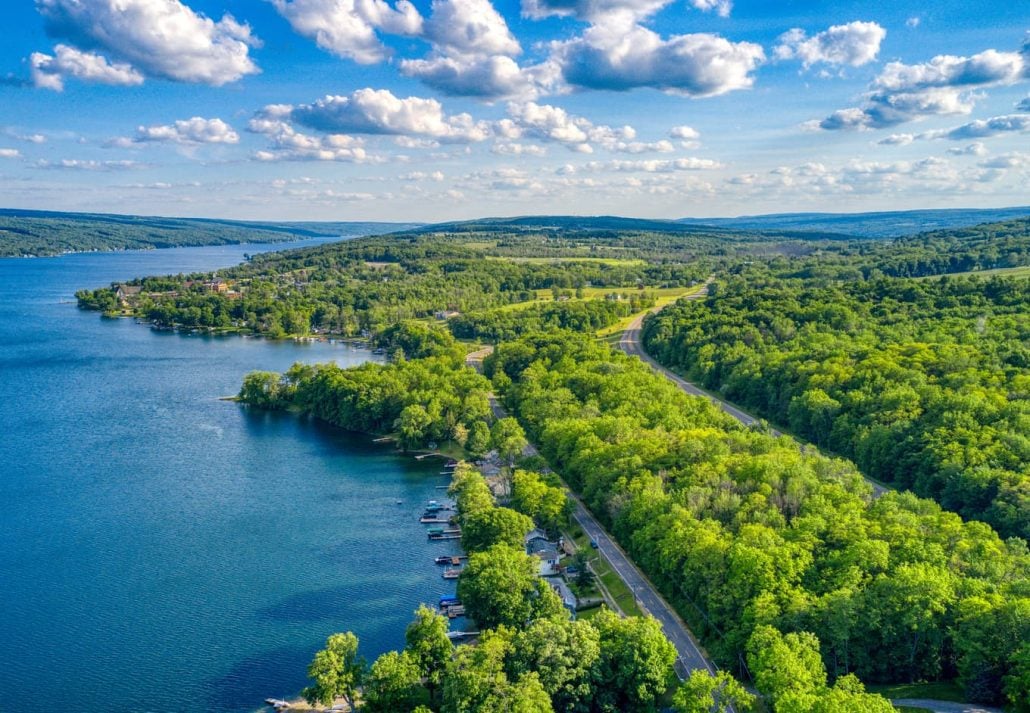 Over 400 wineries and vineyards, and world-renowned Rieslings make the Finger Lakes region the ultimate destination for inquisitive gourmand travelers.
This idyllic getaway, one of the best lakeside vacations, will allow foodies to indulge in stellar wine tasting sessions in wineries like the award-winning Glenora Wine Cellars, and Wagner Vineyards Estate Winery. They can also take the opportunity to tour the local breweries, distilleries, and hard cider producers, which are some of the best in the country.
The area is also known for its lip-smacking restaurants and scenic state parks that are a real treat for the eyes!
Find Places To Stay Near Finger Lakes, New York
Lake Chelan, Washington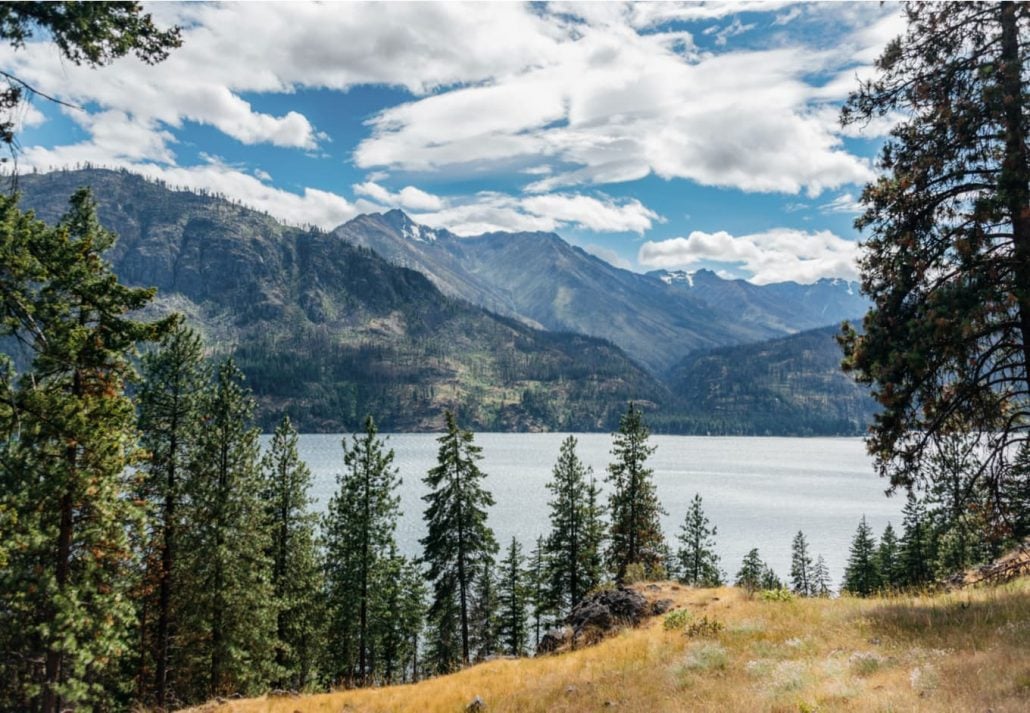 Located in north-central Washington state Lake Chelan is a sight to behold. This 50.5-mile long glacier-fed lake surrounded by vineyards and rugged mountains attracts visitors not only thanks to its scenic natural beauty but also for its wide range of experiences. From wine tasting to jet skiing and mountain biking, the area has something exciting to offer everyone.
Regarded as one of the most spectacular lake getaways in the United States, Lake Chelan is also a prime spot for fishing, offering anglers the chance to catch Bull trouts, Westslope Largescale suckers, Peamouths, Redside shiners, and other native species.
The Lake, which lies in Chelan County, also provides a gateway to the North Cascades National Park that protects dense national forests, wilderness areas, and the most expansive glacial system in the contiguous United States.
Find Places to Stay in Chelan, Washington
Flathead Lake, Montana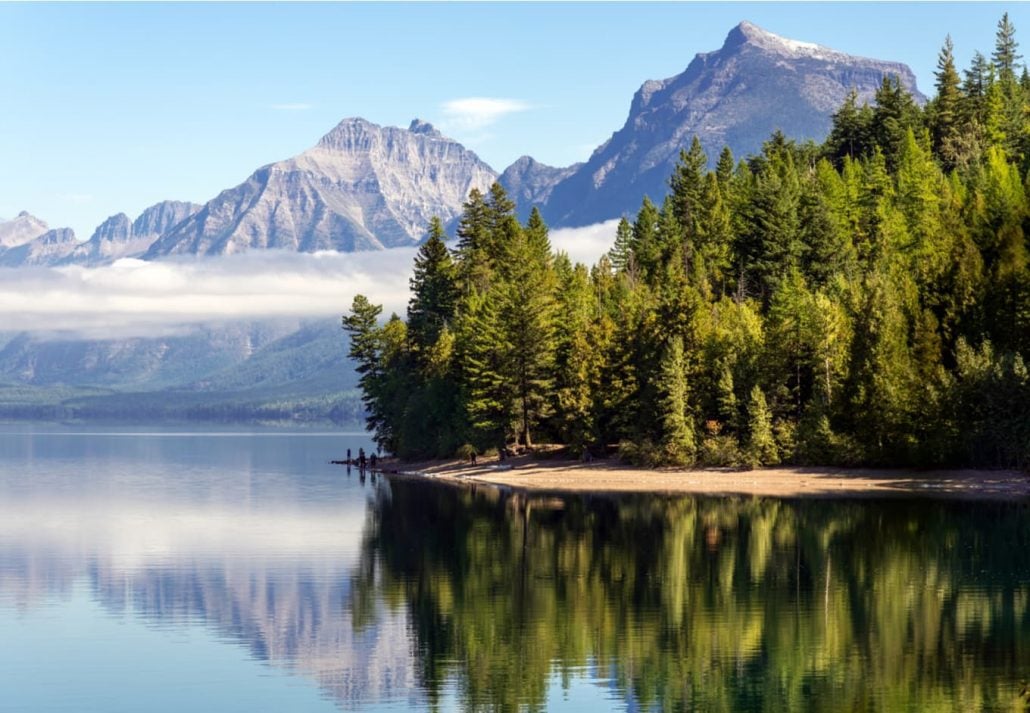 With over 200 square miles of water and 185 miles of shoreline, Flathead is the largest natural freshwater lake by surface area west of the Mississippi River. Nestled in the glacial-carved Flathead and Mission valleys, it's one of Western Montana's biggest playgrounds for outdoor lovers, as it flaunts a myriad of exciting experiences like sailing, powerboating, waterskiing, swimming, fishing, picnicking, and camping. All of that framed by snow-dusted peaks, forested slopes, and blue skies!
Flathead Lake is also surrounded by a dazzling array of charming small towns where visitors can discover local breweries, distilleries, quirky museums, and mouthwatering restaurants serving authentic Montana specialties.
Find Places To Stay Near Flathead Lake, Montana
Lake Placid, New York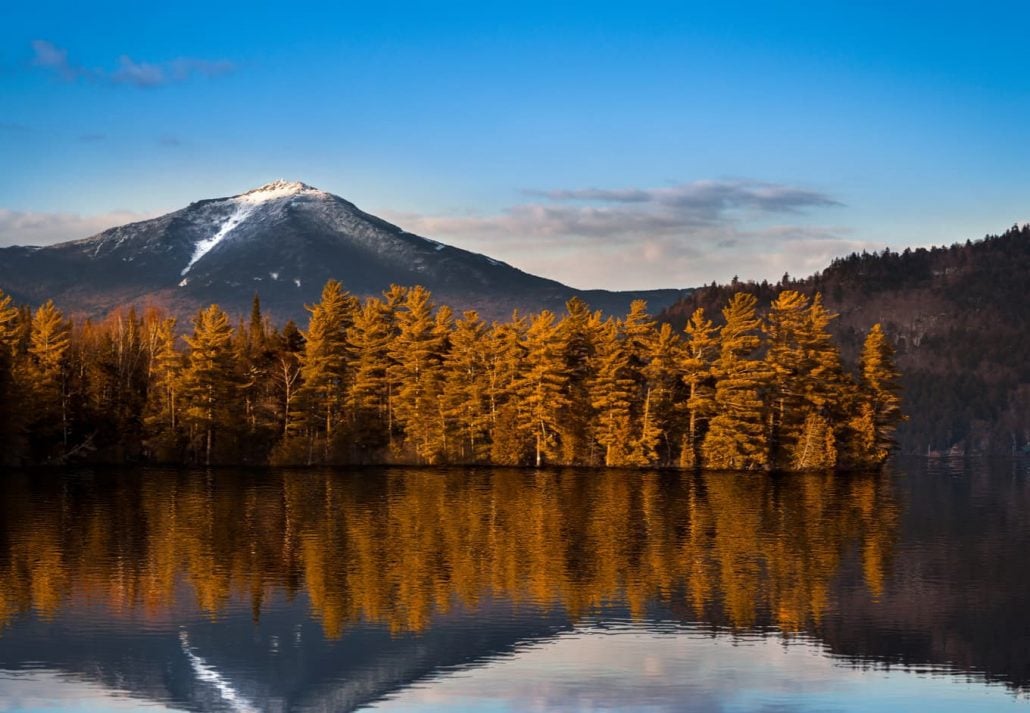 Gloriously placed in the Adirondack Mountains, in New York, Lake Placid is an atmospheric town that captivates visitors with its majestic views and fresh, mountain air, and it's also one of the best lake vacations on the East Coast. When the nice weather descends, don'ts pass up the chance to go for a relaxing paddle session on Mirror Lake, known for its sparkling, still waters. Another must-visit place is the High Falls Gorge, a 22-acre privately owned nature park featuring trails that bypass four majestic waterfalls.
During the holiday season, the city becomes a mecca for winter sports, offering plenty of opportunities for ice skating, hockey, and cross country skiing.
Find Places To Stay Near Lake Placid, New York
FAQ
Where are the best lakes in USA?
Some of the best lake vacations in the USA are:
Lake Tahoe, California;
Lake Michigan, Illinois, Indiana, Michigan, and Wisconsin;
Lake Erie, Michigan, Ohio, Pennsylvania, and New York;
Lake Clark National Park and Preserve, Alaska;
Lake George, New York;
Lake Geneva, Wisconsin;
Lake Placid, New York;
Lake Superior, Wisconsin, Minnesota, and Michigan;
Flathead Lake, Montana;
Lake Chelan, Washington.
What state has the best lake houses?
From coast to coast, the United States is dotted with an array of cozy lake houses that cater to every budget and travel type. Some of the finest properties can be found in California, Tennessee, New York, Georgia, Utah, and Colorado.
What lake is similar to Lake Tahoe?
Located in the heart of southern California, Big Bear Lake is a great alternative to Lake Tahoe. Just like Tahoe, Big Bear is praised for its serene blue waters, and stunning surrounding nature. Plus, it transforms from a ski town in the winter to a bustling lake town in the summer.
CuddlyNest provides all accommodations to all travelers at the best price. Find unlimited travel inspiration on our blog and social media channels.
You Might Also Like:
10 Best Kid-Friendly Family Vacations In The United States
The 11 Best Long Weekend Getaways In The US
The Ultimate North America Travel Guide
10 Best Day Trips From Naples, Florida
The Ultimate Guide For a Pet-Friendly Holiday in Florida
The 15 Best National Parks In The World
Best North America Mountains
The 13 Best Cabin Rentals in the United States