When it comes to superb romantic getaways, the United States is scandalously rich. From the scenic East Coast to the balmy and breezy West Coast, the country is bursting at the seams with fantastic destinations that reward couples with a variety of experiences. So whether you're looking for active and outdoorsy adventures, wine tasting in the heart of California, or feasting on seafood with sweeping views of the ocean: you're sure to find a perfect place to explore with your significant other.
Here are our picks for the most romantic weekend getaways in the U.S. The best part? You don't need a passport to visit them!
Jump to your favorite part
Romantic Trails in California
Escape City Life in Georgia
Wine Lovers Weekend Trip in California
NYC's Urban Romantic Experience
Maui, Hawaii Beach Getaway
Asheville, NC Romantic Getaway For A Fall Trip
Florida Keys, FL Tropical Vacation
Yellowstone National Park for Outdoor Lovers
Scottsdale, Arizona for Offbeat Travelers
Charleston, South Carolina for Southern Charm
Top 10 Romantic Getaways in USA
Carmel By The Sea, California | Best Romantic Getaway For Scenic Trails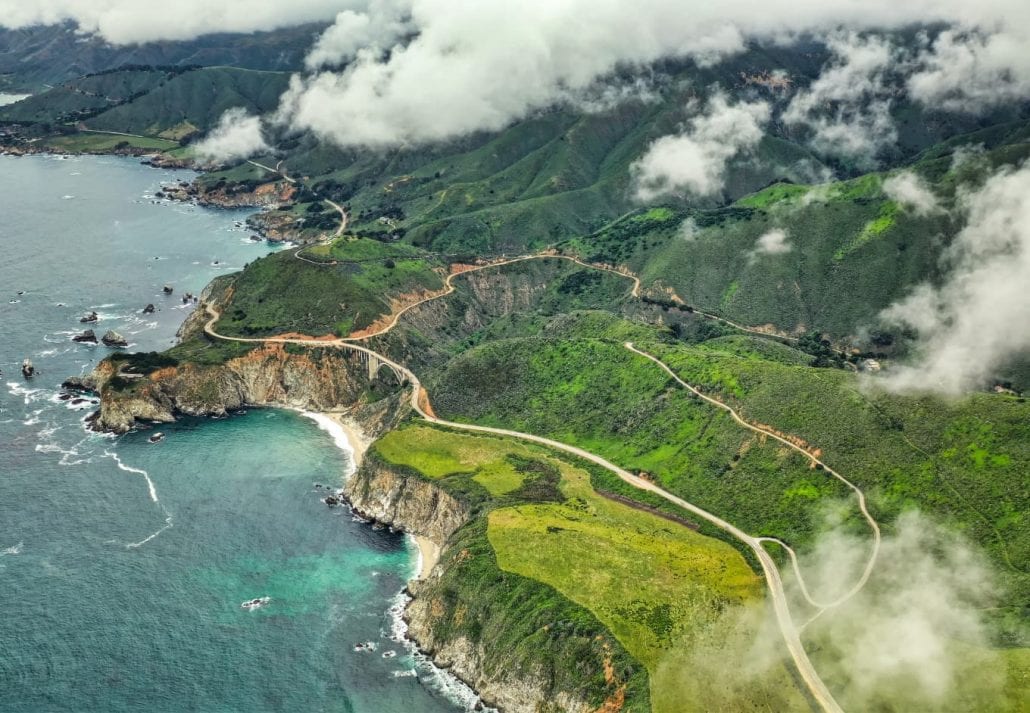 Gloriously located in the Monterey Peninsula, Carmel By The Sea is a sparkling jewel on the coast of California. From quaint art galleries to spectacular natural beauty, Carmel has it all. If the nice weather descends, be sure to head over to the famous Carmel Beach for sunbathing while marveling at the Pacific Ocean.
Nature lovers can't pass up the chance to visit the Point Lobos State Natural Reserve, which is one of the finest spots for scuba diving around the area. Regarded as one of the most jaw-dropping state parks in California, Point Lobos features several walking trails that are perfect for hiking, archeological sites, and bountiful wildlife.
After strolling around the tempting boutique shops at Ocean Avenue, visit the charming Carmel Mission Basilica, which is a fascinating National Historic Landmark. Surrounded by idyllic gardens, this century-old restored Franciscan mission houses a series of ever-changing art exhibits and it's a must-visit in Carmel.
While spending a romantic weekend in Carmel, couples can also drive along 17-Mile Drive, a scenic road through Pebble Beach and Pacific Grove. During the ride, travelers are graced with amazing views of coastal cliffs, pristine beaches, and lush forests.
And Carmel is as much about natural wonders as it is about superb food experiences. To kick off the day with extra energy, indulge in one of the city's amazing breakfast spots. For a mouthwatering brunch loaded with fluffy pancakes, and avo toasts Stationæry is the place to go. But if a romantic dinner at a sleek modern eatery is what you're looking for, the award-winning Aubergine, at L'Auberge Carmel, is the best bet.
Find Hotels In San Francisco|Find Vacation Rentals In San Francisco
Blue Ridge Mountains, Georgia | Best Weekend Getaway For Escaping The City Life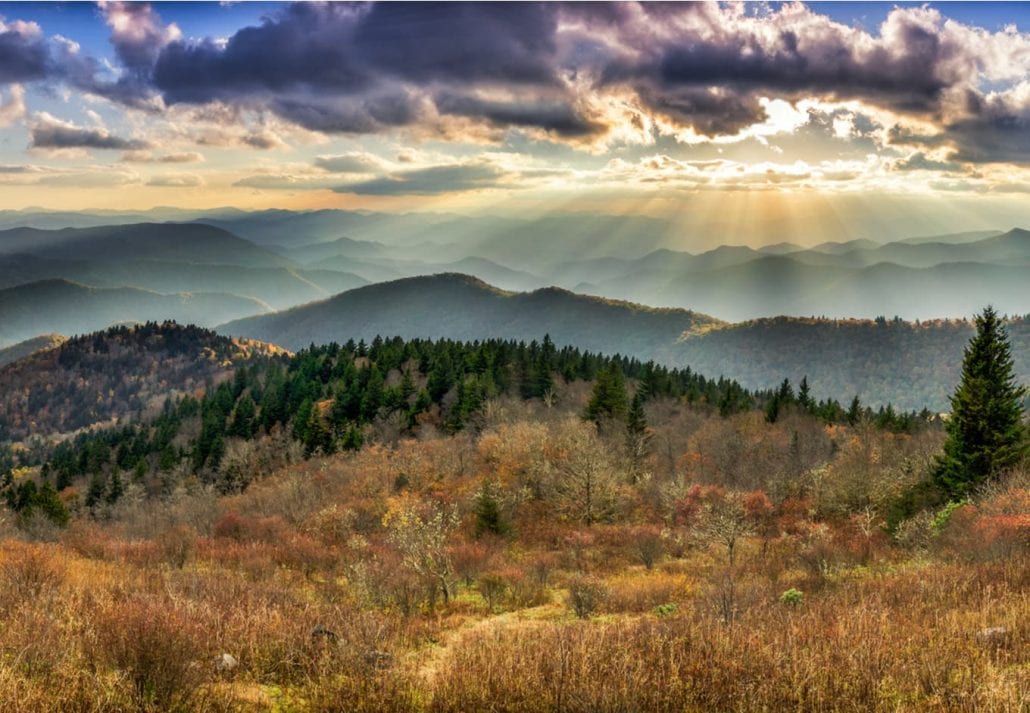 A great idea for couples is to rent a cabin tucked away in the Blue Ridge Mountains and spend a romantic weekend away from the hustle and bustle of city life. Located just 90 miles north of Atlanta, this area encompasses incredible scenery filled with waterfalls, 300 miles of hiking trails, lakes, rivers, mountains, and mystical forests. Thanks to its abundance of natural wonders and irresistible serenity, the Blue Ridge is the perfect place for a romantic getaway.
One of the best ways of taking in the beauty of the Blue Ridge is to hit the local trails. For some water adventure, explore the gorgeous Toccoa River area, which features the longest swinging bridge east of the Mississippi River.
But if you're seeking a more challenging trek, walk along the trail that leads to the High Shoals Falls. Located about an hour from Blue Ridge, this 170-acre area is home to a succession of five waterfalls with an estimated total vertical drop of 300 feet.
Foodies can appease their culinary side by sampling the city's amazing collection of restaurants. A must-visit is the Black Sheep Restaurant, which is set in a historic home and is well known for its juicy and tender steaks, and jet-fresh seafood dishes.
And although the Blue Ridge is a place where adventures abound, there are gentler options, too. Couples can go for a picnic at the Lake Blue Ridge area, which is surrounded by a stunning mountainous backdrop and plenty of wildlife.
Be sure to also visit the eye-popping Mercier Orchards, an idyllic 300-acre farm where you can spend the day picking strawberries blueberries, blackberries, and apples, and go horseback riding in the Appalachian Trail.
Find Hotels Near Blue Ridge | Find Vacation Rentals Near Blue Ridge
Sonoma County, California | Best Romantic Getaway For Wine Lovers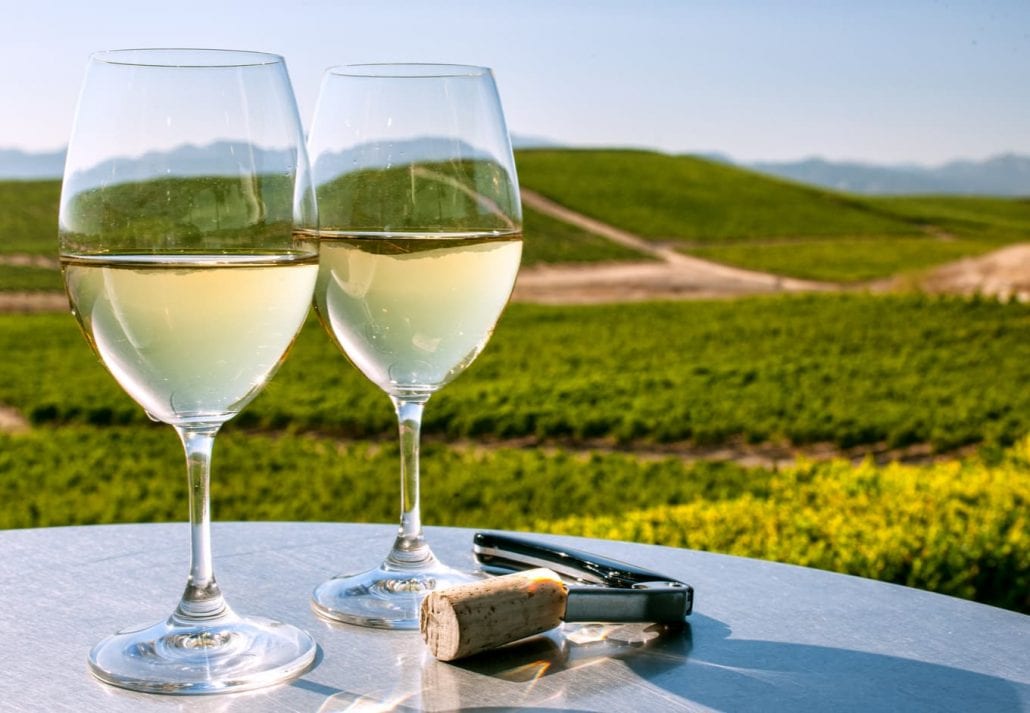 If you're looking for a place to relax and enjoy some wineries, look no further than Sonoma County in northern California. It's also the perfect destination if you want to spend time on wine tasting tours or cycling through scenic vineyards.
And let's not forget about all of those excellent restaurants that are sure to impress your date! From coastal towns like Santa Barbara to inland destinations like Napa Valley, this region has plenty of fantastic outdoor activities for any couple who wants a beautiful backdrop coupled with incredible food and drink.
The variety of things to see and do in this romantic weekend getaway is strikingly copious. Nature lovers can explore Sonoma's several state parks and vineyards, which are perfect for hiking. For a scenic walk around nature, visit the spectacular Spring Lake Regional Park, which features 10 miles of trails linking to Trione-Annadel State Park and Howarth Park.
Located 1.5 hours by car from San Francisco, Sonoma County is home to more than 425 wineries, so there are plenty of tasting opportunities for any wine lover. Some of the must-visit wineries in the region include the stellar Hanzell Vineyards, which overlooks the stunning Sonoma Valley and is well-known for its standout pinot noir and chardonnay.
Make sure to also visit the Gundlach Bundschu Winery, which offers a rotating menu of wines from around the world, and Domaine Carneros, where you can sample award-winning sparkling wine in an English country manor.
And no romantic trip to Sonoma is complete without a day relaxing at one of the high-caliber local spas. To restore body and soul, spend a fabulous day at the Osmosis Day Spa Sanctuary, a luxury spa that offers the Cedar Enzyme Bath—a rejuvenating heat treatment from Japan.
For a superb meal in Sonoma County, book a table The Hitching Post II, which is the perfect bet for those who love steak and seafood. his restaurant is famous for their grilled Angus beef, along with fresh fish flown in daily – so it doesn't get any fresher than this!
If your idea of the perfect date night involves Italian food, then head over to La Toque: they have been serving up some truly authentic Northern California cuisine since 1995. All set? Let's go check out Napa Valley now!
Find Hotels Near Sonoma|Find Vacation Rentals Near Sonoma
New York City, New York |Romantic Getaway for Urban Experience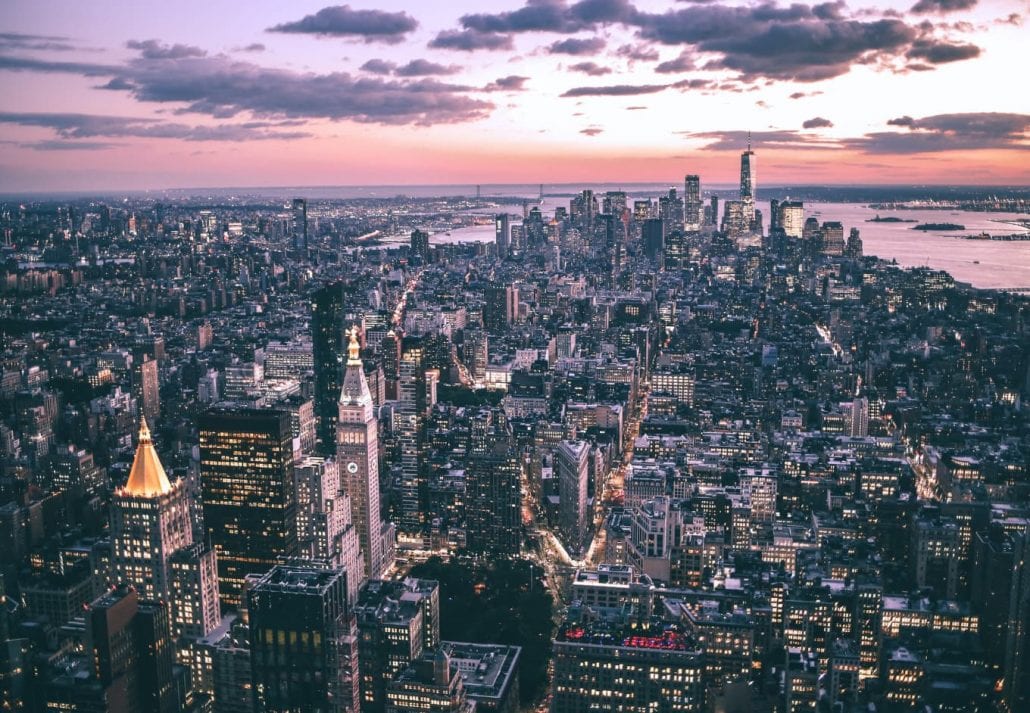 Bursting at the seams with many attractions, New York happens to be a fantastic romantic weekend getaway, especially for the urban explorers who want to experience a deeply cosmopolitan destination. Whatever pleasures you might covet…. NY probably has them in spades: an incomparable skyline, amazing museums for art lovers, world-class Broadway shows, live music venues, shopping districts, and more.
New York offers options for doing something new every day. Aside from exploring the city's iconic attractions, from Times Square to the Empire State Building, couples can take some to experience New York's romantic activities. These include strolling the picture-perfect High Line Park, which offers stunning views of the city, going boat ride in Central Park, and embarking on a scenic New York City Sunset Sail to the Statue of Liberty.
NY sports a myriad of world-class eateries that include everything from street food to fine dining. If you're looking for a memorable romantic dining experience in Manhattan, book a table at Daniel, an award-winning restaurant where you'll sample modern dishes created by seasonal ingredients, from seafood, to fruits, and vegetables, and paired with wines from the Rhône and Burgundy.
And no romantic night in NY is completed without a visit to the Summerly at The Hoxton, a gorgeous rooftop terrace that is perfect for a date overlooking the East River.
Visiting New York during wintertime? Then don't pass up the chance to go ice skating in Bryant Park and marvel at the magical Dyker Heights Christmas lights.
Find Hotels In New York | Find Vacation Rentals In New York
Maui, Hawaii | Best for Romantic Beach Getaway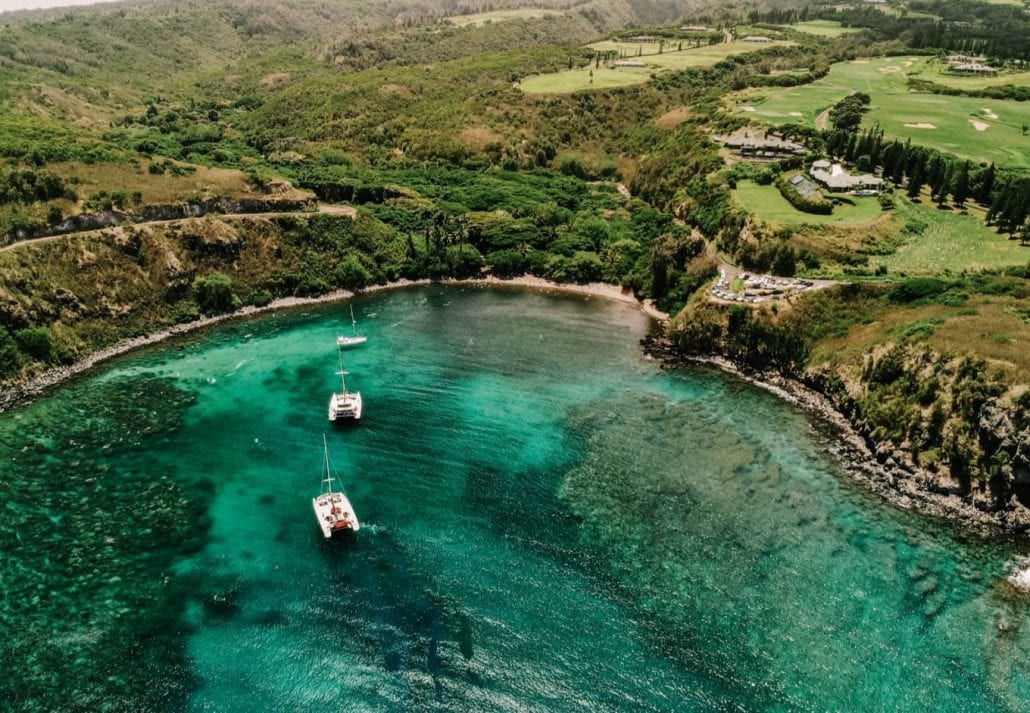 Maui is perfect for honeymooners with its stunning beaches and tropical climate. Start your visit by going to D.T. Fleming Beach Park where you can enjoy some of the best snorkeling or bodysurfing anywhere – there's even a waterfall that offers great swimming!
If you want to get more into exploring Hawaiian culture then head over to Kalua'aina Place which features outdoor performances showcasing traditional dance, music, and hula shows from Hawaii island communities. The breathtaking scenery doesn't stop once the sun goes down either-evenings are filled with gorgeous views of wildflowers and waterfalls as well as cool breezes coming off Hapuna's white-sand beach.
A delightful maze of eye-popping natural features makes this tropical island one of the most romantic getaways in the US. Offering consistently nice weather for much of the year, Maui is home to stunning places like the Road to Hana, a scenic highway that offers a birdseye view of Maui's coastline framed by lush rainforests and cascading waterfalls.
For full immersion in nature, spend the day in Waiʻānapanapa State Park, a heavenly place graced by ocean caves, freshwater pools, rugged cliffs, and even a black sand beach.
The Makena Beach State Park is another worth-visiting spot in Maui. Home to snow-white sand beaches and a dormant volcanic cinder cone, the park is the perfect couples getaway for travelers dreaming of a relaxing day under the sun.
Other stunning places to explore in Maui include the 4,000-acre Iao Valley State Park, a lush crown jewel situated in the heart of the island, and the West Maui Forest Reserve, which features several beautiful walking trails surrounded by lush scenery, and superb valley views.
Find Hotels In Maui | Find Vacation Rentals In Maui
Asheville, North Carolina | Best Romantic Getaway For A Fall Trip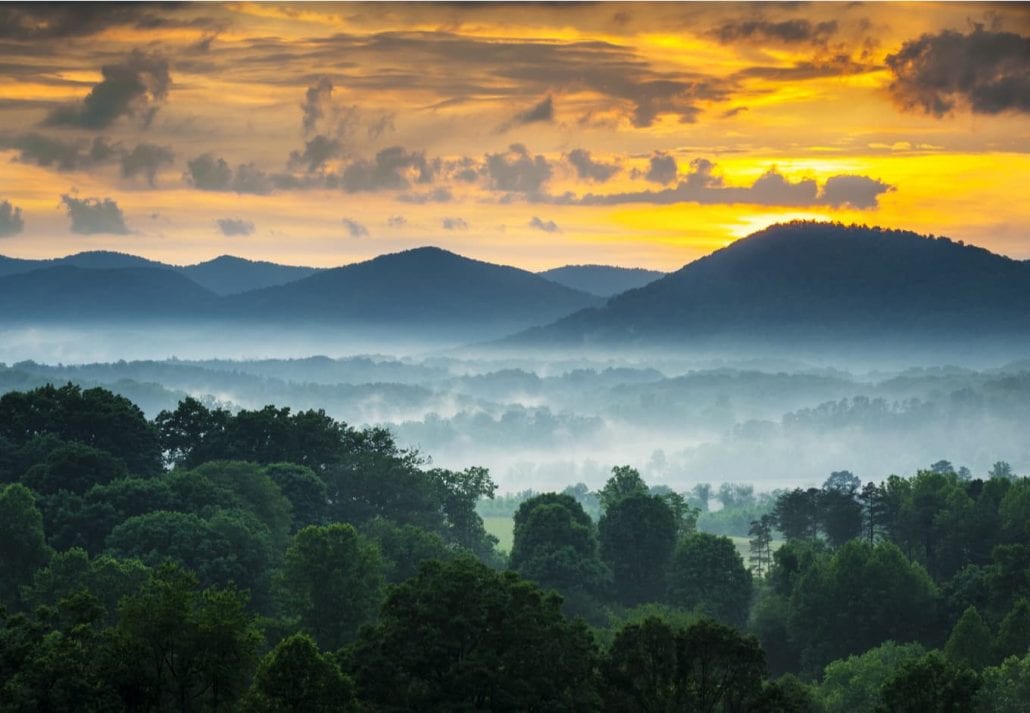 Perfectly placed in western North Carolina, Asheville is a romantic destination dotted with secured backwoods and parkland. One of the best romantic weekend getaways to visit during the autumn season, Asheville rewards visitors with gorgeous views of the Appalachian Mountains, cascades, woodlands, and other natural marvels. Practically difficult to get more heartfelt than this.
Stunning spots for couples to visit in Asheville include the Biltmore Estate, an appealing 8,000-section of land that belonged to the Vanderbilt family. Now, this luxurious chateau is home to a winery, where you can have a wine tasting while marveling at the estate's lush gardens.
Another great way of enjoying a romantic trip to Asheville is driving the Blue Ridge Parkway. Encircled by the stunning Asheville mountains, the Blue Ridge Parkway is often considered one of the most beautiful roads in America.
After indulging in Asheville's fine selection of outdoor attractions, including the Pisgah National Forest, home to high peaks, and waterfalls spread over 500,000 acres, be sure to go for a romantic stroll around Downtown Asheville. This charming city is home to amazing boutique stores, art galleries, romantic restaurants, and breweries like the Asheville Brewing Company and Oyster House Brewing.
Find Hotels in Asheville, North Carolina
Florida Keys, Florida | Best Romantic Getaway For A Tropical Vacation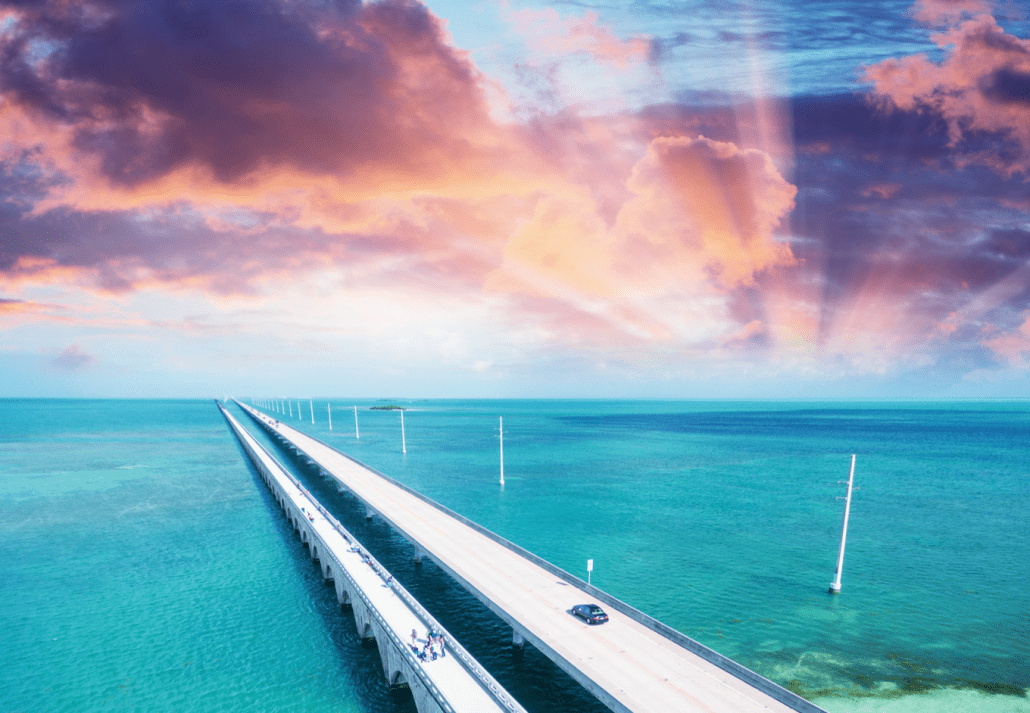 The Florida Keys are a great getaway for those who want to stay close to home but still enjoy a beautiful beach destination. As one of the most popular tourist destinations in the United States, there is plenty on offer that will keep your partner entertained with everything from fishing trips and snorkeling tours to relaxing days by the pool or spa treatments for two at The Westin Key West Resort & Marina Spa. Here you'll find quaint restaurants, shops, and even golf courses all within minutes of each other!
After strolling along Duval Street, home to modern art galleries, museums, and great restaurants, head over to the Bahia Honda State Park, a paradisiac island that is perfect for birdwatching, beachcombing, and hiking.
One of the most coveted tourist attractions in the Florida Keys is, undoubtedly, the famous Dry Tortugas National Park, a small archipelago overlooking the Gulf of Mexico and one of the best snorkeling spots in Florida.
More romantic getaways in the Florida Keys include the stunning John Pennekamp Coral Reef State Park, a natural wonderland home to tropical vegetation, shorebirds, and marine life, and the 17th-century Ernest Hemingway Home and Museum.
Foodies, rejoice! The Florida Keys is dotted with great seafood restaurants that are perfect for a romantic dinner, including the beachfront Latitude's Restaurant and Little Pearl.
Find Hotels In The Florida Keys | Find Vacation Rentals In The Florida Keys
Yellowstone National Park, Montana | Best Romantic Getaway For Outdoor Enthusiasts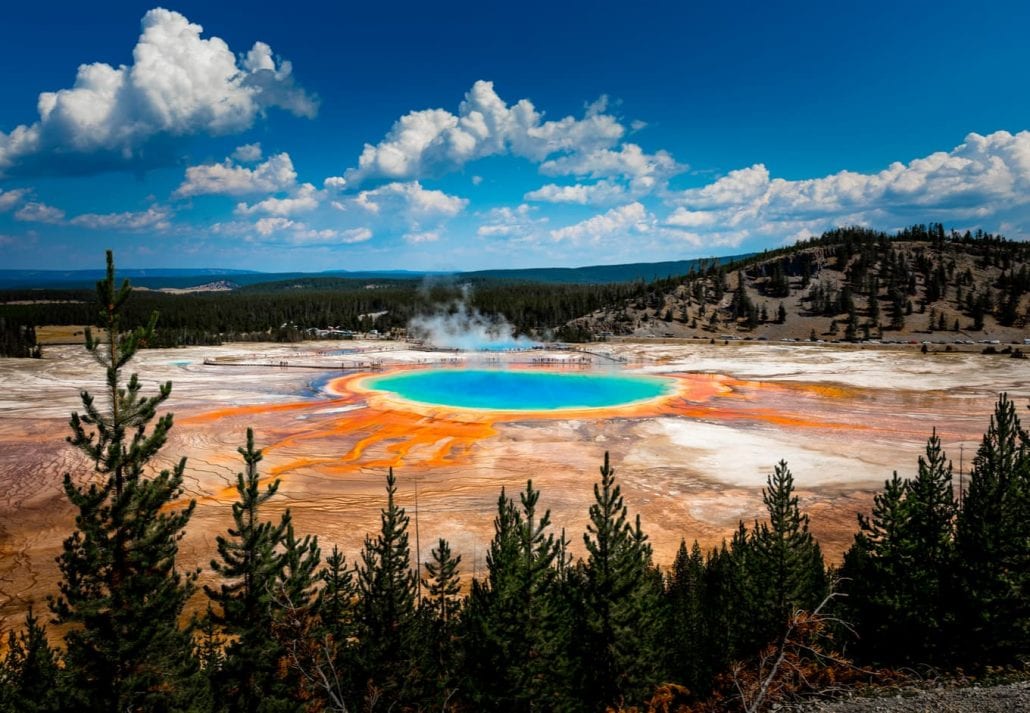 The Yellowstone National Park is a veritable wonderland for outdoor lovers. Within its boundaries, visitors can enjoy everything from horseback riding and hot air ballooning to fishing in the Snake River. Soak up some sun on a lakeside picnic while you watch for bison!
A stay at The Wigwams is just about as romantic as it gets when looking for accommodations near Yellowstone National Park. These handcrafted cedar structures are based on Native American designs and offer an authentic piece of history with modern amenities like fireplaces, Jacuzzis, and king-sized beds.
Some of the best things to do in Yellowstone include wildlife viewing, hiking, and exploring geothermal features like Old Faithful. You can also hop on a scenic railway that runs from the north entrance of Yellowstone to Mammoth Hot Springs in the south for an easy (and romantic) day trip!
Scottsdale, Arizona | Best Romantic Getaway For Offbeat Travelers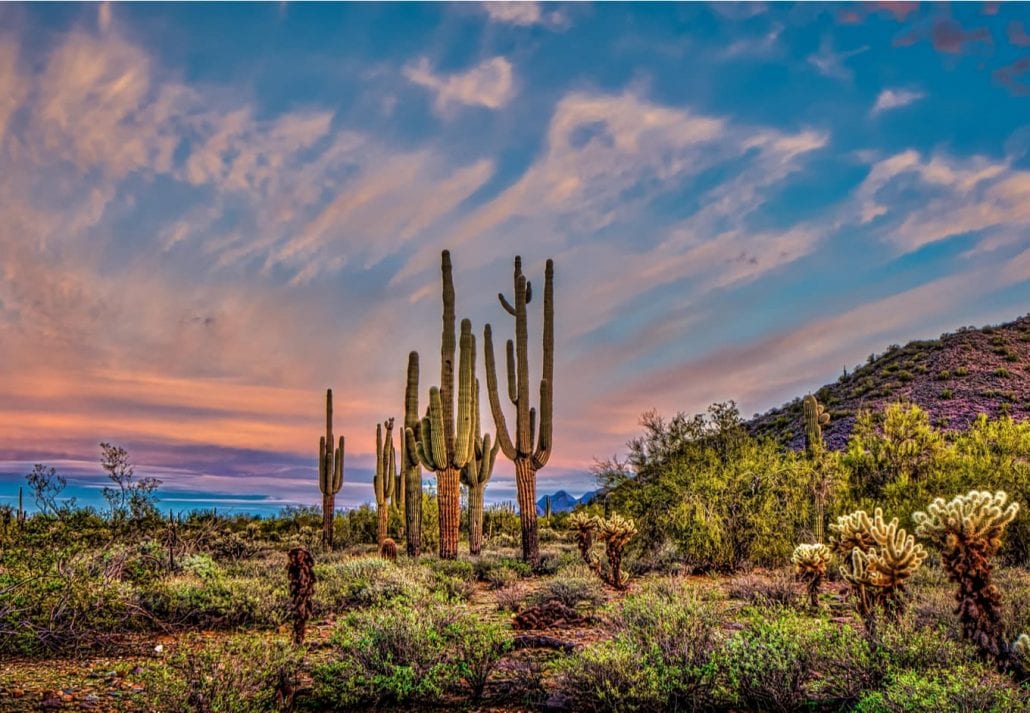 Known for its luxurious spa resorts and premium golf courses, Scottsdale is one of the most romantic cities in Arizona. Perfectly located in the Sonoran Desert, this romantic retreat offers a fascinating range of experiences for all types of couples. Outdoor enthusiasts can head over to the Saguaro National Park, near Phoenix, which offers not only spectacular views as well, but also amazing hiking trails that lead any visitor through some of the most magnificent scenery that Arizona has to offer.
In Scottsdale, outdoor enthusiasts can also choose to take a boat tour on Lake Scottsdale. This is the perfect way for couples looking for romantic getaways in Arizona to enjoy this city's beautiful scenery, while also taking advantage of its numerous amenities and attractions that are available close by.
If relaxing and recharging is what you're dreaming of, make sure to enjoy Scottsdale's amazing spas. For a romantic, luxurious experience that will leave you feeling pampered and taken care of, head over to the Fairmont Scottsdale Princess. This hotel offers not only world-class amenities but also some amazing restaurants for couples looking for weekend getaways in Arizona with culinary flair.
Find Hotels In Sedona | Find Vacation Rentals In Sedona
Charleston, South Carolina | Best Romantic Getaway For The Ultimate Southern Charm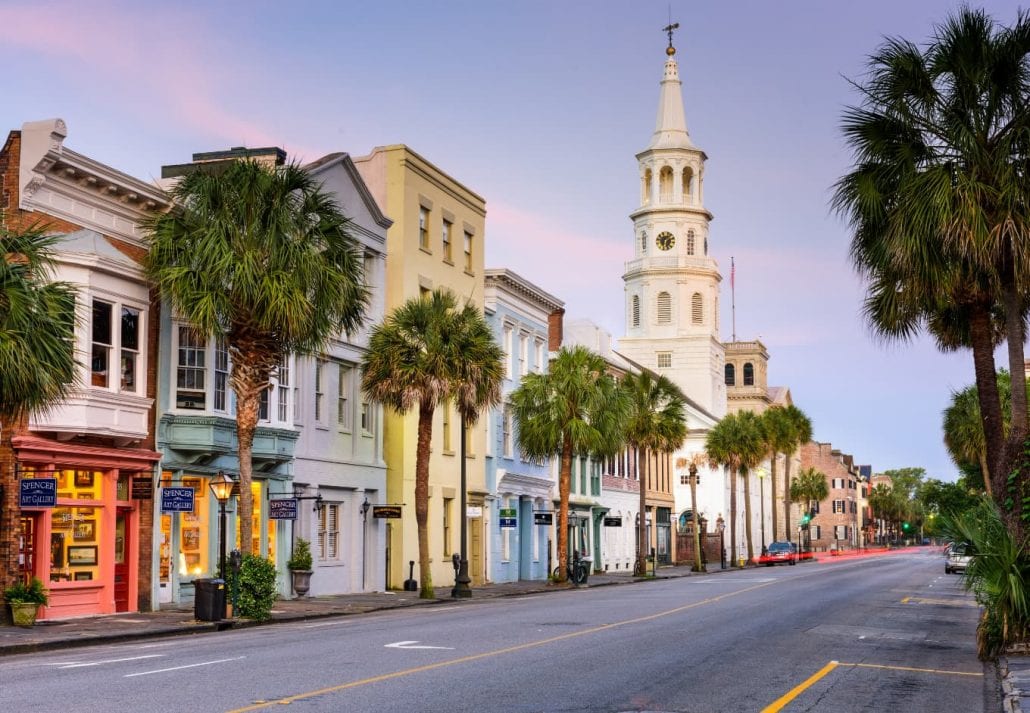 Thanks to its irresistible southern hospitality, Charleston is one of the most sought-after romantic getaways in the United States. A small town of huge beauty, this South Carolina city has everything couples could want from a memorable vacation: romantic hotels, great food, beautiful beaches along the coast, and more.
To get a feel for the city, make sure to explore Charleston on foot. Walk along the leafy cobblestone streets and catch a glimpse of the picture-perfect historic houses and gorgeous promenades. Be sure to also wander through the Waterfront Park where you can see kayakers paddling around and enjoy some people-watching at White Point Gardens with views of Fort Sumter on one side and Sullivan's Island on the other.
Need some well-deserved after walking around the city? Then spend the day at The Spa at Belmond Charleston Place, a luxurious spa that treats visitors with therapeutic massages, hand and foot therapies, and skincare treatments.
If you're looking for the perfect place for a romantic dinner in Charleston, be sure to explore the city's stellar downtown restaurants, which are well-known for their amazing seafood dishes. The must-tries? The beachfront Pier 101 Restaurant & Bar, and Charleston Crab House.
Find Hotels In Charleston, SC | Find Vacation Rentals In Charleston, SC
Curated Readings for you to plan your intimate trip:
Best Long Weekend Trips USA
Romantic Weekend Getaways in Arizona
Cheap Romantic Getaways in California
Romantic Weekend Getaways in New York
Romantic Things to do in Orlando
Romantic Spa Getaways
Best Romantic Canals in the World