You've probably already seen a romantic movie scene with a couple on a gondola, going down a waterway under the moonlight. And while you may think that these images are only real on the big screen, the truth is that they can indeed become a reality!
Love is in the air, and if you're ready to experience true romance, take a look at our top picks for the most romantic canals in the world.
The 10 Most Beautiful Canals in The World
Venice, Italy
Italy is famous for many things: its heart-warming food, friendly people, and world-class wine, just to name a few. Home to scenic landscapes and movie-like scenarios, the country is also a veritable wonderland for the most romantic travelers.
And one of the top locations for those who are looking for some romance is the iconic Grand Canal, in Venice. Also regarded as the Italian Canale Grande, this canal is the main waterway of Venice, and it's lined by palaces, churches, and Romanesque, Gothic, and Renaissance-style buildings, connecting some of Venice's top attractions.
The Grand Canal, in Venice, became one of the most romantic spots in the world, and it is usually gets filled with gondolas, taking tourists up and down on romantic cruises.
Annecy, France
France is even more beautiful when you're touring it via a canal boat ride. For optimum romance, head over to Annecy, a quaint alpine town located in southeastern France. Often regarded as the "Pearl of the French Alps" and "Venice of The Alps", Annecy is surrounded by a magical landscape of lakes and mountains, which can make anything more romantic.
Aside from eating raclette, drinking plenty of amazing French wine, and wandering around Annecy's Old Town, make sure to take a boat cruise on the Thiou river, considered one of the cleanest rivers in Europe. This postcard-worthy river crosses Annecy forming small canals where you can sail while watching the city's pastel-hued buildings. For an extra dose of romance, go to the Pont Des Amours, a footbridge that offers scenic views of the city, canal, and lake in Annecy, France.
St. Petersburg, Russia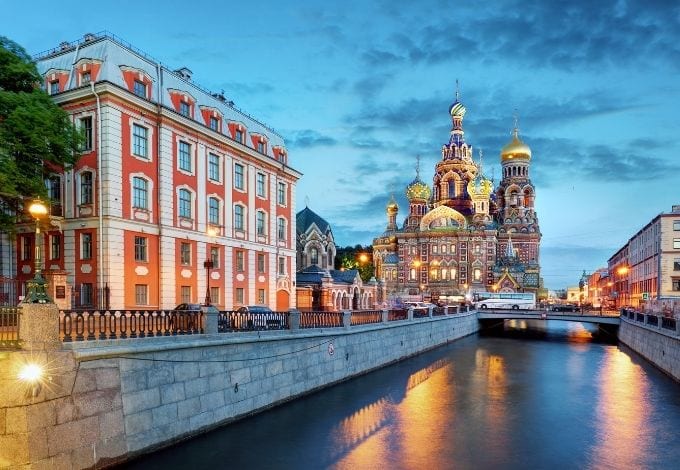 While Annecy is known as the "Venice of the Alps", Saint Petersburg is dubbed "Venice of the North", along with other cities, including Amsterdam. Aside from granting travelers with scenic viewpoints, Baroque-style buildings, and a group of monuments listed as a UNESCO World Heritage site, the city also has more than 70 rivers and canals, which are crossed by around 400 bridges.
To uncover the city from a new perspective, a great idea is to go on a Saint Petersburg River and Canal Boat Cruise, which will take you to a network of canals in the city. You can either opt for a daytime cruise to sight-see attractions like the Peter and Paul Fortress, the Mariinsky Theatre, and the Hermitage Museum, or for a midnight cruise to contemplate St. Petersburg's illuminated drawbridges.
If you decide to travel down the Griboyedov Canal in St. Petersburg, you'll get to see the stunning Church of the Savior on Spilled Blood up close. The canal flows for about three miles, showing you downtown St. Petersburg like you can't experience it anywhere else.
Find Hotels in Saint Petersburg, Russia
Alleppey, India
Located on the Laccadive Sea, Allepey is an Indian city known for its network of canals and lagoons surrounded by lush green forests. Often called the "Venice of the East", Alleppey offers a range of houseboat cruises along Kerala backwaters, which will give you a privileged view of the surrounding nature.
The canals that can be found in Alleppey are numerous and winding. Couples can enjoy a relaxing boat ride while under the cover of palm trees, exploring Indian villages from a houseboat. You can see everyday activities like prawn fishing and peek in on villages from your comfortable boat. During the cruise, you'll find yourself immersed in nature, so get ready to see some paddy fields, coconut groves, and temples.
Find Hotels near Allepey, India
Amsterdam, Netherlands
Beautiful canals adorned with photogenic 17th-century buildings are one of the first things that come to mind when people think about Amsterdam. And this is not actually surprising, as Amsterdam is home to some 165 canals that run through the city. In fact, the capital city of The Netherlands has a canal ring, known as the Grachtengordel, which is a network of intersecting waterways more than 400 years old that were listed as a UNESCO World Heritage Site. These canals divide Amsterdam into about 90 small islands, which are connected by 1,500 bridges.
Amsterdam's vast network of canals can be accessed by private boats, which takes travelers and locals to explore the city from a new perspective. At night, the boats that line the sides of these canals light up to match the bright lights of the shops and restaurants in Amsterdam, casting the city in a yellow glow.
Find Hotels in Amsterdam, Netherlands
Nan Madol, Micronesia
Taking a boat cruise in Nan Madol is different from everything you have ever done. Build in a lagoon, Nan Madol is a ruined archaeological site located in the Pohnpei State, in Micronesia. The former capital of the Saudeleur Dynasty, Nan Madol consists of many artificial islands, which are linked by a network of canals that can be toured by boat. While exploring Nan Madol on a boat, you'll be surrounded by beautiful tropical forests and megalithic constructions.
Suzhou, China
Also called the "Venice of the East", Suzhou is not your average travel destination, and that's what makes it so special and extra romantic. Located west of Shanghai, Suzhou is a 2,500-year-old city known for being home to several water towns, ancient canals, and bridges. The Grand Canal, which is the main canal in Suzhou, runs north to south through the Yangtze River and it was listed as a UNESCO World Heritage Site. A boat tour on the river will take you to uncover the many bridges of the city, and have a glimpse of the everyday lives of the local residents.
Aside from beautiful canals, Suzhou is also known for its carefully designed classical gardens, which date back to the Ming and Qing dynasties. Today, the city harbors about 60 classic gardens, and nine of them have been listed as World Heritage.
Find Hotels near Suzhou, China
Bruges, Belgium
To explore Bruges in a more romantic way, take a boat trip on its canals. Often referred to as "Reie", the famous Bruges canals have been in the city for centuries. One of the most romantic canals is the Groenerei, the "green canal", which is lined with trees and 17th-century houses. During your tour, you'll spot famous attractions such as the Manor of the Brugse Vrije, the Peerdenbrug and Meebrug bridges, and the Maison du Pelican.
For an even more romantic experience in Bruges, make sure to also explore the city on foot as well. With a fairylike scenario, Bruges is home to orange brick buildings, green yards, and medieval constructions.
Find Hotels in Bruges, Belgium
Stockholm, Sweden
Stockholm is a beautiful city with a long canal of its own, which links the city to Gothenburg. The city capital of Sweden is actually located on fourteen islands, on the banks of the archipelago where Lake Mälaren meets the Baltic Sea. To fully experience Stockholm's scenic waterways, take a tour of two of the most famous canals of the city, which are the Göta Canal and Dalsland Canal. You can also opt for sailing on the Djurgården Canal, which has been royal land since the 15th century. This tour will take you to some of Stockholm's most well-known places, like Slussen, the Old Town, and the islands of Fjäderholmarna.
Find Hotels in Stockholm, Sweden
Aveiro, Portugal
Located on the west coast of Portugal, along a lagoon called Ria de Aveiro, the city of Aveiro is a quaint destination, perfect for a romantic weekend in Portugal. Aveiro is located within a 2h30 drive from Lisbon, so you easily can plan a day trip to the city, which is applauded primarily for its picturesque canals. In fact, Aveiro is known as "the Portuguese Venice", even though the city has a charm of its own and it can't be compared to any other destination.
The main canal of Aveiro is the Central Canal, which goes through the city center and connects a majority of the city's famous spots. To explore Aveiro's waterways, navigate them on board a moliceiro, a traditional Portuguese boat painted with bright colors and developed for the transportation of the moliço, an aquatic plant used as an agricultural fertilizer.
After taking a moliceiro boat tour in Aveiro, make sure to wander around the city. Did you know that Aveiro is one of the top travel destinations to see Art Nouveau Buildings in Europe?
Find Hotels in Aveiro, Portugal
FAQ
What are the world's most romantic canals?
The world's most beautiful and romantic canals are:
Venice, Italy;
Annecy, France;
St. Petersburg, Russia;
Alleppey, India;
Amsterdam, Netherlands;
Nan Madol, Micronesia;
Suzhou, China;
Bruges, Belgium;
Stockholm, Sweden;
Aveiro, Portugal.
Romance is waiting for you in any one of these cities. Check out our current rental options on CuddlyNest.com and pick the destination that's right for you!
Browse. Book. Stay.
CuddlyNest provides all accommodations to all travelers at the best price. Find unlimited travel inspiration on our blog and social media channels.
Here are some curated readings for you:
Romantic Getaways In California
Most Instagrammable Places in The World
Romantic Getaways Near Orlando, Florida
You might also like:
Best Romantic Spa Getaways
Best Valentine's Day Travel Deals
Honeymoon in Australia