California is known for its amazing beaches, beautiful mountains, and stunning deserts. The "Sunny State" also happens to flaunt some of the most romantic places in the United States, as well as budget-friendly accommodations for lovebirds to stay at. In almost every city you'll find a great hotel room, a cozy inn or rooms with a jacuzzi for a more intimate experience, or even a resort with a spa.
While the "Golden State" often garners the reputation for its overpriced cities, we recommend going off the beaten path to experience California's budget-friendly and romantic hidden gems. You'll soon find that there's much to experience beyond the big cities — from wine-tasting in sun-kissed vineyards to hiking in sprawling national parks.
To level up the coziness factor, lovebirds can also book their romantic accommodation through CuddlyNest, which offers a dazzling array of hotels, chalets, villas, and B&B's in Northern California.
Read the post to find the most romantic getaways in California and options of affordable accommodation that will keep you and your loved one comfortable during the entire trip.

Also read: Most romantic honeymoon resorts in California
Explore Romantic Northern California Getaways
Scenic drives across the Golden Gate Bridge, stargazing in Yosemite, or relaxing at a spa on Catalina Island — Northern California boasts some of the most unique experiences for couples to enjoy.
Whether you and your significant other are going for a honeymoon trip or a weekend escape, "NorCal" is filled with cheap romantic getaways that'll provide you with a memorable trip.
Here are three must-visit Northern California destinations, and the affordable accommodations that will provide you with endless romance!
Napa Valley
When it comes to romantic places to visit in California, Napa Valley wins every time. Couples will love spending the day at wineries in the valley and indulging in the spectacular views of sun-drenched vineyards while wine-tasting.
The city is located just a short 50-mile drive (80 kilometers) out of San Francisco. While Napa's peak season is typically August to October, there really is no bad time to explore this area. If you and your partner are up for a little adventure, you can even bike around the vineyards through the calm streets connecting them together. All couples will simply fall in love with each other, the valley, and the amazing places to stay in the California Wine Country.
Before you start your affordable romantic vacation in Napa, be sure to book a cozy room for the weekend. The region is filled with incredible hotels where guests enjoy a private hot tub, spa services, and seclusion.
Find Hotels in Napa Valley, California
Yosemite
Couples looking to take their love to new heights will be enchanted by Yosemite National Park. Most famous for its giant Sequoia trees and natural landmarks including Half Dome, Yosemite is placed in the western Sierra Nevada of Central California. Adventurous duos can explore the park by day, and relax at a nearby vacation rental at night. Hikers and visitors can wander through 110 trails in the park. From days by the lake and nights star-gazing from the Jacuzzi at a boutique hotel, if an outdoor getaway is what you are in need of, this is one of the best places to visit. You may even be lucky enough to see some California wildlife along your adventure.
Find Hotels in Yosemite, California | Find Homes in Yosemite, California
Big Sur
Adventurous couples who are looking for romantic destinations in California will have a great time in Big Sur. Featuring a dramatic scenery filled with cliffs and forests, this area is not a city or town, but a 90-mile rugged and mountainous section located in Central California within a 2h30 hour drive from San Francisco.
Since the Big Sur is home to a multitude of state parks, natural preserves, beaches, and hiking trails, some of the finest activities for the adrenaline-seekers are the ones that happen outdoors. For an easy walk with a stunning view at the end, opt for the McWay Waterfall Trail. For a moderate roundtrip with ocean vistas, the Ewoldsen Trail is a good bet.
And because you'll get away from the hustle and bustle of other cities in California, ditch the award-winning restaurant and take your romantic dinner outside by organizing a picnic on a stretch of beach. Top the Big Sur travel experience by booking a stay at a cozy rustic hotel. The Fernwood Resort, for instance, offers its guests different types of private accommodations, like forest cabins, motel rooms, and adventure tents.
Find Hotels in Big Sur, California
Marin County
Cross the Golden Gate Bridge to visit San Francisco's neighbor Marin County. Boasting beautiful views of the city, and charming neighborhoods to explore, Marin offers the perfect romantic escape out of the big city. Spend the day biking around the harbors in Sausalito and indulge in shopping at Mill Valley's boutiques. If you're really looking to surprise your partner during your trip, plan a picnic at the top of Mount Tamalpais and book a room in a cozy inn, such as the Mill Valley Inn, for a more intimate feel. Enjoy the unobstructed views as you both watch the sunset over the Pacific Ocean. There is something so special about this destination, that you'll have to visit for yourself.
Find Hotels near Marin County, California
Discover Southern California Getaways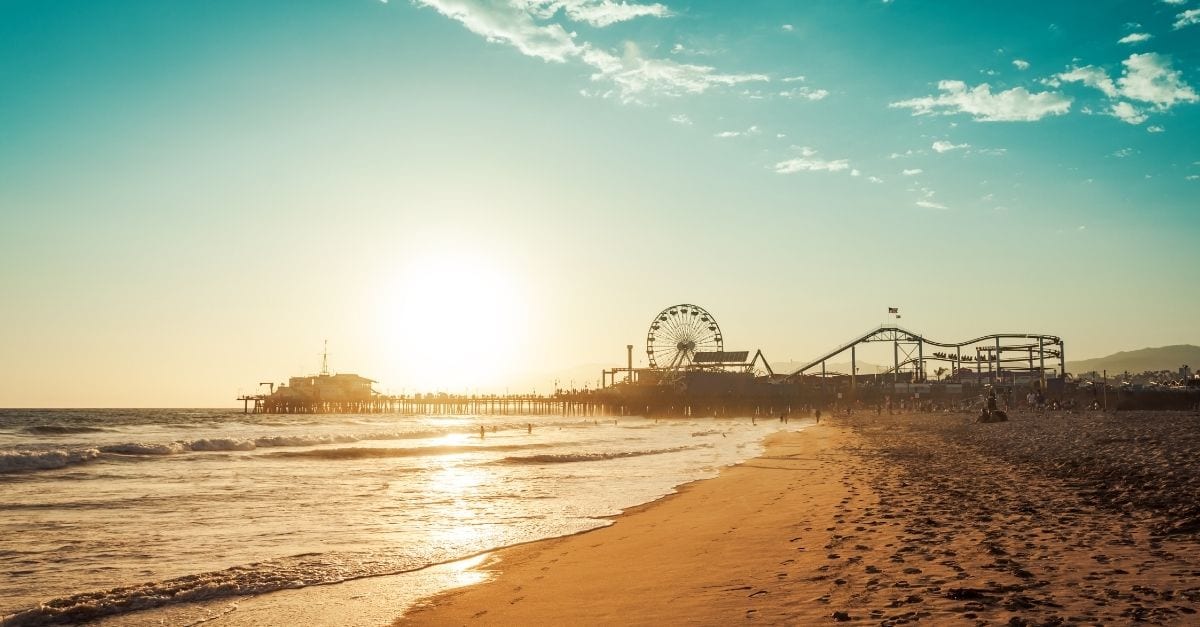 The best part about California is you can experience it all. You can spend a day in the mountains and arrive at the beach in the afternoon. It truly offers a once in a lifetime opportunity for couples you cannot get anywhere else. While Northern California is known for its coastal and mountainous regions, Southern California boasts chaparral, deserts, and beaches. As you make your way down the coast, Southern California has some of the most incredible romantic weekend getaways for couples to visit. Indulge in a beach outing, island escape, and desert exploration. Let's discover California's most romantic getaways for couples to enjoy.
Catalina Island
Right off the coast of Orange County and southern LA, is the enchanting Catalina Island. Just a short ferry boat away, couples will love exploring Catalina's port town. You and your partner can enjoy a day of hiking to the top of the cliffs while enjoying a view of the coast. You also cannot be snorkeling in the bay to search for California's state fish, the Garibaldi.
For maximum relaxation time, go to the Island Spa Catalina. Placed inside the El Encanto building, the spa has nine treatment rooms, a Jacuzzi, a dry sauna, a soaking pool, and a eucalyptus steam room that are guaranteed to rejuvenate mind and body.
If a romantic getaway in Southern California is what you are in search of, then there is no better place than Catalina. You can even combine a trip to Catalina Island for the day with a stay in a near city like Laguna Beach. It's the best of both worlds.
Find Hotels near Catalina Island, California
San Luis Obispo
Located on the Central Coast, almost equally between Los Angeles and San Francisco, SLO for short is one of the most charming counties in Southern California. With its Spanish design and architecture, San Luis Obispo will give you the feeling that you're in a completely different country, even though you are right in the heart of California. You can be at the beach, in the wine country, or in the mountains within 10 minutes. Embrace the small-town charm with incredible restaurants, boutiques, and of course, romantic getaways. This town is ideal if you are looking to embrace quality time with your significant other in a serene location.
San Luis Obispo is also home to Paso Robles, a city well-known for having more than 200 wineries and 40,000 vineyard acres. Also known as "Pass of the Oaks", Paso Robles it's a great pitstop in case you want to book a private tour and try some of California's finest wines.
Find Hotels in San Luis Obispo, California
La Jolla
Just 15 miles north of San Diego is the oceanfront community, La Jolla. Known for its upscale vibe and beach town ambiance, La Jolla is the perfect escape for couples looking for a relaxing coastal getaway. Indulge in the gourmet restaurants and take a walk through the Old Town. Couples will love taking a drive down to Cove Beach to walk through the crystal blue waters at sunset. It really is a one-of-a-kind spot for a romantic weekend with your partner. You can even add adventure to your trip by taking a surf or paddleboard lesson. Check out the amazing hotels and vacation rentals in the area.
Find Hotels in La Jolla, California | Find Homes in La Jolla, California
Santa Barbara
Framed by the dramatic Santa Ynez Mountains and the Pacific Ocean, Santa Barbara is one of the most romantic getaways in Southern California. This coastal city is often referred to as the "American Riviera" thanks to Mediterranean-style buildings, awe-inspiring ocean views, and excellent shop and dining options. With 300+ days of sunshine a year, Santa Barbara is a great destination for couples all year round. In the summer, get ready to explore the city's finest sandy beaches, like the perfectly sheltered Leadbetter Beach and the Miramar beach, right in front of the world-class Rosewood Miramar Beach resort.
During the harvest season, in fall, book a private wine tour at some of the city's best vineyards. Santa Barbara is a premium wine-growing region in California, and for a truly romantic weekend, head over to wineries such as The Valley Project and Presqu'ile.
Foodies can also benefit from a weekend in the city, which is home to more than 450 restaurants that are sure to please the most demanding travelers. If you feel like having a fine dining experience, head over to the Loquita Santa Barbara, at Lower State Street. The restaurant is famous for its tapas menu filled with Spanish-style appetizers such as croquetas, pan con tomate (bread with tomato), goat milk cheese, tortillas, and more.
Find Hotels in Santa Barbara, California
Laguna Beach
Laguna Beach is the right destination for couples who want to enjoy a warm summer in Southern California. Located along the Pacific Coast Highway, within an hour's drive from Los Angeles, the city is home to secluded beaches, rocky coves, and coastal parks, which make an unforgettable scenery.
The best way of taking advantage of a romantic weekend in Laguna is by booking a room in a local hotel or inn, and then visiting some of it's most beautiful beaches, like the 1,000 Steps Beach and the ones located inside the Crystal Cove State Park.
And not only paradisiac beaches make Laguna one of the most romantic California destinations. There's more. The city is also known for its vibrant art scene, being home to 100 art galleries and a renowned art museum, the Laguna Art Museum. With sweeping views of the Pacific Ocean, the institution exclusively features works created by Californian artists and it's a must-go for couples who want to get their culture fix together.
Find Hotels in Laguna Beach, California
---
Fall in love with endless romantic getaways in California. Incredible hotels and vacation rentals await couples looking for a one-of-a-kind getaway with their special someone. Already planning your trip? Check out CuddlyNest for accommodations in the area you wish to visit. We can't wait to explore California with you, soon.
Browse. Book. Stay.
CuddlyNest provides all accommodations to all travelers at the best price. Find unlimited travel inspiration on our blogs and our social media channels FaceBook, Instagram, Pinterest
Loving it? You might also like:
Romantic Getaways in Southern California
Romantic Getaways in Northern California
Romantic Getaways in United States
Romantic Spa and Sea Vacation Trends
Romantic Travel Deals and Ideas for 2021
Most Romantic resorts in California
Feast your eyes with some curated readings:
Benefits of a Staycation
Instagrammable Places to Visit
Most Romantic Canals in The World
Romantic Getaways in Australia