Game of Thrones Spain. GOT and Spain. Sounds like it does not go together? Sunny Spanish culture and Game of Thrones winter and wars may seem like an odd combination but is nevertheless true.
 Ever wanted to find yourself at Dragonstone or visit Dorne, the Water Palace of Sunspear? We already set you up for a guided visit to Dubrovnik, Croatia, where the majority of scenes for the King's Landing is set. Want to explore the realities of the Seven Kingdoms and wander around Game of Thrones Season 7 shooting locations? Ee prepared a 7-day tour to Spain for you. Now, you will be able to visit all filming locations in just 1 week. So, let's start from here!
Days 1 and 2. Game of Thrones Spain: Visit Seville 
There is no wonder directors chose to shoot series in Seville – it is one of Spain's most beautiful and historically rich cities, with architecture ranging from the Gothic cathedral to Mudéjar (Moorish) palaces to churches in baroque style. If you have no time, then visit at least María Luisa Park and Plaza de España – these two wonders tell the story of Andalusian capital throughout the centuries.
Royal Alcazar of Seville, 
Game of Thrones Spain 
Dorne
Series are set in the very centre of Sevilla, the Royal Alcazar of Seville. To shoot here, the film crew had to get special permission to close half of the palace for the time being, which is not an easy task, as the palace is the tourist hotspot and the general policy is against movie shooting here.
However, the Dorne scenes were shot here, capturing the summers of royal Martell family. Before you go to Seville, watch Season 5 starting Episode #2 showing the Water Garden. From there on, you can see almost every corner of the Dornish Palace. From Ambassador's Hall where Jamie Lannister, Doran Martell and Ellaria Sand are resting on the royal couches, to the Golden Ceilings which Jamie Lannister passes. You can also climb down to the Moorish Baths of the Alcazar where Myrcella Lannister was killed by Ellaria and Sand Snakes.
Open from 9.30 am to 5 pm daily, the palace is the top attraction for tourists. We suggest you go there in the early hours to have enough time and skip the crowds taking over the palace from noon.
Look up more information on the museum website.
Italica,
Game of Thrones Spain 
Dragonpit
Just outside Seville, in the ancient amphitheatre ruins with some columns and beautiful floor mosaics dating back to Roman times in Iberia, the production of Game of Thrones season 7 and season 8 is set. In series, you can recognize the amphitheatre as a King's Landing Dragonpit. Once served to 25,000 spectators, this indeed a must-visit for all GOT fans, especially if you want to take a short break from the tourist crowds in Sevilla.
How to get here?
Get on a bus from Sevilla Villanueva Serena to Santipoce. The ticket costs 10,34€ – you can buy it from the company website or get on the bus.
Day 2. Visit Osuna and Castillo de Almodóvar del Río
To continue the exploration of the Game of Thrones filming locations, go to Osuna and Castillo de Almodóvar del Río, which you will recognize as Daznak's Pit and Highgarden.
Osuna, Daznak's Pit
About an hour ride from Seville lies Osuna, a small but extremely beautiful historic town. In the series, the bullring hosts a scene where Daenerys settles a score with Meereen slave masters in the Dance of Dragons.
You will be able not only to visit the scene where the crew spent 12 days to shoot the scene, requiring hundreds of re-shoots but also immerse yourself in Spanish bullfighting tradition, brought to Spain by Moors. On feast days, Moors would kill the bulls riding on horseback. Modern-day Matador style bullfighting, though, came around only in the 18th century. Contrary to popular belief, the tradition is not banned entirely but has lost its popularity with 93% of youngsters being against.
How to get here?
Take a train to Almeria from Sevilla Santa Justa to Osuna. The train runs every hour and costs Є11.50. We suggest planning the early arrival, so you can take your time in Osuna and make it to Highgarden shooting location the same day.
Castillo de Almodóvar del Río, Highgarden
The 8th-century medieval castle serving as Highgarden in series will disarm you with its magnificent sights. First screened in season 7, the castle hill finds itself under Lannister rule.
Just as in series you can see it from far away – the castle hill stands out in the landscape, as it is the only hill in miles. There is an easy and scenic trail, and you can climb the towers to see the views.
We recommend to come here either by bus or – if you rent a car – then parking space is limited and will cost you Є 9.00. The castle is open on weekends from 11 am to 8 pm, but beware the weekdays – the Spanish siesta takes place from 2.30 om to 4 pm, and the castle is open to visitors only in mornings and evenings.
Day 3. Visit Game of Thrones Spain Los Barruecos
The nature reserve Los Barruecos is located just near Caceres, 3-hour drive away from Madrid. The Loot Train attack was shot here. As for series, you can recall how for the first time Daenerys released her dragon against the Lannisters.
To get from Highgarden here, we suggest you to go on BlaBla car and get a ride-share through Merida. Or, you can skip the public transport hassle and head straight to Castillo de Zafra via Madrid.
Days 4 – 5. Long stop in Madrid and Castillo de Zafra
Either coming from Caceres or Cordoba,  there is no way to avoid Madrid, the capital of Spain, on your way to Castillo de Zafra where Tower of Joy appearing first in Season 6 is located. Located between Madrid and Barcelona, the Tower of Joy homes Prince Rhaegar Targaryen and Lyanna Stark after their secret wedding. It was also a birthplace of Jon Snow.
The Zafra Castle – Bastion of Molina Manor is a magnificent 12th-century building and one of the strongest castles in the kingdom by the 16th century. Originated as an Arab fortress, the castle is only open to visitors from outside.
Days 6 – 7. Stay in Zaragoza and Game of Thrones Spain Bardenas Reales
As the Bastion of Molina Manor is located near to Zaragoza, we encourage you to share a ride on BlaBlaCar to Zaragoza, visiting its beautiful city centre, and then ride to the Bardenas Reales. Going by car, it takes around 1 hour to get to the breathtaking landscape. After seeing the soaring canyons, sandstone cliffs and rocky outcrops, there is no wonder why the film crew chose the location to shoot the Dothraki Sea. The Spanish badlands made from clay, chalk and sandstone have been moulded by water and wind for centuries, and you can see it just like another planet once again on Season 6.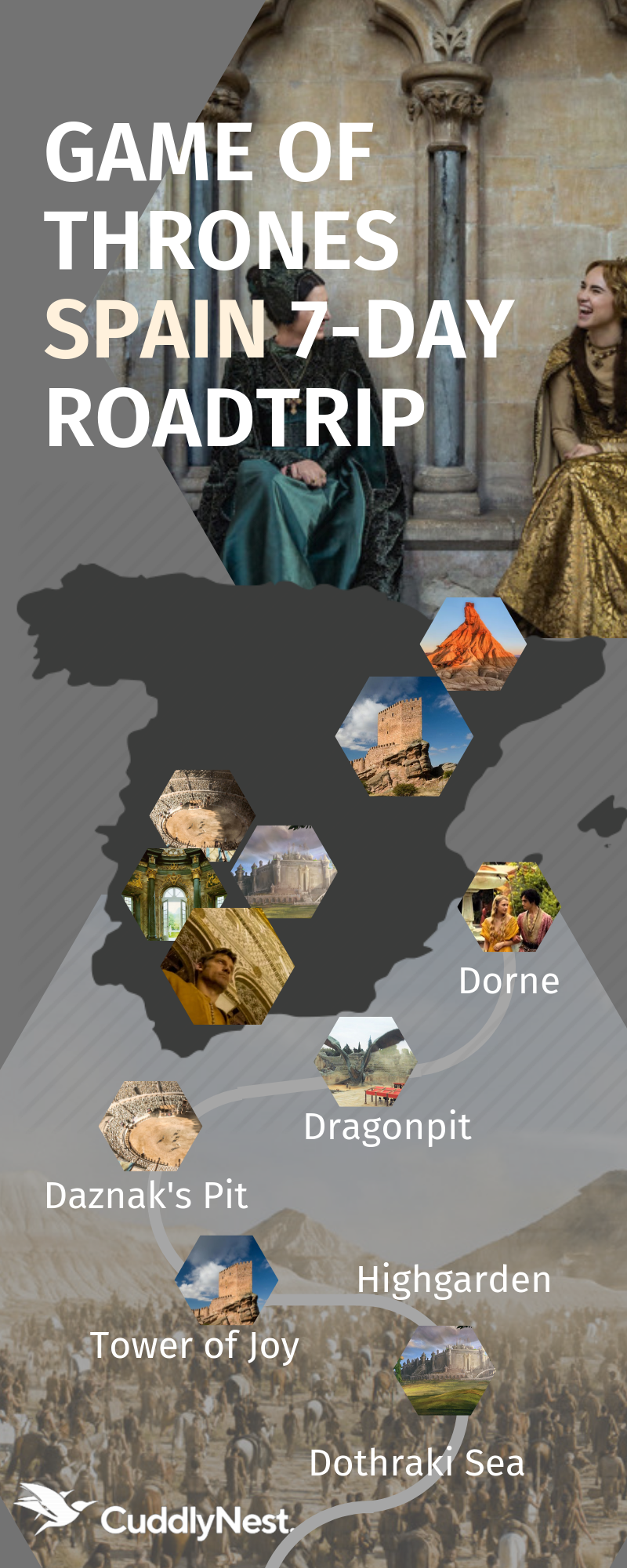 Wish to share the adventure? Pin this on Pinterest!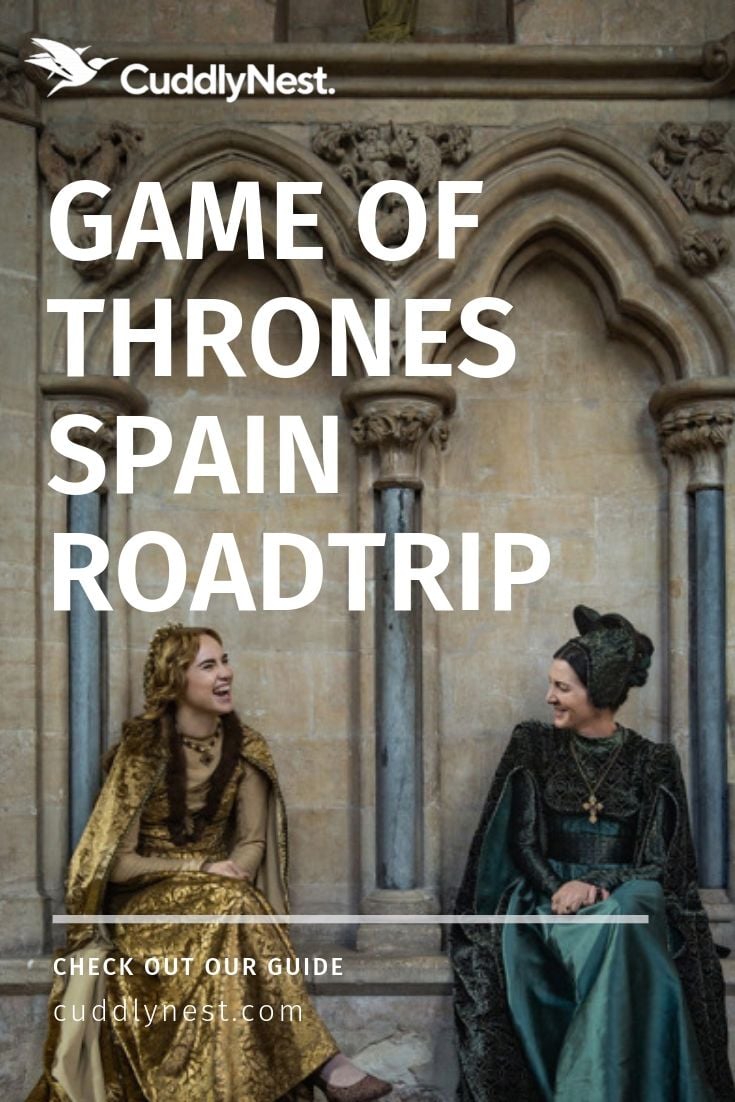 https://www.cuddlynest.com/blog/wp-content/uploads/2019/06/20-2.jpg
894
1700
2019-08-18 03:00:41
2020-05-14 07:42:04
Game of Thrones Spain Roadtrip