Croatia is famous for its wild beaches and resorts, it's wine and the pristine blue Medditarean sea. Best Croatia beaches are well known, yet not all are very suitable for large families, or families with small kids. Here are some of the best sandy stretches for your family and you to enjoy a relaxing and fun day by the sea.
Already planned your summer holiday for this year? No worries – Croatia is best enjoyed in early September or even the start of October, hence, on the shoulder season.
Croatia Beaches for Family Holiday
Croatia Sakarun Beach, Dugi Otok
Croatia beaches cannot look any more paradise-like than this gets. Sakarun beach is well known as one of the best beaches in Dalmatia coast (read: why you should visit Dalmatian coast) of Croatia.  And it is no wonder, as it is included in the Croatian ecological network to protect biodiversity.
The little bay is just like heaven. You get the turquoise and calm water, white sand and sun most days in the summer will allow you to relax. The beach is also not extremely crowded, which means your kids would have space for the play while you can pick up a book to read facing Zadar archipelago Tri Sestrice, Sestrunj, Molat, Zverinac), and the lighthouse Veli Rat.
How to get to Sakarun Beach?
The beach is located on the west side of Dugi Otok.
If you are in Zadar, take a tourist train from Hotel Maxim in Zadar to the beach in the summer, afterwards taking ferry.
However, you can also take a ferry from Zadar city on Croatia's Dalmatian coast. Ferries are going daily year-round, and it takes approximately 1 hour 20 minutes for you to get to the beach.
Dražiča Beach, Biograd na Moru
The sun and shade make this the perfect beach for families with younger kids.
This short gravel beach is fun and offers lots of sports activities, so you can relax while keeping kids occupied.
How to get to Dražiča Beach?
The beach is just 10 minutes' walk away from the center of Biograd, and you can reach it by pathway.
Slatina beach, Martinšćica, Cres Island
Located near camp with the same name, this is one of the most beautiful beaches in Cres-Lošnij archipelago. Unlike other beaches, Slatina water is very warm and clean, and it looks green due to its sandy bottom. The beach itself is partially sandy and partially concrete, making it a  good choice for those seeking the happy middle between wilderness and family-friendly infrastructure.
The beach has a restaurant, showers, changing rooms, and a lifeguard's tower, as well as sports and animation centers just in walk's reach.
How to get to Slatina Beach?
The beach is located on the Kres Island, so if you are in Opatija, and wish to visit Slatina for the weekend, get in the car, drive the beautiful coastal motorway and get to the beach by ferry. 
Zaton Beach near Zadar
While Zatar is one of the top choices for families visiting Croatia exclusively for beach holidays, Zaton and Nin are famous for their sandy coasts. Zaton Beach stretches more than 1.5 km. It is on the premises of the Zaton Holiday Resort, a family vacation paradise. You will see many amusement parks and water attractions here. Other attractions, like bars and restaurants, are also available serving delicious Croatian food. For your comfort, the beach offers outdoor showers, cabins, sports shops. Also, beach chair and umbrella rental, public toilets and a grocery store. The coastline water pools are safe and the coast area is shallow, making it perfectly safe for younger ones as well.
How to get to Zaton Beach
Either you are residing in Zadar, or make your way from Dubrovnik or Split for a day by the beach by car. You can get around by both public and private transport.
If you are staying in Zadar, you can take a suburban bus running between Zaton and Nin. The ticket will cost you 13 kuna (EUR 1.75)  one-way.
If you are coming with your family from Split or Dubrovnik, the Game of Thrones film set, we suggesting hiring a car and driving the picturesque coastal road on your way to the beach.
Where to stay near Zaton Beach
You can stay in Zadar country houses, beach villas and condos with your family. Here are some of our favorites.
Family House with Private Pool
Private Villa with Pool
Vela Beach, Baška, Krk Island
As we already wrote, Krk island is amazing purely to experience the Croatian winemaking tradition,  but you may as well enjoy the beachside in the daytime.
Vela Plaza is the most popular beaches on Krk island, and you are likely to find yourself between crowds of Croatian, Italian, and German tourists whilst sunbathing. The water is calm in the perfect turquoise shade, making it seem just like a postcard.
Visiting Vela beach with kids will fit both; those who love making sandcastles as well as those preferring pebble stone fortresses. That said, the beach has it all – white sand and gravel alike, supplied with a couple of beach bars and opportunities to keep one active playing sports. You can rent a volleyball and play it in with friends, or get on a pedal boat and enjoy the blue sea from waves.
How to get to Vela Plaža, Krk island
If you find yourself on the island, the beach is just near the center of town Baska. If, however, you are visiting Krk island from the mainland, you can either take a bus or walk your way on the bridge, as there are no ferries linking Krk with the mainland directly.
Buses from Rijeka to Krk town are running daily, and the journey lasts around 1 hour and costs EUR 9. You can look up the bus schedule on Autotrans website. If you are coming from Zagreb, it will take 3 hours and cost EUR 19. You can take a bus run by Autotrans or Croatia Bus–
Keep in Mind Visiting Best Croatia Beaches
While we strongly encourage you to enjoy your family beach holidays when your schedule allows you to, the best times to visit Croatia is nevertheless the shoulder seasons, that is May and September – October. For tips on what you need to bring to each beach and insider tips, Sail Croatia, is an excellent source. Between our guides, you can't go wrong when planning a beach vacation in Croatia. 
Although speaking only English is not going to be a barrier, as 81% of Croatians speak English, practicing German is not a bad idea, either, as German and Italian are both popular languages as well.
Are you on Pinterest, too?
Share your travel destination inspiration with others! Pin this: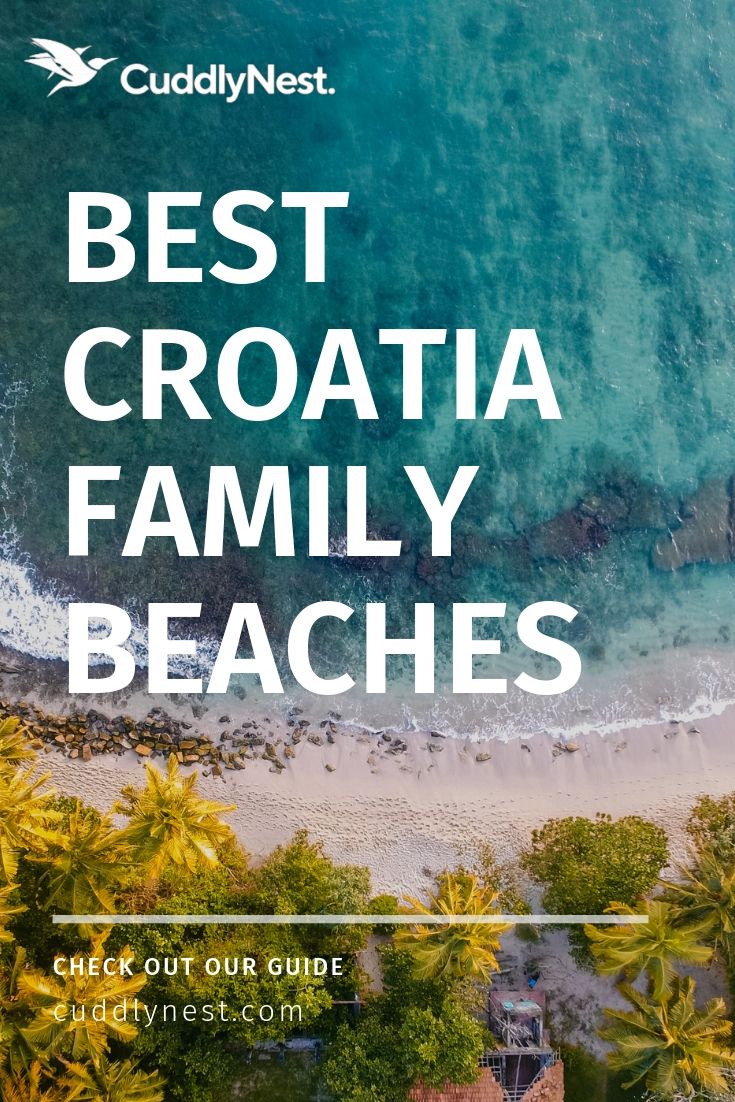 https://www.cuddlynest.com/blog/wp-content/uploads/2019/06/5-5.jpg
894
1700
2019-06-03 03:00:52
2020-09-18 14:42:06
Best Croatia Beaches for Family Holidays