Spain has all the features that wide-eyed travelers long for in a vacation destination: amazing weather, cultural offerings, a bustling nightlife, and delicious food. Not to mention that the country boasts a seemingly endless array of gorgeous beaches that offers a treat for the eyes!
Praised worldwide for its natural scenic beauty, Spain proudly boasts more than 3,000 miles of coastline, and 60 eye-popping islands including Gran Canaria, Majorca, Ibiza, and Cabrera, just to name a few.
Dreaming of experiencing Spain's rich collection of spellbinding beaches? Then read on to discover the 10 finest ones in the country.
The Most Beautiful Beaches In Spain
Cala Mesquida, Palma de Mallorca
Located on the northeast coast of Palma de Mallorca, Cala Mesquida is a long stretch of sandy beach shaped like a bay. One portion of the beach is set among pine trees and sand dunes, while the other is located close to some of the area's finest resorts.
Thanks to its natural beauty, the area surrounding Cala Mesquida was designated as an "area of special interest".
Boasting fine-grain sand gin-clear waters, Cala Mesquida is a great place for activities like diving, snorkeling, and paddleboarding.
Best Time To Visit: June, July, August, and September.
Find Places To Stay in Palma de Mallorca, Spain
Playa de Bolonia, Tarifa
In the limits of El Estrecho Natural Park, in the municipality of Tarifa, lies the gorgeous Playa de Bolonia, a natural paradise in southern Spain. With fine white sand and clear turquoise waters, this eye-popping beach has a wealth of features that attract a variety of visitors.
The majestic sand dunes located on the western side of Playa de Bolonia make the beach a perfect spot for nature lovers. There are also several waterports areas and tempting beach bars and restaurants in the southern part of Bolonia bay. Naturists can flock to the beach's isolated coves, which are officially designated as nude beaches by the Tarifa town council, while families can explore the Baelo Claudia Archeological Complex, which encompasses Roman ruins from the 2nd century B.C.
Best Time To Visit: June, July, August, September
Find Places To Stay In Tarifa, Spain
Burriana Beach, Nerja
Prized with the Blue Flag award year after year, Burriana Beach is placed less than a mile from Nerja, a beautiful coastal town along southern Spain's Costa del Sol.
This family-friendly beach stands out thanks to its proximity to urban amenities, like bars and restaurants, and an abundance of areas that are perfect for practicing sports. While the most active visitors can play volleyball on the local courts, go paddle boating or try more extreme activities like jet-skiing, foodies can flock to the nearby Restaurant Ayo for the best paella a la lenã of Costa Del Sol.
Best Time To Visit: Late June to early September
Find Places To Stay In Nerja, Spain
Playa de la Victoria, Cádiz
Conveniently located within a 15 minutes walking distance from the historic center of Cádiz, in the Andalusia region, Playa de la Victoria ( Victoria Beach ) is one of the most sought-after city beaches in Spain.
The beach is renowned for its scenic beauty that encompasses fine white sand and the endless view of the sparkling waters of the Atlantic Ocean.
Although it's not ideal for surfing, Playa de la Victoria has special areas enabled for sports — like football fields and rugby goals—, and it's extremely well-served when it comes to amenities and leisure activities. After a sundowner, be sure to go for a walk on the promenade, which is dotted with restaurants and lively chiringuitos (beach bars).
Best Time To Visit: June, July, August, September
Find Places To Stay In Cádiz, Andalusia
Flecha del Rompido, Huelva
A crown jewel spiked on Huelva's Costa de la Luz, Flecha del Rompido is the section of beach on the mouth of Río Piedras, a river that runs alongside the village of El Rompido, between the municipalities of Lepe and Cartaya.
Often praised as one of the best beaches in Andalusia, "La Flecha" is a veritable paradise perfect for those who want to disconnect from the pressures of everyday life. The beach has actually been declared a Natural Area, and it's known for its set of beautiful coastal sand formations.
Well off most travelers' maps, La Flecha is the perfect place to be if you're looking for a quieter spot, even during the midsummer. Just note that the beach has limited facilities, so we recommend that you take your own snacks and water.
La Flecha can be reached by a small ferry boat from the Marina in El Rompido, which takes 10 mins to cross and run from mid-June to mid-September.
Best Time To Visit: June, September
Find Places Near Huelva, Andalusia
La Concha Beach, San Sebastián
Often referred to as the most beautiful city beach in Europe, La Concha is the most centrally located beach of San Sebastián, in the Basque Country. This crescent-shaped urban beach is surrounded by green mountains — the Urgull mountain on one side, the Igueldo mountain on the other one —, which protects the place against the wind and high waves.
Thanks to its almost one mile of fine golden sand, Playa de la Concha is the best place to go for a long walk in San Sebastián. Not to mention that the water is calm, and not very deep in the bay, making La Concha one of the top family-friendly beaches in Spain.
Best Time To Visit: From May to September
Find Places To Stay in San Sebastian, Spain
Playa del Silencio, Asturias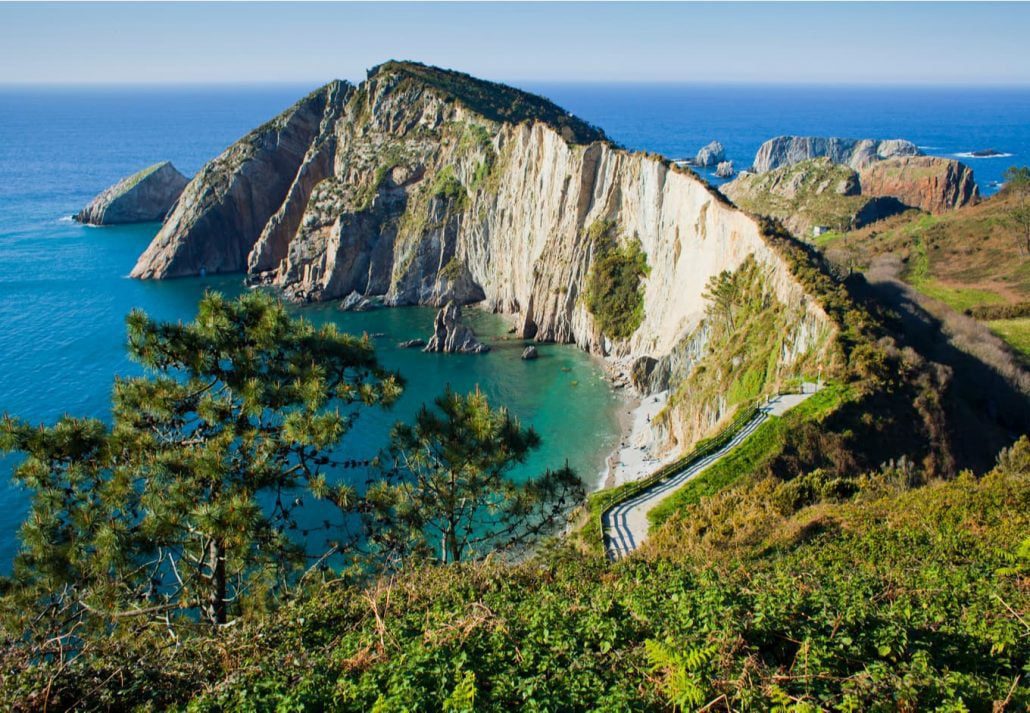 If you're dreaming of marveling at one of Spain's most breathtaking natural landscapes, Playa del Silencio is the place to go. Located in Asturias, on the northern coast of Spain, this otherworldly beach is known for its untouched natural features.
Although Playa del Silencio is hard to access, visitors are instantly rewarded with a mesmerizing view of the ocean green shallow waters amalgamating into the majestic rocky crescent.
With no amenities nearby, the beach is a peaceful sanctuary that offers nature lovers a real treat for the soul!
Best Time To Visit: June, July, and August
Find Places To Stay In Asturias, Spain
Playa de Torimbia, Torimbia
Surrounded by a 164 ft cliff, and majestic green hills, Playa de Torimbia is a secluded beautiful beach located west of Llanes, Torimbia. Wild and untouched, this fine sand beach offers visitors the to experience nature in a unique, primitive setting.
The beach can be accessed only via a footpath—roughly a 15-minute walk —, which is wide, but a little bit steep.
Best Time To Visit: June to September
Find Places To Stay Near Torimbia, Spain
Maspalomas Beach, Gran Canaria
If visiting Gran Canaria, in the Canary Islands archipelago, is on the books for you, don't miss the opportunity to drop by Maspalomas Beach. Flanked by the majestic Maspalomas Dunes Nature Reserve, this fine golden sand beach has something to offer everyone.
Families can enjoy the local services and amenities, like nearby restaurants and stands, while nudists can venture out to the more isolated sections, where naturism is popular.
Best Time To Visit: Throughout the year
Find Places To Stay In Las Palmas de Gran Canaria, Spain
Recommended Read: The best Canary Islands to visit
Cabo de Gata – Níjar Natural Park, Andalusia
Nestled in the southeastern corner of Spain, Cabo de Gata is Andalusia's largest protected coastal area and a real gem on the Mediterranean coast. This heavenly natural park is dotted with so many fabulous beaches that we couldn't pick only one for the list!
One of the park's most spectacular beaches is, unarguably, Cala San Pedro, an earthly paradise framed by hills and lush vegetation. Perfect for swimming, this fine sand beach is lapped by the turquoise waters of the Mediterranean, and it's the go-to place for travelers who want to go off the beaten track in Spain.
Other amazing beaches in Cabo de Gata are Mónsul beach, Genoveses e Los Muertos.
Best Time To Visit: May until October
Find Places To Stay In Andalusia, Spain
Frequently Asked Questions About Beaches In Spain
What is the nicest beach in Spain?
Spain has more than 3,000 miles of varied coastline, and it's home to a wide array of beaches. When it comes to what is the best beach in Spain, it all depends on what you're looking for, as the country has something to offer everyone.
Where is the clearest water in Spain?
Cala Macarelleta, on the southwest coast of Menorca, is known for having one of the clearest waters in Spain.
Are the beaches warm in Spain?
The water temperature ranges from cool to comfortable and warm. The warmest water in Spain is in Menorca, with an average temperature of 26 Cº.
What is the best beach for families?
Playa de la Victoria (Cádiz), La Concha Beach (San Sebastián), Cala Galdana (Menorca), and Playa de la Arena (Cantabria) are some of the top family-friendly Spanish beaches.
Does Spain have white sand beaches?
Yes, there are several soft white sand beaches in Spain, and Platja de Ses Illetes, Formentera, is one of the best-known of them.
Follow us on Instagram and Facebook, and share this article on Pinterest:
CuddlyNest provides all accommodations to all travelers at the best price. Find unlimited travel inspiration on our blog and social media channels.
You might Also Like:
Spain Travel Apps
Tourist Attractions in Barcelona
Best Cities to visit in Spain
La Tomatina Festival, Spain
Eating Tapas In Granada, Spain
Vegan Restaurants in Alicante, Spain
A Complete Guide To The 15 Best Festivals In Spain
The 10 Best Spanish Cheese You Should Try
The Ultimate Guide to Lobos Island, Spain