Boasting stunning landscapes, exquisite cuisine, lovely beaches, and vibrant culture, Spain proves that you don't need to go to the Maldives or Fiji to have a wonderful honeymoon trip. Praised worldwide for its seductive atmosphere, this magical country is actually one of the most romantic destinations in Europe. 
Whether you and your loved one fancy exploring pristine Mediterranean beaches or discovering charming cities filled with history, Spain's got it all. Read on to discover where to have the best honeymoon in Spain!
Everything You Need To Know About A Honeymoon In Spain
Why Have A Spain Honeymoon?
The variety of experiences that Spain offers is so gloriously wide, that the country became a sought-after honeymoon spot in Europe. From North to South Spain is home to romantic cities, each one with its unique charm and spin. So couples have plenty of tempting options to choose from.
Not to mention the country's rich variety of landscapes that go from green rolling hills to rocky beaches and snow-dusted mountains. Also, Spain is one of the most affordable countries in Europe, with not only affordable accommodation options but also budget-friendly experiences.
But if luxury is what you're looking for, no worries. Spain has got an unrivaled selection of plush beach resorts, sleek modern restaurants, and posh rooftop bars for a lauded upscale experience.
What Is The Best Time To Visit Spain?
There isn't one best time to visit Spain, and it all depends on the destination you're going to. But, overall, late spring (April-May) and early fall (September-October) are great times for visiting the country.
What Is The Most Romantic Place in Spain?
Spain has a wide variety of romantic destinations, so it's impossible to pick only one. The country offers experiences for all types of travelers so, when it comes to choosing the most romantic place in Spain, it all comes down to what your interests are. Places like Granada, Seville, Formentera, and Toledo are often considered some of the most romantic places in Spain.
Recommended Read: Best Cities To Visit in Spain
Where To Honeymoon In Spain: The 10 Romantic Honeymoon Destinations
Madrid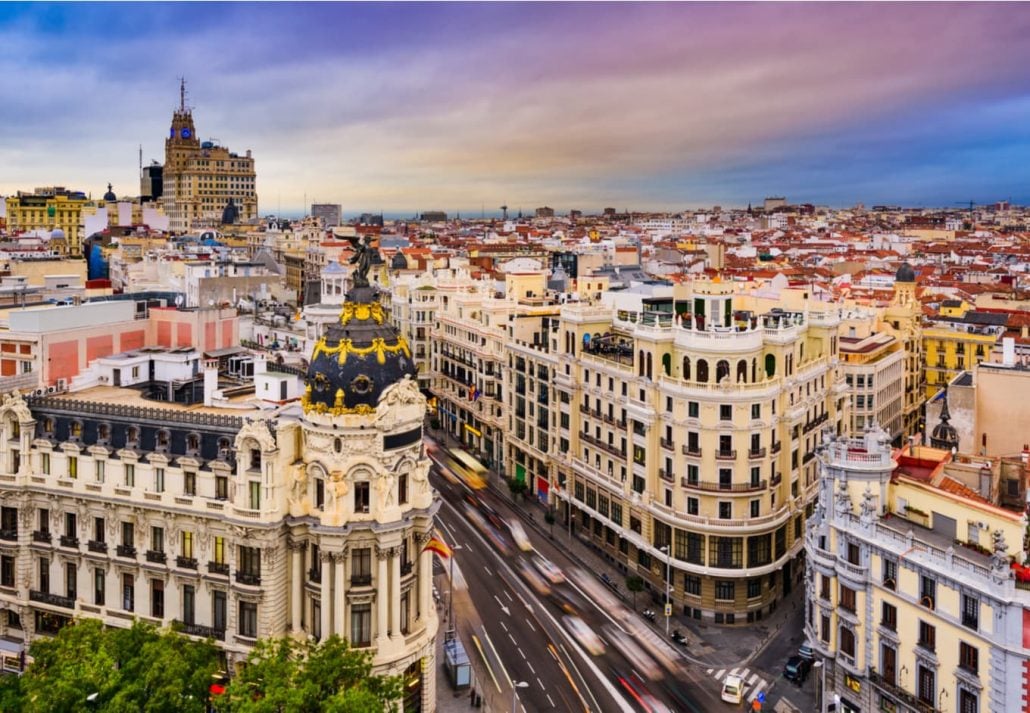 Boasting a rich maze of deeply cosmopolitan offerings — from world-renowned restaurants to tempting art museums —, Madrid is the perfect honeymoon destination for urbanites.
The pulse-pounding Spanish capital offers couples a seemingly unlimited choice of things to do and see, so they won't have trouble filling up their itinerary. Lovebirds can explore the city's diverse collection of neighborhoods, take their tastebuds on a global tour by sampling the local eateries, and go for romantic strolls in Madrid's several idyllic parks.
To see Madrid's culture in action city-wide, take your significant other to the city's top-notch museums, like Museo Nacional Centro de Arte Reina Sofía or Museo Nacional Del Prado. For a fascinating journey through history, head over to the 18th-century Royal Palace, and for the most romantic sunset in the city be sure to visit the Debod Temple.
Madrid nights can be well-spent in the local cocktail bars, especially if you and your loved one fancy some world-class drinking.
Cultural activities, cozy boutique hotels, fabled architecture, and an endless list of attractions will make couples fall irrevocably in love with Spain's biggest city!
Best Time To Visit: The fall (September to November) and spring (March to May)
Perfect For: Urbanites and culture enthusiasts
Must-Visit Attractions: Prado Museum, Royal Palace and Gardens, Puerta del Sol, Plaza Mayor, Buen Retiro Park, and the Crystal Palace
Mallorca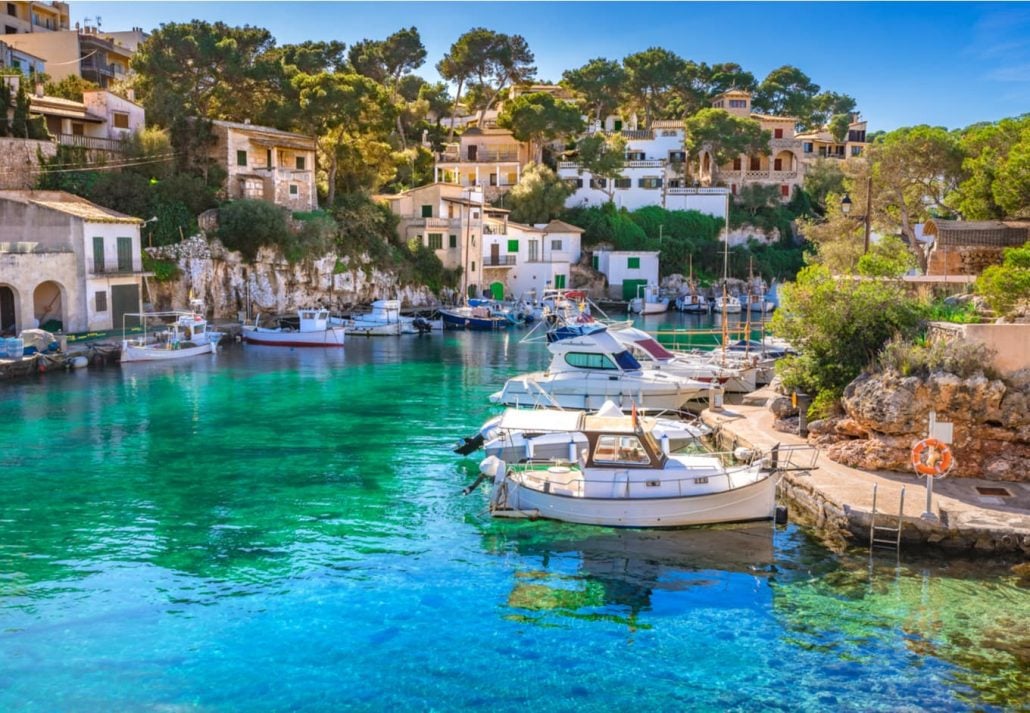 An idyllic scenery made of stunning beaches, craggy pine-clad mountain ranges, and secluded coves make Mallorca the shiniest gem of the Balearic Island's jewel box, and one of the best Spain honeymoon destinations.
Is spending a memorable honeymoon in this romantic getaway in the books for you? Then expect to spend days on end soaking up the sun on pristine beaches like Cala Mesquida and Cala Deià, indulging in scenic boat tours, and feasting on jet-fresh seafood while marveling at the sparkling waters of the Mediterranean sea, 
Make sure to also visit some of the charismatic local villages, like Fornalutx, see the beautiful Spanish architecture in Palma, Mallorca's capital city, and indulge in stellar tastings in the local wineries.
Palma is the capital of beautiful Spanish architecture. It's also home to the large Gothic Roman church, the Cathedral of Santa Maria of Palma – or La Seu, and indulge in stellar tastings in the local wineries.
Best Time To Visit: Late spring throughout the summer
Perfect For: Beach lovers
Must-Visit Attractions:  Palma de Mallorca, Alcudia's Old Town, the Fornalutx village, and Cala Mesquida beach
Find Places To Stay In Palma de Mallorca
Tenerife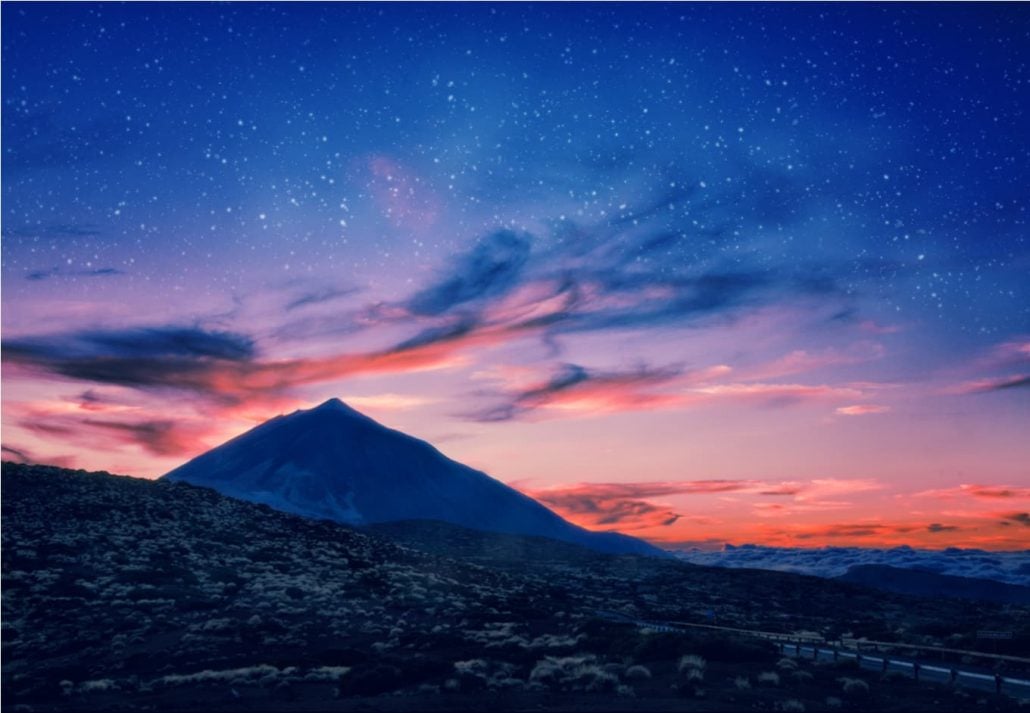 The largest of Spain's Canary Islands, Tenerife is one of the top romantic destinations for couples looking for a sprawling adventure.
As soon as they step foot in this gorgeous destination, travelers are immediately compelled to discover lush forests, sunbathe on beautiful beaches of volcanic origin, and stargaze in the summits of Tenerife, which are certified Starlight Reserves.
For an extra dose of adrenaline, couples can head over to the stunning Teide National Park, located in the center of the island. Designated as a UNESCO World Heritage Site, the park is home to Mount Teide, the third-highest volcanic structure in the world, and the highest elevation in Spain, which offers climbers the most spectacular views of the park.
Best Time To Visit: From March to November
Perfect For: Adventure-seekers
Must-Visit Attractions:  Teide National Park, Los Gigantes Cliffs, Masca Mountain and Valley,  Playa de Las Amèricas for whale and dolphin watching
Find Places To Stay In Tenerife
Formentera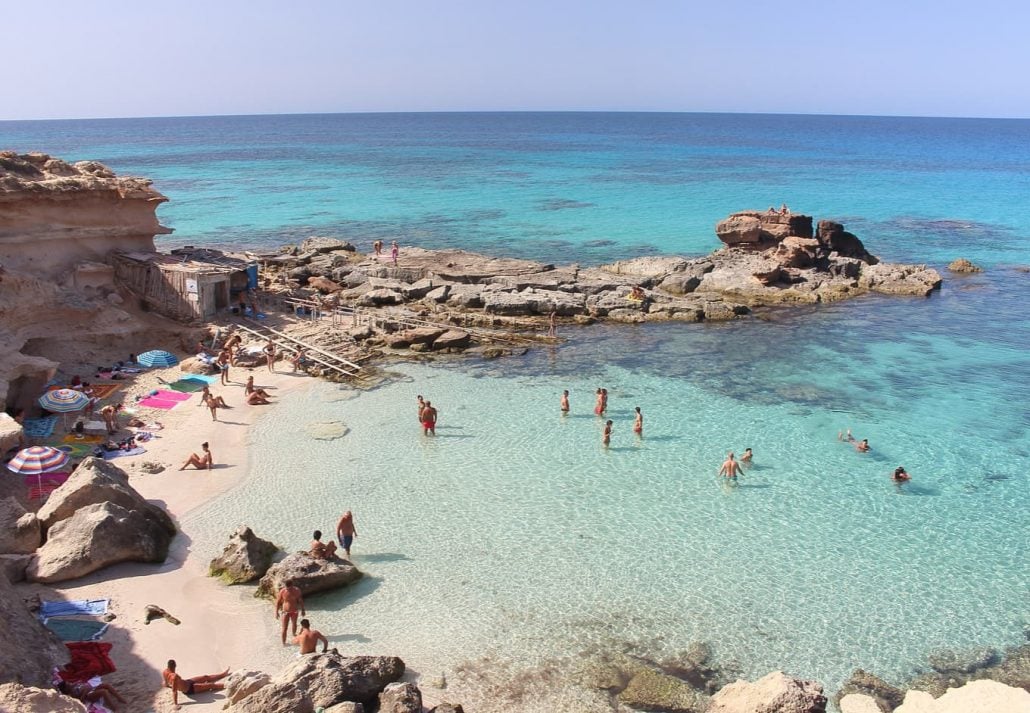 While Ibiza is praised for its 24/7 party scene, its sister island, Formentera, is best known for attracting travelers in need of a boost of calmness and inner peace.
The smallest of the Balearic Islands in the Mediterranean Sea, Formentera became one of Spain's most coveted honeymoon spots thanks to its natural scenic beauty, turquoise waters, and sugar sand beaches.
Ses Illetes and Llevant beaches in the north, and Platja de Migjorn in the South, are a must for swimming and sunbathing sessions, while Beso Beach Formentera is the favorite hot spot for indulging in Mediterranean dishes with wide views of the sea.
From dining in romantic spots to snorkeling in one of Europe's clearest waters and drinking sangria in the local chiringuitos, Formentera offers a robust line-up of activities for couples.
Best Time To Visit: Between June and October
Perfect For: Couples looking to explore some of Europe's most spellbinding beaches
Must-Visit Attractions: Ses Illetes, Levante, Cala Saona, and Es Pujols beaches, La Mola craft market
Find Places To Stay In Formentera
San Sebastián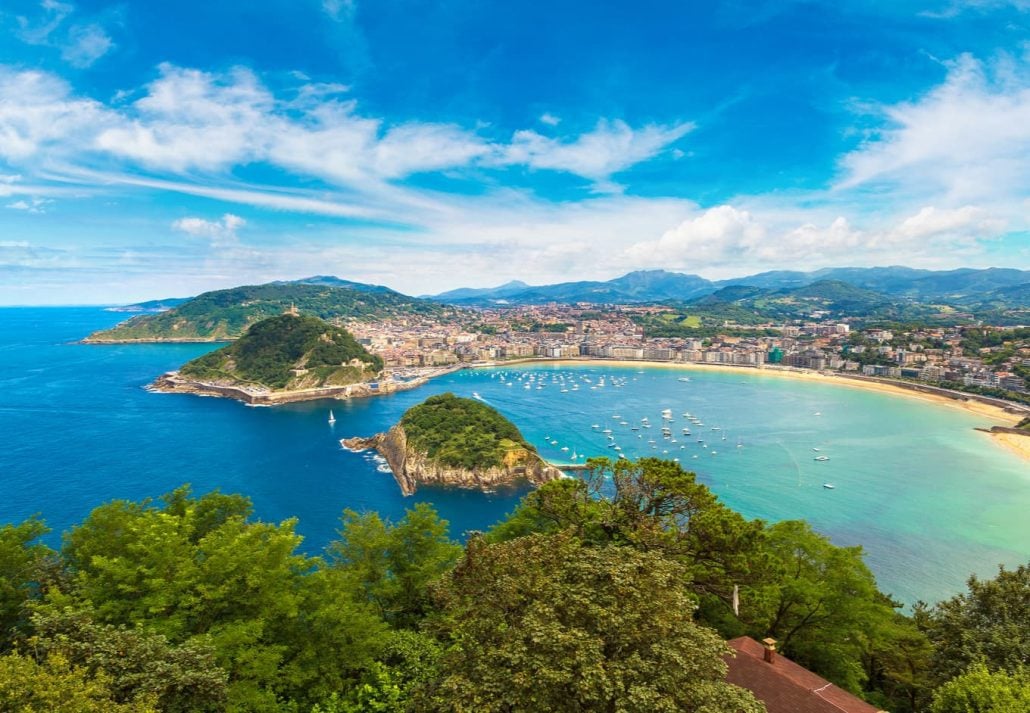 A resort town on the Bay of Biscay in Spain's Basque Country, San Sebastián treats travelers with a huge range of experiences. Couples will enjoy spending time in the crescent-shaped Playa De La Concha, which is often considered one of the best beaches in Spain, and idly strolling around San Sabastian's Old Town, dotted with architectural gems.
Aside from natural features of immense beauty, like gorgeous beaches and idyllic parks, San Sebastian is also home to fantastic museums like Museo San Telmo, devoted to the cultural heritage of the Basque Country, and more than 10 Michelin-starred restaurants.
Best Time To Visit: May to September
Perfect For: Offbeat travelers
Must-Visit Attractions: Parte Vieja (Old Town), La Concha Beach, Museo San Telmo, Monte Urgull & Monte Ulía
Find Places To Stay Near San Sebastian
Granada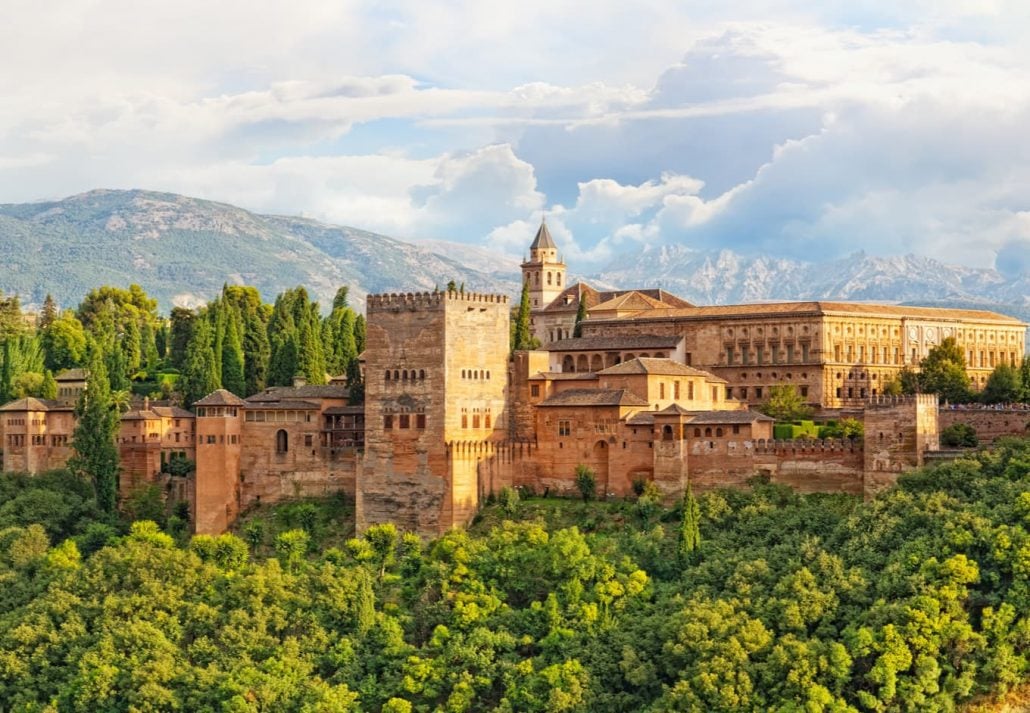 Granada is one of the most spellbinding places in all of Spain. Nestled at the foot of the Sierra Nevada Mountains, in Andalusia, this charismatic city is steeped in history, and everywhere you look you'll come across precious historic gems that document Granada's fascinating past.
Regarded as one of the most romantic places in Europe, this Spanish city was the capital of a Moorish kingdom from the 13th to the 15th century, and, not by chance, it preserves gorgeous samples of Islamic architecture until the present day.
Romantic activities on offer include everything from visiting the heavenly Alhambra complex, which is surrounded by the most beautiful gardens you'll ever see, the colorful Gypsy quarter, the bustling La Alcaicería, and the Arab Spice Market, and the narrow streets of Albaicín.
To dial up the romance factor to a ten, visit The Bañuelo, which are traditional Arab baths, and the ultimate destination for some relaxed self-indulgence.
Best Time To Visit: May and June and September and October
Perfect For: History buffs
Must-Visit Attractions: Alhambra Palace, Albaicín, Capilla Real de Granada
Find Places To Stay In Granada
Toledo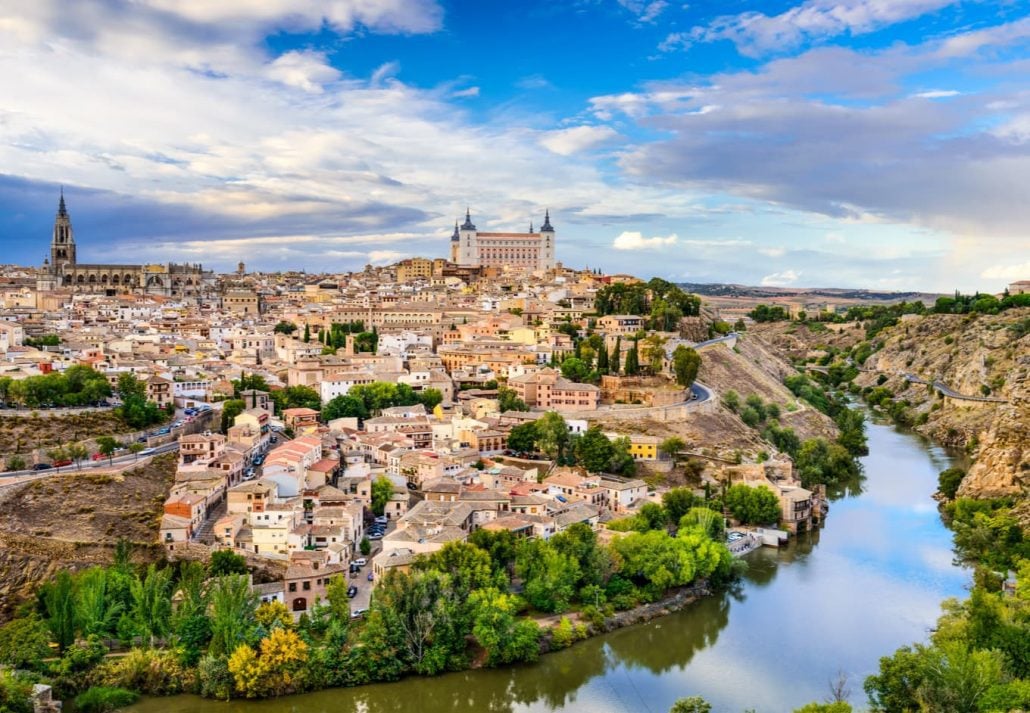 Toledo is the perfect location for a tranquil break in Spain. Located on a hill overlooking the plains of Castilla-La Mancha, his charm-filled city is the ultimate choice for couples who want to escape from the everyday pressures of life.
Thanks to its extensive monumental and cultural heritage, Toledo was declared a World Heritage Site by UNESCO, making it a prime destination for discovering Spain's fascinating history.
While strolling around the city's streets with your loved one, expect to come across fine samples of Arab, Jewish, and Christian monuments. Must-visit places include El Alcazar, an old fortress originating from Roman times, the gorgeous Mezquita Cristo de la Luz Mosque, built in 999, and the Catedral Primada, which holds a gallery exhibiting works by El Greco, Goya, Velazquez, and other artists.
Best Time To Visit: March, April, May, September, and October
Perfect For: A lowkey honeymoon
Must-Visit Attractions: Catedral de Toledo, Casco Histórico de Toledo (Old Town), Museo El Greco, Alcázar of Toledo
Seville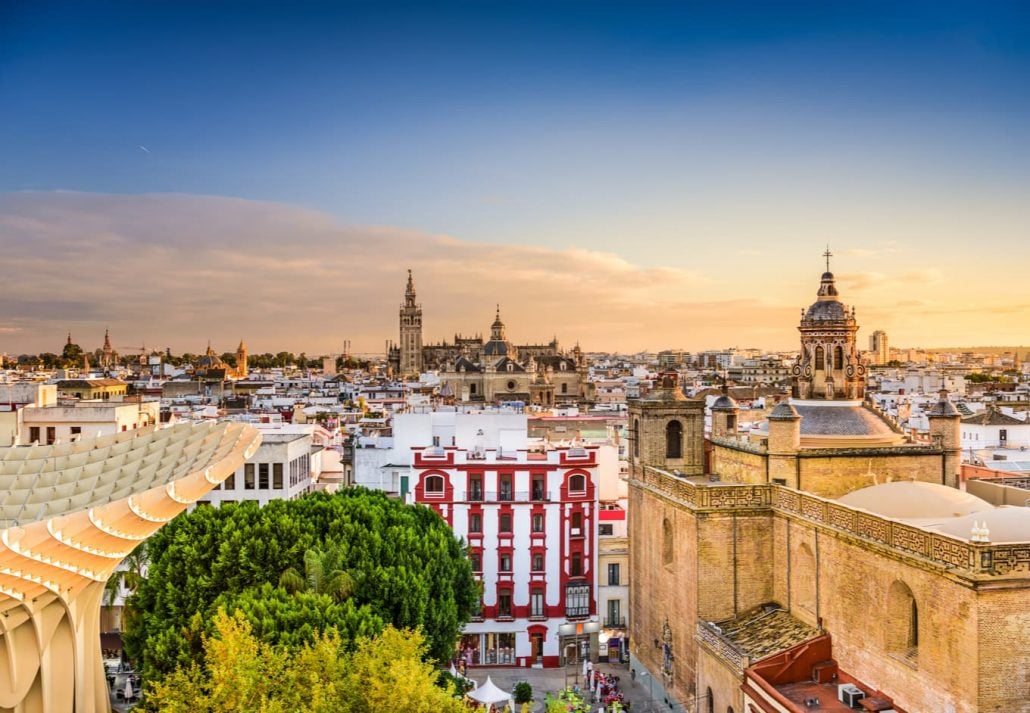 It's impossible not to fall in love with Seville. The heart and soul of the Andalusia region, the city hypnotizes visitors with its stunning architecture, vibrant nightlife, mysterious cobbled streets, and an undescribable orange blossom scent.
Seville's romantic setting, which intertwined lush gardens with gorgeous Moorish buildings, provides couples with a memorable honeymoon experience. One of the best ways of marveling at the destination, which is often considered one of the most beautiful cities in Spain, is by grabbing a drink in the local rooftop bars while watching the sunset.
While visiting Seville, couples can't pass up the opportunity to watch vibrant Flamenco shows, relax in the Arab baths, and explore the dreamy Real Alcázar.
Best Time To Visit: From March to May
Perfect For: A fairy-tale vacation in the heart of Andalusia
Must-Visit Attractions: Catedral de Sevilla, Real Alcázar, Parque de María Luisa and Plaza de España
Find Places To Stay In Seville
Barcelona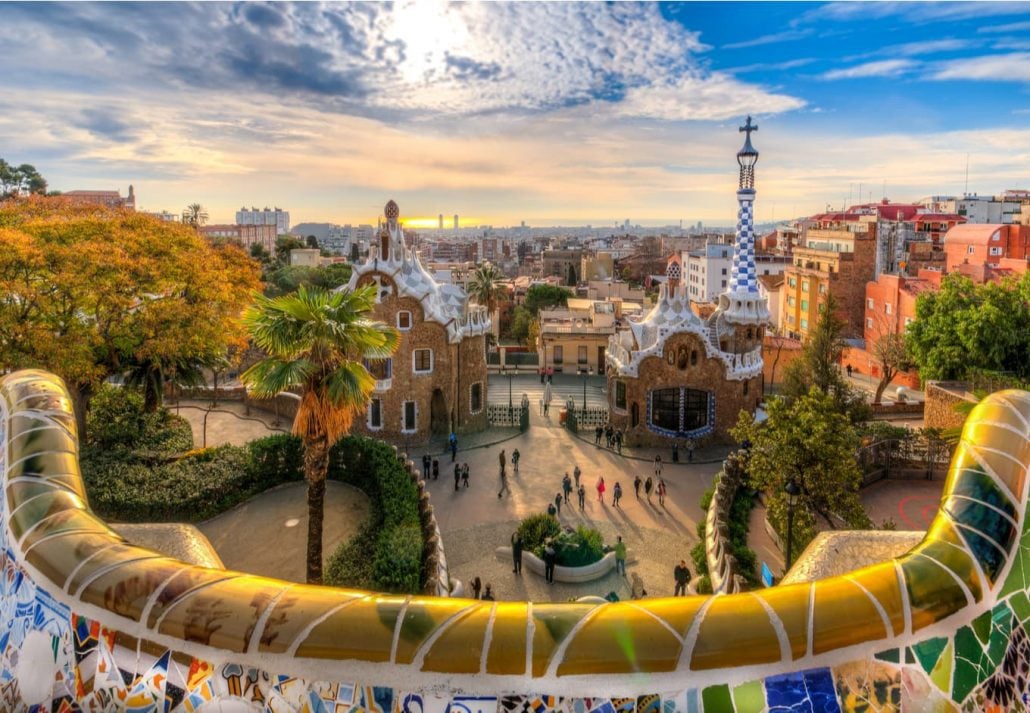 Barcelona needs no introduction. Vibrant, enticing, and impossible to forget the city is the perfect spot for a romantic experience on the coast of Spain.
Couples can spend their time strolling around the city and marveling at beautiful buildings by Gaudì, such as La Sagrada Familia, sampling delicious food in the local tapas bars, watching romantic sunsets on spots like Bunkers de Carmel, or simply enjoying a bottle of cava on a rooftop terrace.
Read More About Barcelona: The Ultimate Barcelona Travel Guide
Best Time To Visit: Throughout the year
Perfect For: Culture lovers
Must-Visit Attractions: La Sagrada Familia, Parc Güell, Casa Batllo, Mercado La Boqueria
Find Places To Stay In Barcelona
Sierra Nevada Mountains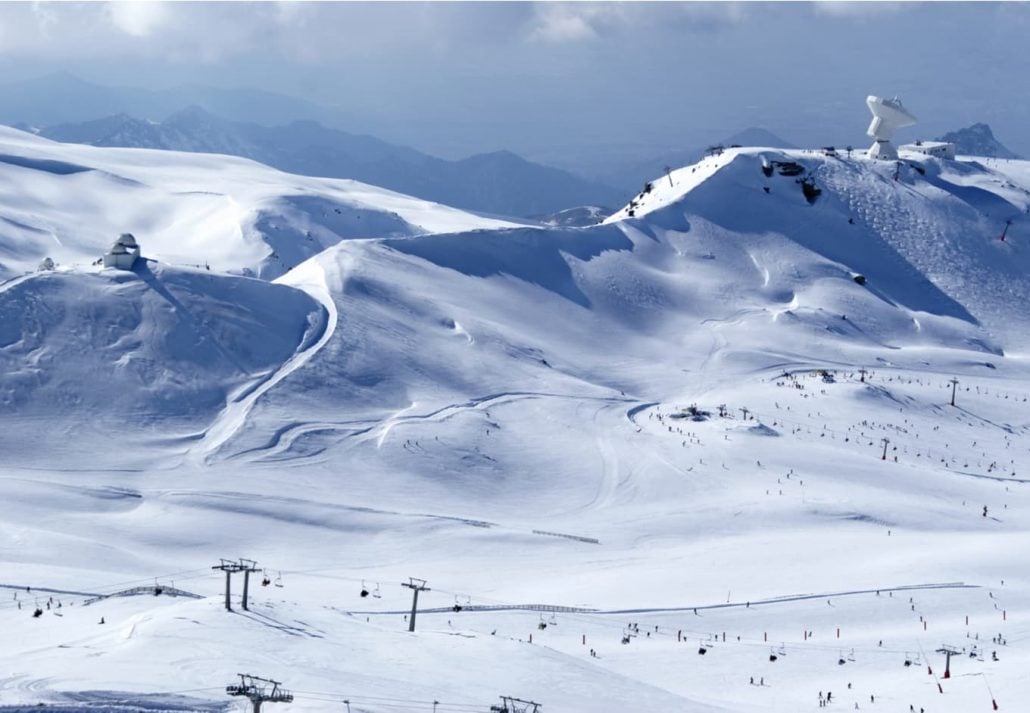 A glorious mountain range in the region of Andalucia, the Sierra Nevada Mountains are the perfect destination for couples seeking a magical wintertime honeymoon. Considered one of the best places for adventure travel in Spain, the region is home to the famous Sierra Nevada Ski Resort, the highest ski resort in the country.
While in the Sierra Nevada Mountains, couples can let their active side loose and go skiing on the resort's more than 60 miles of pistes.
In need of some relaxation time after a pulse-pounding skiing session in the snowy mountains? Then grab a cup of hot chocolate, and a cozy blanket, and curl up at the fireplace with your loved one.
Best Time To Visit: December and January
Perfect For: A winter honeymoon
Must-Visit Attractions: The Sierra Nevada Ski Resort
Find Places To Stay Near Sierra Nevada
FAQ
Is Spain good for a honeymoon?
Boasting stunning landscapes, delicious cuisine, lovely beaches, green valleys, and vibrant culture, Spain is the ideal location for a honeymoon trip.
What is the most romantic getaway in Spain?
The best places for a romantic stay in Spain:
Madrid;
Mallorca;
Tenerife;
Formentera;
San Sebastián;
Granada;
Toledo;
Seville;
Barcelona;
Sierra Nevada Mountains.
CuddlyNest provides all accommodations to all travelers at the best price. Find unlimited travel inspiration on our blog and social media channels.
You Might Also Like:
Spain Travel Apps
Tourist Attractions in Barcelona
Best Cities to visit in Spain
La Tomatina Festival, Spain
Eating Tapas In Granada, Spain
Vegan Restaurants in Alicante, Spain
A Complete Guide To The 15 Best Festivals In Spain
The 10 Best Spanish Cheese You Should Try
The Ultimate Guide to Lobos Island, Spain