Are you thirsty while getting ready for your next Europe trip? Here are the best (and weirdest) drinks –warm, cold, soft and alcoholic  – you absolutely must try on your next visit to Europe.
Horchata – Spain
While Spanish are famous for Spain tapas and its alcoholic drinks, from sangria to Agua de Valencia, Horchata is a sweet, smooth and does a good job with cooling you off in summer months in Spain – and all that without any alcohol! The drink is made of rice and almonds and sweetened with sugar. Spanish love it so much that there are special shops horchatarias dedicated to it! Pair it with creamy and sweet dessert, and you will get the most out of your sip.
Poppy Seed Milk – Lithuania
You are probably well accustomed to vegan options for milk, from almond to rice, to soya varieties. But Lithuanians, one of the Balti peoples, are taking another take on it. Poppyseed milk (aguonų pienas) is usually served together with sweet pastries. You can make your own at home, leaving poppy seeds in water for 2 days changing water from time to time. When seeds are soft, crush it with pestle, strain and crush and repeat until the milk is, well, milky.
Rakija – Macedonia
Rakija – or rakia – or raki – is  a fruit brandy from Balkan origin. It is popular all over the region and is one of the best reasons to visit Balkans, and there are several varieties thereof. In Macedonia, the white rakija is one of the most famous, usually served as an appetizer with salad. All over Balkans, rakija is often served to guests as a welcoming gesture, beware the tradition. However, try to dilute it with water, and it becomes milk white!
Kvass – Estonia
Kvass, a traditional drink for Eastern Europe, is made from leavened rye bread. As much as Latvian traditional bread soup (dessert) and fermented bread-porridge, kvass used to be made from what was left over. Today, wheat, rye or barley bread is fermented with an additional sugar and yeast structure for faster processing.
Fermented Baked milk – Russia
The fermented baked milk ryazhenka is a sort of yoghurt, common as a breakfast food. In the olden days, milk was baked in Russian oven and fermented with sour cream. Today, you can try it eat it with Estonian  kama or in the place of regular milk.
Honeywine – Norway
Mead is a honeywine, and when visiting Norway you will see ginger biscuits sitting right on the side of the glass. There are two major varieties of mjød available; Suttungs mjød made in Norway and Valhalla made in Denmark.
Hot beer
Grzane piwo is a hot lager beer, with froth. Spiced with artificial syrups, either ginger or raspberry, as well as spices as cinnamon and clove, it may remind you of the mulled wine. Except the pink colour, in case you choose the raspberry variety. A quick reminder: Polish still hold onto gender standards when it comes to beer. The choice between imbirowy (ginger) or malinowy (raspberry) is largely defined by the colour.
Are you ready to go to Europe?
Share this article on Pinterest: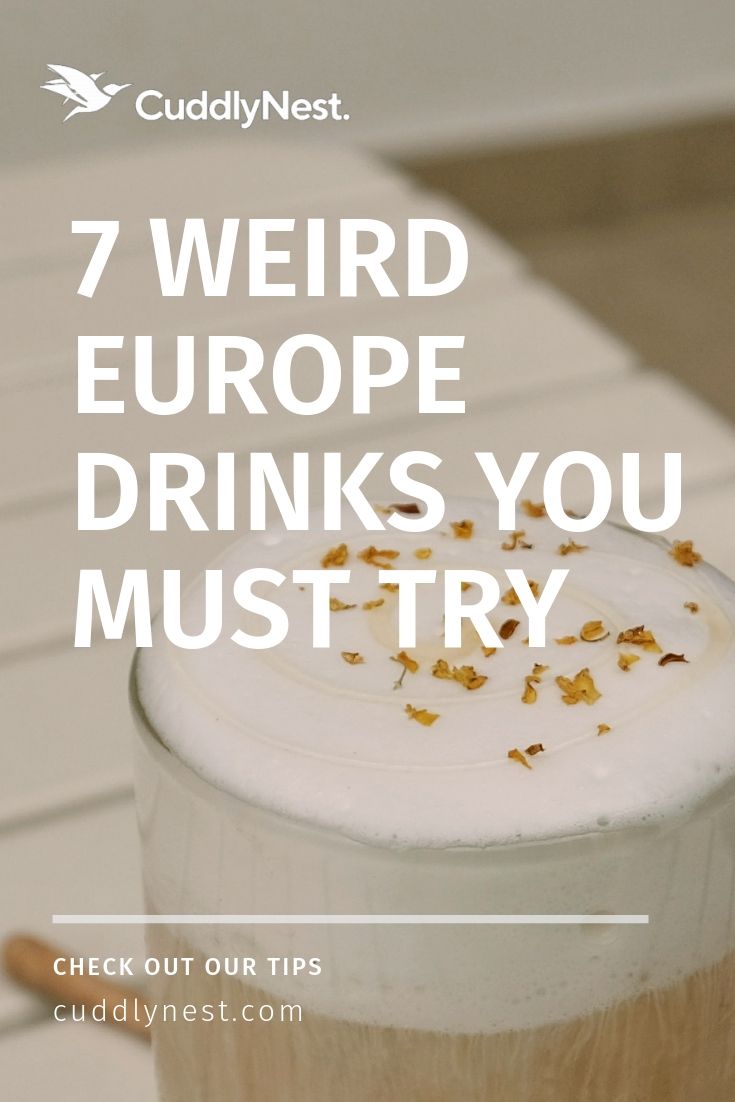 https://www.cuddlynest.com/blog/wp-content/uploads/2019/08/Blog-covers-1.jpg
894
1700
2019-08-10 10:40:39
2019-08-03 13:11:32
Weird Europe Drinks You Must Try on the Next Trip