In the heart of Barcelona lies the Gothic Quarter, a captivating neighborhood brimming with history and culture.
With its narrow winding streets and charming squares, the Gothic Quarter exudes an undeniable allure, drawing travelers into its timeless atmosphere.
Plus, the Gothic Quarter has a convenient central location that puts visitors within easy reach of Barcelona's most popular tourist attractions.
Within this remarkable enclave, you'll find a curated collection of extraordinary hotels, each offering an exceptional experience for discerning guests.
These hotels provide a haven of comfort and luxury, pampering visitors with a plethora of high-touch amenities and personalized services.
Join us as we explore the best hotels the Gothic Quarter has to offer, elevating your stay in Barcelona to new heights of elegance and indulgence.
The 5 Best Hotels in the Gothic Quarter, Barcelona
Mercer Hotel Barcelona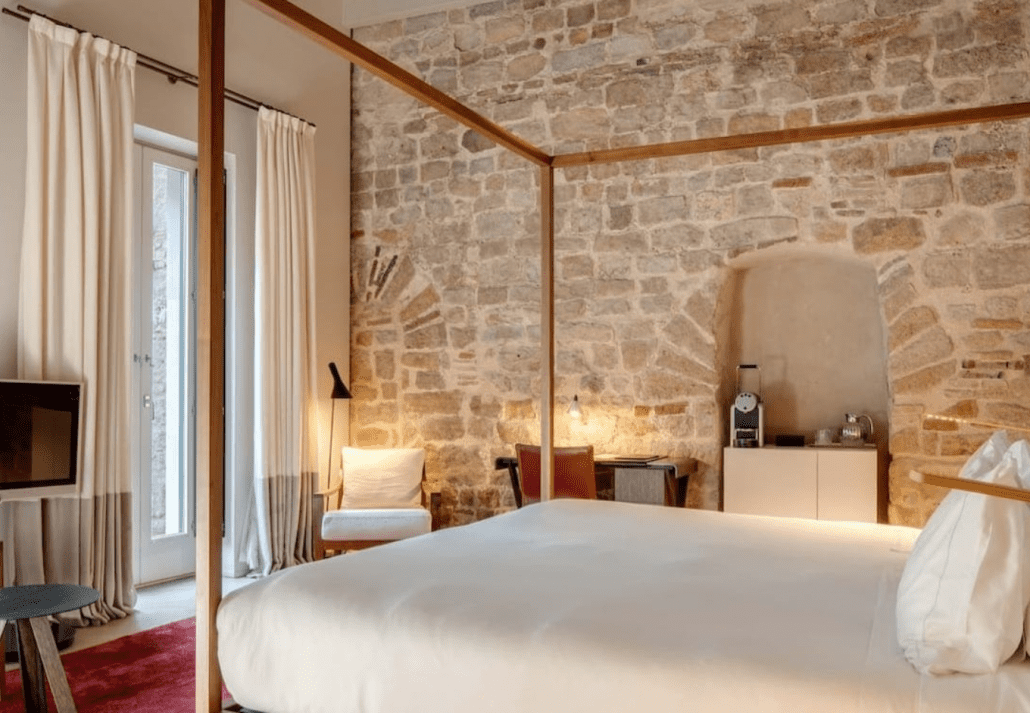 Treating guests to an elegant and exclusive experience, Mercer Barcelona Hotel is regarded as one of the best hotels in Barcelona.
Boasting a prime location in Barcelona's Gothic Quarter, this stylish property is within walking distance of popular attractions, including the Barcelona Cathedral, Picasso Museum, Las Ramblas, and La Boqueria Market.
Mercer Barcelona Hotel encompasses a group of historic buildings, which were restored under the guidance of renowned architect Rafael Moneo.
The hotel seamlessly blends heritage and contemporary design. Within the property, you'll find remnants of Barcelona's rich history, including ruins of medieval arches and meticulously recovered 12th-century frescoes.
Mercer Barcelona Hotel is home to 28 rooms and suites. All accommodations have oak floors, sumptuous beds with Egyptian cotton sheets of 400 thread count, a 32-inch TV, a glazed shower with a refreshing rain effect, and luxurious bathrobes and slippers.
Guests can also indulge in the VIP Molton Brown toiletries, Nespresso coffee, and complimentary Wi-Fi throughout their stay.
The hotel's dining options are equally impressive. There's Mercer Restaurant, which offers a private and elegant dining atmosphere overlooking the Orange Tree Courtyard and tantalizing a menu of Catalan dishes crafted by Chef Xavier Lahuerta.
Delight in the hidden garden restaurant called El Patio, indulge in fine cocktails and wine paired with tapas, platters, and seasonal dishes at Le Bouchon, or ascend to the rooftop bar for panoramic views of Barcelona's Gothic Quarter.
Address: C. dels Lledó, 7, 08002 Barcelona, Spain
Top Services & Amenities: Restaurants and bars, 24-hour room service, complimentary Wi-Fi, lifts, complimentary newspapers, rooftop swimming pool, personal shopper service
Hotel Barcelona Colonial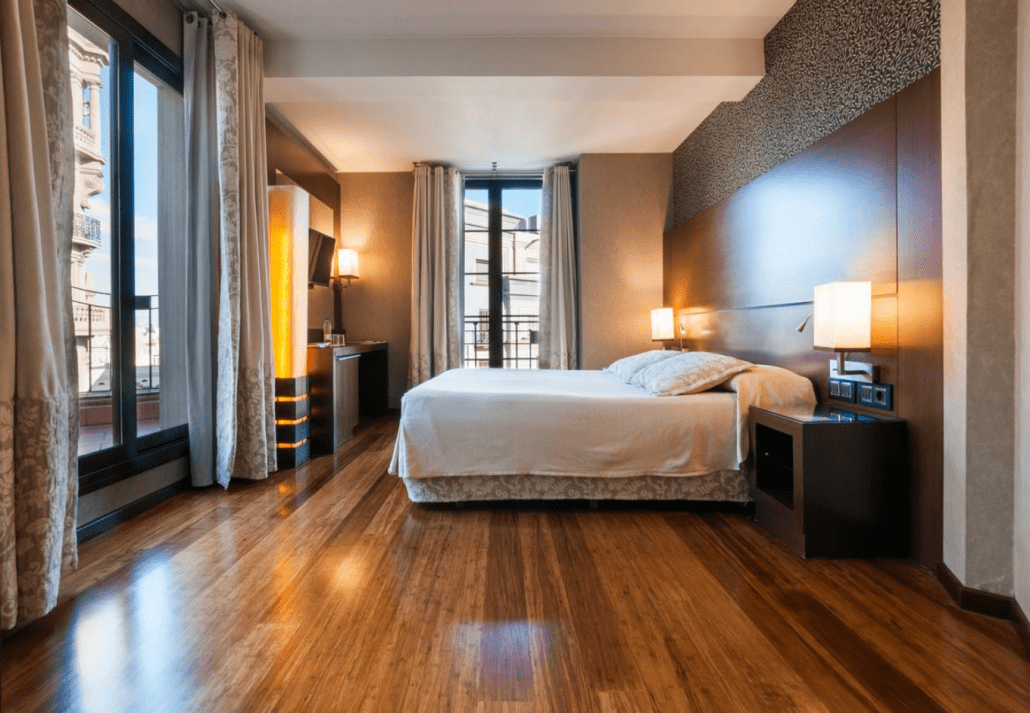 Hotel Barcelona Colonial is a charming boutique hotel nestled in the heart of the Gothic Quarter.
The hotel's central location puts visitors within walking distance of popular attractions like Las Ramblas, the Picasso Museum, the Barcelona Cathedral, and La Barceloneta.
Housed in a restored historic building from the 19th century, Hotel Barcelona Colonial seamlessly blends traditional architectural elements with modern amenities.
The hotel boasts 81 elegantly designed rooms, all soundproof and with comfortable wooden floors.
Accommodations also have air-conditioning, heating, flat-screen TV, and a complete en-suite bathroom with amenities and a hairdryer.
The hotel's friendly and attentive staff is always ready to assist guests, offering personalized service and local recommendations.
Address: Via Laietana, 3, 08003 Barcelona, Spain
Top Services & Amenities: Vehicle rentals, wi-fi internet connection, baggage consignment, covered car park, 24-hour reception
Acta BCN 40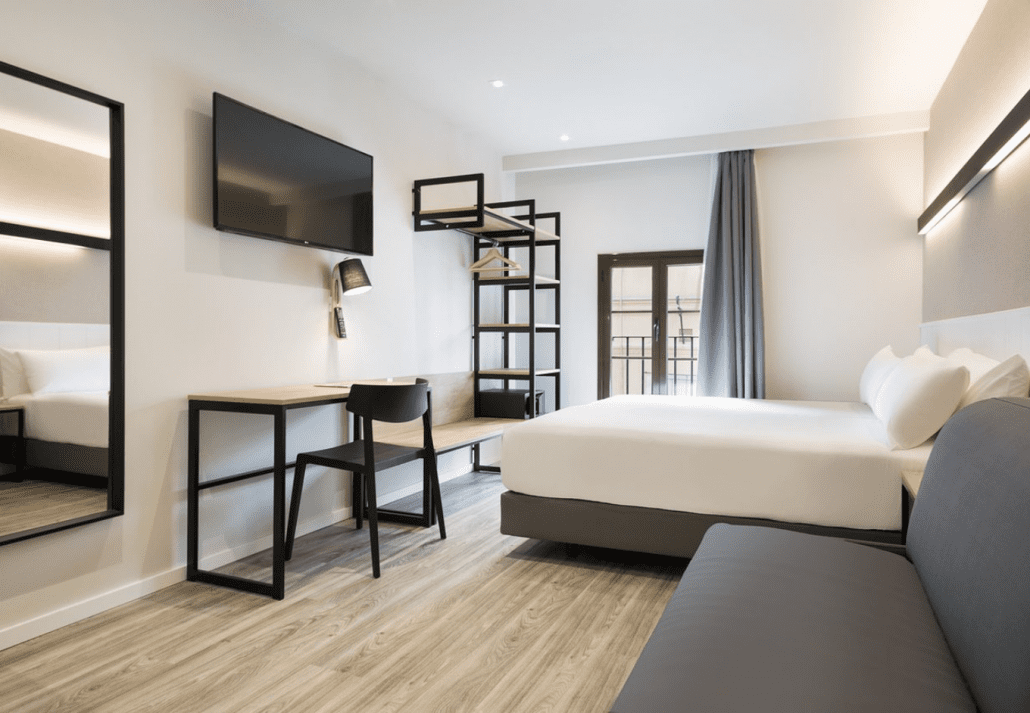 Acta BCN 40 Hotel is a stylish and contemporary hotel located in the bustling El Raval neighborhood, close to the Gothic Quarter.
This modern boutique hotel has well-decorated, air-conditioned rooms, all featuring free Wi-Fi internet, heating, a free safe, and a hairdryer.
Acta BCN 40 Hotel also offers a range of amenities & services to enhance guests' experience.
Guests can enjoy a hearty breakfast buffet, take a break in the hotel's communal area, and buy snacks for the day at Acta's mini-market.
The hotel also has a 24-hour reception (tourist information & restaurant reservations available), private transfers to the El Prat Airport, and luggage storage.
Address: C/ de Joaquín Costa, 40, 08001 Barcelona, Spain
Top Services & Amenities: Breakfast buffet, parking, 24-hour reception, luggage storage, on-site mini market, airport transfer
Ohla Barcelona Hotel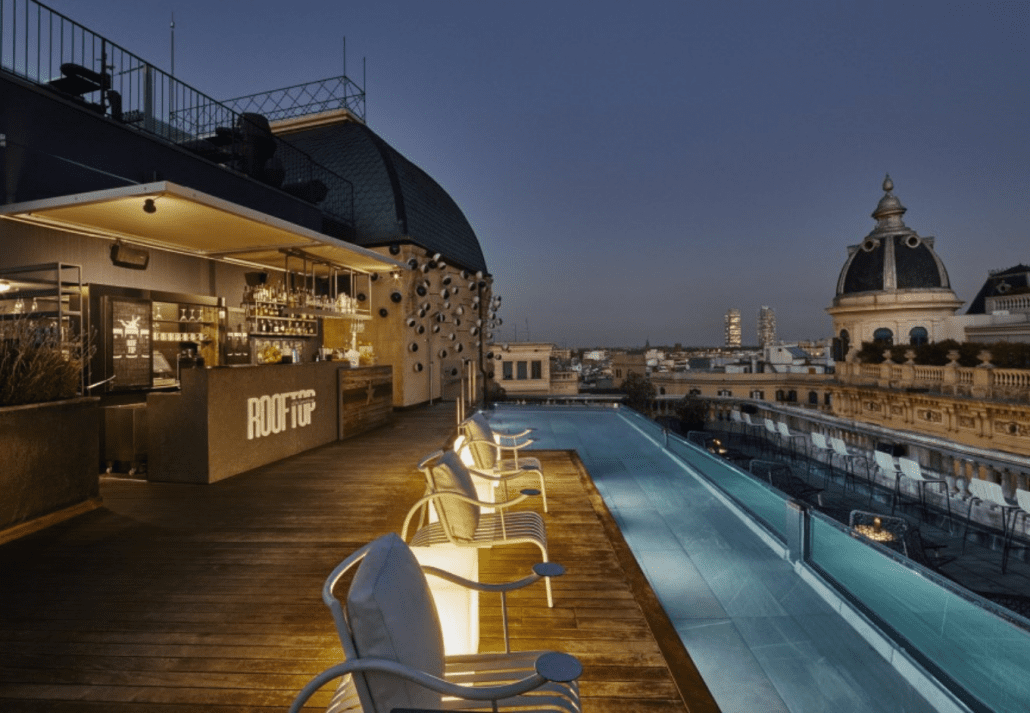 Welcome to the Ohla Barcelona Hotel, an oasis of luxury nestled in the Barcelona city center.
Located on Via Laietana, this five-star boutique hotel enjoys a prime position that offers convenient access to Barcelona's most iconic attractions.
Just a short stroll away, you'll find the enchanting Gothic Quarter, home to the awe-inspiring Barcelona Cathedral and the bustling La Rambla promenade.
Additionally, the renowned Picasso Museum and the trendy Born neighborhood are within easy reach.
This elegant hotel boasts a total of 74 spacious and meticulously designed rooms, each offering a unique blend of contemporary style and comfort.
The guest rooms feature sleek furnishings, modern amenities, and large windows that provide breathtaking views of the cityscape.
For a truly indulgent experience, guests can opt for the exclusive Suite Dome. This luxurious accommodation has huge picture windows, a private terrace, and a large living space with a 65′ television on the bottom floor.
The upper floor of the Suite Dome has a king-size bed and a spa-like bathroom with a huge tub and glass-walled shower.
As for amenities and services, the Ohla Barcelona Hotel leaves no stone unturned in ensuring a memorable stay.
Ohla Barcelona also has 4 different culinary spaces led by Michelin-starred chef Romain Fornell, and a stunning rooftop terrace, complete with a pool and panoramic views of Barcelona.
Address: Via Laietana, 49. Barcelona, Spain 08003
Top Services & Amenities: Rooftop pool, fitness instructor, personal shopping services, Michelin-starred restaurant
Hotel Catalonia Catedral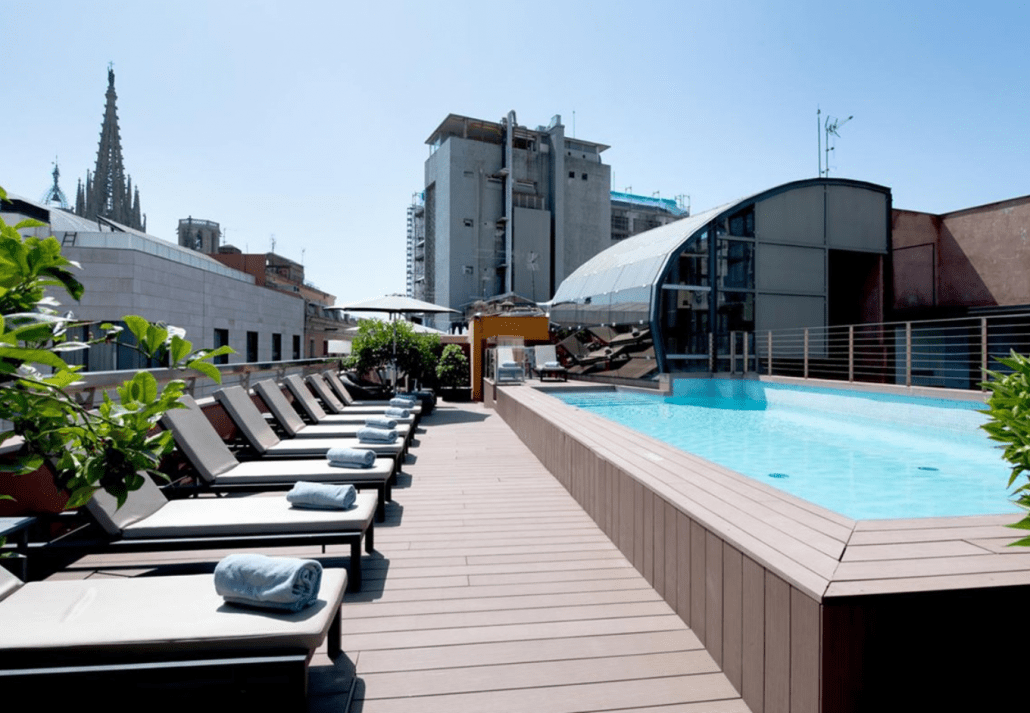 Discover the epitome of elegance at the Hotel Catalonia Catedral, an exceptional retreat in the historic Gothic Quarter.
Boasting a great location near the iconic Barcelona Cathedral, this modern hotel offers a prime location for exploring the city's rich cultural heritage.
The hotel is set within a historic building erected in 1910 and is home to 71 elegantly appointed rooms, each equipped with modern amenities and plush furnishings to ensure a comfortable stay.
Elevate your stay by booking the Terrace Deluxe Room, which features a breezy terrace with an outdoor pool and a lounge area with sun and a Balinese bed.
Guests can also enjoy Mediterranean-inspired dishes at the hotel's on-site restaurant, Ascent, and indulge in classic cocktails in the on-site bar.
The hotel's rooftop terrace provides a serene escape, boasting panoramic views of the city's architectural gems, including the nearby Gothic Quarter and the majestic Barcelona Cathedral.
Take a refreshing dip in the rooftop pool or unwind on the comfortable sun loungers while relishing in the captivating vistas.
Address: Carrer dels Arcs, 10, 08002 Barcelona, Spain
Top Services & Amenities: 24-hour reception, bar, meeting rooms, pets allowed (on request), car park close by, rooftop terrace
FAQ
Is the Gothic Quarter of Barcelona good to stay in?
Yes, the Gothic Quarter is one of the popular neighborhoods to stay in Barcelona. It is known for its rich history, charming narrow streets, and beautiful Gothic architecture. Staying in the Gothic Quarter allows easy access to many of Barcelona's major attractions, such as the Barcelona Cathedral, Picasso Museum, and La Rambla Promenade.
Is Barcelona's Gothic Quarter touristy?
Yes, the Gothic Quarter in Barcelona is a popular tourist destination and can be considered somewhat touristy. Its historical significance, architectural beauty, and central location make it a magnet for visitors from around the world.
How far is the beach from the Gothic Quarter in Barcelona?
The average distance between the Gothic Quarter and Barceloneta Beach is approximately 0.9 miles. This distance can be covered in around 15-20 minutes by foot
What area is best to stay in Barcelona?
The best areas to stay in Barcelona are:
Gràcia
Eixample
El Raval
El Born
Gothic Quarter
La Barceloneta
Is La Rambla the same as the Gothic Quarter?
No. La Rambla is a famous boulevard that runs through the heart of the city, connecting Plaça de Catalunya to the Columbus Monument at Port Vell. The Gothic Quarter, also known as Barri Gòtic, is a historic neighborhood located adjacent to La Rambla.
What are the best hotels in the Gothic Quarter, Barcelona?
The best Gothic Quarter hotels are:
Mercer Hotel Barcelona
Hotel Barcelona Colonial
Acta BCN 40
Ohla Barcelona Hotel
Hotel Catalonia Catedral
What are the best hotels in Barcelona?
The best Barcelona hotels are:
Alma Barcelona GL
Hotel Arts Barcelona
Mercer Hotel Barcelona
Majestic Hotel & Spa
Negresco Princess
Seventy Barcelona
Hotel Royal Passeig de Gracia
NH Collection Barcelona Pódium
Ohla Barcelona
Hotel Casa Bonay
Musik Boutique Hotel
CuddlyNest provides all accommodations to all travelers at the best price. Find unlimited travel inspiration on our blog and social media channels.
You Might Also Like:
Spain Travel Apps
The 7 Best Places For Shopping in Madrid
10 Best Hotels In Madrid, Spain
The 11 Best Tapas Bars in Madrid
The 12 Best Neighborhoods in Madrid
Madrid With Kids: 12 Fun Things To Do In The City
Best Museums In Madrid, Spain
Tourist Attractions in Barcelona
Best Cities to visit in Spain
La Tomatina Festival, Spain
Eating Tapas In Granada, Spain
Vegan Restaurants in Alicante, Spain
A Complete Guide To The 15 Best Festivals In Spain
The 10 Best Spanish Cheese You Should Try
The Ultimate Guide to Lobos Island, Spain
The Best Time To Visit Madrid, Spain