Shopping has become one of the top things to do in Madrid. The capital city of Spain is famous for its bustling streets filled with designer boutiques, shops, and well-known clothing stores, as well as lively flea markets and tempting malls.
So, if you're up for a shopping spree, Madrid is the right destination for you.
We've gathered the 7 best shopping destinations in Madrid that cater to every budget and style. Have a look below!
Find Places To Stay In Madrid, Spain
A Guide To The Best Shopping in Madrid, Spain
El Corte Inglés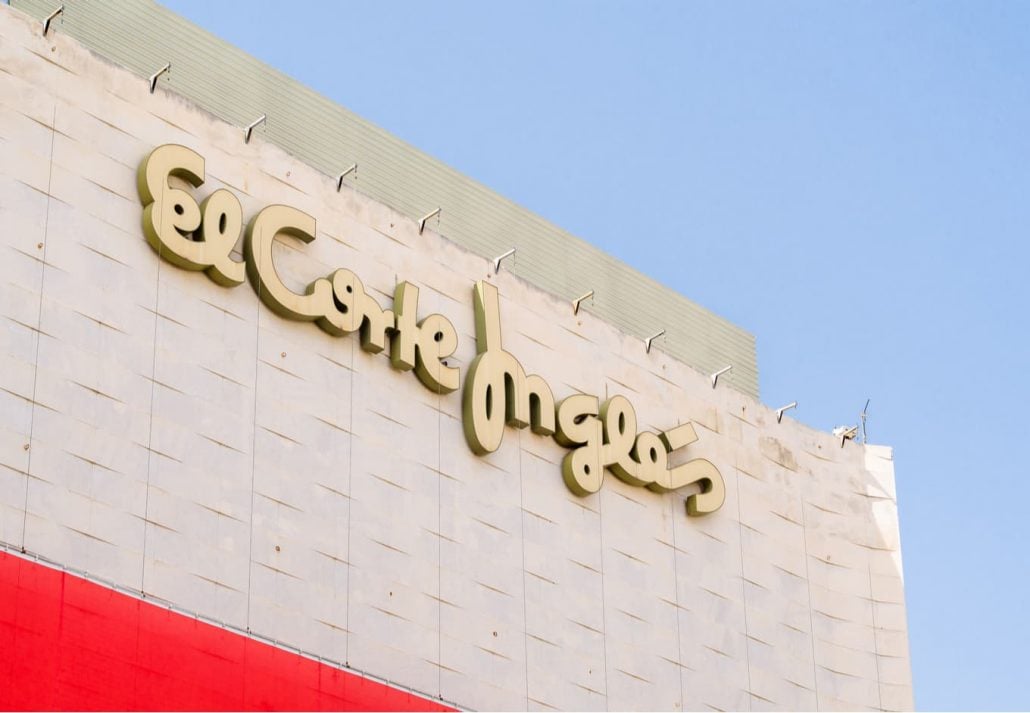 El Corte Inglés is a well-known department store set in a beautiful building in Callao Square.
Here, you'll come across not only a selection of mid-range brands but especially a robust collection of high-end and luxury stores such as Fendi, Paco Rabanne, Stella McCartney, Alexander McQueen, and Valentino.
Aside from spending hours on end browsing through El Corte's sections and shopping aimlessly, you can take the opportunity to visit the store's rooftop bar, also known as the Gourmet Experience.
This delicatessen market/restaurant area features a range of small gourmet restaurants, ranging from Mexican and Japanese to authentic Spanish.
It also offers unrivaled views of the Capitol Building of Madrid.
El Corte Inglés is located close to the lively Gran Vía, which is also one of the best shopping destinations in Madrid, meaning you can visit both on the same day if you feel ambitious enough.
Address: Pl. del Callao, 2
Calle Fuencarral, In Malasaña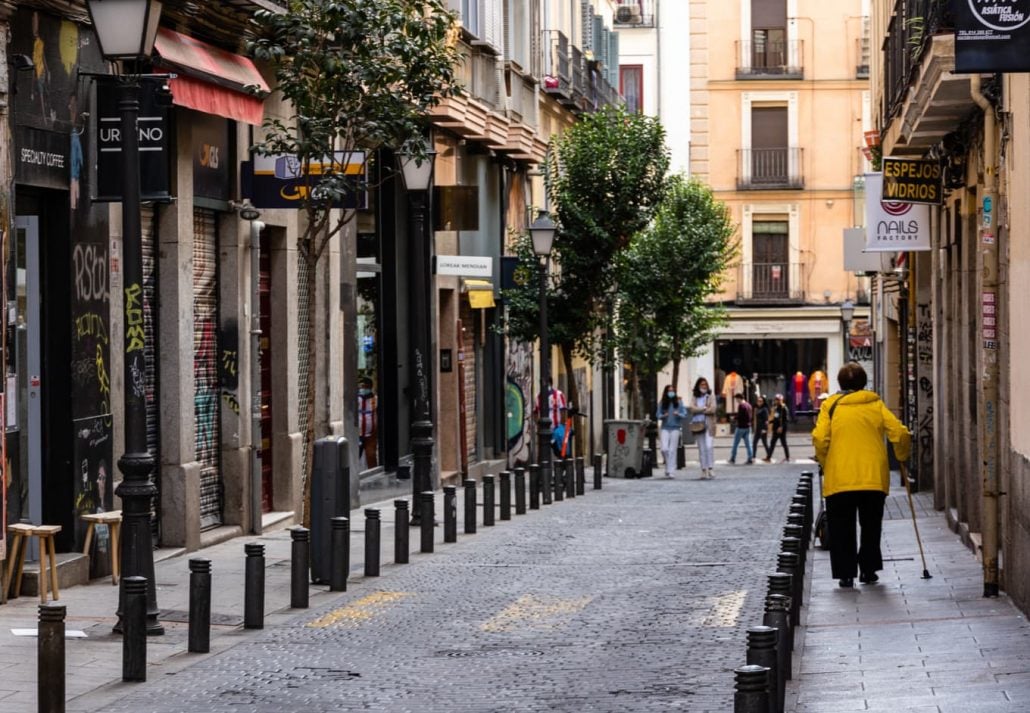 Fuencarral is one of the most popular and busy shopping streets in Madrid.
This pedestrian street is perfect for combining an idle stroll with an indulgent shopping session.
Here, you'll find a delightful array of stores such as Adolfo Domínguez, Footlocker, Victoria's Secret, Levi's, Sfera, La Casa del Libro bookstore, Aristocrazy, and Michael Kors, just to name a few.
The street divides the neighborhoods of Chueca and Malasaña, with Chueca Square being home to some of the most avant-garde shops in Madrid.
Around the square, you'll be able to find innovative gifts, accessories, and designer jewelry.
Calle Hortaleza, another must-visit shopping destination in Madrid, is also nearby.
This location is famous among the LGTBIQA+ crowd and boasts a range of quirky shops ranging from specialized bookstores to erotic shops and funky Drag Queen wig stores.
Gran Vía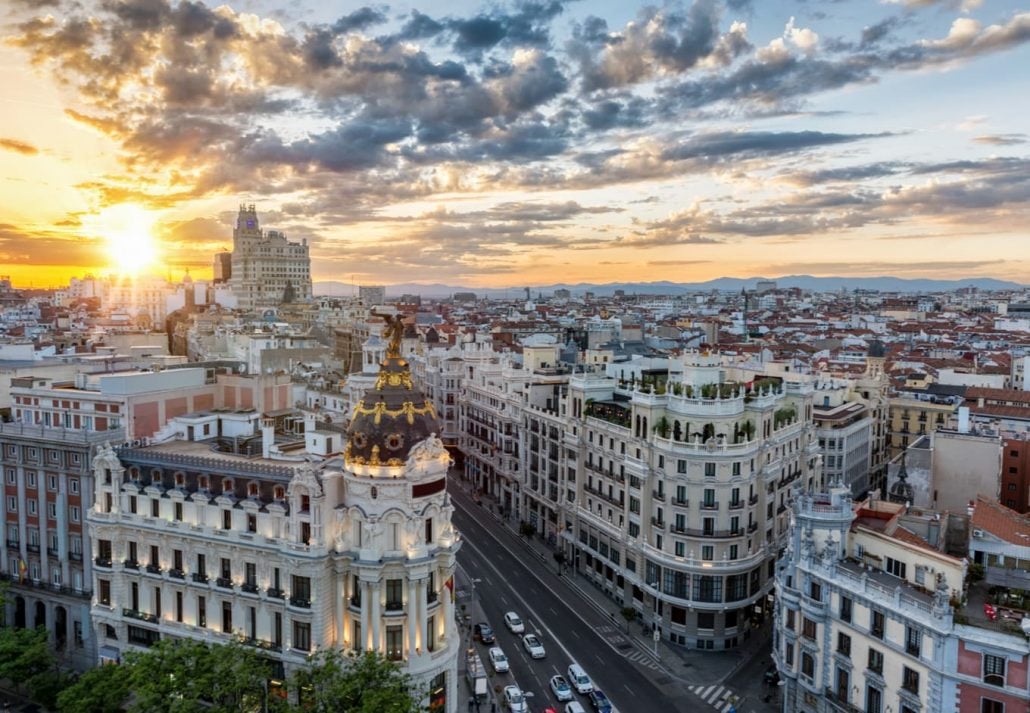 The Gran Vía is one of the top attractions in Madrid and one of the most tempting shopping areas in the Spanish Capital.
Loved by travelers and madrileños alike, this lively thoroughfare is perfectly located in the city center, and thanks to its glorious array of things to see and do, it was dubbed "Madrid's Broadway."
Gran Vía has it all: theaters, cinemas, restaurants, and, of course, an array of captivating stores.
While walking along this major thoroughfare, expect to come across big-name brands, such as Adidas and New Balance, and fast-fashion stores like Bershka, Pull and Bear, Oysho, Stradivarius, Cortefiel, H&M, and Zara.
This century-old street is also home to the world's second-largest Primark store, aside from an official Real Madrid shop that sells signature merchandise from the Spanish football club.
Calle Preciados, in Sol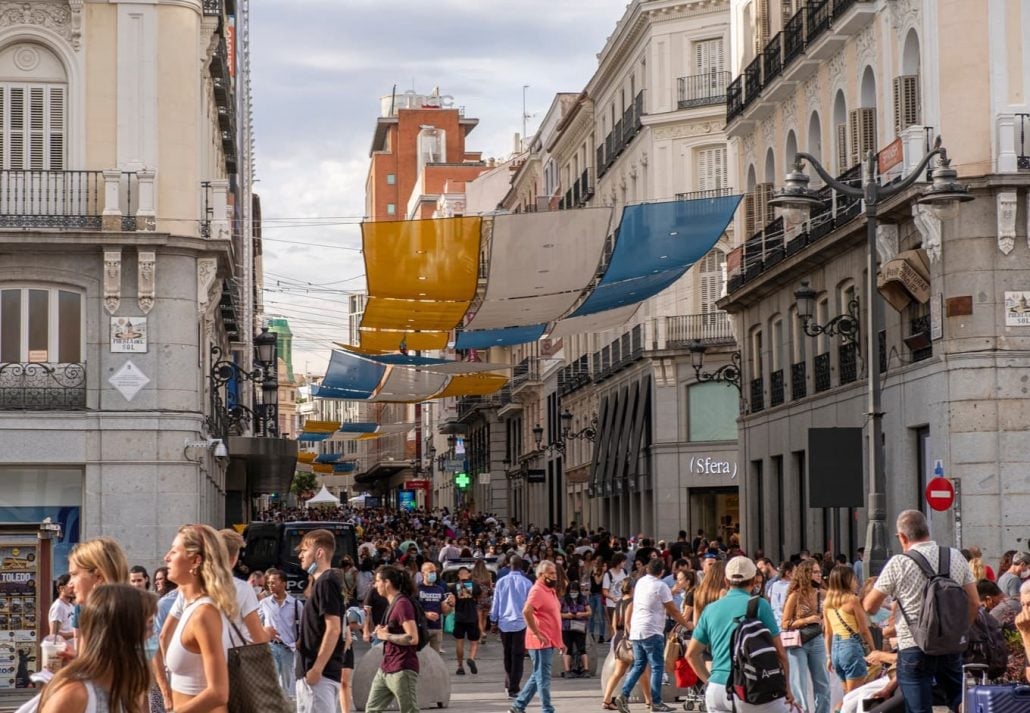 Sandwiched between Puerta del Sol and Plaza de Santo Domingo, Calle Preciados is a lively shopping street with a delightful collection of national and international brands.
Some of the best-known stores here include Zara, H&M, Sfera, Primor, Footlocker, MAC, and more.
Curious fact: several of Calle Preciados' stores, bars, and restaurants are located within historic buildings.
Visit the Café Varela, at Preciados, 37, set in a century-old construction.
At the end of the 19th and 20th centuries, this history-filled café was attended by famous Spanish writers such as Miguel de Unamuno, the Machado brothers, Emilio Carrere, and Jacinto Benavente.
Calle Serrano, in Salamanca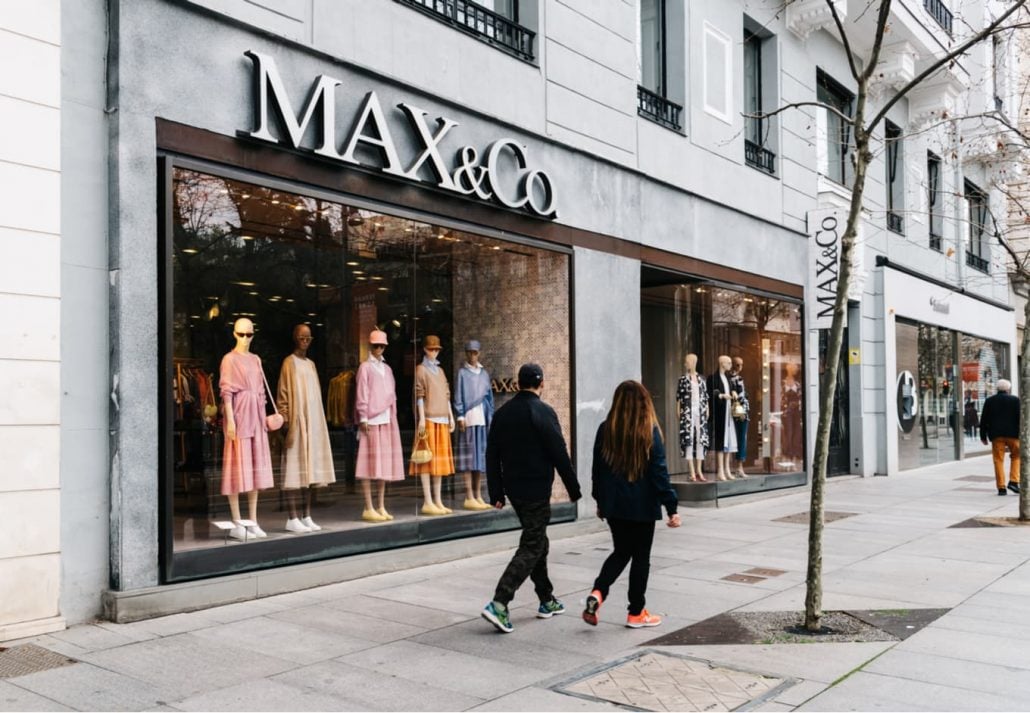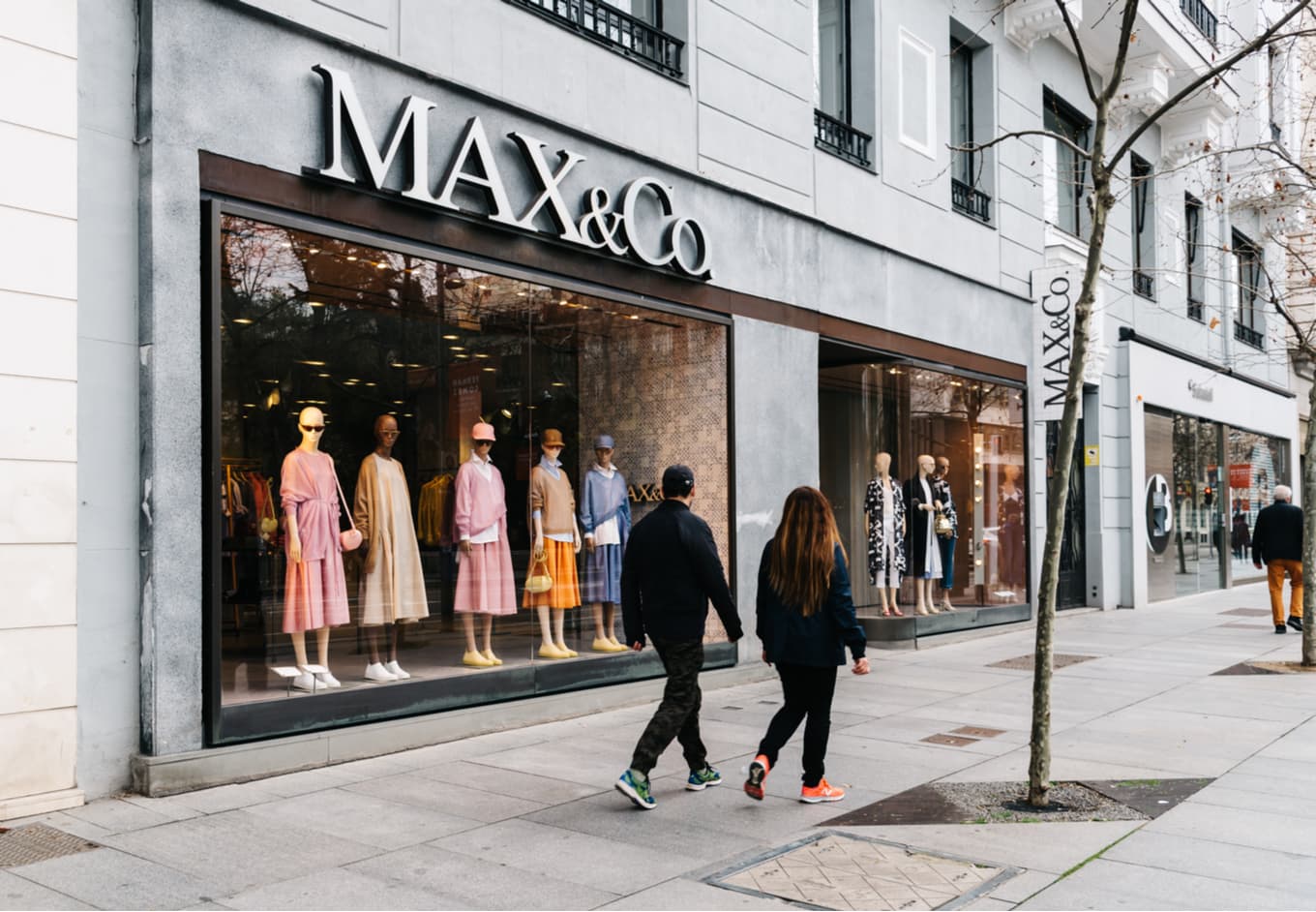 Serrano Street is the main artery of Salamanca — one of the best neighborhoods in Madrid — and the fashion hub of the Spanish capital.
This vibrant street offers incredible commercial offers and stands out for its exclusive and luxurious stores.
Running from the Plaza de la Independencia to the Plaza de la República de Ecuador, the 2.5-mile-long Serrano Street is also known as Madrid's Golden Mile.
It has a superb selection of luxury and designer shops, as well as high-end boutiques and jewelry stores that will make your jaw drop.
On Serrano Street, you'll find fashion brands like Carolina Herrera, Versace, Kenzo, Nike, Ermenegildo Zegna, Miu Miu, Longchamp, Zara, Prada, Agatha Ruiz de la Prada, Purificación García, Pronovias, Michael Kors, and Loewe.
The street also boasts stores by famous Spanish fashion designers like Agata Ruiz de la Prada and Roberto Verino.
El Rastro Market, in La Latina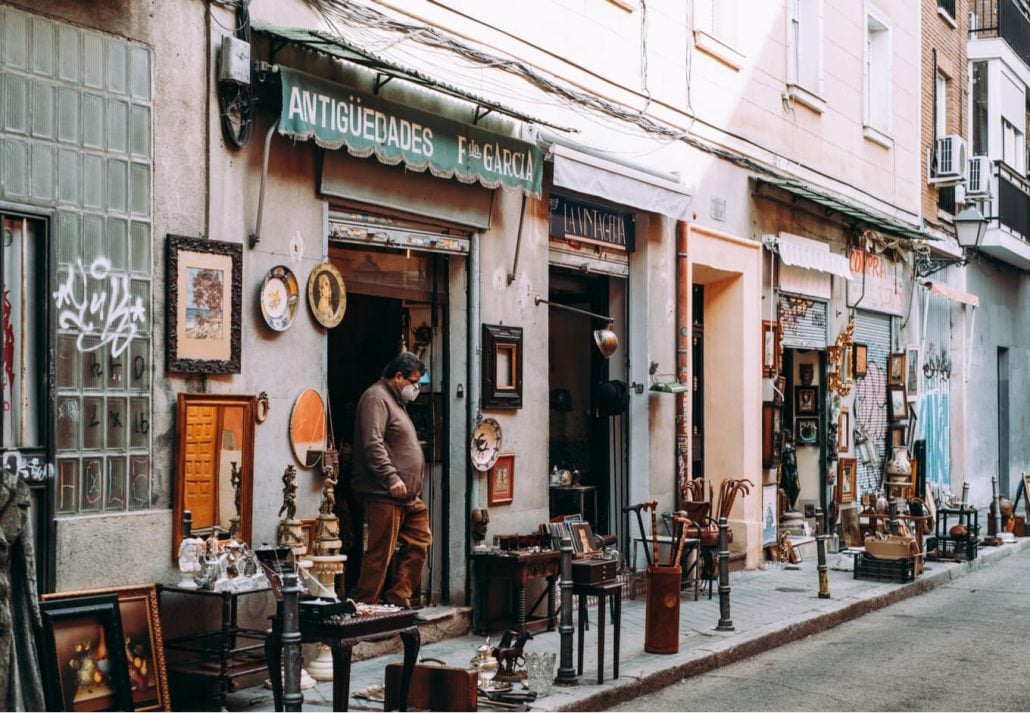 If shopping for antiques and vintage items is more of your thing, then El Rastro is the place to go.
Taking place on Sundays and holidays on La Ribera de Curtidores Street, this vibrant open-air flea market has 400 years of history and dazzles visitors with an eclectic collection of over 700 stalls.
While meandering through this lively market, you'll find everything from clothing and accessories to curious gadgets and artisanal goods.
Thanks to its quirky and alternative atmosphere, El Rastro also rewards visitors with plenty of great photo opportunities!
Address: Pl. del Campillo del Mundo Nuevo, 28005
Looking for a stay in Barcelona? Explore our expert guides below:
Where To Stay in Barcelona: The 7 Best Areas
The 5 Best Hotels in the Gothic Quarter, Barcelona
The 8 Coolest Hostels in Barcelona, Spain
Las Rozas Village Outlet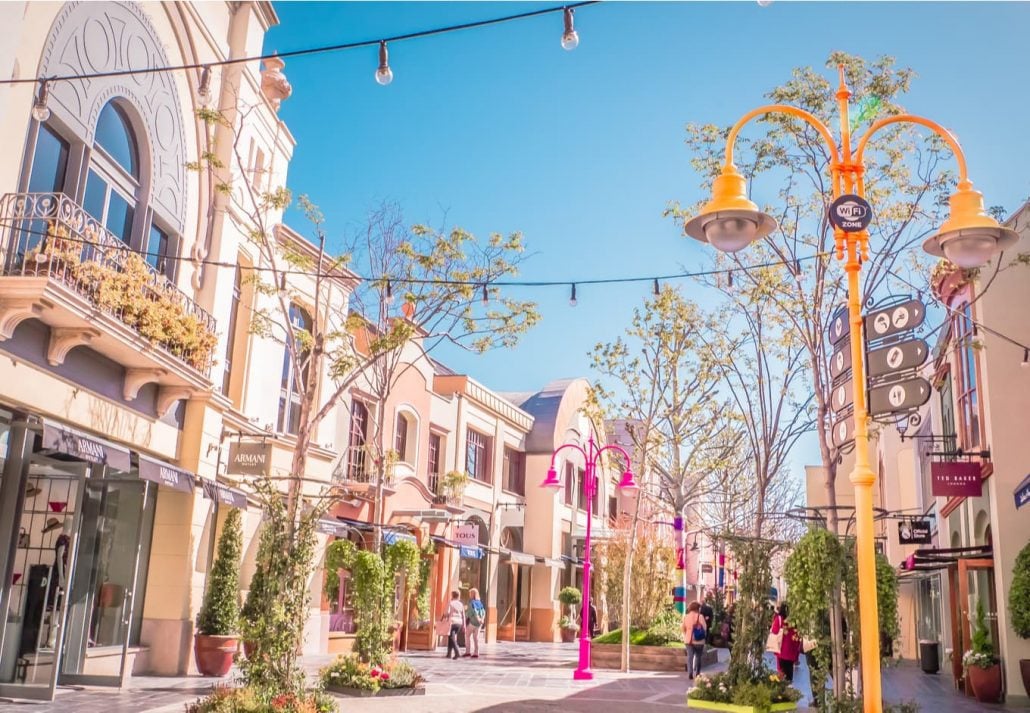 Las Rozas Village is one of the most famous outlets in the Spanish capital.
Located about 25 minutes from the center of Madrid, this outdoor shopping village is a great bet for the luxury-loving buyer seeking to buy designer items at discount prices.
Luxury stores on offer include Armani, BOSS, Bvlgari, Clarins, Gucci, Lacoste, Loewe, Scalpers, and Swarovksi.
Las Rozas is also considered one of the most eye-popping shopping malls in the city, thanks to its whimsical atmosphere.
So, if you're looking for an afternoon full of luxury and indulgence, this is your place.
Address: Calle Juan Ramón Jiménez, 3
FAQ
What is the main shopping area in Madrid?
The 7 best places for shopping in Madrid:
El Corte Ingles;
El Rastro Flea Market;
Grand Vía;
Serrano Street (Calle Serrano);
Preciados Street (Calle Preciados);
Fuencarral Street (Calle Fuencarral);
Las Rozas Village Outlet.
What is the best shopping street in Madrid?
Some of the best shopping streets in Madrid are the lively Gran Vía, Serrano Street (Calle Serrano), Preciados Street (Calle Preciados), and Fuencarral Street (Calle Fuencarral).
Is Madrid good for shopping?
Madrid offers one of the best shopping experiences in Spain. The city is home to century-old flea markets, vibrant shopping streets, big-name department stores, souvenir shops, and budget-friendly outlets catering to every style and budget.
Browse. Book. Stay.
CuddlyNest provides all accommodations to all travelers at the best price. Find unlimited travel inspiration on our blog and social media channels:
Facebook, Instagram, Pinterest, and X.
You Might Also Like:
Spain Travel Apps
The 7 Best Places For Shopping in Madrid
10 Best Hotels In Madrid, Spain
The 11 Best Tapas Bars in Madrid
The 12 Best Neighborhoods in Madrid
Madrid With Kids: 12 Fun Things To Do In The City
Best Museums In Madrid, Spain
Tourist Attractions in Barcelona
Best Cities to visit in Spain
La Tomatina Festival, Spain
Eating Tapas In Granada, Spain
Vegan Restaurants in Alicante, Spain
A Complete Guide To The 15 Best Festivals In Spain
The 10 Best Spanish Cheese You Should Try
The Ultimate Guide to Lobos Island, Spain
The Best Time To Visit Madrid, Spain