Barcelona, the vibrant and captivating city on the Mediterranean coast, is not only a hub of excitement and culture but also a gateway to an array of unforgettable day trips.
Nestled within a stone's throw of the Catalan capital lies a treasure trove of hidden gems just waiting to be explored.
Whether you're a beach lover, a history buff, or an oenophile in search of the perfect glass of wine, the day trip options from Barcelona are endless.
Picture yourself strolling along the rugged coastline of Costa Brava, basking in the warm sunshine as you discover secluded coves and pristine sandy beaches.
Or immerse yourself in the charm of quaint medieval villages, with their winding cobblestone streets and colorful facades, each offering a glimpse into Catalonia's rich history and culture.
And if that's not enough, why not indulge your senses in the world of wine, as you visit the region's vineyards and wineries nestled amidst rolling hills and picturesque landscapes?
Whether you want to experience cultural and natural attractions or try the local cuisine, the best day trips from Barcelona promise to leave you with cherished memories that will last a lifetime.
Here's a guide to the 12 most amazing day trips from Barcelona, Spain.
The 12 Best Barcelona Day Trips
Costa Brava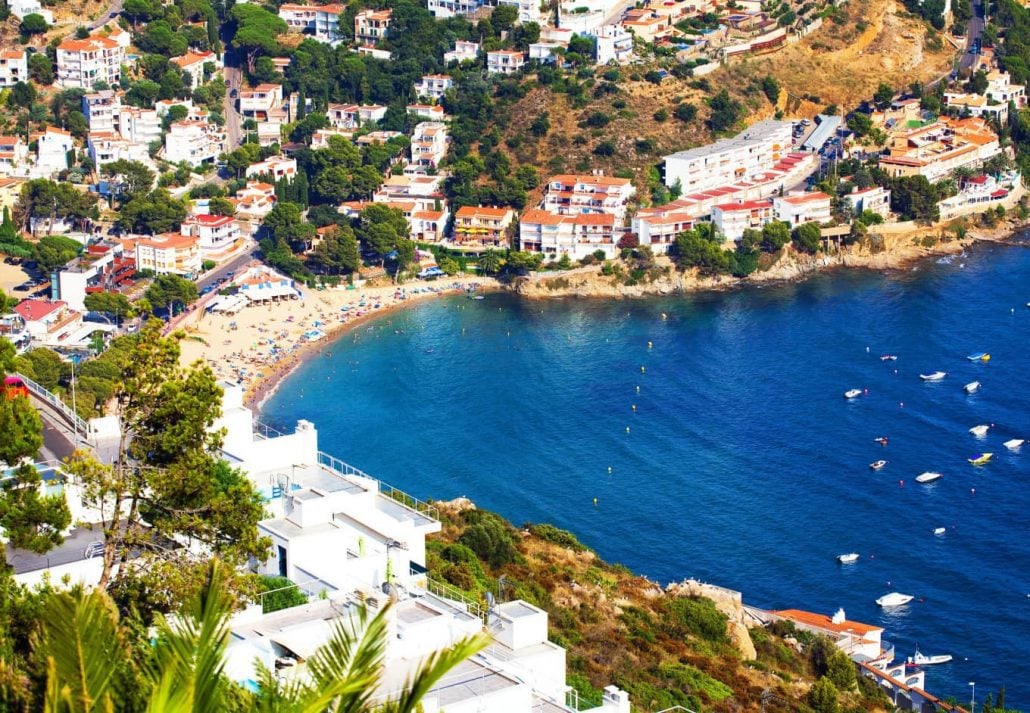 Nestled along the northeastern coast of Spain, approximately one hour from Barcelona, the breathtaking Costa Brava region is one of the best beach day trips from Barcelona.
A day trip to this area often includes stops at beautiful coastal towns. Visit Calella de Palafrugell, a quaint fishing village praised for its various rocky coves and sandy beaches, and visit Platja de Treumal, an idyllic beach of gentle, azure waters perfect for swimming.
Make sure to also stop by the white-washed seaside town of Tossa de Mar, with its ancient castle overlooking the sea, and the Cap de Creus Natural Park, known for its picturesque geological formations.
For art enthusiasts, a visit to Salvador Dali's summer residence (now a museum) in Cadaqués is a must. Now a museum, the house offers a glimpse into the painter's creative world.
History buffs can't pass up the chance to explore the Ruins de Empuries. Located near the pretty beachside village of L'Escala, these Greek and Roman ruins were considered to be the gateway to the Iberian Peninsula for classical cultures.
Distance from Barcelona: 44 miles | 1 hr 46 min drive
Recommended Read: The Most Epic Spain Road Trips For 2023
Montserrat Monastery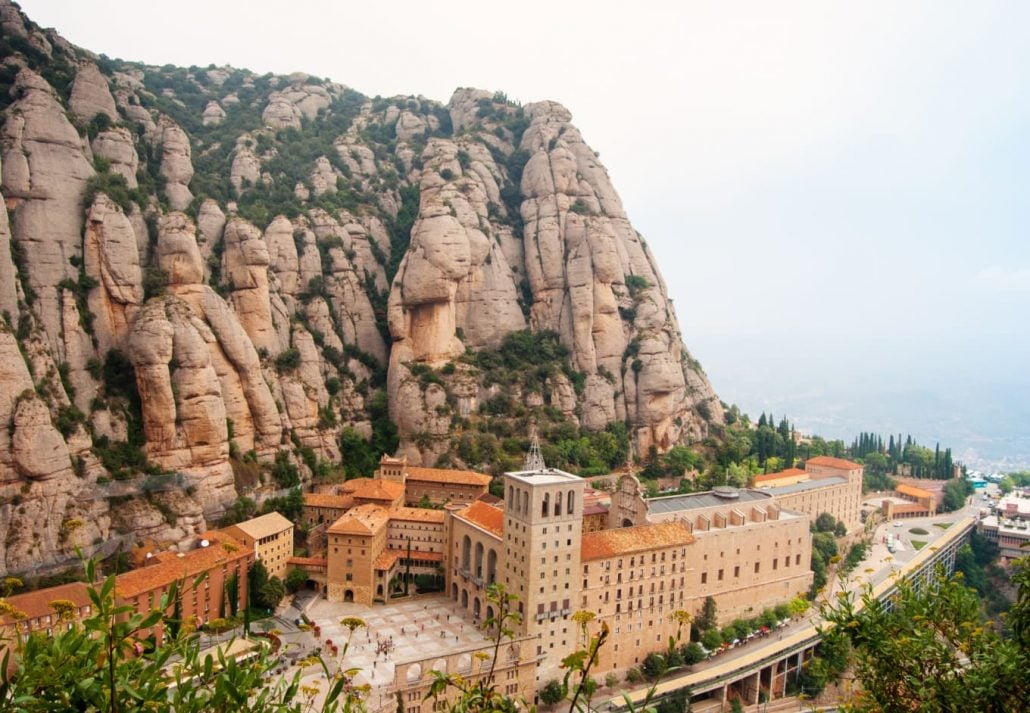 Visit Montserrat to soak in the culture, history, and plenty of natural beauty. Situated about one hour North West from Barcelona by train, this multi-peaked mountain range offers a birds-eye view of the beautiful Catalonia region.
A Montserrat tour usually includes a visit to the dreamy Santa Maria de Montserrat Monastery. Built-in the 11th century, the Montserrat Monastery holds deep historical and cultural significance, as it houses a precious statue of the Black Madonna, the patron saint of Catalonia.
The statue, known as La Moreneta, attracts pilgrims from far and wide who come to pay homage to this sacred icon.
During your Monserrat guided tour, you'll also get the chance to see the Montserrat Monastery Museum, home to works by geniuses like Dalí, El Greco, and Monet.
Another great way of experiencing the beauty of the Montserrat mountain is by taking a scenic hot-air balloon ride over the area, one of the most flown places in Catalan territory.
You'll catch a glimpse of Catalonia's rocky cliffs and majestic mountains while sipping on some locally produced cava.
Distance from Barcelona: 38 miles| 50-minute drive
Sitges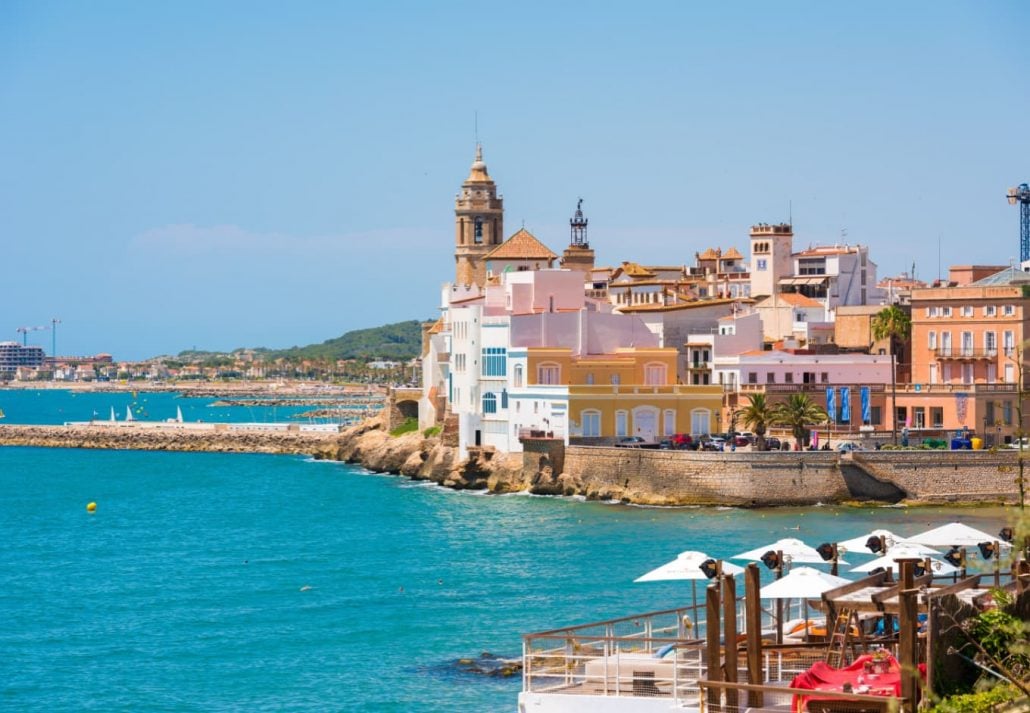 Nestled along the stunning coast of the Mediterranean Sea, just a short drive from central Barcelona lies the charming seaside town of Sitges.
With its idyllic location and vibrant atmosphere, Sitges is the perfect day trip for some quality beach time.
This picturesque town is home to 17 beaches suitable for every mood and moment. Families will love Platja de la Fragata, while those seeking a quieter atmosphere will gravitate towards Platja de Terramar.
What sets Sitges apart is its vibrant LGBTQ+ community, making it one of the most LGBTQ+-friendly destinations in Europe.
The town hosts numerous colorful festivals and events throughout the year, including the famous Sitges Carnival, which draws crowds from near and far.
Visitors can explore the narrow, winding streets of the charming Old Town, lined with quaint boutiques, art galleries, and cafés, or relax on one of the pristine sandy beaches that dot the coastline.
For art enthusiasts, the Cau Ferrat and Maricel Museums are a must-visit, housing impressive collections of modernist and contemporary art.
Distance from Barcelona: 26 miles | 40-minute drive
Castellfollit de la Roca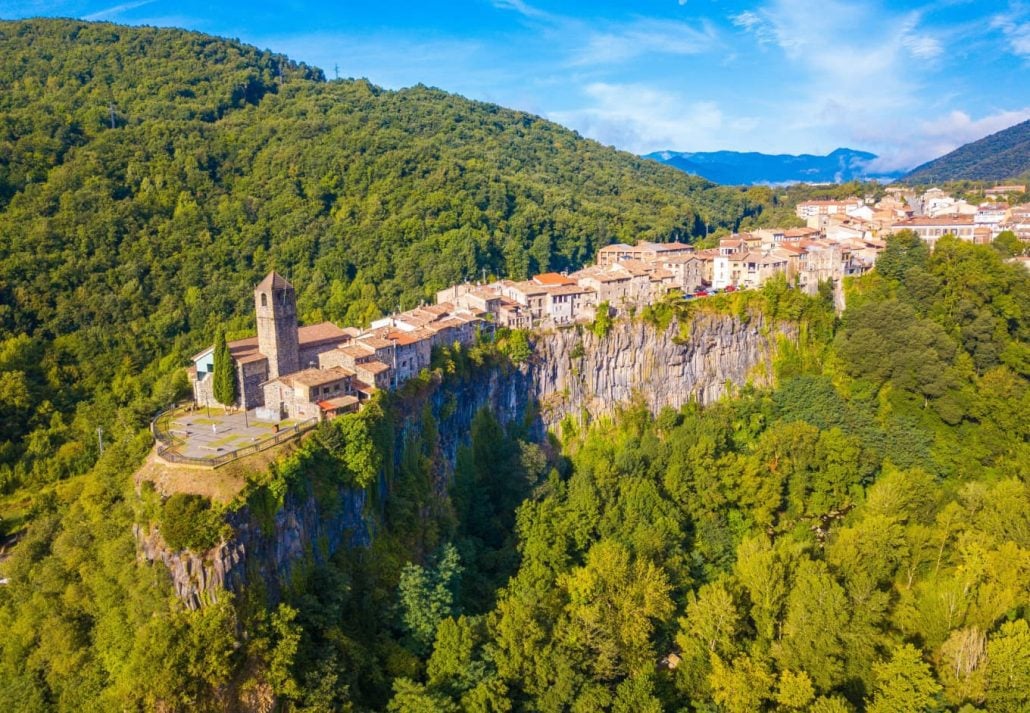 Castellfollit de la Roca is a captivating village nestled between the Fluvià and Toronell rivers, in the Garrotxa region, less than a 2-hour drive from Barcelona.
This charming town dazzles visitors with its stunning volcanic landscape and well-preserved, medieval buildings.
What sets Castellfollit de la Roca apart is its remarkable geological formation. The village is situated on a massive basaltic cliff, which provides a striking backdrop for exploration and photography.
Visitors can wander through the city's narrow streets and admire the traditional stone houses, some of which date back to the Middle Ages.
The Romanesque Church of Saint Salvador, with its commanding position at the edge of the cliff, is a must-see attraction.
Castellfollit de la Roca also offers various outdoor activities for adventure enthusiasts. Hiking trails lead to breathtaking viewpoints, allowing visitors to appreciate the impressive volcanic landscapes that surround the village.
Distance from Barcelona: 60 miles | 1h45 drive
Penedès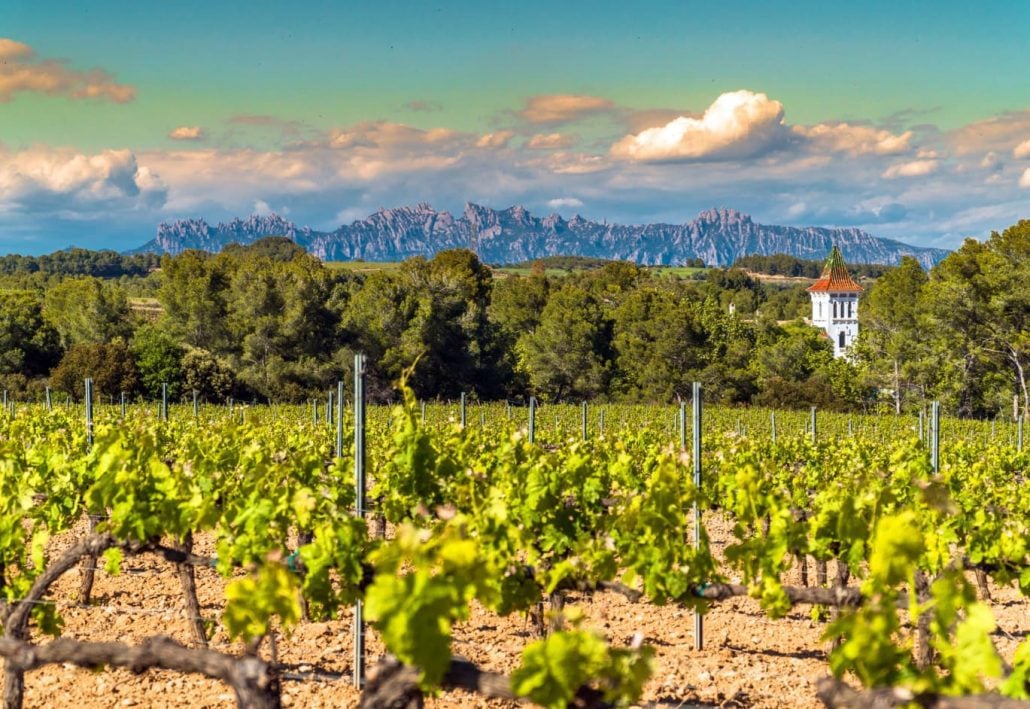 Penedès is a charming region situated in northeastern Spain, just an hour south of Barcelona.
The area is considered one of Spain's premier wine-producing regions and is renowned for its sun-kissed vineyards and premium wineries where Cava, the sparkling wine of Spain, is made.
Visitors can explore the picturesque vineyards, learn about the winemaking process, and sample a wide range of high-quality wines.
There are several organized tours that include a vineyard and cellar visit, and wine-tasting sessions in Penedès.
Be sure to visit Llopart, a family-owned winery that dates back to the 14th century, and features 102 hectares of organically farmed mountain vines. Here, you can sample top-quality Spanish sparkling wine organically and in the traditional (Champagne) method.
Suriol is another great winery to visit in Penedès. Considered local leaders in organic and biodynamic farming in their region, they're praised for their cava and still wines.
Beyond its wine culture, Penedès boasts a diverse range of attractions and highlights. The region is dotted with charming medieval villages like Vilafranca del Penedès and Sant Sadurní d'Anoia, and a beautiful landscape of rolling hills, and picturesque valleys.
Distance from Barcelona: 26 miles | 50 min-drive
Figueres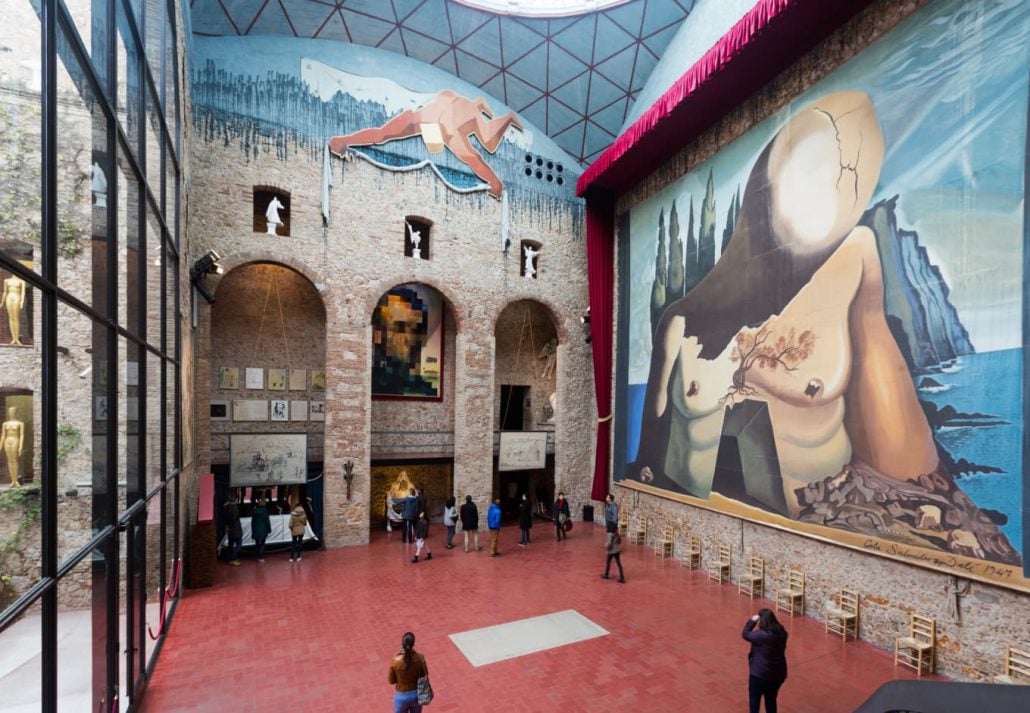 Figueres is a picturesque Spanish town known as the birthplace of famous surrealist artist, Salvador Dalí.
One of Figueres' most popular attractions is Dalí Theatre-Museum, housed within an eye-catching building designed by the painter himself.
Inside the Dali Museum, you'll see an extensive collection of artworks by the Spanish artist. The tour will make you feel as if you're inside one of Dalí's paintings – as some of the furniture and decoration comes together to simulate the artist's works.
If you're a Dalí fan, make sure to visit the nearby city of Pubol, located just 30 minutes from Figueres.
The city is home to the Gala Dalí Castle (Castle of Pubol), where the painter created works of art inspired by his wife, Gala.
Distance from Barcelona: 91 miles | 1h40 drive
Girona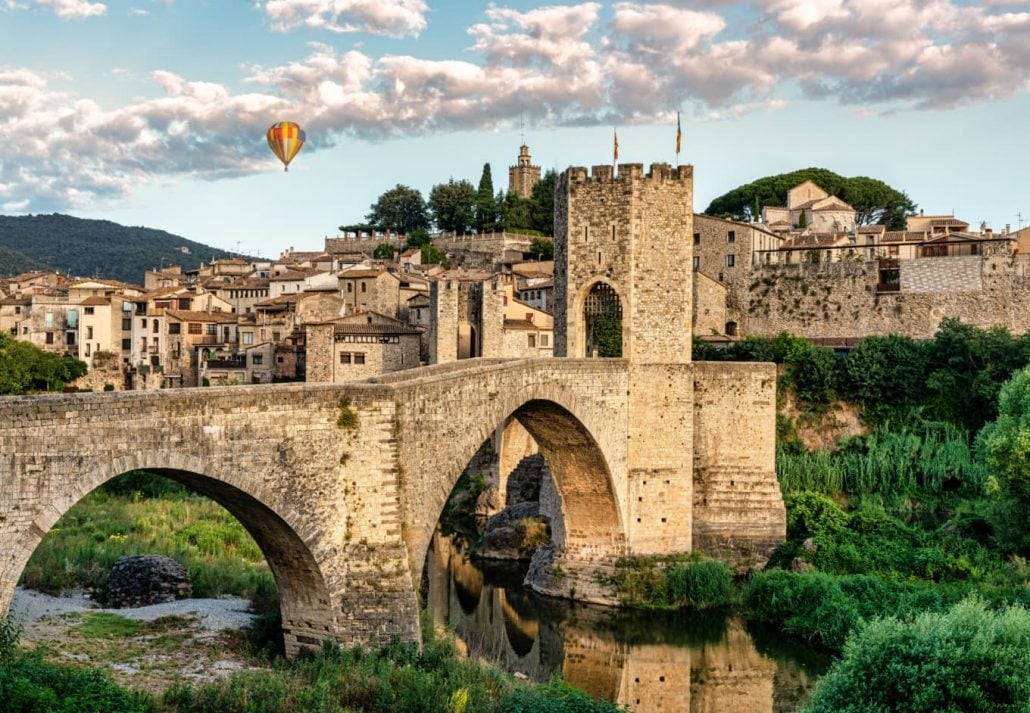 Girona's rich history, picturesque architecture, and vibrant atmosphere are what make it a fabulous day trip from Barcelona.
Girona is steeped in history, with traces of its past evident in its well-preserved medieval city. The Old Town, known as Barri Vell, boasts narrow cobblestone streets, ancient walls, and charming buildings that exude a timeless charm.
Walking through the labyrinthine alleys, visitors can admire the stunning Gothic and Romanesque architecture, discover hidden plazas, and soak up the authentic ambiance of this enchanting city.
One of the highlights of Girona is its magnificent Cathedral, which dates back to the 11th century.
The Cathedral showcases a fascinating blend of architectural styles, including Romanesque, Gothic, and Baroque.
Another must-see is the colorful hanging houses of Girona, which are beautifully lined against the River Onyar.
Take some time to also wander around the Jewish Quarter of Girona, which dates back to the 12th century and is one of the most well-preserved Jewish quarters in Europe.
Girona has gained recognition as a filming location for the popular TV series "Game of Thrones."
Fans of the show can explore the iconic locations used in the series, such as the steps of the Girona Cathedral, Bishop Josep Cartañà Street, and the Arab baths.
Distance from Barcelona: 53 miles | 1h20 drive
Pyrenees Mountains & Aigüestortes i Estany de Sant Maurici National Park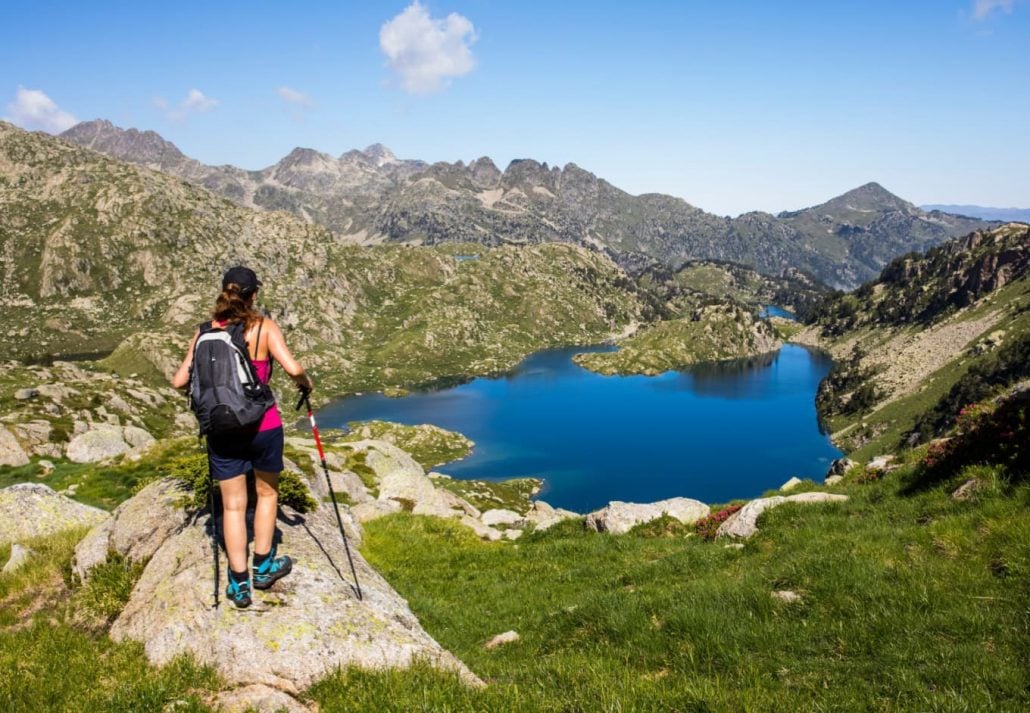 The Pyrenees Mountains are located Located approximately 125 miles north of Barcelona, and span the northeastern part of Spain, on the border with France.
Known for its rugged beauty and pristine wilderness, the Pyrenees region is characterized by majestic peaks, deep valleys, and crystal-clear lakes.
The breathtaking scenery provides a perfect backdrop for various outdoor activities, such as hiking, mountain biking, and rock climbing.
Exploring the numerous trails allows visitors to immerse themselves in nature and discover hidden gems.
One of the best ways of exploring the magnificent Pyrenees Mountains of northern Spain is with a full-day tour.
You'll get the chance to visit places like the Aigüestortes i Estany de Sant Maurici National Park, Catalunya's only national park, and a haven for nature enthusiasts with its stunning lakes and hiking trails.
Skiing and snowboarding are popular activities in the winter months, as the Pyrenees is home to several excellent ski resorts.
The region is also filled with soothing thermal springs and spa towns, as well as picturesque small villages such as Navarre, Huesca, Eus, and Lleida.
Distance from Barcelona: 125 miles | 4h drive
Tarragona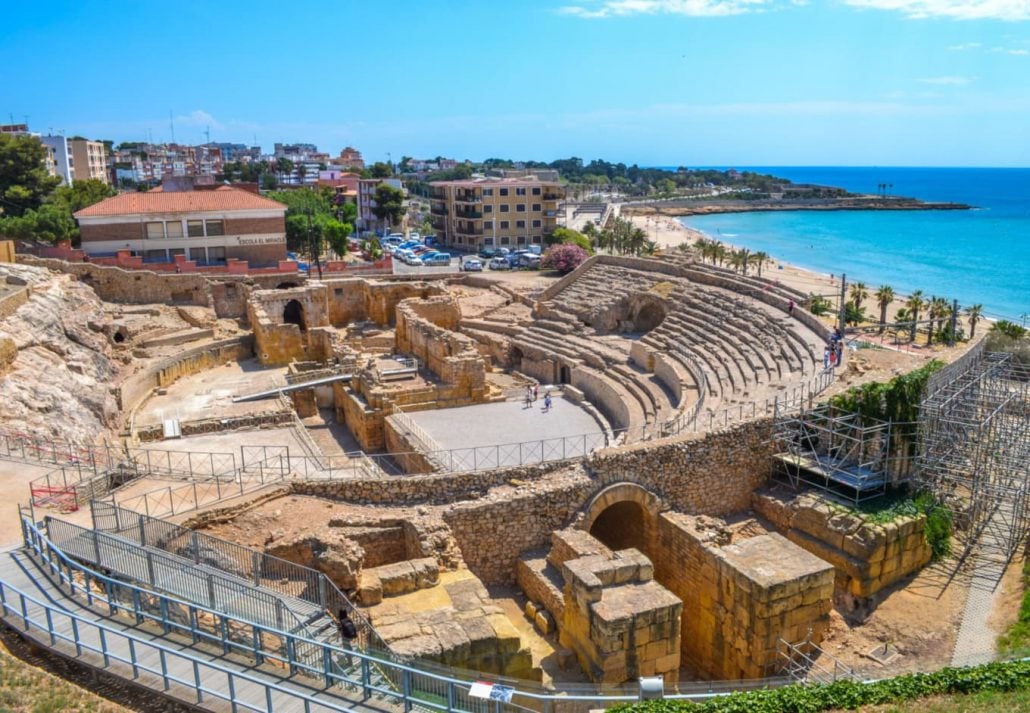 Tarragona is a coastal city located approximately 51 miles from Barcelona. The city's rich blend of history, culture, and stunning Mediterranean views makes it an amazing day trip from the Catalan capital.
As a former Roman colony, Tarragona is home to numerous well-preserved Roman ruins that have earned it recognition as a UNESCO World Heritage site.
The most notable attraction is the Tarragona Amphitheatre, an impressive Roman arena that once hosted gladiator fights and other spectacles. Visitors can explore the amphitheater and envision the grandeur of ancient times.
Beyond its historical sites, Tarragona boasts beautiful sandy beaches and a vibrant coastal atmosphere.
The Playa el Miracle, located near the city center, offers a perfect spot to relax and soak up the sun.
Tarragona's lively Rambla Nova, a tree-lined promenade, is another highlight, featuring charming cafes, shops, and street performances.
Tarragona is also renowned for its festivals, including the famous Santa Tecla Festival held in September. During this time, the city comes alive with colorful parades, fireworks, and traditional dances, offering a glimpse into Catalan culture and traditions.
To visit Tarragona as a day trip from Barcelona, taking the train is your best bet. Trains run frequently, and the high-speed service will get you from city to city in only half an hour!
Distance from Barcelona: 60 miles | 1h15 drive
Besalú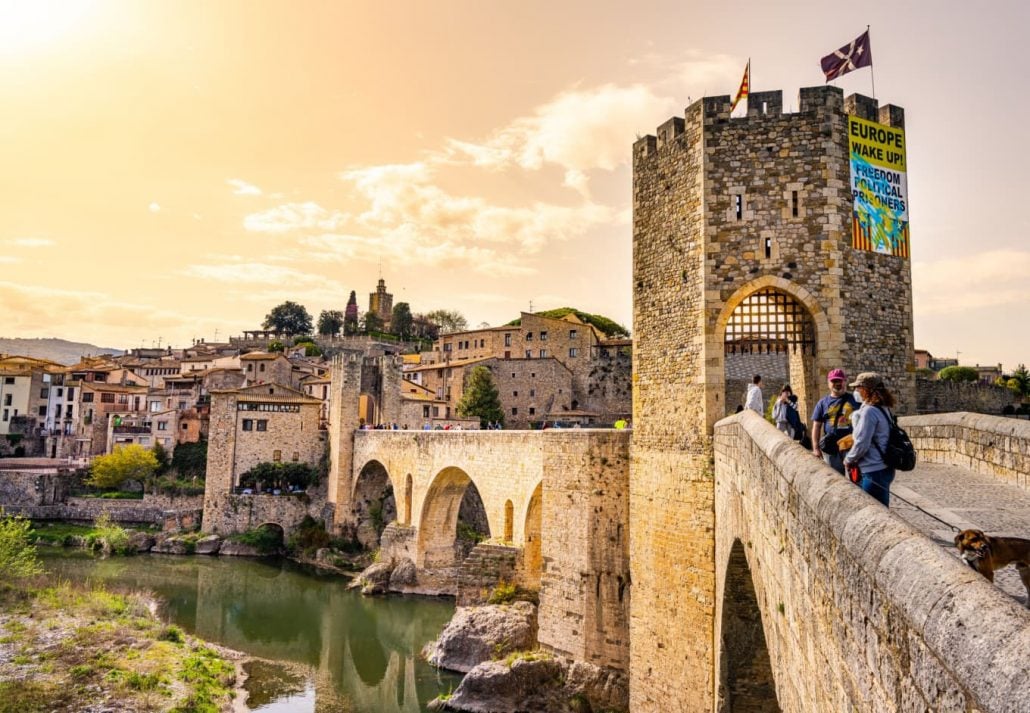 Besalú is a history-filled medieval town known for its well-preserved architecture and rich heritage.
While exploring the cobbled streets of Besalú, you'll get the chance to discover ancient old constructions like the Besalú Castle, which offers panoramic views of the town and the surrounding countryside.
You'll also stand in awe of Besalu's beautifully preserved medieval bridge, which spans the Fluvià River and serves as the entrance to the town.
This iconic bridge offers picturesque views and sets the stage for exploring the town's narrow cobblestone streets and ancient buildings.
The town's Jewish Quarter is another highlight, with its 12th-century mikveh (Jewish bath) and the remains of a 13th-century synagogue.
Distance from Barcelona: 81.4 miles | 1h40 drive
Castelldefels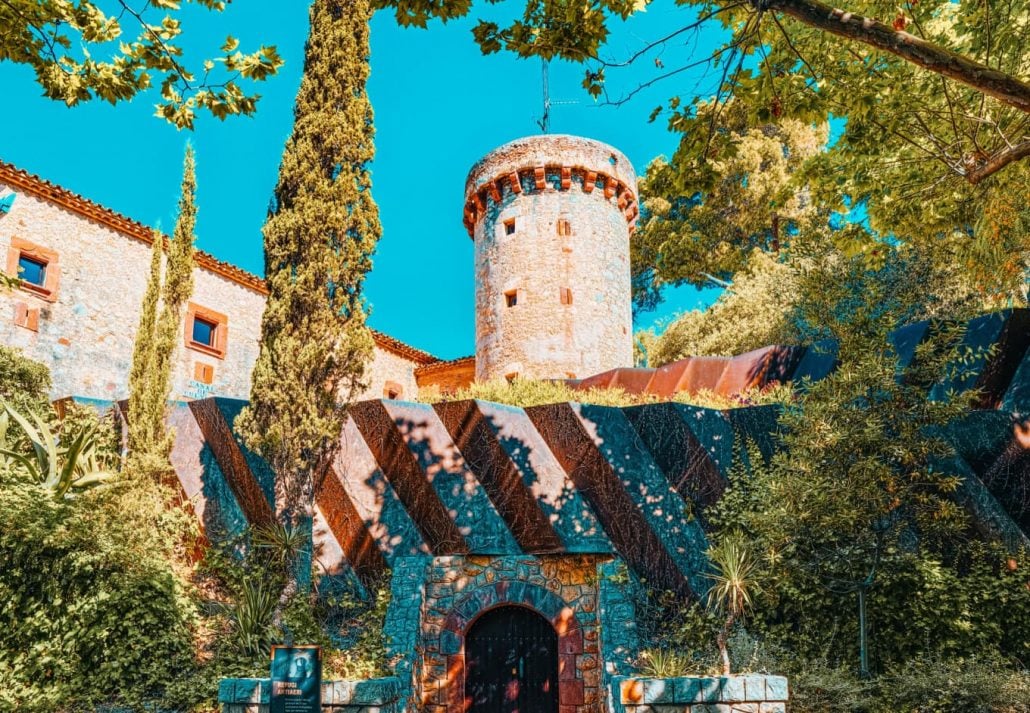 Castelldefels is a charming coastal town filled with beautiful beaches, natural landscapes, and historical sites, making it a delightful destination to explore.
What makes Castelldefels a good day trip from Barcelona is its close proximity and its serene coastal ambiance.
Visitors can escape the hustle and bustle of the city and unwind in the relaxed atmosphere of this dreamy town.
The golden sandy beaches stretch for several kilometers, offering ample space for sunbathing, swimming, or engaging in water sports activities.
Castelldefels is crowned by the majestic Castelldefels Castle, which dates back to the 10th century.
Exploring the ruins of this medieval castle and enjoying the panoramic views of the surrounding area is a must-do activity.
Distance from Barcelona: 15 miles | 30-minute drive
Medieval Town of Vic
The Medieval Town of Vic is hidden which offers visitors the opportunity to immerse themselves in a fascinating medieval ambiance.
Located north of Barcelona in the direction of the Pyrenees mountains, this historic town dates back to the Roman era and boasts a fascinating mix of architectural styles, including Romanesque, Gothic, and Baroque.
You can explore the town's narrow, winding streets lined with well-preserved buildings that evoke a sense of stepping back in time.
Stop by the Sant Pere Cathedral, which features a gorgeous Romanesque crypt and bell tower, and the Museu Episcopal, which displays a rich collection of Romanesque art.
Visit the Iglesia de La Pietat, a beautiful 17th-century Baroque church, and explore the town's eye-popping squares, like Plaça Major.
In addition to its historical sites, Vic is known for its vibrant local culture. The town hosts a lively market every Tuesday and Saturday, where visitors can experience the hustle and bustle of a traditional Catalan market and sample local produce, cheeses, and traditional delicacies.
Distance from Barcelona: 42 miles| 55-minute drive
FAQ
What are the best day trips from Barcelona?
The best day trips from Barcelona are:
Costa Brava
Montserrat Monastery
Sitges
Castellfollit de la Roca
Penedès
Figueres
Girona
Pyrenees Mountains & Aigüestortes i Estany de Sant Maurici National Park
Tarragona
Besalú
Castelldefels
Medieval Town of Vic
What is the easiest island to get to from Barcelona?
The easiest island to get to from Barcelona is the Balearic Island of Mallorca. Mallorca is well-connected to Barcelona by frequent and direct flights, with a flight duration of approximately one hour.
How many days is ideal for Barcelona?
To fully immerse yourself in Barcelona's vibrant atmosphere and explore its main attractions, a minimum of three to four days is recommended.
Can you do a day trip from Barcelona to Madrid?
While it is technically possible to do a day trip from Barcelona to Madrid, it is not recommended due to the distance between the two cities and the limited time available in a single day.
Which city is closest to Barcelona?
The city closest to Barcelona is Hospitalet de Llobregat. Located just to the southwest of Barcelona, Hospitalet de Llobregat is considered a suburb of Barcelona and is often considered part of the Barcelona metropolitan area.
Can you do a day trip to Andorra from Barcelona?
The distance between Barcelona and Andorra is approximately 125 miles, and the journey by road takes around 3-4 hours one way, depending on traffic conditions. Given the travel time, a day trip to Andorra would require an early start and a late return to Barcelona, leaving limited time to explore the destination itself.
Where is the best place to visit between Barcelona, Spain, and Nice, France?
The best place to visit between Barcelona and Nice is the charming coastal town of Collioure, located in the south of France. Collioure is situated approximately midway between Barcelona and Nice, making it an ideal stopover or day trip destination during your journey between the two cities.
CuddlyNest provides all accommodations to all travelers at the best price. Find unlimited travel inspiration on our blog and social media channels.
You Might Also Like:
Spain Travel Apps
The 7 Best Places For Shopping in Madrid
10 Best Hotels In Madrid, Spain
The 11 Best Tapas Bars in Madrid
The 12 Best Neighborhoods in Madrid
Madrid With Kids: 12 Fun Things To Do In The City
Best Museums In Madrid, Spain
Tourist Attractions in Barcelona
Best Cities to visit in Spain
La Tomatina Festival, Spain
Eating Tapas In Granada, Spain
Vegan Restaurants in Alicante, Spain
A Complete Guide To The 15 Best Festivals In Spain
The 10 Best Spanish Cheese You Should Try
The Ultimate Guide to Lobos Island, Spain
The Best Time To Visit Madrid, Spain