The United States is resplendent with sugar-sand beaches renowned for their turquoise waters, and natural scenic beauty.
From enjoying perfect sunrise strolls along peaceful stretches of sand, to marveling at sea green shallow waters amalgamating into the majestic rocky crescents, these spellbinding beaches offer a treat for the soul.
With so many gorgeous strips of sand to choose from, you may feel spoiled for choice! To help you choose your next destination, we've rounded up the 15 best beaches to visit in the United States.
The 15 Best Beaches In The United States
Clearwater Beach, Florida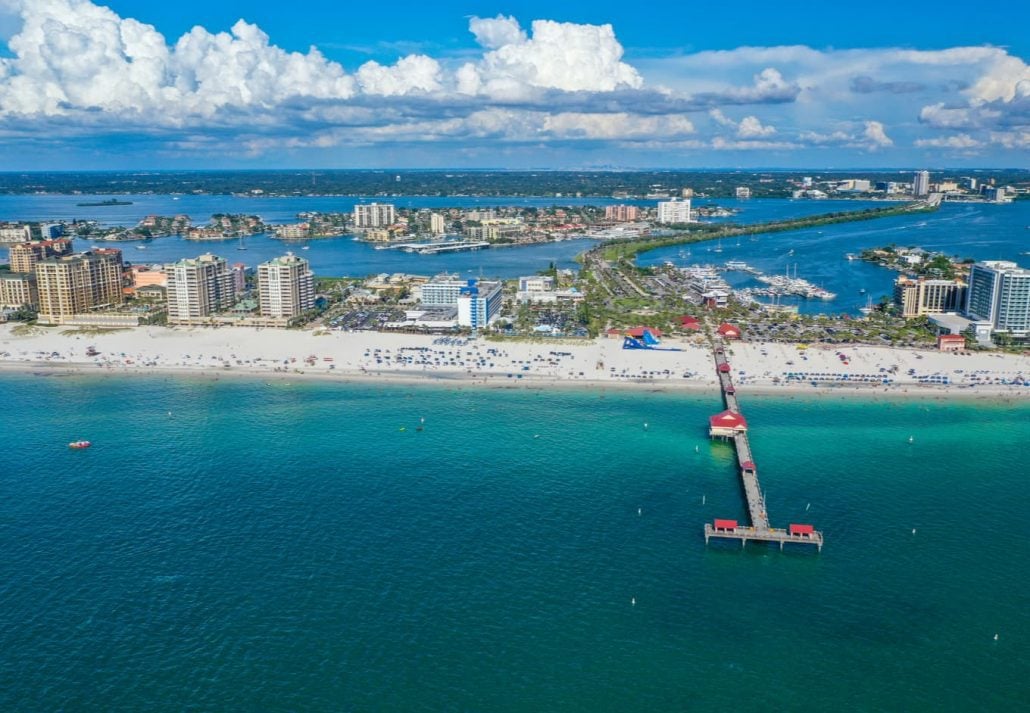 A coastal jewel nestled between Tampa Bay and the Gulf of Mexico, Clearwater Beach draws visitors all year round thanks to its sugar soft sand, and gin-clear waters. Often regarded as one of the best family-friendly beaches in Florida, Clearwater Beach features a palm-lined promenade, and several seafood restaurants, and it's perfect for activities such as sunbathing, swimming, paddleboarding, and water sports.
Find Places To Stay In Clearwater Beach, Florida
Coast Guard Beach, Cape Cod, Massachusetts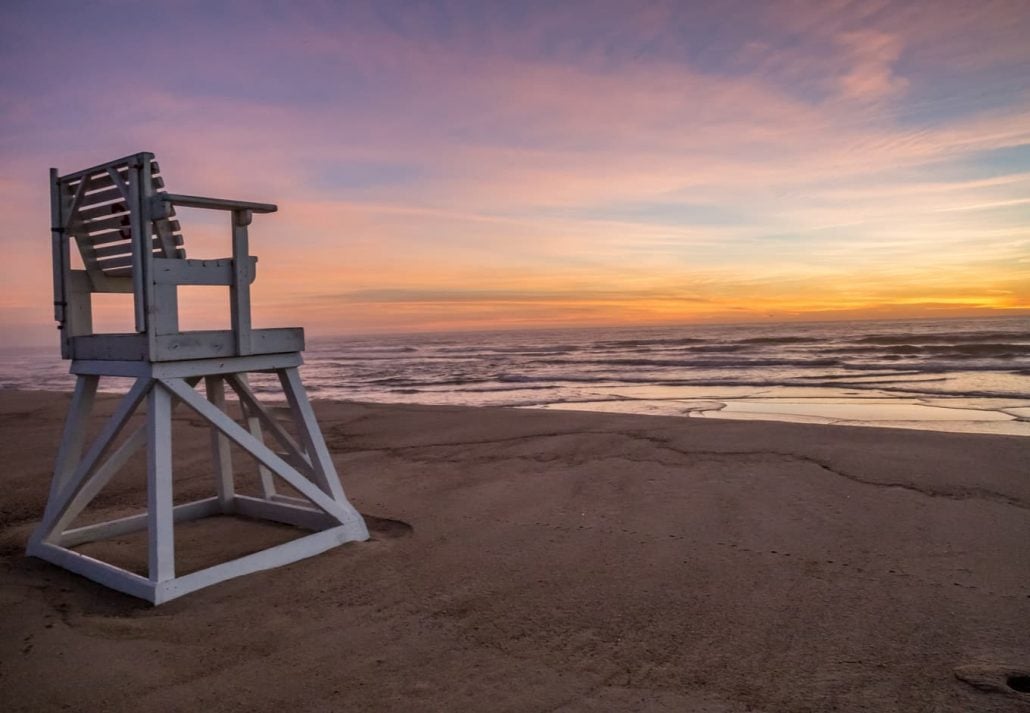 Stretching for over 20 miles in the Cape Cod National Seashore in Eastham, Massachusetts, the Coast Guard Beach is a preferred swimming beach during the summer season.
Boasting expansive sandy shores that are perfect for jogging and walking, Coast Guard is frequently visited by migrating shorebirds, and seals, making it one of the best beach vacations for wildlife viewing.
Find Places To Stay In Massachusetts, USA
Coronado Beach, San Diego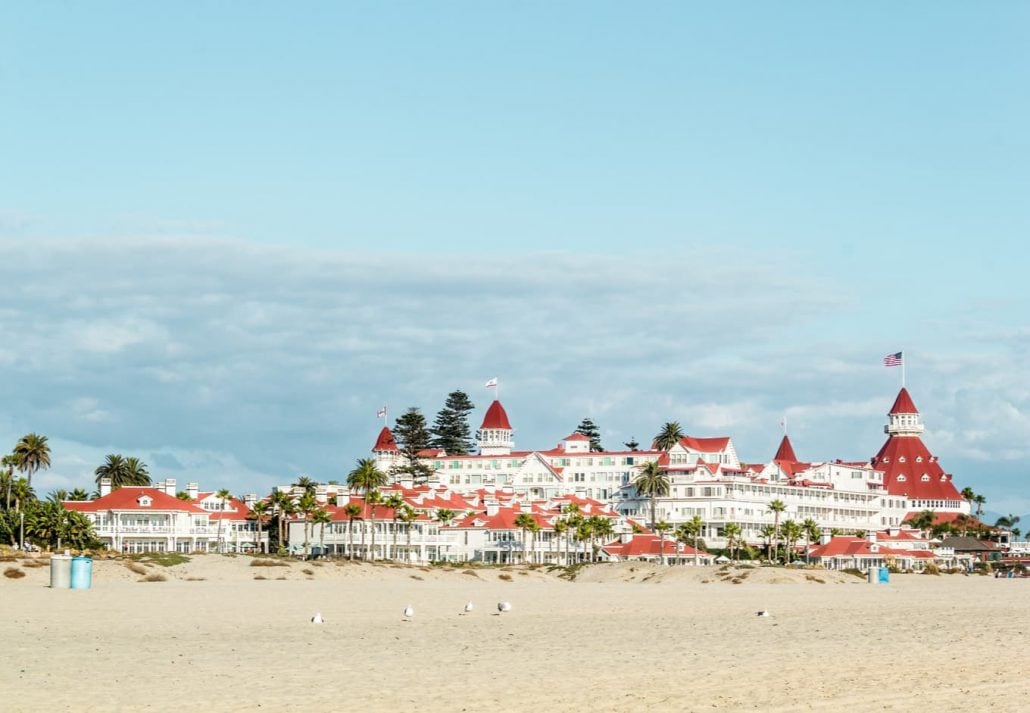 Framed by the iconic Hotel del Coronado and the alluring mansions of San Diego, Coronado Beach is a 1,5 mile-long, and wide sandy beach famous for its calm atmosphere. This family-friendly beach is the perfect spot for swimming, surfing, sunbathing, and picnicking, aside from walking and jogging.
Thanks to its gorgeous sunsets, Coronado Beach is consistently praised as one of the most romantic beaches in the United States.
Find Places To Stay In San Diego, California
Cannon Beach, Oregon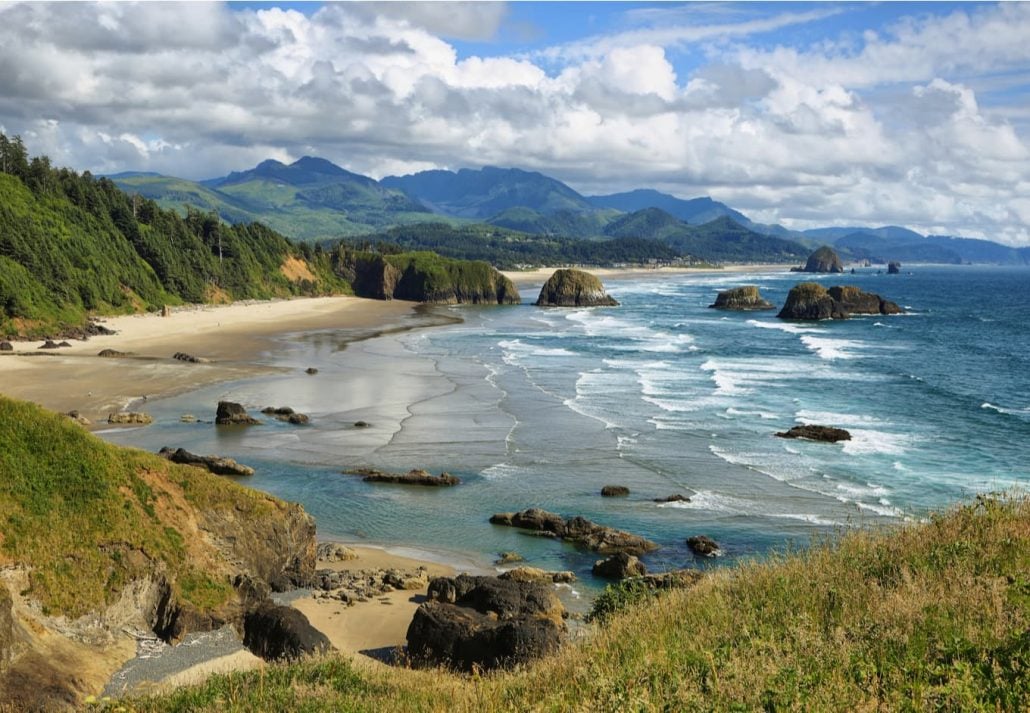 Named one of the most romantic coastal destinations in the US, Cannon Beach is a gem nestled in northwest Oregon. Known for its long, sandy shore, this alluring Pacific Coast beach is starred by the mighty Haystack Rock, a wooshing sea stack that rises 235 feet above the ocean floor.
Cannon Beach is a prime spot for long walks along the shore, picnics, and wildlife viewing, aside from being located close to many art galleries, restaurants, and boutique stores.
Find Places To Stay In Oregon, USA
Hunting Island State Park, South Carolina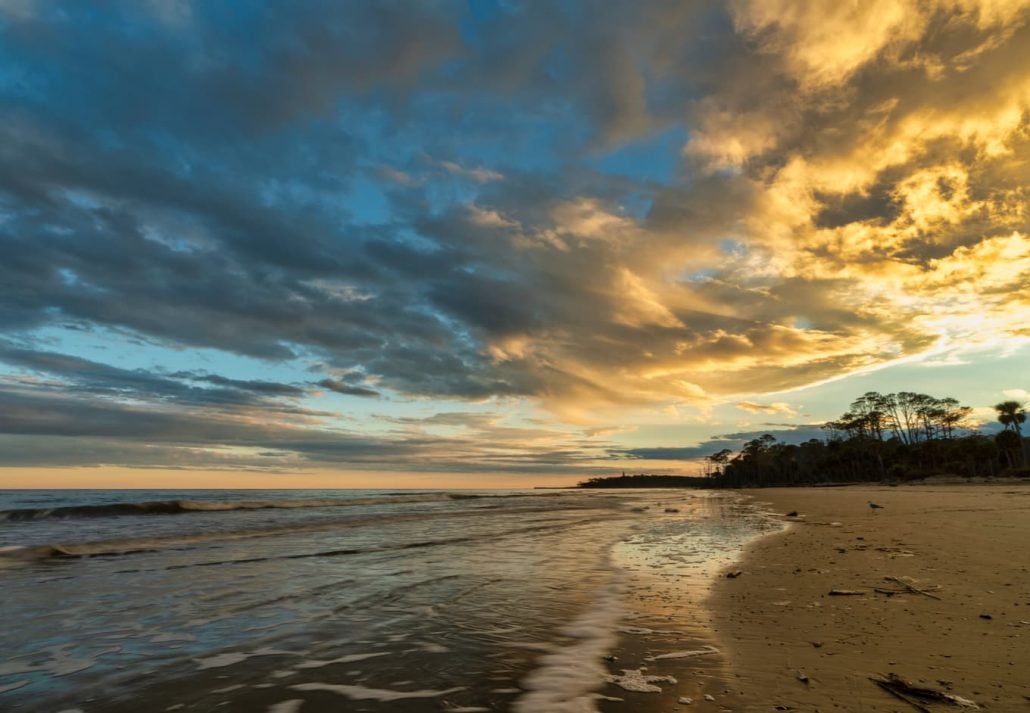 Boasting miles of hiking trails, pristine beaches, emerald-green maritime forests, and a saltwater lagoon, the Hunting Island State Park is South Carolina's ultimate retreat for nature lovers. This 5,000-acre state park is located on a secluded semitropical barrier island, 15 miles east of Beaufort, in South Carolina, and thanks to its bountiful nature, it attracts over a million visitors every year.
Aside from enjoying the park's eye-popping beaches, be sure to visit the 130 feet lighthouse, which rewards visitors with breathtaking panoramic views of the Atlantic Ocean. Plus, the park is also a prime spot for seeing sea turtles!
Find Places To Stay In South Carolina, USA
Outer Banks, North Carolina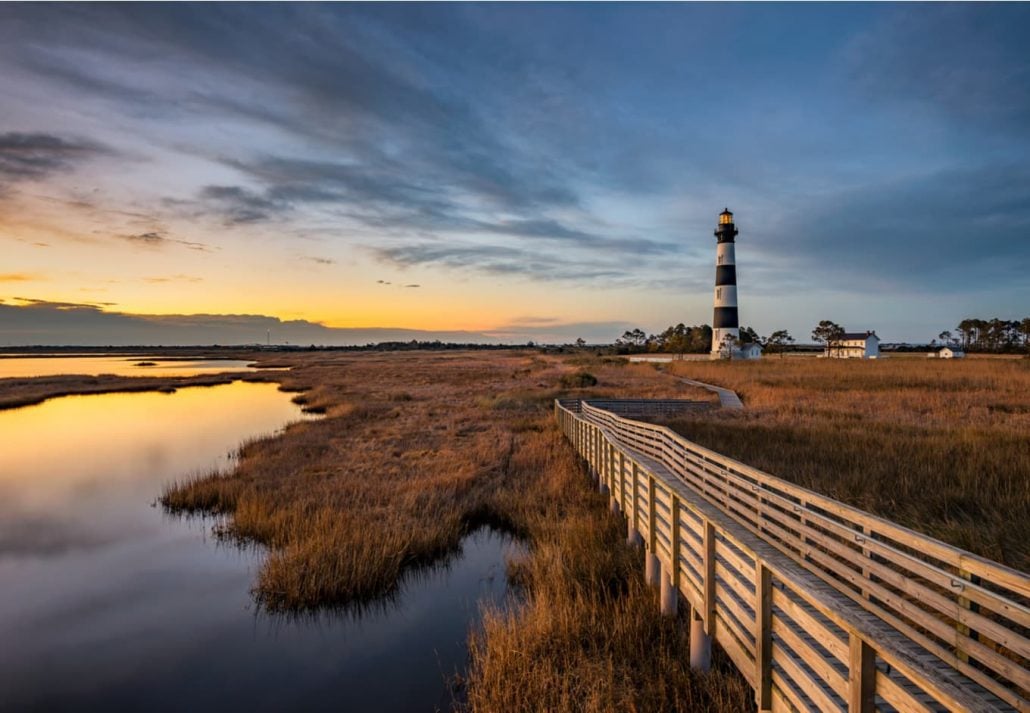 A collection of barrier islands off the coast of North Carolina, the Outer Banks are regarded as one prime beach destination for a wide variety of travelers — from families to couples. This coastal paradise is dotted with a series of wide-open beaches that are simply perfect for indulging in a variety of activities including surfing, paddleboarding, kayaking, or just relaxing under the sun.
One of Outer Bank's most visited beaches is Corolla Beach, a scenic location that has been providing a roaming area for the Corolla wild Spanish mustangs since the 1500s. Another must-visit beach is Rodanthe, a paradise for water sports.
Find Places To Stay In North Carolina, USA
South Padre Island, Texas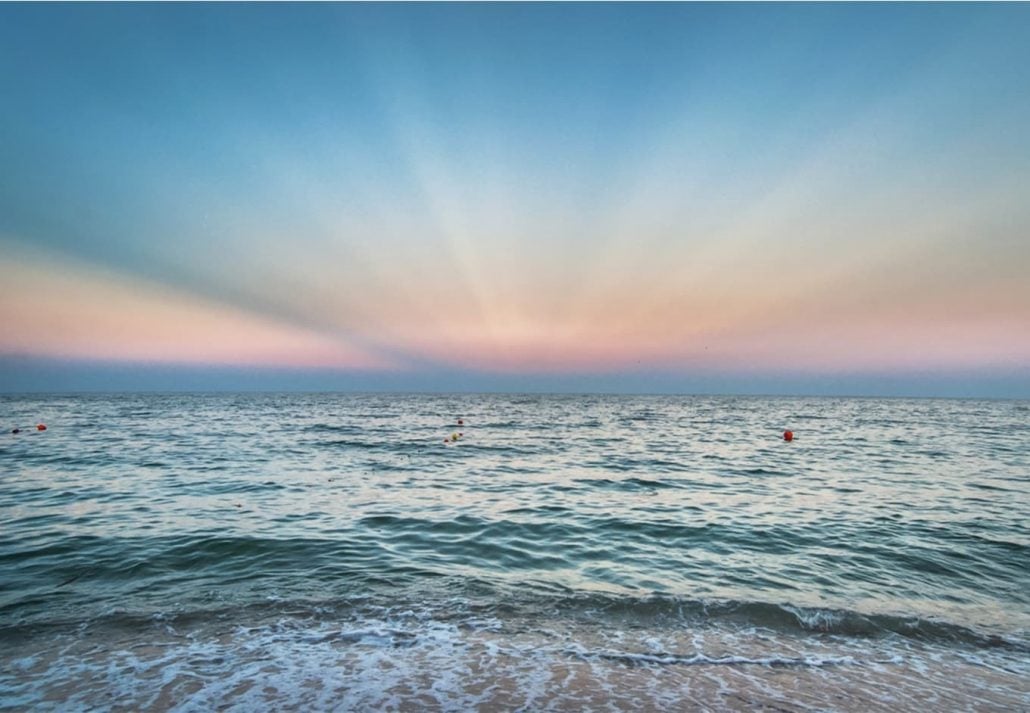 The southernmost part of the world's longest barrier island on the Gulf of Mexico, South Padre Island offers visitors the opportunity to enjoy nature like never before. This island resort town flaunts sun-drenched sand dunes, and endless miles of beautiful beaches bathed by the warm and clear Gulf waters.
Beach activities on offer include everything from snorkeling and scuba diving to dolphin watching and sunbathing. Visitors can also take guided tours to marvel at the island's various species of sea turtles including the Kemp's Ridley, Green, Hawksbill, and Loggerhead.
Find Places To Stay In Texas, USA
Waikiki Beach, Hawaii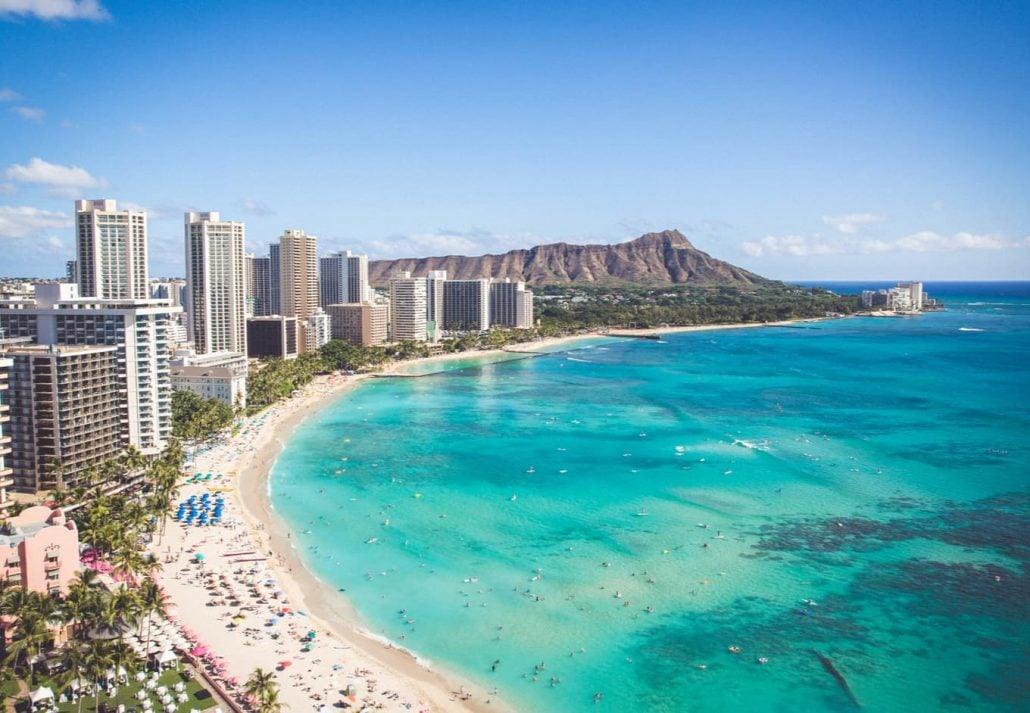 One of the most tantalizing destinations on the Oahu island, in Honolulu, Waikiki is a vibrant beach that offers a whirlwind of activities year-round for travelers and locals alike. The waters of Waikiki make it a perfect beach for surfing, while the wide stretch of sand is the ideal spot for tanning — especially if you're a beach bum.
Regarded as one of the most famous beaches in Hawaii, Waikiki is surrounded by high-rise luxury hotels, world-class shopping, and dining.
Find Places To Stay In Honolulu, Hawaii
Santa Rosa Beach, Florida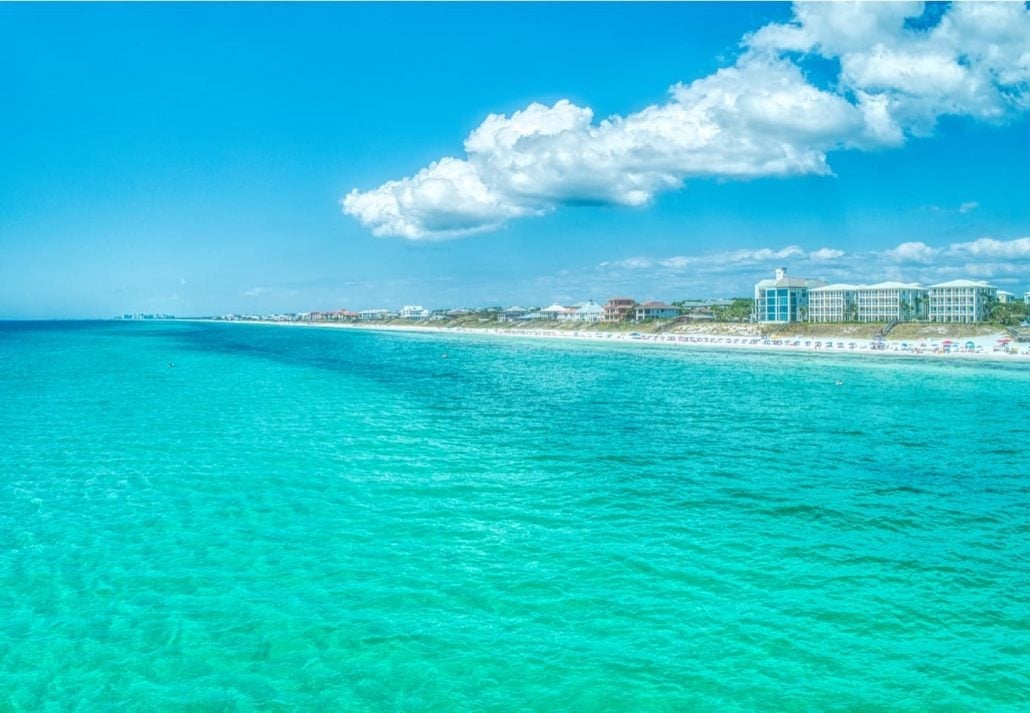 With 26 miles of powdery white sand and turquoise waters, Santa Rosa Beach is a gem in Northwest Florida's sparkling Emerald Coast. This paradisiac beach is a treat for the soul for travelers in need of a restful respite.
While not enjoying the beach's gin-clear waters, which are perfect for swimming and snorkeling, visitors can head over to the town center for some shopping, feasting on freshly-caught seafood, or sampling premium beers in the local craft breweries.
Find Places To Stay In Florida, USA
Orange Beach, Gulf Shores, Alabama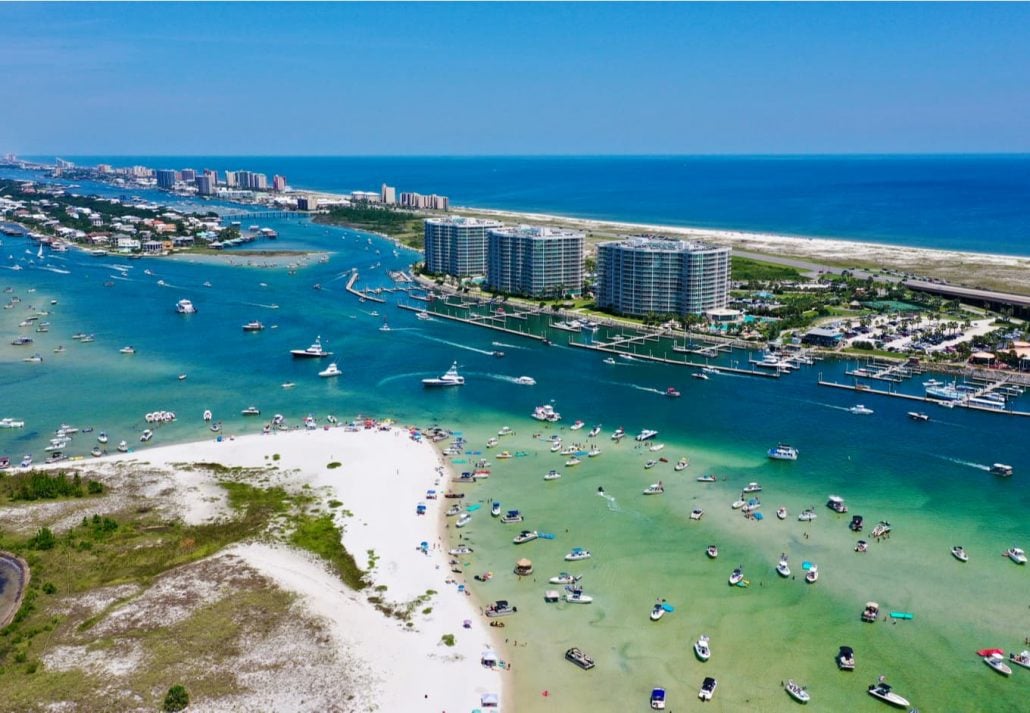 A small beach city on Alabama's Gulf Coast, Orange Beach graces visitors with 32 miles of crystalline quartz sand washed down from the Appalachian Mountains thousands of years ago. The beach is home to the largest artificial fishing reef in the United States, making it the ultimate place for deep-sea fishing expeditions, aside from offering otherworldly dolphin-sighting cruises, and scenic picnic areas.
Find Places To Stay In The Orange Beach, Alabama
El Matador Beach, Malibu, California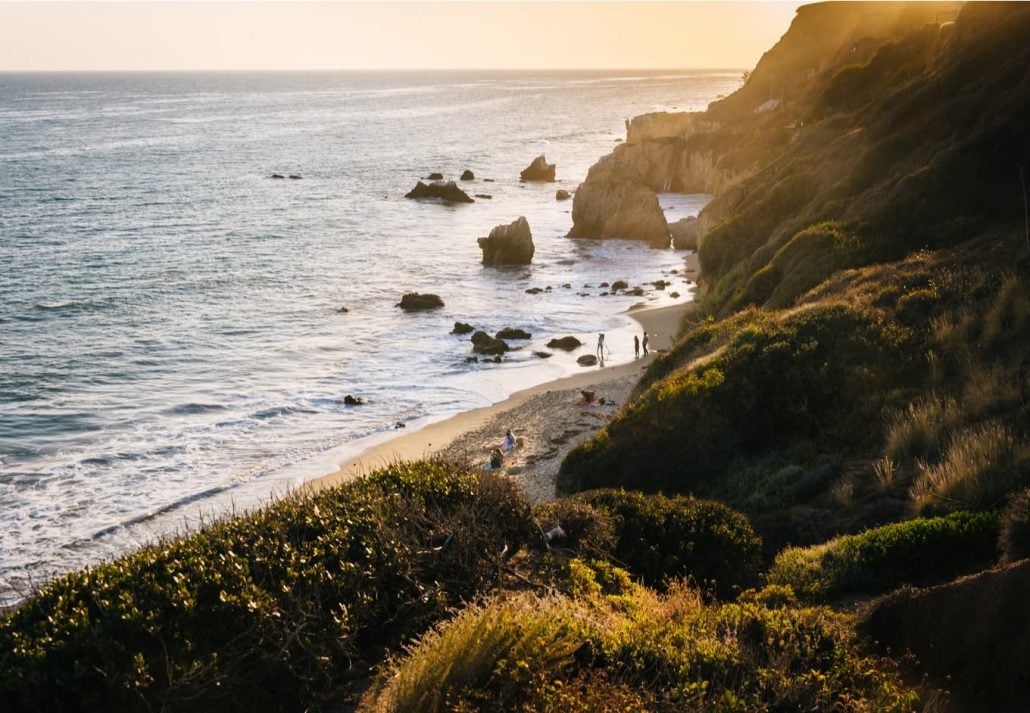 It's no secret that the coast of Malibu (Los Angeles County), California, is dotted with some of the best beaches in the United States.
Located along the iconic Pacific Coast Highway, this beach boasts gorgeous sea stacks, and large caves, making it one of the most coveted beaches in the country.
El Matador also has picnic tables that look out over the sparkling waters of the Pacific Ocean, making it the perfect place for a romantic getaway in California.
Find Places To Stay in Los Angeles, California
South Beach, Miami, Florida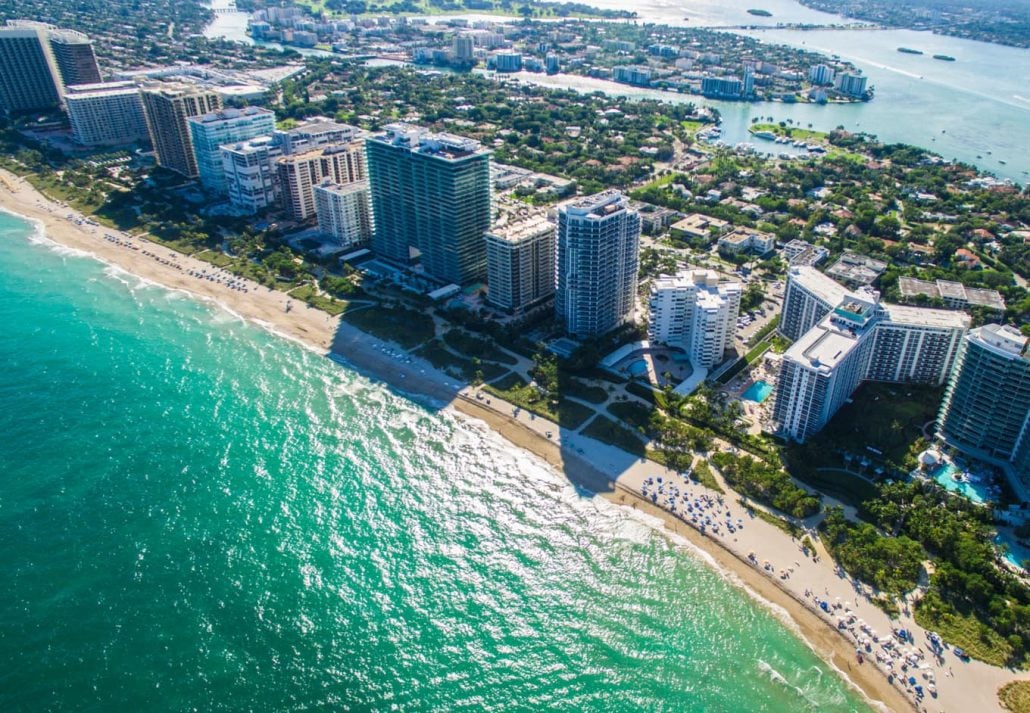 Whatever pleasures you might covet, South Beach probably has them in spades. Aside from peacefully lounging on the 2.5-mile sand beach and swimming in the Caribbean water, you can make room to indulge in the nearby upscale eateries, stroll along the bustling Ocean drive, and shop until you drop in the tantalizing Lincoln Road Mall. Home to glamorous restaurants, and romantic resorts, South Beach is one of the most romantic getaways in Florida.
Find Places To Stay In Miami, Florida
Wrightsville Beach, North Carolina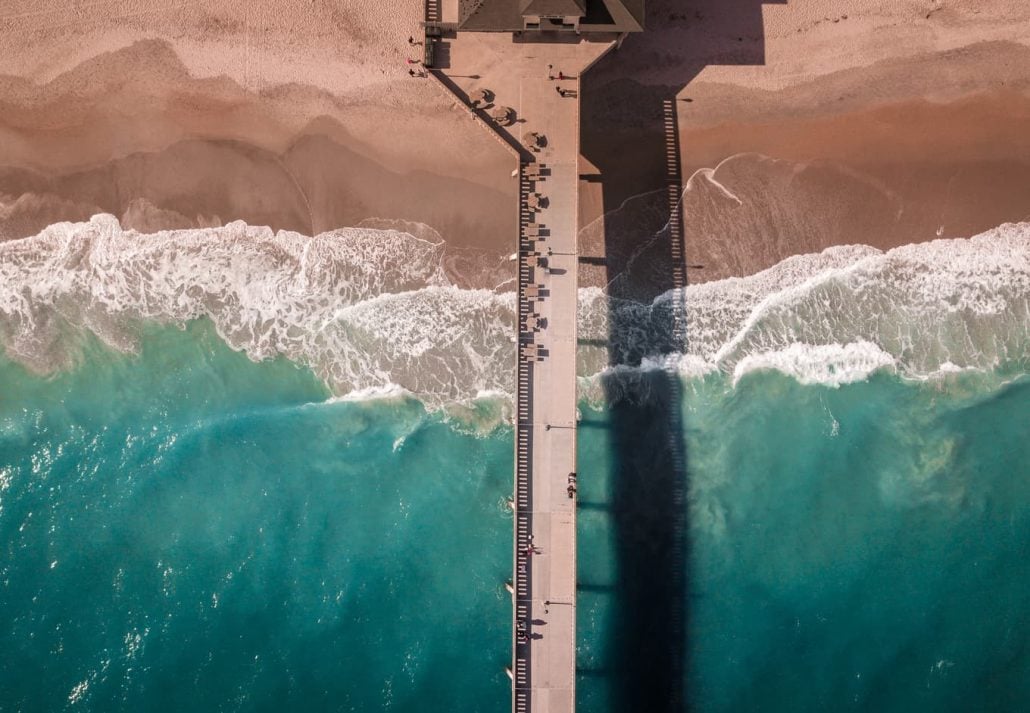 Regarded as one of the "world's top surfing towns", by National Geographic, Wrightsville Beach is the most accessible beach in North Carolina. Ideal for a memorable summer trip, the beach is located just 8.5 miles from Wilmington, and it's known for its world-class waves that are perfect for activities like surfing.
Other sports like kayaking, skateboarding, paddleboarding, and even biking are popular among its visitors. Not to mention that Wrightsville Beach is surrounded by lively bars, and lip-smacking restaurants that get buzzing throughout the year.
Find Places To Stay In North Carolina, USA
Cumberland Island, Georgia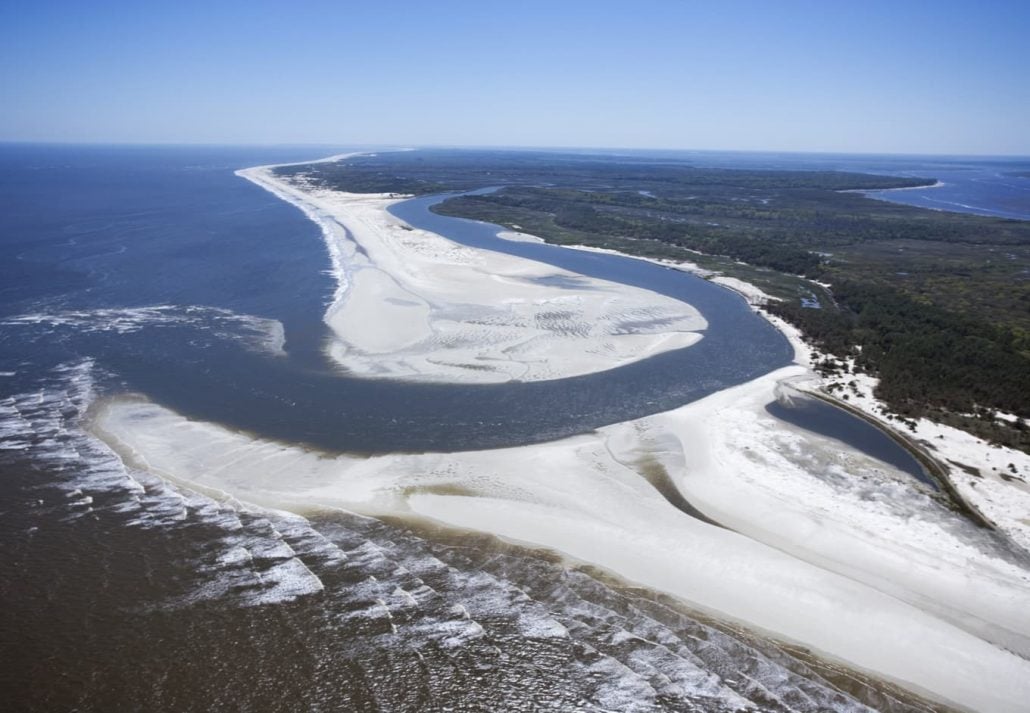 The southernmost barrier island off Georgia's southeast coast, Cumberland Island encompasses some of the best beaches in the U.S. Accessible by ferry only, the island has more than 36,000 acres protected by the National Park Service thanks to its bountiful wildlife and natural resources.
Visit Cumberland Island to explore more than 17 miles of secluded white, sandy beaches, maritime forests, and biking trails.
Find Places To Stay In Georgia, USA
Coligny Beach, South Carolina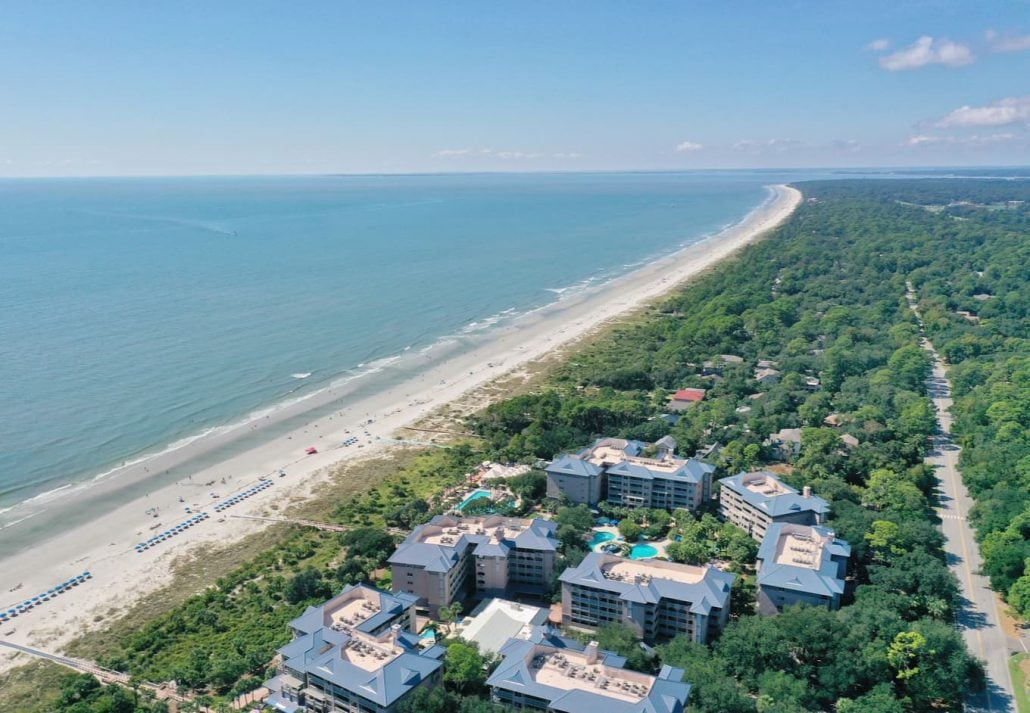 Known for its endless miles of Atlantic Ocean beaches, Hilton Head Island is South Carolina's top destination for a memorable summer vacation. One of the most desired beaches in the city is the award-winning Coligny Beach Park, Hilton Head Island's most popular oceanfront park.
The family-friendly Coligny Beach Park is a playground for visitors that want to spend hours on end biking, lounging on the sand, and swimming in the ocean.
Find Places To Stay In South Carolina, USA
Caladesi Island State Park, Florida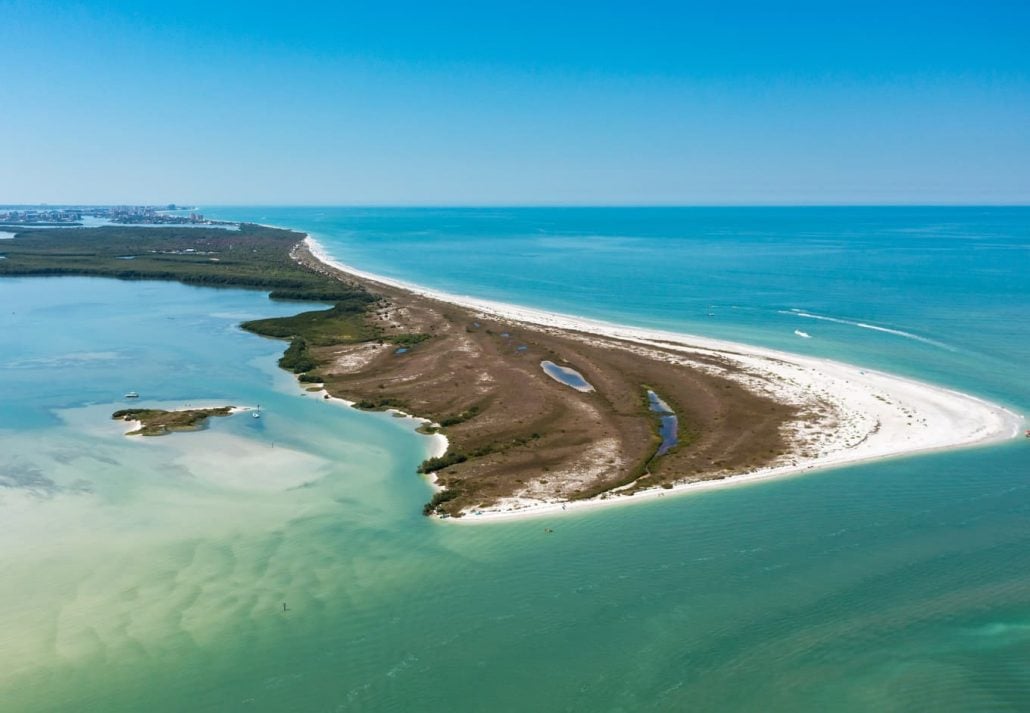 One of the few untouched islands along the Gulf Coast, the Caladesi Island State Park is a real treat for the soul. A must-visit for nature lovers, the state park is accessible only by boat, but as soon as you step foot on the island you'll realize that the trip was worth the effort.
The Caladesi Island State Park is dotted with several paradisiac white-sand beaches that are perfect for swimming, canoeing, and kayaking. Visitors can also scuba dive in the crystal clear waters to discover an array of dazzling marine creatures.
Find Places To Stay In Florida, USA
Frequently Asked Questions About USA Beaches
What's the Number 1 beach in the USA?
From the west coast to the east coast, the United States is filled with several stunning beaches. Some of the most amazing beaches are St. Pete Beach, St.Ka'anapali Beach, Clearwater Beach, Ocean City Beach, Coligny Beach, and more.
Where are the best white sand beaches in the USA?
Some of the best white sand beaches in the US are Lanikai Beach, Oahu, Hawaii, Orange Beach, Alabam, Clearwater Beach, Florida, Marco Island, Florida, Kauna'oa Beach, Hawaii, and Pensacola Beach, Florida.
What beach has the clearest water in the United States?
You can find some of the clearest waters in Siesta Beach, Florida, Kauna'oa Bay, Hawaii, Clearwater Beach, Florida, and Pensacola Beach, Florida.
CuddlyNest provides all accommodations to all travelers at the best price. Find unlimited travel inspiration on our blog and social media channels.
You Might Also Like:
The 14 Best Beaches In The World
10 Best Kid-Friendly Family Vacations In The United States
The 11 Best Long Weekend Getaways In The US
The Ultimate North America Travel Guide
10 Best Day Trips From Naples, Florida