Transparent blue-green waters, rocky cliffs, snow-white sands, and bountiful fauna and flora. These are some of the alluring features that make up the most stunning beaches in the world.
Whether you're a wide-eyed traveler who is seeking to explore the lesser-known marvels of the world or a couple who's in search of the perfect honeymoon destination, there's a gorgeous beach waiting for you somewhere in the world!
From offbeat beaches in Egypt to worldwide known islands in Brazil, we've selected the best beach vacations on Earth.
Hidden on all corners of the globe, these beaches offer a once-in-a-lifetime experience that you do not want to miss out on.
Ready to discover dreamy white sand beaches with calm waters that are just perfect for swimming? Or stretches of sand that offer some of the most beautiful sunsets in the world?
Then have a look at our list and let us know which you are adding to your summer travel itinerary.
The 17 Most Beautiful Beaches In The World
7 Commandos Beach, Palawan, Philippines
7 Commandos Beach is a must-visit for summer fun. Its name comes from the legend of seven soldiers who were trapped there during World War II. 
The Philippines is a true paradise. It ranks high as a popular tourist destination and boasts incredible views of the sea. In Palawan, specifically, there are many beautiful islands, from north to south.
In fact, it is one of the most highly acclaimed destinations for an island getaway. You know where to find us! The Palawan area is known worldwide for the El Nido region, where the 7 Commandos beach is located.
The palm trees metaphorically are the guards of the island, running down the coast for miles and miles. Tourists who visit this pristine location are welcomed by crystal blue waters, coconuts for days, and a relaxing getaway you'll never want to end.
Noosa Main Beach, Queensland, Australia
Noosa Main Beach is the only north-facing beach on the entire coast of Australia. It is one of the most popular destinations for tourists looking to enjoy the perks of Australian life and enjoy the sunny climate.
Whether you are visiting with your friends or family, you will surely want to book a holiday here for more than a few days. Noosa is about 62 miles, 100 kilometers, southeast of Queensland.
Noosa's unique enclave makes it an ideal place to go surfing. The orientation of the beach reduces the waves making them a calm place to learn and enjoy the experience.
When in the area, take advantage of visiting Noosa National Park. It is surrounded by whitewater and beautiful scenery, creating the perfect place for exploration after a long day of sun and sand. It definitely makes our list of the top 5 beaches to visit.
Koh Samui and Koh Muk, Thailand
From photos to movie scenes, brochures, and more, if there is a beach destination that makes the top of every list, it's Thailand. Home to a fun, boisterous, and friendly culture, Thailand offers ravelers magnificent beauty and experiences. After all, it is called the Land of Smiles and has some of the friendliest people on the planet.
From the famous beaches and islands like Maya Beach and Ko Samui to hidden nooks and coves, there is so much to do, see, and explore.
One of the small paradisiacal islands, Koh Muk, is located south of Krabi and near Trang and hides a treasure that all lovers of mysteries would be fascinated by. It even has a cave that leads to a small oasis within a rocky environment only accessible at low tide.
According to legends, pirates used it as a hiding place for their treasures. A group of explorers can access the site with a guide to take them through the cave while holding onto a rope.
The rocky cliffs that surround the beach area and the green waters gave it its name: the Esmeralda Cave. We highly recommend a visit to adventurous travelers. 
Havelock Island, Andaman Islands
The Andaman Islands are a group of islands in the Bay of Bengal, which belongs to the territory of India. Port Blair is the main community of these islands and the administrative capital of the territory. Although the main island has its charm, it is best to take the ferry that takes you to Havelock.
This island is a paradise for travelers thanks to its sublime silken beaches, twinkling teal shallows, and some of the best diving in South Asia.
There, you will find Radhanagar Beach, although many visitors commonly know it as Beach Number 7. Its turquoise waters and white sand make this beach a perfect spot to bask in the midst of nature's bounty. Radhanagar Beach is located just a few miles, seven kilometers away from Vijaynagar Beach and Dolphin Yatri Niwas.
The lush and verdant trees on the side of the beach offer tourists the opportunity to unwind and indulge in serenity and nature's charm. We recommend watching the sunset from the comfort of the shore.
Cala Macarella, Menorca, Spain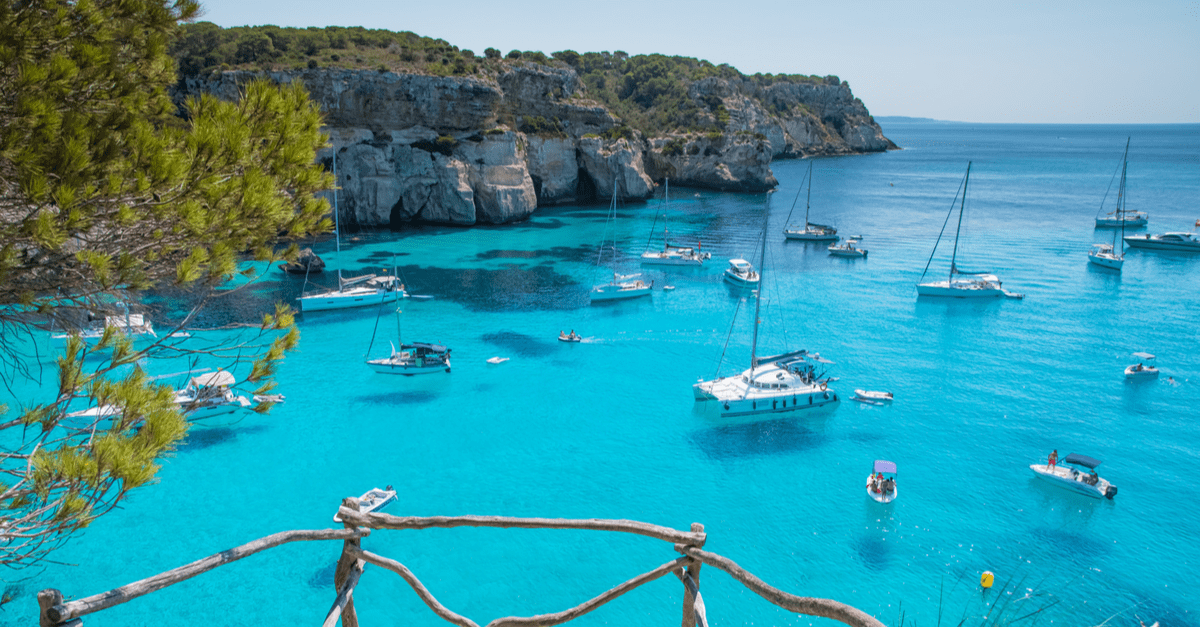 Menorca is one of the Balearic Islands, in Spain, in the Mediterranean Sea. It is smaller of the islands compared to its sister island, Mallorca.
The whole island is beyond impressive with its coves, crystal blue waters, and hilly terrain. Visitors can rent a boat or take a ferry for the day to visit and tour the island.
There is no better way to truly explore it. For those who enjoy water sports, this island boasts kayaking and paddle surfing. You can even explore the caves while paddle surfing from one to the next.
One of the most impressive beaches on the island is Cala Macarella. You can arrive at the beach by shuttle bus, as it does not permit access by car.
Due to the massive influx this year, you can not get there by car, so you have to take a shuttle bus, but you can walk and enjoy the wonderful scenery. Let us know how much you enjoyed this paradise after your visit.
Whitehaven Beach, Australia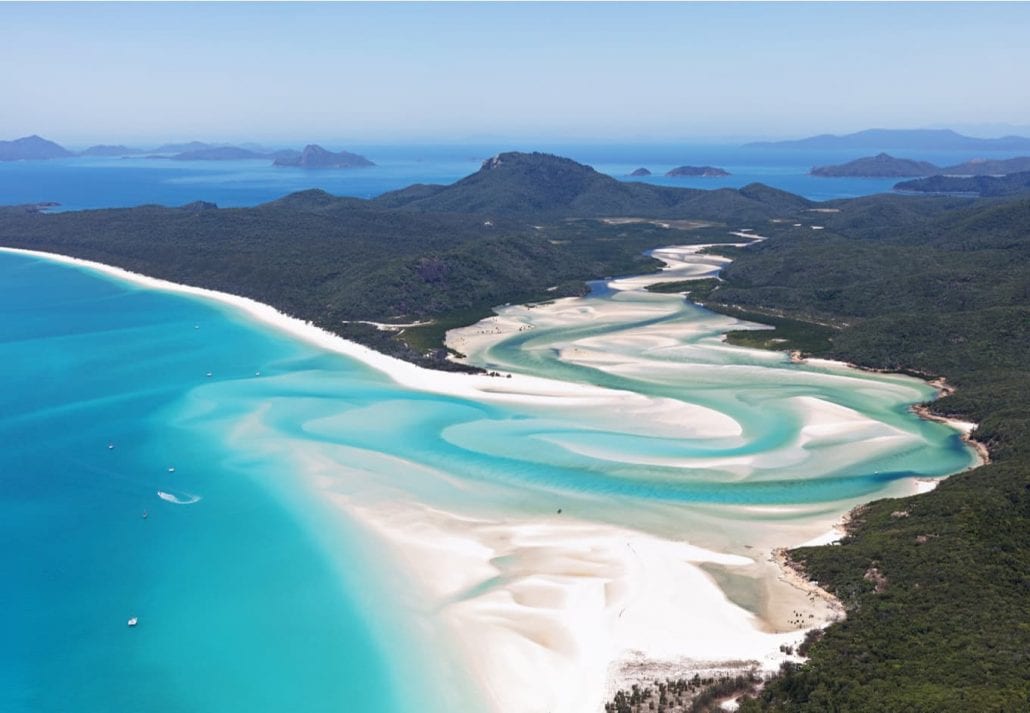 Located along Whitsunday Island, Australia Whitehaven Beach is one of the most gorgeous beaches in the world. Graced with soft white sand, and washed by swirls of turquoise, blue, and green water, this amazing beach is placed in the heart of the Great Barrier Reef. 
Made of 9% of pure white silica, this beach's powdery white sand has a brilliant, near-luminescent color, which is a sight to behold.
The top activities for those who are visiting Whitehaven Beach? Scenic ocean cruises, sailing, and snorkeling!
Grace Bay Beach, Turks & Caicos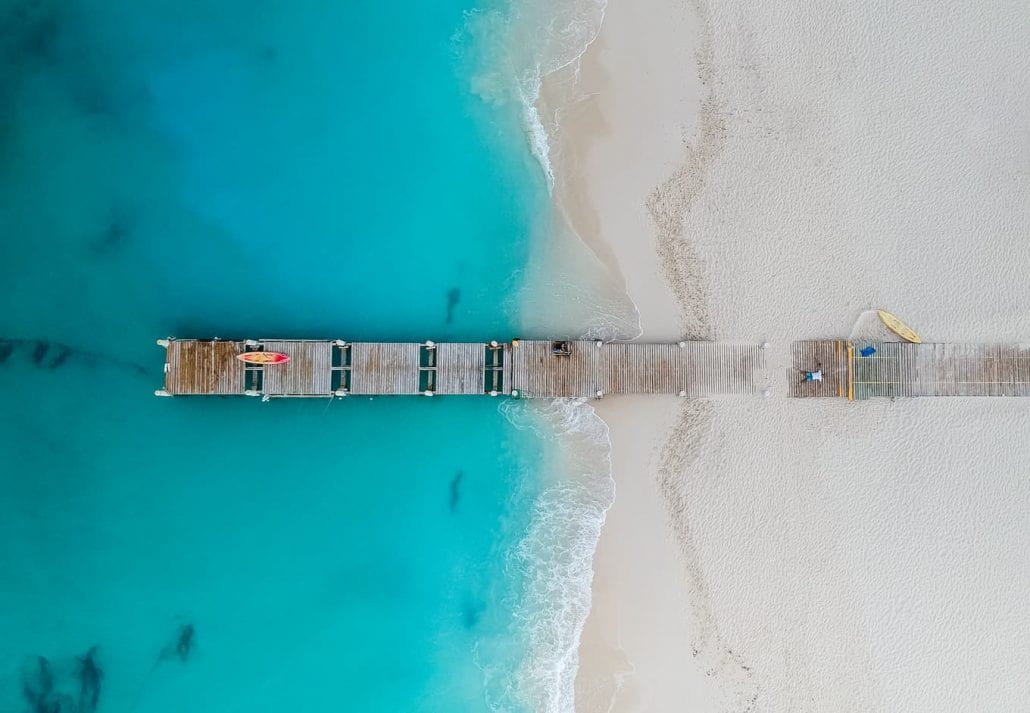 Placed on the northeast coast of the island of Providenciales, Turks & Caicos Grace Bay Beach has everything one could want from a paradisiac destination. This beautiful white sand beach has clear turquoise water, and no rocks, seaweed, or pollution.
Aside from its soft sand and gin-clear waters, this 3-mile beach is protected by a barrier reef, which helps to keep the water calm, safe, and perfect for swimming.
Known as one of the most pristine beaches in Turks & Caicos, Grace Bay is dotted with nearly all of the luxury resorts on Providenciales, and it's a prime spot for a honeymoon vacation!
Matira Beach, French Polynesia
French Polynesia Matira Beach, on the island of Bora Bora, is the only public beach on the main island, and also the most beautiful one. A famous beach thanks to its pristine white sand, dreamy lagoon islands, and crystal-clear waters, Matira is the perfect spot for swimming and sunbathing.
Plus, it's also one of the best sunset spots on the island and a great place for snorkeling and marveling at the local underwater marine life.
Shipwreck Beach (Navagio Beach), Greece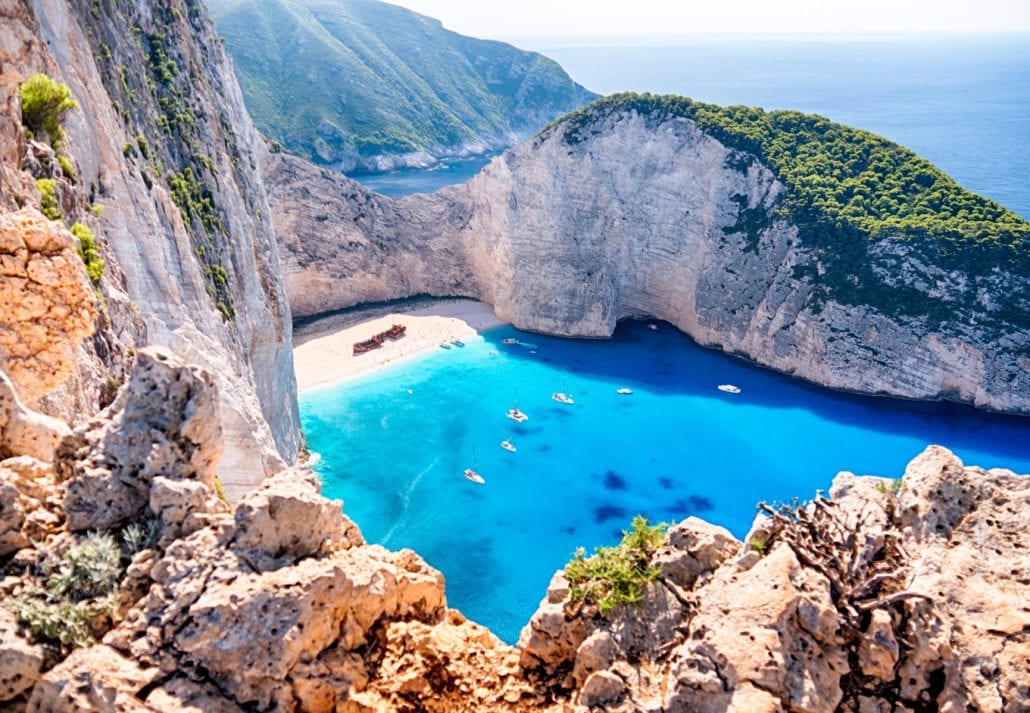 Also known as Shipwreck Beach, Navagio Beach is actually an exposed cove located on the coast of Zakynthos, in the Ionian Islands of Greece. Thanks to marble cliffs, white sand, and transparent azure waters, this is considered one of the most incredible beaches in Greece.
Aside from sunbathing and swimming, a very popular activity in Navagio Beach is diving with sea turtles, as this area is the home to many oldest life forms like Loggerhead Sea Turtle on Earth.
Agiba Beach, Egypt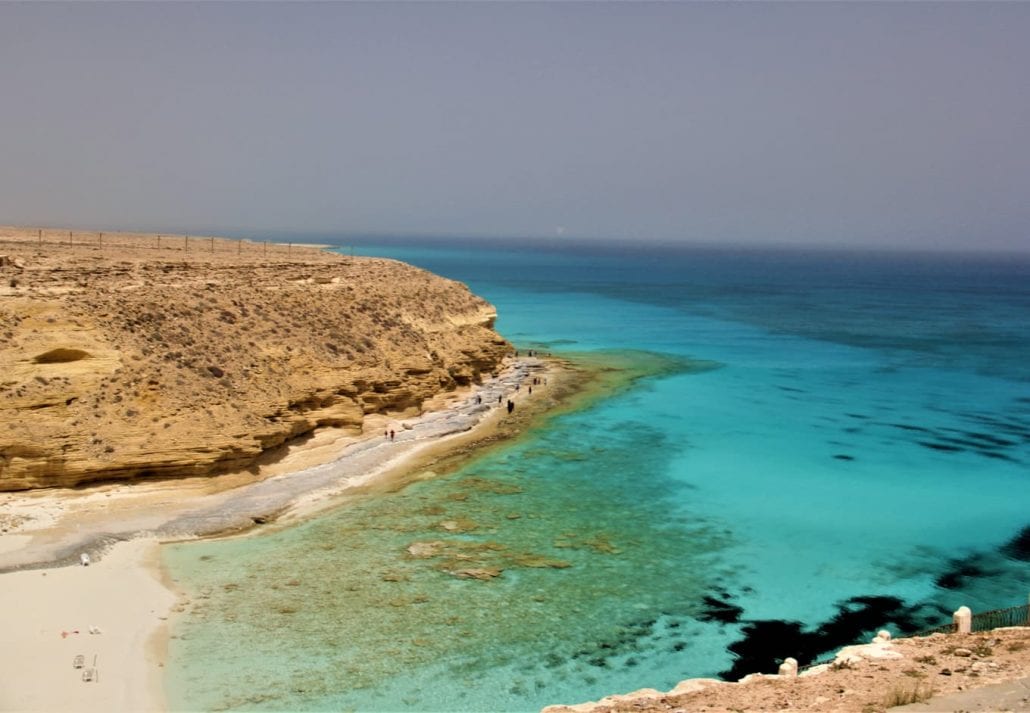 Egypt Agiba Beach is different from every other beach in the world. Surrounded by Limestone cliffs, this pristine beach awes visitors with its fine white sand, and the blue-green waters of the Mediterranean, which are just perfect for a restorative swim.
If you're seeking to visit one of the most untouched beaches in the world, Agiba Beach is the place for you!
Baia Do Sancho, Brazil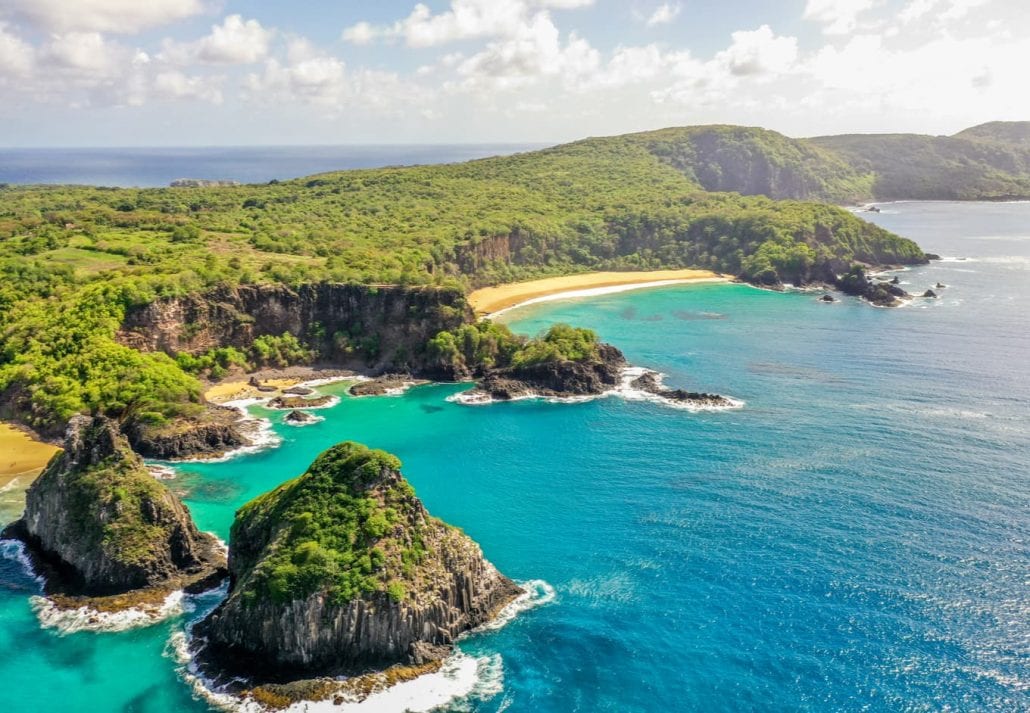 Located in Fernando de Noronha, a volcanic archipelago about 350 kilometers off Brazil's northeast coast, Baia do Sancho is consistently ranked one of the world's best beaches.
Fine golden sand, emerald green waters, and lush fauna and flora make this tropical beach a veritable paradise of indescribable beauty.
The perfect match for nature lovers, Sancho Bay is dotted with coral reefs, and it's home to bountiful marine life, which can be explored on snorkeling sessions and scenic boat trips.
Dry Tortugas National Park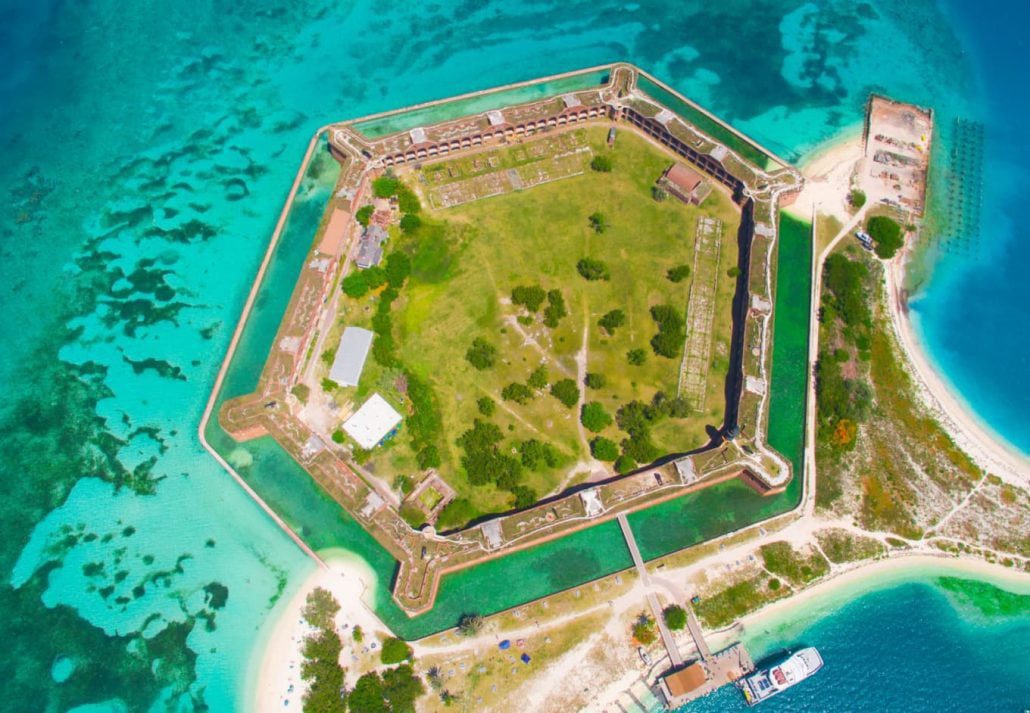 Dry Tortugas National Park is a sight to behold. Located about 70 miles west of Key West, and accessible only by boat or seaplane, this beautiful remote island encompasses 100 square miles of azure waters, dreamy coral reefs, and lush gardens.
Tried-and-true activities in the Dry Tortugas National Park include snorkeling (you'll get the chance to see the Florida Keys reef system, the third largest in the world), swimming, and sunbathing in pristine beaches of sugar white sand.
Seven Mile Beach, Cayman Islands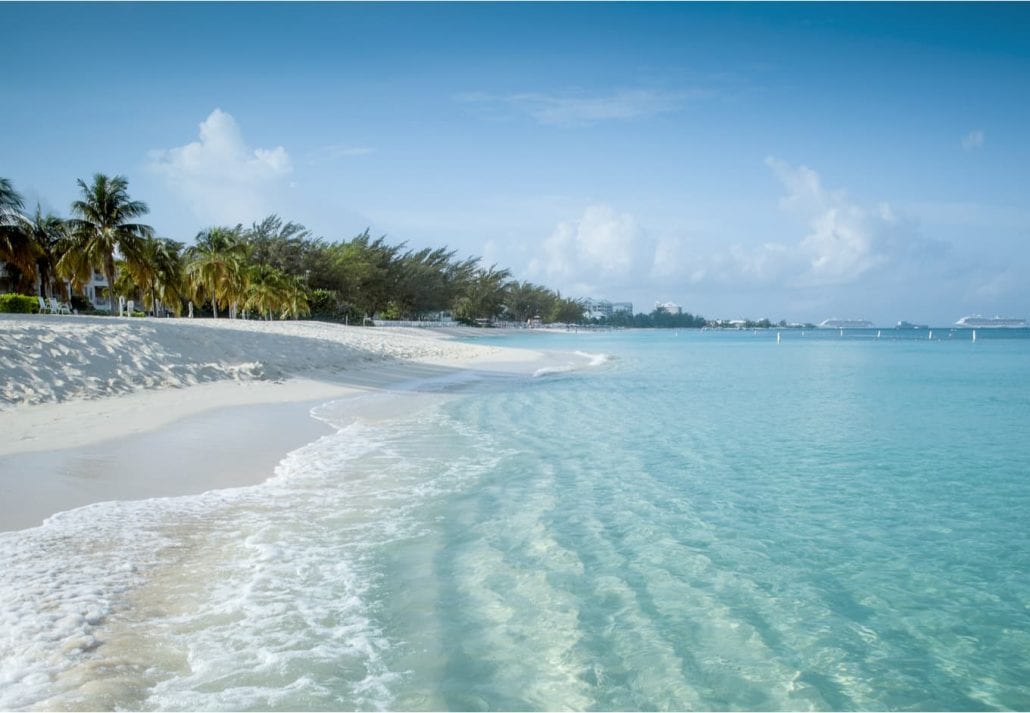 Frequently ranked as the most beautiful beach in the Caribbean, Seven Mile Beach is a  long crescent of coral-sand beach on the western end of Grand Cayman island.
Aside from being graced with sparkling waters and white sands, this pristine beach is surrounded by a myriad f luxurious properties, which are simply perfect for couples on honeymoon.
Thanks to its transparent and calm waters, Seven Mile Beach is the perfect spot for snorkeling, especially around the Cemetery Reef area.
Bahamas Pink Sands Beach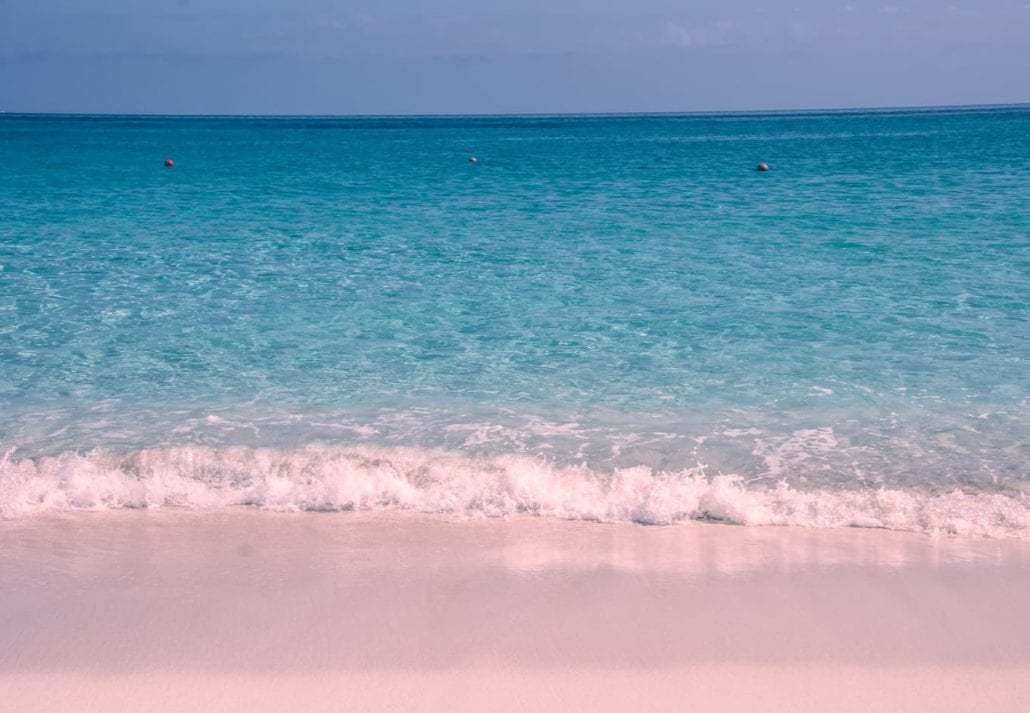 Welcome to one of the most photographed beaches in the world. Located along with its eastern Atlantic Oceanside, on Harbour Island, Pink Sand Beach is famous for its eye-popping pink sand that comes from microscopic coral insects, known as Foraminifera, that have a bright pink or red shell.
Unlike other beaches in the world, the sand in this earthy paradise is always cool, so you can walk about freely with bare feet.
Pfeiffer Beach, Big Sur, Califonia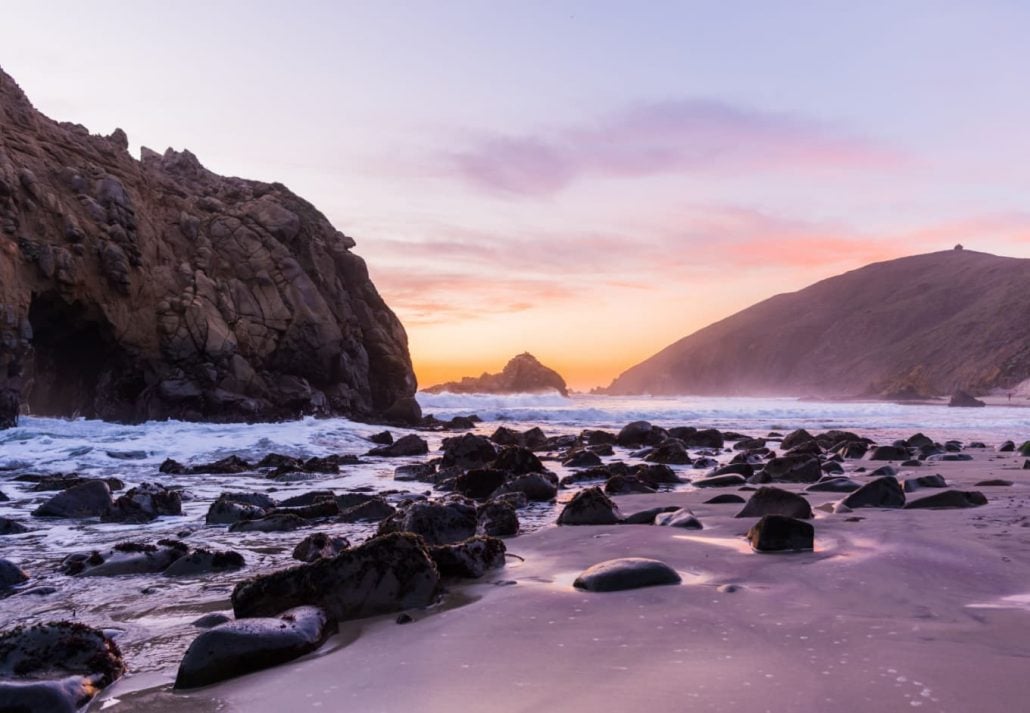 Pfeiffer Beac, in Big Sur, is unlike anything you've ever seen. Facing the majestic Atlantic Ocean, this picturesque beach is famous for its purple sands (the result of manganese garnet deposits.
The beach is also known for being home to a geological feature called the Keyhole Arch. Located just offshore, this rock formation is one of the most photographed places in California.
Swimming is not recommended at Pfeiffer Beach, as the currents here can be dangerous.
However, the beach's gorgeous landscapes offer a deal backdrop for a scenic walk or a breezy picnic.
Recommended Read:
The Most Beautiful Beaches in California
Hidden Beach, Mexico
Also known as Playa del Amor (Love Beach), Hidden Beach is part of the staggering Marieta Islands, located 22 miles west of Puerto Vallarta, Mexico.
The beach is considered one of the most idyllic destinations in Mexico thanks to its soft white sand and clear aquamarine waters.
The beach is home to a fascinating array of marine creatures, from coral reefs and dolphins to sea turtles and humpback whales.
Hug Point State Recreation Site, Oregon, USA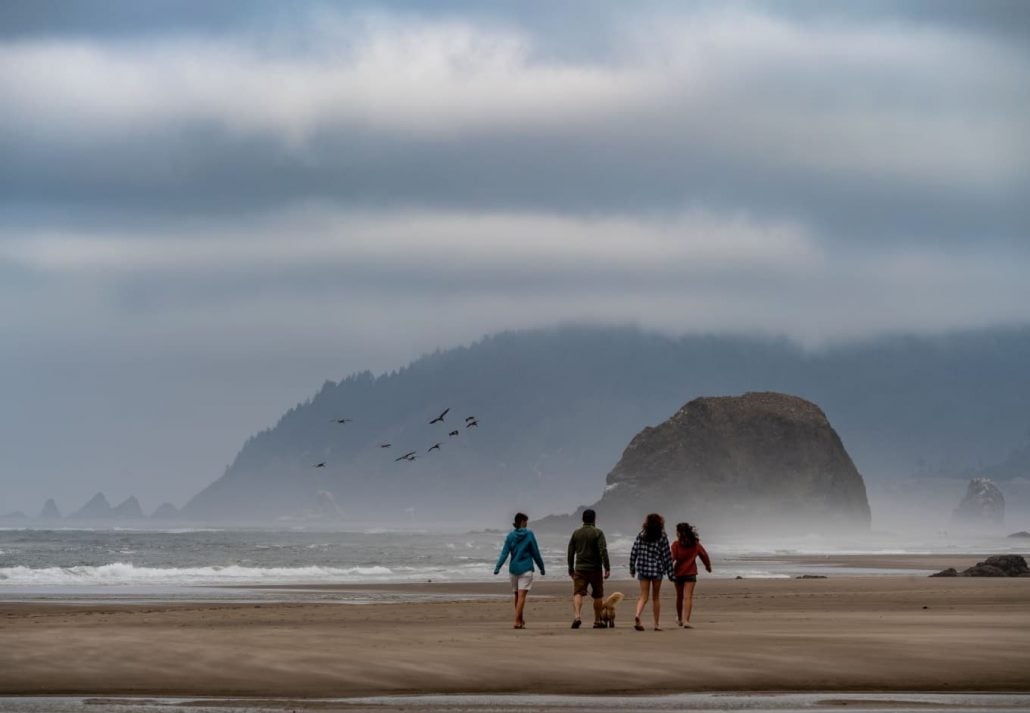 Hug Point State Recreation Site is a beautiful slice of the Oregon Coast. Sandwiched between Manzanita and Cannon Beach, the area is home to a stunning cove beach framed by hills covered in lush forests.
The magnificent sea caves carved out of the cliffs to the roaring waterfall that cascades down the rocks add to the beauty of this beach.
Recommended Read:
Things to do in Cannon Beach, Oregon
Which of the top 5 beaches are on your bucket list? Let us know and we will give you more information on where to stay and how to get there.
Browse. Book. Stay.
CuddlyNest provides all accommodations to all travelers at the best price. Find unlimited travel inspiration on our blog and social media channels.
You might also like:
Best Croatia Beaches
Best Things to do in Barcelona
Best Water Parks in the World