Flanked on the northern coast of Oregon, Cannon Beach is a dreamy seaside town that provides an idyllic escape for those seeking natural beauty, ocean adventures, and a laid-back atmosphere.
With its spectacular stretches of beautiful beaches, dramatic rock formations, and views out over the Pacific Ocean, Cannon Beach is a veritable haven for all types of travelers. Nature lovers will have a great time visiting the majestic Haystack Rock, while urban explorers will gravitate towards indulging in delicious local cuisine and shopping at chic boutiques.
Are you an outdoor enthusiast? Then, don't pass up the opportunity to hike through Cannon Beach's scenic state parks.
Ready to embark on a journey of a lifetime? Then read on to discover the ten best things to do in Cannon Beach, Oregon.
Find Places To Stay In Cannon Beach, Oregon
The 10 Best Things to do in Cannon Beach, Oregon
Explore Downtown Cannon Beach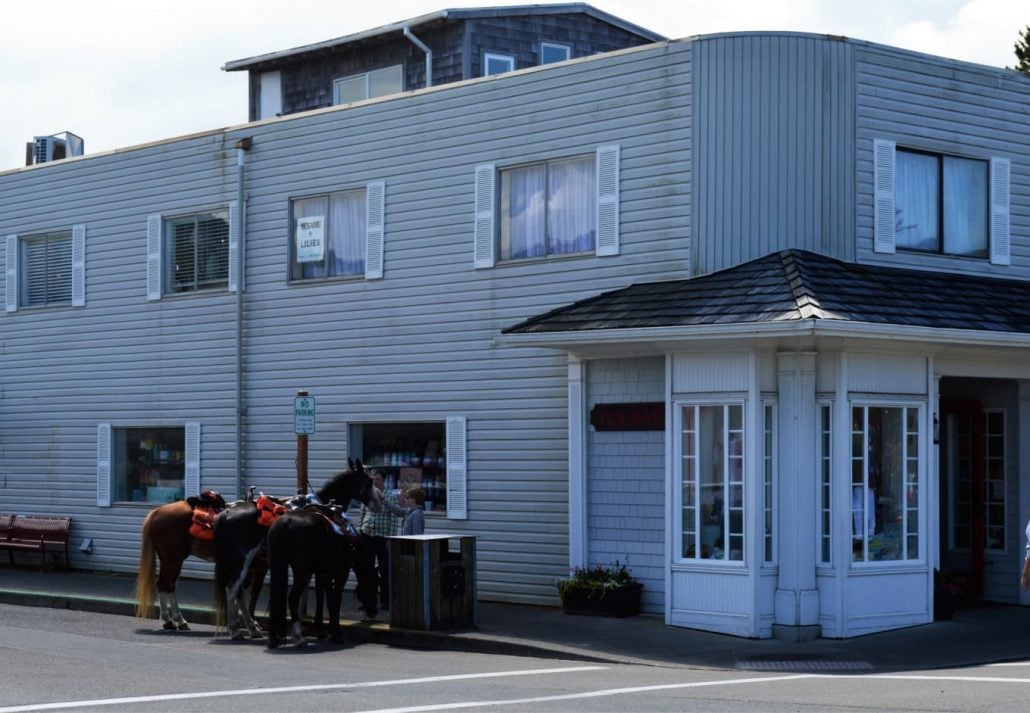 A stroll around Downtown Cannon Beach is an unparalleled way of soaking in the city's energy. While taking an idle stroll through this picturesque area, you'll come across streets beautifully dotted with picture-perfect cottages, home to art galleries, boutiques, and lip-smacking restaurants.
Whether you're searching for unique souvenirs to bring home, trendy clothing, or art exhibitions to get your creative juices flowing, Downtown Cannon Beach has it all.
The area also flaunts an array of cozy boutique hotels, which provide the perfect accommodation for travelers wanting to explore Cannon Beach's dazzling attractions.
Recommended Read: Best Cheap Beach Vacations In The USA
Take a Hike In The Oswald West State Park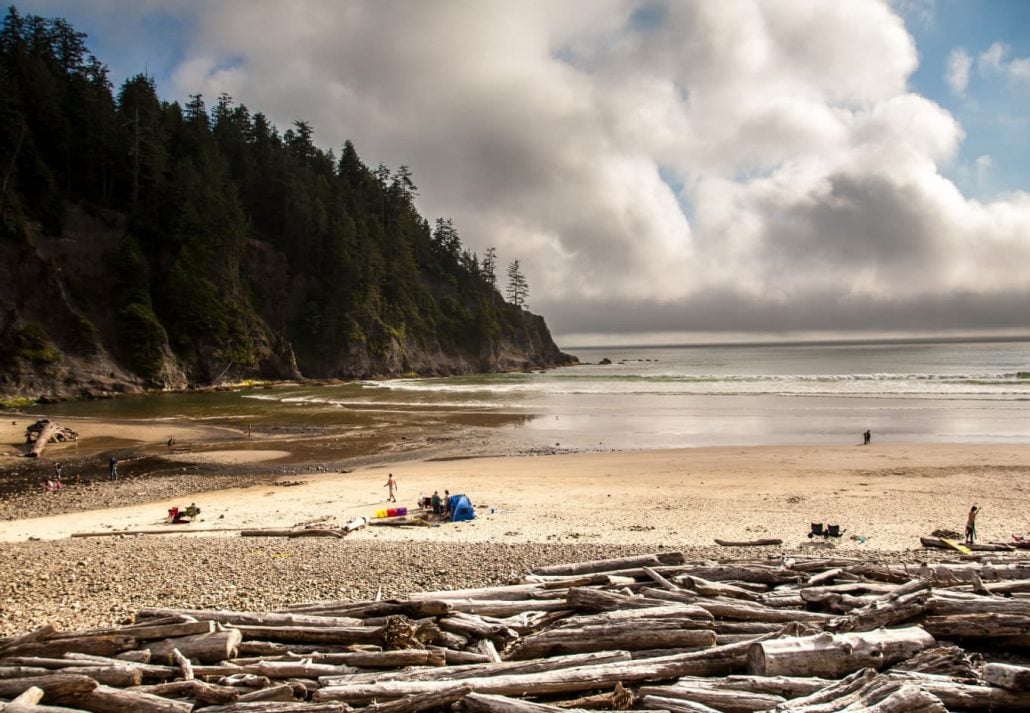 Both nature lovers and adventure seekers will agree that Oswald West State Park is a mecca for outdoor activities.
Located just south of Cannon Beach and adjacent to Arch Cape, this sprawling state park has miles of rugged coastline, lush rainforests, and spectacular hiking trails.
The Short Sand Beach is a must-visit destination within the park. It's beautifully nestled in a cove surrounded by towering volcanic basalt and sandstone cliffs typical of the Oregon coastline and will leave you in awe.
Hikers can explore the prominent headlands of Cape Falcon and Neahkahnie Mountain, offering show-stopping views of the majestic Pacific Ocean and the surrounding natural landscape.
Another breathtaking attraction in Oswald West State Park is Devil's Cauldron, a cove framed by mighty cliffs that plunge hundreds of feet straight into the ocean. While standing at the overlook above, visitors may be able to spot pelagic birds and even whales, making this a truly unforgettable outdoor experience.
Address: Oswald West State Park, Arch Cape
Marvel At The Famous Haystack Rock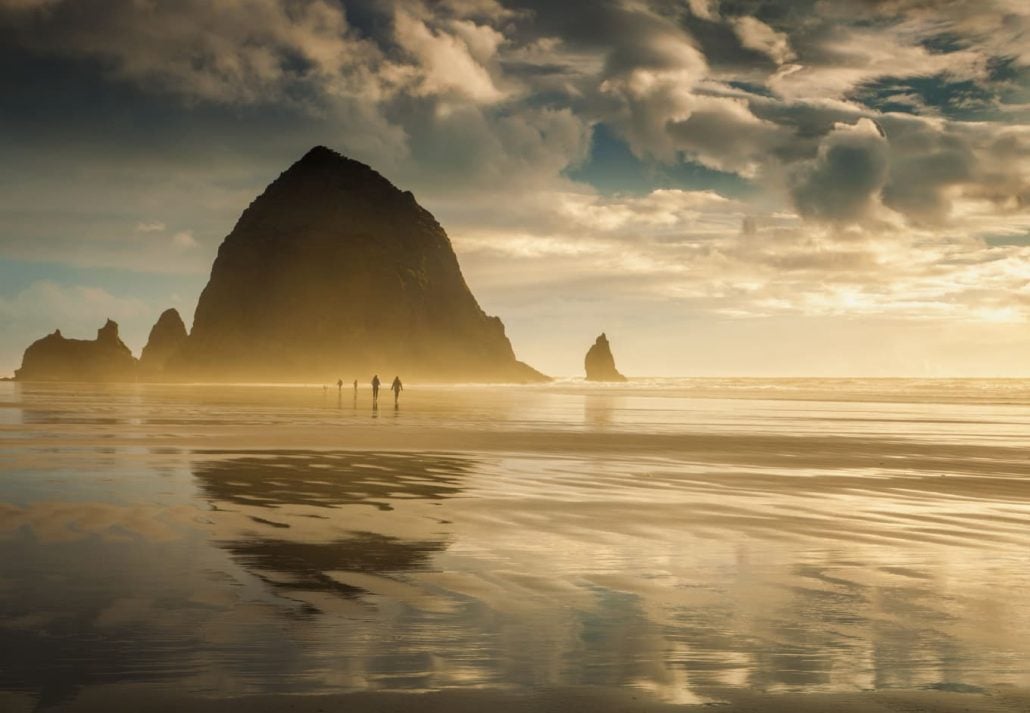 The iconic Haystack Rock is one of Oregon's most instantly recognizable landmarks. Located about 1.5 miles south of downtown Cannon Beach, the rock was formed by lava flows emanating from the Blue Mountains and Columbia basin about 15-16 million years ago. At 235 feet in height, it's one of the tallest sea stacks in the world!
Surrounding Haystack Rock, you'll see picturesque tide pools inhabited by starfish, anemones, and other sea creatures that are part of the Oregon Coast.
Address: US-101, Cannon Beach
Discover The Ecola State Park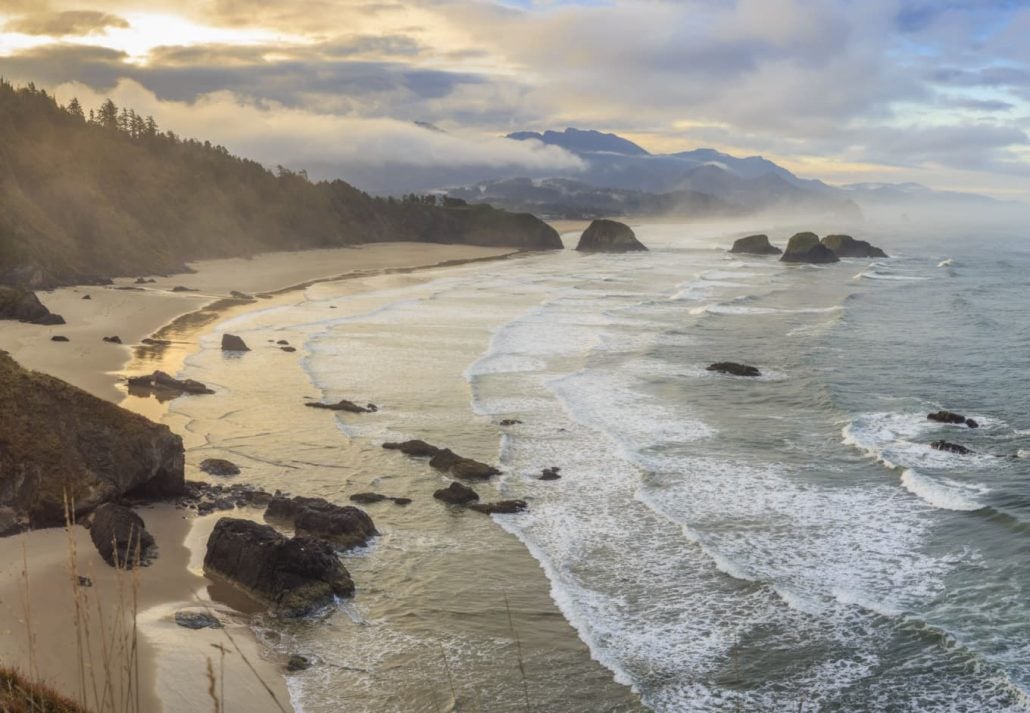 Ecola State Park is a natural wonderland that leaves dazzles and enchants with its immense natural beauty. With a stunning 9-mile stretch of coastline, a lush Sitka spruce forest, and miles of trails offering views of the Pacific Ocean, secluded coves, and forested promontories, this park is a paradise for those adventurous souls.
For a truly unforgettable experience, take the 4.3-mile hike to Indian Beach, a secluded sandy shore popular with surfers and beachgoers who want to explore tide pools.
One of the park's most impressive attractions is the viewpoint at the top of the Clatsop Loop Trail, a superb place for watching the migration of gray whales during peak weeks.
When it's time for a well-deserved break, relax at one of the park's picnic tables, stretch your legs, and enjoy a breezy meal amidst nature!
Address: Cannon Beach, OR 97110
Visit The Cannon Beach History Center and Museum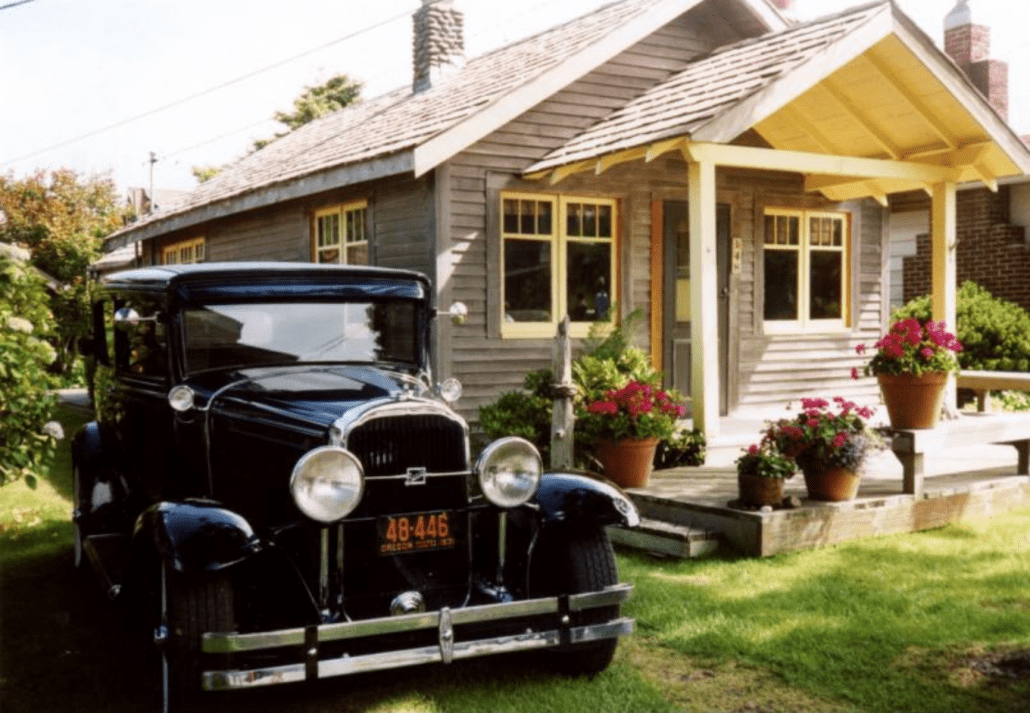 Interested in learning more about Cannon Beach's fascinating history? Then, the Cannon Beach History Center and Museum is a must-visit.
This renowned institution is dedicated to preserving the city's rich heritage and features an impressive collection of historical artifacts and memorabilia.
In the museum, visitors can explore permanent and temporary exhibits that highlight the area's Native American history, the arrival of the first European settlers, and the development of Cannon Beach into the charming seaside town it is today.
One of the museum's centerpieces is the original Cannon Beach cannon, discovered along the Oregon coastline in 1898 and has since become a symbol of the town.
Address: 1387 S Spruce St, Cannon Beach
Check Out The Majestic Tillamook Rock Lighthouse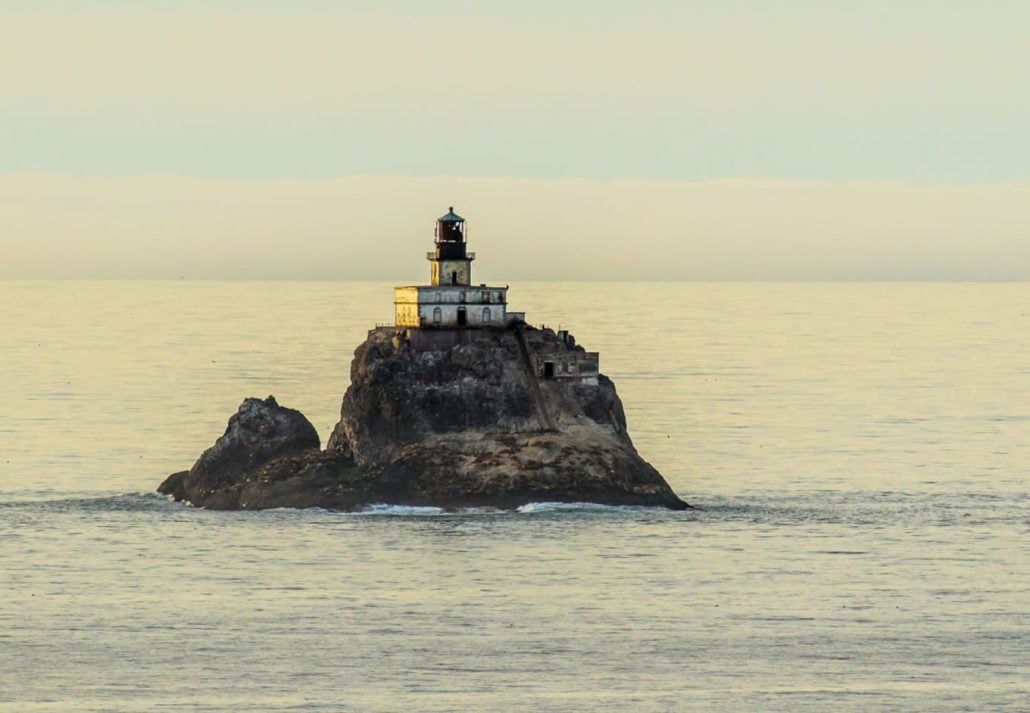 One of the top sights on the northern Oregon Coast is the Tillamook Rock Lighthouse. Perched atop a basalt sea stack and standing strong since its first lighting in 1881, this deactivated lighthouse is also known as Terrible Tilly or just Tilly.
While no longer in use, the lighthouse has been listed in the National Register of Historic Places and draws visitors' attention with its ghostly, commanding presence.
Multiple places in Ecola State Park, including the main Ecola Point lookout, allow gorgeous views of Tillamook Rock Lighthouse. Surrounding this history-filled lighthouse are thousands of sea lions, seals, and sea birds, making for a truly unique picturesque landscape.
Address: WXPJ+WF, Cannon Beach
Surf At The Arcadia Beach State Recreation Site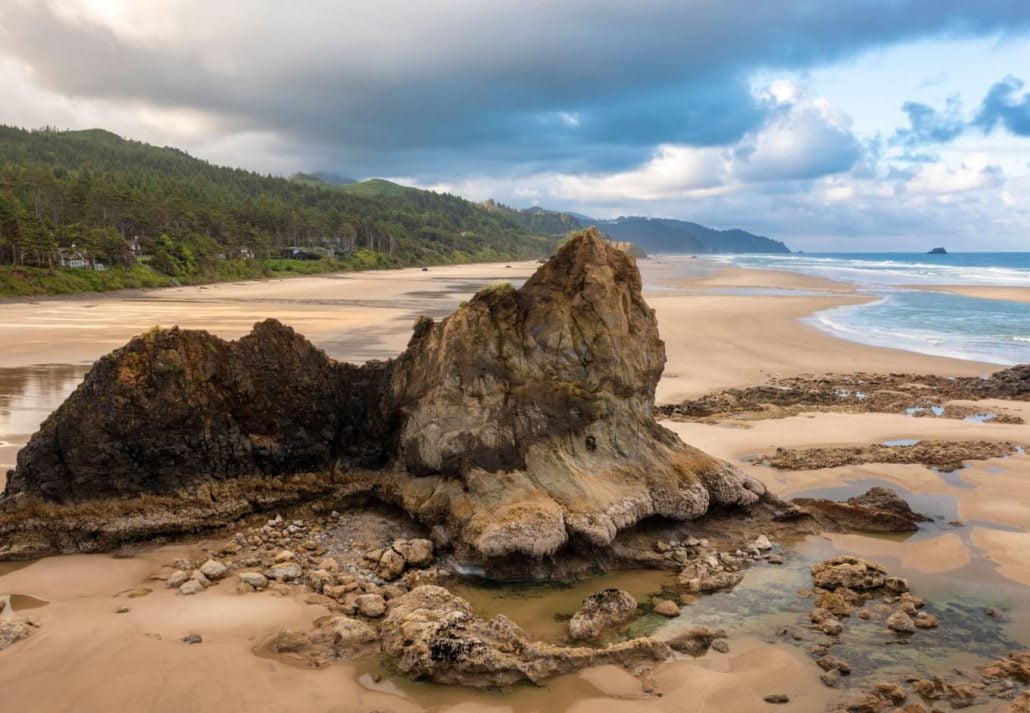 Flanked on the Oregon Coast, Arcadia Beach State Recreation Site is a glorious beach that attracts surfers, tidepool explorers, and beach lovers.
The beach's beautiful tidepool areas allow visitors to spot marine creatures like starfish, sea anemones, and crabs. With its outstanding waves, it's also a popular spot for surfers of all levels.
Address: Arcadia Beach State Park, Arch Cape
Have A Scenic Picnic At The Hug Point State Recreation Site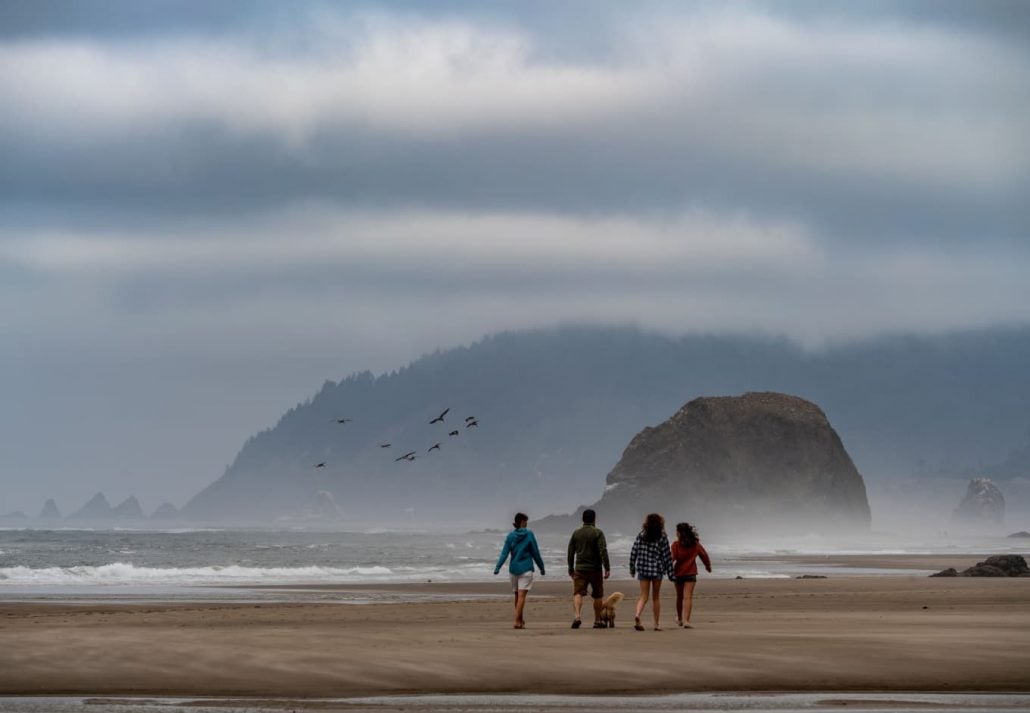 Hug Point State Recreation Site is a breathtaking slice of the Oregon Coast. Nestled between Manzanita and Cannon Beach, this bountiful area has a plethora of natural beauty, from the magnificent sea caves carved out of the cliffs to the roaring waterfall that cascades down the rocks.
Visitors can explore the park's sandy cove beach framed by hills covered in lush forests and enjoy scenic picnics in the open air!
Address: Beach Access Rd, Arch Cape
Visit The Cannon Beach Farmer's Market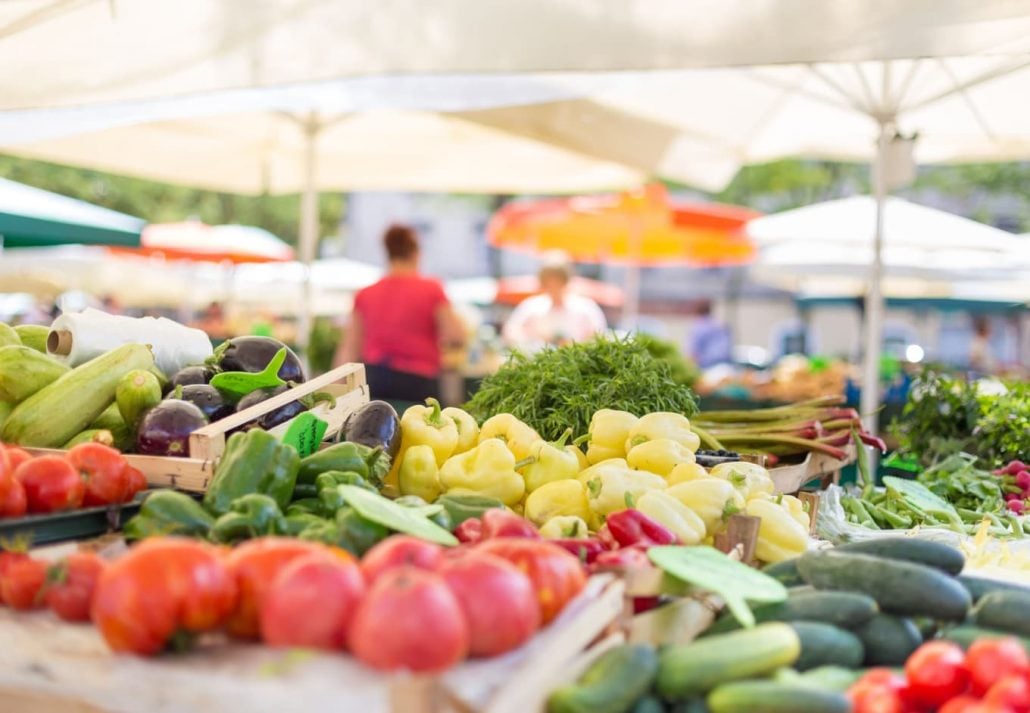 If you are a foodie or simply love exploring local markets, the Cannon Beach Farmers Market is a must-visit place.
Running from June to September, this vibrant market takes place in the Cannon Beach City Hall and offers an incredible selection of fresh produce, cheeses, and flowers. Whether you are looking to stock up on fresh ingredients for a home-cooked meal or indulge in some delicious treats, you will find everything you need here.
In addition to fresh produce and flowers, the Cannon Beach Farmers Market boasts a wide range of freshly made dishes like artisanal pizza and deep-fried artichokes during springtime.
Address: 163 E Gower Ave, Cannon Beach
Enjoy Cannon Beach's Food Scene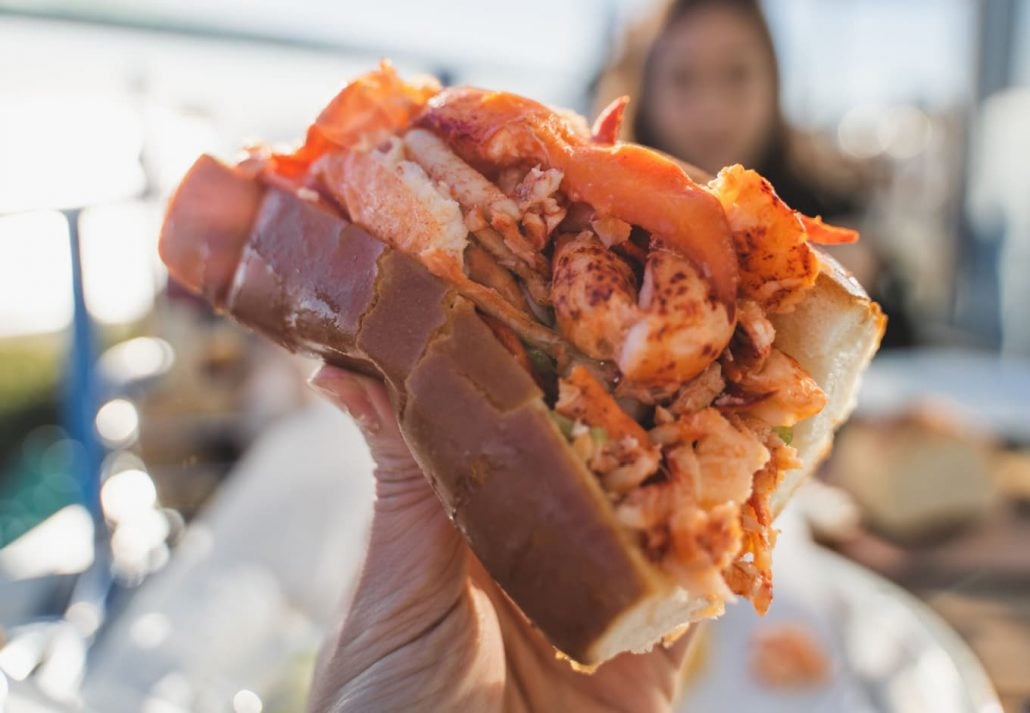 Cannon Beach has an unlimited variety of food and dining in every class. Visit Pelican Brewing to try award-winning craft beers paired with locally sourced seafood, and stop by Sleepy Monk for their signature espresso blend, packed with sweet caramel notes.
Bruce's Candy Kitchen is the go-to if you have a sweet tooth. This family-owned shop is famous for its mouthwatering homemade treats, like saltwater taffy, artisanal fudge, and indulgent caramel apples.
Be sure to also visit the Wine Shack for some Oregon Pinot Noirs with artisanal cheese.
Address:
FAQ
Is Cannon Beach worth visiting?
Yes, Cannon Beach is definitely worth visiting. Located along Oregon's coast, this charming seaside town has everything a traveler could ask for — beautiful beaches, breezy seafood restaurants, sprawling state parks, and amazing experiences like whale-watching tours.
What do people do in Cannon Beach?
The top things to do in Cannon Beach:
Explore Downtown Cannon Beach;
Take a Hike In The Oswald West State Park;
Marvel At The Famous Haystack Rock;
Discover The Ecola State Park;
Visit The Cannon Beach History Center and Museum;
Check Out The Majestic Tillamook Rock Lighthouse;
Surf At The Arcadia Beach State Recreation Site;
Have A Scenic Picnic At The Hug Point State Recreation Site;
Visit The Cannon Beach Farmer's Market;
Enjoy Cannon Beach's Food Scene.
What is the best time for visiting Cannon Beach?
May to October is a great time to visit Cannon Beach. The weather is comfortably warm, averaging 20ºC, creating the best conditions for enjoying outdoor activities.
Which is better, Seaside or Cannon Beach?
It all depends on what you want. Seaside is a larger and busies town, making it the perfect option if you're looking for a more lively destination. Cannon Beach is a quieter town away from the crowds, ideal if you want to relax and unwind.
Browse. Book. Stay.
CuddlyNest provides all accommodations to all travelers at the best price. Find unlimited travel inspiration on our blog and our social media channels Facebook, Instagram, and Pinterest.
You May Also Like:
North America Travel Guide
Romantic Weekend Getaways in Arizona
Affordable Romantic Getaways in California
Things to do in Montauk, New York
Amazing Things to do in Monterey, California
Oldest National Parks In The United States
Best Beaches In The United States
The 8 Best Nude Beaches In The United States
Best Water Parks In Orlando, Florida
Best Things To Do In Long Beach Island, NJ