When you are looking for a dog-friendly destination, it can feel like the search is never-ending! But don't worry—we have done all of the work for you. In this article, we will explore 10 destinations in the UK that allow pets, and we'll also give you some tips on what to do while traveling with your furry friend.
Pet owners rejoice! Now you can enjoy vacationing in these top destinations with your best pal by your side!
Dog-Friendly Holiday Destinations In The UK
Cornwall, England
We start in the scenic county of Cornwall. Located on England's southwestern tip, this destination is regarded for its dramatic natural setting, and it's the perfect place for those who love the ocean and are dreaming of exploring rugged cliffs, sandy beaches, or scenic fishing villages with their pet by their side.
Aside from spectacular landscapes and coastal scenery, Cornwall also offers a wide array of attractions for visitors who are traveling with their pets. Some of the best pet-friendly things to do in Cornwall include exploring the county's picturesque harbor villages such as Fowey and Falmouth and marveling at the local gardens, like the Lost Gardens of Heligan and Trebah Garden.
If visiting the Eden Project, which is one of the best-known attractions in Cornwall, is on your bucket list, good news: the place houses a dog-friendly Outdoor Garden filled with miles of scenic walking routes where your four-legged pal can run and play around.
Another great thing to do with your pet is to hit the local trails and explore the county's 400 miles of coastline. One of the best hikes for dog owners in Cornwall is the short and scenic walk from St Agnes to the Perranporth beach, which is a well-known dog-friendly beach in Cornwall.
Aside from plenty of outdoor pet-friendly activities, Cornwall also boasts a robust number of accommodation options for travelers and their furry friends, including The Old Coastguard Hotel which offers luxury accommodation in Penzance Bay overlooking the ocean.
Lake District National Park, England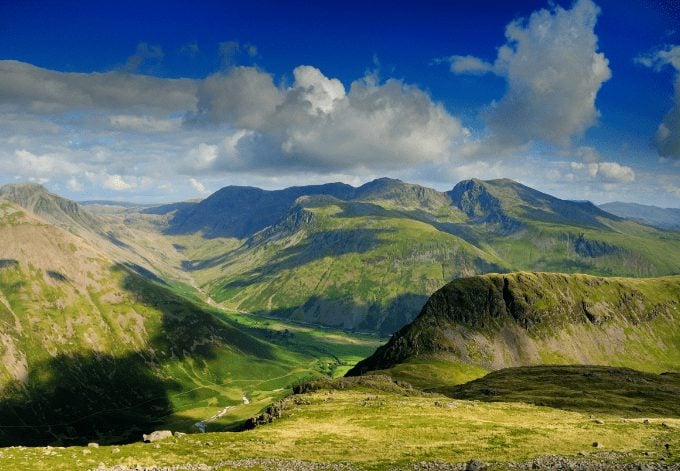 The Lake District National Park is one of the most beautiful places in England to visit with your pet! There are plenty of scenic walks that are perfect for hiking and exploring the great outdoors. Be sure to stop by Grasmere, which has some great dog-friendly pubs that allow you to enjoy quality time with your dog.
Located in Cumbria, in northwest England, the Lake District National Park is also a popular destination for all types of travelers, whether they are in the mood to visit museums and exhibits or looking to get outside with their pets. There are many different beauty spots where you can enjoy your time together with your furry pal, such as Windermere, an 18-kilometer long lake, mountains, valleys, villages, towns, and a sparkling coastline.
Peak District National Park, England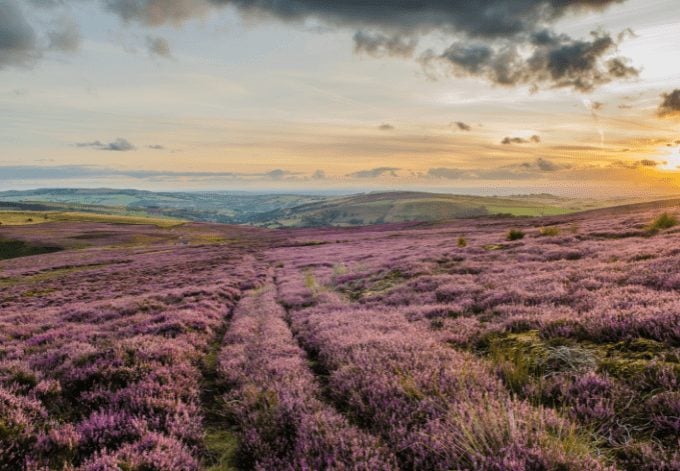 The Peak District National Park, near Manchester and Sheffield in the North of England, is a fantastic spot for those who want to spend their vacation time outdoors with their four-legged friend.
Regarded as one of the most scenic National Parks in England, Peak District boasts over 600 square miles of open space and there's plenty to explore from wildlife spotting opportunities at Dovestone Reservoir or uncovering the limestone pavements found around Castleton.
Visitors can also take advantage of some stunning walking routes like Ian Drake Way that takes them to explore majestic waterfalls before arriving at Monsal Head – this section is perfect for dog lovers as it means dogs are allowed off-leash! Chatsworth House
Dovedale National Nature Reserve, England
The majestic Dovedale National Nature Reserve is a large area of land in the Peak District, close to Buxton. This sprawling nature reserve is considered one of the top places to visit with your best friend, as it features a baffling mix of gorgeous features, such as ancient ash woodlands, wildflowers, grasslands, river wildlife, limestone pinnacles, caves, and reef knolls.
Travelers who are visiting the Dovedale Reserve are likely to stay at Ashbourne, an atmospheric market town that offers a plethora of pet-friendly accommodation options, including charming cottages and bed and breakfasts.
Murlough National Nature Reserve, Northern Ireland
Murlough National Nature Reserve is a fragile 6000-year-old sand dune system that is not only the largest sand dune system in Northern Ireland but one of the few remaining examples of natural coastal habitat. This National Nature Reserve protects plants and animals that can't be found anywhere else on earth, including the "lady's slipper" orchid, which blooms from February to May.
This nature lover's paradise is one of the best places for spending the holidays with your pup. One of the best ways of exploring the Murlough National Nature Reserve is by enjoying scenic walks through the varying local habitats. Hit the 3 mile-long and dog-friendly North Point Trail, which is a great opportunity to see a wide variety of wildlife.
Nottingham, England
Located in Nottinghamshire, along the lower valley of the River Trent, Nottingham is a veritable wonderland for dog owners, as it boasts a dazzling variety of lush parks and outdoor spaces. There, be sure to take your furry pal for a walk at the Sherwood Forest National Nature Reserve, where you can explore forests, moorlands, wetland woodlands, and open grassy spaces.
Other amazing places to visit in Nottingham with pets include Wollaton Hall and Deer Park, an Elizabethan country house that boasts 500 acres of parkland, and Bestwood Country Park, which features beautiful woodland walks. The Nottingham Arboretum, dotted with an eye-popping collection of over 800 trees, is another must-visit place for you and your pet in Nottingham.
Edinburgh, Scotland
Home to some historic castles, mountains, beaches, and forests perfect for exploration any time of year (and every season) – Edinburgh happens to be a prime destination for a trip with your pooch. This fascinating city is known for its landmarks like Edinburgh Castle, Holyrood Abbey, and Arthur's Seat. It may seem strange but some locals even believe their dogs have been reincarnated as former humans!
Some of the top pup-friendly spaces include the lush Harrison Park, the Holyrood Park, at the foot of the Royal Mile, and the Portobello Beach. Not far away from the beach, there's a dog bakery named Harry's Treat, which has its own gourmet dog treat menu for your pooch!
London, England
You might think London is just for humans, but this bustling destination is among one of the top dog-friendly cities in the world. Whether you're spending a day or an entire week in the city, don't pass up the chance to take your pooch to London's famous Royal Parks, including Hyde Park, St James's Park, Regent's Park, and Kensington Gardens.
Beach babes can take their furry friend to the Ruislip Lido dog beach for a run on the sandy shore and a swim in the water, and for exploring London's diverse collection of neighborhoods — from the colorful Notting Hill to the trendy Shoreditch.
Feel like going the extra mile while spoiling your animal? Then visit some of London's finest boutique pet shops like Mungo & Maud, Swish London, and Pet Pavilion and treat your dog or cat with unique accessories and stylish accessories.
To maximize your stay in London, be sure to book a pet-friendly room in the Four Seasons Hotel at Park Lane. Located in the center of London, between Hyde Park and Buckingham Palace Gardens, this 5-star hotel is home to 196 well-appointed rooms, and stellar amenities like a spa, swimming pool, and fitness center.
Find Places To Stay In London, England
Cardiff, Wales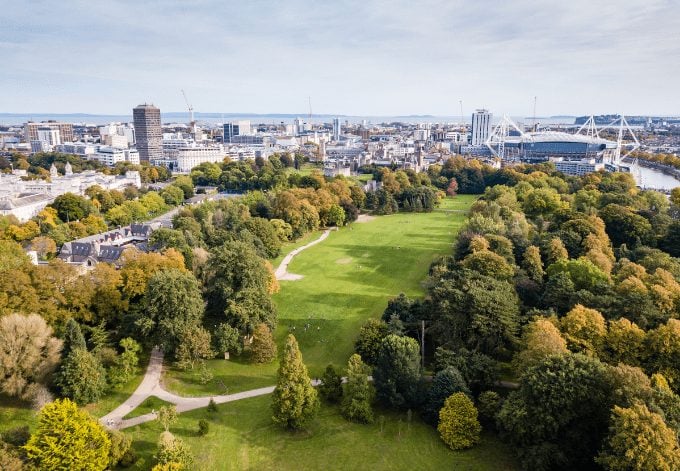 If you're looking for a refreshing change from the typically overcast Welsh weather, Cardiff is your answer. A cosmopolitan city located on the South coast of Wales, this thriving metropolis has embraced its unique culture while still maintaining some old-world charm.
In case you want to experience one of Britain's oldest cities with your pet, be sure to include visits to the lush and pleasant local parks on your Cardiff bucket list. Some of the city's best dog-friendly parks are the Valleys Wildlife Park, Pontcanna Fields, and Sophia Gardens.
Dog lovers can also combine a walk at Cardiff's city center with a leisure stroll at Bute Park, which is dubbed the "green heart" of the city.
Aside from a slew of verdant parks, Cardiff also displays a noteworthy array of dog-friendly cafes, including The Secret Garden Cafe, which boasts a pleasant outdoor area, and The Stable, known for its superb pizza.
CuddlyNest provides all accommodations to all travelers at the best price. Find unlimited travel inspiration on our blog and social media channels.
Here are some curated readings for you:
8 Countries That Boost Pet-Friendly Travel