You might be pleasantly surprised to find a variety of free things to do in Boston. Explore the magnificent city without spending a dime! From free concerts and walking tours to gorgeous public parks and historic sites, Boston is filled with budget-friendly attractions and activities.
6 Amazing Free Things To Do In Boston, Massachusetts
Visit Castle Island
Castle Island is located in South Boston and is home to Fort Independence which provided harbor defenses for the city. The Fort used to offer free tours every Saturday and Sunday from 12:00 pm to 3:30 pm but is currently closed for safety reasons. Check their official website for updated information if you want to visit this site during your trip.
On the other hand, the Castle Island area is free to visit and a great area to relax, eat and drink, and dip your toes in the water. This place also features amazing views of the Boston Harbor.
Location: 2010 William J Day Blvd, Boston, MA 02127, United States
Recommended Read The Best Hotels In Boston, Massachusetts
Take A Free Tour At The Boston Public Library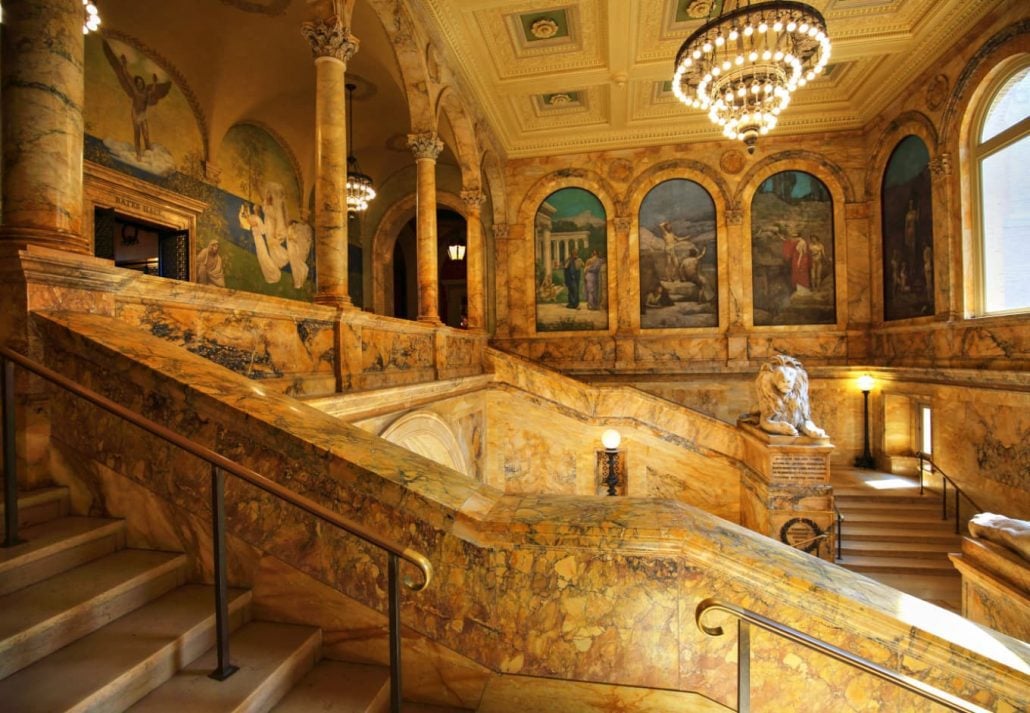 Boston Public Library provides free admission to Art and Architecture Tours. Visitors can see architecture spanning three centuries and a range of decorative installations at the Central Library in Copley Square. Tours are available on Mondays at 2 pm, Thursdays at 6 pm, and Fridays at 11 am.
Location: 700 Boylston St, Boston, MA 02116, USA
Walk The Freedom Trail
The Freedom Trail is a long path that starts at Boston Common in Downtown Boston and ends near Bunker Hill Monument in Charlestown. You can take a self-guided tour or an organized free tour. See ancient streets, colonial stone houses, and historic cemeteries.
Admire Art At The Institute Of Contemporary Art
The Institute Of Contemporary Art (ICA) is free for visitors every Thursday from 5 to 9 pm. It's best to make a reservation ahead. Admission is also free for families on the last Saturday of every month (except November and December).
Location: 25 Harbor Shore Dr, Boston, MA 02210, United States
Recommended Read How To Get From Boston To Cape Cod: 5 Ways
Take A Break On The Charles River Esplanade
There's no better way to unwind than to take a stroll along the banks of the Charles River. The place is also great for joggers and bicyclists. In the summertime, you can attend a range of free concerts here. A must-do when in Boston!
Location: Charles River, Esplanade, Boston, MA 02116, United States
Relax In The Boston Public Garden
Visiting the Boston Public Garden is definitely one of the top things to do in Boston for free. The park has a lagoon, fountains, and numerous statues. This stunning place also has a variety of old trees and flowers.
Location: 4 Charles St, Boston, MA 02116, United States
FAQ
What are the best free things to do in Boston?
Free Boston attractions:
Castle Island;

Boston Public Library;

Freedom Trail;

The Institute Of Contemporary Art ;

Charles River Esplanade;

Boston Public Garden.
Are 2 days in Boston enough?
Yes! However, make sure to find a stay near Downtown Boston; that way you'll be close to most of the important sites. Visit CuddlyNest to find a stay near your preferred interests and activities in Boston.
CuddlyNest provides all accommodations to all travelers at the best price. Find unlimited travel inspiration on our blogs and social media channels Facebook, Instagram, and Pinterest.
You May Also Like:
Best Cabin Rentals in the United States
Best Dog-Friendly Vacations In The United States
7 Most Instagrammable Places To Eat At In Chicago
The Ultimate California Travel Guide