The night holds limitless possibilities in Orlando. Dotted with multiple bars, world-class live concerts, many nightclubs, bustling entertainment districts, and cool performance spaces, the "City Beautiful" is a wonderland for those who prefer fun rather than working.
Whether you want to go club-hopping with your friends, watch a live concert of your favorite band, dance your troubles away at a club, or simply enjoy a drink at an intimate rooftop bar after visiting a theme park, Orlando has got it all.
We've rounded up the best nightlife experiences in Orlando, FL, that are suitable for every mood and moment. Have a look!
Orlando Adult Nightlife: The 10 Best Experiences
Universal Citywalk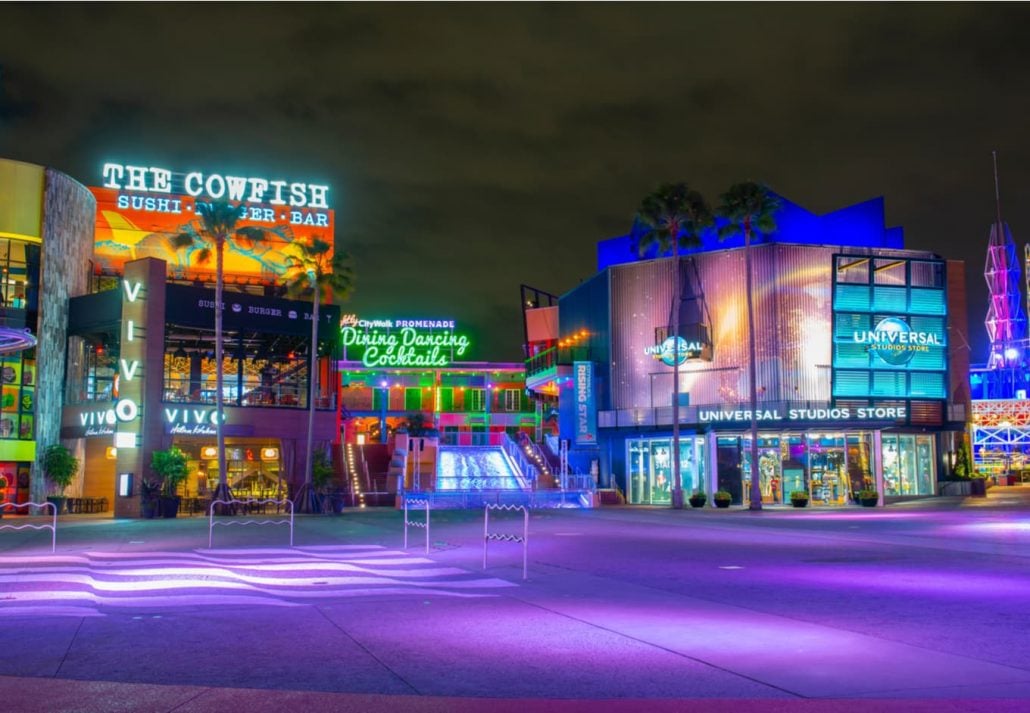 It's impossible to talk about Orlando's adult nightlife venues without mentioning the one and only Universal Citywalk. Located within the Universal Orlando Resort, this entertainment complex is home to an array of pulse-pounding dance clubs like The Groove, Rising Star, and Red Coconut Club.
Aside from harboring many Orlando nightclubs, the Citywalk also plays host to several dining options, including top dining restaurants like Vivo Italian Kitchen, Hard Rock Cafe, NBC Sports Grill & Brew, Cowfish Restaurant, and Big Fire Restaurant.
There is no entrance fee to Universal Citywalk, but a parking fee is required before 6 PM.
Location: 6000 Universal Blvd, Orlando, FL
RED Coconut Club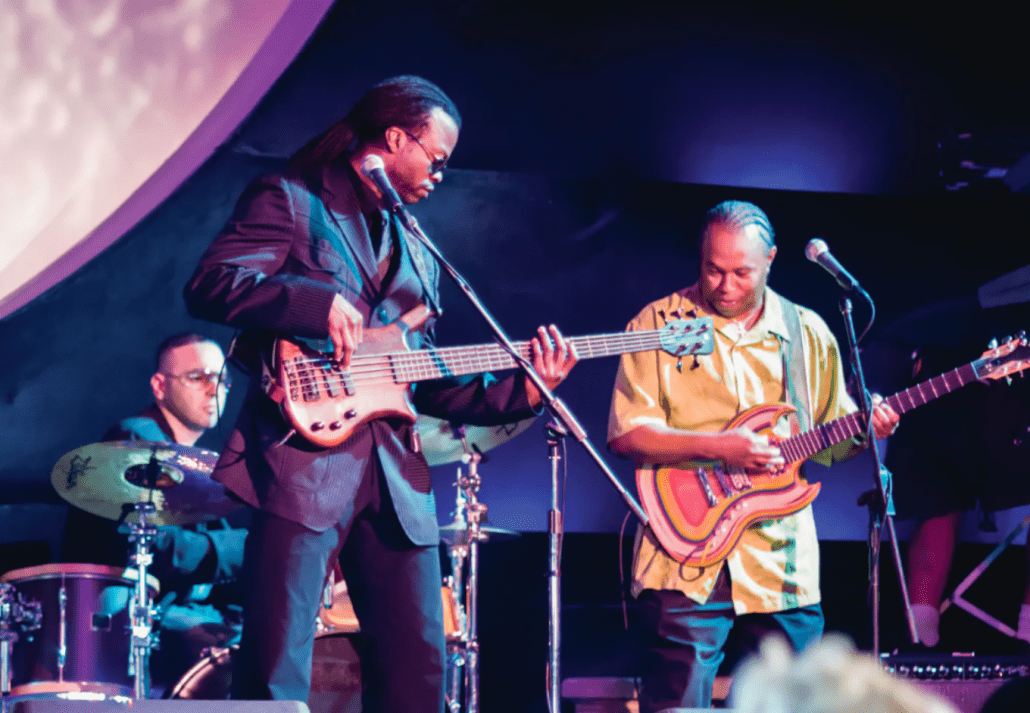 Located on Universal Citywalk, Red Coconut is often regarded as one of the best Orlando nightclubs. On the first floor of this Cuban-inspired nightlife venue, there's an ultra-lounge with inviting dance floors, while the second floor holds an intimate dining area that is perfect for indulging in specialty cocktails and delicious food.
The club also features a breezy outdoor patio, where visitors can sip on a Coconut Mojito while indulging in stunning views of the CityWalk at nighttime.
Aside from thrilling DJ sets, Red Coconut also hosts live performances, with guest bands doing covers of Top 40 hits, '80s favorites, dance, and Latin music. No wonder it's praised as the best nightclub in Orlando!
Location: 6000 Universal Blvd, Orlando, FL
The Groove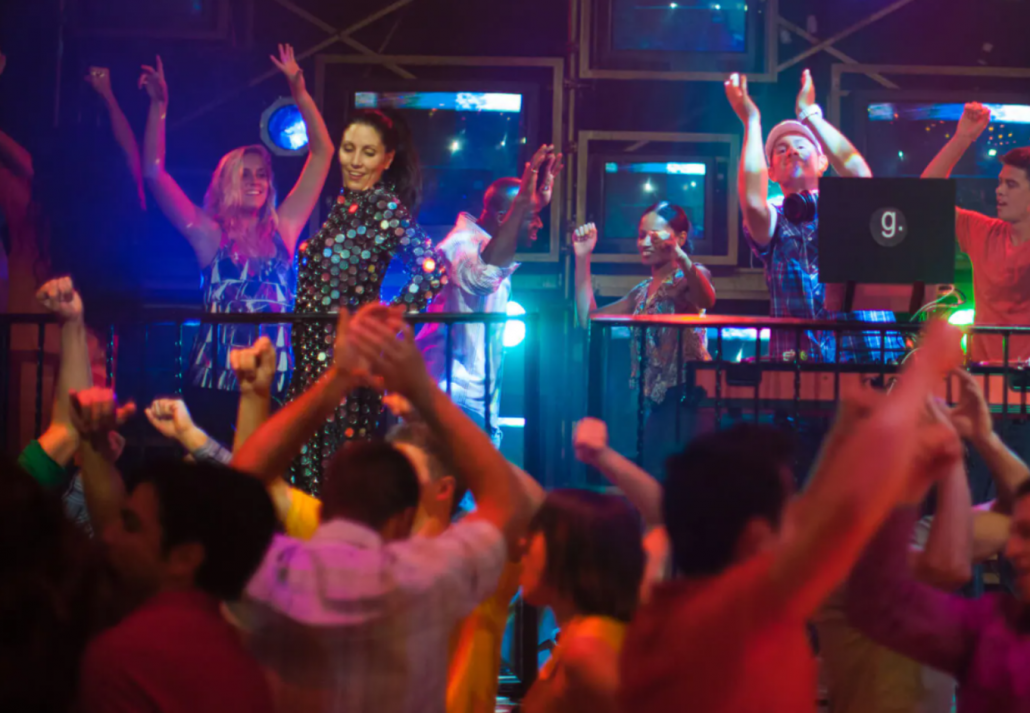 The Groove is the ultimate destination for those who want to go dancing all night long. This multi-level club boasts three themed lounges — The Blue Room, The Green Room, and the Red Room —, aside from full-service bars where visitors can order lip-smacking signature cocktails.
Designed to evoke an old theater, The Groove entices lively crowds with its state-of-the-art lighting and sound effects, thrilling DJ sets, live entertainment, and exciting themed events. Not by chance, it's considered one of the best nightclubs in Orlando.
The dress code is casual, and people of the age of 21 and above are allowed to enter.
Location: 6000 Universal Blvd, Orlando, FL
Hard Rock Cafe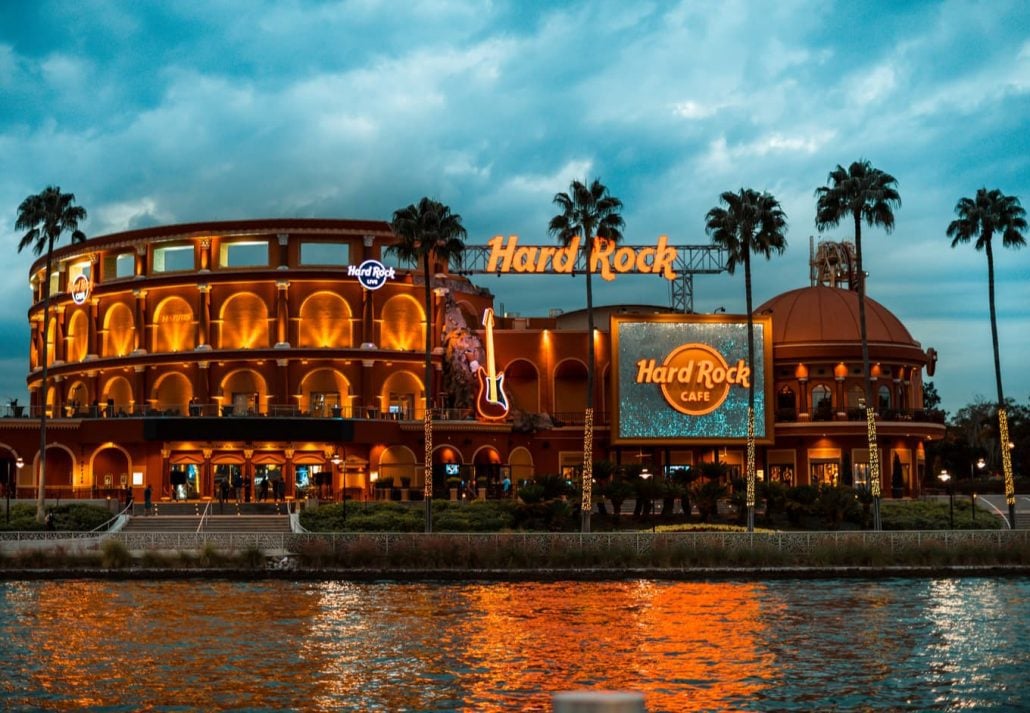 Located at 6050 Universal Boulevard, Hard Rock Cafe Orlando is the world's largest Hard Rock Cafe. Their menu is designed to satisfy you with its variety of delicious options including the Legendary Burger, which is their most famous dish, as well as the Classic Nachos. Hard Rock also hosts a delightful maze of captivating entertainment shows, including live comedy performances and live band music concerts. The perfect destination for a weekend night!
Location: 6050 Universal Blvd, Orlando, FL
Pointe Orlando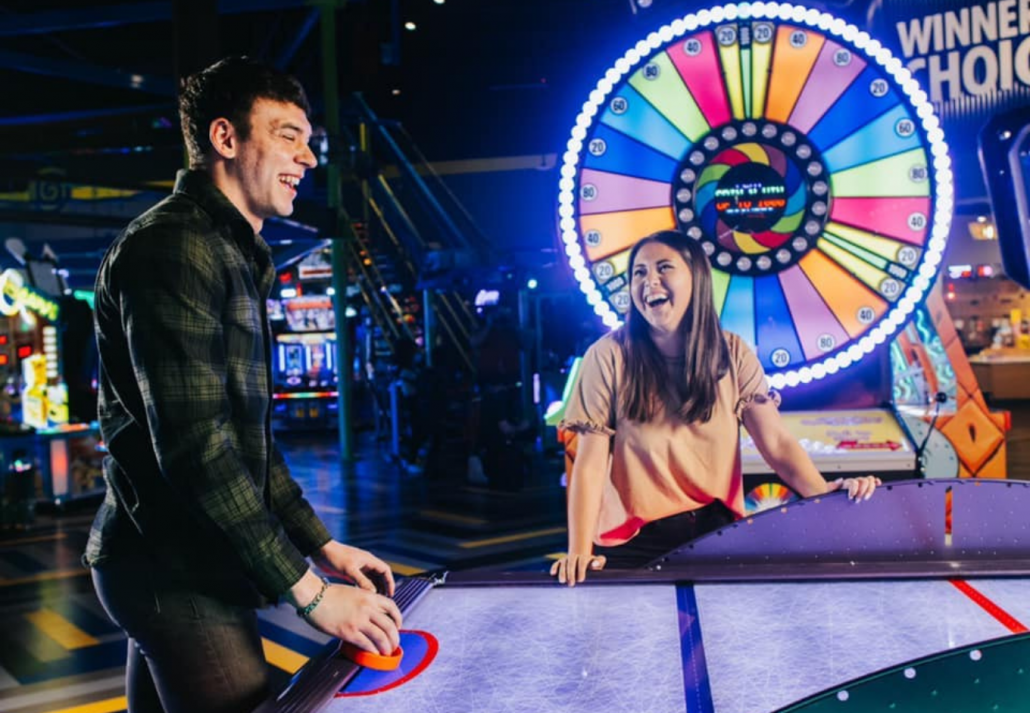 Pointe Orlando is an all-in-one dining, nightlife, and shopping complex. Gloriously located in Downtown Orlando, Pointe treats visitors to a variety of experiences that range from world-class shopping to top dining.
After shopping your way through Pointe's tempting stores, you can head over to Taverna Opa to enjoy a mouthwatering feast featuring live belly dancing performances and authentic Greek music. Looking for the perfect place for a fun happy hour with friends? Then Blue Martini is the perfect place. The bar has over 42 martinis, aside from a global tapas menu, a dance floor, and live music.
If you're visiting Pointe Orlando with your family, no worries — they have a variety of fun-filled experiences that are suitable for all ages. A great place to visit with the little ones is Main Event Entertainment, which features an arcade with more than 1000 games, a bowling alley with professional-level lanes, and a brand new laser tag arena.
The Improv Comedy Club, an adult-only comedy theatre that has welcomed talents like Robin Williams, Adam Sandler, Jerry Seinfeld, is another must-visit place in Pointe Orlando.
Location: 9101 International Dr, Orlando, FL
International Drive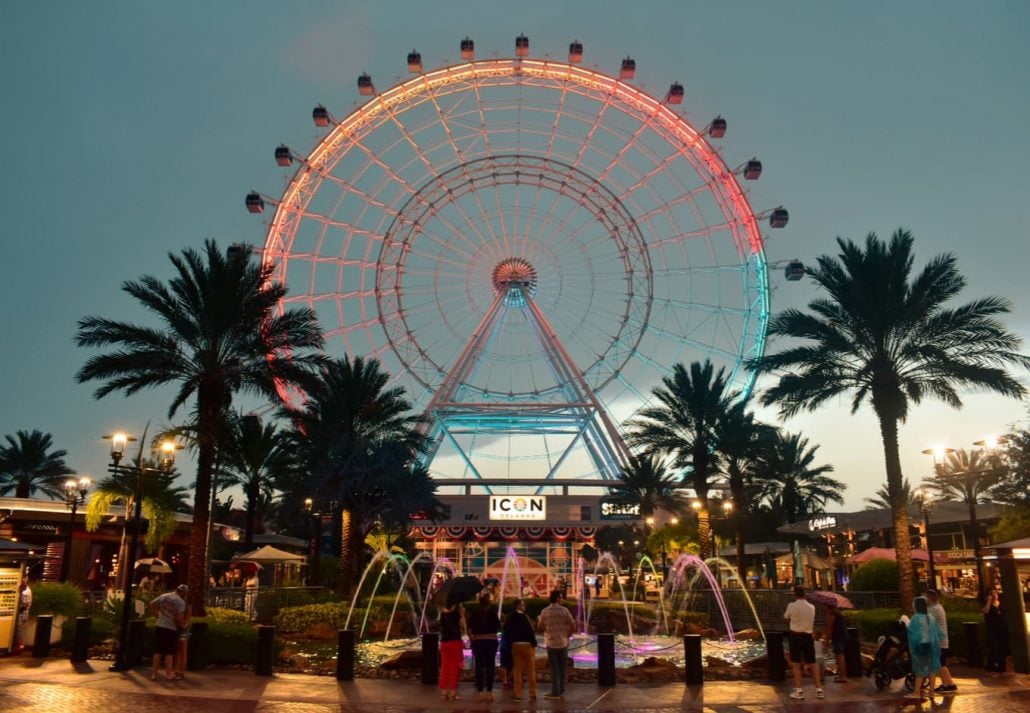 International Drive is, unarguably, one of the most vibrant nightlife destinations in Orlando. Located not far from Orlando's theme parks, this dynamic thoroughfare boasts a dazzling wealth of not only great restaurants, but also amazing bars, and nightclubs.
Bucket-list places include O'Shucks Pub & Karaoke Bar, which was voted one of the best karaoke bars in Orlando, Mango's Tropical Cafe, a Latin-themed club that hosts raucous parties featuring Orlando's top DJs, and ICEBAR Orlando. Part ultra-lounge and part-themed attraction, the place is home to a stellar bar, Fire Lounge, where you can sample signature cocktails and great food.
Another must-visit at International Drive is ICON Park, a 20-acre, walkable entertainment destination dotted with amazing restaurants, funky bars, boutique shops, and the 400 feet The Wheel, which offers the most show-stopping views of Orlando.
Location: 9067 International Dr, Orlando, FL
WonderWorks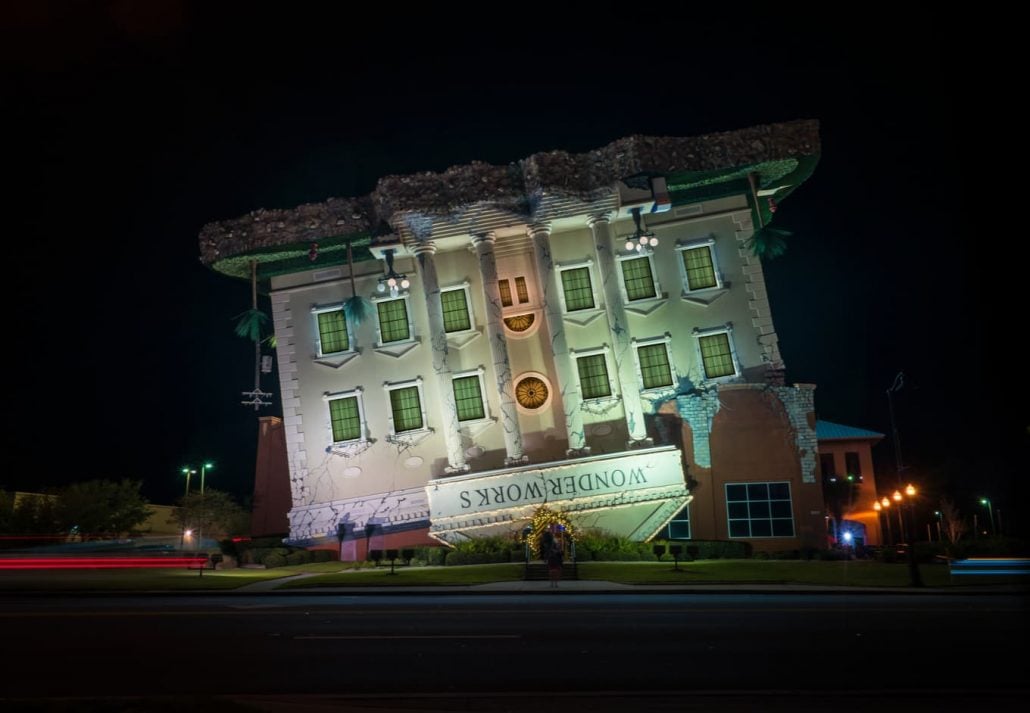 WonderWorks is an amusement center that combines education and entertainment, making it the perfect destination to go with the kids. Open until midnight, this 35,000 square feet park displays a range of exciting attractions like laser tag, a space discovery zone, a 4D XD motion theatre, and even a magic comedy dinner show.
Fun Fact: WonderWorks depicts the story of a super-secret laboratory located in the Bermuda Triangle. After an experiment went wrong, the laboratory landed on the International Drive upside down, leaving pedestrians in absolute awe and amazement!
Location: 9067 International Dr, Orlando, FL
Howl At The Moon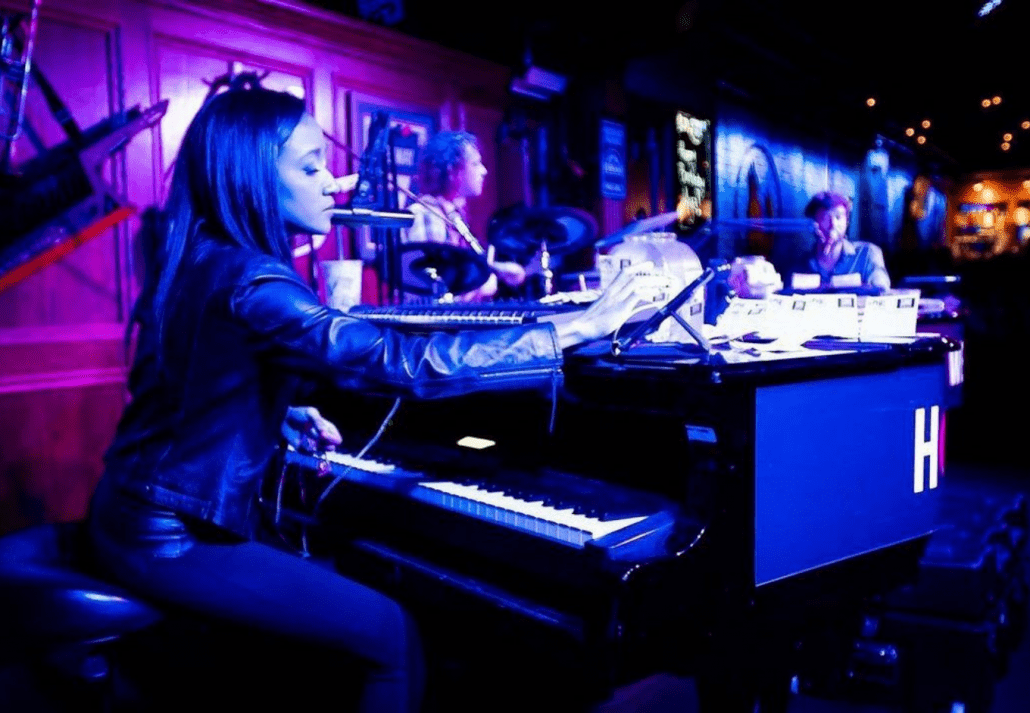 Howl at the Moon is one of the best live music bars in Orlando. With several locations across the country, this sought-after venue hosts a variety of high-level concerts, including covers from 80's rock, 90's pop, and today's dance hits.
The bar is also praised for its creative staple cocktails. Must-tries are the "Sex on the Moon", with peach vodka, Melon liqueur, and sparkling water, and "Beachy Bum", which is a mix of rum, Pineapple Juice, Sweet and Sour, and Hawaiian Island Syrup.
Location: 8815 International Dr, Orlando, FL
Disney Springs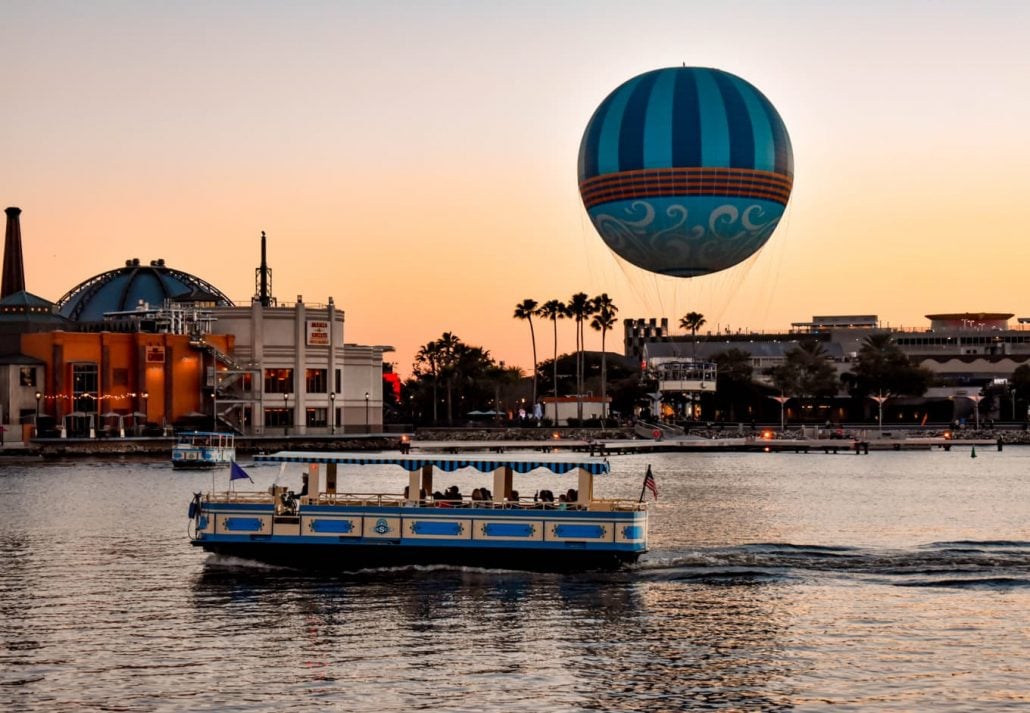 With more than 100 shopping stores, dining, and entertainment spots, Disney Springs offers superb experiences for all ages. Nestled in the Walt Disney World Resort, this eclectic complex has a waterside stage that hosts a robust line-up of concerts, and other top-notch live music venues like the House of Blues Music Hall. In there, you'll come across a myriad of concerts covering all genres, from R&B and hip hop to reggae and heavy metal.
Disney Springs also flaunt a variety of bars like The Edison, Stargazers Bar, and Paradiso 37, just to name a few.
Location: 1486 Buena Vista Dr, Lake Buena Vista, FL
Downtown Orlando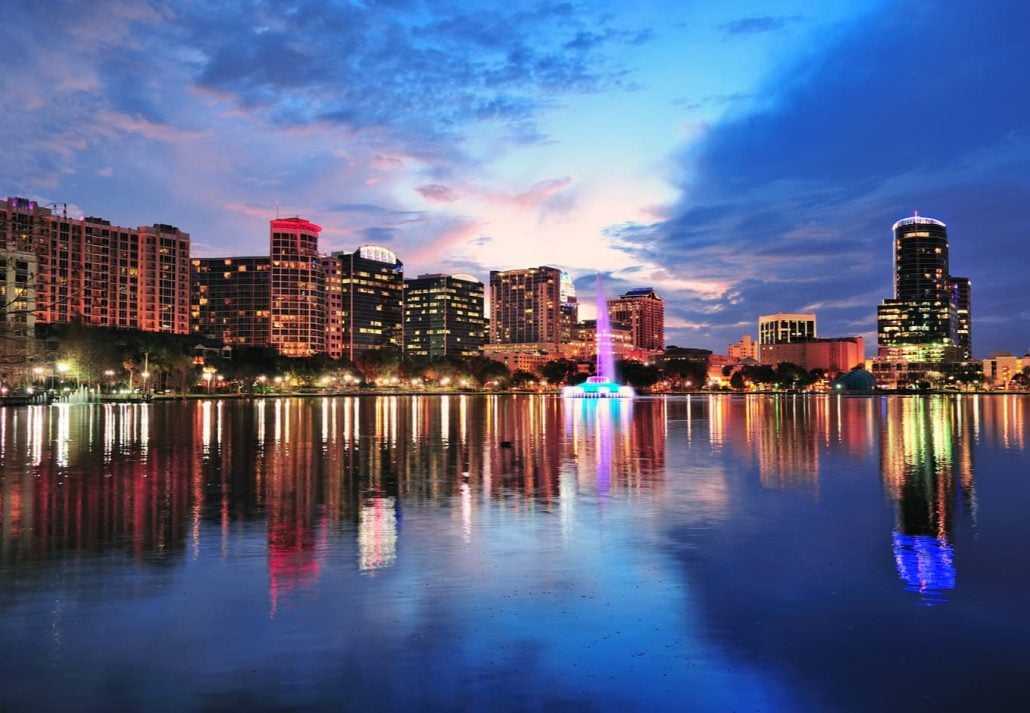 The downtown area of Orlando has got it all. Vibrant and non-stop, this bustling location is famous for its thick concentration of dining spots, bars, and live music venues. But, what makes Downtown Orlando a great nightlife destination in the city is the dance clubs.
With so many options of nightclubs in the area, it might be hard to narrow down where to go. One of the most coveted places is definitely Attic Orlando, which is set within a historic building located around Church Street and Lake Eola Park. The club flaunts premiere audio and visual systems, a VIP bottle service, and some of the finest DJ sets in the city.
FAQs
Does Orlando have a good nightlife scene?
Orlando might be best-known for its theme parks and family-friendly attraction, but the city happens to also have a vibrant nightlife, with options catering to every taste and budget.
What can adults do at night in Orlando?
Adults can enjoy some of Orlando's top-notch bars, and nightclubs.
Where is the main strip in Orlando?
The bustling International Drive is Orlando's main thoroughfare.
What is there to do in Orlando if you don't like theme parks?
Orlando has an array of attractions that go way beyond theme parks. Must-visits in Orlando include the ICON Park, Lake Eola Park, and the city's museums, restaurants, and nightclubs.
What do adults do in Orlando?
Adults visiting Orlando can enjoy a glorious array of attractions that include theme parks, shopping outlets, pubs, bars, parks, and restaurants.
Can you get into clubs at 18 in Orlando?
Yes, there are a few nightclubs in Orlando that welcome 18+ guests.
How old do you have to be to get into clubs in Orlando?
Most nightclubs in Orlando are open only to those of the legal drinking age, which is 21. However, if you are over 18, there are still a few clubs that will allow you to enter.
What is there to do in Orlando at night?
The best nightlife experiences in Orlando are:
Universal Citywalk;
RED Coconut Club;
The Groove;
Hard Rock Cafe;
Pointe Orlando;
International Drive;
WonderWorks;
Howl At The Moon;
Disney Springs;
Downtown Orlando.
Browse. Book. Stay.
CuddlyNest provides all accommodations to all travelers at the best price. Find unlimited travel inspiration on our blogs and our social media channels Facebook, Instagram, Pinterest
You May Also Like:
The 10 Best Beaches Near Orlando, Florida
The 10 Most Romantic Things To Do In Orlando, Florida
15 Unbeatable Florida Family Vacations with Kids
The 4 Best Family-Friendly Vacation Spots in Orlando
The 15 Best Long Weekend Getaways In The US
The Ultimate North America Travel Guide
10 Best Day Trips From Naples, Florida
The Ultimate Guide For a Pet-Friendly Holiday in Florida