Home to the biggest theme parks in the world, Orlando is often regarded as one of the best family-friendly destinations in the US. But did you know that the "City Beautiful" is also a prime getaway for couples who are seeking some memorable experiences and quality time together? Yes! Orlando has a showcase of romantic spots, which offer the perfect atmosphere for two.
Whether you're spending Valentine's Day in Orlando or simply going for a quick staycation trip with your loved one, you'll soon realize that there's no shortage of romantic things to do in the city. From taking a scenic sunrise flight in a hot air balloon to paddling around in one of the swan boats on Lake Eola, the options are endless.
If you're planning a trip to the theme park capital with your significant other, say no more! Have a look at our post and find out what are the most romantic things to do in Orlando, Florida.
Find Places To Stay In Orlando, Florida
Note: Make sure to double-check COVID 19 precautions, protocols, and operating hours before you visit any of these sites.
The 10 Most Romantic Things To Do In Orlando
Take A Swan Boat Ride At Lake Eola Park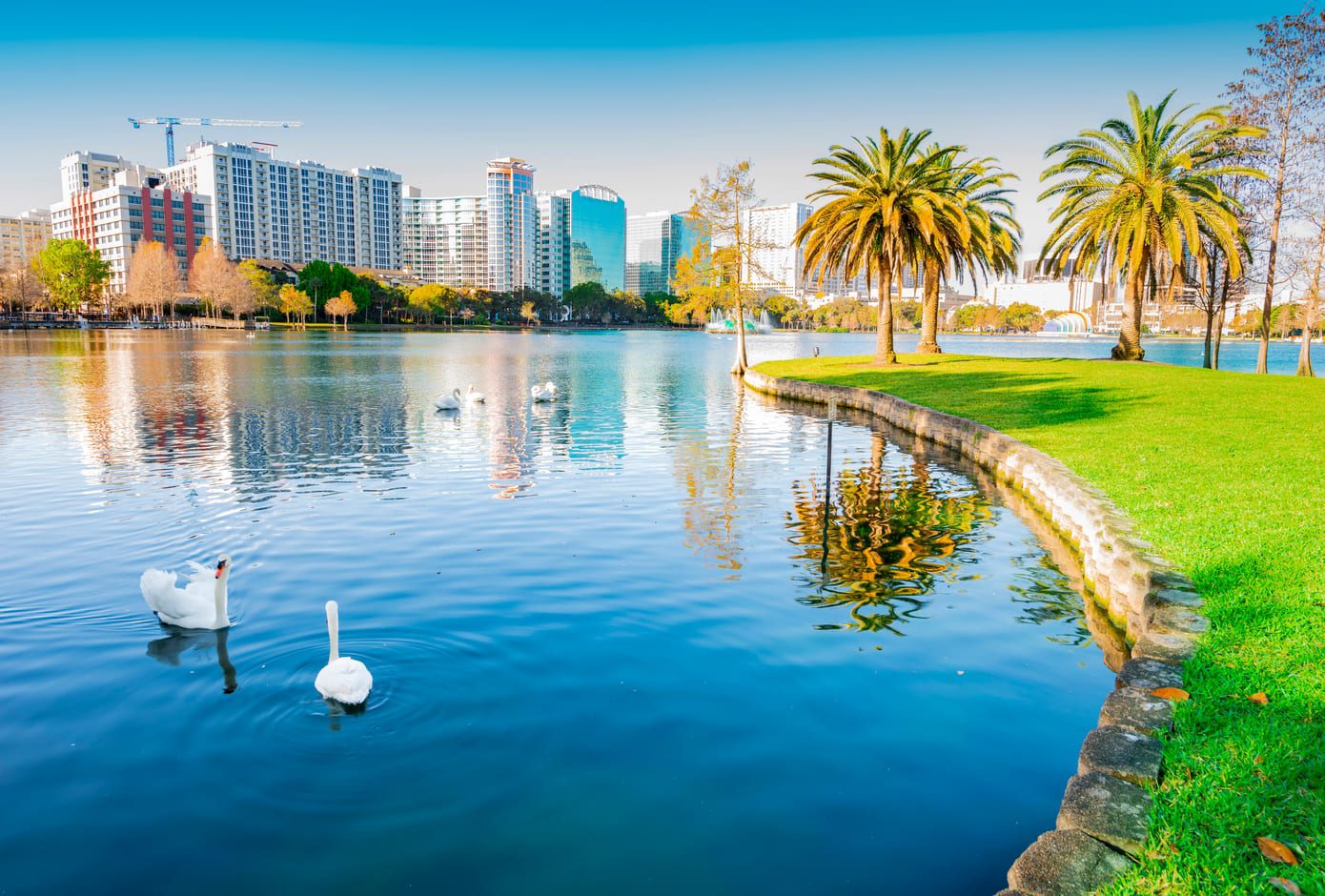 Located in the very heart of Downtown Orlando, Lake Eola Park is a green sanctuary that provides visitors with a peaceful time around nature. This 9.3 ha garden encircles a picturesque lake named Lake Eola, the main attraction of the park. In fact, every day, lovebirds ride along the river in swan-shaped paddle boats.
Looking for an extra dose of romance? Then take a swan boat tour during sunset to enjoy the sweeping views of the park framed by an orange-pink sky.
Boasting several picnic areas, and a sidewalk that circles the lake, Overall, Lake Eola Park is a great getaway for couples who want to escape the urban sprawl and go somewhere quiet where they can have a peaceful, quality time together.
Location: 512 E Washington St, Orlando, FL
Go For A Day-Trip To Winter Park City
Winter Park is a lovely city located about 15 minutes from Orlando. Filled with outdoor spaces and home to more than 70 parks, Winter Park is a great bet for couples who want to spend the day strolling around leafy streets, do a spot of shopping, and even get their creative juices flowing.
For some retail therapy time, head over to the famous Park Avenue, which is a local hub for dining, and shopping. You can also go to Hannibal Square, a low-key version of Park Avenue and home to a multitude of amazing restaurants. A must-visit is Hannibal's on the Square, famous for its amazing chocolate souffle.
A former winter resort, Winter Park City is also a stellar hub of arts and culture, as it's home to a showcase of galleries, museums, and theatres.
Feel like exploring Winter Park from a different point of view? Then take a scenic boat ride through the Winter Park Chain of Lakes, and meander your way through lovely garden-lined canals.
Take An Hot Air Balloon Ride
Want to take your love to new heights? Then go on a romantic hot air balloon ride at sunrise, which is guaranteed to provide you and your significant other with a memorable experience. While flying at up to 2,500 feet, you'll be able to view Orlando's landscape as you've never seen before, and marvel at the city's theme parks, untouched forests, lakes, and orange groves.
Early birds can also schedule a sunrise hot air balloon flight to witness the city of Orlando waking up to a pink watercolor sky while flying above treetops to several thousand feet high. After landing, you'll be celebrating this wonderful adventure with a champagne toast. Cheers!
Ride The Wheel At ICON Park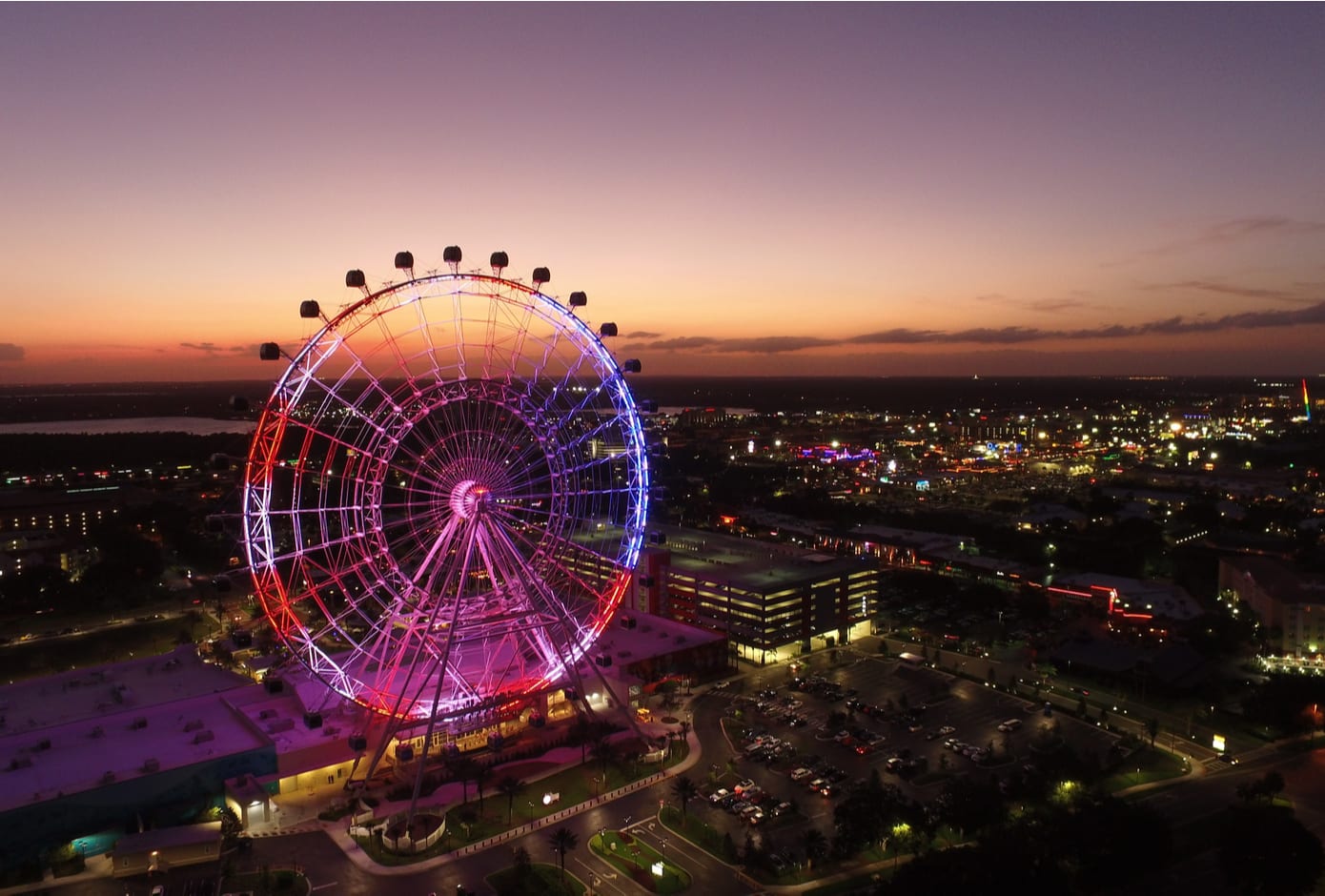 Enjoyed your romantic balloon ride? Then make sure to also ride the Orlando Eye wheel for more sweeping views of Orlando. Located at ICON Park, this 400-foot observation wheel provides visitors with a breathtaking panoramic landscape of Orlando and the surrounding skyline.
The ride on The Wheel takes about 18 minutes, and from up high, you'll be able to marvel at the city's natural lakes, such as the Big Sandlake and Little Sandlake; Walt Disney World, Universal Orlando, and some of central Florida landmarks, including the Amway Center, International Drive, Kennedy Space Center, and Legoland.
Want an even more romantic experience? Then buy a VIP package that includes a 30-minute ride around the wheel at sunset with champagne and a host. This is certainly one of the most romantic things to do in Orlando for couples.
Location: 8375 International Dr, Orlando, FL
Go On A Sunset Kayak Tour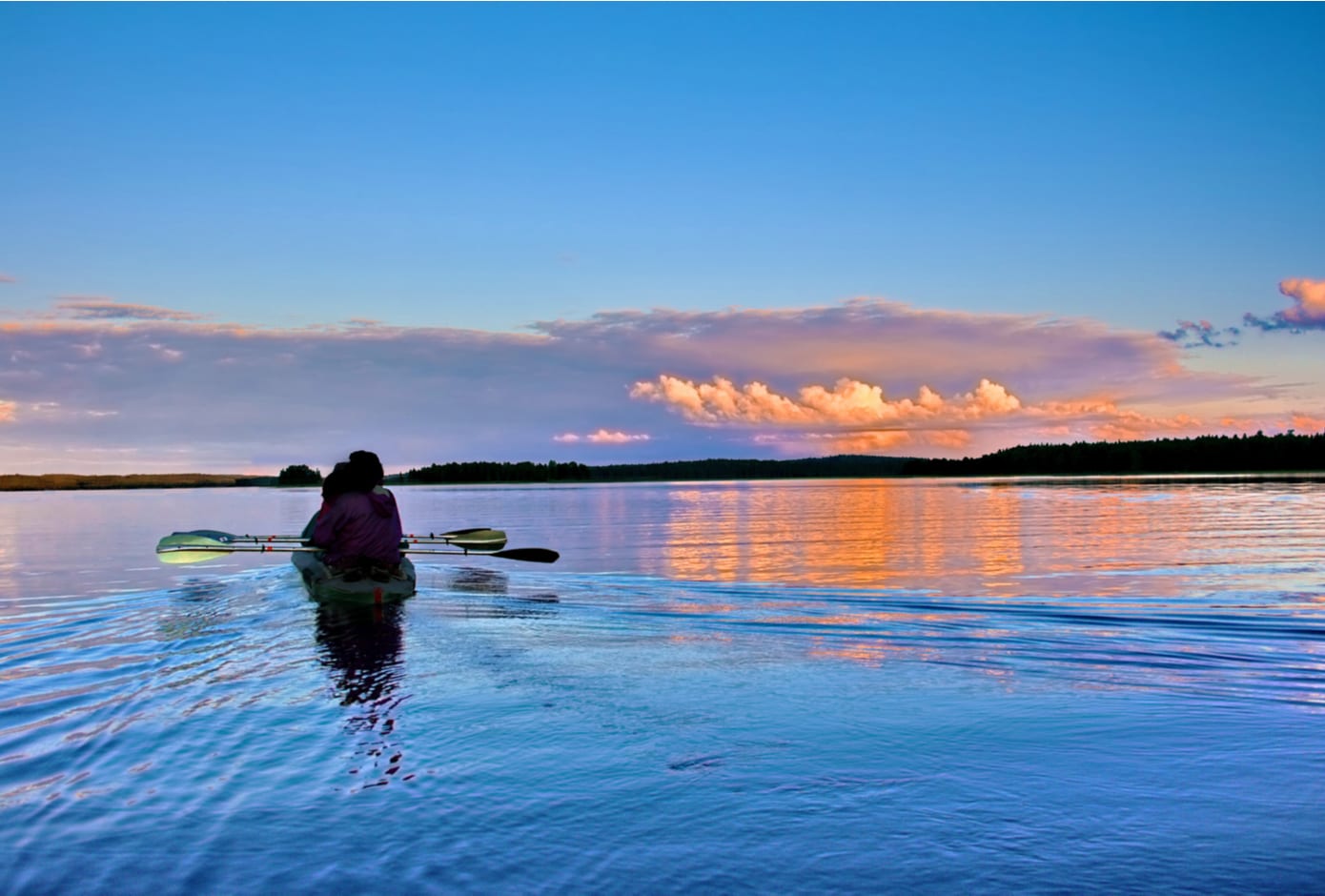 Now that you have explored Orlando from the heights, it's time to see the city from a new perspective and experience it by kayaking through its lakes. A great option is to take a tour at the Winter Park Chain of Lakes, where you'll be able to witness Florida's rich flora and fauna, praised for its dazzling wealth of birds, fish, and other wildlife.
For even more romance and to marvel at Florida's natural wonders with a special glow, opt for taking a kayaking tour at sunset. Definitely a memorable experience, and one of the most romantic things to do in Orlando!
Visit Orlando's World-Famous Theme Parks
When it comes to romantic activities for couples, visiting Orlando's best theme parks can't be left out of the list. Thrill-seekers will have a great time at Islands of Adventure, and Universal Studios Florida, both famous for their pulse-pounding roller coasters.
A fun-filled day at Walt Disney World Resort can't be left out of the list as well. The happiest place on earth happens to boast an irresistibly romantic atmosphere, and it's a great destination not only for a weekend getaway but also for Valentine's Day escape or a honeymoon trip.
Bucket-list experiences for couples at Disney World include watching the dazzling fireworks display at the Cinderella Castle, at Magic Kingdom, going wine tasting around the world, at Epcot, and having a romantic dinner at Victoria and Alberts, one of the resort's best restaurants.
Location: 1675 East Buena Vista Drive Lake Buena Vista, FL
Take A Cooking Class Together
Aside from exploring and indulging in everything that Orlando has to offer, why not plan something different and have a romantic date night cooking class? Fortunately, Orlando houses a showcase of culinary hotspots where couples can put their cooking skills to the test and try to make a range of dishes, from sushi to chocolate.
Have A Dining Experience At An Award-Winning Restaurant
After playing Master Chef, a great idea for couples is to uncover Orlando's best restaurants, and have a fine dining experience at an award-winning eatery. Start eating your way out through the city by going for a date night at The H Cuisine, a Mediterranean steakhouse located in the Dr. Phillips district.
Then, make sure you also go to the Hemisphere restaurant, a sleek and modern eaterie located on the 9th floor of the Hyatt Regency Orlando International Airport. Want to take your date night to the next level even more? Then pay a visit to the award-winning Victoria & Albert's restaurant, located in Disney's Grand Floridian Resort & Spa, and try their degustation menu to sample the flavors of the contemporary American cuisine.
Visit The Harry P. Leu Gardens
Nature lovers, this one is for you! After indulging in amazing food experiences, having a swan boat adventure, taking a sunset kayak tour, roaming around Magic Kingdom, and checking the central Florida landscape from up high, it's time to have some romantic time around nature.
One of the best places to relax and enjoy the greenery of "The City Beautiful" —Orlando's nickname —, is the Leu Gardens. This 50-acre botanical oasis is home to several gardens, which are dotted with a slew of temperate and tropical plants. In there, you'll be able to uncover a myriad of fascinating species, such as azaleas, vines, bromeliads, and tropical philodendrons. Not to mention the camphor trees, elms, and oaks, which create the most romantic atmosphere for couples to enjoy.
Location: 1920 N Forest Ave, Orlando, FL
Take A Boat Tour In Lake Osceola
To round up a perfect trip filled with romantic things to see and do, go for a boat tour in Lake Osceola with your loved one. Lake Osceola is placed only 10 minutes from downtown Orlando, and the local boat tours offer hour-long cruises through the 156-acre lake, which is placed on Winter Park. So hop on the pontoon boat, and get ready to be cruising along the pristine waters of the lake to explore the beauty of Orlando's flora and fauna.
Location: Winter Park, Florida 32789
FAQs
What can couples do in Orlando?
The top romantic experiences for couples in Orlando:
Take A Swan Boat Ride At Lake Eola Park;
Go For A Day-Trip To Winter Park City;
Take An Hot Air Balloon Ride;
Ride The Wheel At ICON Park;
Go On A Sunset Kayak Tour;
Visit Orlando's World-Famous Theme Parks;
Take A Cooking Class Together;
Dine At An Award-Winning Restaurant;
Visit The Harry P. Leu Gardens;
Take A Boat Tour In Lake Osceola.
What is there to do on a date night in Orlando?
There are several romantic things couples can do on a date night in Orlando. These include marveling at the city's skyline from The Wheel at ICON Park, going for a sunset hot air balloon ride, and having a drink at a cozy rooftop bar.
What can adults do at night in Orlando?
Adults can indulge in a variety of activities in Orlando at night. Some of the best things to do in the city after the sun sets include enjoying the lip-smacking local restaurants, going dancing at Orlando's finest clubs, watching live performances at stellar music venues, and sipping on signature cocktails at sleeky bars.
Browse. Book. Stay.
CuddlyNest provides all accommodations to all travelers at the best price. Find unlimited travel inspiration on our blog and social media channels.
You might also like:
The 5 Most Romantic Hotels With Hot Tubs In The U.S.
The 13 Most Romantic Towns In The USA
Best North America Mountains
The 10 Best Beaches Near Orlando, Florida
The 10 Most Romantic Things To Do In Orlando, Florida
15 Unbeatable Florida Family Vacations with Kids
The 4 Best Family-Friendly Vacation Spots in Orlando
The 15 Best Long Weekend Getaways In The US
The Ultimate North America Travel Guide
10 Best Day Trips From Naples, Florida
The Ultimate Guide For a Pet-Friendly Holiday in Florida
7 Must-Visit Museums In Orlando, Florida
The 10 Best Nightlife Experiences in Orlando