Dubbed theme park capital of the world, Orlando is a magical wonderland that captivates with its delightful string of experiences —from meeting your favorite Disney characters to getting your adrenaline fix in thrill rides and cooling off the heat at fantastic water parks.
Whether you're traveling with the kids, solo, or with your significant other, know that there's a world-class park in Orlando waiting to welcome you with dazzling attractions you won't find anywhere else.
Sounds like a plan? Then read on to discover the 8 best theme parks in Orlando that are worth visiting at least once!
Find Places To Stay In Orlando, Florida
The Best Orlando Theme Parks
Magic Kingdom, Walt Disney World Resort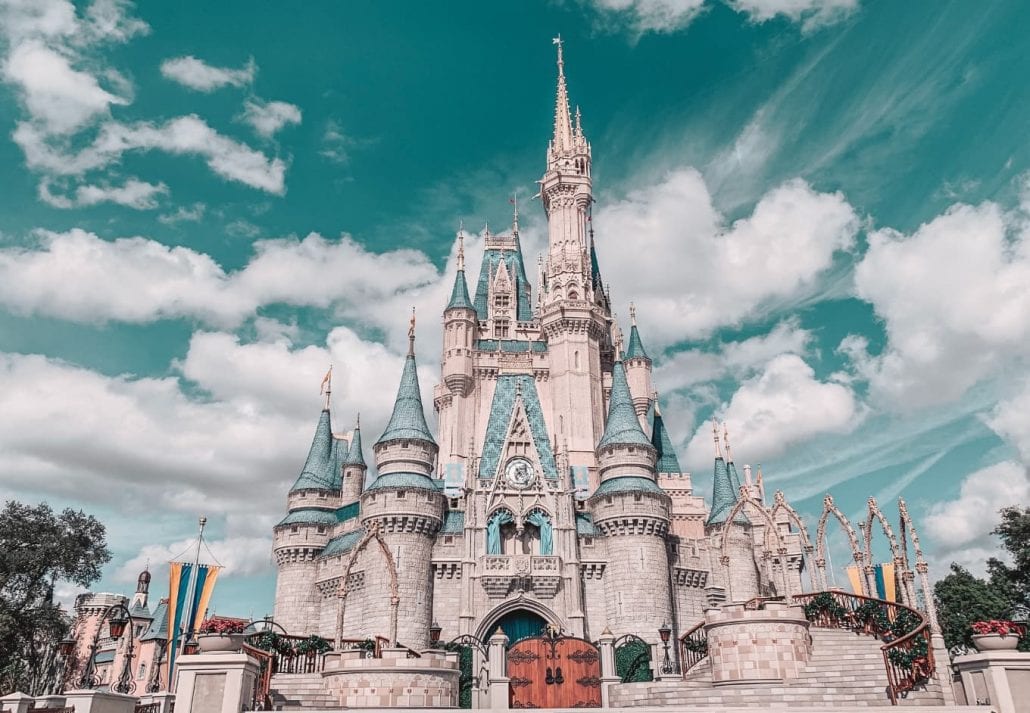 The Magic Kingdom Park is the ultimate destination for those seeking the classic Disney experience. Featuring a robust line-up of family-friendly attractions, like dazzling fireworks, fun rides, and extraordinary parades with famous characters, this is hands down, the best Disney park for toddlers and their parents.
Must-visit attractions in Magic Kingdom include "It's a Small World", which takes riders of all ages to cruise along the Seven Seaways Waterway on a 10-minute journey through all 7 continents, the Seven Dwarfs Mine Train, a family coaster that rides through the diamond mine from Snow White, and the futuristic Space Mountain roller coaster.
Kids will also love visiting the Haunted Mansion, a haunted estate, home to ghosts, ghouls, and supernatural surprises, and marveling at the colorful fireworks displays at the Cinderella Castle.
Don't forget to take the little ones to meet classic Disney characters, like the one-and-only Mickey Mouse.
Universal's Islands of Adventure, Universal Orlando Resort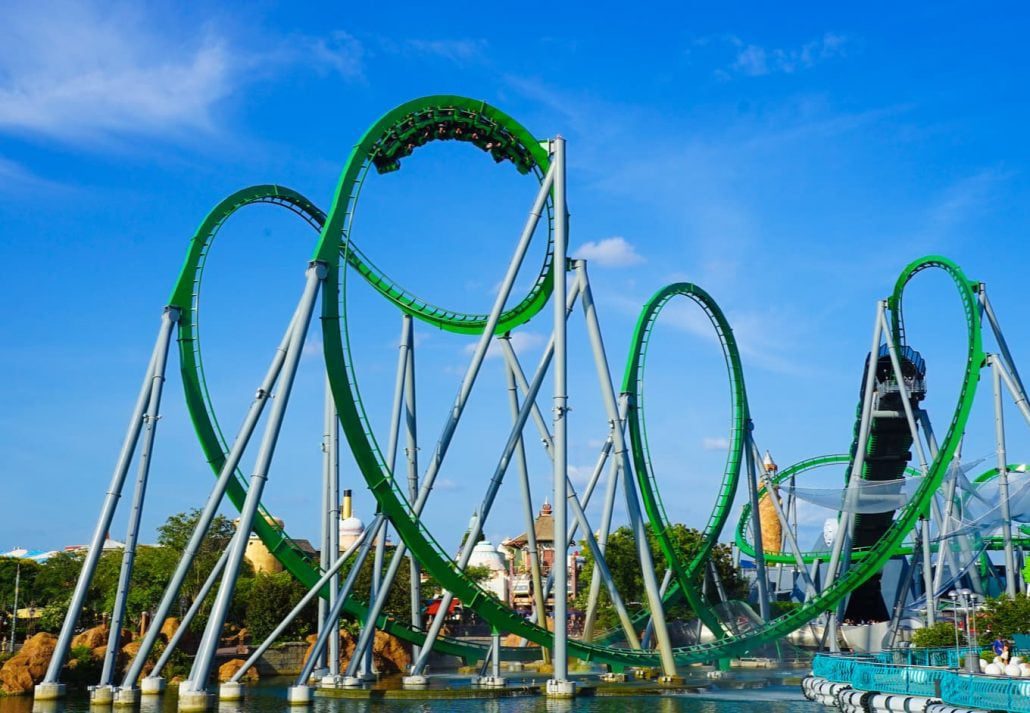 Regarded as one of the 10 best theme parks in the USA, Universal's Island of Adventure treats visitors from all over the world with a frenzy of excitement and adrenaline. The park is divided into 8 themed islands, each one boasting a slew of thrilling rides that swing daring adventurers into the sky while swirling them with dizzying upside-down sky views.
Ride the Jurassic World Velocicoaster for a high-speed dash through featuring 2 fast-paced launches, 4 inversions, and a 155-foot tall top hat, and Hagrid's Magical Creatures Motorbike Adventure, an immersive coaster that will blast you 50 mph up a 65-foot catapult, a gigantic backward drop, and 7 launches.
The Incredible Hulk Coaster, which reaches a maximum speed of 67 mph, is also a must at the theme park.
Legoland Florida, Legoland Florida Resort
Located roughly 30 miles from Orlando's Lake Buena Vista, this amusement park is designed especially for kids. But with such a glorious array of attractions, it might be hard to narrow down where to begin. No matter what your plans are, one of the must-visits is the Lego Movie Masters of Flight, which is part ride and part movie experience featuring a 180-degree turn, and a full-dome virtual screen.
Be sure you also take the little ones to Ninjago the Ride, where riders become Ninjas shoot at the bad guys, and The Great LEGO Race, a roller coaster featuring turns and drops, and where guests are placed on themed vehicles like a rocket-powered windsurfer.
LEGOLAND is also home to a water park with plenty of attractions to choose from, including a lazy river, tube slides, interactive water-play structures, and a wave pool. A great destination for the ultimate summer fun!
Animal Kingdom, Walt Disney World Resort
Disney's Animal Kingdom is a wonderland for adventure seekers and nature lovers. Covering 580 acres — making it the largest theme park in the world —, Animal Kingdom is divided into seven themed areas, each one with its own unique attractions.
Discovery Island is home to the park's iconic Tree of Life, a baobab tree, while Africa displays fantastic animal exhibits. There, visitors can hop aboard an open-sided safari vehicle and roam around 110 acres of open plains, shady forest landscapes, and rocky wetlands, which are home to black rhinoceroses, hippopotamuses, pink-backed pelicans, Nile crocodiles, and more.
Aside from fascinating animal encounters, Animal Kingdom also spoils visitors with a series of pulse-pounding attractions. Some of the best, like the state-of-the-art Avatar Flight of Passage, are located within Pandora – The World of Avatar area.
Universal Studios Florida, Universal Orlando Resort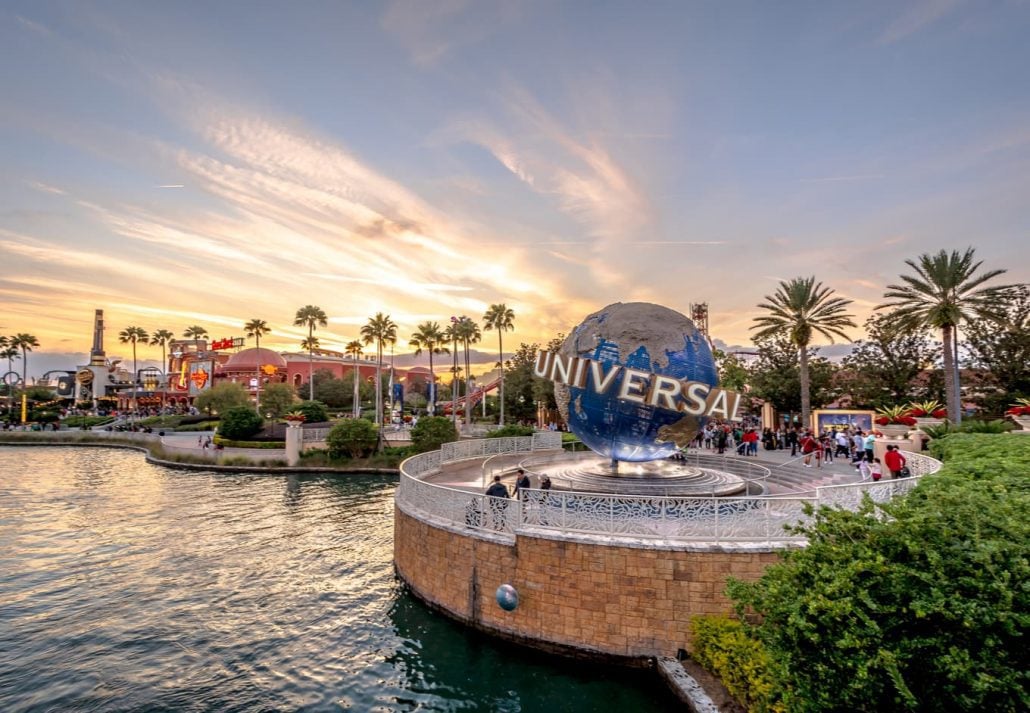 In search of an Orlando theme park that offers fun and excitement for all ages and adventure levels? Then Universal Studios is the place to go.
There's an extensive list of attractions for the whole family in Universal, most of them themed to movies, and television. Some of the highlights include the immersive Revenge of The Mummy roller coaster, which swings riders to plunge into complete darkness while fleeing from the evil Mummy Imhotep, and Transformers: The Ride-3D, an immersive, next-generation thrill ride that combines 3D HD media and flight simulation.
Potterheads can't pass up the chance to visit Wizarding World of Harry Potter for a studio tour and hop on the Hogwarts Express to get face to face with characters and creatures from the Harry Potter™ books and films.
Aquatica Orlando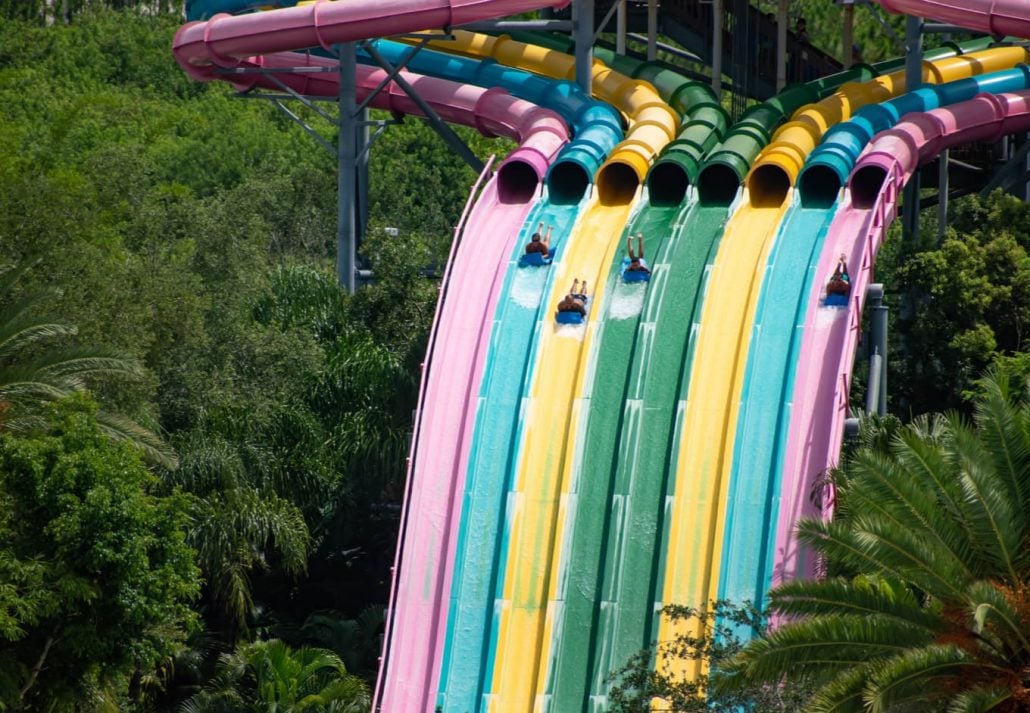 Do you plan to visit Orlando during the summertime? Then Aquatica is the ideal place for cooling off the Florida heat. Visitors craving for some adrenaline-fix will have a great time indulging in the park's exciting slides featuring high-speed twists and turns.
The parks' top thrill? Taumata Racer, a water-mat ride where 8 racers rip down a staggeringly steep 300ft slide.
Other must-tries include Ihu's Breakaway Falls, the steepest multi-drop tower of its kind in Orlando, and Whanau Way, a quadruple slide tower that offers riders four different high-speed experiences.
Volcano Bay, Universal Orlando Resort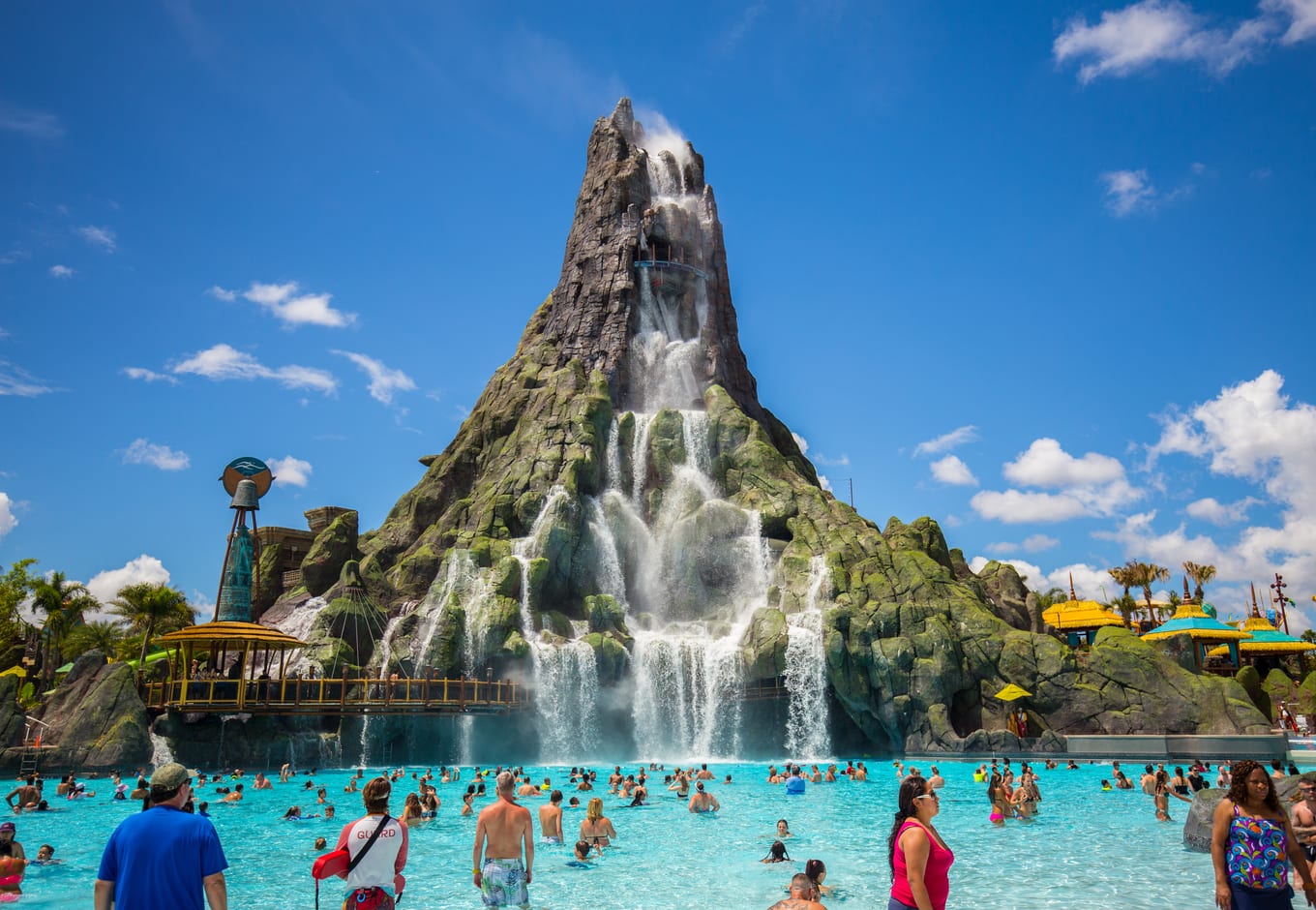 Located within the Universal Studios Resorts, Volcano Bay is considered one of the 15 best water parks in the world. The centerpiece of this Polynesian-inspired park is a 200-foot-tall artificial volcano that harbors a myriad of fun slides, including Ko'okiri Body Plunge, the tallest body slide in America.
Another great ride at the water park is Krakatau™ Aqua Coaster, where racers hop on a four-person canoe and twist their way through the volcano before plunging through a waterfall.
Visitors can also surf the underwater currents on a five-passenger raft, or simply relax while riding on the Kopiko Wai Winding River through a lush tropical landscape.
Hollywood Studios, Walt Disney World Resort
Hollywood Studios is, by far, one of the best Orlando theme parks for adults. Evoking the Golden Age of Hollywood, the park is home to a wealth of attractions that draw inspiration from film, television, music, and theatre.
Some of the park's most coveted attractions are The Twilight Zone Tower of Terror and is an accelerated drop tower dark ride inspired by the television series, The Twilight Zone, and Star Wars: Rise of the Resistance, a trackless dark ride with multiple ride systems.
And if you're visiting Disney's Hollywood Studios with the little ones, no worries: there's plenty to keep them entertained in the park. One of the finest is the Toy Story Land, where visitors can head inside Andy's room, enjoy interactive games, and get face-to-face with Toy Story characters like Woody, Buzz, and Jessie.
FAQs
What are the best amusement parks in Orlando, Florida?
The best theme parks in Orlando are:
Magic Kingdom, Walt Disney World Resort;
Universal's Islands of Adventure, Universal Orlando Resort;
Legoland Florida, Legoland Florida Resort;
Animal Kingdom, Walt Disney World Resort;
Universal Studios Florida, Universal Orlando Resort;
Volcano Bay, Universal Orlando Resort;
Hollywood Studios, Walt Disney World Resort;
Aquatica Orlando.
What is the most famous amusement park in Orlando, Florida?
Walt Disney World's Magic Kingdom is the most famous amusement park in Orlando, Florida.
Which Disney theme park is best in Orlando?
All of the 7 Disney parks are worth visiting, and each has its unique attractions and fun rides. The most famous and sought-after, however, is Magic Kingdom, which welcomes more than 5 million people every ear.
Which theme park in Orlando is best for adults?
The best theme parks for adults in Orlando:
Hollywood Studios, Walt Disney World Resort;
Islands of Adventure, Universal Orlando Resort;
Universal Studios Florida, Universal Orlando Resort;
Magic Kingdom, Walt Disney World Resort;
Epcot, Walt Disney World Resort.

Browse. Book. Stay.
CuddlyNest provides all accommodations to all travelers at the best price. Find unlimited travel inspiration on our blogs and our social media channels Facebook, Instagram, Pinterest
You May Also Like:
The 10 Best Beaches Near Orlando, Florida
The 10 Most Romantic Things To Do In Orlando, Florida
15 Unbeatable Florida Family Vacations with Kids
The 4 Best Family-Friendly Vacation Spots in Orlando
The 15 Best Long Weekend Getaways In The US
The Ultimate North America Travel Guide
10 Best Day Trips From Naples, Florida
The Ultimate Guide For a Pet-Friendly Holiday in Florida