The westernmost city in the Florida Panhandle, Pensacola is surrounded by over 50 miles of glittering coastline that includes the idyllic Gulf of Mexico and crystal clear bay areas. These beaches, each with their unique features and charm, have been ranked among the best in the country and offer endless opportunities for fun and relaxation.
Whether you want to go scuba diving, paddle boarding, or simply lounging in the sand, you're sure to find the perfect beach in Pensacola. However, with so many glorious options on offer, it can be challenging for first-timers to narrow down where to go.
To help you enjoy a wonderful vacation, we've created a list of the best beaches in Pensacola, Florida. Take a look below!
Find Places to Stay in Pensacola, Florida
The 7 Best Beaches In Pensacola, Florida
Pensacola Beach (Casino Beach)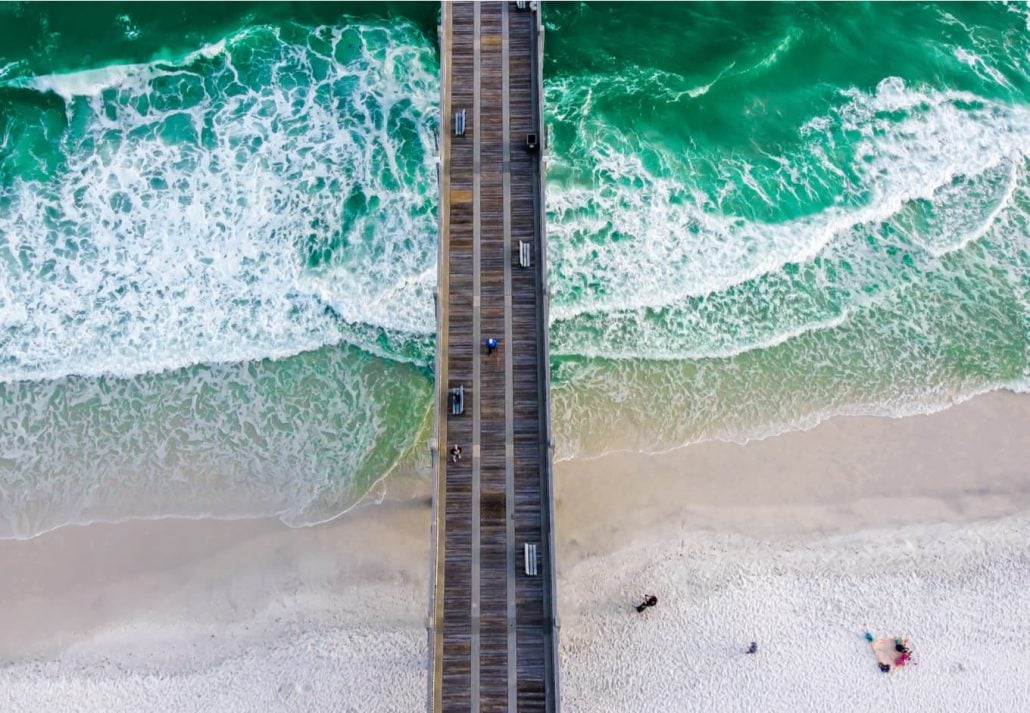 Casino Beach is famous for its sugar-white sand and emerald-green waters. The beach is wide and long, meaning you can easily find a stop for sunbathing, and the water is shallow and warm, which is perfect for swimming.
Situated on the Gulf of Mexico side in central Pensacola Beach, Casino Beach also has an array of facilities, including showers, picnic tables, and the Gulfside Pavilion. The beach also features a 1471 feet long pier, the Pensacola Beach Fishing Pier, from where you can catch Bluefish, Pompano, Redfish, Spanish Mackeral, and Spotted Seatrout.
Beside the Pensacola Pier lies the Gulfside Pavilion, which rewards visitors with heart-warming views of the pier and beachfront.
Perdido Key Beach
Step into a world free of noise, deadlines, and everyday life in Perdido Key Beach. Part of the Gulf Island National Seashore, this barrier island located west of Pensacola treats visitors to natural beauty comprising sand dunes, wetlands, and bountiful wildlife.
You'll find a more protected shoreline stretching west into the Perdido Key State Park, which occupies much of the remaining space of the Perdido Key Beach area. There, is soft powdery sand and stunning views of the calm Gulf waters design the perfect backdrop for a serene day amidst nature.
While in Perdido Key, be sure to also visit Johnson Beach, which is the only beach in the area that has visitor amenities and lifeguards.
Opal Beach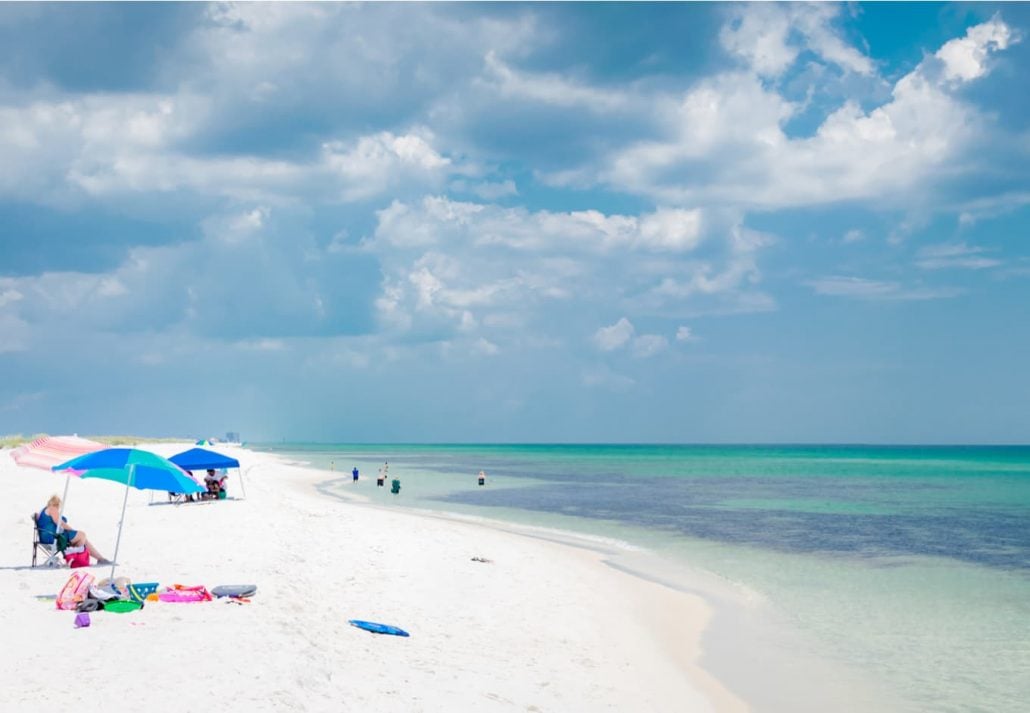 Running for 8 miles and relatively isolated, Opal Beach is a precious hidden gem in Northwest Florida. This serene beach, named after the 1995 hurricane that damaged the Pensacola coast, is not as wide, but has enough space for sunbathing, walking, and indulging in beach activities.
The gulf side boasts powdery white sand and crystal clear ocean waters, making it one of the most beautiful beaches in the Pensacola area.
Thanks to its partially secluded location, Opal Beach is a prime spot for fishing. Depending on the season, you might catch species like pompano, flounder, and the red drum among others.
Langdon Beach at Fort Pickens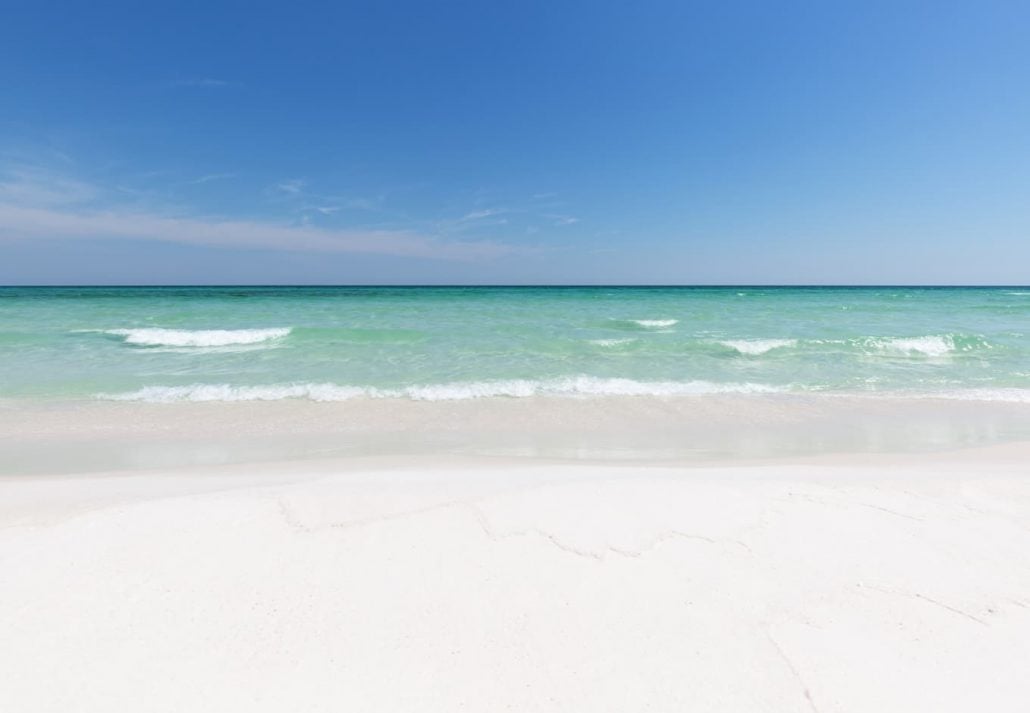 If you're planning a memorable beach vacation to Pensacola, don't pass up the opportunity to visit Fort Pickens. Named for Brigadier General Andrew Pickens, a Patriot who fought in South Carolina during the American Revolution, the fort was designed and constructed to defend Pensacola Bay and the Pensacola Navy Yard and Depot from foreign attacks.
The fort is home to Langdon Beach, one of the most popular sought-after swimming beaches in the Gulf Islands National Seashore. Located near the western end of Santa Rosa Island roughly in the middle of the National Park Service-managed Fort Pickens unit, the beach is visited due to its scenic low-lying coastal dunes, sugar white sand, and emerald green waters.
Aside from being one of the prettiest beaches on Florida's Gulf Coast, Langon beach is one of the area's few beaches where you can camp at.
Navarre Beach
Nestled poignantly between the Gulf Islands National Seashore and Navarre Beach Marine Park, Navarre Beach greets visitors with 12 miles of pristine white shoreline.
Its snowy white sand and emerald green waters design the perfect setting for strolling, swimming, and sunbathing, as well as activities such as paddle boarding and fishing.
While relaxation is the main activity in Navarre, visitors can take the opportunity to explore the area's attractions. Must-sees include the1,545 feet long Navarre Beach Pier, which stands 30 feet above the water and provides show-stopping views of the Gulf of Mexico.
Pensacola Dog Beaches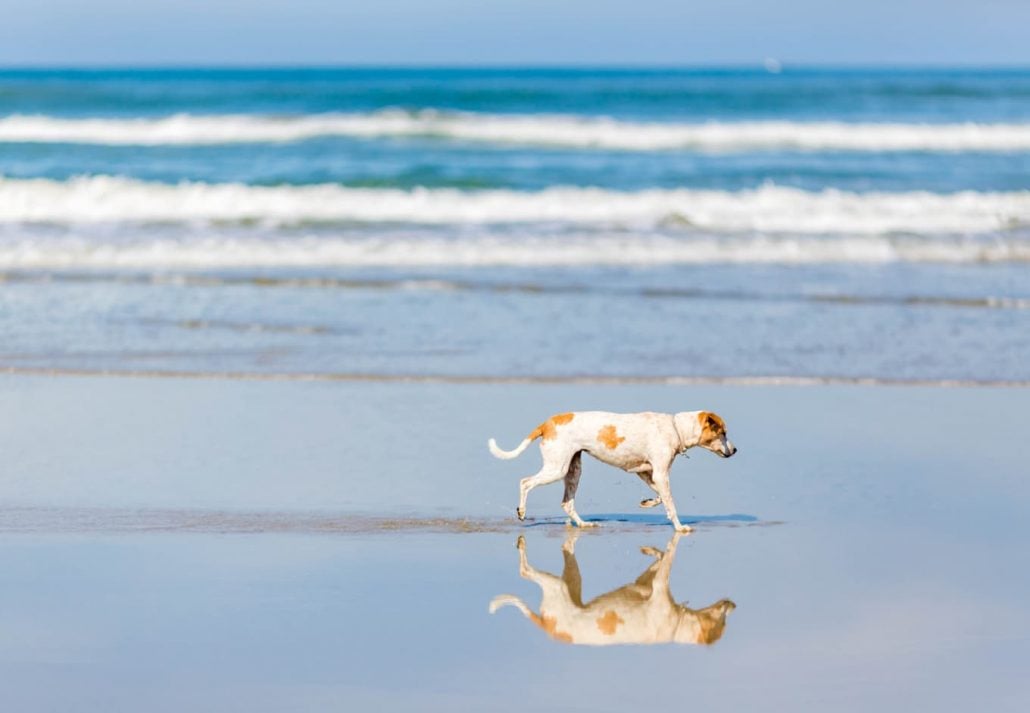 The Pensacola Bay Area also has options of pet-friendly beaches where you can take your furry friend. Two of the best-known are Pensacola Dog Beach West and Pensacola Dog Beach East.
Located near the historic Fort Pickens area of Pensacola, Pensacola Beach West has a boardwalk that takes you and your pet up and over the dunes to an ocean playground. The warm water at the beach is shallow, making it ideal for a refreshing swim.
Doggie bags and disposable bins, as well as handy wipes, are available at the Pensacola Beach West Dog Park.
The Pensacola Dog Beach East is located along Via de Luna Drive. Open from sunrise to sunset (except during turtle season), this beach features a wide stretch of sand, and warm shallow waters that are ideal for swimming. Plus, it's less busy than West Dog Beach.
Quietwater Beach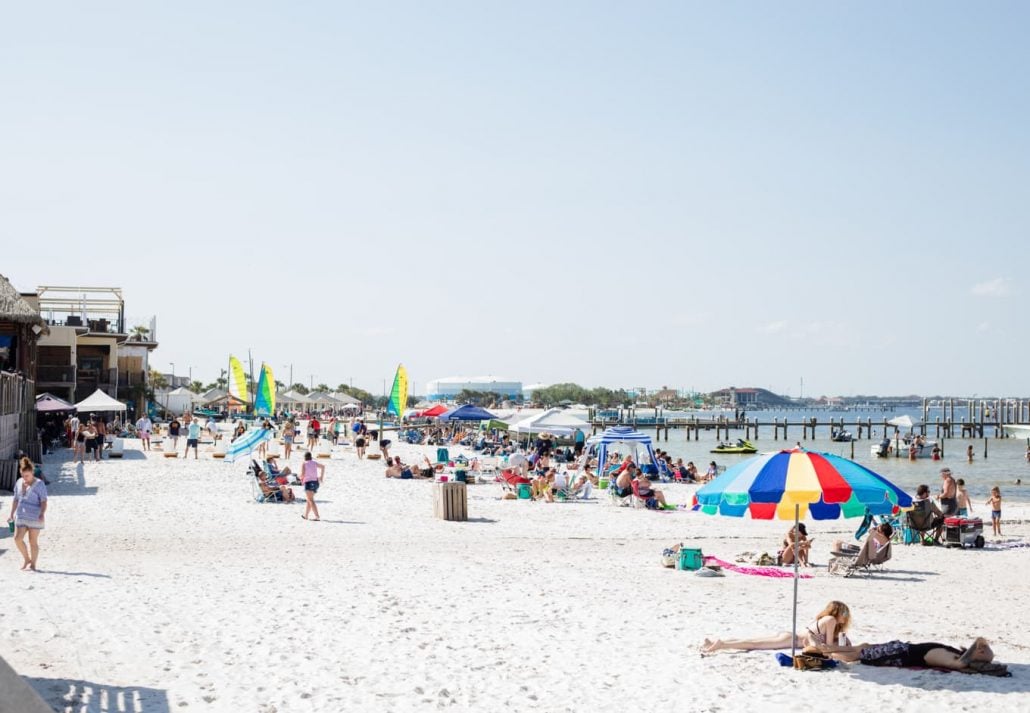 Behind the Pensacola Beach Boardwalk, running from the Flounder's restaurant to James P. Morgan Memorial Park lies Quietwater Beach. Due to the fact that this hidden paradise faces inland to the protected side of Santa Rosa Island, it has no waves and creates amazing conditions for small children to swim safely.
Quietwater Beach is flat, serene, and perfect for those seeking to enjoy the refreshing Gulf breeze with family.
FAQ
What are the best beaches in Pensacola, FL?
The top 7 Pensacola beaches are:
Pensacola Beach (Casino Beach);
Perdido Key Beach;
Opal Beach;
Langdon Beach at Fort Pickens;
Navarre Beach;
Pensacola Dog Beaches;
Quietwater Beach.
Where is Pensacola, FL?
Pensacola is the westernmost city in the Florida Panhandle, a region located in the northwestern part of the U.S. state of Florida.
Does Pensacola have nice beaches?
Pensacola is surrounded by over 50 miles of beaches, some of them which are among the best ones in the United States.
What is the best time to visit Pensacola, FL?
Mid-September and October are the best months for visiting Pensacola. Spring breakers and family vacationers have departed the city, and temperatures are pleasantly warm, peaking at around 30ºC.
What is Pensacola famous for?
Pensacola is known for its award-winning beaches and historic charm.
Browse. Book. Stay.
CuddlyNest provides all accommodations to all travelers at the best price. Find unlimited travel inspiration on our blogs and our social media channels Facebook, Instagram, Pinterest
You May Also Like:
The 10 Best Beaches Near Orlando, Florida
15 Unbeatable Florida Family Vacations with Kids
The 4 Best Family-Friendly Vacation Spots in Orlando
The 15 Best Long Weekend Getaways In The US
The Ultimate North America Travel Guide
10 Best Day Trips From Naples, Florida
The Ultimate Guide For a Pet-Friendly Holiday in Florida
The Best Time To Visit Orlando, Florida
7 Amazing Water Parks In Orlando, Florida
8 Best Hotels Near SeaWorld Orlando, Florida
9 Best Hotels In Orlando, Florida
The 5 Best Hotels Near Downtown Orlando, Florida
The 8 Best Hotels Near Orlando Airport
The 9 Best Pet-Friendly Hotels In Orlando, Florida
The Best Hotels Near Disney World Orlando