After an adventure-packed weekend full of theme parks, what better way to relax than visiting a pristine natural spring? Central Florida, by the way, is home to plenty of them. While some are famous for their diving and snorkeling opportunities, others are ideal for simply enjoying the restoring and soothing benefits of the water.
Florida springs range from tiny trickles to mammoth gushers, known as "first magnitude" because they discharge more than 65 million gallons of water per day.
Ready to spend some time enjoying the open air and gushing sounds of running water? Then read on to learn all about the 8 best natural springs near Orlando.
Note: Most of the springs have accessible trails and areas, but make sure to check before deciding where to go.
Find Places To Stay in Orlando, Florida
The 8 Best Natural Springs Near Orlando, Florida
Wekiwa Springs State Park
The Wekiwa Springs State Park is located just a few minutes from downtown Orlando, and it's perfect for observing abundant wildlife or cooling off on a summer day. The emerald springs feed the Wekiwa River and are surrounded by lush vegetation and miles of nature trails that are begging to be explored on foot, bike, or horseback.
Spend your weekend exploring the spring vent and paddling canoes past the purple blooms of pickerelweed, its azure waters, and getting to know all the different types of animals they have, like manatees, alligators, birds, and wild monkeys here. There also are glass-bottom boat tours!
Fees: $6 per vehicle (limit of eight people), $4 for single-occupant vehicles, and $2 for pedestrians, bicyclists, extra passengers, and passengers in vehicles with the holder of the Annual Individual Entrance Pass.
Location: 1800 Wekiwa Cir, Apopka, FL 32712
Blue Spring State Park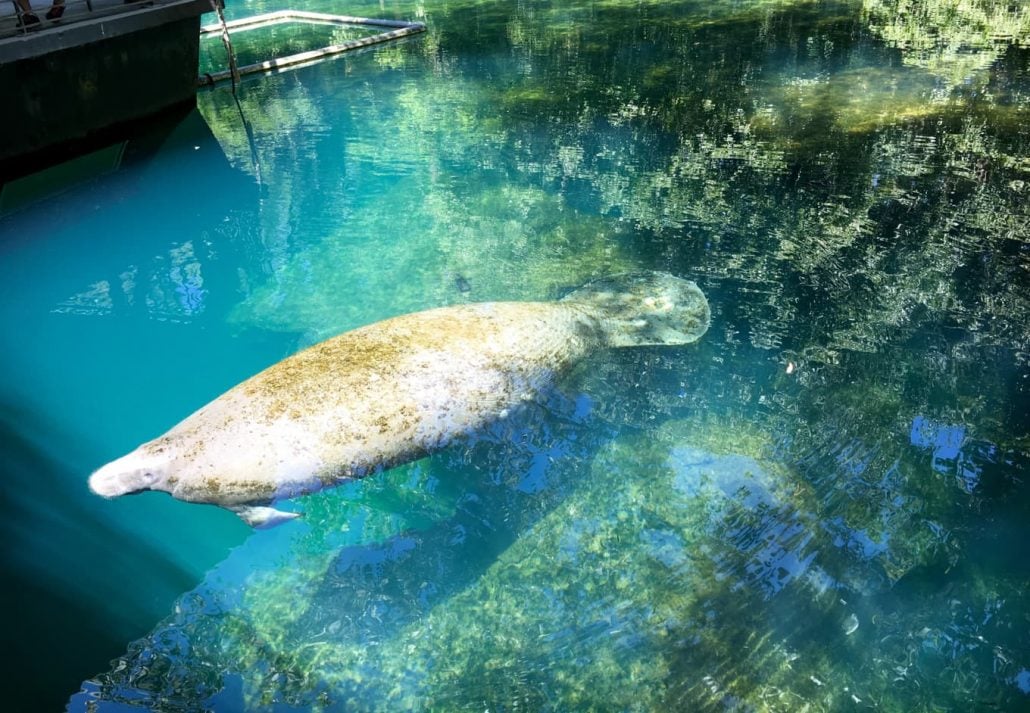 The Blue Spring State Parks proudly flaunts the results of its efficient conservation measures: by 2005, after years of park improvements and manatee protection efforts, wintering manatee numbers have exceeded 200 (since the 70s). By 2018 that number skyrocketed to a record 485.
Visitors can hike along the spring run or explore the 3.6 miles of "Pine Island Trail" to see marvel at the park's wonders, go on boat tours, and spend the night in the campground (the park has 51 campsites) located in the sand pine scrub and within walking distance of the spring.
Other activities on offer consist of fishing, hiking, paddling, or picnicking. Visitors can also go scuba diving, snorkeling, and swimming.
Fees: $6 per vehicle (two to eight people), $4 for single-occupant vehicles, $2 for pedestrians, bicyclists, extra passengers, and passengers in vehicle with holder of Annual Individual Entrance Pass.
Location: 2100 W. French Ave., Orange City, FL 32763
Rock Springs Run
Rock Springs, a reserve filled with sand pine scrub, and pine Flatwoods, is accessed through Kelly Park, a gorgeous natural Florida spring. Despite being located less than 30 miles away from Orlando, the place will make you feel like you just entered a completely different world.
Both the spring and the park are surrounded by serene nature and Florida wildlife, and offer visitors an array of activities. These include bicycling, hiking, and horseback riding along 17 miles of trails, which will make you feel like you're in a completely different world.
Fees: $3 per vehicle (up to two people), $5 per vehicle (from three to eight people), and $1 for pedestrians, bicyclists, and motorcyclists. No pets or alcohol are allowed.
Location: 30601 County Road 433, Sorrento, FL 32776
Alexander and Silver Glen Springs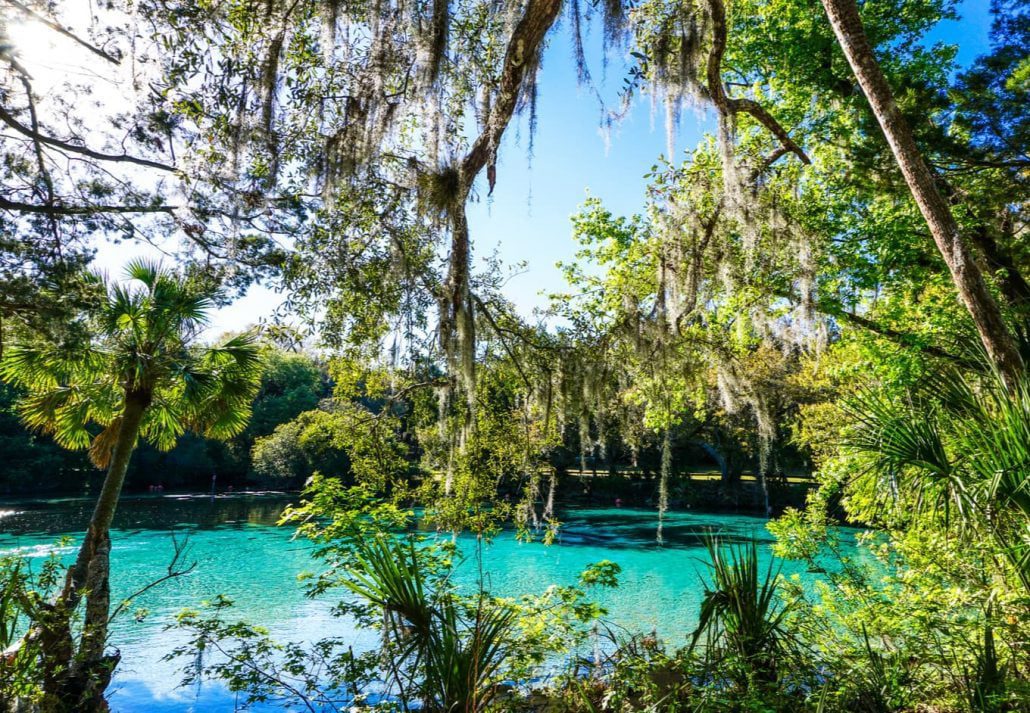 This beautiful spring was once a village site and is now home to enormous middens (which are ancient "trash" heaps full of fossilized snail shells and ancient items of everyday lives) beneath a canopy of live oaks.
Activities vary between going on boat tours, enjoying a plenishing meal at the picnic tables, exploring the walking trail, or having a refreshing splash in the swimming area. With constant 73°F crystal-clear water, the Alexander and Silver Glen Springs is a popular swimming spot. Bring your snorkel and get ready to meet a plethora of colorful fishes!
Fees: $8/person on weekdays, $11/person on weekends and holidays (Alexander Springs does not have a separate fee for divers)
Location: Salt Springs, FL 32134
Silver Springs State Park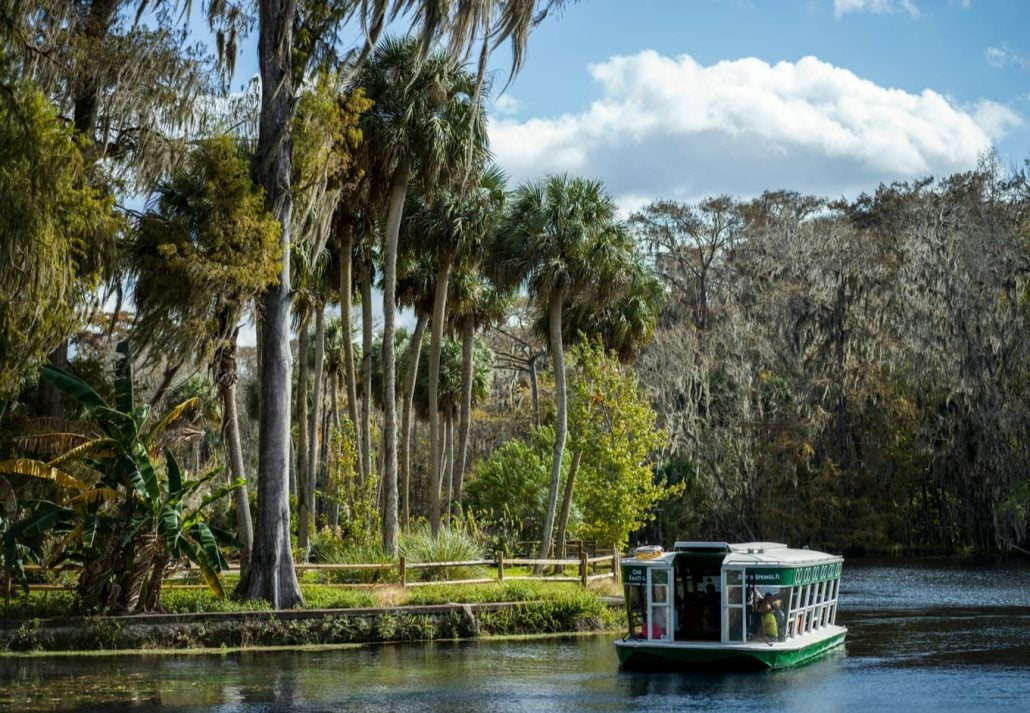 Once a major destination for Northerners arriving in Florida by steamship, Silver Springs was is now an idyllic spring surrounded by serene gardens with historic structures that are reminiscent of those days. The park also plays host to the annual Springfest, which celebrates the protection and restoration of all Florida's springs and waterways.
The Silver River allows kayakers to experience a primeval forest wilderness surrounded by some of the state's best-managed sandhills, accessible by trails and dotted with friendly campgrounds. Also, they offer glass-bottom boats for visitors who want to catch a glimpse of the spring's underwater world!
Fees: $8 per vehicle (two to eight people), $5 for single-occupant vehicles or motorcycles, $2 for pedestrians, bicyclists, extra passengers, passengers in vehicle with holder of Annual Individual Entrance Pass, $4 per vessel launch fee for personal canoe or kayak, $2 per person for entrance to the Silver River Museum and Environmental Center.
Location: 1425 N.E. 58th Ave., Ocala, FL 34470
Rainbow Springs State Park
Rainbow Springs' history dates back centuries ago, to a time when natives regularly visited the place. During the modern, the springs have been shaped by both enterprising developers and the loving hands of local volunteers, and thanks to those efforts, this beautifully serene park seems to be enduring and having the attention it deserves.
Take a dip in the sapphire-blue waters of Rainbow Springs, or walk through the lush, mossy hammocks to feel the park's tradition at your fingertips!
Fees: There is no parking fee, however, there is a $2.00 State Park admission fee per person.
Location: 19158 S.W. 81st Place Road, Dunnellon, FL 34432
Alexander Springs at Ocala National Forest
The Ocala National Forest attracts visitors from around the world thanks to its convenient location: it's nestled between well-known theme parks, and white, sandy beaches. It's a travel destination in its own right, featuring more than 600 lakes and rivers where visitors enjoy camping, swimming, fishing, snorkeling, canoeing, hunting, nature-viewing, and boating.
Escape to one of Florida's best-preserved wild places to enjoy viewing migratory birds and playful manatees, the refreshing feel of delicate freshwater springs, and the sight of some of the world's rarest plants.
Alexander Springs has 70 million gallons of crystal clear water that is pumped in each day. Visitors get to enjoy the broad and naturally gently sloped spring pool, which is at a constant 72ºF and extraordinarily clear. Surrounded by a floodplain forest of maples, sweetgum, and cabbage palms, this recreation area feels almost tropical.
In there, you'll never be bored, as the springs offer visitors an array of activities like hiking, canoeing, camping, swimming/tubing, snorkeling, diving, and picnicking. You can also go for a hike on The Timucuan Trail, a 0.9-mile interpretive loop with a boardwalk that winds through a jungle of palms along the spring run.
Fees: There are no entrance fees to get into Ocala National Forest. For Alexander Springs there's a $6 per person day use fee and an additional fee for scuba diving.
Location: 325 John Knox Rd., Tallahassee, Florida 32303
Hunter Springs Park
Hunter Springs Park is located in the City of Crystal River, and includes the most accessible spring on Kings Bay!
It's open to swimming year-round, and thanks to its newly redesigned area, the park now features a natural shoreline and beach, bathrooms, and changing rooms. In there, you can kayak, take a hike on the boardwalk for manatee viewing, and have a wonderful time!
Fees: $1 for parking, to $5 depending on the length of stay.
Location: Crystal River Park, Fl 34429
FAQs
What natural spring is closest to Orlando?
Wekiwa Springs State Park, which is located just 22 minutes from Downtown Orlando.
Are there any natural springs in Orlando, Florida?
Florida is home to more than 700 natural freshwater springs, many of which are located close to Orlando.
What is the best natural spring in Florida?
Rainbow Springs is often considered the most beautiful natural spring in the state.
Where is the clearest spring in Florida?
Ginnie Springs has the clearest waters of all the natural springs in Florida.
Can you swim at Wekiwa Springs?
Yes. The waters are clear and boast a refreshing 22ºC year-round.
How many natural springs are in Central Florida?
There are over 700 natural springs in Florida.
Browse. Book. Stay.
CuddlyNest provides all accommodations to all travelers at the best price. Find unlimited travel inspiration on our blogs and our social media channels Facebook, Instagram, Pinterest
You May Also Like:
The 10 Best Beaches Near Orlando, Florida
15 Unbeatable Florida Family Vacations with Kids
The 4 Best Family-Friendly Vacation Spots in Orlando
The 15 Best Long Weekend Getaways In The US
The Ultimate North America Travel Guide
10 Best Day Trips From Naples, Florida
The Ultimate Guide For a Pet-Friendly Holiday in Florida
The Best Time To Visit Orlando, Florida
7 Amazing Water Parks In Orlando, Florida
8 Best Hotels Near SeaWorld Orlando, Florida
9 Best Hotels In Orlando, Florida
The 5 Best Hotels Near Downtown Orlando, Florida
The 8 Best Hotels Near Orlando Airport
The 9 Best Pet-Friendly Hotels In Orlando, Florida
The Best Hotels Near Disney World Orlando