Whether you cycle or not, National Bike Month 2019 is a great opportunity to give it a try. Getting around on a bike in Copenhagen or Bordeaux is not a problem, and so is the accommodation booking.
We have luxury hotels, apartments, affordable budget-friendly, and economy class hostels. You, in turn, you have all the opportunities to enjoy bike-friendly European capitals, no matter your budget.
Book and Stay in Copenhagen
Copenhagen is the world's most bike-friendly city, and it is no wonder. With 5 bikes for every car, Copenhagen perfectly suits anyone willing to explore the wonders of Denmark's capital while sitting on a saddle. There are 675,000 bicycles and rising in Copenhagen! The great infrastructure, like bike pathways, Danish even build bicycle superhighways with specialized bridges. No wonder Danes love pedalling, as it is the most convenient way to get around, and also extremely safe. You can take a stroll from Tivoli gardens to the Little Mermaid in no time, and be sure you will have advantages of those who take the metro.
Copenhagen Apartment Booking
If you are going to Copenhagen, consider staying at upscale Nørreport apartments to have one of the best experiences of CuddlyNest!

Amsterdam on a Bike
If you are all about canals and romantic Holland-style bicycles, then going to Amsterdam should not be a problem. But cycling is not reserved for those going to the Netherlands solely for booking a hotel near Vondelpark, Amsterdam. You may stay in the central hotels in Amsterdam.  Or, prefer to book an apartment in the outskirts of the city. No matter your choice, appartementen in Amsterdam offer a real luxury feel to your stay in the capital of the Netherlands.
Amsterdam Hotels and Apartments
Looking for either budget or corporate long-term aparthotel in Amsterdam may not be that hard, either. Consider staying at a business-friendly apartment with your team for more productive meetings and presentations.
Ghent Accommodates Cyclists, Too
Ghent, Flanders is among the most bike-friendly and safe cities you can get to in Europe. Belgium is famously known for chocolates and hosting the spitzenkandidaten amongst other high-level European politicians, but you can safely go there just for fun. Or, for chocolates.

Flanders Budget Apartments
Getting to Ghent, Belgium is not expensive in case you book in advance while booking a hotel last minute can get pricy. To save and travel on cheap, consider booking  Flanders budget apartment.

Booking Hotel in Bordeaux with Bike
Booking a bed-and-breakfast at the elegant St. Pierre District in Bordeaux? It may not allow you to sport your rental bike in Bordeaux through grand mansions, narrow streets restaurant tables, but booking a room or hotel in nearby districts will let you enjoy cycling. Getting around fast while sensing the city with a breeze of fresh air and a glass of Bordeaux wine. Sounds like a plan?
Booking Bordeaux Loft
Bordeaux is greatly appreciated for its wine, and just so you know, it is illegal to ride a bike while even a bit tipsy in France. So, we suggest you go with central Bordeaux apartments to come back home from restaurants walking and enjoy your bike exploration separately.
Nouvelle~Aquitaine Best Vacation Rentals to Book
Nouvelle~Aquitaine is the largest and one o the most amazing regions of France. Before choosing if whether to stay in a vacation rental in Limoges, or go for booking a room in the Romanisque Politiers, check out what they have to offer, from Episcopal Palace, the Musée des Beaux-Arts and summer light shows on walls of Église Notre-Dame la Grande.
Whichever bike city and region you prefer, make sure to rent a bike from a respectable dealer or service, get your helmet on and start pedalling!
Are you on Pinterest, too?
Share your travel destination inspiration with others! Pin this: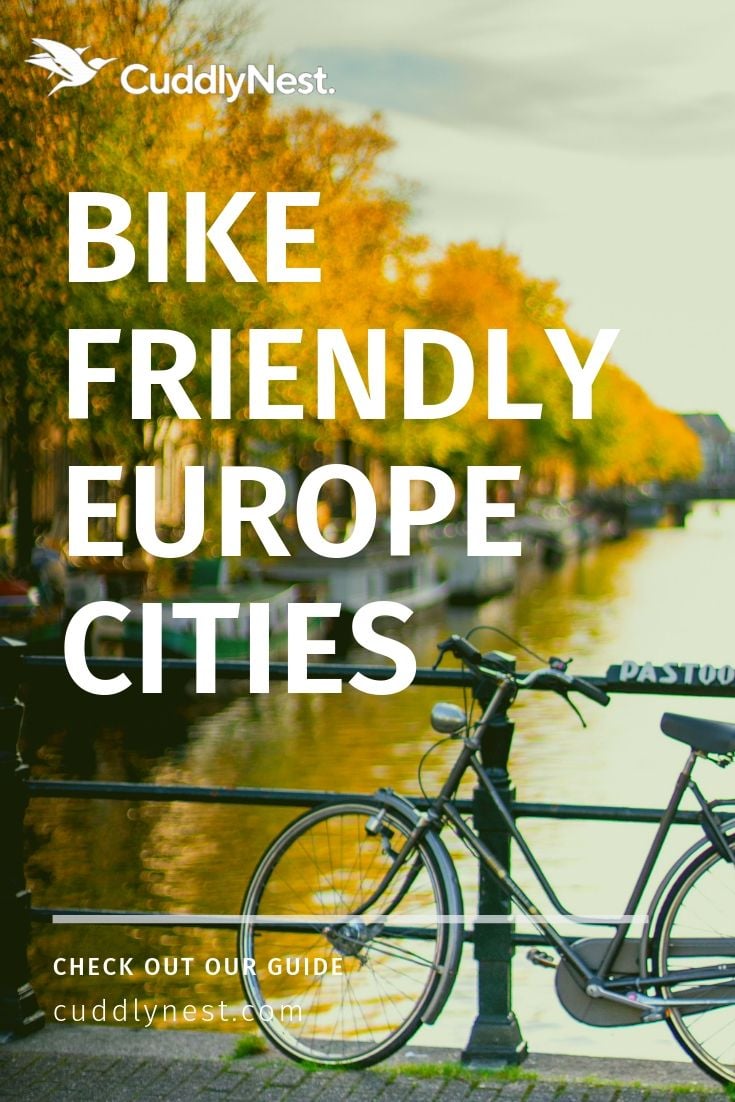 https://www.cuddlynest.com/blog/wp-content/uploads/2019/05/23.jpg
894
1700
2019-05-13 12:00:00
2019-08-03 13:56:43
Bike Month 2019: European Cities while Pedalling