Europe is primarily applauded for being an exceptional cultural travel destination. But, what many don't know, is that the Old Continent is also an amazing spot for the adrenaline-seekers, especially for surfers. In fact, Europe harbors some of the best beach breaks in the world, especially in countries such as Portugal, Spain, and France.
The best part is that, aside from gorgeous shorelines, Europe has beaches of all shapes and sizes, which are guaranteed to please a wide range of surfers. There are beginner-friendly waves for the first-timers, and huge breaks and high river mouth tubes for the most experienced. Not to mention that it's totally possible to plan a surfing trip to Europe without breaking the bank, as the continent has a myriad of great surfing hostels, surf camps, and affordable car rental options.
Sounds like a plan? Then read the full post to learn about what are the best destinations for surfing in Europe. To which one will you go first?
What's The Best Time For Surfing in Europe?
The best time of year for surfing in Europe is in fall, which is when the North Atlantic swell season starts. But, of course, it all depends on the location. Portugal, which is considered one of the best spots to surf in Europe, is a year-round destination, not to mention one of the most consistent countries when it comes to waves. Close to Peniche, for instance, you can surf every day of the year. During the summer, Central Portugal is a great place to be for catching waves, and during the winter the west coastline of the country is one of the best surfing spots.
But if you decide to go on a surfing trip in France, for instance, you might wanna go in May, June, July, August, or September, especially if Hossegor is the chosen surf spot.
In Spain, swells are bigger during spring and fall, and the beaches are less crowded. But intermediate surfers might wanna go during September and April when the swells are not that huge.
The Best Surfing Spots in Europe
Nazaré, Portugal
When it comes to surf spots in Europe, Nazaré l is definitely one of the best-known. Placed in the Leiria district, in the west of Portugal, Nazaré is famous thanks to the Nazaré Canyon, which is the largest submarine canyon in Europe, with a depth of 5,000 meters. This geomorphological phenomenon allows the formation of massive 100-foot (30.4 meters) waves.
Surfing the huge Nazaré waves sure looks exciting, but it's one of the most dangerous and extreme places to surf, giving a hard time even for professional surfers. In fact, some of the world's surfing records happened in Nazaré. In 2017, for instance, Rodrigo Koxa surfed an 80-foot wave, breaking the world record for the largest wave ever surfed.
But, in case you're on the safer side, you can rent a car and go on a road trip from Lisbon to Nazaré between October and March just to see the giant waves crashing in Praia do Norte.
Just like the rest of Portugal, Nazaré is a budget-friendly surfing destination in Europe. You can book accommodation in Leiria, which is the nearest main town, or take a day trip from Lisbon or Porto, which should take an average of 2 hours by car.
Find Hotels in Nazaré, Portugal
Biarritz, France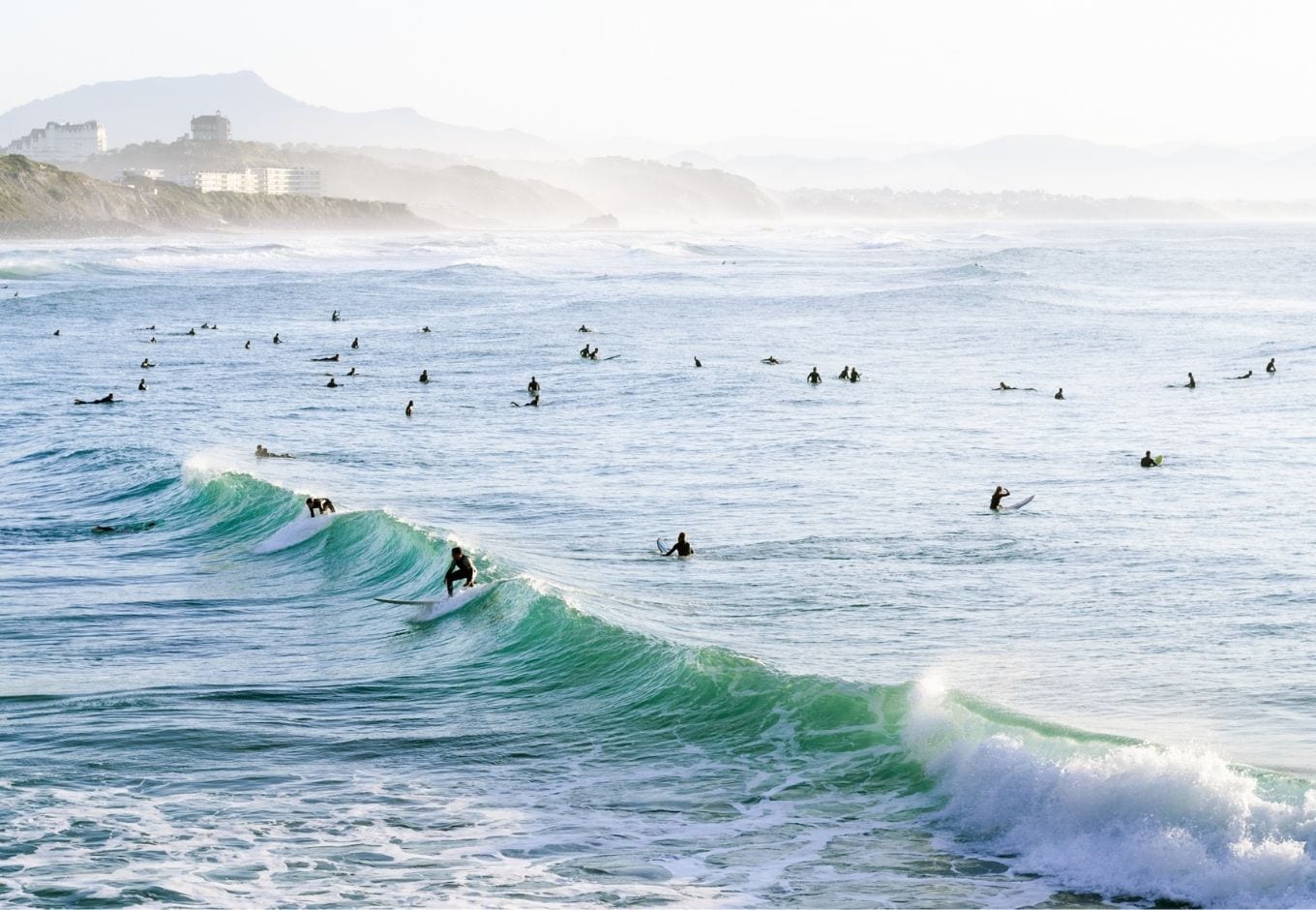 Another great European surfing destination is Biarritz. This seaside town is located on the Atlantic coast, in southwestern France. Placed within 35 kilometers from the border with Spain, Biarritz became one of the most popular surfing spots in Europe thanks to its long sandy beaches lined with surf schools.
With year-round swell, Biarritz harbors surfing spots for all levels. Beginners can head over to beaches such as Côtes des Basques and Grande Plage de Biarritz. Experienced and professional surfers will prefer beaches like Parlementia and Les Alcyons, in Guethary, and La Gravièr, in the famous Hossegor, a seaside resort located 20 km north of Biarritz.
And in case you're wondering what's the best time of year to go surfing in Biarritz, it depends. There are waves all year round, but beginners might wanna plan their trip to July or August when the waves are smaller and better for learning. Experienced surfers can go from April until late October, or even during the winter, which is when the big waves kick in. Another advantage of going to Biarritz during autumn and winter is the fact that it's off-season, so accommodation will certainly be more affordable.
Find Hotels in Biarritz, France
Cornwall, United Kingdom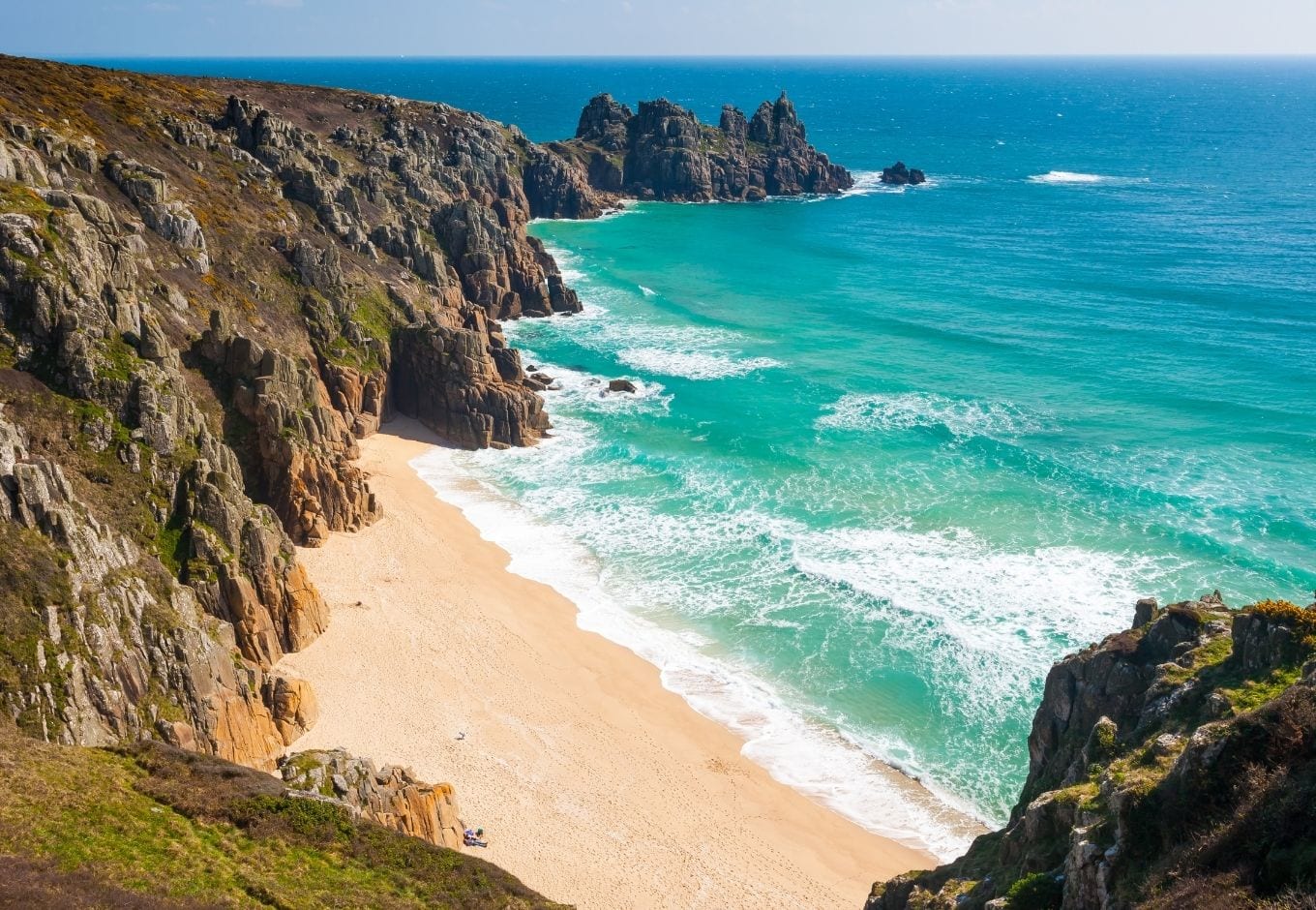 Who would have thought that it's possible to surf in the UK? Yes. In fact, South West England is home to Cornwall, one of the best surf spots in Europe. Bordered to the north and west by the Celtic Sea, and to the south by the English Channel, Cornwall has been dubbed the "UK Capital of Surf" thanks to its rather mild climate, and consistent waves.
With nearly 200 beaches around the coast, Cornwall offers a wide range of surfing spots. Some of the most famous is Fistral Beach, the most surfing beach in the UK with quality waves and big swells; Polzeath, which is great for beginners; and Porthtowan, with fast, sucky waves. Just beware that some of these beaches can get really crowded, so make sure to check in advance.
Algarve, Portugal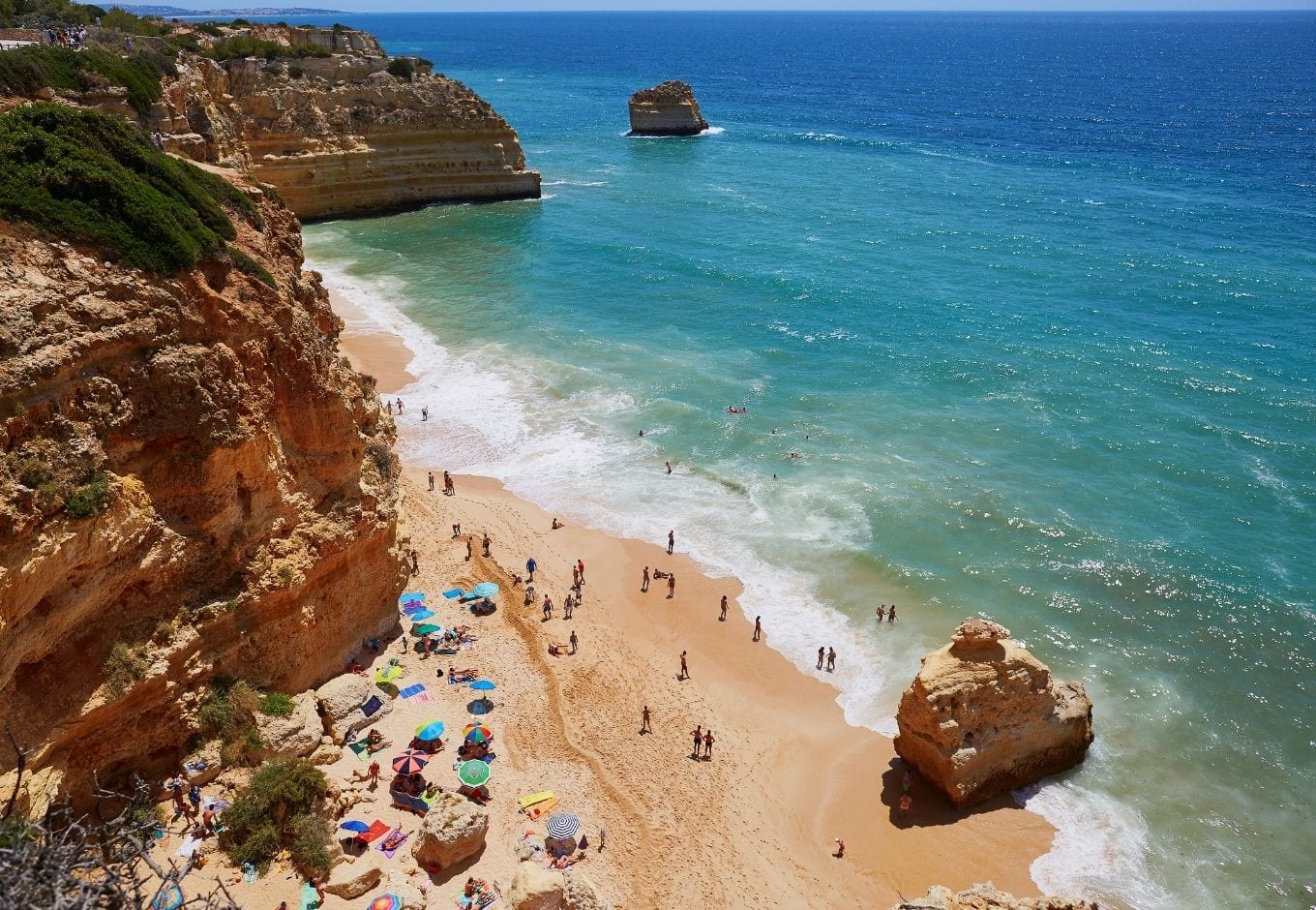 We cannot help it, Portugal is a prime surfing spot in Europe. And if you're looking for a less extreme surfing experience, ditch the Nazaré waves and make your move to Algarve. Located in the south of the country, within a two-hour drive from Lisbon, this region is well-known for its world-class Atlantic beaches with turquoise water.
Located right on the corner of the Iberian Peninsula, the Algarve has the widest swell window in the country, with the majority of consistent beaches being placed along the Vicentina Coast. You'll find some awesome waves in Arrifana Beach (perfect for all skill levels), Sagres and Sines, on the West Coast, and Castelejo.
As for the best time for surfing in Algarve, autumn through spring is the peak season, as waves are smaller in summer.
Find Hotels in Algarve, Portugal
San Sebastian, Spain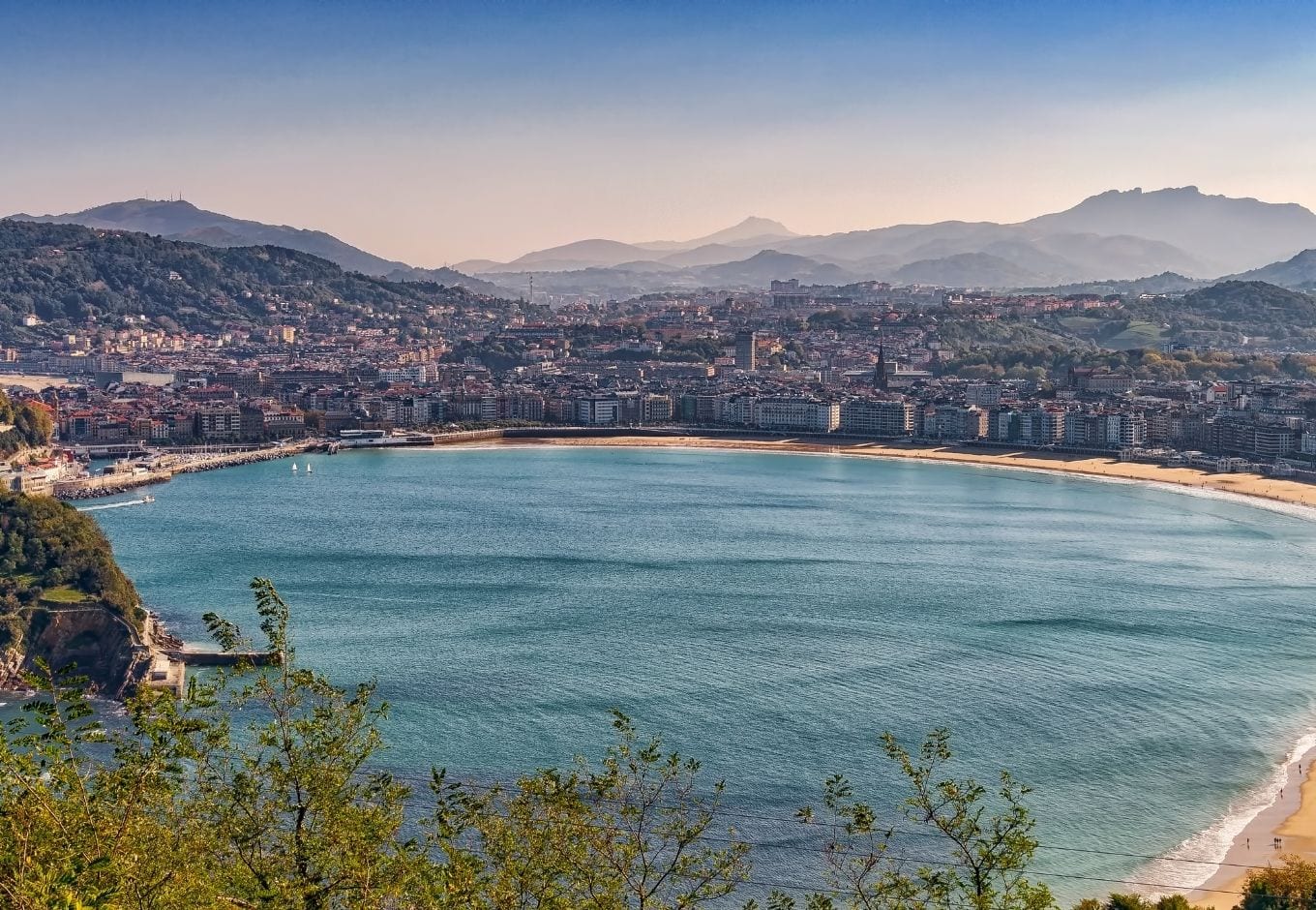 San Sebastian is a city located in the Basque Country, on the coast of the Bay of Biscay, 20 km from the French border. This destination is known for its fine beaches, and for having the best waves in Northern Spain.
San Sebastian is home to three postcard-perfect beaches, La Concha, Ondarreta, and La Zurriola Beach, and all of them are surfable. Most of the world-class waves, though, are in La Zurriola, an 800 meters beach with golden sand. Because it's more exposed to the Cantabrian sea than the other beaches, La Zurriola offers consistent beach breaks that can have good peaks. The only thing is that this beach is located in the very center of San Sebastian, so it often gets crowded.
Find Hotels Near San Sebastian, Spain
Ericeira Beach, Portugal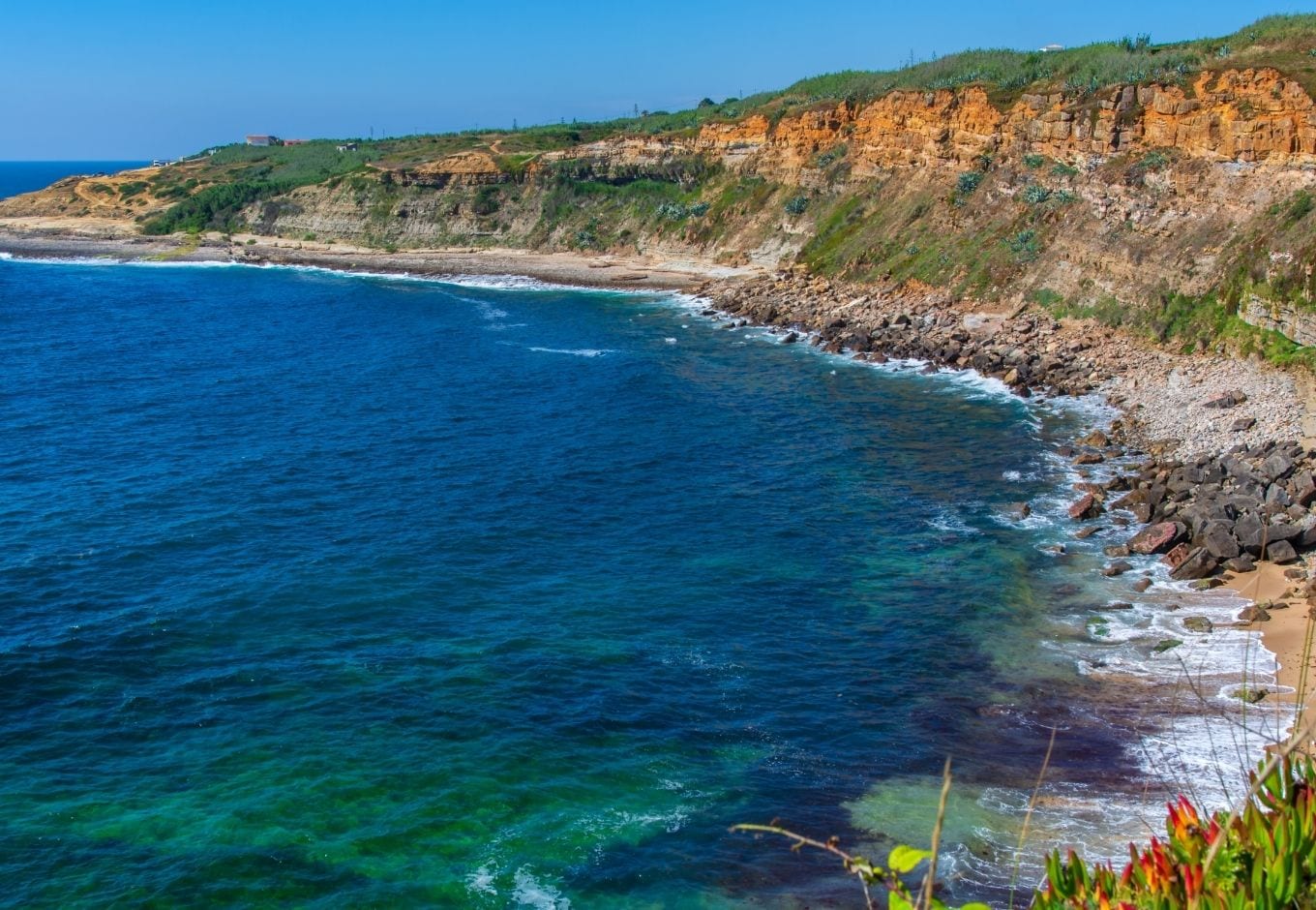 It's almost impossible to talk about surfing in Portugal without mentioning the famous Ericeira beach. Located on the western coast of the country, Ericeira is often regarded as the "surf capital of Portugal", as it holds a variety of great surf spots.
Ericeira boasts exceptional coastline conditions for all skill levels, from beginners to advanced surfers, aside from being a consistent year-round surf destination. Some of the finest surfing spots in Ericeira are Foz do Lizandro, which offers the perfect beach break for beginners, and Praia do Sul. This beach break can be divided into two waves: a right point/reef break, suitable for advanced surfers, and a mixed break that is perfect for beginners.
Find Hotels in Ericeira, Portugal
The Bubble, Canary Islands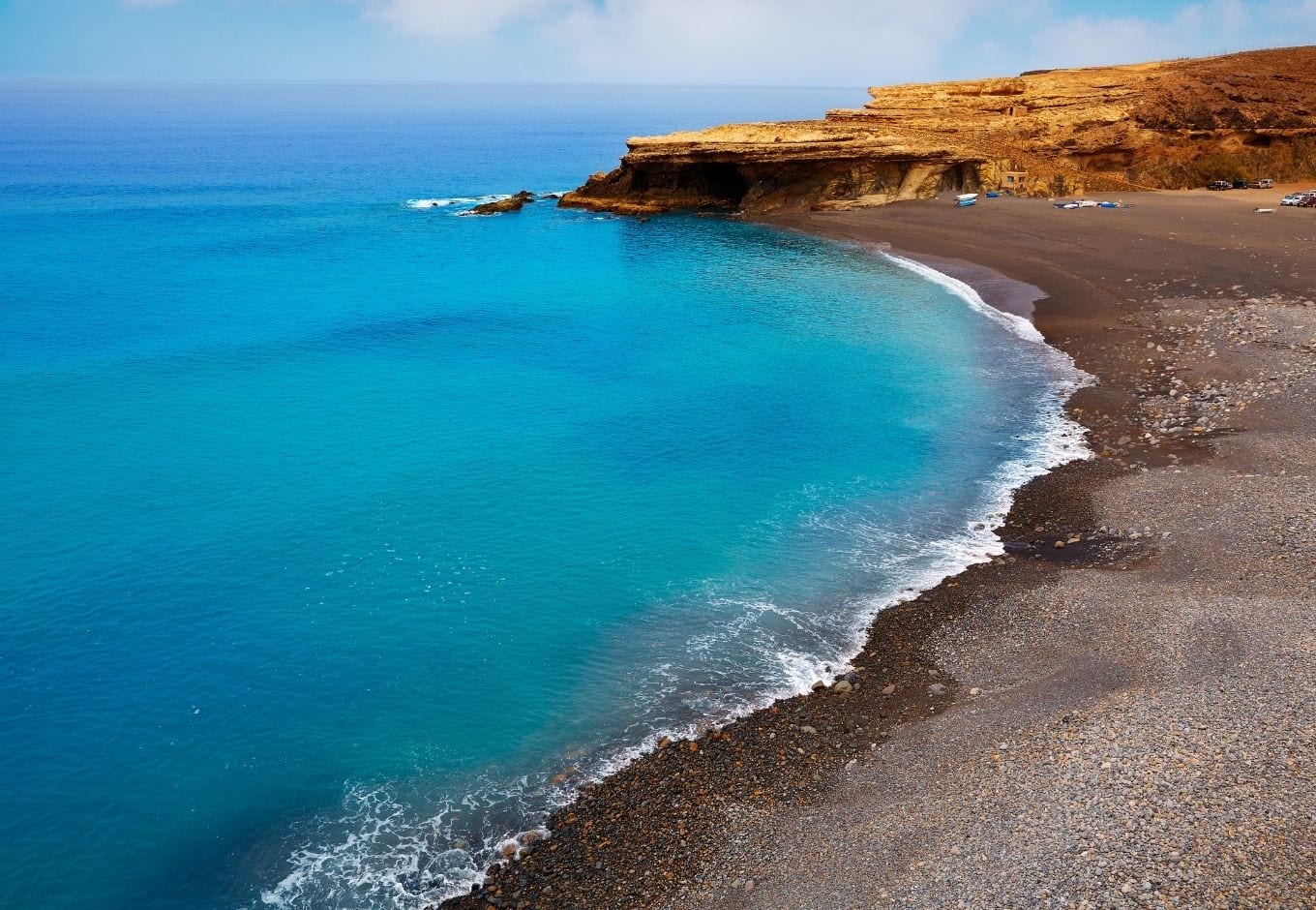 If you're planning to surf in Europe, consider including the Canary Islands on your itinerary. Also known as the Canaries, this Spanish archipelago is located off the coast of northwestern Africa, and it became famous for having numerous surf camps, reef breaks, and over 100 amazing waves. These top-notch surfing conditions happen mainly because the archipelago is located a few degrees north of the Tropic of Cancer, which makes the islands exposed to swells generated by the North Atlantic.
The main surfing season in the Canaries lasts from September through April, which is when the swells are more consistent, and the weather warm and pleasant. Experienced surfers can go between November and February, which is when the biggest and best waves hit.
Find Hotels in the Canary Islands, Spain
Browse. Book. Stay.
CuddlyNest provides all accommodations to all travelers at the best price. Find unlimited travel inspiration on our blog and social media channels.
Here are some curated readings for you: