Balkan ski resorts In Southern Eastern Europe packs the best value per buck if you ask us. While there are many opportunities for Christmas holidays spent together with family or friends, Balkans can offer you one of the most fun and unforgettable ways on skis. You can choose from resorts totalling in 883 kilometres of slopes, served by 521 ski lifts. That said, skiing opportunities in Southern East Europe Balkan countries are virtually endless.
While skiing is for everyone, skiing in the Alps in France or Switzerland can get expensive. To have more fun while spending less, we suggest skiing in Europe in Slovakian Tatry or go to Balkans instead.
Not only it is much more enjoyable to stay away from tourist-crowded ski destinations; you will also save quite a bit of money by going to the budget Balkan ski resorts. Offering world-class skiing opportunities for just a fraction you would spend in the US, Western Europe or even Scandinavian glaciers, CuddlyNest made a list featuring the best Balkan ski resorts that are also family-friendly.
After all, Christmas is all about being together with your loved ones, isn't it?

Vitosha, Sofia – Bulgaria
Budget-friendly Resort for All, € 18
We already wrote about 15 good reasons to visit Balkans this holiday. But here comes another one. Sofia, the capital of Bulgaria, hosts one of the least expensive, but well-rated ski resorts in Balkans. With more than 20 km of ski slopes available and 15 lifts in the disposal of skiers, there is plenty of space to practice, learn and simply enjoy skiing for all technique levels.
The winter sports area is situated between 1340 and 2290 m, and while most of the slopes are for those aiming at blue trails (easy level), approximately 30% of ski slopes are for intermediate skiers. If you are sure about your skiing abilities and want to go for extreme adrenaline trails, there is not that much to see in Vitosha. Only 2 km of total ski slope area is surviving advanced skiers.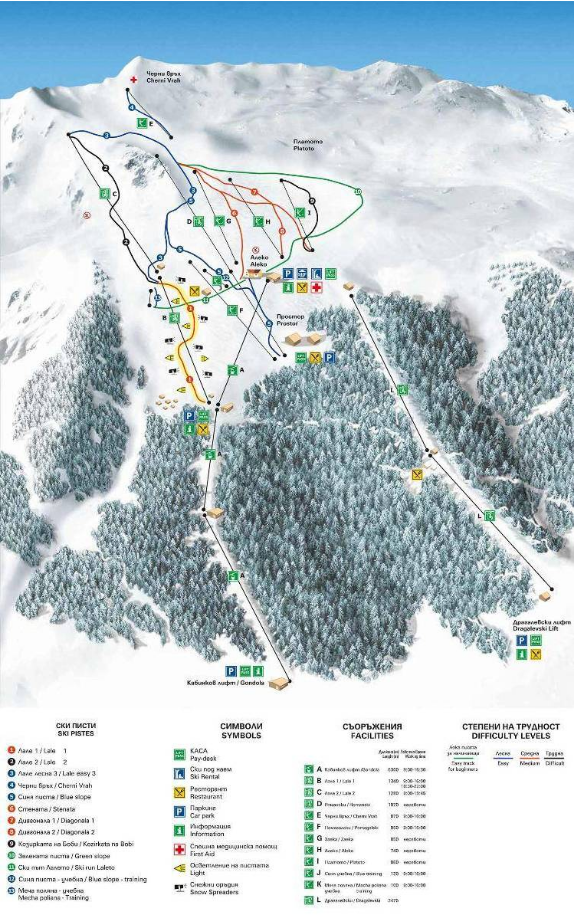 Sofia, Balkan Ski Resort Prices
As for pricing, you will save quite a bit when skiing in Sofia. Day ticket for adults costs approximately €18 (BGN 35), while youth and children day passes come at approximately €14 and €11, respectively.
Night Skiing in Sofia, Bulgaria
The resort is opened from 9 am to 4 pm, but you can also ski at night. Night skiing is operating from 6.30 pm until 10 pm, daily, so you can enjoy starry sky while going back to top on the escalator chair.
The resort is one of the best established in the whole region. Although there are no recently opened slopes, the very first slope with the 2-person fixed-grip Dragalezvi-Saslona chairlift was opened back in 1956. After that, the resort has undergone 2 large upgrades, with each adding 5 slopes. The current slopes are the result of 1984 upgrade. However, there have not been any Olympic games hosted in Vitosha, so while you get a great value for the buck, do not expect the world-class training slopes, especially if looking for moguls.

Skiing Babin Do – Bjelašnica – Bosnia and Herzegovina
Want to ski on Olympic Games slopes? The winter Bjelašnica Olympic Mountain Ski Centre facilities are located on the eastern slope of Bjelašnica. Close to Sarajevo, Bosnia and Herzegovina, there is plenty to do both in winter and summertime. While it is one of the most marvellous places to go for a hike in summer (or winter, if you are into ski shoeing), do not get carried away with hiking trails.
Olympic Ski Resort in Balkans
Indeed, Bjelašnica is one of the top ski resorts, having more than 12.5 of slopes available. Good for both skiing and snowboarding, the resort lies around 27 km away from the capital city of Bosnia, making it an attractive destination for those who want to spend some time in the city where the World War I started. The capital boasts beautiful architecture, and affordable restaurant scene – you may want to check it now and book Sarajevo hotel in advance.

Balkan Skiing Red Trails
Contrasting with other Balkan ski resorts, there is more to do for intermediates than those who are beginners. Located between elevations 1,270 and 2,067m over the sea level, skiing near the capital is also one of the most affordable, considered great Bjelašnica summit slopes. With day pass costing adults €18 (BGN 35), and €13 (BGN 25) for children, you can enjoy the slopes where the Winter Olympics of 1984 were hosted. It is an experience of a lifetime to ski the same slope where Bill Johnson (US) won the alpine skiing downhill, and twins Phil and Steve Mahre (US) slalom.

Stara Planina – Babin Zub for Beginners – Serbia
Located in Southern and Eastern Serbia, Stara Planina offers one of the least costly options for beginners. The perks of choosing Stara Planina as your Balkan winter ski destination also include the fresh countryside air. The slopes practically end at the village Jabučko Ravnište, and you can go straight to your home after a long day on skis.
Serbia Ski Resorts
As for the offering, the Babin Zub is perfect for those families looking for a place to practice skiing safely. Out of 13 km of the resort's slopes, more than half is for those trying to learn. When surpassed the blue slope skill level, you can either go for red or black slopes, both of which are equally abundant, compromising 3 km each.

Stara Planina Ticket Prices
Day tickets for adults and children are a little bit more expensive but considering 5 lifts for just 13 km of ski slopes, you can be sure you will not freeze at the line waiting to go to the top. Gondolas will take you to the top, and you can be sure the chairlifts are up to the latest standards, being constructed just back in 2006. Daily ticket for adults costs €19 (RSD 2250) and €15 (RSD 1760) for children.

While Croatia beaches and historical sites are appealing to those families seeking sun and summer in the midst of winter, there is a lot to do in Croatia for those willing to take up skiing, too.
Best Croatia Small-Scale Ski Resort
Sljeme ski resort near Zagreb, the capital of Croatia, is small enough to feel cosy and always be sure about where your family members are. One of the best ski resorts for those with young children, Sljeme ski area is totalling in 4 km. Mostly serving those who go after blue and red tracks, the ski area is equipped with a 3-person chairlift to bring you 1030 m high into the mountainous area, and 2 J-bar lifts to bring you to the top of the slope again.
Croatia Ski Resort Near Zagreb
The day ticket is one of the least expensive, costing €13 (HRK 100) for adults and €7 (HRK 50) for children. Operating from 9 am to 4 pm, Medvednica is a good option for those looking for a wintertime activity close to Zagreb, Croatia. After visiting Zagreb SPAs, you can relax in tranquillity on skis!
Have you skied in Balkans? Let us know and share this with your Facebook friends, Instagram fellows and Pinterest audience!
You might also like:
Cheap Food Around the World!
Best Travel Podcasts To Listen In 2021
Best Cities to Visit in Spain