Shopaholics rejoice! Retail therapy is big in the Orlando area. Known around the world for its family-friendly attractions, the theme-park capital of the world also captivates visitors and locals with a tempting shopping scene. There, you'll find options ranging from boutique stores filled with designer goods to big-name outlet malls offering whooshing discounts.
Orlando's endless shopping opportunities can be well-appreciated in the Downtown district. Pulsing with vitality, this bustling area brings you a mile's worth of retail heavy hitters, colorful farmers' markets, and vibrant shopping streets.
In this guide, you'll find a top-notch selection of the best shopping experiences in Downtown Orlando and surrounding areas. There are luxury shopping malls, picturesque neighborhood markets, larger-than-life outlets, and more.
Don't forget to leave some room in your suitcase and prepare to upgrade your closet!
Find Places To Stay in Orlando, Florida
The Best Shopping Destinations In Downtown Orlando, FL
Church Street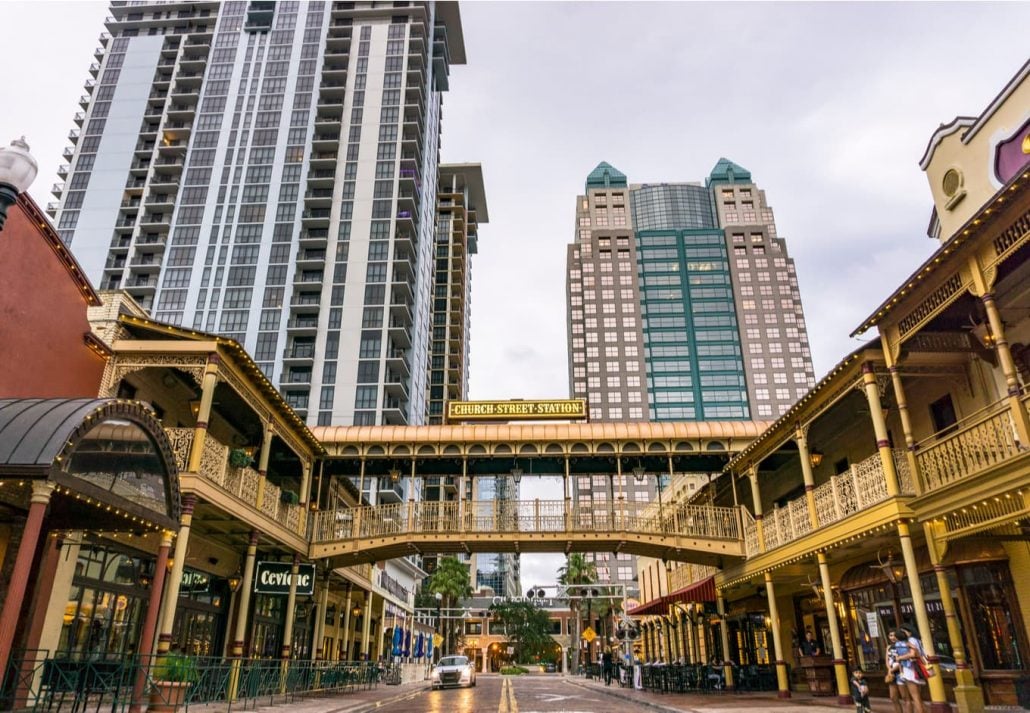 Located in the heart of downtown Orlando, Church Street is a prime location for those seeking a laid-back shopping experience. The centerpiece of the street is a historic train station, the Old Orlando Railroad Depot, which is surrounded by an array of small shops, and boutique stores selling handmade apparel, souvenirs, and accessories. 
After browsing through Church Street's stores (most of them are found towards the western end of the street), be sure you stop by the brick-walled Center Church Street Market to grab a bite at one of its world-class restaurants.
Address: 99 W South St, Orlando, FL 32801
Recommended Read: The 5 Best Hotels Near Downtown Orlando, Florida
Orlando Fashion Square
Orlando Fashion Square plays host to almost 80 stores and dining locations spread within over one million square feet. The mall is home to an array of local favorites such as Claire's, and Hot Topic, but it draws visitors thanks to its big-name department stores like Macy's and Dillard's. There's also a food hall filled with a selection of on-site restaurants that are perfect for when hunger strikes!
Address: 3201 E Colonial Dr, Orlando, FL 32803
Orlando Farmer's Market
Every Sunday from 10 am to 3 pm at Lake Eola Park, Orlando Farmer's Market captivates travelers and locals with its colorful patchwork of stalls. While meandering through the market, your attention will be caught by intriguing details at almost every turn. There's an eye-popping selection of natural plants, like orchids and herbs, carefully handcrafted jewelry, handmade candles, pottery, and more.
You'll also find a delightful array of seasonal farm-fresh produce, including organic tomatoes, local honey, roasted corn, and fresh vegetables.
Hungry yet? Then loosen your belt, because Orlando Farmer's Market spoils visitors with a mouthwatering selection of freshly prepared dishes, like gourmet breakfasts, sourdough bread, and fudge brownies.
Address: 20 N Eola Dr, Orlando, FL 32801
Places To Go Shopping Near Downtown Orlando
Pointe Orlando
Named one of the best nightlife experiences in Orlando, Pointe also happens to be a top destination for shopping. Located in the lively International Drive, less than 20 minutes from Downtown Orlando, this all-in-one dining, nightlife, and retail complex is home to a plethora of stores that cover everything from higher-end apparel to jewelry.
Families with kids will also have a great time while visiting Pointe Orlando. Aside from being a prime spot for shopping in Orlando, the complex also plays host to an array of entertainment venues. The most coveted one? Main Event Entertainment, a fun-filled location that features an arcade with more than 1000 games, a bowling alley with professional-level lanes, and a brand new laser tag arena.
Pointe Orlando is also filled with a delectable array of restaurants — from Greek to Mexican — for when you need a boost of energy!
Address: 9101 International Dr, Orlando, FL 32819
The Florida Mall
Spanning 1.8 million square feet, The Florida Mall is Central Florida's largest shopping center. Among the mall's staggering collection of 250 stores, you'll find Macy's, Dillard's, JCPenney, Apple, Tesla, H&M, Coach, Michael Kors, Victoria's Secret, UNIQLO, and ZARA.
The mall also boasts an immense dining pavilion displaying more than 1,400 indoor and outdoor seating options and a well-curated lineup of 23 restaurants and eateries.
Aside from a dazzling wealth of stores and restaurants, the mall also features an array of stellar guests amenities and services that'll elevate your shopping experience to the next level. These include a 3,000 square-foot interactive play area for the little ones, complimentary WiFi, and valet parking available.
No wonder why Orlando is regarded as one of the best shopping destinations in the U.S.!
Address: 8001 S Orange Blossom Trl, Orlando, FL 32809
Orlando Vineland Premium Outlets
When it comes to finding luxury goods at bargain prices, there's no better place to go than Orlando Premium Outlets. This outdoor outlet mall is home to over 160 stores, where you can score coveted brand items up to 65% off.
Some of the luxury stores you'll find at Orlando Vineland include Bottega Veneta, Gucci, Brunello Cucinelli, Jimmy Choo, Burberry, Coach, and Kate Spade, many of which offer high-end services like shopping concierge.
The outlet also harbors a selection of fast-fashion and mid-range brands like Forever21, Converse, and American Eagle.
Address: 8200 Vineland Ave, Orlando, FL 32821
Disney Springs at Walt Disney World Resort
Whether you're staying at a Disney World hotel, or simply spending an adventure-filled day at the resort's theme parks, Disney Springs is a worth visiting destination for when you're craving some retail therapy.
Located on the east side of Walt Disney World near Typhoon Lagoon, Disney Springs is themed retail, dining, and entertainment center displaying an eclectic array of shops, aside from lip-smacking eateries.
While browsing through Disney Spring's stores, expect to find a variety of quirky pop-culture-inspired souvenirs like Mickey Mouse's iconic ears, lightsabers, and plush t-rex dinosaurs. There is also a brand new state-of-the-art M&M store and a grandiose Coca-Cola Store modeled where visitors can meet and snap pics with the iconic Coca-Cola Polar Bear.
Address: 1486 Buena Vista Dr, Lake Buena Vista, FL 32830
The Mall at Millenia
The Mall at Millenia is a bucket list shopping destination for luxury-loving travelers who visit Orlando. Aside from three major department stores — Bloomingdale's, Neiman Marcus, and Macy's —, the mall spoils visitors with almost 200 brands to choose from.
Among Millenia's dazzling collection of stores, you'll find Versace, Chanel, Saint Laurent, Hermès, and other luxury brands, aside from a few fast-fashion boutiques like Urban Outfitters and Forever21.
Visitors who want to expand the horizons of their style and closet can indulge in a complimentary 2-hour personal shopping session offered by the mall!
Address: 4200 Conroy Rd, Orlando, FL 32839
Winter Park Village
Want to enjoy a refreshing shopping experience among palm trees and oak shaded walkways? Then Winter Park Village is the place for you. Located in Winter Park, just north of Orlando, this lifestyle center flaunts a small yet mighty collection of 49 boutique-style stores catering to a variety of customers.
Intertwined with Winter Park's stores, you'll find delectable eateries, like The Cheesecake Factory, and Starbucks.
Address: 510 Orlando Avenue, Winter Park, FL 32789
Shopping Orlando Downtown: Frequently Asked Questions
What is the most popular mall in Orlando, FL?
Central Florida's largest shopping mall, The Florida Mall is also Orlando's most popular mall.
Which is better Florida Mall vs Millenia mall?
Both malls are great shopping destinations in Orlando. Millenia is more suitable for those looking for luxury brands, while the Florida Mall has a wide collection of mid-range and fast-fashion stores.
How many malls does Orlando have?
Orlando is home to 8 major shopping centers.
What is the main strip in Orlando?
The bustling International Drive is Orlando's main thoroughfare and commercial stretch.
What is the best outlet mall in Orlando?
Both Orlando International Premium Outlets and Orlando Vineland Premium Outlets are considered the best outlets in Orlando.
What are the best shopping destinations in Orlando, FL?
The best shopping destinations in and near Downtown Orlando:
Church Street;
Orlando Fashion Square;
Orlando Farmer's Market;
Pointe Orlando;
The Florida Mall;
Orlando Vineland Premium Outlets;
Disney Springs at Walt Disney World Resort;
The Mall at Millenia;
Winter Park Village.
Browse. Book. Stay.
CuddlyNest provides all accommodations to all travelers at the best price. Find unlimited travel inspiration on our blogs and our social media channels Facebook, Instagram, Pinterest
You May Also Like:
The 10 Best Beaches Near Orlando, Florida
15 Unbeatable Florida Family Vacations with Kids
The 4 Best Family-Friendly Vacation Spots in Orlando
The 15 Best Long Weekend Getaways In The US
The Ultimate North America Travel Guide
10 Best Day Trips From Naples, Florida
The Ultimate Guide For a Pet-Friendly Holiday in Florida
The Best Time To Visit Orlando, Florida
7 Amazing Water Parks In Orlando, Florida
8 Best Hotels Near SeaWorld Orlando, Florida
9 Best Hotels In Orlando, Florida
The 5 Best Hotels Near Downtown Orlando, Florida
The 8 Best Hotels Near Orlando Airport
The 9 Best Pet-Friendly Hotels In Orlando, Florida
The Best Hotels Near Disney World Orlando