Bist du hungrig? In German, this phrase means "are you hungry?" We want to know! If you have ever visited Germany, you came across delicious pretzel stands, pints of beer in traditional beer steins, bratwurst the size of your forearm, and much more. With so many different flavors and dishes to try it's hard to narrow down the list of what not to miss out on. We are sharing our favorite traditional German food to try on your next getaway to Deutschland.
Best Traditional German Cuisine:
Laugenbrezel
Bratwurst
Kartoffelpuffer
Spaetzle
Pork Schnitzel
Knodel
Apfelstrudel
Learn more about each of these dishes here: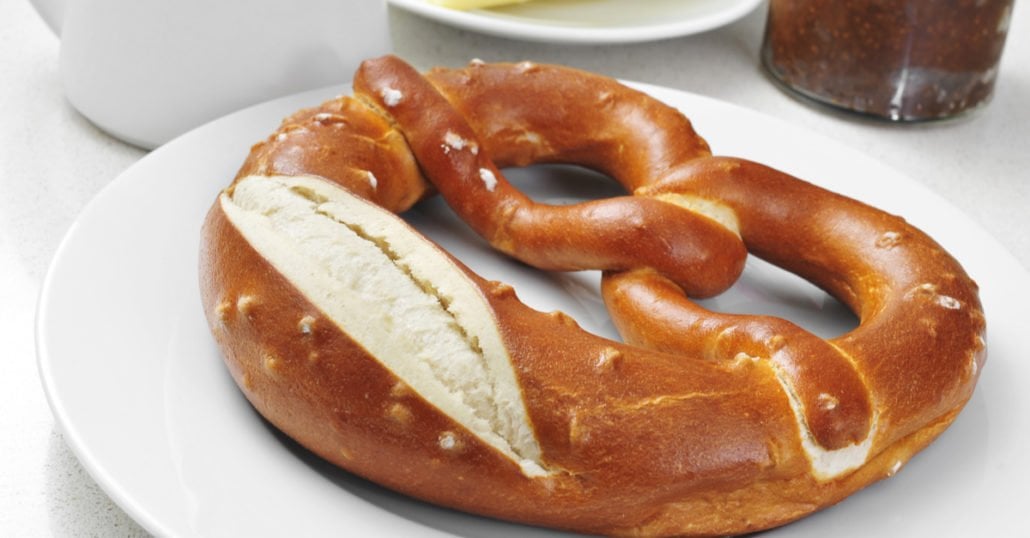 Laugenbrezel – German Soft Pretzels
If you went to Germany and did not try a laugenbrezel, then you need to go back someday. Thick and soft with a browned exterior, German soft pretzels are simply irresistible. As well as quite famous not just in Germany, but around the world!
According to many popular legends, pretzels were first created by Christian monks.
Pretzels are considered a good luck symbol in Germany.
National Pretzel day is celebrated on April 26th in the U.S.
Pretzels were brought to the states in the 1800s by German immigrants.
While traditional German pretzels require a couple of special ingredients, you can make them like the pros, here. 
---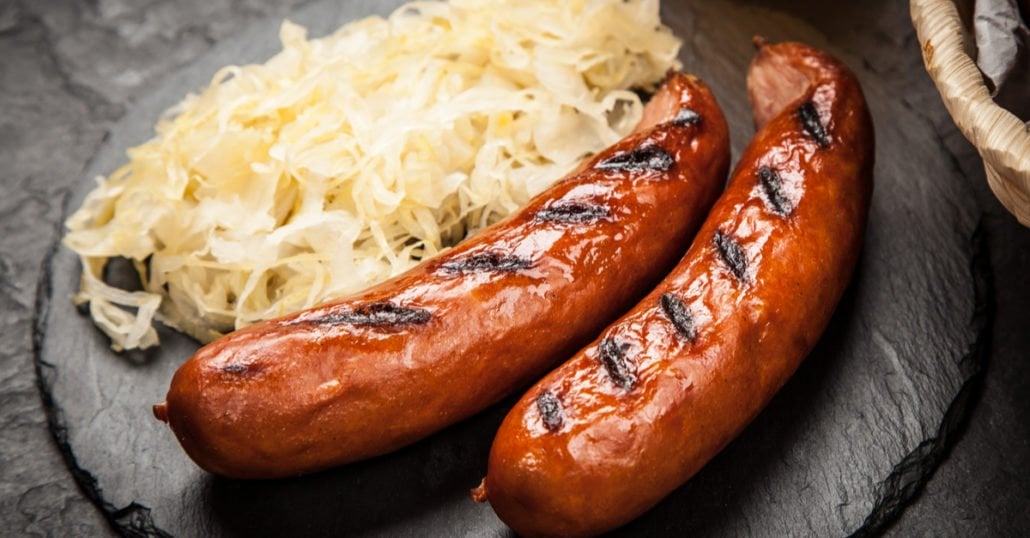 Bratwurst
Bratwurst (Brat – finely chopped meat, wurst – sausage) is one of the most typical street foods in Germany. While you can find them all over the country, this meal is most commonly found in stands all over Berlin. Here are some other fun facts:
The bratwurst sausage originated in Germany in 1313.
It is commonly served both on a stick and in a bun, which makes it the perfect on-the-go meal.
Bratwurst is made from pork, beef, and veal.
Learn how to make the perfect bratwurst, on a stick or in a bun, here.
---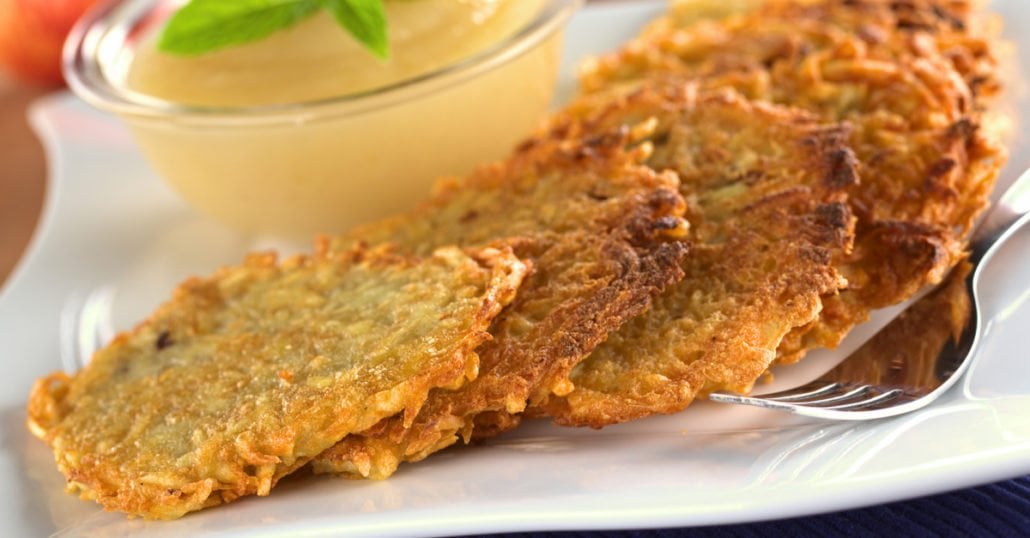 Kartoffelpuffer – Potato Pancake
There isn't a holiday or festival in Germany that doesn't include Kartoffelpuffer, German potato pancakes. What's not to love about a delicious treat?
Kartoffelpuffer is prepared differently than many other potato dishes as it is grated from raw potatoes, not boiled potatoes.
The most traditional way to eat these potato pancakes is with a side of applesauce, which adds sweetness to its savoriness.
In order regions of Germany, Katoffelpuffer is known as Reibekuchen and Kartoffelpfannkuchen.
Making this dish is simple and easy. Check out the recipe, here.
---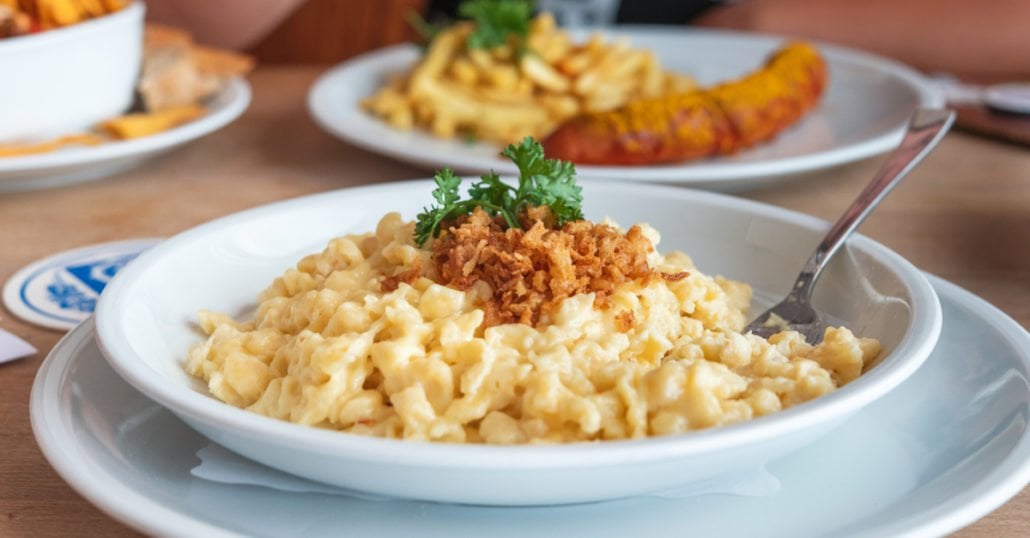 Spaetzle – Egg Noodles
While the photo above may look like yummy scrambled eggs, it's actually another type of food in the egg family — noodles. Interested in learning more?
If you don't have a spaetzle maker handy, you can use a colander or cheese grader to make spaetzle at home.
Spaetzle is one of the most popular traditional dishes in Germany, as well as in Austria, Switzerland, and Hungary.
The dish is prepared very similar to macaroni and cheese.
It can be topped with anything you like, and it serves well as a side or the main course.
Make spaetzle at home with these easy steps, here.
---
Pork Schnitzel – Pork Chops
Who doesn't love making pork schnitzel? This German-style pork chop is juicy, incredible, and so easy to make. Here are some things you may not know about pork schnitzel:
Schnitzel is not actually the type of food, but the name for how the pork is prepared.
Another name for schnitzel is schweineschnitzel.
Hammers are used to thin the pork before coating it in breadcrumbs to make a crispier crust.
Serve pork schnitzel at your next virtual dinner party, and learn the recipe here.
---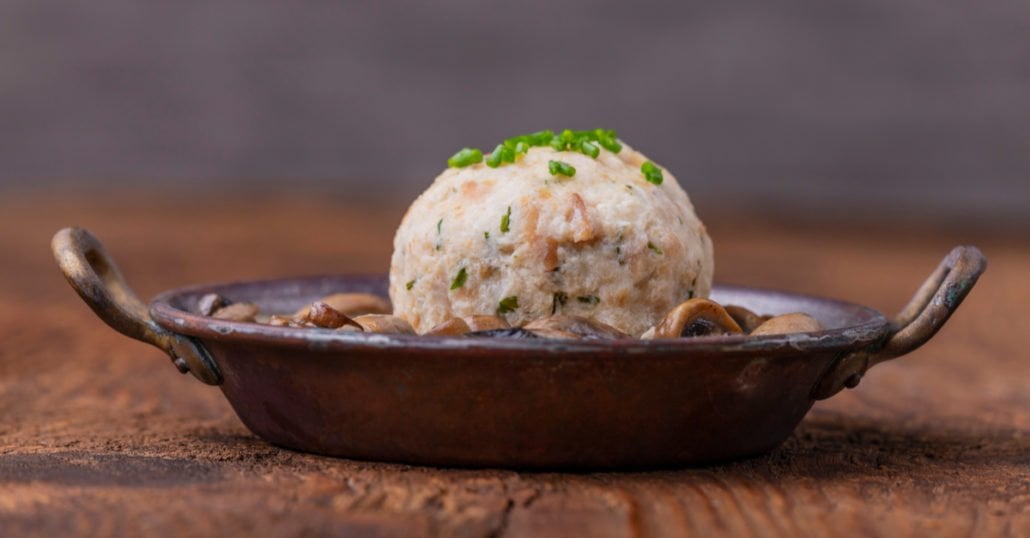 Knödel – Boiled Dumplings
Knödel is a staple side dish to many German meals. Making these dumplings is very easy! But did you know that they very different than any other dumpling? For starters, Germans make these dumplings by poaching or boiling them and then add egg and flour. Here are some more interesting facts:
Knödel does not require yeast, unlike many other doughy foods. This is what gives it its uniqueness.
The dumplings are traditionally quite large, and can even be as large as tennis balls.
Present-day, many Germans include plums and apricots in their dumplings for flavor.
Learn how to make the perfect knödel, here. 
---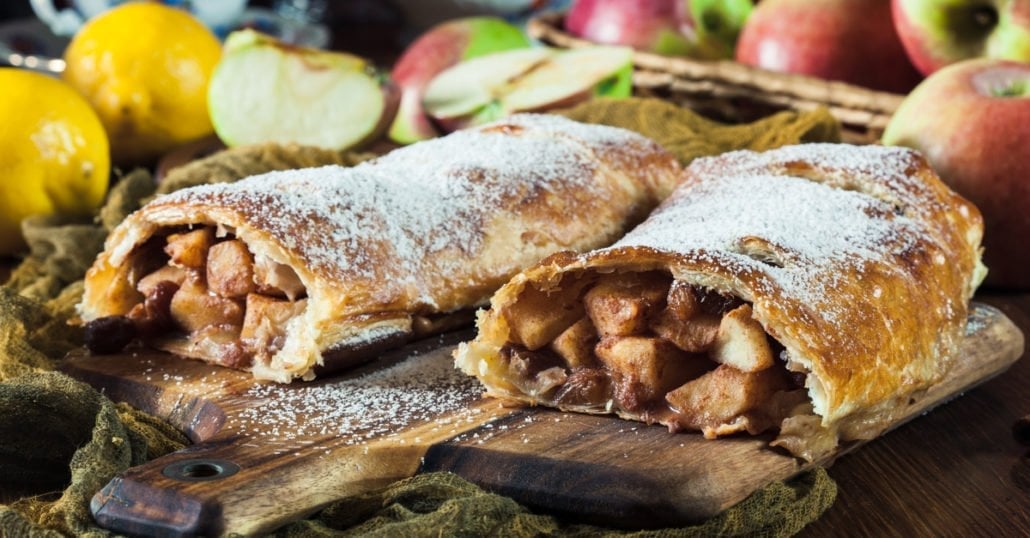 Apfelstrudel – German Apple Pie
This delicious dessert originated in the 18th century, during the Austro-Hungarian empire. However, Apfelstrudel is very much popular and traditional German food, today. Here are some other things you may not know about this apple dessert:
Traditionally Germany people eat Apfelstrudel warm as it contains a rich creamy apple filling. However, many people also eat this dessert cold. It all depends on your preference.
Apfelstrudel has its own English name which is apple strudel.
Apple strudel also has its own U.S. holiday on June 17th. Bakeries throughout the country love to celebrate this holiday with delicious pastries for everyone.
The term strudel is German for "whirl or swirl," due to its form once baked.
Make the perfect apfelstrudel for dessert, here.
---
Don't forget to let us know what you are cooking up at home. Have you ever made any of these dishes? We can't wait to experience them in Germany with you. Guten Apetit!
You might also like:
World's Most Expensive Wine
Mexican Food vs Tex-Mex
Italian Dishes to Make at Home