Mitte might be the best-known area in Berlin, but the German capital also boasts other fascinating locations that deserve your attention. Two of the city's trendiest neighborhoods are Prenzlauer Berg & Friedrichshain, both located in the former East Berlin.
Since the fall of the Berlin Wall, these districts have changed and evolved tremendously and grew to become two of Berlin's coolest neighborhoods. There, you'll find plenty of art galleries, street art, Insta-worthy restaurants, organic ice cream shops, and a vibrant nightlife scene, meaning you'll never run out of amazing things to do.
Whether you're seeking to stay in Prenzlauer Berg and Friedrichshain, or simply want to explore these up-and-coming areas, this Berlin neighborhood guide is guaranteed to help you. Read on to discover why these districts are worth visiting, how to get around, where to stay, and the top things to do.
Prenzlauer Berg and Friedrichshain: An Overview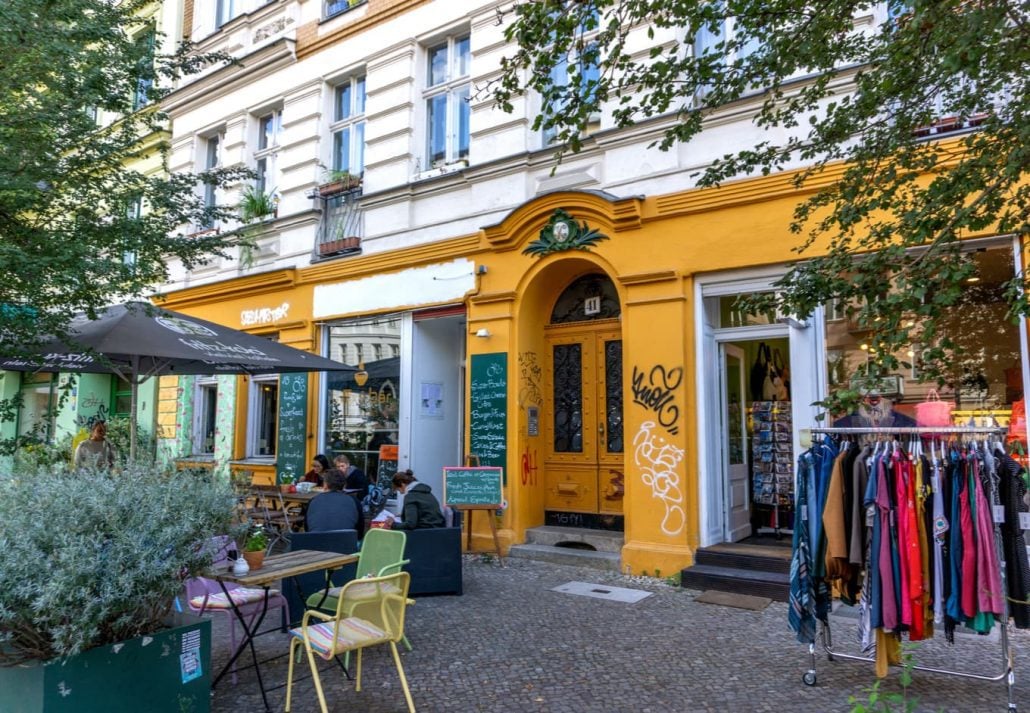 Location
Prenzlauer Berg is part of of the Pankow district, in northeast Berlin. It borders Mitte to the West and Southwest, Friedrichshain-Kreuzberg to the South Friedrichshain-Kreuzberg, Lichtenberg to and Weißensee and Pankow to the North.
Friedrichshain is a quarter (Ortsteil) located within the borough of Friedrichshain-Kreuzberg, in the central-east part of Berlin, and it's surrounded by Mitte, Prenzlauer Berg, Kreuzberg, and Lichtenberg.
Both of these Berlin neighborhoods are part of East Germany and are located close to the city center (Mitte). Due to their privileged location, Prenzlauer Berg and Friedrichshain offer easy access to Berlin's top attractions such as Museum Island, the Berlin Cathedral, Brandenburg Gate, and the Berlin Wall Memorial.
A Brief History Of Prenzlauer Berg and Friedrichshain
Prenzlauer Berg was developed during the 19th century based on an urban planning design by James Hobrecht. Before the Second World War, around 11% of Prenzlauer Berg's population were Jewish, but in Nazi Germany, Prenzlauer Berg's buildings started being used as makeshift concentration camps and torture chambers.
During the Cold War, Prenzlauer Berg became part of the capital of the German Democratic Republic, in former East Germany. Most of the area's apartments were used by the GDR, and after the Berlin Wall fell, they went through a massive privatization scheme and were bought up by private investors who raised the rents.
Now, Prenzlauer Berg is one of the most trendy neighborhoods in Berlin. The area is filled with pubs, restaurants, and cafés, as well as creative spaces and galleries, making it one of the focal points of the city's art scene.
Prenzlauer Berg is now home to a vibrant expat community, and it's also inhabited by many young professionals and families.
Friedrichshain was a massive working-class district created in 1920 when Greater Berlin was established. During World War II, however, Friedrichshain was one of the most badly damaged parts of Berlin and as late as the nineties some buildings still had bullet holes from the intense fighting during the Battle of Berlin.
The area was also ruled by the Soviets and was part of East Berlin. After the reunification of Berlin, Friedrichshain went through a gentrification process and grew to be one of the city's most famous neighborhoods (despite being overlooked by the iconic Kreuzberg, located just across the River Spree).
What Makes Them Unique
After the fall of the Berlin Wall, both Prenzlauer Berg and Friedrichshain were strongly reshaped. They entice visitors due to their eye-popping historic sites and buildings, great restaurants, and bohemian vibe, English-speaking expats, cultural offerings, and cool bars.
Prenzlauer Berg, especially, became a largely residential area known for its alluring historic apartments and leafy streets, which are now home to several expat families and young families living in Berlin.
Transportation & How To Get Around
Navigating around Prenzlauer Berg and Friedrichshain is easy and convenient. Both are located close to the most central areas of Berlin, making it quick to reach the city's major tourist attractions.
Also, they're both well-served when it comes to public transportation. There are S Bahn (S42 line), Tram (M10 line), and U Bahn (U5) stations available, meaning travelers will have no trouble getting around.
From both Prenzlauer Berg and Friedrichshain it's possible to reach big-name landmarks such as Checkpoint Charlie, the Jewish Museum, the Jewish Cemetery, and the Berlin Zoo.
Places To Stay In Prenzlauer Berg and Friedrichshain
Prenzlauer Berg and Friedrichshain are great areas to base yourself on when you visit Berlin. Aside from being close to the most central areas of the city, you'll have a wide array of amazing accommodation options at your disposal. These areas are home to a variety of stays including modern apartments, stylish hotels, and budget-friendly hotels.
Find Places To Stay In Berlin, Germany
Recommended Read:
The 5 Best Boutique Hotels In Berlin
The 5 Best Hotels in Berlin
The 6 Best Hostels in Berlin
The Top Things To Do In Prenzlauer Berg and Friedrichshain
East Side Gallery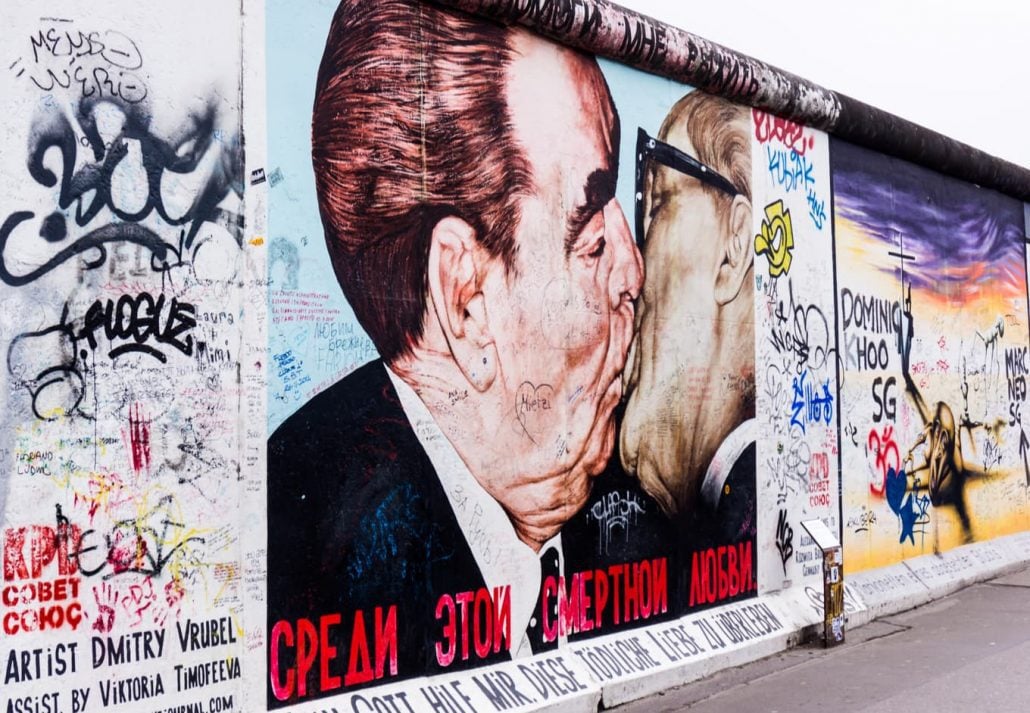 The longest (and most famous) remaining stretch of the Wall is the East Side Gallery. Located along the Spree River, the section is covered in hundreds of graffiti paintings, making it the world's largest open-air gallery. Be sure to check out Dmitri Vrubel's "My God, Help Me to Survive This Deadly Love" mural, which depicts the Soviet politician Leonid Brezhnev kissing the leader of the GDR, Erich Honecker.
Recommended Read: The 12 Best Things To Do In Berlin
Oberbaumbrücke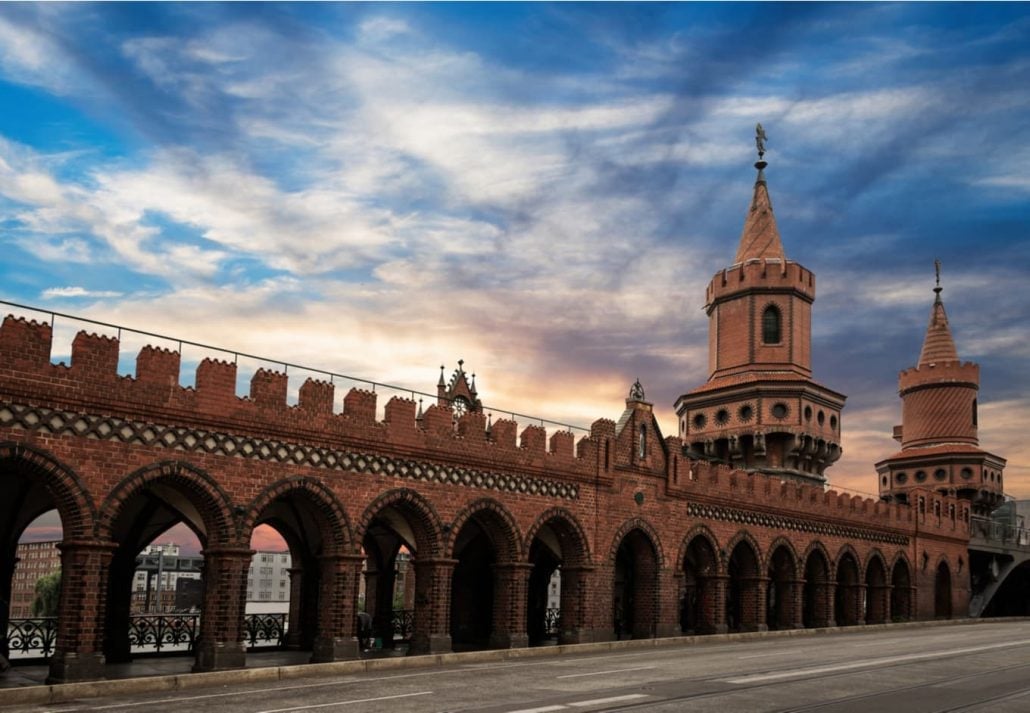 Rich in beauty and history, Oberbaumbrücke is one of Berlin's most fascinating sights. Built from 1894 to 1896, this double-deck bridge crosses the River Spree, linking Friedrichshain and Kreuzberg.
When Berlin was a divided city, Oberbaumbrücke was one of the few crossover checkpoints from West to East, and still to the present day, it remains a symbol of Germany's reunification.
Address: Oberbaumbrücke, 10243
Mauerpark Flea Market
Regarded as one of the best shopping destinations in Berlin, Mauerpark Flea Market is the perfect place for those seeking a unique retail experience. Located in Prenzlauer Berg, the market happens every Sunday afternoon and features an array of stands selling vintage clothes, charming antiques, old vinyl records, bicycles, and knickknacks.
Address: Bernauer Strasse 63-64, 10435 Berlin
Recommended Read: A Guide To The Best Markets In Berlin
Museum in der Kulturbrauerei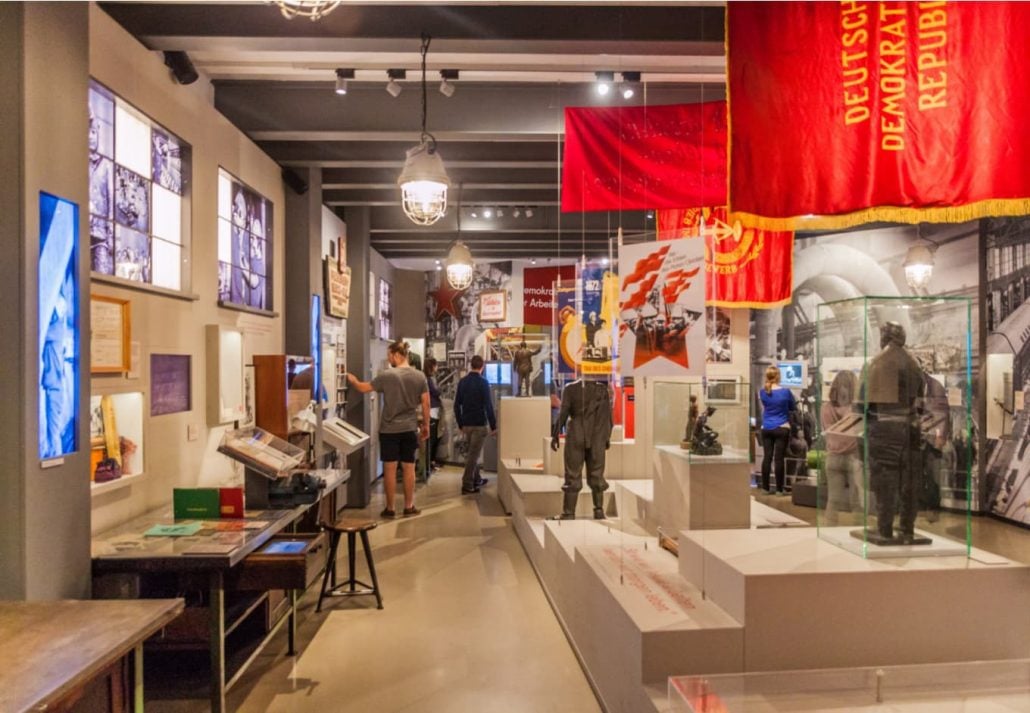 Museum in der Kulturbrauerei is a must-visit for anyone interested in learning more about contemporary German history. The museum for housing a permanent exhibition called 'Everyday life in the GDR', which depicts the intentions of the GDR regime and the actual lives of people at the time.
With some 200 historical documents, films, and sound recordings by witnesses, visitors are able to understand how was everyday life in the German Democratic Republic.
Address: Knaackstraße 97, 10435 Berlin
Computer Games Museum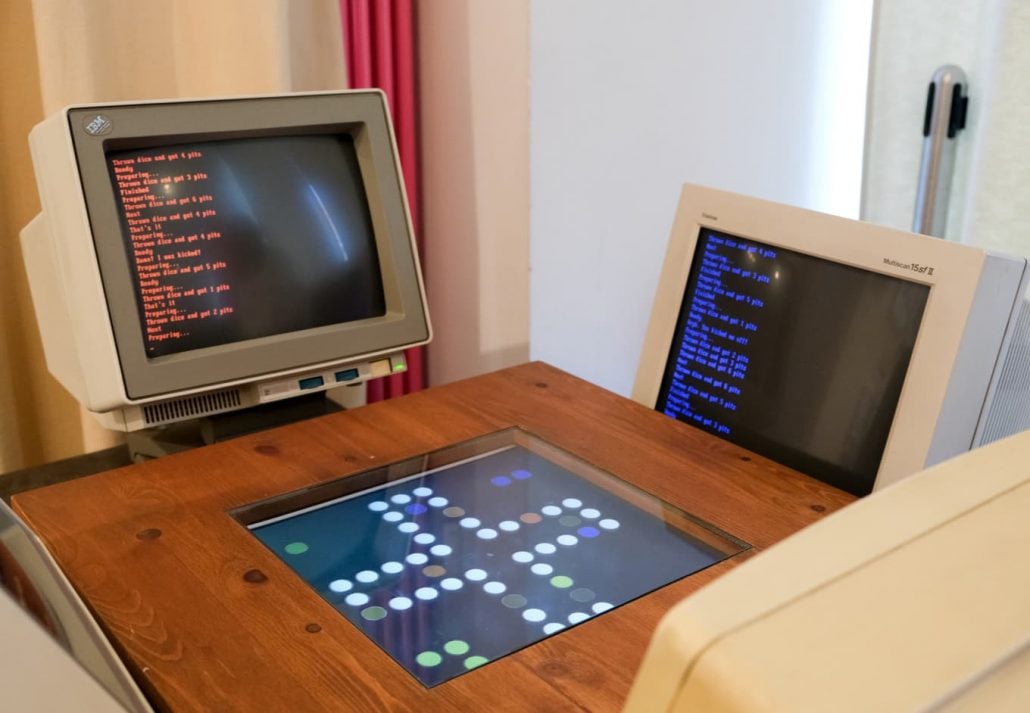 Whether you're a self-proclaimed nerd or just visiting Berlin with kids, the Computer Games Museum is worth visiting. This is the first European museum for video and computer games, and it harbors over 300 objects including rare originals and all-time classics. There are also Pong-Machine, Nimrod, PlayStation, and the Giant Joystick, all available for playing!
Address: Karl-Marx-Allee 93A, 10243
FAQ
Is Prenzlauer Berg a good area?
Yes. Aside from being located close to Mitte, which is the city center, Prenzlauer Berg is filled with cozy cafes, quirky shops, great transportation options, and top-notch attractions.
Is Friedrichshain a good neighborhood?
Yes. This Berlin neighborhood is an up-and-coming area that attracts artists, students, and expats due to its vibrant atmosphere, and bustling nightlife.
What is the nicest neighborhood in Berlin?
Berlin is divided into equally loveable neighborhoods, each with its unique spin and charm.
Is Friedrichshain in East Berlin or West Berlin?
Friedrichshain is located in former East Berlin.
CuddlyNest provides all accommodations to all travelers at the best price. Find unlimited travel inspiration on our blog and social media channels.
You Might Also Like:
A Complete Guide To Public Transport in Berlin, Germany
13 Amazing Museums and Galleries in Berlin, Germany
Top 7 Traditional German Foods – German Cuisine
Walk around Berlin through the big screen
Places To Stay In Berlin, Germany
9 Unique Things To Do in Berlin, Germany
The 5 Best Spas In Berlin, Germany
The Best Street Food In Berlin: The Top 5 Spots
The 9 Best Lakes in Berlin, Germany
Guide To The Best Markets In Berlin