Berlin might be known for its huge range of experiences — from cutting-edge art galleries to the best nightlife in the world — but natural charms will also prove a major attraction during your stay in the city. In and around the German capital, you'll find a spectacular variety of natural features, including some of the most gorgeous lakes in Europe.
So, when not taking part in Berlin's many cultural activities, do as the locals and flock to one of the city's many lakes — each offering a distinct atmosphere and experience. Some are like Wannsee, and have their own sandy beaches and are ideal for sunbathing, while others, such as Liepnitzsee, boast turquoise waters that are simply perfect for swimming. Water sports enthusiasts will also find an array of Berlin lakes that provides them with fabulous conditions for paddleboarding and kayaking.
Whether you're in need of a restful respite or want to get your heart racing while playing sports, you're sure to find the perfect lake getaway close to the city. To help you make up your mind, we've listed the 9 most beautiful lakes in Berlin that are suitable for every mood and moment. Take a look below!
Find Places To Stay In Berlin, Germany
9 Amazing Lakes In And Around Berlin, Germany
Strandbad Wannsee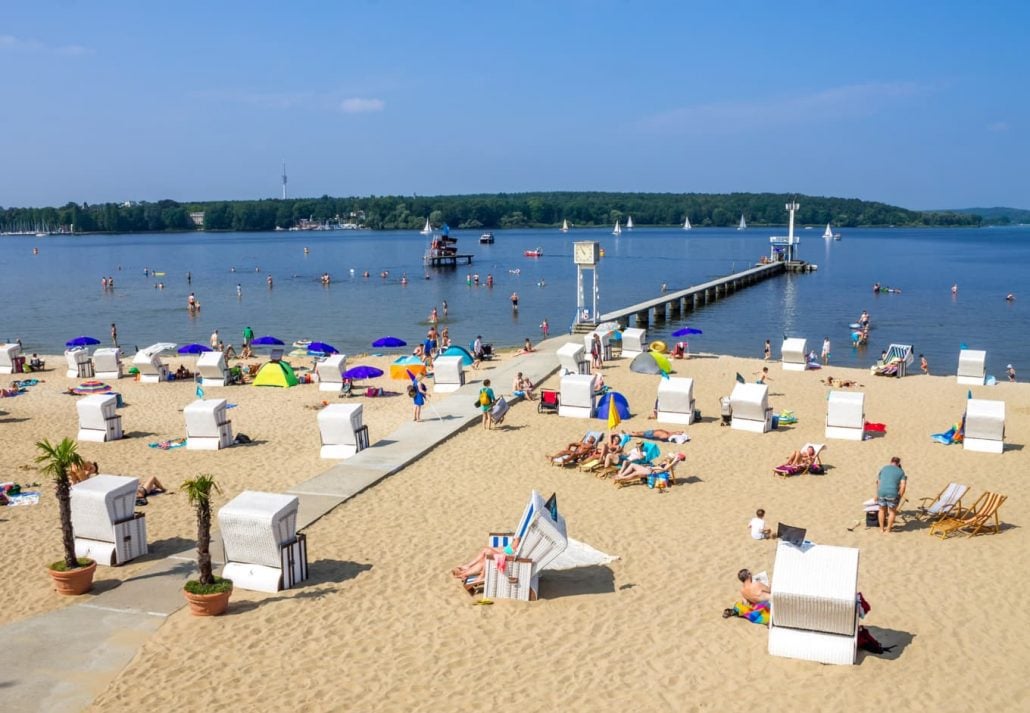 During the hot Berlin summer, do as the locals and flock to Strandbad Wannsee. Located on the eastern shore of Großer Wannsee lake, a large bay of the Havel river in Berlin, Wannsee features a mile-long beach filled with sand taken from the Baltic Sea as well as several bathing spots.
Wannsee is a veritable playground for those seeking to enjoy a sunny afternoon in Berlin. The area's sandy beach is perfect for sunbathing, scenic promenades by the lake, volleyball matches, and other sports activities.
One of the best things about Standard Wannsee is that the beach spoils visitors with several deckchairs, a separate naturist section, a children's playground, a boat rental, and a water slide.
Note that it's required that visitors pay a small entrance fee (5,50) to access Standard Wannsee.
Weissensee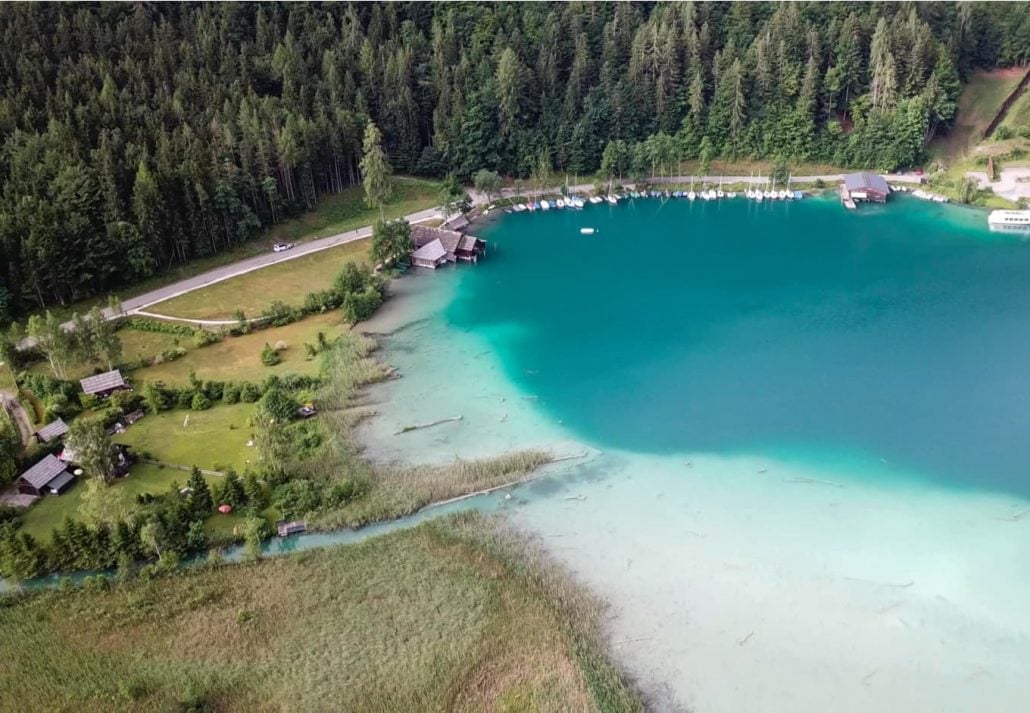 Seeking to escape the city's non-stop action? Then head over to the Weissensee. Located in the borough of Pankow, in East Berlin, the lake offers visitors the opportunity to experience nature in a unique setting.
The Weissensee area is almost an inner-city beach with glittering waters and fine sand. Surrounding the lake there's a lush park, which creates the most dreamy setting for a peaceful summer day in berlin.
Aside from a glittering like that is ideal for a refreshing dip, the area also features a playground for children, a bamboo bar, and several restaurants.
Müggelsee, Berlin's Largest Lake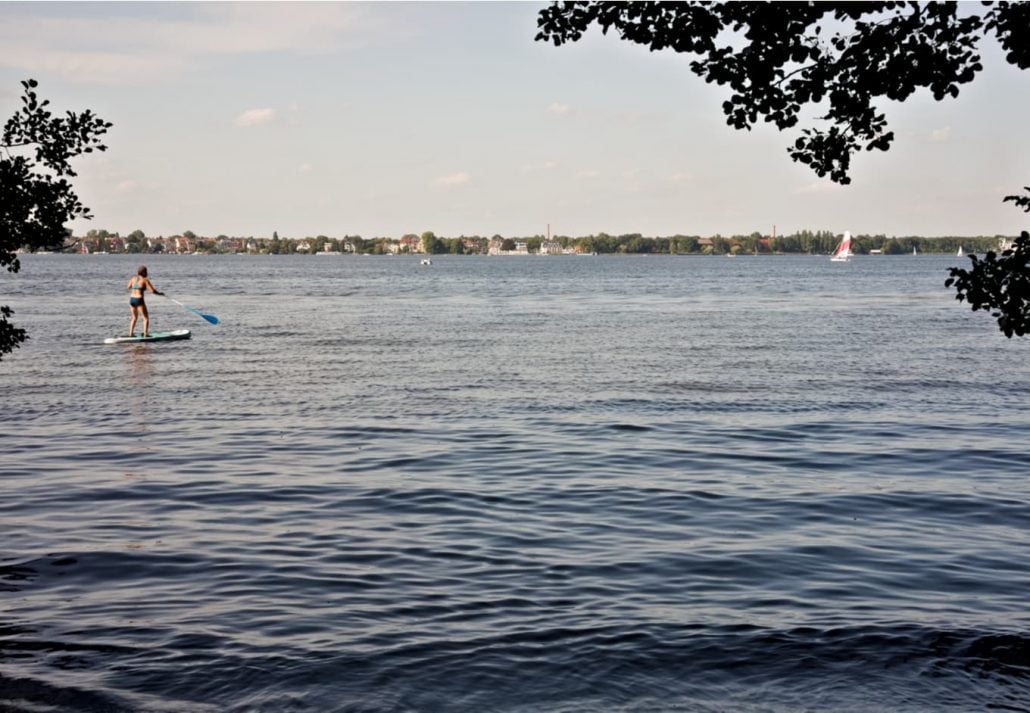 The Müggelsee remains one of the top summer retreats in the city. Located amidst a nature reserve in the Treptow-Köpenick district, Berlin's largest lake offers visitors plenty of leisure opportunities that go way beyond swimming. Water sports lovers, for instance, can enjoy scenic canyoning and paddling sessions on the lake. Those who want to get their hearts racing can also go surfing or motorboating in designated areas.
There are gentler options, too. For the ultimate relaxation, grab a spot in the sand and lounge under the sun, or grab a freshly made cocktail in one of the area's numerous restaurants.
Schlachtensee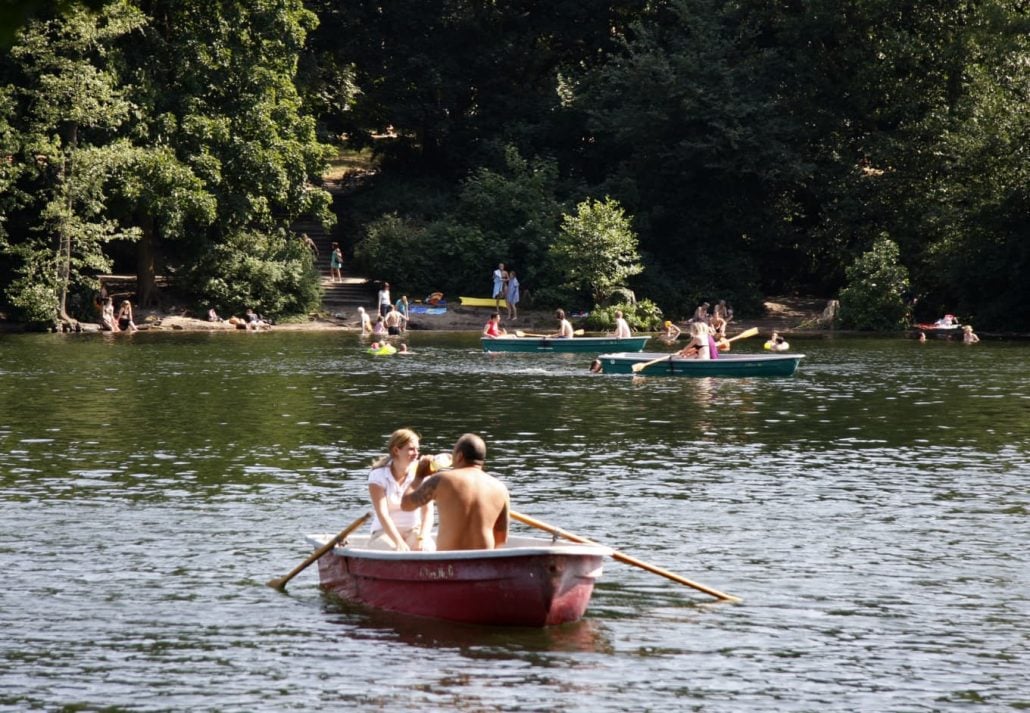 The Schlachtensee is a jewel flanked in the southwestern portion of Berlin. Framed by grassy shores and forests, this century-old lake began as a glacial channel during the Vistula ice age about 15,000 years ago. Thanks to its pristine and clean waters, it's one of the most idyllic swimming destinations in Germany's capital city.
Spread across over 100 acres, the lake is surrounded by sunbathing lawns, aside from boasting a lakeside path that is popular with walkers and joggers. The area also features a children's playground and a restaurant with a beer garden.

Tegeler See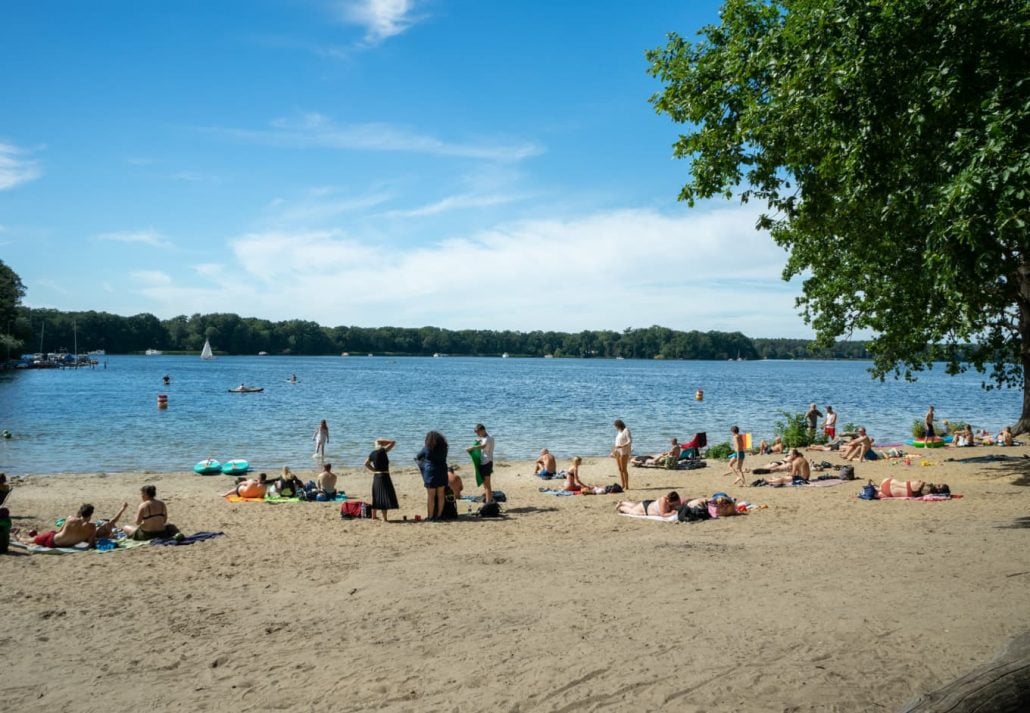 Situated in the northwest corner of Berlin, just above the Tegel airport, Tegeler See is the city's second-largest lake. Locals usually go for a walk around the lake, or simply have a scenic picnic with gorgeous views of Tegeler's sparkling waters.
Another bucket list activity in the area includes going on a steamboat cruise around the lake. This is the perfect way of taking some of Berlin's most breathtaking natural landscapes.
Plötzensee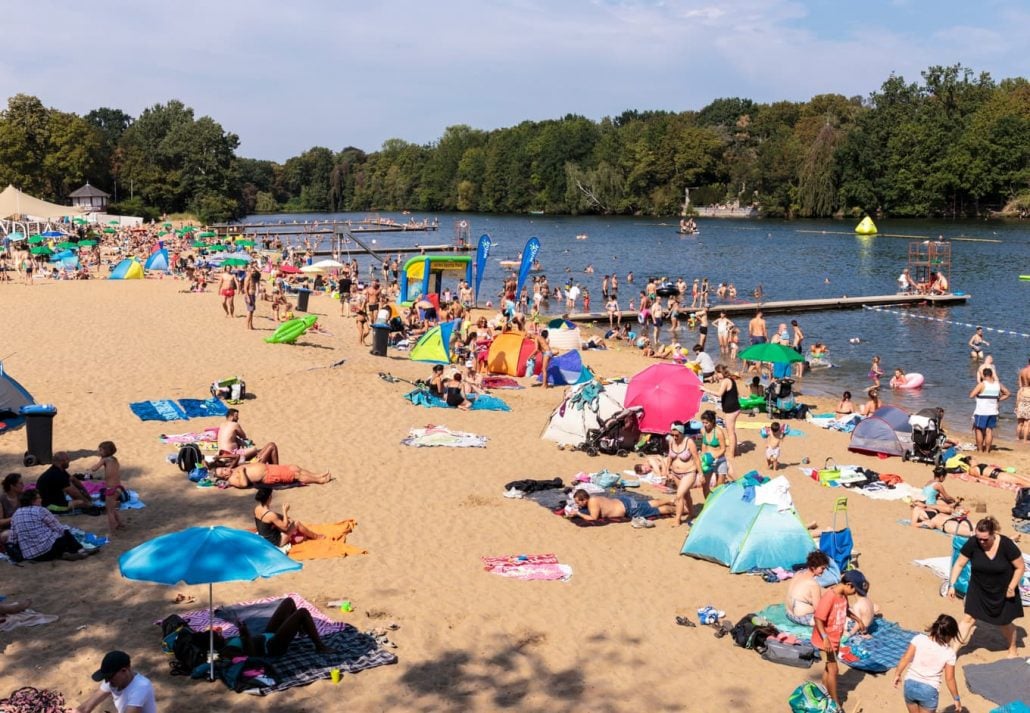 When it comes to indulging in outdoor activities, no place is better than Plötzensee. This Berlin lake is part of a sandy beach filled with sports fields where visitors can play volleyball, football, and table tennis. There are also several green areas and sunbathing laws where people can tan and simply relax.
The lake is located on the border of the public park Volkspark, so if you feel ambitious enough, you can go cycling in the park and enjoy some fresh air before heading to the beach.
Liepnitzsee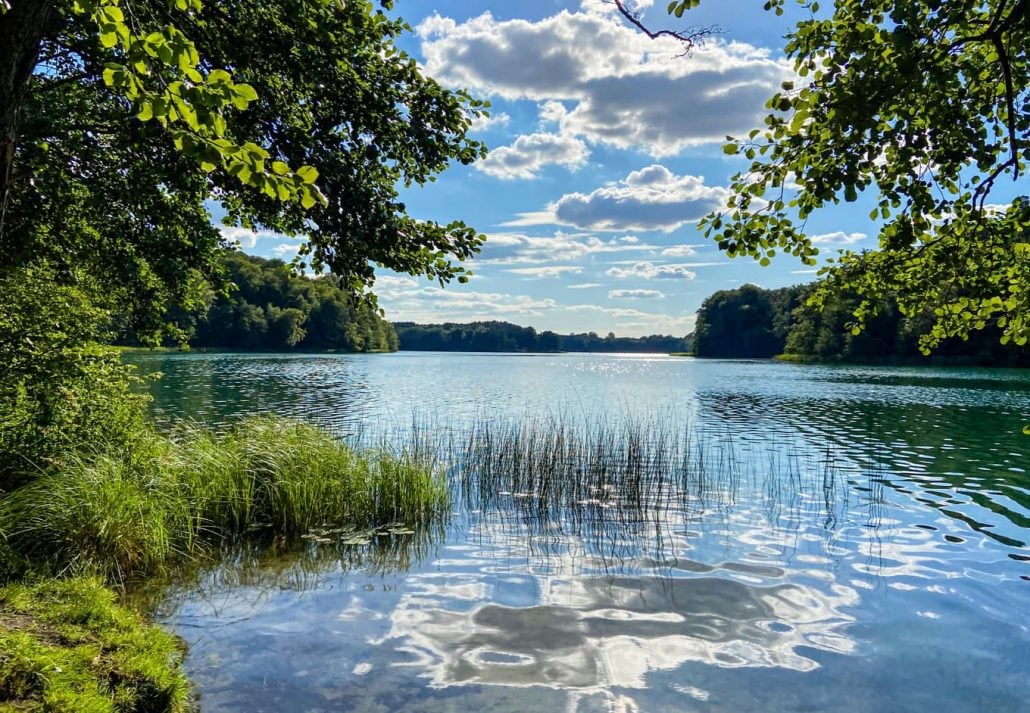 Nestled in a secluded spot in an old beech forest, Liepnitzsee dazzles visitors with its pristine turquoise waters. This is, after all, Berlin's cleanest lake, and one of the most beautiful in the entire Brandenburg region.
The preferred activity for those visiting Liepnitzsee? To simply swim, and enjoy the restoring atmosphere of this idyllic area!
Flughafensee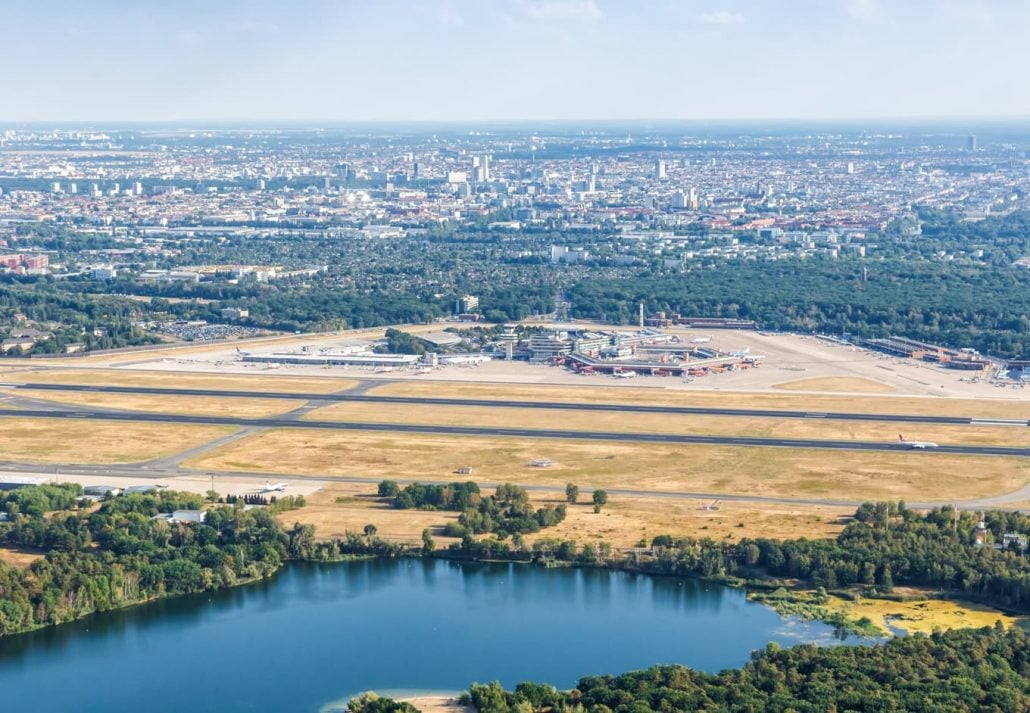 Also known as the "airport lake" due to its proximity to the Tegel Airport, Flughafensee is one of the deepest lakes in Berlin. Aside from offering many different swimming spots, the area also features a wide sandy beach where visitors can sunbathe and relax, as well as several lakeside paths that are ideal for jogging with a view!
Krumme Lanke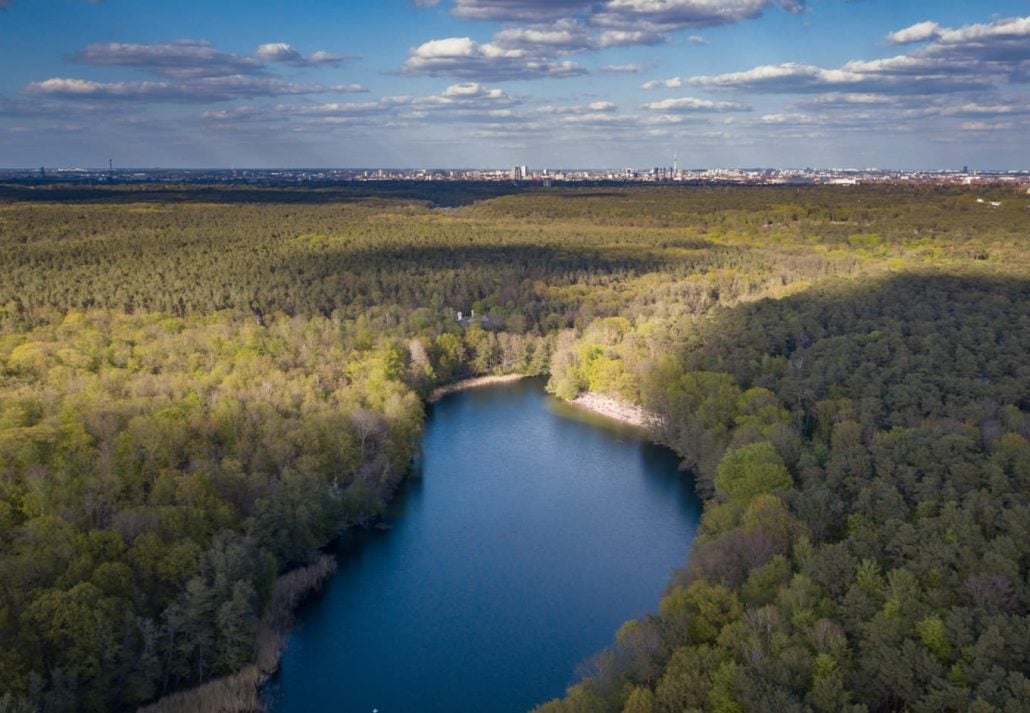 Named for its curved shape, Krumme Lanke is part of Germany's Grunewald chain of lakes. This bathing lake known for its pristine waters has several swimming spots, as well as a nudist beach that is perfect for skinny dipping.
There is a boardwalk that encircles the lake and provides visitors with the opportunity to go for a walk or jog among nature on sunny days!
FAQs
Are there sandy beaches in Berlin?
Yes. Around Berlin, there's a variety of easily accessible lake beaches, such as Weißensee, Freibad Plotzensee, and Oststrand. These provide visitors with unlimited fun on hot summer days.
What are the best bathing lakes in Berlin?
The best lakes in Berlin are:
Wannsee;
Weissensee;
Müggelsee;
Schlachtensee;
Tegeler See;
Plötzensee;
Liepnitzsee;
Flughafensee;
Krumme Lanke.
Are there any lakes in Berlin?
Yes. Berlin and Brandenburg, the surrounding state, have several lakes (around 3,000) and over 18,000 miles of rivers and other flowing streams.
CuddlyNest provides all accommodations to all travelers at the best price. Find unlimited travel inspiration on our blog and social media channels.
You Might Also Like:

Top 7 Traditional German Foods – German Cuisine
Erntedankfest: All You Need To Know About Thanksgiving In Germany
A Complete Guide To Public Transport in Berlin, Germany
Best Brunch In Berlin: The Top 5 Places
The Best Street Food In Berlin
Unique Things To Do in Berlin
5 Best Spas In Berlin