Who doesn't enjoy a delicious brunch? From the endless creamy egg offers that tend to dominate the menu to a wide selection of vegan dishes, the capital of Germany proudly presents the hottest brunch spots in the country.
Along with trendy food creations, guests are greeted with a friendly atmosphere and the greatest barista-style coffee in town. Whether you're seeking a calm and minimalistic corner away from the bustle or a hip artful spot, we guarantee you won't be able to resist their top-notch recipes.
Because there's a huge offer of various brunch places, we made sure to hand-pick the tastiest in town. To enjoy the best brunch in Berlin, take a look at our curated list below!
Find Places To Stay In Berlin, Germany
Top Berlin Brunch Places
Factory Girl
Founded in 2009 by Sofia D. Sözen, Factory Girl serves mouthwatering healthy breakfast and lunch. The focus is on fine food and a relaxed atmosphere, with an outstanding culinary experience. This cozy restaurant offers a vegetarian and vegan brunch with gluten-free options.
The menu consists of creative dishes like vegan cinnamon buns, spinach & potato stuffed phyllo, gluten-free pancake, and zucchini fritters with garlic-infused plant-based yogurt. So many delicious brunch options! The guest's favorite is the famous Coco Anjela, a vegan dessert with five different looks – cookies & cream, banana & chocolate, lemon, and dark raspberry chocolate.
Don't think twice, head to Factory Girl if you want to relish Berlin's trendiest dishes.
Address: Auguststraße 29c, 10119, Berlin, Germany
Roamers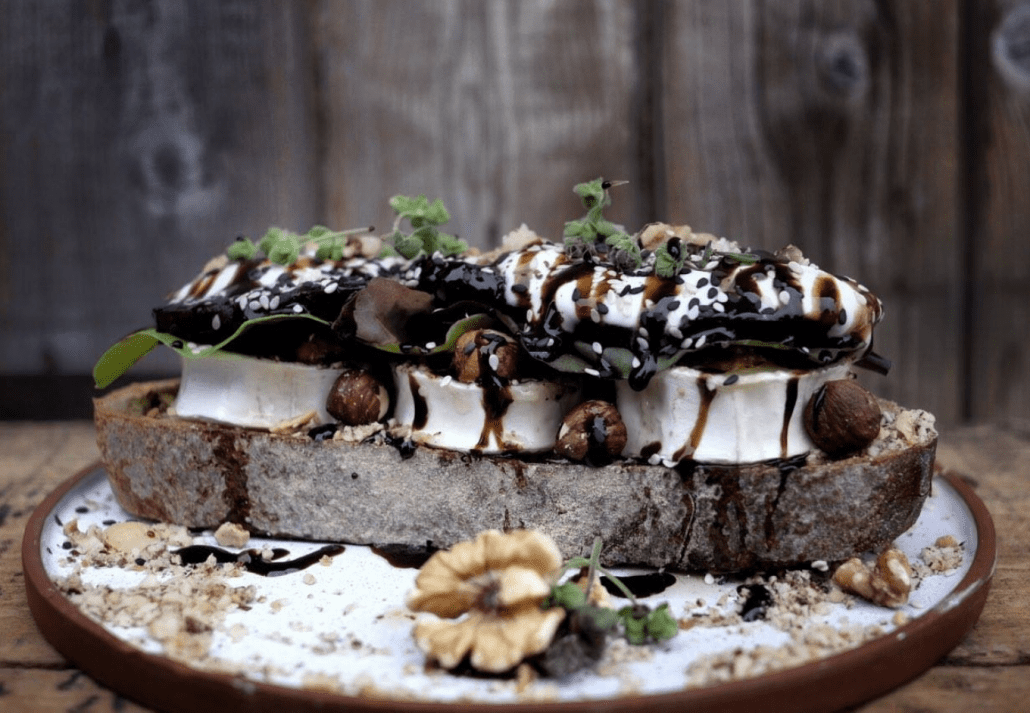 Roamers made a mark in the brunch territory with its classy look and an exclusive menu. They were renowned for their freshly prepared food, including a perfectly dressed salad and a french toast. Even the egg plates come with irresistible and perfectly seasoned vegetables.
For foodies who crave not just deliciousness but consistency, Roamers offers poached eggs and huevos rancheros. To take it one step further, order creamy eggs benedict with soy mushrooms and some leafy greens. If you happen to be in the mood for it, smoked salmon tastes fresh and compliments eggs benedict very well.
Boasted as the best breakfast comfort food after a late night out, you have to come here at least once during your trip.
Address: Pannier str. 64, 12043, Berlin, Germany
Tucker Brunch Bar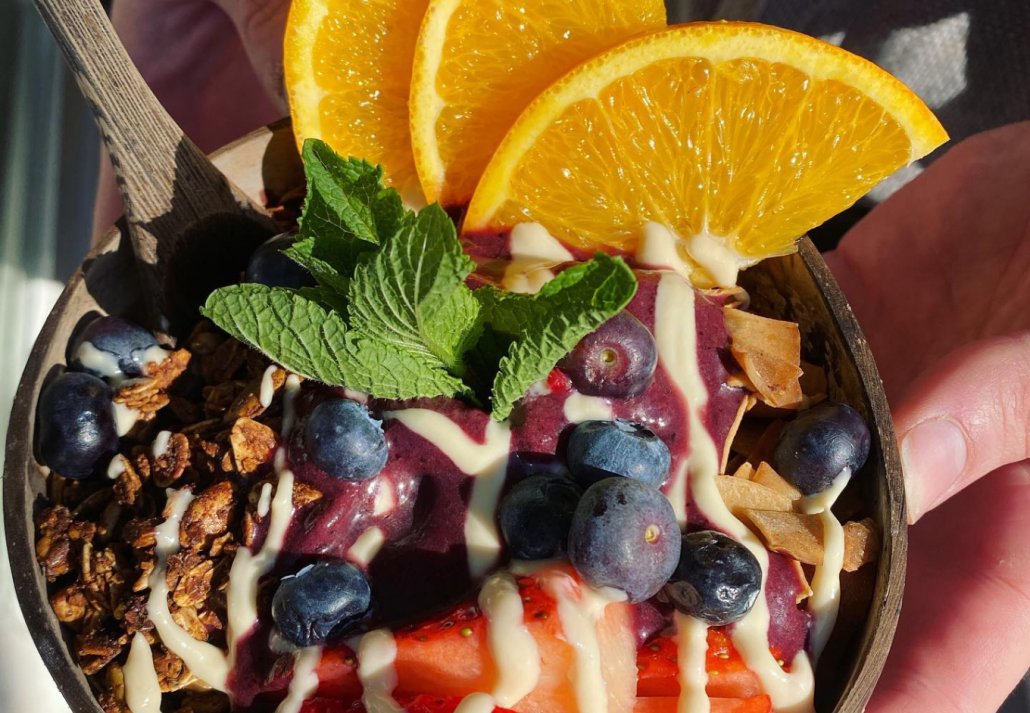 As one of the best brunch spots in Berlin, Tucker Brunch Bar is also a lively cocktail bar with a carefully selected menu.
A list of brunch items is pretty extensive and impressive from brunch classics like eggs benedict, grilled bread, avocado toast, and baked eggs to BBQ pulled pork, and incredible cakes with vegan options.
Apart from flavorful Australian-influenced offerings, the menu has so many creative cocktails like Bloody Good Mary with vodka and tomato juice, Jolly Pop with a vegan foamer, and Tulum Sunset with Rosé Vermouth, and a list of beers, wines, and aperitifs. Known for offering a list of irresistible drinks one would argue this famed cocktail bar ventures into brunch territory just at the right time.
One thing's for sure, this trendy meeting point will keep you coming back for more!
Address: Wühlischstraße 1, Friedrichshain, 10245, Berlin, Germany
The Reed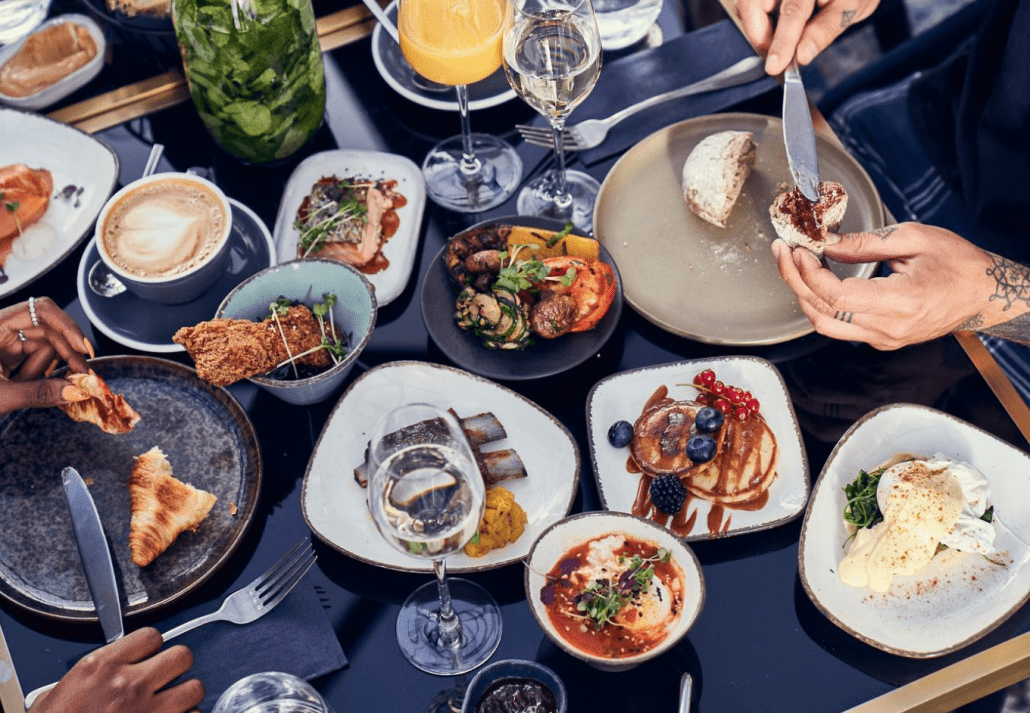 For a fancy Sunday brunch, visit The Reed restaurant to taste the popular creations served a la carte. It features a raw aesthetic warmed by contemporary art pieces, greenery, and a cozy atmosphere.
The very welcoming menu introduction says order as often as you like, eat as much as you want, and drink Prosecco as much as you can. It's true, why wouldn't you enjoy an array of delicious food? Smoked salmon, shakshuka with rich tomato sauce, scrambled eggs, Japanese dumplings, and vegan chocolate mousse all find a spot on the menu. Don't forget the special sweet treats like high protein "cocomisu", a carrot cake, and a blueberry cheesecake.
Whether it's for an occasional breakfast meeting, work or pleasure, this is the place to go.
Address: Karl-Liebknecht-Straße 13, 10178, Berlin
Isla Coffee Berlin
Charming cafe, Isla Coffee Berlin is located away from all the hustle and bustle of Berlin's southern neighborhood Neukölln.
With airy, shabby chic interiors, and super tasty coffee, guests can enjoy unique brunch dishes made with a zero-waste approach. Their philosophy of reusing leftovers made an impact in the food scene as they received an award from German Gastro-Gründerpreis in 2018.
One of the cafe's most loved items is the incredible bread pudding made with leftover steamed milk which becomes the yummy ricotta cheese. The menu tends to change frequently so you can always find new exciting flavors, some of them include mushrooms on brioche, eggs with spinach, and french toast with goat cheese. Let your tastebuds dance with delight!
Address: Hermannstraße 37, 12049, Berlin, Germany
FAQ
What are the best places to brunch in Berlin, Germany?
Factory Girl
Roamers
Tucker. Brunch bar
The Reed
Cafe. Anna Blume
What are other great places to brunch in Berlin?
Azzam
Silo Coffee
Fine Bagels
La Femme
Father Carpenter
CuddlyNest provides all accommodations to all travelers at the best price. Find unlimited travel inspiration on our blog and social media channels.
You Might Also Like:
13 Amazing Museums and Galleries in Berlin, Germany
Top 7 Traditional German Foods – German Cuisine
Walk around Berlin through the big screen