Visiting Berlin and not indulging in the city's gastronomic specialties would be a total shame. All of the greatest restaurants in the city of Berlin provide visitors with a taste of German cuisine, as well as tasty international dishes. Not by chance, experiencing the city's diverse culture and generosity is a must!
However, we know it can be tricky to find eateries that fit your preferences and budget. That's why we decided to guide you through a list of the best restaurants in Berlin. Are you ready to treat your taste buds?
Find Places To Stay In Berlin, Germany
7 Great Restaurants To Eat & Drink In Berlin
Restaurant Yarok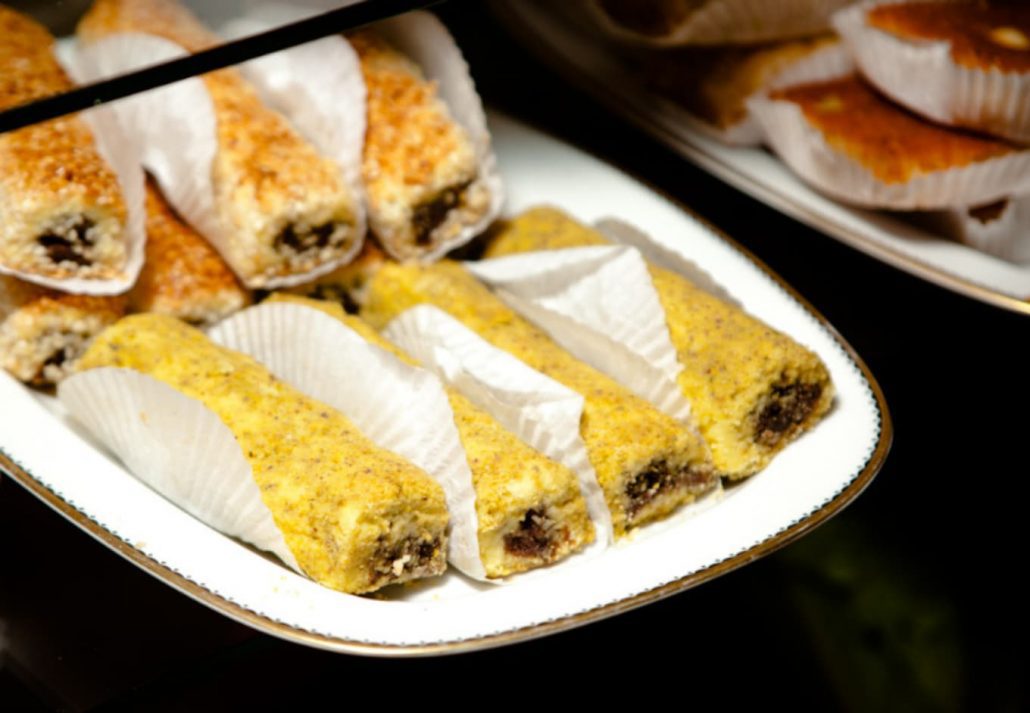 Photo Credit: Yarok
Yarok is a rare cheap food hotspot in a city where a lot of people prefer fine dining. It serves Syrian dishes such as irresistible kebabs and hummus at reasonable prices. The menu has vegan dishes available like fried zucchini and halloumi cheese falafel.
Every meal is authentically prepared with fresh ingredients and is served quickly. You can find Yarok restaurants in two different spots in Berlin. One is in Torstraße and the bigger one is in Wilhelmstraße close to the Checkpoint charlie.
Address: Torstraße 195, 10115 Berlin, Germany and Wilhelmstraße 41A, 10963 Berlin, Germany
Restaurant Horváth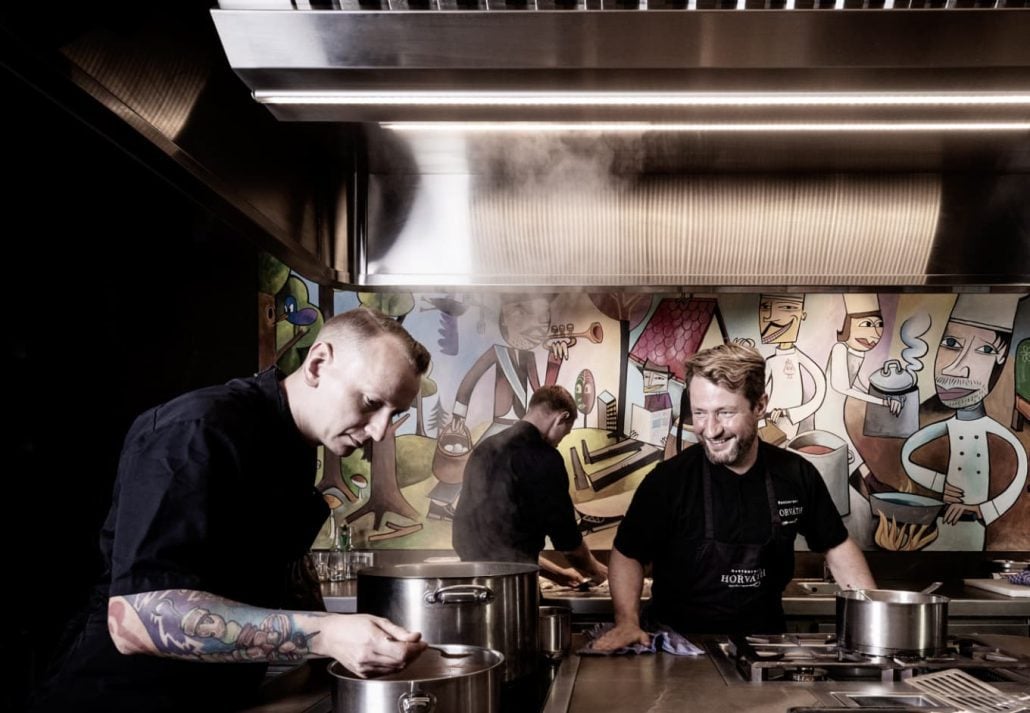 Photo Credit: Horváth
At this canal-side eatery in the German capital, Austrian chef Sebastian Frank earned a first Michelin star in 2011. When you enter the place, there are strong wood accents and red walls with access to a cozy but lively patio. One of the restaurant's highlights is the tasting menu with wine pairings served beautifully.
Delicious food creations are made with fresh meat including pigeons and sturgeon. They're perfectly plated and complimented by cut celery, onion, and kohlrabi. Because of its mouth-watering menu, Horváth received a second Michelin star in 2015. One thing's for sure – Horváth definitely isn't a place to get traditional currywurst. Sophisticated taste buds only!
Address: Paul-Lincke-Ufer 44a, 10999 Berlin, Germany
Restaurant Mogg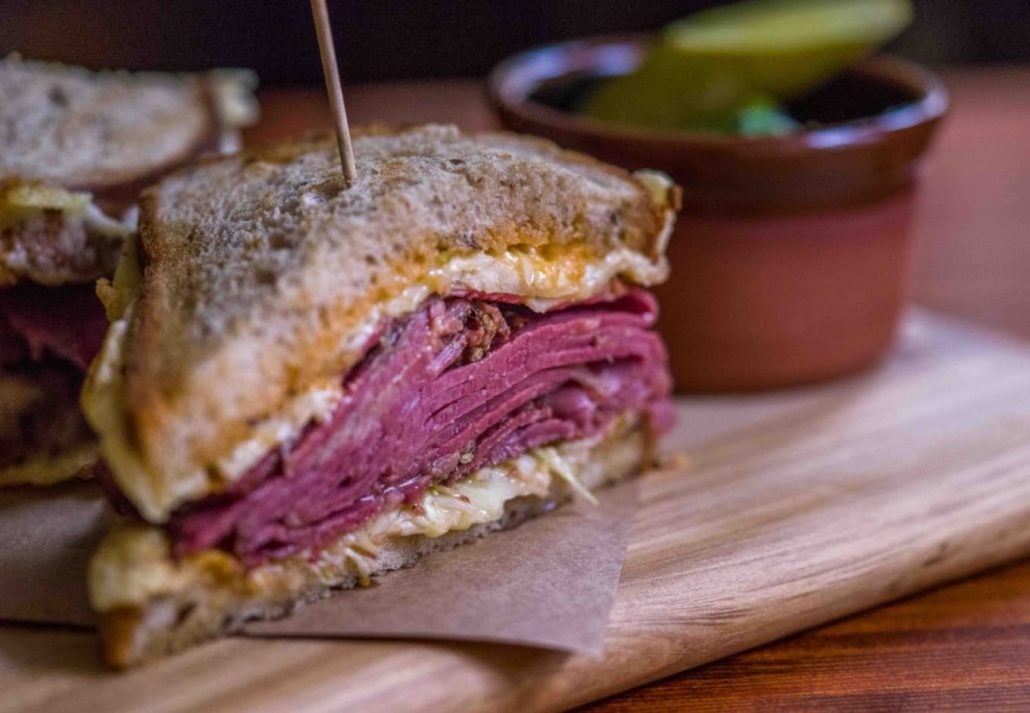 Photo Credit: Mogg
In the past, it used to be a Jewish Girls School in Mitte but today it's one of the best restaurants in Berlin. Well-known among the locals, the Mogg serves shakshuka, pastrami, and delightful New York-style cheesecake.
You won't be let down by the rest of the menu which includes caramelized balsamic lentils, with goat cheese, golden beet, goat cheese salad, pan-seared salmon felt, and chocolate mousse. It all sounds super tasty!
Address: Auguststraße 11-13, 10117 Berlin, Germany
Restaurant Kumpel & Keule Speisewirtschaft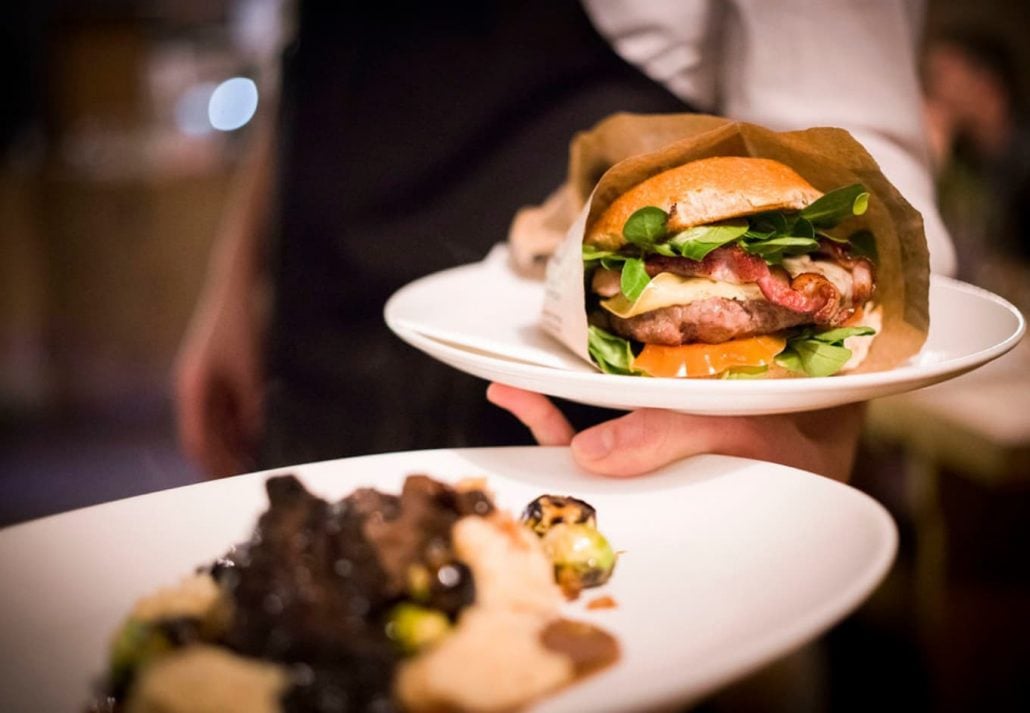 Photo Credit: Kumpel & Keule Speisewirtschaft
This Kreuzberg restaurant offers exceptional German cuisine with an emphasis on international butchery. The best thing about this location is the quick access to the Berlin Wall Memorial and other top tourist attractions in the center of the city.
For those who love a perfectly cooked steak or handmade pork usage, this is the right place to visit. If you're feeling adventurous, try the rabbit's kidney and a list of other surprising dishes on the menu. The restaurant boasts the gourmet version of the Kumpel & Keule burger with wagyu beef from grass-fed German cows.
Gorgeous meals are served in a pleasant setting with high-quality ingredients and excellent service. Keep in mind that this is not vegetarian-friendly as desserts are also made using lard.
Address: Skalitzer Str. 97, 10997 Berlin, Germany
Recommended Read Best Brunch In Berlin: The Top 5 Places
Coda Dessert Dining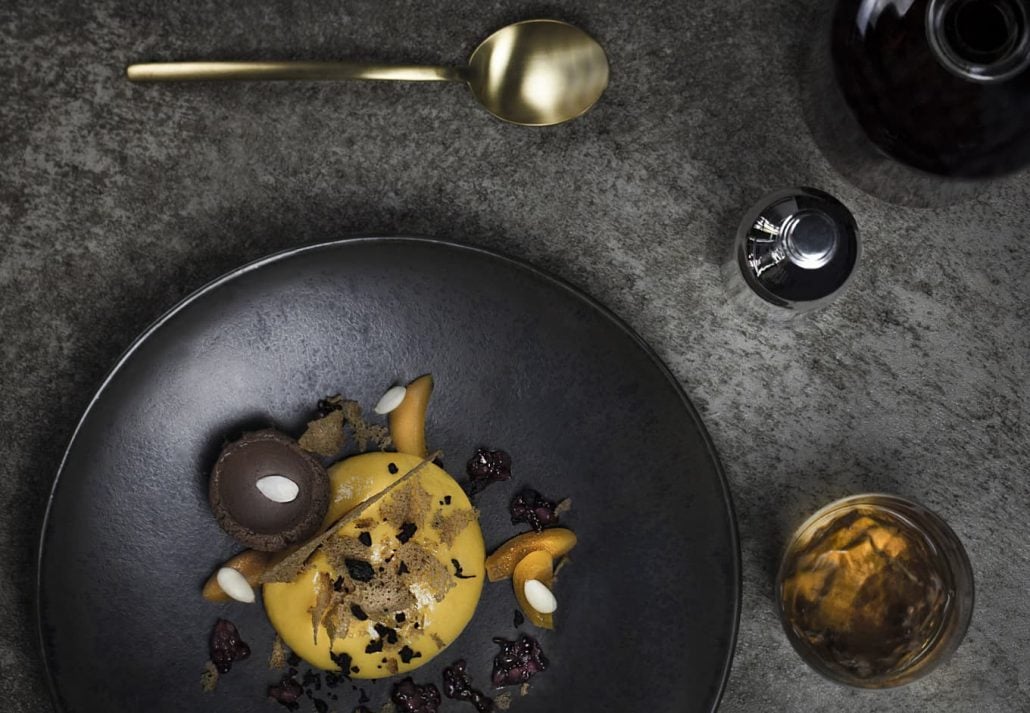 Photo Credit: Coda
Coda, a concept restaurant that serves only sweets and drinks, received its first Michelin star in 2019. Co-owner and head chef René Frank created skillfully plated menus, using only the highest quality ingredients, and emphasizing the innovative approach.
The chef's famous chocolate dessert consists of a light chocolate mousse topped with plum and tonka bean ice cream, dried plums, chicory sauce, and coal dust. This popular sweet creation comes to your table in a smoke clutch that's removed just before you can start eating it. As a cherry on top, it's paired with dry Lambrusco sprayed with whiskey. A fantastic representation of the Coda philosophy and, at the moment, Berlin's most amusing dessert.
If you have a sweet tooth, this truly is the best spot to eat in Berlin. Stop by for a six-course tasting menu that includes both desserts and stellar cocktails.
Address: Friedelstraße 47, 12047 Berlin, Germany
Restaurant Ushido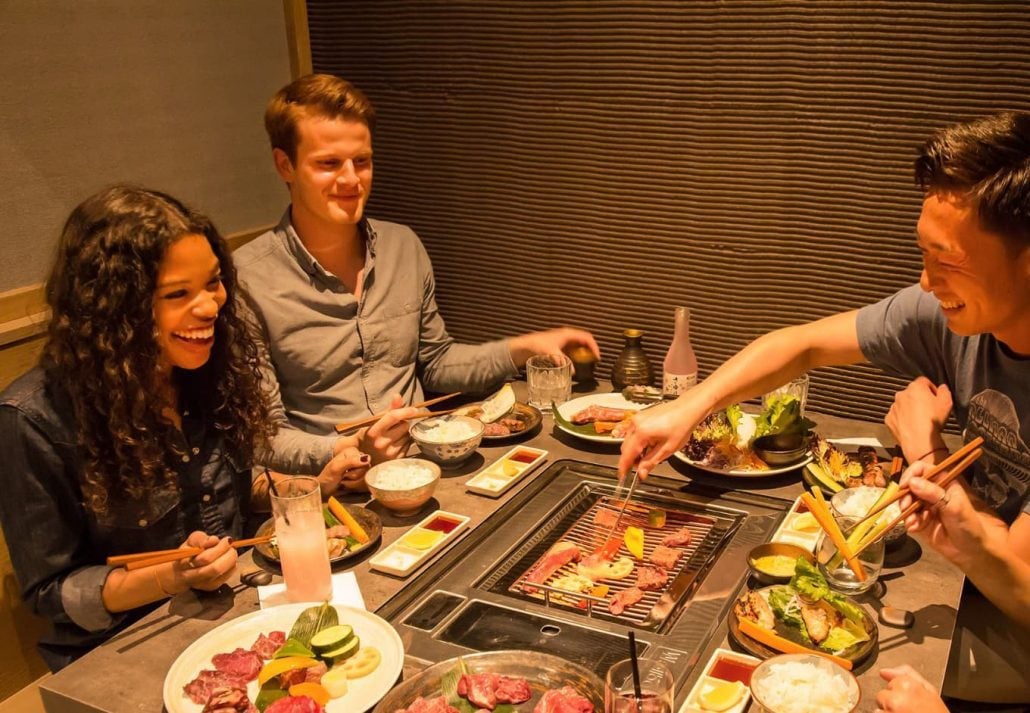 Photo Credit: Ushido
Ushido takes pride in being the first Yakiniku restaurant in Berlin. Yakiniku is a form of delicious Japanese BBQ and is served with vegetables that guests can grill themselves on their dining table. Each table has the best grilling technology providing excellent quality. To complement the meat, Ushido offers side dishes and salads.
The menu consists of a sophisticated selection of food – umami garlic wagyu, yakishabu with sesame dip, cucumber salad, miso soup, mochi, and many more. A super tasty and authentic experience with top-notch ingredients will make you keep coming back.
Address: Lychener Str. 18, 10437 Berlin, Germany
Restaurant Mrs. Robinson's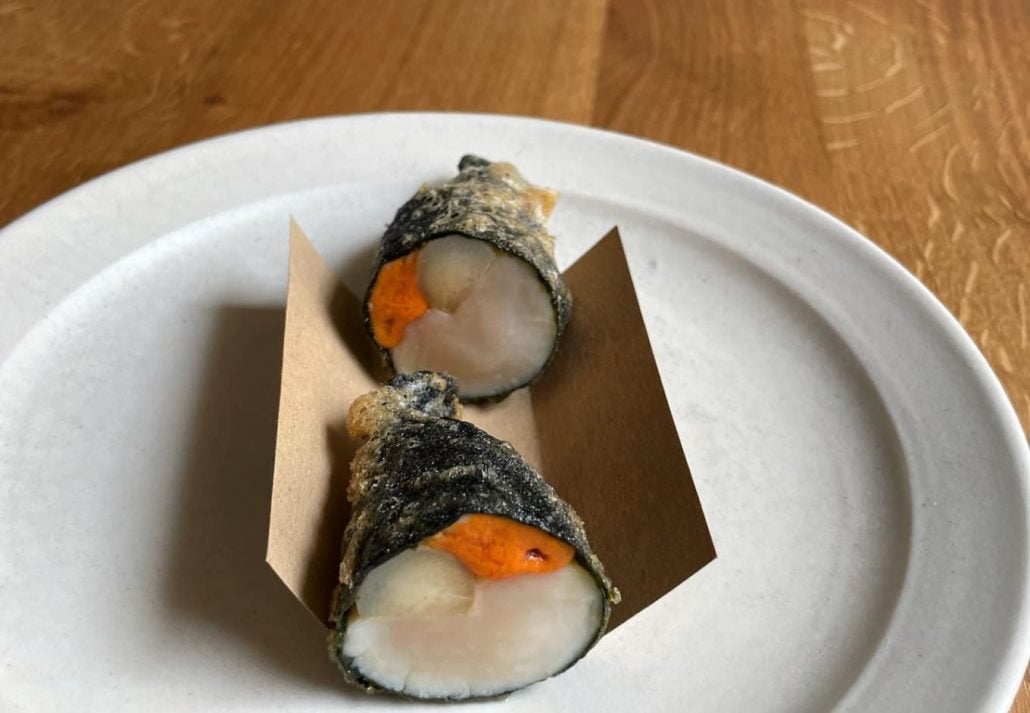 Photo Credit: Mrs. Robinson's
This small restaurant in Prenzlauer Berg transforms traditional feel-good food into modern looks filled with bold flavors. Although it boasts sophisticated dishes, it offers a cozy spot with music playing in the background and a glass of tempting wine.
Mrs. Robinson's serves seasonal ingredients so the menu changes frequently. Some dishes you can try include truffle scallops and eel with Austrian rice, fried chicken and caviar bao, and wood grill octopus. Its philosophy is based on the organic, local, and the natural cycle of cooking to preserve the world's ecosystems.
Address: Pappelallee 29, 10437 Berlin, Germany
FAQ
Which Berlin restaurants offer delicious food and lovely views?
Neni
Solar
Hotel de Rome
Hugos
Which Berlin restaurants have the tastiest fried chicken?
RISA Chicken
Guten Dag – Korean Fried Chicken
Angry Chicken
Crispy's Chicken Berlin
Why is the seasonal menu good?
Seasonal ingredients are fresher, healthier, and tastier. The menus that reflect peak season fruit and vegetables enhance every recipe.
What are other great restaurants in Berlin?
Kin Dee
Restaurant Paris Moskau
Minty Restaurant
Portofino
Bieberbau
POTS
Restaurant Tim Raue
CuddlyNest provides all accommodations to all travelers at the best price. Find unlimited travel inspiration on our blog and social media channels.
You Might Also Like:
A Guide To The Best Markets In Berlin, Germany
6 Clubs In Berlin For A Memorable Night Out
The 9 Best Lakes in Berlin, Germany
Places To Stay In Berlin, Germany
9 Unique Things To Do in Berlin, Germany
The 5 Best Spas In Berlin, Germany
The Best Secret Bars In Berlin, Germany
A Guide To The Best Shopping in Berlin, Germany
Berlin Wall Tour: Everything You Need To Know
The 11 Best Tours In Berlin
The Best Street Food In Berlin: The Top 5 Spots