One of the most well-known places in Dubai is the Global Village, which typically opens in the month of October each year and continues on until April the next year. It is a celebration of the food, tradition, and cultural uniqueness of 90 different countries.
With an exciting theme park, food stalls, and restaurants of 90 different countries' cuisines, and places to shop unique products from each country, this festival is looked forward to by both locals and tourists. It draws over 5 million visitors every year.
Global Village in Dubai is a melting pot of cultures, entertainment, and international wonders in Dubai, with a dash of culinary culture and an exciting children's theme park. There are also regular concerts that happen here by some of the most famous international artists in the world.
Also Read: The Top 10 Things To Do in Dubai
Everything You Need To Know About Global Village Dubai
Getting There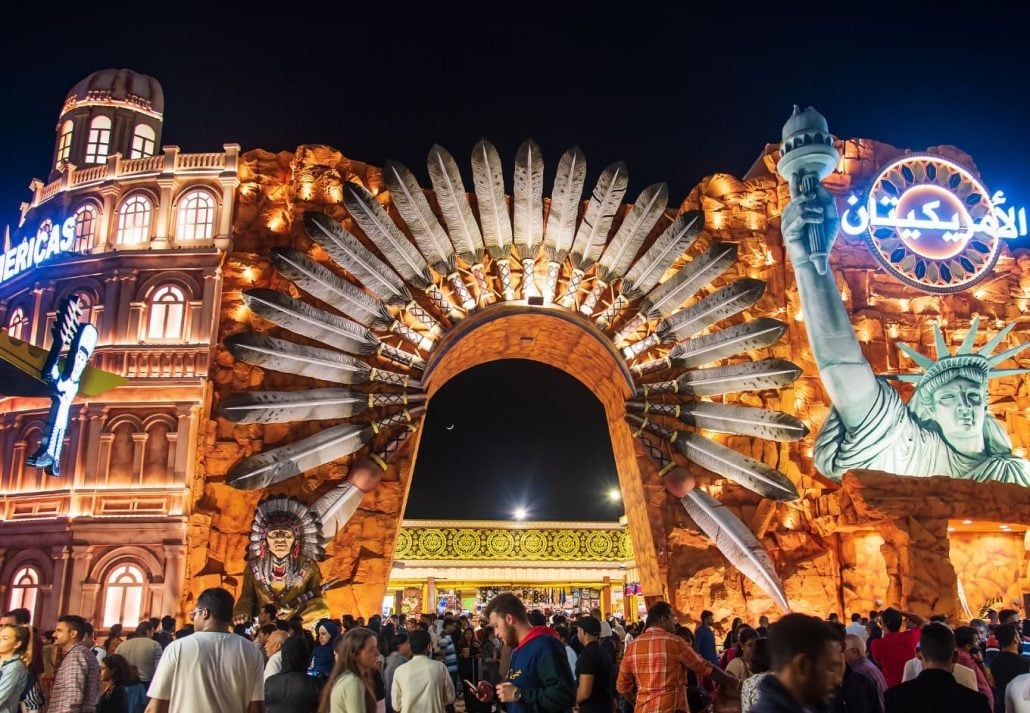 You can get to Global Village through one of its two access gates and utilize plenty of on-site parking and is located on the E37 exit of the E311 motorway, southeast of Dubai. As an alternative, take one of the public buses that travel to the park from several points in Dubai, such as the Mall of the Emirates metro station.
Booking a tour that includes practical round-trip transportation from Dubai hotels is another good choice. Global Village Dubai is located in a space on Sheikh Mohammed Bin Zayed Road. The 28th edition of Global Village Dubai is scheduled to go live on the 18th of October 2023 and run until the 28th of April 2024.
The greatest of the world's experiences can be collectively experienced in this one-of-a-kind amalgamation of different countries. This international event has pavilions from every nation you can think of. As soon as you enter the Global Village, you'll be swept away into a mesmerizing world of sights, sounds, and tastes.
Whether you're looking to broaden your horizons, satisfy your senses, or just make priceless memories with your loved ones, you absolutely have to include it in your Dubai itinerary.
Must-Visit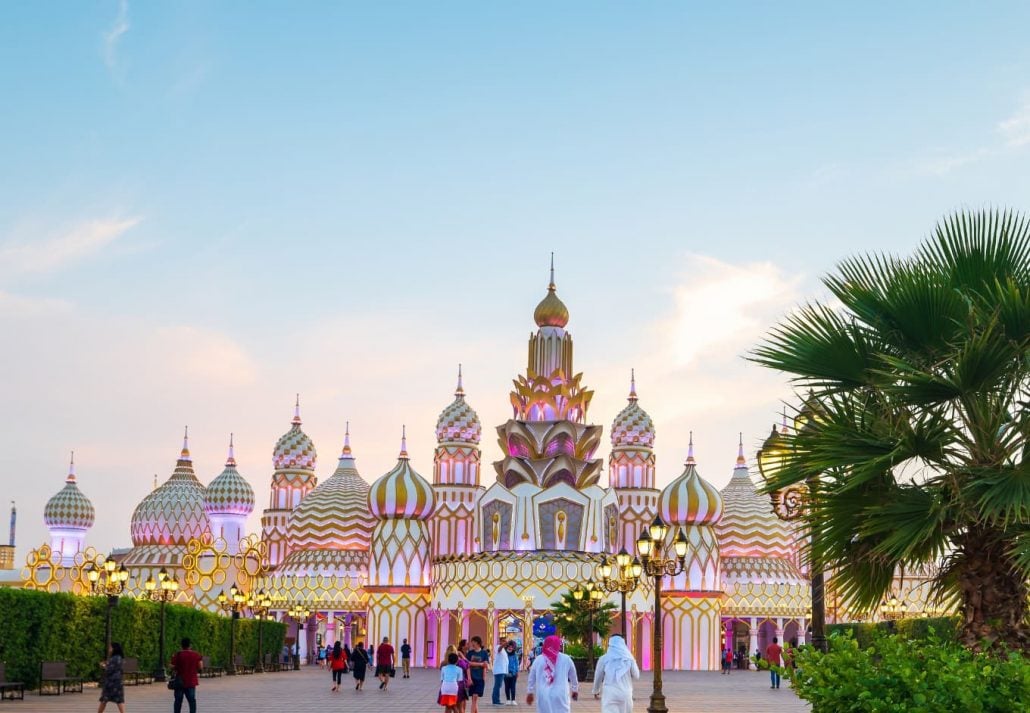 The vast variety of pavilions representing different nations is the Global Village's major draw. Each pavilion is exquisitely made, exhibiting the unique customs, art, and architecture of the country it represents. Without leaving the park, you may travel visually across countries from the breathtaking Taj Mahal replica to the well-known Eiffel Tower.
Global Village has a variety of thrilling rides and attractions for those looking for a rush. There is entertainment for guests of all ages, from family-friendly carousels to heart-pounding roller coasters. Allow the sounds of youngsters laughing and the energy in the air to inspire your own feeling of adventure.
The sections that Global Village is divided into are MENA (Middle East And North Africa), Far East, Europe, Africa, The Americas, and South Asia. Each section has several pavilions of the countries within that region.
Some of the must-visit pavilions and places within the Global Village in Dubai are:
Peter Rabbit Adventure Zone
Circus!
Fantasy Island
Ripley's Believe it or Not!
UAE Pavilion
Yemen Pavilion
Egypt Pavilion
Monaco Pavilion
Also Read: The 9 Most Stunning Beaches In Dubai
The Best Food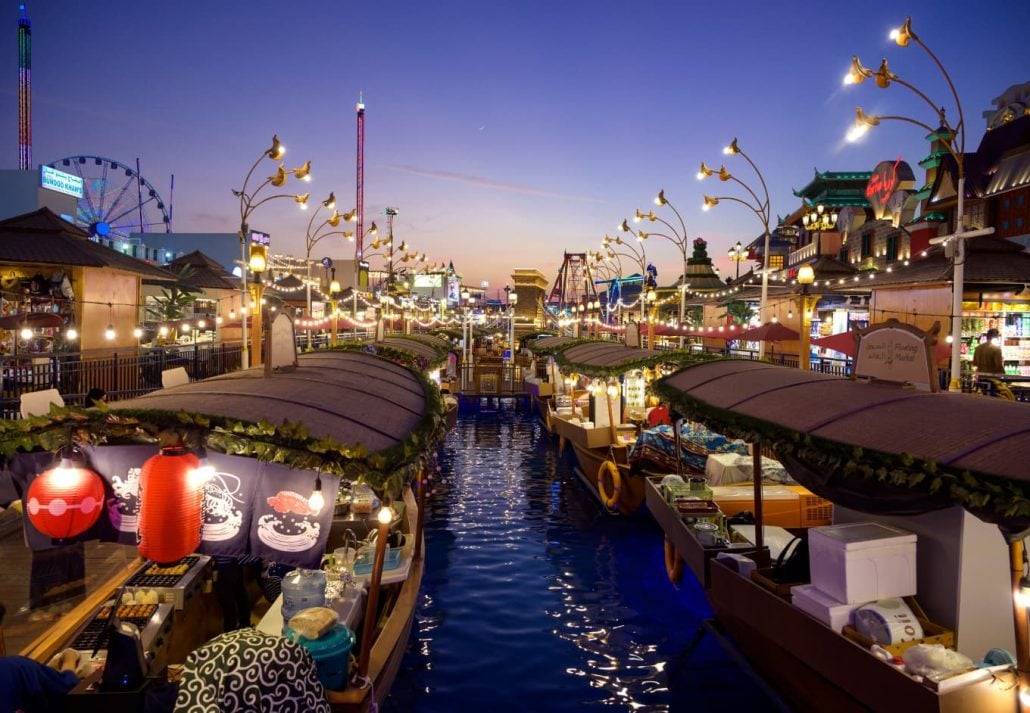 The Global Village provides an entire cultural experience with authentic food from around the world along with its events, cultural performances, and theme park. Treat your taste buds to a variety of mouthwatering international meals. There is a cuisine to please every palate, from hot Indian curries to savory Arabic fare and delectable Asian street food.
The best restaurants that you must visit at Global Village are:
Al Amoor – Egyptian
Kokorek – Turkish
The Floating Market – Thailand
Khachapuri & Khinkali – Old Tbilisi
Al Garhoud Restaurant – Emirati Cuisine
Railway Market – Thailand
Happiness Street
Fiesta Street
Kebpaci Restaurant – Turkish Kebabs
Indian Chaat Bazaar
Also Read: A Complete Guide To The Dubai Parks And Resorts
Shopping At Global Village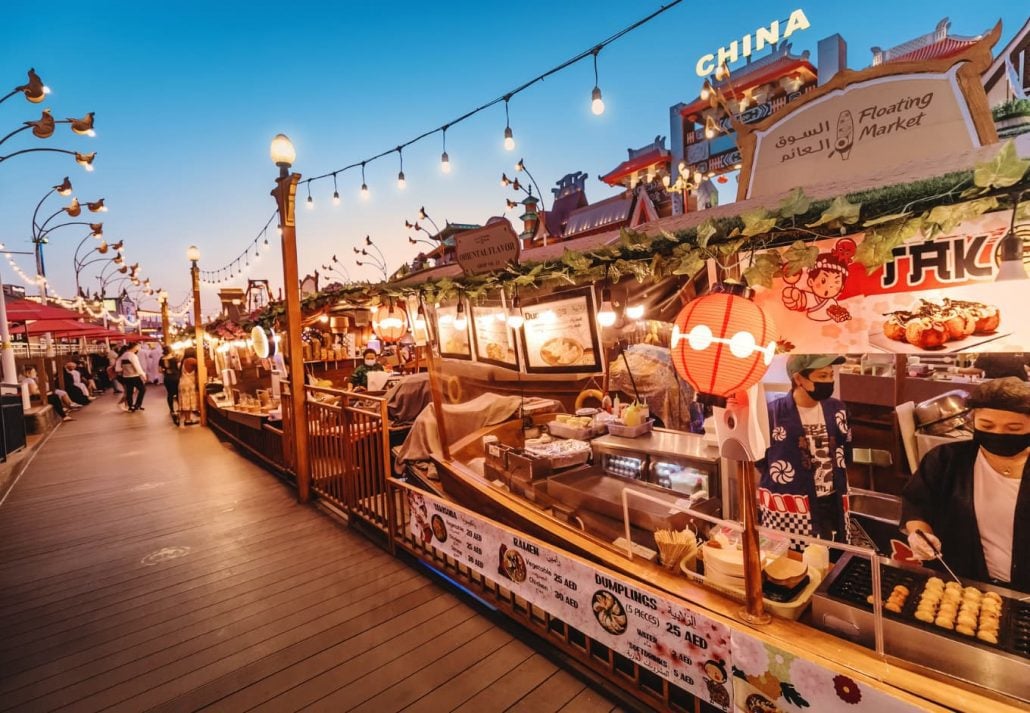 The Global Village is more than just a theme park and a collection of delectable foods from across the world; it's also a haven for shopping, especially for those who are looking to purchase unusual products made in other countries. Wander around the busy market's stalls, which sell handcrafted crafts, souvenirs, and regional specialties. Magnificent textiles, exquisite jewelry, and handcrafted products all provide wonderful options for the perfect keepsake to remember your trip by.
The best things to buy at Global Village are:
Argan Oil from Morocco
Saffron from Iran
Spices from Nigeria
African Black Soap and Shea Butter from Africa
Turkish Delight, Coffee, and Perfumes from Turkey
Events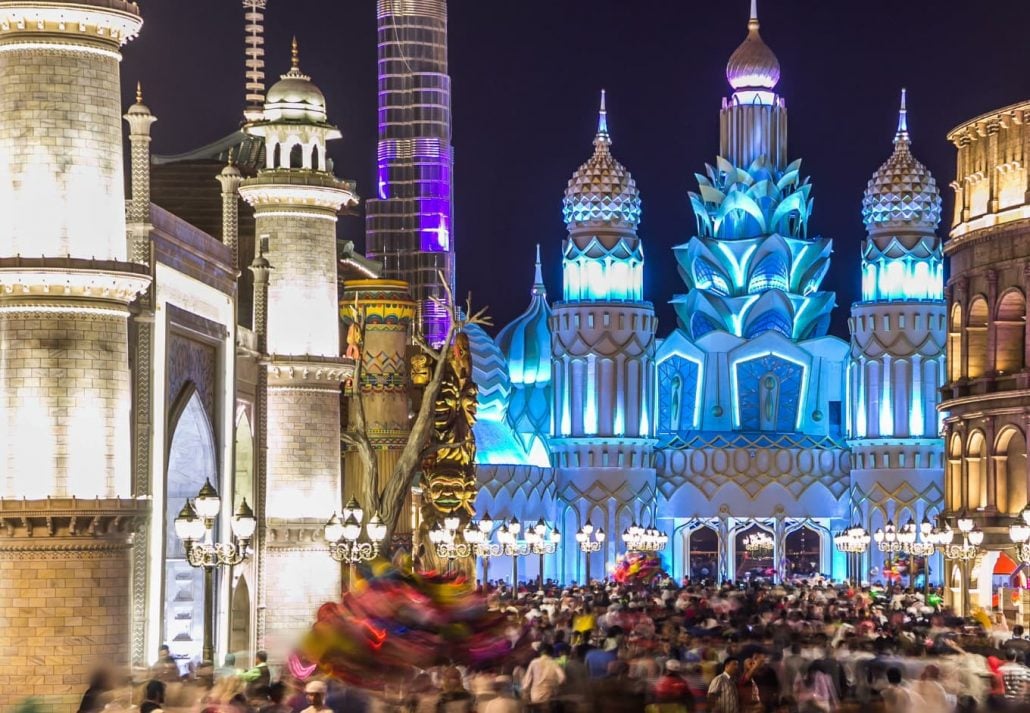 Global Village is a hub of entertainment and excitement. Throughout the season, you can enjoy thrilling live performances, cultural shows, concerts, and parades that showcase the talents of artists from around the globe. Be mesmerized by traditional dance performances, acrobatic displays, and music that will make you want to dance along.
FAQ
Is Global Village Dubai open in 2023?
Global Village Dubai closed for the summer in April 2023. It will reopen in October 2023 and continue on until April 2024.
Is Global Village Dubai free?
You can get a value day ticket for Dh20 and an any-day ticket for Dh25 to Global Village.
Is Global Village Dubai worth visiting?
Yes, Global Village Dubai is definitely worth visiting.
Is there an entry fee for Global Village Dubai?
You can get a value day ticket for Dh20 and an any-day ticket for Dh25 to Global Village.
Browse. Book. Stay.
CuddlyNest provides all accommodations to all travelers at the best price. Find unlimited travel inspiration on our blogs and social media channels Facebook, Instagram, and Pinterest.
You May Also Like:
The Ultimate Guide To Downtown Dubai
The Top 10 Things To Do in Dubai
The 9 Most Stunning Beaches In Dubai
A Complete Guide To The Dubai Parks And Resorts
The 10 Best Restaurants In Dubai