On any visit to Dubai, travelers consider buying gold as the gold here is famous and is usually priced lower than in several parts of the world, and also happens to be tax-free. The Gold Souk is the first place that comes to mind when thinking about purchasing gold as it's one of the oldest and most famous markets in Dubai.
Even those that do not want to buy gold usually pay a visit to this market because of the cultural significance it holds. The Gold Souk is located near the Deira side of the Dubai Creek and no matter which design of gold jewelry you're looking for, you're certain to find it here.
Aside from middle eastern influences on the jewelry, you'll find designs inspired by several international countries as well. The Deira Gold Souk represents the unique wealth that the middle east is prominent for and presents a window through which you can get a glimpse of the way the emirates lived in the past.
Whether you're a local or a tourist, experiencing the array of shiny jewels at the Gold Souk Dubai is a must when you're in Dubai.
Also Read: The Ultimate Guide To Downtown Dubai
Things To Know While Visiting Gold Souk Dubai
Buying Gold At The Gold Souk In Dubai
The Deira Gold Souk in Dubai is famous for its unparalleled selection of gold, making it one of the largest gold markets in the world. From traditional Arabic designs to contemporary masterpieces, there is something to suit every taste and budget. Whether you're looking for a statement necklace, exquisite earrings, or a bespoke wedding ring, the Gold Souk is a haven for jewelry enthusiasts.
The affordable prices at the Gold Souk are the reason for its immense popularity amongst tourists and locals. Dubai sells gold by the gram, with prices controlled by the world gold market. But don't be hesitant to bargain with the sellers as this is part of the experience of the souk and is culturally encouraged.
It could end up in fantastic savings and is ingrained in the community. Just keep in mind to be courteous and smile politely as you go through the whole process.
It's crucial to have some fundamental understanding of purchasing jewelry here if you've never bought gold before. Spend some time getting to know the various hallmarks and learning about the purity of gold. This will enable you to decide with knowledge and make sure you are receiving the most return on your investment.
Getting There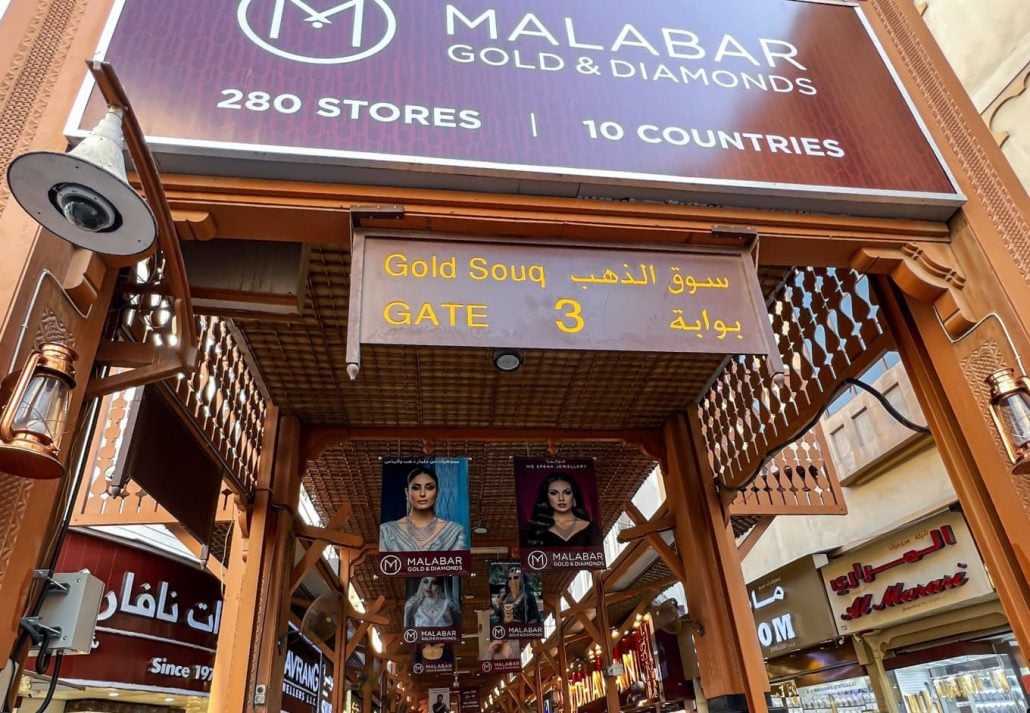 The Gold Souk is conveniently located in Dubai's historical district, Deira, and is accessed by many different modes of transportation. Al Ras Metro Station is conveniently accessible nearby if you prefer to take the metro. You can get to this gold mine by taking a short stroll from there.
Once you get to the Gold Souk and immediately find yourself in a lively, bustling environment. Several stores, each with an elaborate exterior that draws you in, along the tiny streets. As you feast your eyes on the brilliant displays presenting an amazing assortment of gold jewelry, you'll be tempted to go on a shopping spree.
Other Precious Metals And Gems At The Gold Souk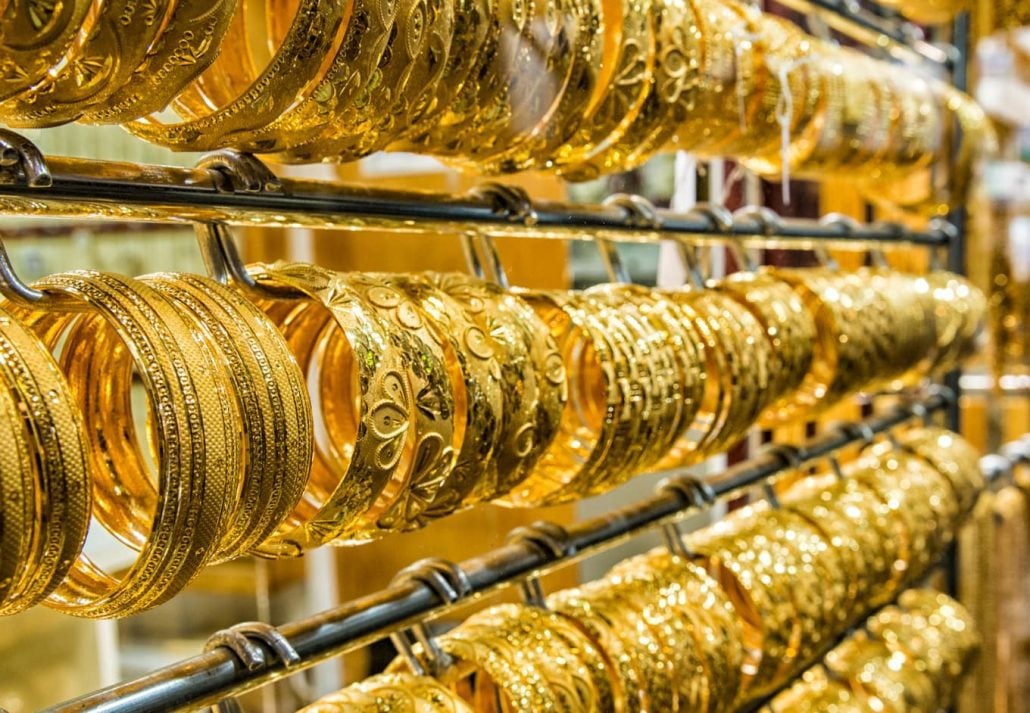 Even though gold is unquestionably the primary focus of attention in the Dubai Gold Souk, there is also a wonderful selection of other precious metals and jewels. The diversity, from glistening diamonds to glossy pearls, is astounding.
Beautiful pieces with emeralds, sapphires, and rubies are also available to give a splash of color to your jewelry collection.
You'll come across pleasant and friendly store owners who are eager to share their experiences and participate in stimulating conversations, partially as a marketing tactic to excite you, but for the most part, as a whole-hearted interest in being sociable with customers. As you meander through the maze-like streets, embrace the spirit of discovery and look for undiscovered precious stones and treasures.
Also Read: The 9 Most Stunning Beaches In Dubai
Exploring Deira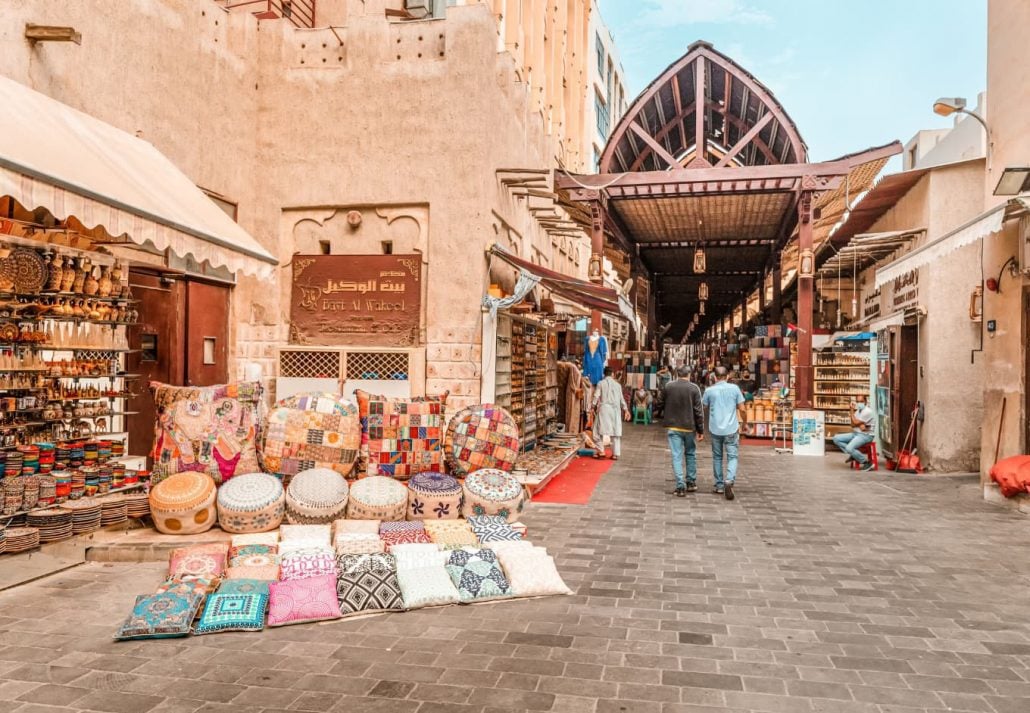 Take some time to look around Deira outside of the souk if you feel like you need a break from the eye-catching displays of jewelry. Deira is a beautiful neighborhood that is abuzz with local markets, spice souks, and quaint cafés.
Experience the vivid kaleidoscope of the local culture while enjoying mouthwatering Middle Eastern food and smelling the fragrances of unique spices. Get lost in the fascinating world of gold, where centuries' worth of skill and art come to life.
Tips For Visiting The Dubai Gold Souk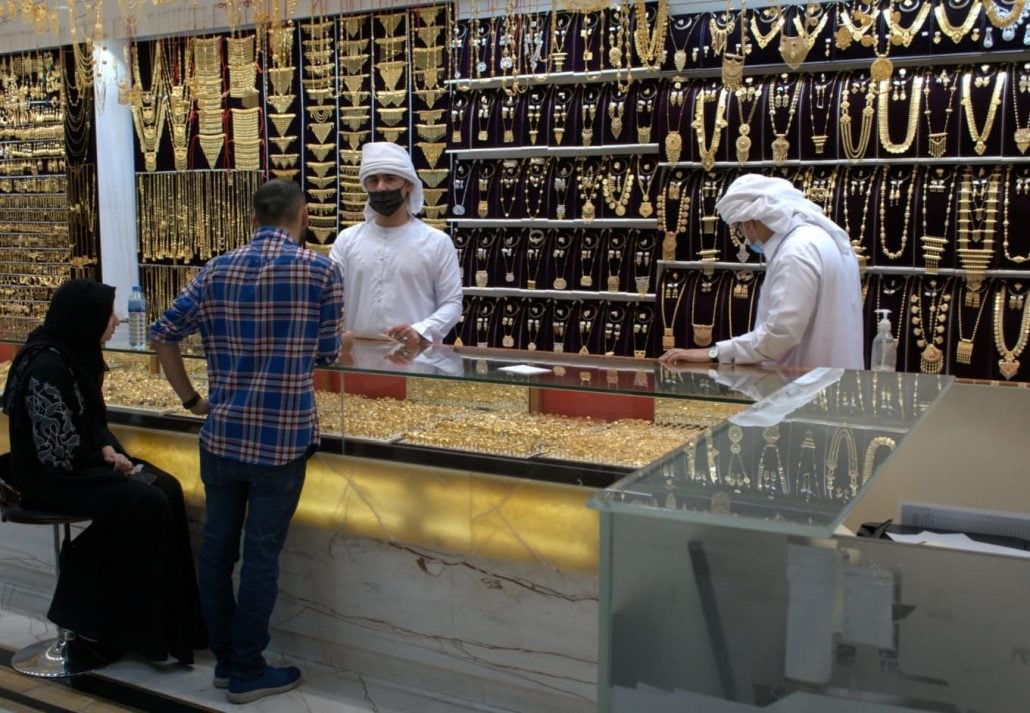 Keep track of the gold prices that fluctuate every day so you can then get an idea of how many grams of gold you're looking to buy.
There are over 300 retailers in the Gold Souk so take your time looking around and shopping for the best possible prices and rates. The rates can vary based on the making charges and the wastage of the design. Don't be afraid to haggle, because that is an absolute must here and the shopkeepers expect it!
Once you set a budget for how much you're looking to spend on the gold, you should also decide how pure you want the gold to be (which greatly affects the price). 24 Karat gold is the most pure form and then there's also 22K and 18K which would be priced much lower.
The souk is open from 9:30 AM to 9:30 PM every day, and open from 4 PM to 9:30 PM on Fridays. The best time to visit would be a weekday evening as the afternoons get quite crowded, especially on weekends.
There are a lot of safety regulations imposed by the government, so all the gold at the Gold Souk is 100% real and is of high purity as well.
Also Read: The Ultimate Guide To Dubai Mall
FAQ
Is gold cheaper in Dubai Gold Souk?
The gold prices are lesser in Dubai compared to most countries, and it's tax-free. While there's a VAT that was recently added, the VAT is refundable. Gold Souk has the most gold retailers in any space in Dubai, so it's the best place to compare prices and get the cheapest deals.
Is gold real in Gold Souk Dubai?
Gold is 100% real in Gold Souk Dubai in any of the retailers there as it's highly regulated by government agencies which ensure that all standards are being met. Make sure to only buy from shops though and not stands or people that are walking around selling things.
How much is gold in Dubai Souk?
Gold prices fluctuate on a daily basis and also depend on the purity of the gold that you're looking to buy. We recommend looking up the current gold prices when you're traveling.
Can you bargain at Gold Souk Dubai?
Bargaining is a norm and is encouraged at Gold Souk Dubai. The shopkeepers expect you to do so and so quote prices that are on the higher end. You can haggle over all the jewelry here but remember to be polite and smile while doing so, as this is a cultural norm.
Browse. Book. Stay.
CuddlyNest provides all accommodations to all travelers at the best price. Find unlimited travel inspiration on our blogs and social media channels Facebook, Instagram, and Pinterest.
You May Also Like:
The Ultimate Guide To Downtown Dubai
The Top 10 Things To Do in Dubai
The 9 Most Stunning Beaches In Dubai
A Complete Guide To The Dubai Parks And Resorts
The 10 Best Restaurants In Dubai