Greece is one of the most popular vacation spots in the world and its no wonder why – crystal clear blue waters, dramatic cliffs, delicious Greek cuisine, and having the privilege to enjoy the best sunsets you'll see anywhere, all make the Greek islands the perfect spot for your next vacation. Greece hotels are difficult to narrow down owing to the vast variety of amenities offered by each hotel, the prices, and their star ratings.
We've narrowed down the six best hotels in Greece that you should definitely consider staying at for the perfect plush luxury experience at the best possible prices. Let's take a dive into the top hotels in Greece.
Top 5 Hotels In Greece
Grand Hyatt Athens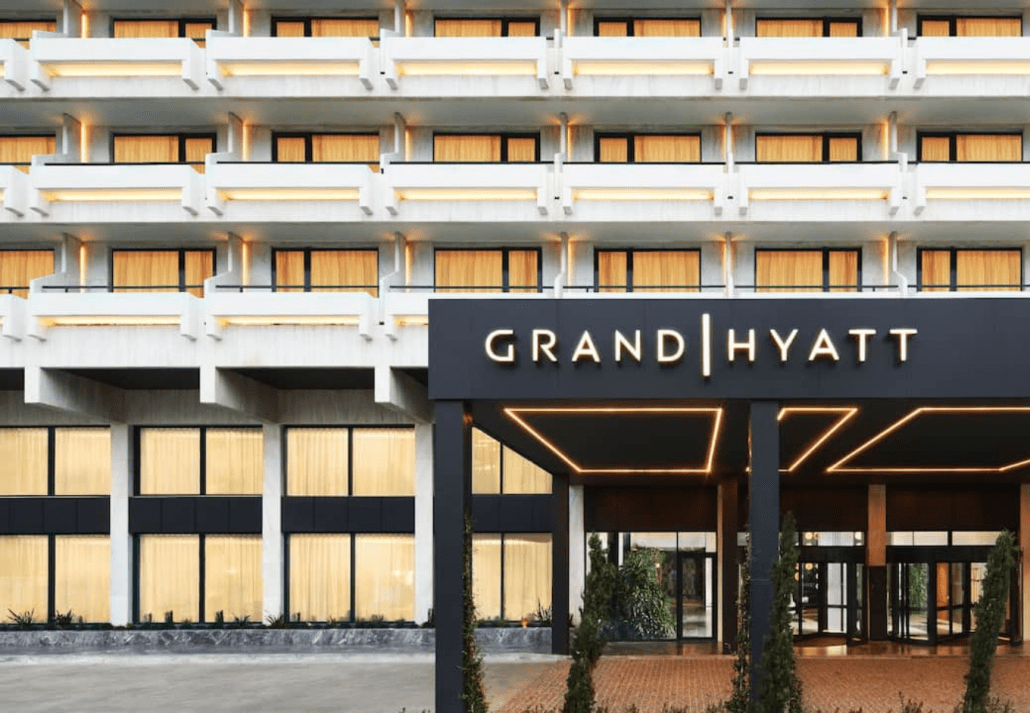 Grand Hyatt Athens is situated in one of the most popular regions of Athens on the famous Syngrou Avenue and has a stunning view of the ancient city of Athens.
This is one of the extremely popular hotels in Greece, especially amongst tourists who want to stay in a luxury hotel in a great location with an incredible view.
With popular destinations such as the ancient Agora of Athens, the Parthenon, and the Acropolis museum all within a 10-minute drive from the hotel, this hotel is truly located in the city center of Athens. This is the exact location in which most tourists prefer to stay.
With a rooftop swimming pool that overlooks the Acropolis, it creates the perfect atmosphere to unwind in Greece with a cocktail from the poolside bar. Each room has a luxuriously designed bathroom made completely of marble and some of the suites have private terraces, too.
Their rooftop restaurant, The Grand, features a delicious array of Mediterranean and Greek food that is focused on making the ingredients shine. The average nightly price of this hotel is quite affordable when compared to other 5-star hotels in Athens, and its an amazing option in this price range.
Address: Leof. Andrea Siggrou 115, Athina 117 45, Greece
Nearby Attractions: Acropolis of Athens, Parthenon, Acropolis Museum, Ancient Agora, Temple of Olympian Zeus, Panathenaic Stadium, Odeon of Herodes
Top Amenities & Services: Free WiFi, Spa, Concierge, Rooftop Pool, Marble Bathrooms, Pet Friendly, Fitness Centre
Andronis Luxury Suites, Santorini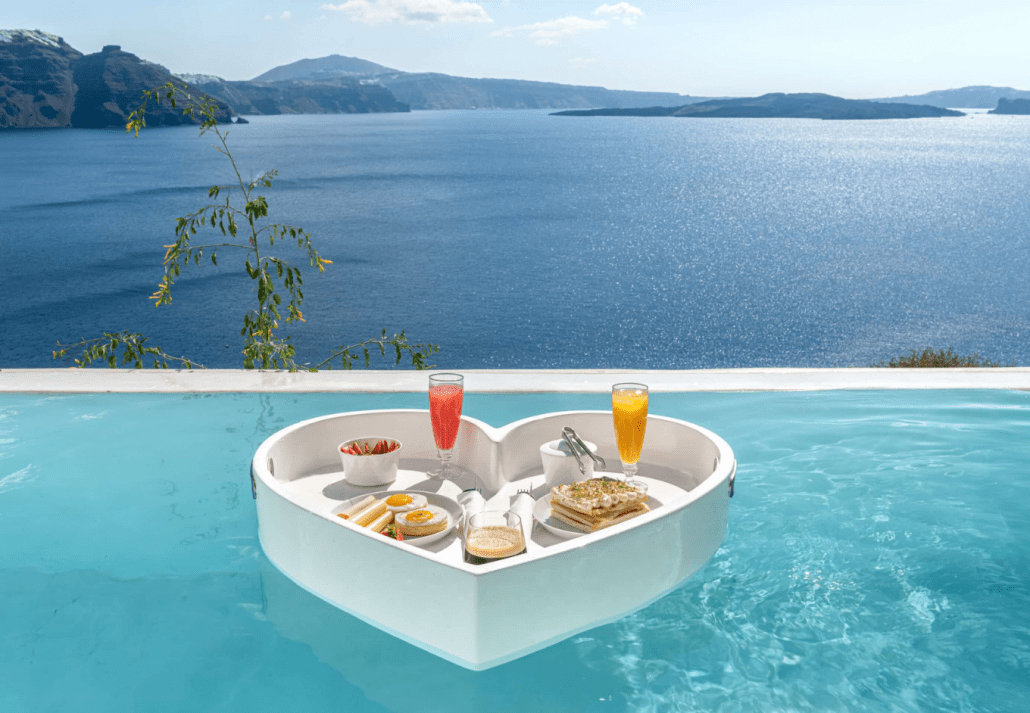 Santorini is a Greek island that is one of the most popular regions of Greece and is thought to be a place blessed by the Greek Gods. Famed on Instagram for its blue-domed churches and gorgeous cliff views, staying in the Andronis Luxury Suites hotel with an expansive sea view, your own private infinity pool, and hot tub is the best way to enjoy the wonder that is Santorini.
Andronis Luxury Suites has won 33 awards and has been named the World's Most Instagrammable Hotel by Forbes in 2022, so it comes as no surprise that this is one of the most popular hotels in Greece. Its great location right in Oia is unbeatable. They offer wine tastings that can be enjoyed during your stay to make for the perfect Greek vacation.
The hotel's restaurant Lycabettus is known to be one of the best fine-dining restaurants in Greece and is perched on a beautiful cliff rock edge. Their famed Mare Sanus Spa is not to be missed as it features unique massages that are renowned for being the best, along with gorgeous rustic interiors and concrete floors.
Andronis Boutique Hotel is another hotel by the same company that's only a short distance from this hotel and is another great option to explore.
Address: Leof. Andrea Siggrou 115, Athina 117 45, Greece
Nearby Attractions: Amoudi Bay, Three Bells Of Fira (A Blue-Domed Church), Santorini Caldera, Venestanos Winery, Castle of Oia, Skaros Rock, Kamari Beach, Santos Wine
Top Amenities & Services: Free WiFi, Spa, Concierge, Pool, Fitness Centre
Coco-MAT Athens BC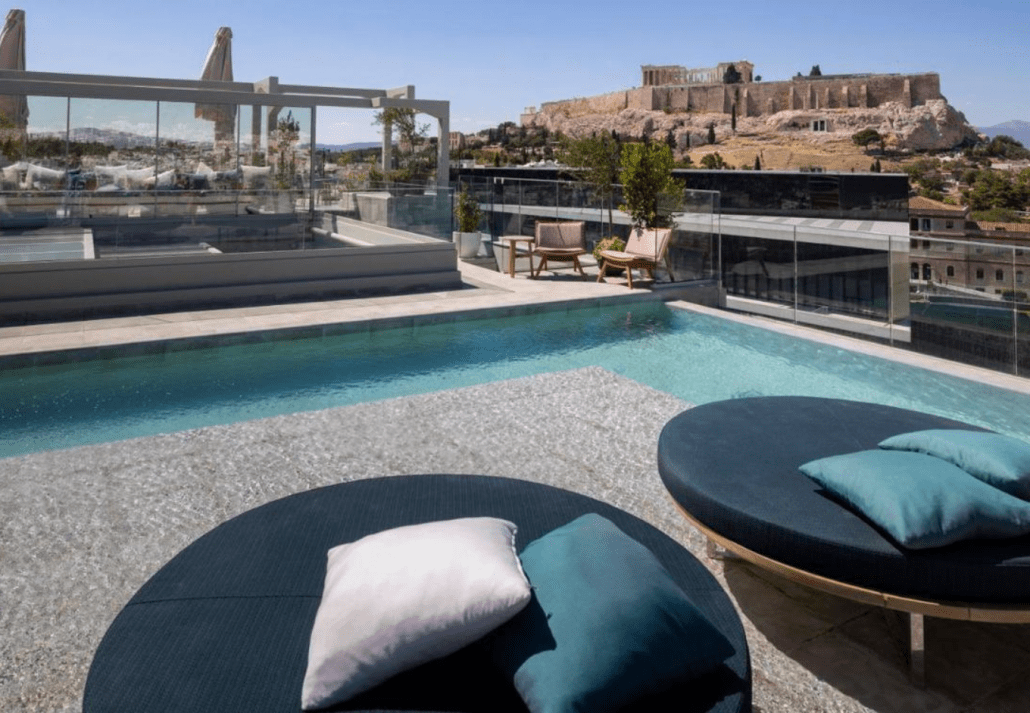 A truly fresh and unique 5-star property, the Coco-MAT Athens hotel is carefully designed and structured to bring all the best elements that Athens has to offer together, to create an atmosphere that relaxes your soul.
We highly recommend staying in this hotel as renowned landmarks such as the Acropolis Museum, the Temple of Olympian Zeus, and Mount Lycabettus are all just a short walk away from the hotel.
Situated right in the heart of Athens, expect to see stunning views of the Acropolis from the rooftop garden with the pool and right from your rooms as well. One of the most highly recommended hotels in Greece, the Coco-MAT hotel offers a pleasant stay in a good location in the city center and opens the gateway for you to experience the top destinations to visit in Athens.
The hotel features a state-of-the-art fitness center and spa, with guests also raving about the super comfortable beds in the rooms and the friendly staff. This is hotel also a great option if you're traveling with pets as it's certified for being pet-friendly.
Their food options are focused on being fresh, homemade, and making local ingredients the stars while paying homage to the traditional Athenian style of Greek cuisine.
Address: Falirou 5, Athina 117 42, Greece
Nearby Attractions: Acropolis of Athens, Parthenon, Acropolis Museum, Ancient Agora, Temple of Olympian Zeus, Panathenaic Stadium, Odeon of Herodes
Top Amenities & Services: Free WiFi, Spa, Concierge, Rooftop Pool And Garden, Pet Friendly, Fitness Centre, Interactive Gastronomical Open Kitchen,
Blue Palace, A Luxury Collection Resort And Spa, Crete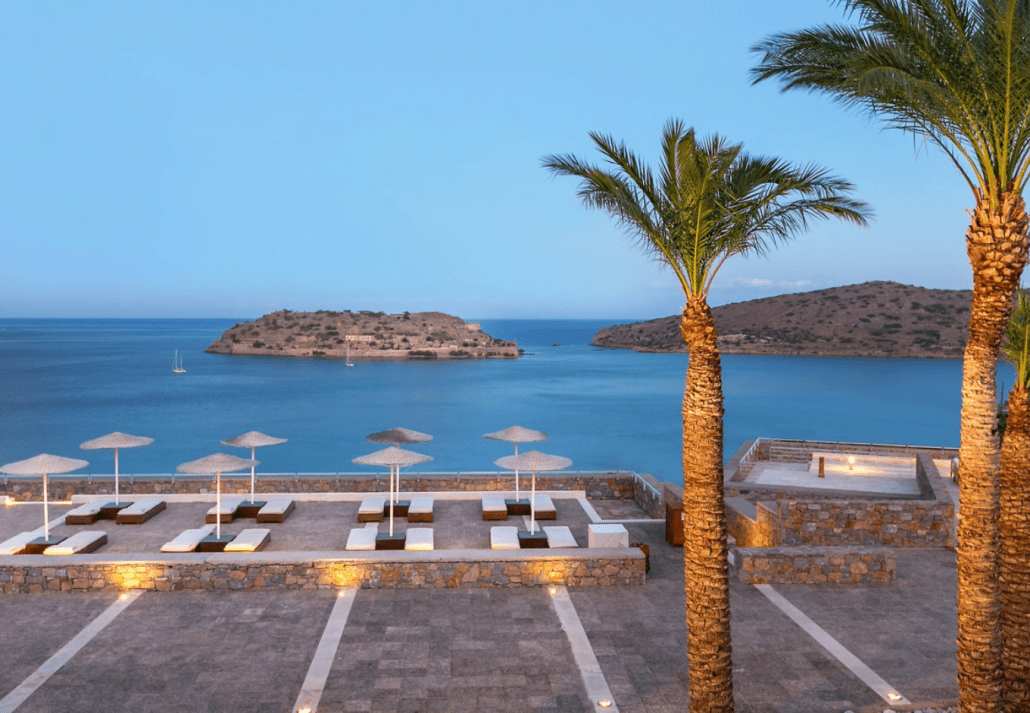 Blue Palace Elounda – Luxury Collection Resort and Spa is a resort by the Marriott group of hotels located in Crete and is one of the most renowned Greece hotels. The perfect blend of timeless earth tones, Mediterranean architecture, and gorgeous gardens with the expansive blue tones of the Aegean Sea make for the best escape from your daily routine.
Unwind in the lap of luxury at this resort in your own private bungalow or villa complete with private terraces and an infinity pool or take a stroll on the resort's private beach. If you're traveling as a family or a group, they have villas with two double rooms and three rooms as well.
The resort features stunning views of Spinalonga island which is UNESCO nominated for the ruins of a gorgeous Venetian fortress, and we would definitely recommend visiting it.
The guest reviews repeatedly rave about the friendly staff in the hotel and the gorgeous view. Plaka beach is only a short walking distance from the resort, too, and is a must-visit!
Address: Plaka, Schisma Elountas 720 53, Greece
Nearby Attractions: Spinalonga, Plaka beach, Olous Archaeological Site, Lake Voulismeni, Havania Beach, Kalydon, Voulisma Beach
Top Amenities & Services: Free WiFi, Spa, Concierge, Outdoor Pool, Fitness Centre, Private Beach, Water Sports With Training, Activities For Kids
Katikies Mykonos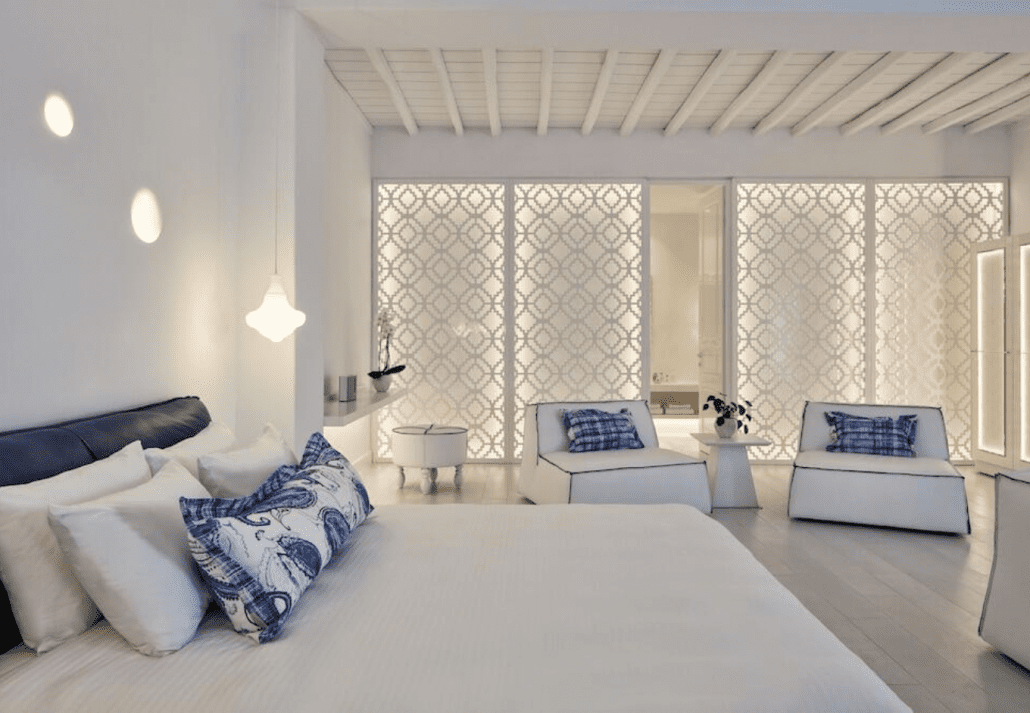 Located just a 10-minute driving distance away from Mykonos town, the Katikies Mykonos five-star hotel is a wonderous and elegant structure that draws inspiration from Greece's Cycladic houses.
With stunning views of the Agios Ioannis beach and some portions of the hotel getting views of the Delos island, these breathtaking white sand beach views will charm you to no end! Their accommodation options include suites with jacuzzis and have a certain cosmopolitan feel to them with their clean-white walls and decor.
Their famous spa called A.SPA is a feast for sore eyes with a chic Mediterranean look to it, and even the wholesome therapies they offer would certainly revive your spirits.
With dining options that include lower-deck and upper-deck lounges, a luxurious fine-dining Mediterranean establishment called Mikrasia, and the gorgeous Champagne Bar, you would be spoiled for choice in Katikies! We recommend staying here for a truly memorable stay in Greece.
Address: Agios Ioannis, Mikonos 846 00, Greece
Nearby Attractions: Delos island, Super Paradise Beach Club, Playa Beach, Psarou Beach, Kapari Beach, Agios Ioannis Beach, Agios Stefanos Beach
Top Amenities & Services: Free WiFi, Spa, Concierge, Outdoor Pool, Fitness Centre
FAQ
Is Greece a cheap holiday?
Depending on the type of stay you choose and whether you're visiting the Greek mainland or the Greek islands, you can find hotels within budgets as low as 30 to 40 Euros a night and use public buses for transportation to fit a holiday in Greece into your budget. You can also save money by eating local food from taverns – which is where you'll find the most delicious food!
How much for a hotel for a week in Greece?
You can find hotels in Greece that cost between $60-$200 per night depending on the standard of accommodation you're looking for. For a week, expect to spend anywhere between $400-$1500 for two people's stay.
What part of Greece is the best to stay in?
Athens, Santorini, Crete, Mykonos, and Corfu are some of the most popular regions to stay in Greece.
Which city should I stay in Greece?
In terms of mainland cities, Athens is definitely the best city to stay in Greece, and at its city center, it has some of the most historically rich ancient ruins for you to explore. Amongst the Greek islands, you must visit Crete, Mykonos, Naxos, and Santorini.
What is the best month to visit Greece?
Greece experiences clear skies and summer from mid-April to August, with the warmest months being May and June. May-August is the high tourism season in Greece and is perfect if you want to experience the bustling tourism and nightlife of Greece. For a more calm, serene, and quiet vacation, we recommend going in April (spring) or October (autumn). You would still get fairly good weather with fewer prongs of crowds during these months!
CuddlyNest provides all accommodations to all travelers at the best price. Find unlimited travel inspiration on our blogs and our social media channels Facebook, Instagram, and Pinterest.
You May Also Like:
Top 10 Best Restaurants In Greece
The 8 Best Night Clubs In Greece
10 Of The Best Beaches In Greece
16 Best Things To Do In Greece
5 Amazing Wineries In Greece
A Guide To The Best Kid-Friendly Attractions In Greece