No trip to Greece is complete without an authentic experience of the diverse yet simple Greek cuisine. A symphony of Mediterranean spices, fresh vegetables, heart-healthy meat, and a touch of the rich Greek olive oil, make the food in Greece simple, healthy, yet packed with flavors and textures.
There is no shortage of authentic Greek restaurants in Greece and you can find scrumptious local food in every type of place – from the smallest taverns and streetside places to the fanciest fine dining restaurants.
The ingredients of Greek food are so wide that they can accommodate every dietary requirement. Some of the main ingredients to indulge in while in Greece are feta cheese, pork chops, fresh local produce that can be found at several farmers' markets, and scrumptious seafood.
From Ambrosia in Santorini to Tudor Hall in Athens, every region of Greece features its own special delights. Another one of the most renowned and highly loved restaurants in Greece is the Funky Gourmet restaurant in Athens which has unfortunately closed down for the time being due to the pandemic. If ever reopened, we highly recommend stopping by there for a meal.
Don't forget to sip on some authentic Greek wine that pairs beautifully with the cuisine. While Greece is predominantly renowned for its white wines, they have a distinguished collection of red wines and rosé as well.
Every country's food culture revolves around differing practices. Some things to know about dining in Greece are:
Every meal here is usually enjoyed at a later time than in other countries. You would find most locals eating lunch at 2 or 3 PM and dinner would be served between 9 and 10 PM. There are, however, some restaurants in tourist areas that tend to serve food earlier to cater to travelers' needs. You will only need to make reservations at fine dining spots.
Tap water is safe to drink in Greece. You may be offered a choice between tap or bottled water in most restaurants.
Carry cash with you as many small taverns and local food places don't accept cards. Tipping is usually done at flat amounts rather than by percentage like in the USA.
Let's look at some of the must-visit best restaurants in Greece, both on the mainland and on the Greek islands.
The Best Restaurants That You Must Visit In Greece
Ambrosia Restaurant, Santorini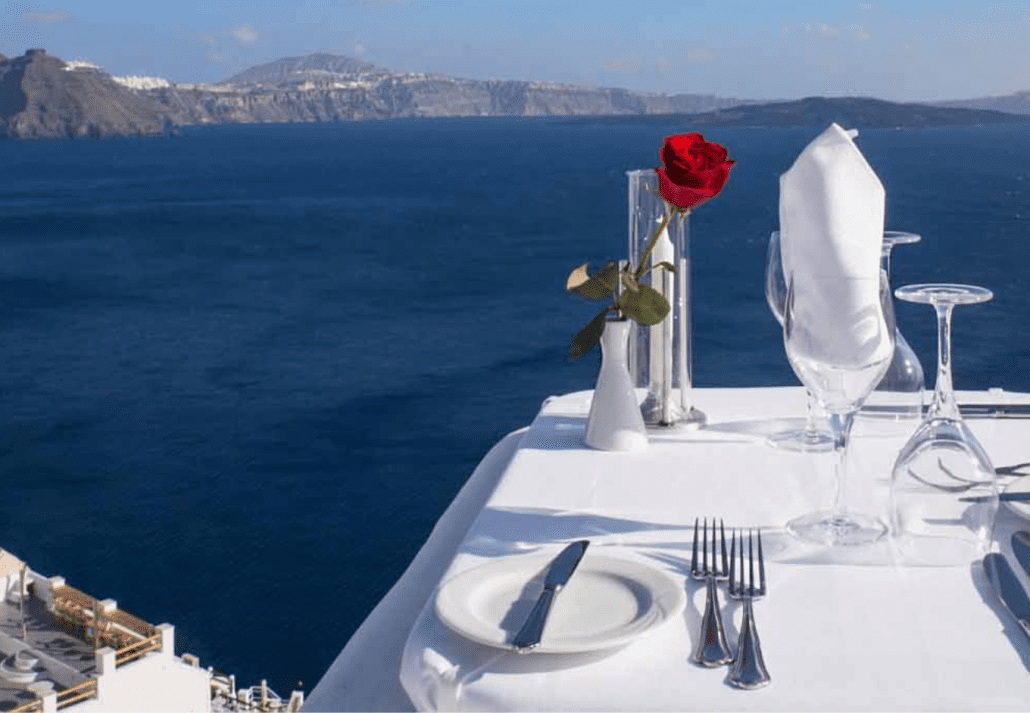 One of the most renowned and scenic fine dining restaurants in Greece, Ambrosia restaurant is white tableclothed, nestled in one of the Cycladic houses on Santorini's Caldera cliff in Oia.
This fine dining eatery overlooks a beautiful view of the Aegean sea and is the perfect environment for the most romantic date night of your life.
With a limited menu consisting of signature dishes, Ambrosia features options of seafood, meat such as lamb, duck, and veal, crisp fresh salads, delectable pasta, and desserts.
Address: Cliffside Terrace at Village Center, Oía 847 02, Greece
Timings: 6:30 PM to 11:30 PM
Tudor Hall, Athens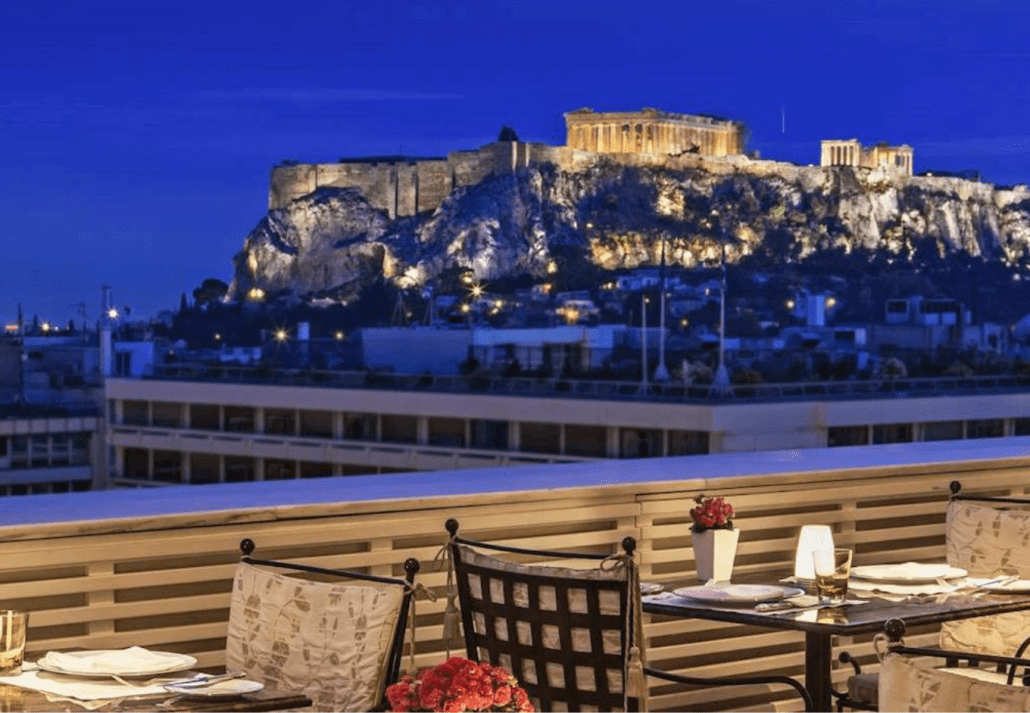 Situated on the seventh floor of the famous King George luxury hotel, Tudor Hall is a feat of luxury fine dining. With breathtaking views of the ancient city of Athens from the outdoor seating area, this restaurant would be perfect to visit for lunch or for dinner to enjoy the wonderful sight of the Acropolis in all its glory.
Featuring a contemporary take on Greek cuisine, Tudor Hall serves some of the best gourmet delights in Athens – from salads and meats paired with fine wines to delectable patisserie desserts. This restaurant also boasts several vegetarian options.
Address: Vasileos Georgiou A 3, Athina 105 64, Greece
Timings: 6:30 AM to 1:30 PM, 6 PM to 2 AM
Peskesi, Crete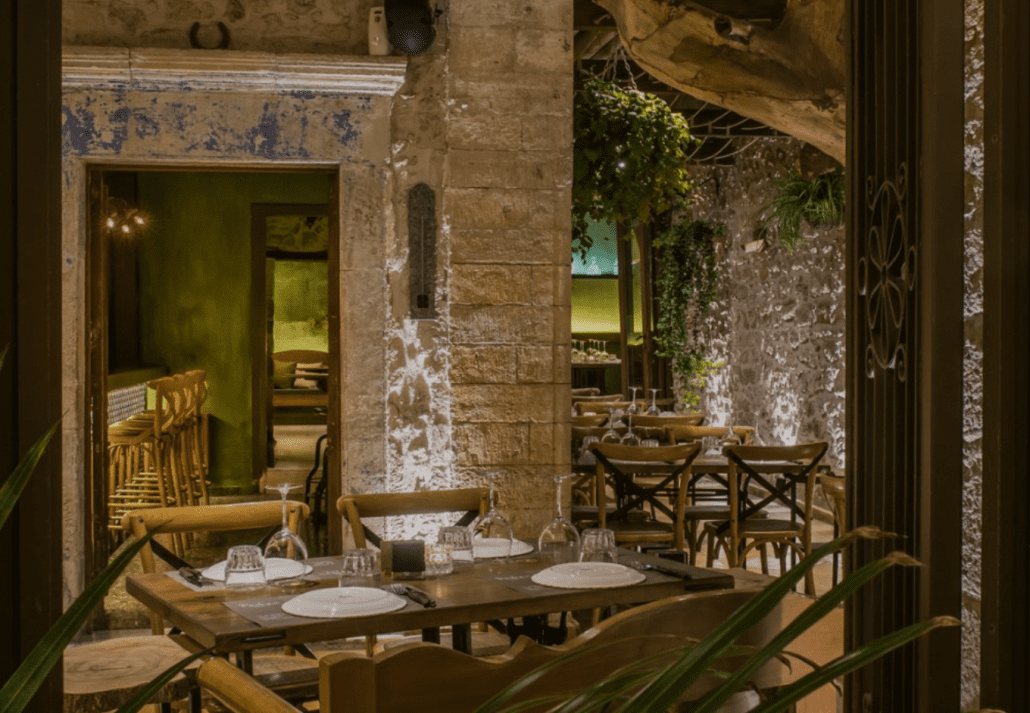 Located in the Heraklion city of Crete, Peskesi features Cretan cuisine delicacies paired with a rustic chic ambiance that highlights Cretan tradition. With its base principles tied to sustainable gastronomy and agriculture, you are sure to have a true Greek farm-to-table experience at this gem.
With dishes like the famous Dakos, unique Cretan wines, cheesecake, baklava and slow-cooked goat, it's no wonder this restaurant is so popular. Be sure to reserve a table here well in advance.
Address: Kapetan Charalampi 6-8, Herkelion, Iraklio 712 02, Greece
Timings: 1 PM to 2 AM
Pelagos, Astir Palace Resort, Athens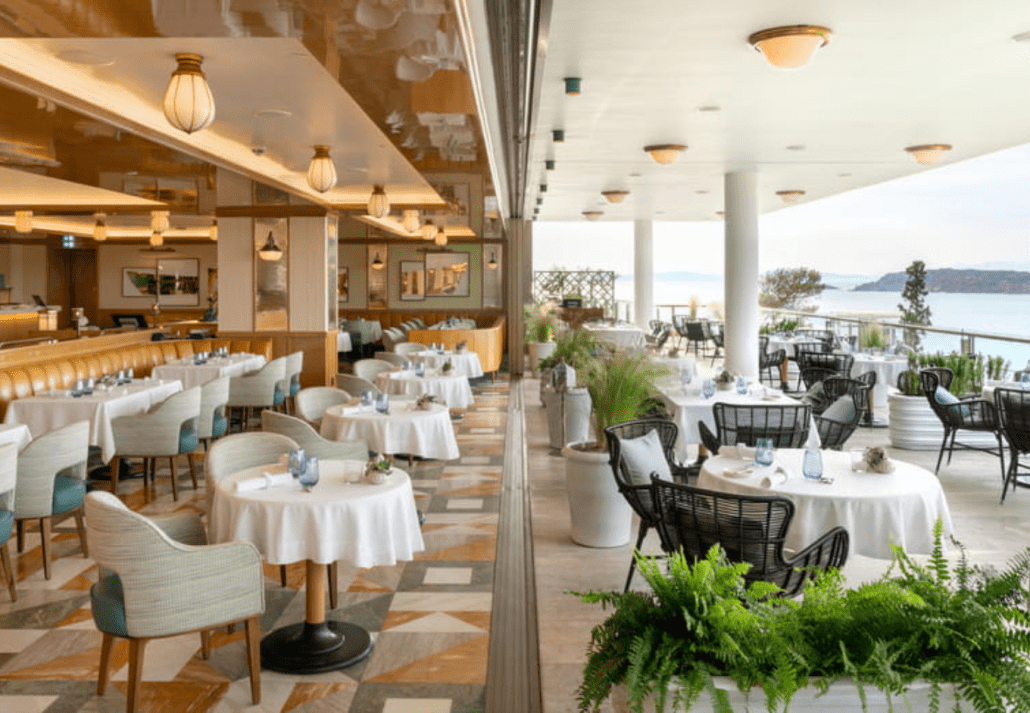 Four Seasons Astir Palace Resort is a fine luxury hotel in Athens that features several dining options. Their Mediterranean restaurant, Pelagos holds one Michelin star and is a luxurious fine dining delight for all gourmet food aficionados.
Astir Palace Resort also has a lovely Italian restaurant called Mercato that is worth a visit.
We highly recommend splurging for the 6-course menu at Pelagos. Their signature dishes include their Octopus Ink Risotto and the Spinialo, which is a red prawn dish.
Address: Apollonos 40, Vouliagmeni 166 71, Greece
Timings: 7 PM to 10 PM
Merastri, Crete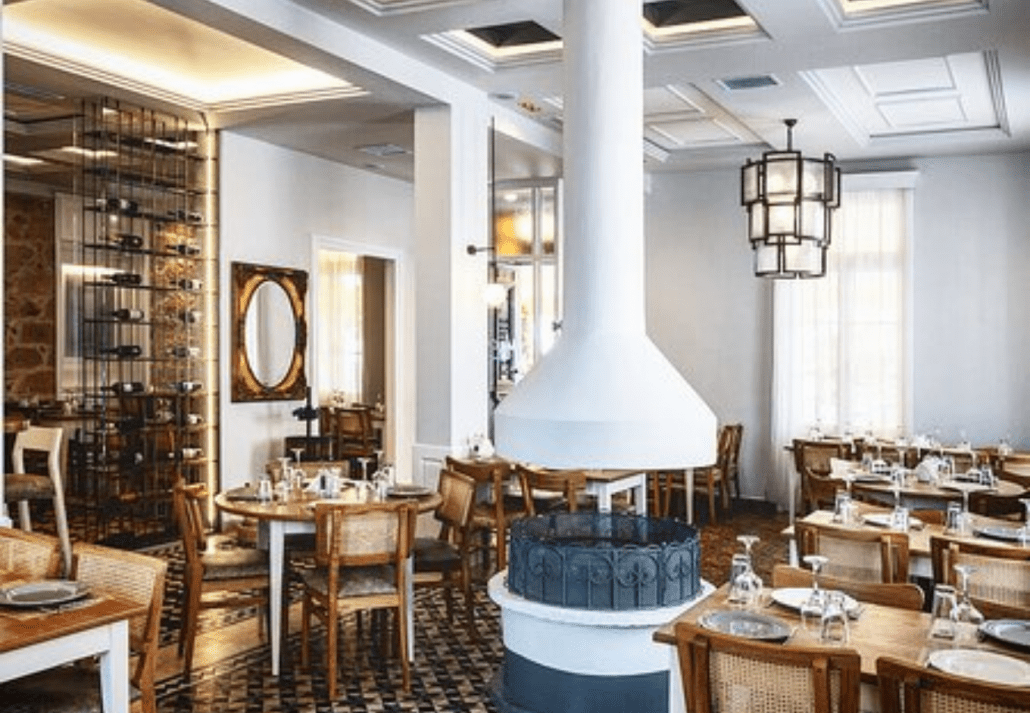 Another classic restaurant showcasing elements of traditional Greek cuisine, Merastri located in Herkalion, Crete, is an award-winning and highly renowned Cretan restaurant. Merastri boasts an array of dishes cooked keeping tradition in mind, in a wood oven.
Make sure to head over here to try the elements of their vast grilled meat platter, especially their signature grilled lamb cooked in the wood oven with potatoes. They also have other delicacies such as goat's cheese salad, zucchini balls, pasta, and stuffed zucchini flowers, which are all extremely popular amongst patrons. This is truly one of the best places to relax and fill your soul with food in.
Address: Chrisostomou 17, Iraklio 713 06, Greece
Timings: 6 PM to 12 AM
Maiandros Restarant, Athens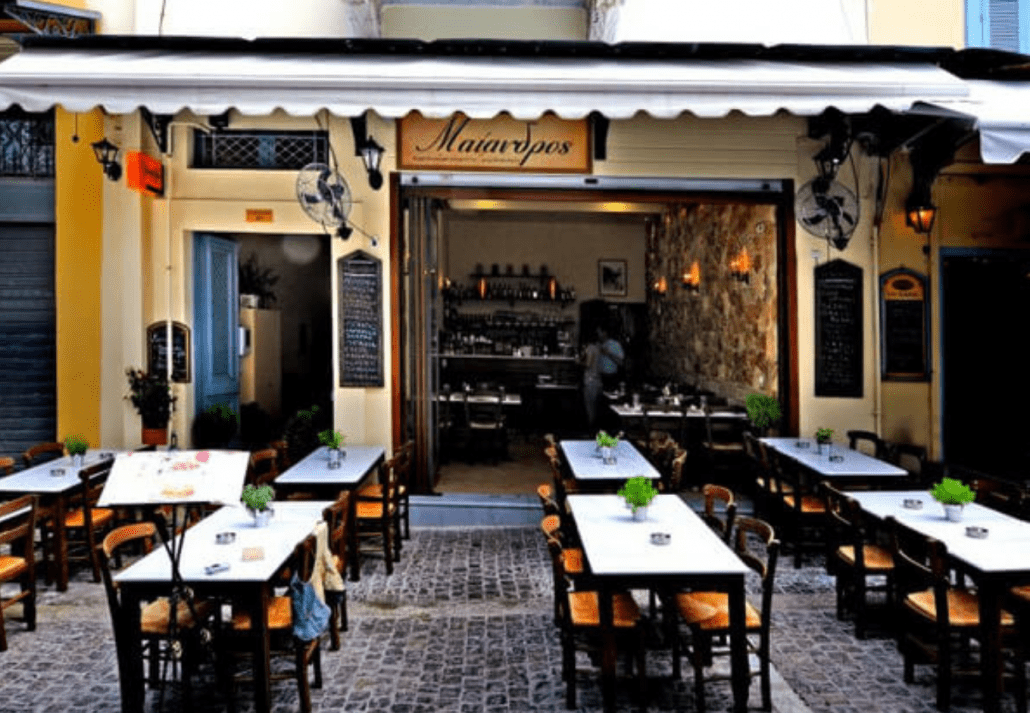 A casual dining spot serving some delicious traditional Mediterranean and Greek food in the hustle and bustle of central Athens. One of the most authentic spots for simple local comfort food that you'll find in Athens, Maiandros comes with a beautiful view of the ancient city.
Maiandros is a traditional Greek coffee shop serving amazing beverages as well as food. With a pleasant atmosphere and mouth-watering specialty dishes such as beef and orzo pasta, grilled lamb, and chicken souvlaki, this is one of the top Greece restaurants for cheap eats.
Address: Adrianou 47, Athina 105 55, Greece
Timings: 10:30 AM to 12 AM
Alficon Speakeasy Gastronomy, Athens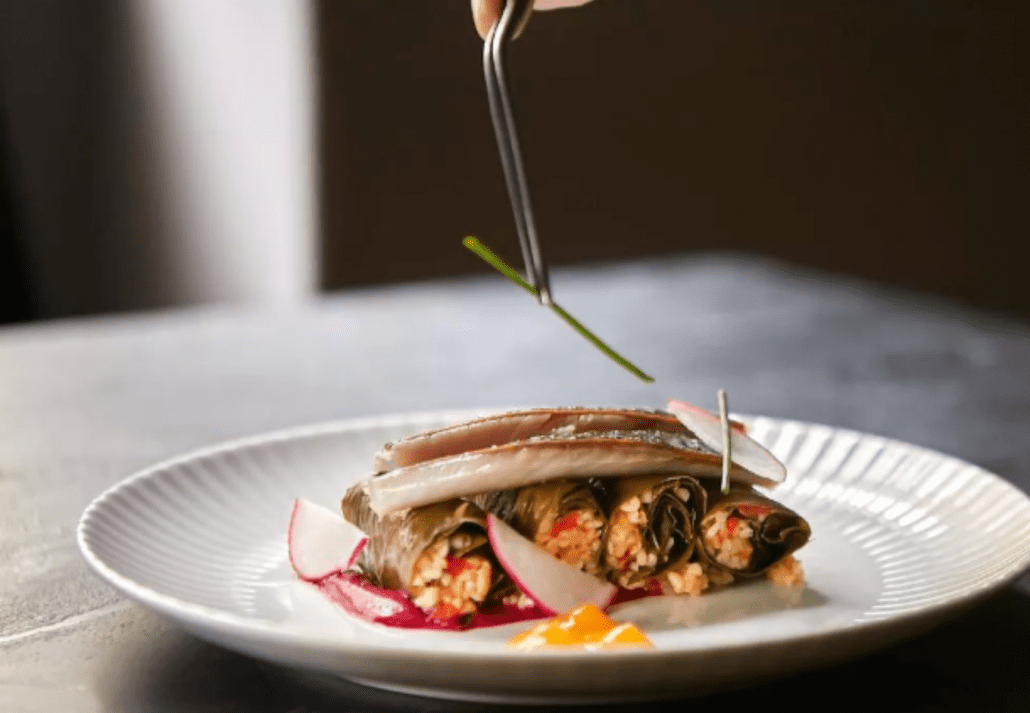 A quaint Michelin-star holding restaurant in Athens, the Alficon Speakeasy offers a gastronomical experience of fine dining. Alficon's perfectly curated degustation menus are truly a form of art that you can eat.
We highly recommend trying out their full menu experience with its tantalizing tastes and perfectly paired wine. Their fish and meat dishes are of particular note and are specialties of the chef.
Be certain to make reservations well in advance!
Address: Ironda 8, Athina 116 35, Greece
Timings: 7 PM to 12 AM (Closed on Mondays)
Fokos Taverna, Mykonos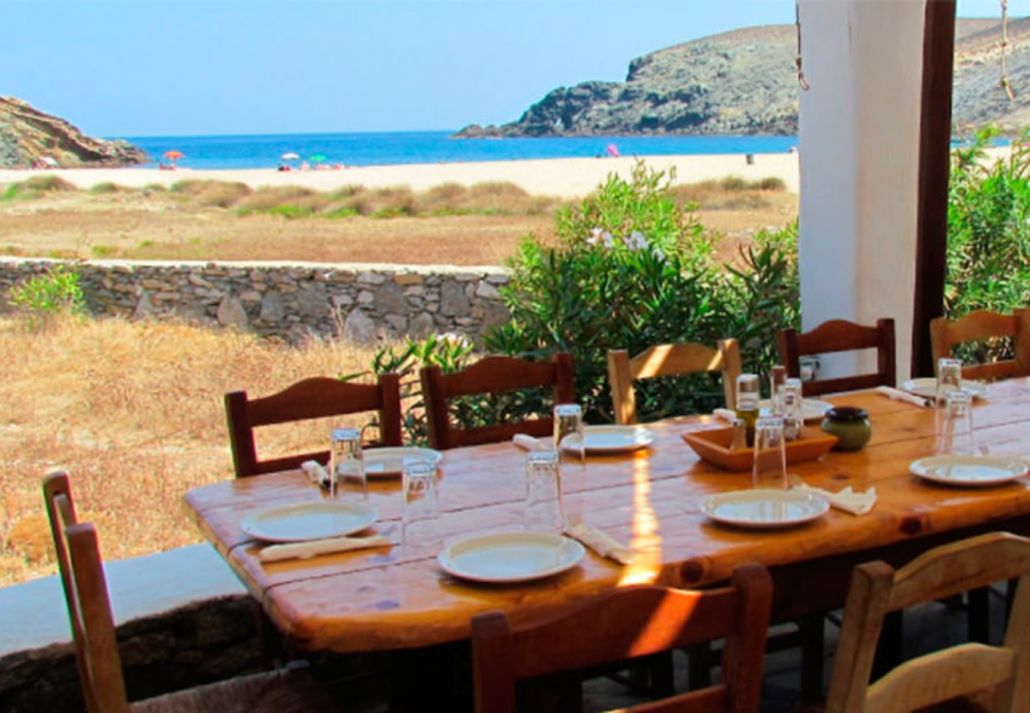 A cozy, casual tavern right on the beach in Mykonos, the Fokos Taverna features a beautifully rough rustic traditional Greek vibe with spectacular views of the Aegean Sea. The food itself is traditional, simple food that is soulful and authentic.
Have a relaxed and laid-back afternoon while indulging in their lamb chops, Greek salad, Caesar salad, shrimps in sauce, and a few delightful beers. You absolutely cannot go wrong with hearty dishes of Greek cuisine and a beautiful sea view!
Address: Fokos Φωκός, Ano Mera 846 00, Greece
Timings: 1 PM to 7 PM
Spondi, Athens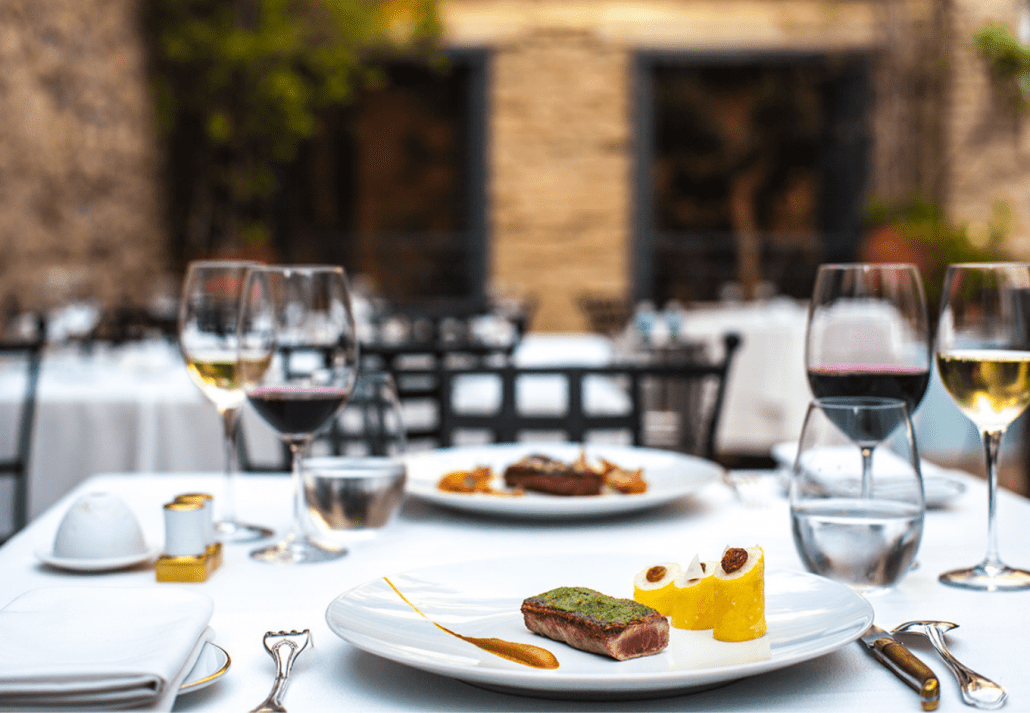 Greece's only two-Michelin star restaurant, Spondi in Athens is a place to indulge, taste, and experience food in a whole new way. Featuring the contemporary Mediterranean and French dishes, the chef here is revered for the curation of their Discovery Menu which is a 9-course degustation.
Featuring fish, beef, scallops, and foie gras, this menu may be extravagantly priced, but it's an experience you would never forget. A reservation for this fine dining restaurant is a must.
Address: Pirronos 5, Athina 116 36, Greece
Timings: 7:30 PM to 11:15 PM
Avli Restaurant, Crete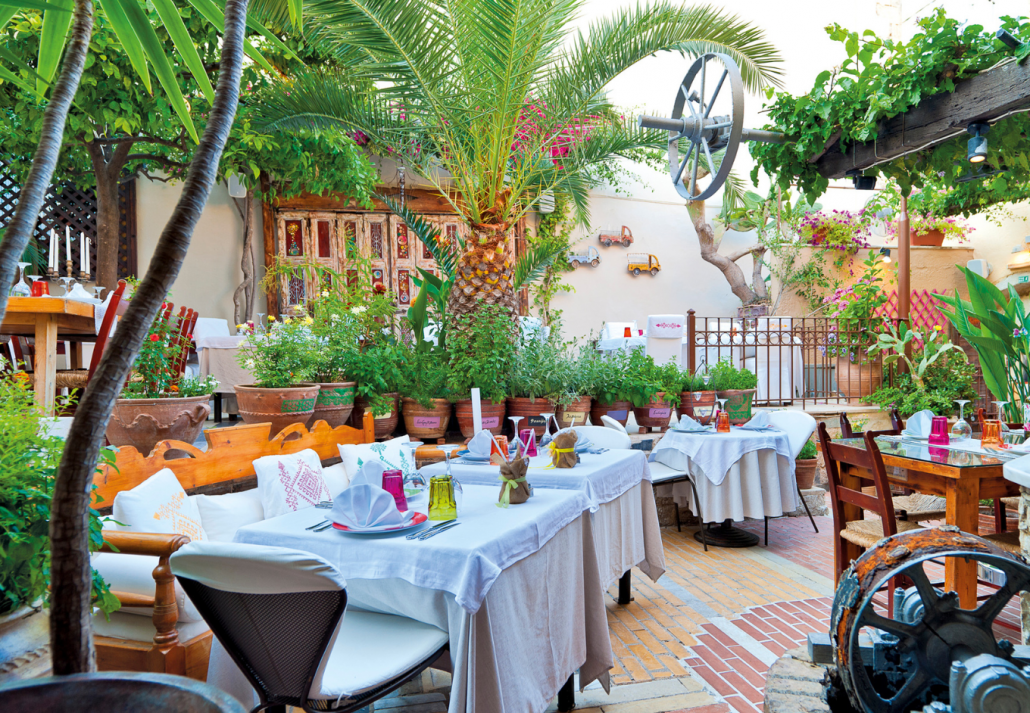 Avli Restaurant (locally called Μεζεδοπωλείο "Η Αυλη") is renowned to be the best restaurant in Crete, located in Heraklion, and is the epitome of traditional comfort Greek food made with fresh vegetables, meat, and cheese.
This family-run endowment is a truly soulful experience with the owners of the restaurant taking great care and interest in explaining their menu's dishes in English to the guests.
Delicious mezze platters, fresh salads, luscious appetizers, and exquisitely prepared meat and seafood entrees are all part of the gastronomic voyage that Avli takes you on through flavors and taste. It features the Mediterranean and distinctive flavors served with light and flavorful tsipouro, crisp ouzo, or fine wine.
Address: Smirnis 31, Iraklio 713 03, Greece
Timings: 1:30 PM to 1 AM
FAQ
What restaurants are there in Greece?
There are several classic restaurants in Greece right from the Ambrosia in Santorini to Tudor Hall in Athens that you can visit. There are new restaurants constantly popping up, too!
Does Greece have good food?
Greek cuisine is one of the best in the world with the components being extremely rich and fresh including local olive oil, local wine, feta cheese, the unique bottarga tart, the famous Greek salad, souvlaki, etc. Similar to Mediterranean flavors that change according to the region of Greece you are in, you can expect a vast spread of food.
How much is a typical dinner in Greece?
While this largely depends on the type of establishment you are dining at, on average, eating out in Greece would cost €32 per person per day. Each meal would approximately on average cost €13 per person.
How expensive is food in Greece?
Food in Greece is inexpensive compared to other European countries. Eating out in Greece would cost €32 per person per day. Each meal would approximately on average cost €13 per person.
Where should I go eat in Greece?
The topmost places to visit in Greece to experience the best Greek food include Athens, Crete, Santorini, Mykonos, Corfu, and Naxos.
Browse. Book. Stay.
CuddlyNest provides all accommodations to all travelers at the best price. Find unlimited travel inspiration on our blogs and our social media channels Facebook, Instagram, Pinterest
You Might Also Like:
5 Amazing Wineries In Greece
16 Best Things To Do In Greece
A Guide To The Best Kid-Friendly Attractions In Greece
10 Of The Best Beaches In Greece
A Guide To The Best Shopping In Greece
The Best Time To Visit Greece
5 Amazing Wineries In Greece