In addition to having some of the most incredible ancient landmarks and museums in the world, Greece is a dream destination for many shoppers. The cradle of Western civilization, Athens, has the best shopping malls and street markets, while the Greek islands boast authentic ceramic pieces and excellent local wine.
It's clear that Greece has everything you're looking for, from handmade leather sandals and worry beads to famous brands and luxury boutiques. Not sure where to start? Let us show you the best shopping locations in Greece!
Find The Best Time To Visit Greece
The 8 Best Shopping Locations in Greece
Athens Metro Mall
Athens Metro Mall is located in the Agios Dimitrios area. It attracts around 60.000 customers a day with a wide range of stores, eateries, and movie theaters. Here, you can find a bunch of famous stores like Adidas, Bershka, Calzedonia, H&M, Intersport, and Oyosho. If you get hungry, stop by KFC, La Pasteria, and Palmie Bistro. In the mood for some evening retail therapy? This is the right place for you!
Opening Hours: Mon-Sun, 9 AM-11 PM
Address: Par. Leof. Vouliagmenis 276, Ag. Dimitrios 173 43, Greece
Ermou Street
The cobblestone street is 1.5 kilometers long and stretches from Syntagma Square to Pireos Street in the Kerameikos neighborhood. Because it's loaded with international stores like Pull & Bear, Bershka, and Zara, you could say this is the best location for brand shopping! There are also local clothing boutique shops and stores with incredible beauty products.
Address: Ermou Street, Athens, Greece
Central Market Athens
Central Market, bursting with exotic flavors and aromas, is every foodie's dream. It's nestled in the popular Athinas Street and is often referred to as Varvakios. During your walk around this area, you will come across a wide variety of meats, fruits, cheeses, and other food items. Take some local products like fresh herbs, honey, and irresistible Greek olives with you. There's no doubt this area is heaven for chefs and food lovers.
Address: Athinas Street, Athens, Greece
Aeolu And Agios Markos Streets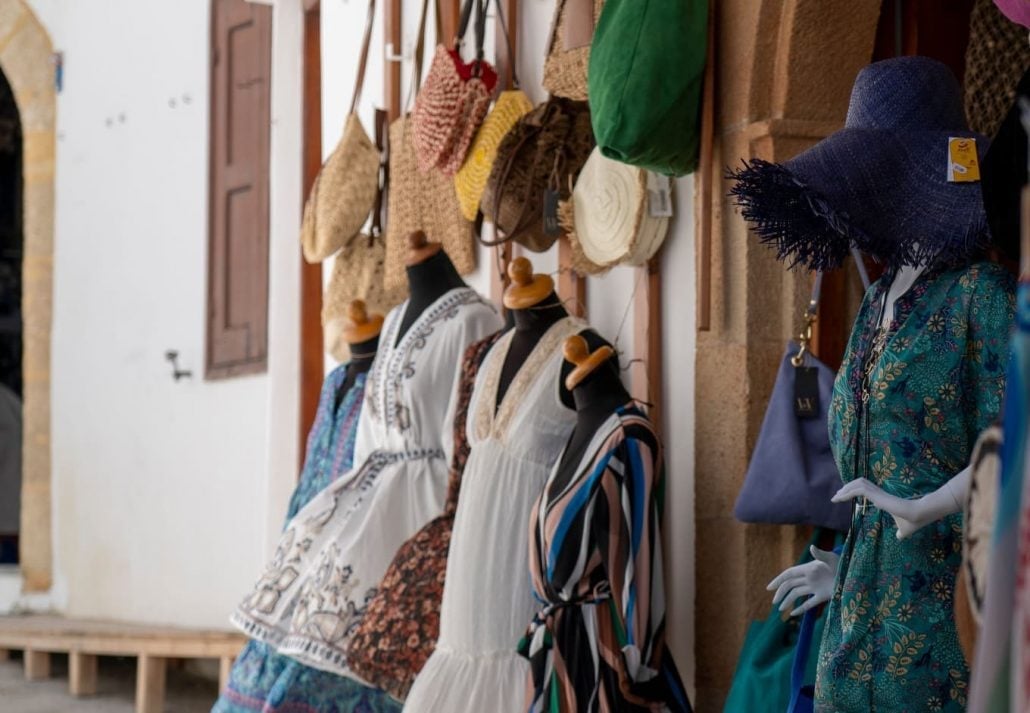 Aeolu and Agios Markos are two popular streets in Athens full of local shops selling yarn, shoes, and clothes. This area is the go-to place for some cheap shopping in the Greek capital. You'll be amazed to see silk clothing items, proving that high quality is not always associated with well-known names. With that said, you can find some cool hidden gems here – you just need to stay patient and explore. When you're done, head to one of the cozy nearby bars to enjoy a few drinks.
Address: Aeolu & Agios Markos Streets, Athens, Greece
The Plaka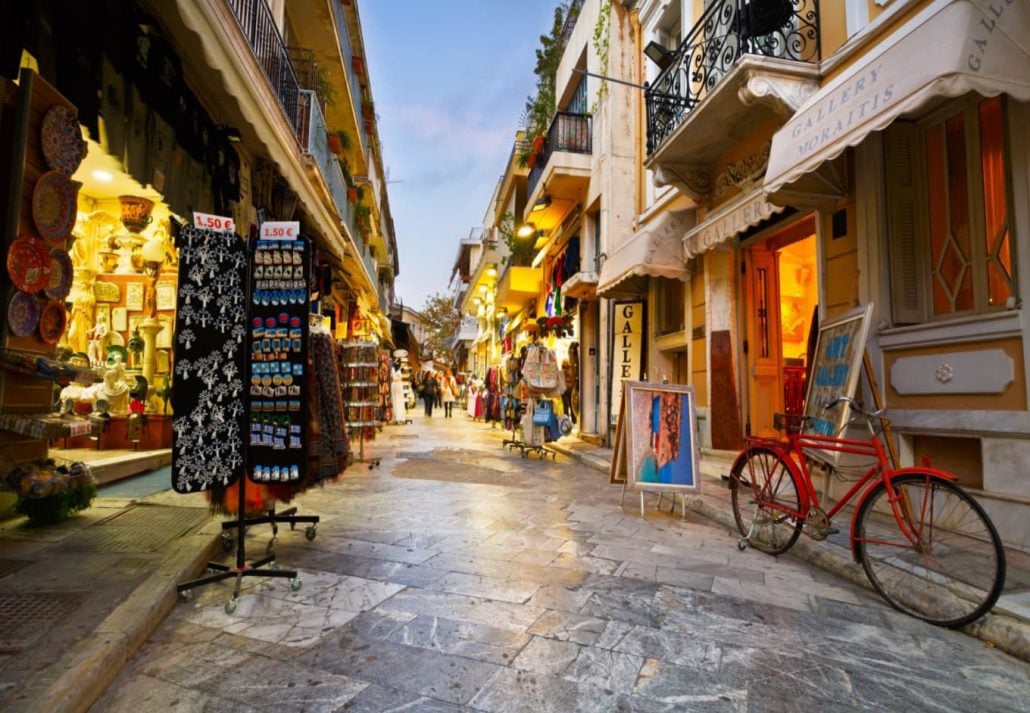 Plaka is one of the oldest locations in Greece and sits in the shadows of the Acropolis. It's famous for having charming cafes, great restaurants, and unique jewelry stores. The most popular spot here is the Byzantine jewelry shop that features pieces made by local artists. Besides that, you have the opportunity to explore second-hand book shops and traditional food shops. One thing's for sure – Plaka has the best stores for gift shopping.
Address: Adrianou Street, The Plaka, Athens, Greece
Kifissia
Seasoned shoppers love to go to Kifissia, which is the most luxurious district in the whole country. It's packed with luxury brands like Armani and Bottega Veneta and overlooks a gorgeous green park. For the ultimate shopping experience in Athens, treat yourself to dinner at a renowned high-end restaurant or an artisanal cafe after you've finished all your shopping.
Address: Kifissia, Downtown Athens, Greece
Fish & Olive – Art Of The Aegean, Naxos
Halki in Naxos is home to a famous ceramic store Fish & Olive Art of the Aegean. Potter Katharina Bolesch and her husband have established their ceramic studio in this unique location.
Her ceramic creations have received widespread recognition after she completed a three-year ceramics study program in Germany. Plus, the Hellenic Folklore Research Center has an example of her work on display. Katharina's stunning artwork primarily features elements like olives, bees, and lizards.
Opening Hours: Mon-Sun, 10 AM-4:30 PM, 6-9 PM
Address: Platia, Chalkio 843 02, Greece
Iama Wine Store, Santorini
On the main road to Oia, you'll come across the Iama Wine Store. It was founded in 1989 and is one of the biggest wine networking sites in the country. This fantastic store sells top-quality Greek wine, as well as international wines and spirits. Nearly every Santorinian wine brand is available in Iama's online store, along with a wide selection of wines and liqueurs from all over Greece. So, if you'd like – you can ship the wine bottles directly to your home!
Once a week during the summer, the store hosts a free wine tasting event where eight different wines are available to sample. Keep in mind that private tastings must be scheduled in advance.
Opening Hours: Mon-Sat, 10 AM-10 PM
Address: Thira, 847 02 Oia, Santorini Cyclades Greece
FAQ
What are other good locations for shopping in Greece?
Monastiraki Flea Market, Athens
Piraeus Flea Market, Athens
Souvenir shops in central Athens
Specialty shops near Athinas and Menadrou Streets, Athens
Anafis Gi (ceramics), Anafi
Atelier (handmade Greek sandals), Paros
What do people shop for in Greece?
Visitors usually buy Greek honey, olive oil soap, coffee, handmade leather sandals, t-shirts, ceramics, and worry beads.
What are Greek worry beads?
Worry beads, also known as Komboloi, are strings of beads that can be moved between one or two hands. They were used to pass time in Greek and Cypriot cultures.
What food should I buy in Greece?
Kritharaki (pasta), Feta cheese, Halloumi cheese, fresh olives, honey, and white Tarama (preserved, salted fish roe).
Will my debit card work in Greece?
Yes, almost every store in Greece accepts credit/debit cards. It's also a good idea to have some cash on hand.
Can I buy gifts inspired by ancient Greek history?
Yes, there are many shops selling quality souvenirs inspired by Greek history. They include statues, busts, Greek jewelry, and pottery replicas.
CuddlyNest provides all accommodations to all travelers at the best price. Find unlimited travel inspiration on our blog and social media channels.
You Might Also Like:
The Balkans: Health and Wellness Getaways from Croatia to Greece
The Ultimate Europe Travel Guide
Explore Europe's Offbeat Vacation Destinations
Balkan Nature Wellness Roadtrip Itinerary to Croatia and Montenegro
5 Amazing Rooftop Bars You Must See in Athens
The Best Travel Apps For Europe In 2022
7 European Drinks You Must Try