Known for its giant theme parks (aka Walt Disney World and Universal Studios), and pulsating cities, Florida spoils locals and travelers with a delightful array of things to see and do. Among these top-notch experiences, one of the most rewarding has got to be visiting the Florida Islands, which play host to some of the most beautiful and idyllic beaches in the country.
With so many staggering islands to choose from, it can be tough to decide which one to visit first. So we're here to help! Whether you're looking for a serene private island for some relaxing time, or one bursting with charm and culture, you'll find the perfect fit on this list. Have a look at the best islands near Florida!
The 10 Best Islands in Florida
Amelia Island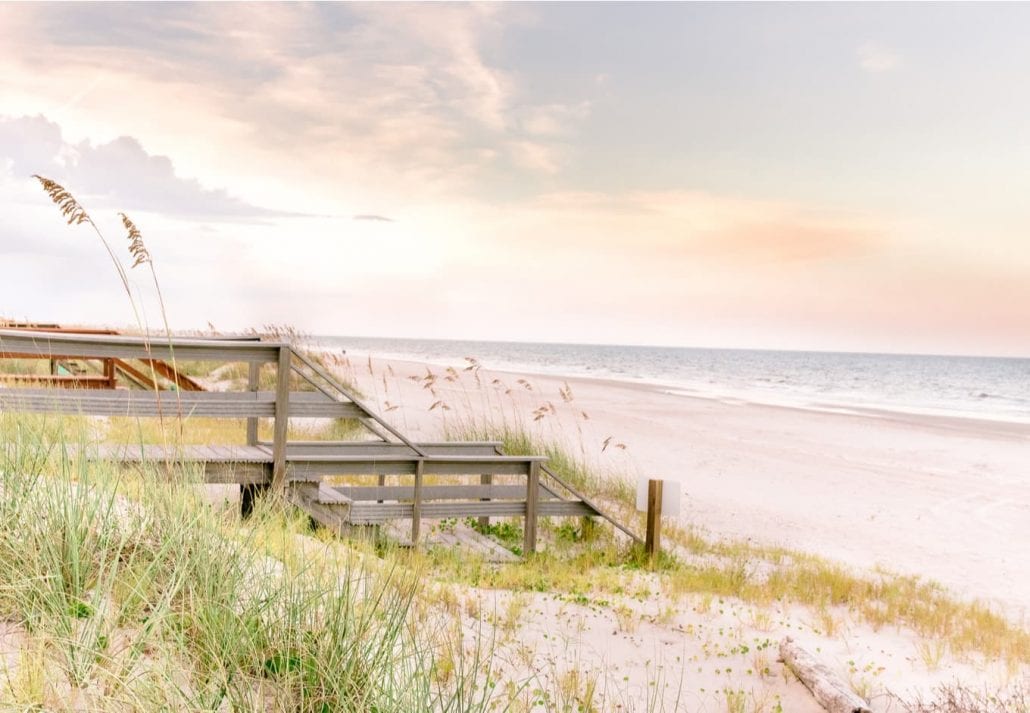 Amelia Island is the southernmost of the Sea Islands and the northernmost of the barrier islands on Florida's Atlantic coast. Located in Nassau County, the island it's 13 miles long and approximately 4 miles wide at its widest point. The communities of Fernandina Beach, Amelia City, and American Beach are all located on the island.
Named one of the most romantic towns in the USA, Amelia Island has everything you're looking for a sweet Florida escape: luxury resorts, golf courses, and numerous sandy beaches like Main Beach Park, with its sand dunes, boardwalks, and public sports and recreation facilities.
Explore the island's enchanted rivers, marshes, and greenways, and embrace the wonders of nature!
Find Places to Stay Near Amelia Island, Florida
Sanibel Island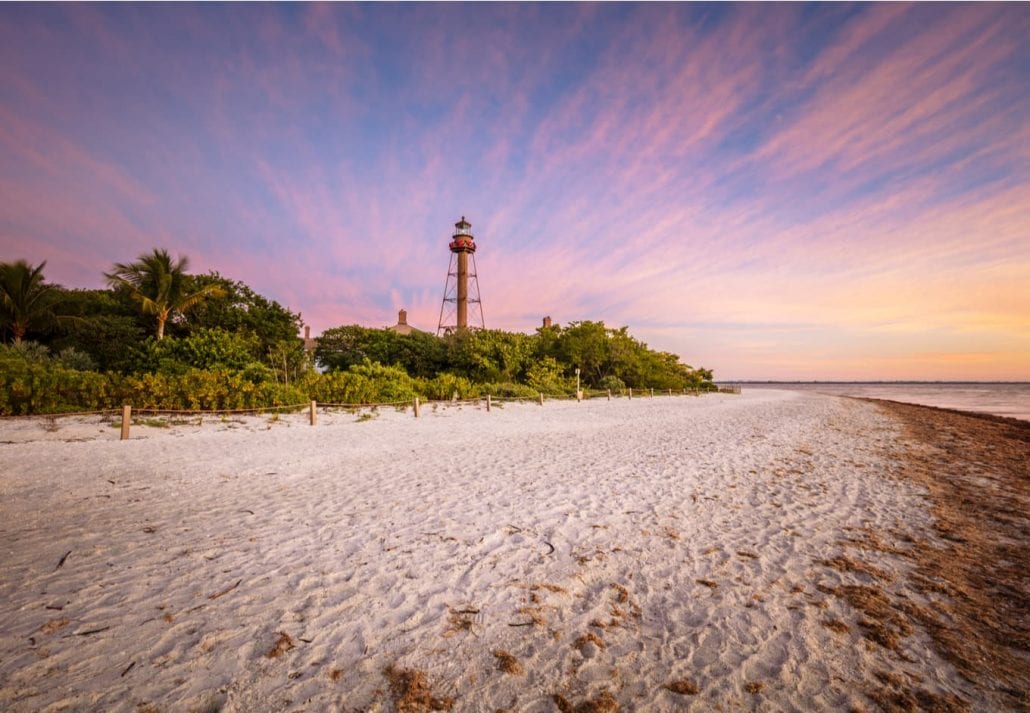 Sanibel is an island and city in Lee County, Florida, and it's also a barrier island – a collection of sand on the leeward side of the more solid coral rock of Pine Island. With 15 miles of unspoiled beaches, 25 miles of bike paths, 50 types of fish, 230 types of birds, and 250 kinds of shells, this place will never bore you!
You can go fishing, shelling, indulge in nature tours, and also go bird watching. Sports enthusiasts will gravitate towards can playing golf and tennis, or rent bikes and trek the scenic bike paths.
Whether you are looking for a romantic getaway, a family trip, or a nature escape, this is the perfect choice for your vacation!
Recommended Read: The Most Romantic Places (Beaches) In Florida
Find Places To Stay in Sanibel, Florida
Pine Island
Pine Island is the largest island on the Gulf Coast of peninsular Florida. It's located in Lee County and it's also the 118th largest island in the United States.
This secluded island offers a quiet, laid-back atmosphere, plenty of great fishing, and a lush natural environment, which captivates visitors from all over the country. The waterways of Matlacha Pass and in the Pine Island Aquatic Preserve are excellent for kayaking and canoeing. The island also has mangroves, three aquatic preserves & acres of palm, tropical plants, and fruit groves.
Pine Island provides opportunities for some of the finest fishing in Florida and is also a haven for birdwatchers!
Gasparilla Island State Park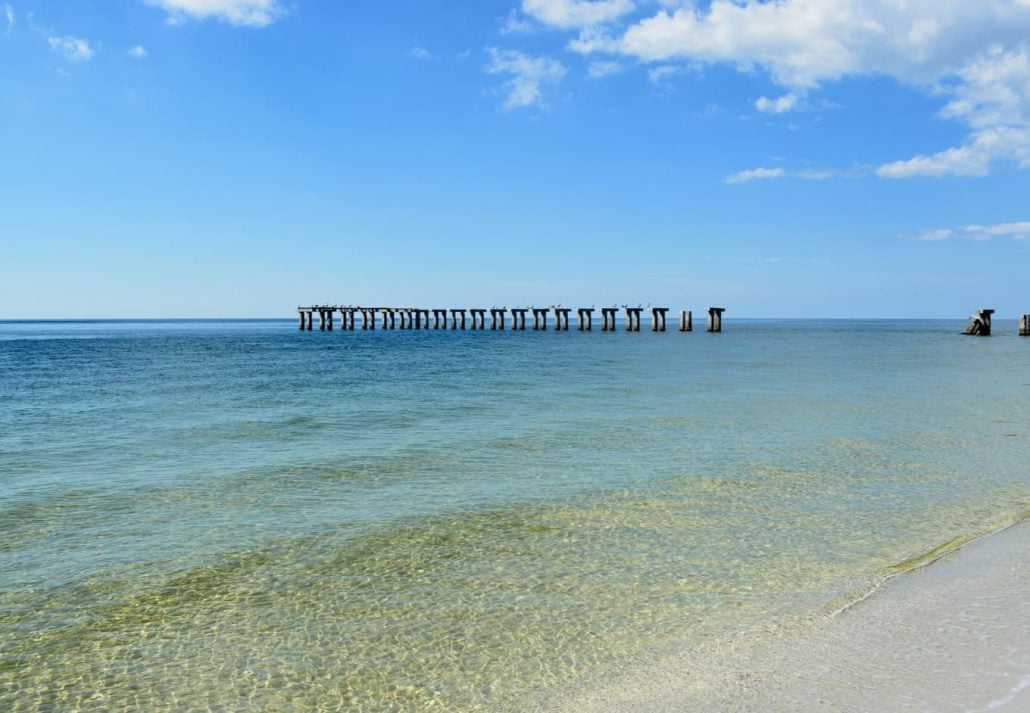 Gasparilla Island is a barrier island in southwest Florida, straddling the border of Charlotte and Lee Counties. Boca Grande is its largest town, and it is the location of the Gasparilla Island State Park. The island has been an important part of Florida folklore (it's connected to the pirate Gasparilla, José Gaspar) and it has been a significant tourist destination since the early 20th century.
Activities on offer vary between swimming, snorkeling, fishing, and nature studying, and also shelling is particularly good in the winter months along the gulf. When you get hungry, there are two picnic areas (at the Sandspur and the Boca Grande Lighthouse), where you'll find shady pavilions and scenic views of the surrounding water.
The Port Boca Grande Lighthouse, built-in 1890, also houses a museum open to the public, which you should definitely visit.
Anna Maria Island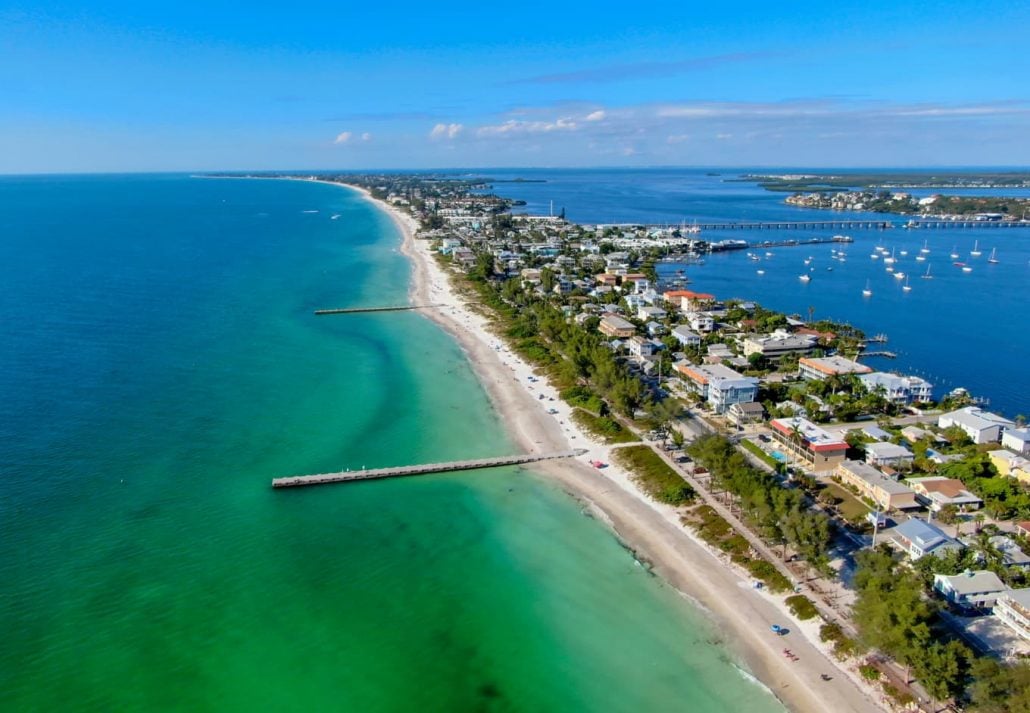 Anna Maria Island is also a barrier island on the coast of Manatee County, Florida. It is bounded on the west by the Gulf of Mexico, on the south by Longboat Pass, on the east by Anna Maria Sound, and on the north by Tampa Bay. And it's approximately 7 miles long north to south.
The island has always been known for its sugar-white beach coastline, emerald green, and blue Gulf waters, and quaint business districts. It's a vacation favorite among local, national, and international travelers thanks to its beautiful sunrises overlooking Tampa Bay and its perfect Florida sunsets over the Gulf of Mexico. The beautiful tropical foliage embraces you as you relax, watch the dolphins playing, and the manatees gliding through the water.
Anna Maria Island is one of the best islands for couples, so whether you're a young couple on honeymoon or an experienced adventure traveler, there is always something to do!
Find Places To Stay in Anna Maria Island, Florida
Captiva Island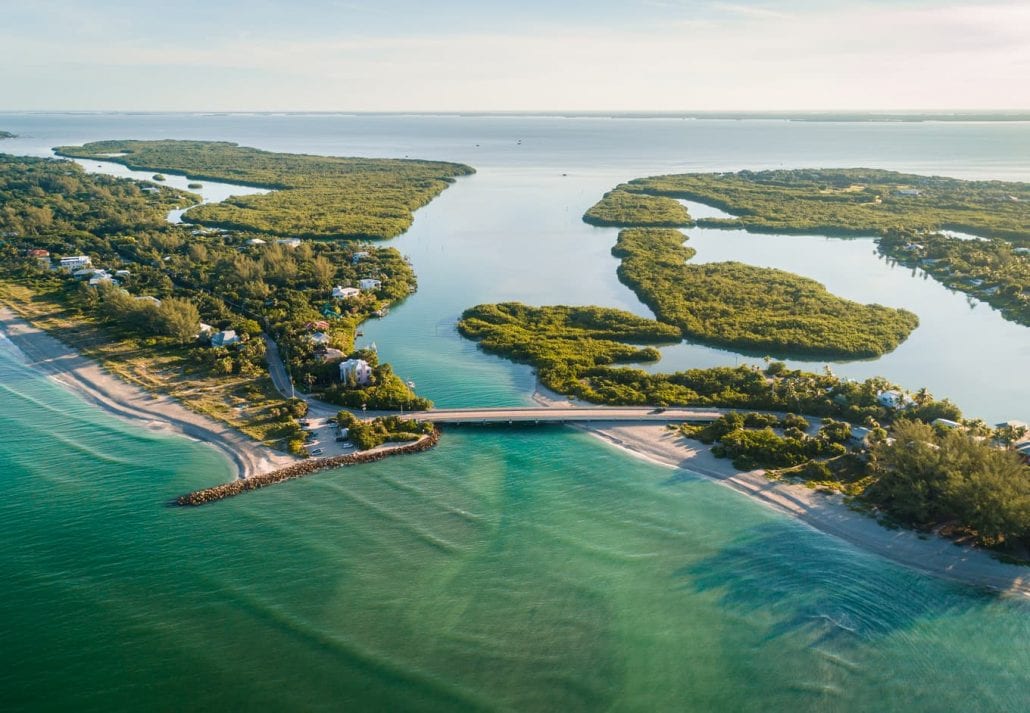 Captiva Island is located near Fort Myers, just offshore Florida's Gulf Coast, and it's often associated with the neighboring island of Sanibel to the south.
And this island, just like Sanibel, is all about the outdoors: biking, sailing, birding, and water activities abound. As tourists say, the island has a slightly off-kilter and almost magical feel. Everything can happen here — from discovering a giant frog in Captiva Island to visiting a restaurant where it's Christmas all year long.
Captiva Island is a sliver of land nestled against the state's southwest coast, and you shouldn't miss it!
Find Places To Stay in Captiva Island, Florida
Siesta Key
Siesta Key is also a barrier island off the southwest coast of Florida. It's located between Roberts Bay and the Gulf of Mexico, and a portion of it lies within the city boundary of Sarasota, even though the majority of the key is in Sarasota County.
The island is known for its sandy beaches. For example, Siesta Beach, which is located near the shops and cafes of Siesta Key Village, has shallow waters, a playground, and tennis courts. Other beaches like Crescent Beach offer access to Point of Rocks, limestone outcroppings that surround tidal pools, and coral reefs. And to the south, there's Turtle Beach, which has boat ramps and picnic areas.
You can plan your whole trip centered around these gorgeous beaches, and you won't ever get bored.
Find Places To Stay in Siesta Key, Florida
Marco Island
Marco Island is a small sea island or barrier island, on the Gulf Coast of the United States located 20 miles south of Naples in Collier County. It's the largest and only developed land in Florida's Ten Thousand Islands, a chain of islands and mangrove islets off the coast of southwest Florida.
South Marco Beach is one of its most popular beaches, home to resort hotels, beaches, marinas, and golf courses, as well as a network of inland waterways. It's also home to Tigertail Beach Park, which has a tidal lagoon, popular for kayaking and paddleboarding.
Marco Island's tropical climate and proximity to the ocean are huge lures!
Find Places To Stay in Marco Island, Florida
St. George Island
Located just off North Florida's Gulf Coast, the 28-mile St. George Island is one of the last inhabited yet unspoiled barrier islands in Florida – a serene and pet-friendly vacation paradise!
St. George Island consistently rates as one of the top beaches in the U.S., with miles of uncrowded expanses for sunbathing and shelling, and clear Gulf waters for swimming and fishing. Its pristine marshes are perfect for wildlife viewing.
St. George Island is protected by low-density zoning and strict building codes, which makes it a tranquil beach community with no high rises or chain stores. It's up to you if you want to rent a quaint beach cottage, a multi-story luxury beach home, or lodge at one of the two island hotels or inns!
Key West Island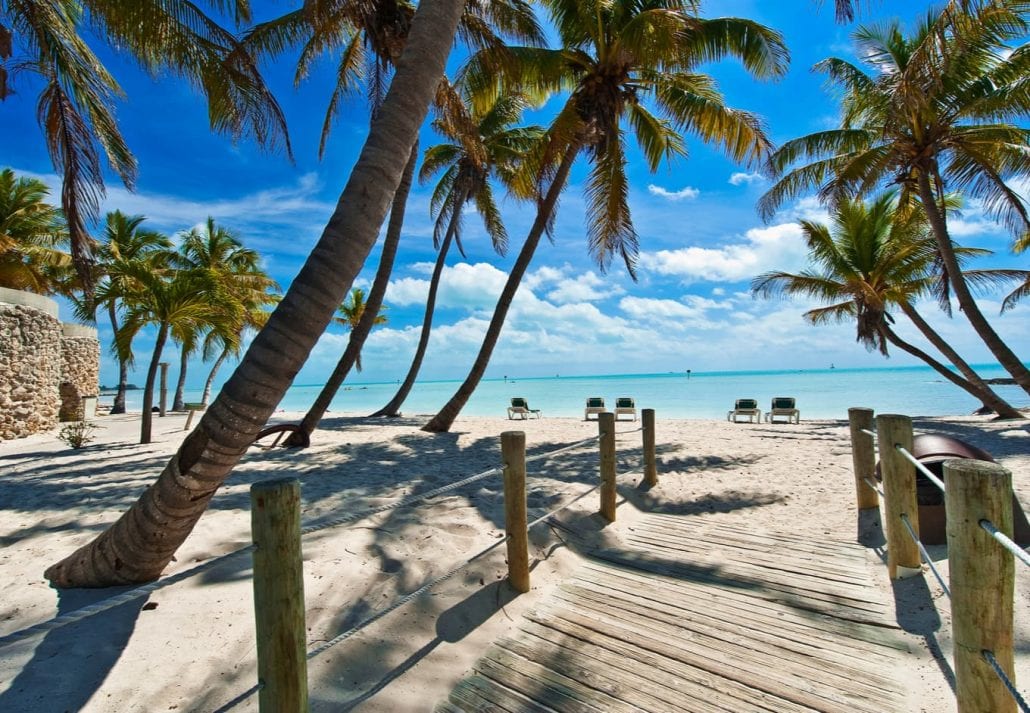 Key West is an island in the Straits of Florida. It's part of the Florida Keys archipelago, along with Dredgers Key, Fleming Key, Sunset Key, and the northern part of Stock Island, which together constitute the City of Key West.
It's about 4 miles long and 1 mile wide, with a total land area of 4.2 square miles, and it's Florida's southernmost point, lying roughly 90 miles north of Cuba.
Famous for its pastel-hued, conch-style houses, it's a cruise-ship stop also accessible from the mainland via the Overseas Highway. It's known especially for its coral reefs, scuba diving spots than for its beaches. Don't miss it!
FAQ
How many islands there are in Florida?
The state of Florida has a total of 4,510 islands.
What are the best islands to visit in Florida?
The best Florida islands to visit are:
Amelia Island;
Sanibel Island;
Pine Island;
Gasparilla Island State Park;
Anna Maria Island;
Captiva Island;
Siesta Key;
Marco Island;
St. George Island;
Key West Island.
What are Florida's tiny islands called?
The Florida Keys.
What is the largest island off the southern coast of Florida?
The largest of the islands off Florida's Golf Coast is Pine Island.
What Caribbean Islands are close to Florida?
The Bahamas are the closest Caribbean Islands to Florida. The approximate distance is 50 miles.
Are there private islands in Florida?
Yes, there are several private islands in Florida, including Crescent Island, Seabird Key, and Coupon Key.
Browse. Book. Stay.
CuddlyNest provides all accommodations to all travelers at the best price. Find unlimited travel inspiration on our blogs and our social media channels Facebook, Instagram, Pinterest
You May Also Like:
The 10 Best Beaches Near Orlando, Florida
15 Unbeatable Florida Family Vacations with Kids
The 4 Best Family-Friendly Vacation Spots in Orlando
The 15 Best Long Weekend Getaways In The US
The Ultimate North America Travel Guide
10 Best Day Trips From Naples, Florida
The Ultimate Guide For a Pet-Friendly Holiday in Florida
The Best Time To Visit Orlando, Florida
7 Amazing Water Parks In Orlando, Florida
8 Best Hotels Near SeaWorld Orlando, Florida
9 Best Hotels In Orlando, Florida
The 5 Best Hotels Near Downtown Orlando, Florida
The 8 Best Hotels Near Orlando Airport
The 9 Best Pet-Friendly Hotels In Orlando, Florida
The Best Hotels Near Disney World Orlando