The incredible Wadi Rum desert in the southern part of Jordan is famed for its pink-to-orange sands, gorgeous natural arches, and historic archaeological remains. It was established as a protected area in 1997 to preserve the ecosystems and landforms of the desert, as well as its cultural values.
This magical place offers a fantastic experience to anyone who visits, with many unusual stays like the Martian domes and clear bubble tents. Besides that, Wadi Rum boasts exciting activities including camel tours and climbing. To make the most of your visit, take a look at our simple guide below!
What To Experience In Jordan: Wadi Rum
Stunning Archaeological Remains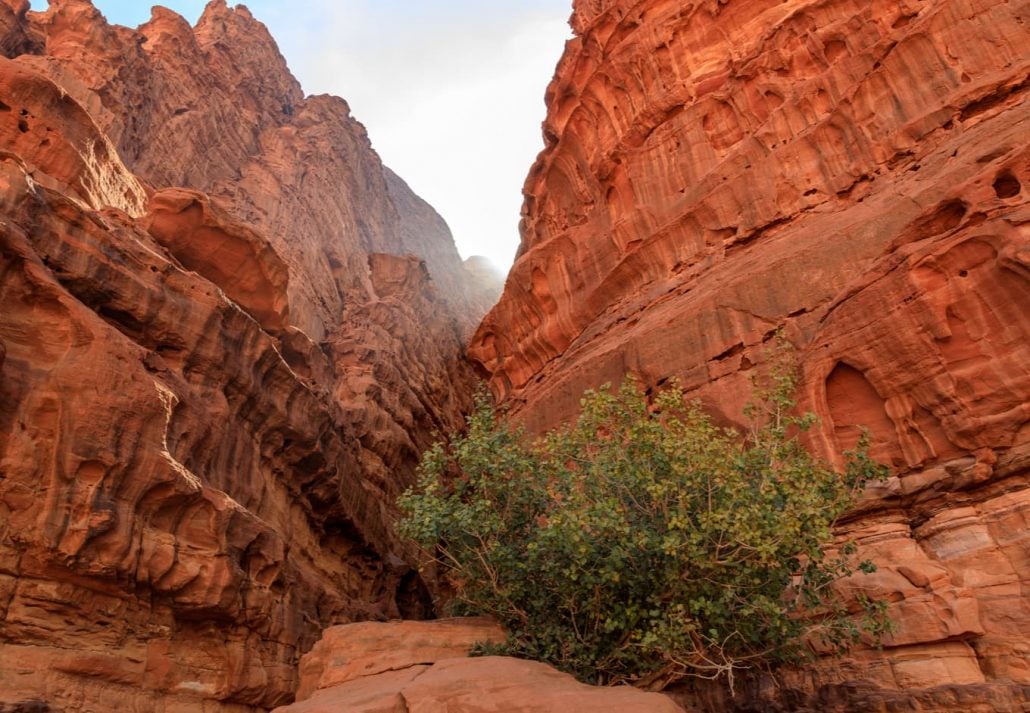 Rum village has been inhabited by different cultures since prehistoric times. Early inhabitants, like the Nabataeans, left behind amazing temples, rock paintings, and petroglyphs tracking back to the early development of the alphabet. Most of them, like the Khazali Canyon, depict people with their bows and arrows, as well as camels, horses, and geometric shapes.
Its pastoral societies' widespread literacy is documented by inscriptions available in four different scripts. These inscriptions along petroglyphs describe the interaction with the natural environment as well as the cultural traditions of its first residents.
Recommended Read: The Ultimate Middle East Travel Guide
Inspiring Desert Landscape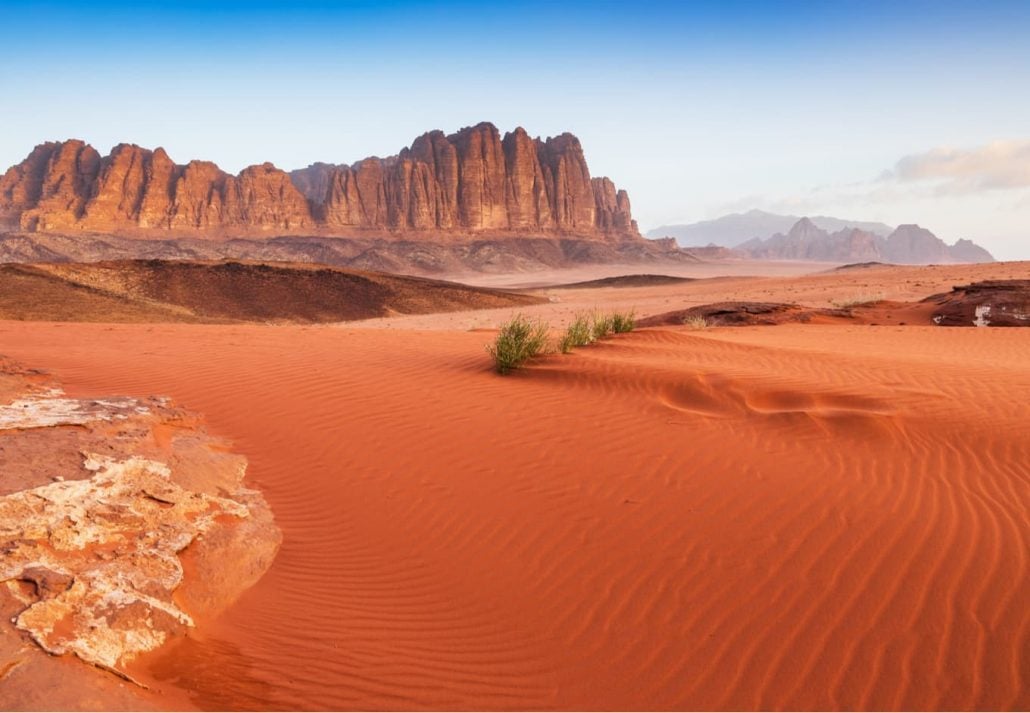 The Wadi Rum desert boasts a scenery full of massive landslides, steep sandstone cliffs, and narrow canyons. These elements show an exceptional combination of multiple biological processes, dramatic cavernous weathering forms, and drainage incisions.
Because it's full of spectacular networks of honeycomb weathering features, it has inspired many Hollywood movies to be shot at this location. Lawrence of Arabia from 1962, Red Planet, The Martian, and The Last Days On Mars – to name a few. Even today, Lawrence based on the book Seven Pillars of Wisdom is still highly respected. On your tour, you can visit Lawrence's Spring named after Lawrence of Arabia who stayed there during the Arab Revolt. It's a small paradise sheltered by overhanging rock.
Unforgettable Activities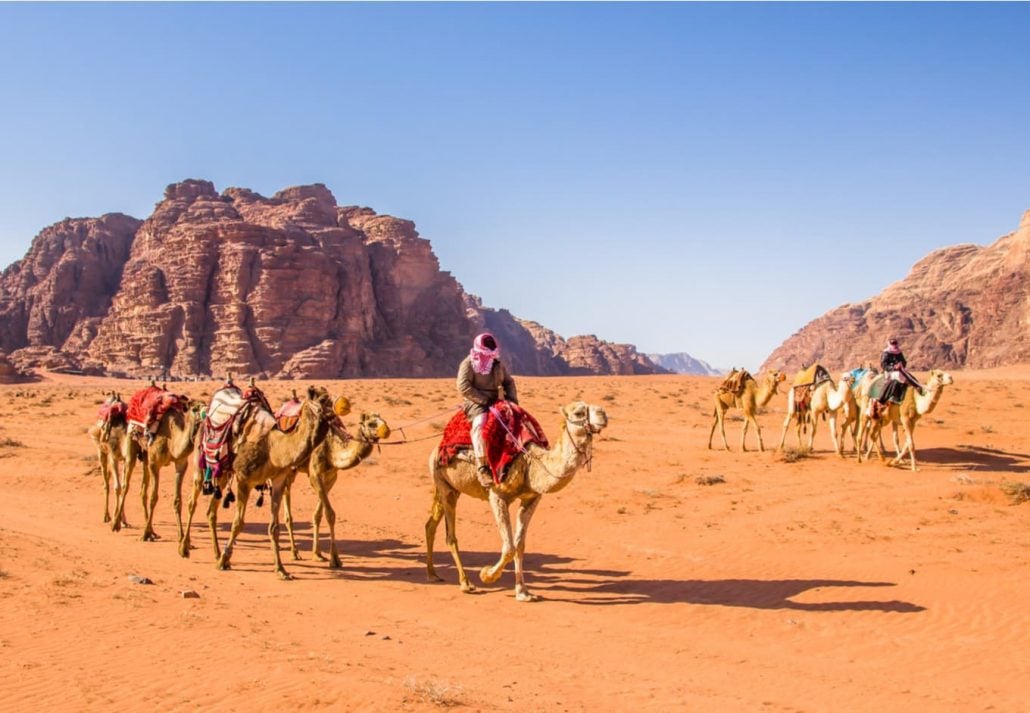 There are many things to do in Wadi Rum, and depending on how much time you have, you might not be able to get to all of them. It's suggested to choose a few activities in advance with the assistance of your local guide.
You can try fun activities like the 4×4 excursions, camel or horse rides, stargazing, night sky watching, trekking, and rock climbing among the large rock formations. During a longer tour, guides set up a simple yet delicious traditional dinner over a small fire in the middle of the desert.
Spectacular Sunset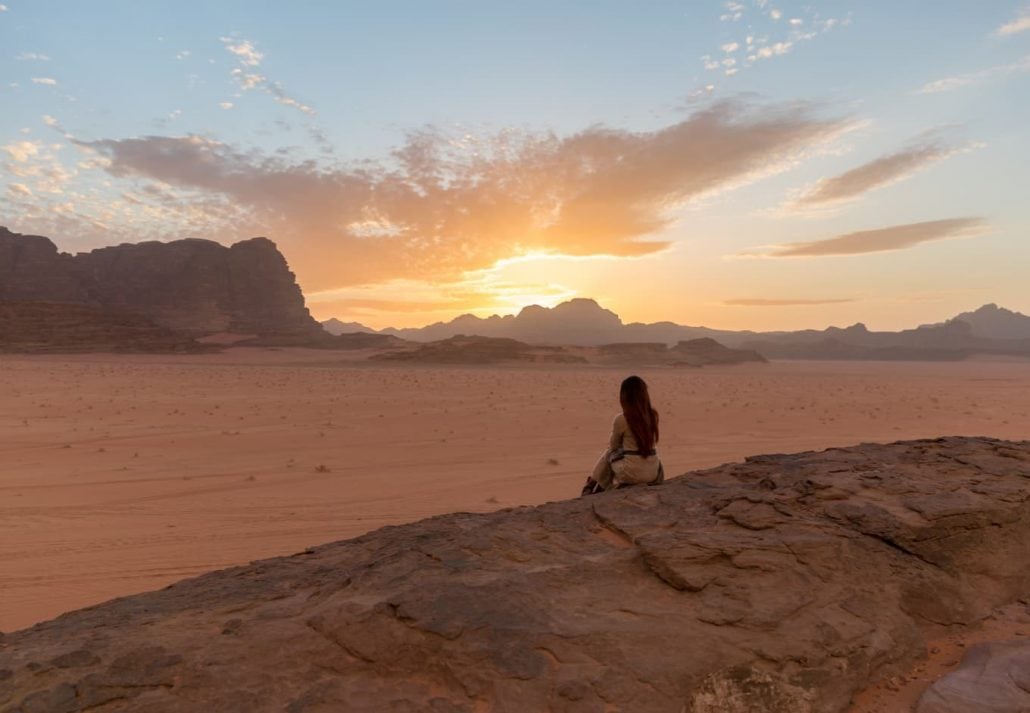 This stunning red-sand desert is known for its breathtaking sunsets which shine through mountain formations. The sky gradually shifts colors from blue to pale orange and light gray, until it reaches ultimate darkness with bright stars sparkling high. It's like a treat from mother nature!
Remember to look for a rock to sit on and turn around to observe how the sun hides behind the mountains and ignites them with a burning shade of bright yellow. Let the splendor of nature and existence sweep you away while you're sitting there in complete bliss.
The Coolest Desert Stays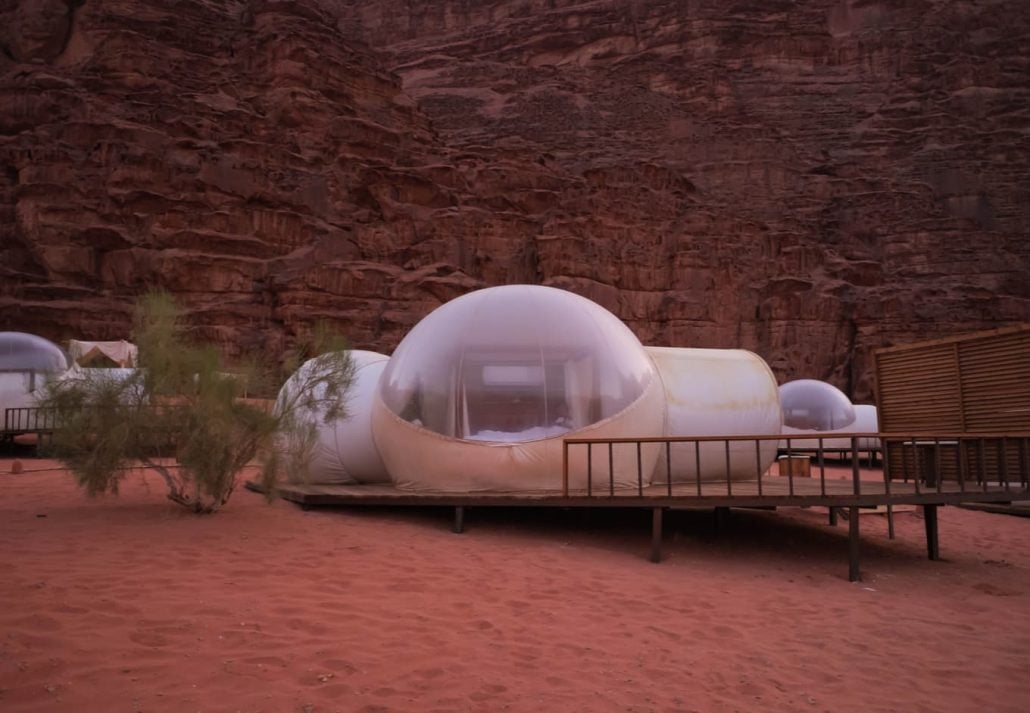 Wadi Rum offers an otherworldly experience when it comes to accommodation. You can choose to sleep at one of the desert camps that feature glamping bubble tents or futuristic domes. Clear bubble tents and domes generally have a private bathroom, bedroom, and seating area in the middle of Mars-like surroundings. Check out the stunning Wadi Rum Bubble Luxotel Camping or Petra Bubble Hotel with an on-site restaurant.
It's especially stunning at night when the only thing you can see are the stars above. Visitors claim these unique camps in the Wadi Rum area are some of the best ways to connect with amazing people from different cultures and relish some good food.
If you're traveling on a budget, take this unique opportunity to stay in a cozy tent at Wadi Rum 7 Pillars Camp or at the Bedouin Experience Camp.
FAQ
What is so special about Wadi Rum?
Wadi Rum is famed for serving as a backdrop for the classic Lawrence of Arabia movie. Other than that, the desert offers a unique environment with red and yellow sand dunes, rock formations, and luxury Martian-like stays.
What is a Wadi in Jordan?
Wadi means valley in Arabic and Wadi Rum translates to the Valley of the Moon.
What is the best luxury tent in Wadi Rum?
The area has a lot of luxury tens, but the most popular among visitors are Aicha Luxury Camp, Hasan Zawaideh Camp, and Bedouin Tours Camp.
Can you do a day trip to Wadi Rum?
Yes. The easiest way to reach Wadi Rum is from Aqaba town, located 75 kilometers away. The Jordan Express Tourist Transport Business Company provides a daily bus that makes day trips to Wadi Rum.
How much time do you need in Wadi Rum?
We suggest you stay here for a day or two. Even one day is enough to experience the majority of attractions.
Can you self-drive to Wadi Rum?
Only if you own a 4×4 to go over long desert tracks and sand dunes. You'll still need to drive behind a guide to navigate your stay.
CuddlyNest provides all accommodations to all travelers at the best price. Find unlimited travel inspiration on our blog and social media channels.
You Might Also Like:
The Ultimate Asia Travel Guide
The Best Time to Visit Cambodia
The Best Time to Visit Bangkok, Thailand
The 11 Best Beaches In India For An Amazing Vacation