India is a destination with its fair share of pristine beaches. So if you're looking for the best beach destinations in the country, we've got you covered. We searched far and wide to find some of the most beautiful spots – from north to south – so that you can plan your next vacation accordingly.
Whether your focus is scuba diving or simply lounging in the soft white sand surrounded by coconut palm trees, you're sure to find the perfect beach for you in this list.
Spoiler: there are plenty of charming beaches for you in this guide — from the mind-blowing Andaman and Nicobar Islands to the idyllic Half Moon Beach.
Why go on a beach vacation to India?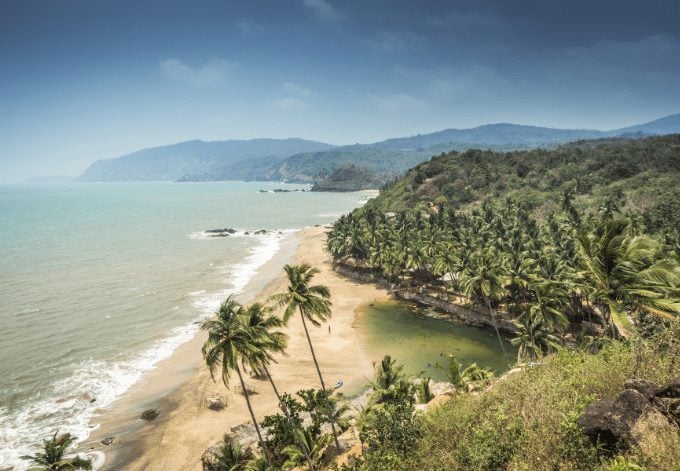 Beach vacations in India are a must if you are after some vitamin D. Not only vacation is good for your health, but it can help you can reconnect with your family or friends, or take time to be together with your best friends forever in the daily spin roll.
India is surrounded by the Indian Ocean, which is dotted with some attractive beaches. Also, this is the warmest of all oceans, meaning you can swim and sunbathe here at any time of the year.
Throughout the country, you'll find incredibly scenic beaches suited to every mood and moment. So whether you're seeking to enjoy water sports or just relax in nature, you'll find an amazing beach for you in India.
And the Indian beaches are simply breathtaking, as they're usually surrounded by swinging coconut palms and lush greenery. Not to mention the gold sand that is perfect for hours of sunbathing!
Combine famous beaches with big-name landmarks and you have a country worth visiting more than once!
When is the best time to go on a beach vacation to India?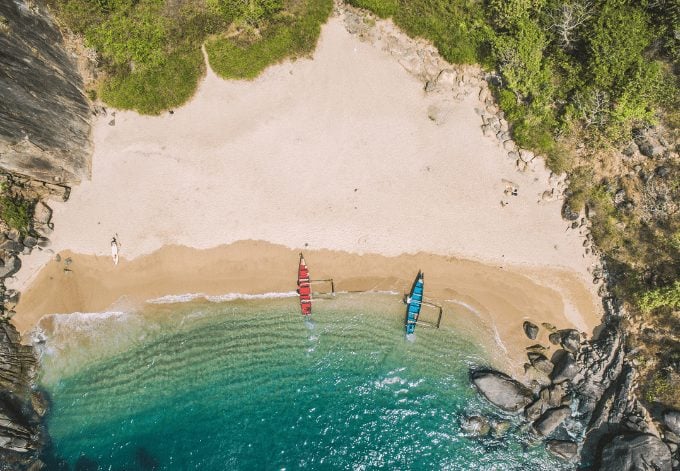 The climate for beach vacationers in India is especially friendly. There are plenty of sun-kissed spots for family and solo beach vacations, but knowing the best time to go to India for a beach vacation is the key to securing yourself a great holiday trip.
As the beaches in India experience a tropical climate, the best time to travel for a beach holiday is from November to March, when you can enjoy long hours of sunshine and average temperatures around 30°C. On the other hand, if you travel to India for summer vacation, from April to October, when there is a monsoon season, expected to have some rain showers.
The Best Beaches In India
Varkala Beach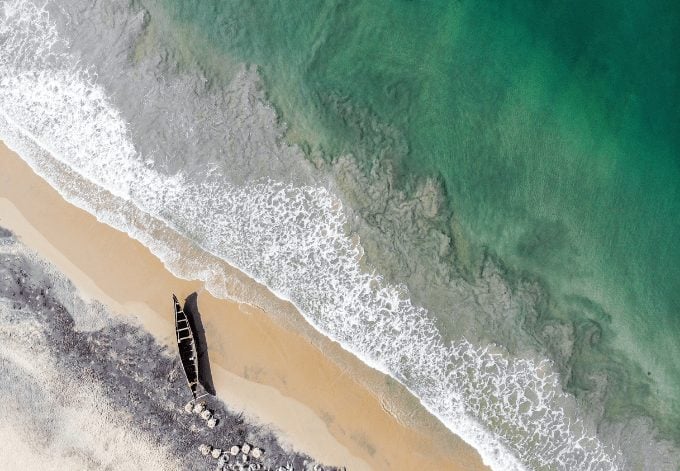 Varkala beach is a beach you should visit if you are looking for a chill-out time on a little beach. Although it is not a calm and swimmable beach, you can sunbathe and enjoy nature around on sunny days. You can also swim there, but beware of the powdered rollers and undertow. Climbing up and down the cliffs in Varkala is a pain, too.
However, Varkala beach is a great spot for those looking for some of the cleanest beaches in Kerala state, but beware that women seldom wear shorts and short dresses there.
Radhanagar Beach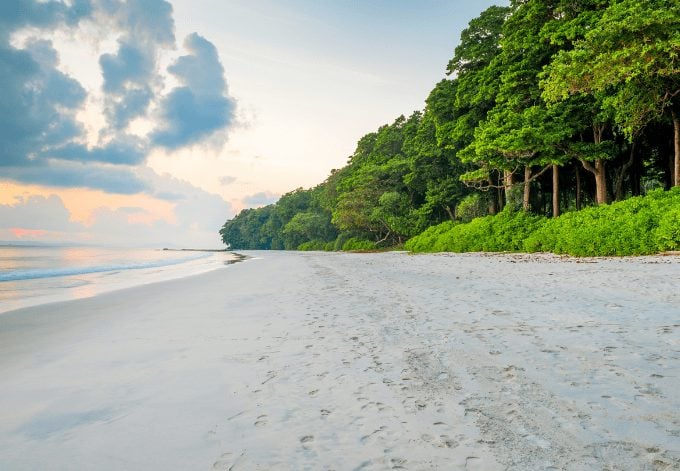 Radhanagar Beach in Havelock Island is located in the South-west part of the Andaman Islands and the Nicobar Islands. Interestingly, Radhanagar beach is also called Beach Number 7. To get to Radhanagar beach, it is best to travel by AC ferries which take up to 1.5 – 2 hours, such as Makruzz, Green Ocean, and others. You can also get to Radhanagar beach on a government ferry which generally takes u to 3 hours.
Half Moon Beach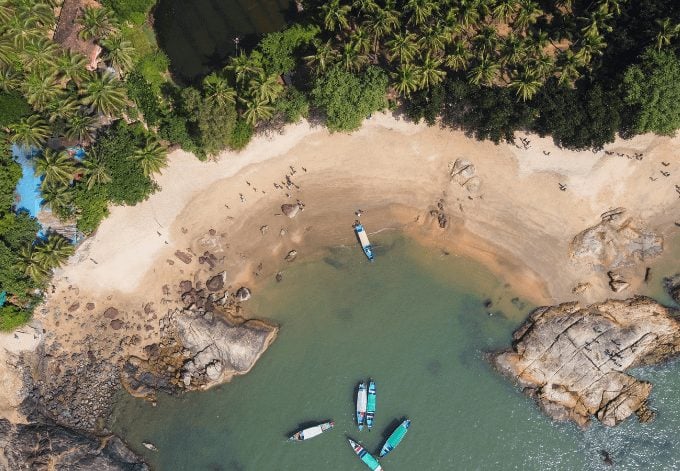 Half Moon beach is located in Gokarna, and you can reach it by trekking or ferry, as the beach is not connected to any roads. The idle and closed atmosphere is loved by many travelers. This is one of the most peaceful beaches in India, and the perfect beach spot for those who want to enjoy the sun by themselves.
Tarkarli Beach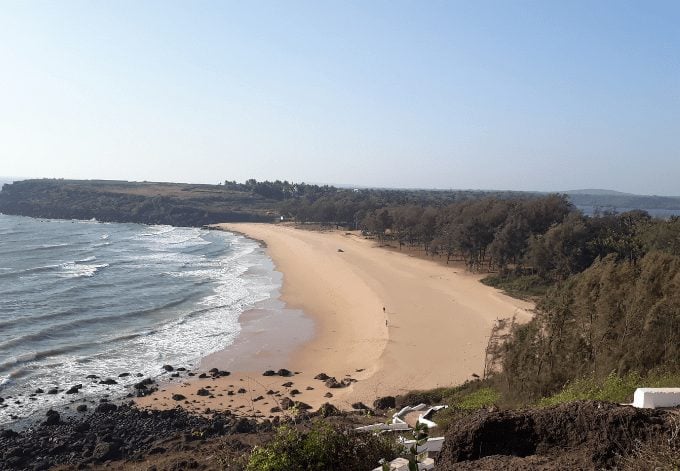 Tarkarli beach is best visited from October to March, like other Indian beaches. Tarkarli beach has some non-commercialized beaches with white sands. Tarkarli is also well known for its turquoise waters.
A must-visit for beach lovers, Tarkali is a sought-after diving destination thanks to its impressive coral reefs, which you can visit through scuba diving.
Cherai Beach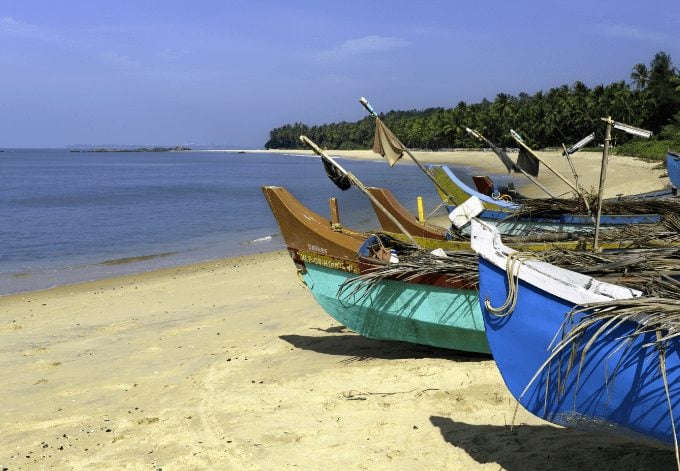 Cherai Beach is a beach is famous for its Elephant march (with 20 -30 elephants marching). Also known as the "The Princess of the Arabian sea", Cherai Beach is one of the very few clean beaches which also turn out to be great for sunbathing. There is also the Azheekkal Sree Varaha Temple in Cherai famous for its chariot and one of the oldest temples owned by the Gowda Saraswathi Community.
Anjuna Beach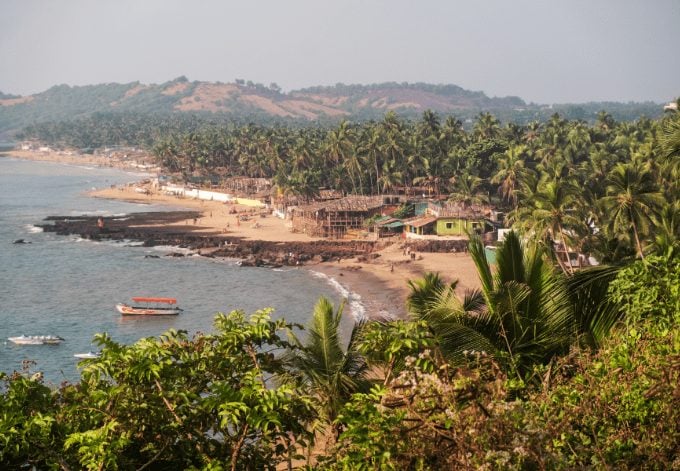 Anjuna is a small village in north Goa, on the shores of the Arabian Sea. The village is home to an attractive beach called Anjuna Beach, known for its golden sand and a rich past of hippie culture.
If you enjoy free-spirited and laid-back culture, this beach might be just for you, as its hippie culture with activities like yoga, reiki, and ayurvedic massages might be what you are looking for. For more SPA destinations, see the best SPA destinations around the world.
Marari Beach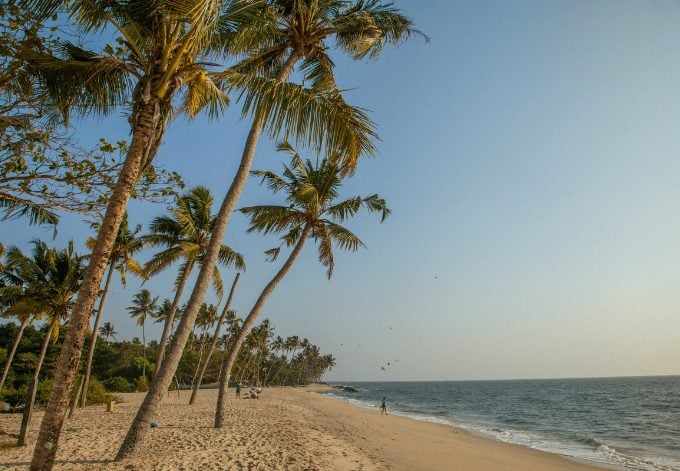 Marari beach in Mararikulam just a 2-hour ride away from Cochin International Airport is a peaceful beach. You can also get to this beautiful beach by train or road.
Paradise Beach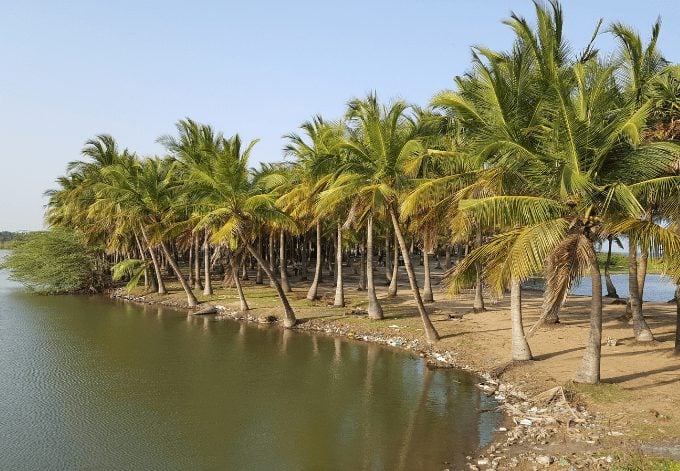 The Paradise Beach of India near Pondicherry in Karnataka, near the south of Goa, is a beautiful and safe beach to swim in. Wearing a bikini is perfectly alright both in Goa and in Paradise beach.
Kashid Beach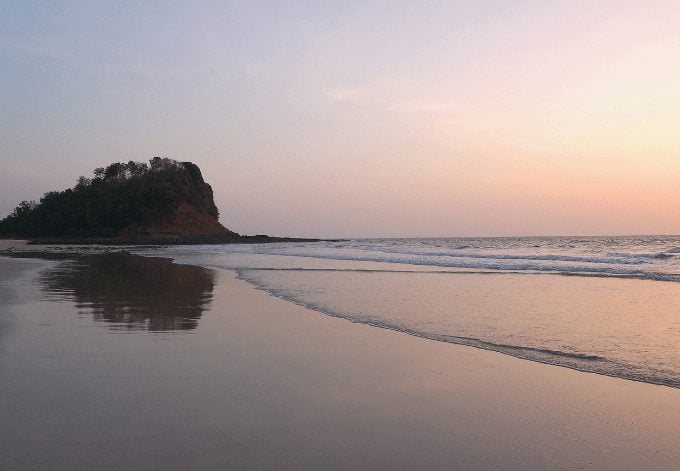 Kashid Beach in Maharashtra is located on the shores of the Arabian Sea. It is one of the closes beaches to Mumbai and is just 1.5 hour drive away, and you should definitely plan a day there if you go to Mumbai for a trip.
Baga Beach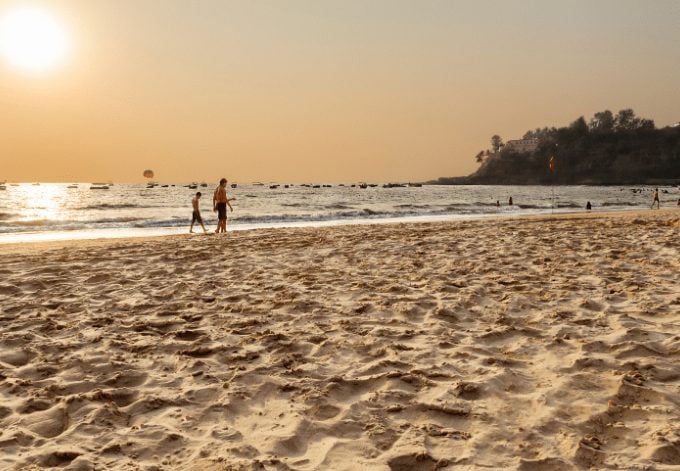 This lovely beach in Goa is named after Baga Creek, which empties into the Arabian Sea north of the beach. If you like the traditional fishermen-style villages and natural beaches, then Baga beach is for you, with shacks and fishing boats lined up the coast.
Marina Beach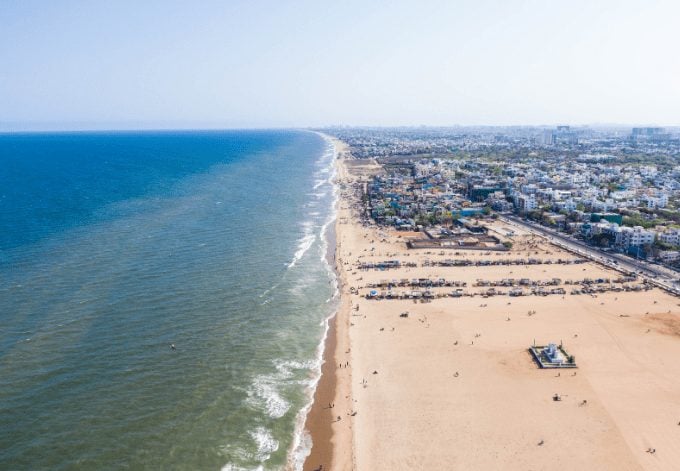 Marina Beach in Chennai, Tamil Nadu, is a natural and urban beach with sandy shores. It is the longest beach in India and the second-longest in the world, sporting more than 7 miles of sand.
FAQ
Which are the cleanest beaches in India?
There are 8 Blue Flag beaches in India, and you should plan to go to one of them if cleanliness is one of your main factors of selection. These are:
Kappad (Kerala)
Shivrajpur (Gujarat)
Ghoghla (Diu)
Kasargod (Karnataka)
Padubidri (Karnataka)
Rushikonda (Andhra Pradesh)
Golden (Odisha)
Radhanagar (Andaman & Nicobar Islands).
Which are the dirtiest beaches in India?
While Blue Flag is an internationally recognized standard for clean, environmentally friendly, and safe beaches, as a tourist you will not always spot the blue flagged beach having a large difference from those beaches which are well taken care of, and cleaned every morning.
Some of the dirtiest beaches in India are found on the Western side of the subcontinent, with Kerala beaches being Kozhikode (Kerala) and Sagareshwar and Arnala Palghar (Maharashtra).
What are the best beaches in India?
The best India beaches are:
Varkala Beach;
Radhanagar Beach;
Half Moon Beach;
Tarkarli Beach;
Cherai Beach;
Anjuna Beach;
Marari Beach;
Paradise Beach;
Kashid Beach;
Baga Beach;
Marina Beach.
Browse. Book. Stay.
CuddlyNest provides all accommodations to all travelers at the best price. Find unlimited travel inspiration on our blog and social media channels.
Here Are Some Curated Readings For You:
Best Destinations In India According To Your Zodiac Sign
Fun Facts About India
The Ultimate Asia Travel Guide
Best Yoga Destinations Around the World
Holi Travel Guide India
Find your perfect Accommodation

Find Hotels in India
Find Homes in India