It's not so hard to see how London remains one of the most sought-after travel destinations in the world. With a cacophony of sights, sounds, and a delightful lineup of not-to-be-missed tours and experiences, London flaunts a thrilling maze of bucket-list attractions that will electrify your senses.
There's the Neoclassical-style Buckingham Palace, the dazzling Big Ben, more than 100 museums, lush royal parks, the ever-tall London Eye… the list goes on and on!
Not to mention that London also boasts a plethora of family-friendly attractions like the London SEA Life Aquarium and the Wizarding World of Harry Potter.
You can also appease your culinary side with life-changing meals at the city's top bucket-list eateries, from the plush Harrod's Tea Rooms to the laidback Borough Market.
Not sure what to see first? To help you make the most out of your experience, we've listed the top tourist attractions you should include in your things to do in London bucket-list. From free world-class museums to family-oriented spots and lip-smacking afternoon teas, there's something for everyone!
Note: Make sure to double-check COVID 19 precautions, protocols, and operating hours before you visit any of these sites.
What Is The Best Time To Visit London?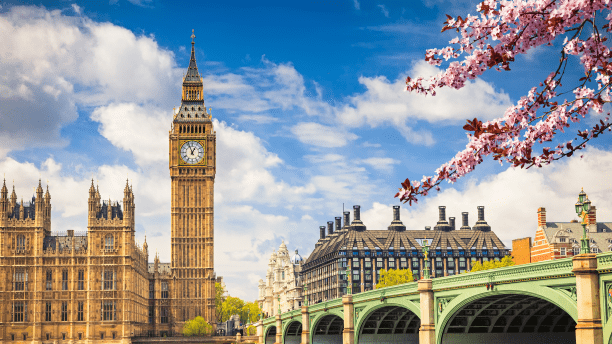 Weather is a capricious creature in London. But good news: famous for being constantly rainy and cloudy, the city can also be delightfully unpredictable, and you can be surprised by hours of sunshine after a heavy storm! So no need to despair.
But in case you want to aim for more pleasant weather, try to go to London during spring. From March through April the city gets covered in a rosé blanket of sakura trees, and the city happens to be one of the best places to see the Japanese cherry blossoms outside of Japan.
Just don't forget to pack an umbrella, as it may start to "drizzle!"
London Tourist Attractions: Things To Do In London
Westminster Abbey
Whether it's your first time in the city or not, make sure to check the classic London attractions — they are always worth it. The Westminster Abbey, a Gothic-style church that has hosted 16 royal weddings since 1100, is a must-visit. One of the most important buildings in England, the abbey is the final resting place of kings, statesmen, poets, scientists, warriors, and musicians, from Isaac Newton to Charles Darwin.
After you visit Westminster Abbey, be sure to also visit the Houses of Parliament (Palace of Westminster).
Big Ben
After visiting the Westminster Abbey, stop by one of London's most precious assets: Big Ben. Heralded as the world's most famous clock, the 315 feet tall Big Ben is a striking tower also known as The Great Bell, and it has been listed as a UNESCO World Heritage Site since 1987. The clock tower's official name is now the Elizabeth Tower —named after Queen Elizabeth II— and only UK residents are allowed to visit the clock.
The Tower Of London
Step back in time by visiting the majestic Tower of London, a 4.9-hectare castle founded by William the Conqueror at the end of 1066. The Tower of London and has played an important role in English history, serving as an armory, a treasury, a menagerie, and a royal residence.
One of the most striking features of the tower is its sparkling collection of 23,500 jewels — the Crown Jewels of England, which are worth around £20 billion. Take a guided tour around this historic castle to learn everything and more about British history!
Tower Bridge of London
The Tower Bridge of London (a.k.a London Bridge) is an engineering marvel that powerfully crosses the River Thames, in Central London. Officially opened by the Prince of Wales in 1894, the bridge is crossed by over 40,000 people every day, and offers sweeping views of the Thames.
Buckingham Palace
Buckingham Palace is a sight to behold. Nestled in the City of Westminster, in the heart of London, the palace was originally built as a large townhouse for Duke Buckingham, in 1703, but purchased in 1761 by King George III.
Queen Victoria made Buckingham Palace her an official residence when she assumed the throne, and now the palace serves as the London residence and administrative headquarters of the monarch of the United Kingdom. While you probably won't be able to spot Her Majesty, The Queen, in person, but you can still marvel at the classic Changing of the Guard at the palace.
The London Eye
On the south bank of the River Thames lies one of the top family-friendly London attractions, the London Eye. This 135 meters high giant wheel takes visitors to marvel at the city's iconic skyline at 443 feet high.
Portobello Road Market and Notting Hill
Before meandering your way through the colorful food, flower, and antique stalls at the iconic Portobello Road Market, stop by Granger and Co. Notting Hill for one of the best brunches in the city of London. Order the ricotta hotcakes with banana and honeycomb butter, and then, you can take off and explore the area on foot. You'll be delighted with the pastel-hued houses of Notting Hill!
Hop-On-Hop-Off Bus Tour
Short in time and want to make the most out of your time in London? A great idea is to go on a hop-on-hop-off bus tour. While roaming around the city on a red double-decker bus, you'll be able to catch a glimpse of the most famous landmarks like Big Ben, the Houses of Parliament, Westminster Abbey, St Paul's Cathedral, and more!
London Zoo
Located on Regent's Park and home to more than 18,000 animals of over 750 species, London Zoo is the world's oldest scientific zoo. There, expect to have wild encounters with lions, flamingos, gorillas, penguins, and other creatures. A great place to take the kids!
London SEA LIFE Aquarium
Another family-friendly attraction to add to your London bucket-list is London SEA LIFE. The Aquarium is divided into three distinct zones: Coral Kingdom, Ocean Invaders, and Rainforest Adventure — each one inhabited by a medley of fascinating marine creatures.
Peter Harrison Planetarium
Also, don't forget to visit the Peter Harrison Planetarium, a 120-seat digital laser planetarium where you and the kids will be having a glimpse of the wonders of the night sky on a 4,000-pixel strip.
St. Paul's Cathedral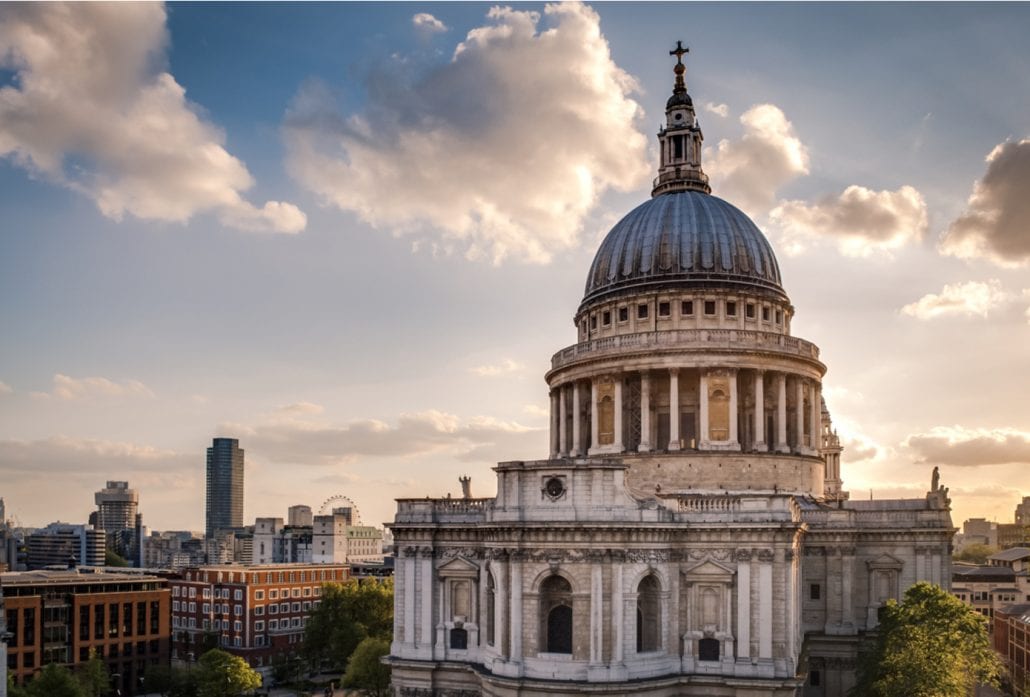 A true masterpiece designed by Christopher Wren, St. Paul's Cathedral dates back to the 17th century, and it combines Neoclassical, Gothic, and Baroque elements. This Anglican church boasts an eye-popping lead-covered dome —one of the world's largest — and a crypt with the tombs of The Duke of Wellington, Christopher Wren, and Admiral Nelson, just to name a few.
The Shard
This 72-story cutting-edge skyscraper designed by the Italian architect Renzo Piano offers one of the most sweeping panoramas of London. The Shard is home to the highest viewing platform in the city, offering 360-degree views for up to 40 miles.
London Walking Tour
If exploring the city on a double-decker bus is not your thing, you might wanna consider going on walking tours, which happen to be a great way of uncovering London.
There are several themed walking tours available in London. If you want to cover the main landmarks of the city, opt for a "Classic London" walking tour. But in case you're feeling adventurous and are seeking a bolder experience, choose the famous "Jack The Ripper Walking Tour", which always happens at night and takes participants to some of the most gruesome places in London. Spooky!
Churchill's War Rooms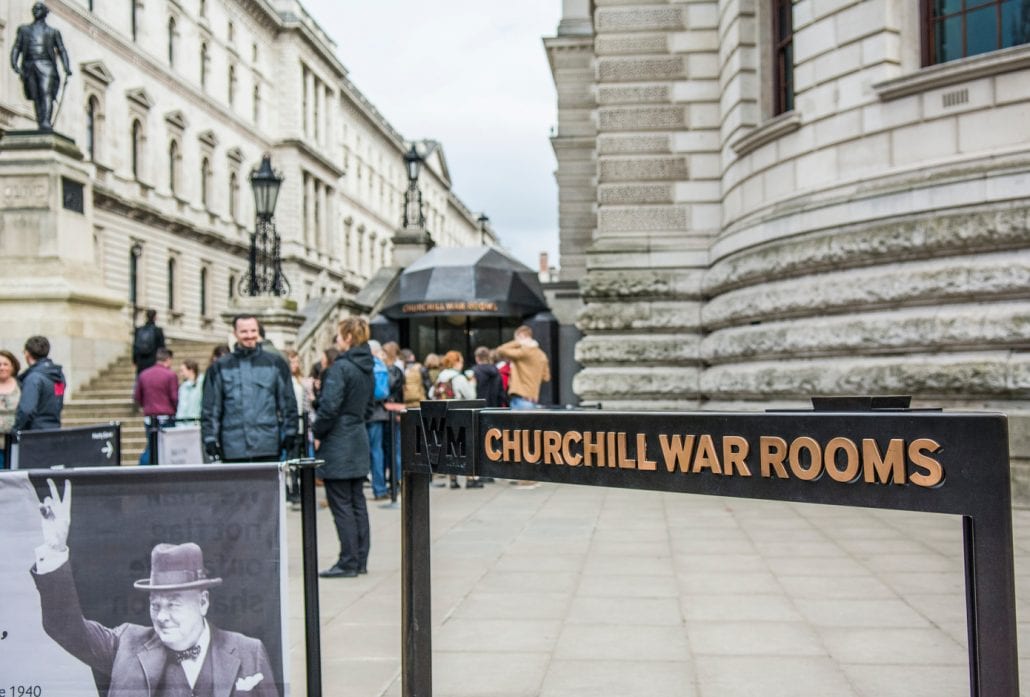 A veritable London gem, Churchill's War Rooms is the secret bunker where Churchill lived and worked during WWII. Designed by architect Christopher Wren, this underground museum is located beneath the streets of Westminster, and the guided tours take visitors to see Churchill's bedroom, the Cabinet Room — where the Prime Minister and his advisers would meet —, and more.
Hampton Court Palace
Dating back to the early 16th century, the Hampton Court Palace was the home of Henry VIII and the Tudor dynasty, before Queen Victoria opened it to the public in 1838. Visit this astonishing palace for a sneak peek at the carefully landscaped gardens, the majestic Great Hall with its jaw-dropping hammer beam ceilings, and the famous Tudor Kitchens where hundreds of feasts were prepared for the insatiable Henry VIII.
Kensington Palace
Set amidst the verdant grounds of Kensington Gardens, the Kensington Palace was the childhood home of Queen Victoria, and now it's the official residence of The Duke and Duchess of Cambridge. Visitors can catch a glimpse of Victoria's re-imagined childhood rooms, the jaw-dropping King's State Apartments, and Queen's State Apartments.
Somerset House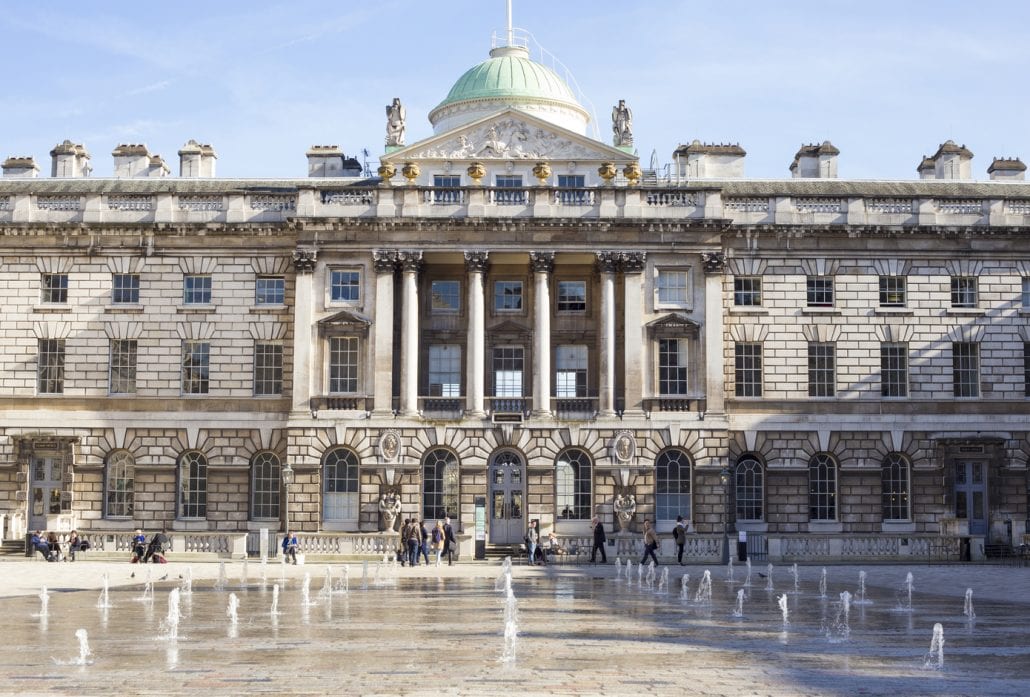 Housed within an iconic neo-classical building that was the childhood home of Queen Elizabeth I, Somerset House is now a working arts center that houses a creative line-up of events throughout the year.
Warner Bros. Studio Tour London
Harry Potter fans: don't forget to include a visit to the Warner Bros. Studio Tour London to your London things to do list. At the exhibit, visitors can explore iconic sets of the movie, including the Great Hall and Diagon Alley, learn about the special effects that brought magical creatures to life, see real costumes from the movie, and more.
London Museums
There's no shortage of world-class museums to visit in London. Make sure you visit the British Museum, which shelters a permanent collection of some 8 million works; and the National Gallery, which plays host to over 2,300 paintings dating from the mid-13th century to 1900.
Then, make your move to the Victoria and Albert Museum, where you can marvel at Queen Victoria's glistering sapphire and diamond coronet.
Looking for a family-friendly museum to take the kids? The Natural History Museum is a great option. There, the little ones can learn everything and more about the history of life on Earth, stand in awe with giant dinosaur replicas, and have an encounter with extinct mammoths, hippos, horses, and giraffes. Kids will also love the Science Museum, the National Maritime Museum, and the London Transport Museum.
Make sure to also visit the Tate Modern Museum, one of the largest museums of modern and contemporary art in the world, and the Queen's House, in Greenwich, home to over 4500 oil paintings.
London Art Galleries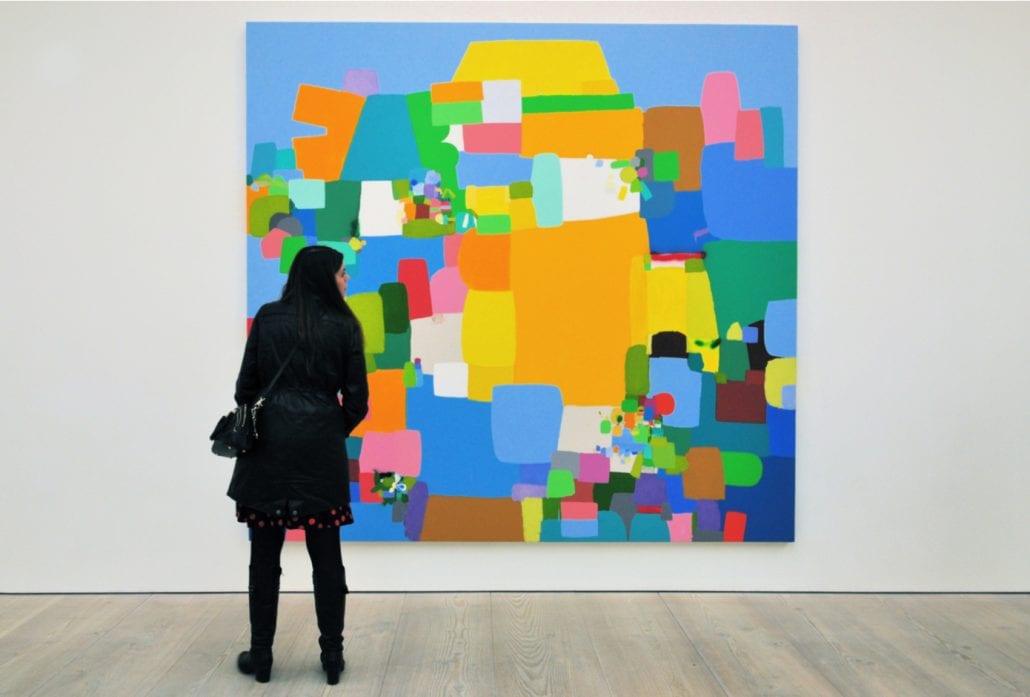 The city of London encompasses some 1,500 inspiring art galleries and exhibition spaces that every art lover should visit. One of the most praised is the White Cube, a contemporary art gallery dotted with works by artists like Damien Hirst and Robert Irwin. Also visit the Barbican Centre, an astonishing performing arts center that hosts classical and contemporary music concerts, film screenings, theatre, and dance performances, and art exhibitions.
Hyde Park
When nice weather descends, do as the locals and head over to Hyde Park, the largest of the four London Royal Parks. Spreading over 142 hectares, this urban sanctuary is adorned with 4,000 trees, a large lake, a meadow, and ornamental flower gardens.
Parliament Hill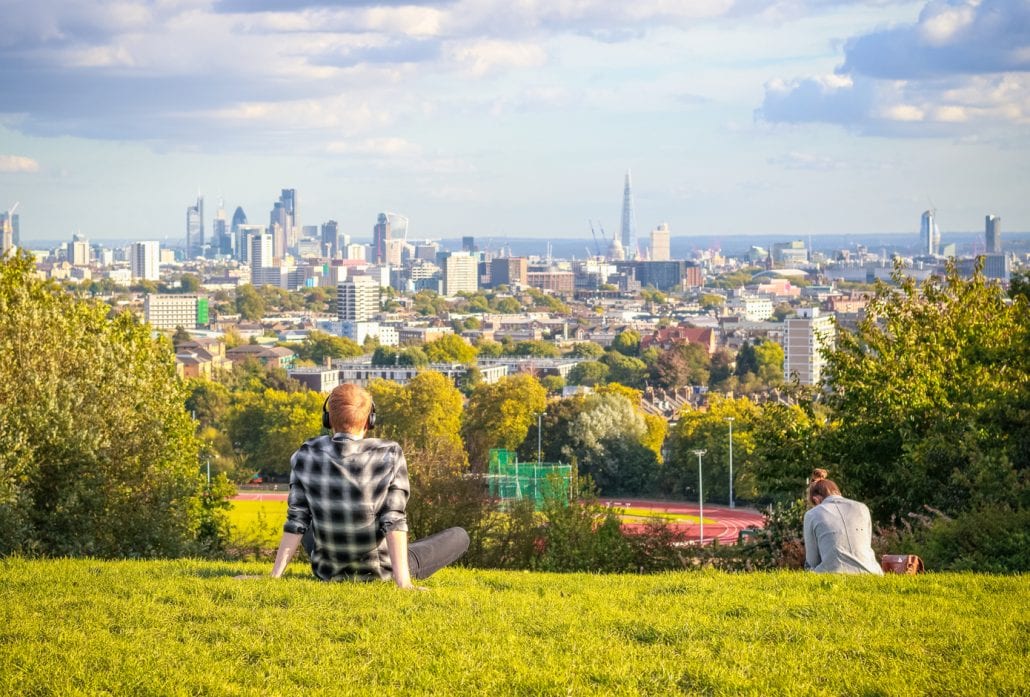 The highest point in London, Parliament Hill offers the best views of the city skyline. From up there, you'll be able to see landmarks such as St Paul's Cathedral, the Palace of Westminster, the Shard, and more.
Leicester Square
Head over to London's West Wend to uncover one of the city's most famous squares. Founded in 1670, Leicester Square is a major entertainment center, and it plays host to several restaurants, bars, performance art venues, and hotels.
Camden Town And Camden Market
The eccentric Camden Town district, in northwest London, is home to a delightful selection of cafes, lively pubs, live music venues, and street performers. There, visit the world-famous Camden Market, home to over 1000 unique shops and stalls, Camden Lock, which is one of London's first antique markets, and the well-known Abbey Road thoroughfare. Be sure to also visit Primrose Hill, a verdant outdoor area that offers the most sweeping views of London!
Oxford Street
Aside from alluring museums and captivating landmarks, London is also filled with endless shopping opportunities. For a first-rate retail therapy in the city, head over to Oxford Street, a nearly 1.5 miles street lined with over 300 shops, and restaurants.
DUKES Bar
Known for serving one of the best martinis in the world, the sophisticated DUKES Bar is said to be the place where Ian Fleming came up with the famous "shaken, not stirred" James Bond phrase.
Kew Gardens
Feel like taking a break from the bustling streets of London? The Kew Gardens is the place to go. Sprinkled with over 50,000 living plants, the gardens provide a place of beauty and tranquility for locals and visitors alike. There are scenic riverside walks, a gorgeous arboretum with 14,000 trees, a dreamy bamboo garden, a palm house, and more delightful sights.
Covent Garden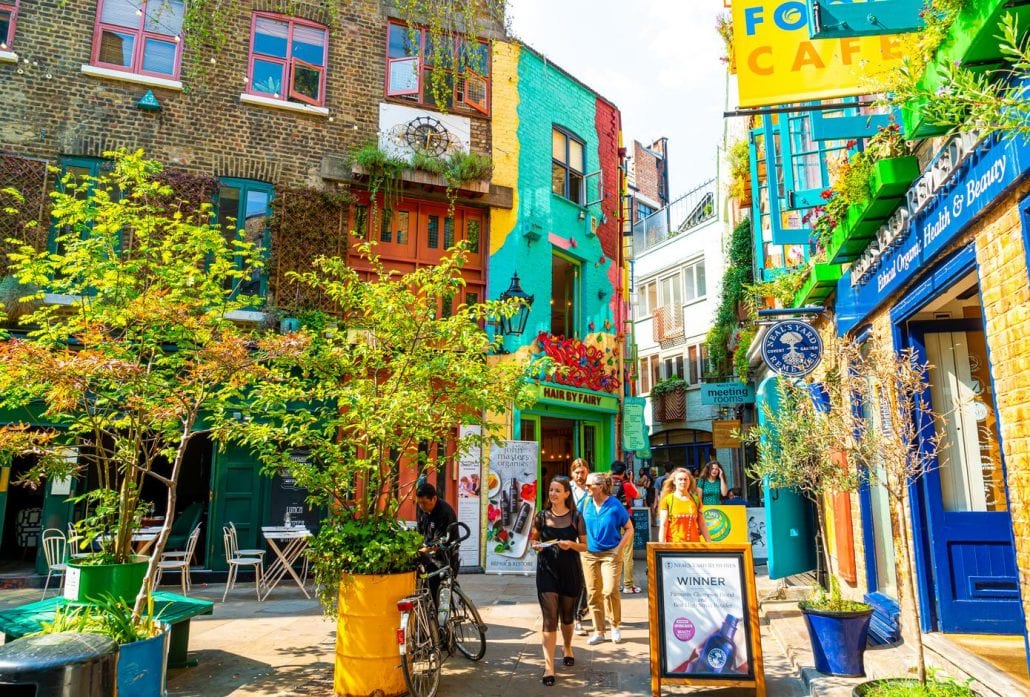 This trendy district is home to some of the most Instagram-worthy spots in London. Visit the multicolored Neal's Yard, a tiny alley with lovely cafes and shops, the Royal Opera House, where you can have the life-changing experience of watching The Royal Ballet of London, and the iconic Apple Market, which holds a signature fruit and vegetable market.
Piccadilly Circus
If you want to experience London's frenetic and non-stop energy, go to Piccadilly Circus, a road junction and public square on the West End. From there, you can easily go to Trafalgar Square, the National Gallery, and to Leicester Square among other London attractions.
Street Art In Shoreditch
London is as much about stellar museums as it is about street art. And one of the best places in the city for those who love irreverent murals is the hip Shoreditch neighborhood. There, expect to see satirical works by Banksy, ROA, and Stik.
Afternoon Tea At Harrods Tea Rooms
There's nothing like an English-style afternoon tea after a day of walking around London. While there is a seemingly unlimited choice of restaurants one can go to, one of the most famous afternoon teas in the city is the one served at Harrods. A lip-smacking selection of finger sandwiches, freshly baked scones, tea, and pastries are some of the treats you'll sample at Harrods.
Royal Albert Hall
The Royal Abert Hall is Italianate style jewel in the crown of London. Founded in 1871 by Queen Victoria, this jaw-dropping concert hall has welcomed legendary performers like Leonard Cohen, The Rolling Stones, Diana Ross, and David Bowie.
Full English Breakfast At E. Pellicci
Start off the day the right way by having a full English breakfast at E. Pellicci. This iconic restaurant has been feeding Londoners and travelers with their signature full-breakie since 1900. Their classic set breakfast comes with Cumberland sausage, eggs, bacon, mushrooms, beans or tomatoes, and fried bread or toast.
Borough Market
Another prime destination for foodies in London is the Borough Market. Just wander around the market's food stalls and pick something delicious to eat. You'll find everything from fish and chips to vegan dishes and fresh-from-the-oven baked goodies.
Shakespeare's Globe
Nestled on the banks of the River Thames, Shakespeare's Globe is a reconstruction of the Globe Theatre, an Elizabethan playhouse where the plays of William Shakespeare were performed. You can either go on a guided tour of the theatre or plan to watch a play at the venue.
Here Are Some Curated Readings For You:
Where to Travel in Europe
Best Castles In Europe
How To Travel To Europe After Brexit
Free Things to in Barcelona
Things to do in Barcelona with Kids
Best Things to do in Sinj, Croatia