Visiting London with kids is an absolute joy. In and around the city, there's a plethora of fun-filled attractions — from lush urban parks to unrivaled museums — that'll wow everyone on your crew.
Some of the top kid-friendly activities in London include exploring the Harry Potter filming locations, seeing thousands of marine creatures in the Sea Life London Aquarium, and meeting century-old mummies in the British Museum.
We handpicked the most fun things to do in London with the kids. These top-notch attractions will undoubtedly amuse the little ones (and their parents) on a day out!
17 Best Things to do in London with Kids
Sea Life London Aquarium
Young kids will love visiting the London SEA LIFE Aquarium. This world-class facility is divided into three distinct zones: Coral Kingdom, Ocean Invaders, and Rainforest Adventure — each one inhabited by 500 species of marine creatures.
Some of the awe-inspiring fishes you'll find here include penguins, sea turtles, sharks, jellyfish, rays, and five seahorse species and pipefish species.
Address: Riverside Building, County Hall, Westminster Bridge Rd, London
Recommended Read: 30 Things to do in London
The Natural History Museum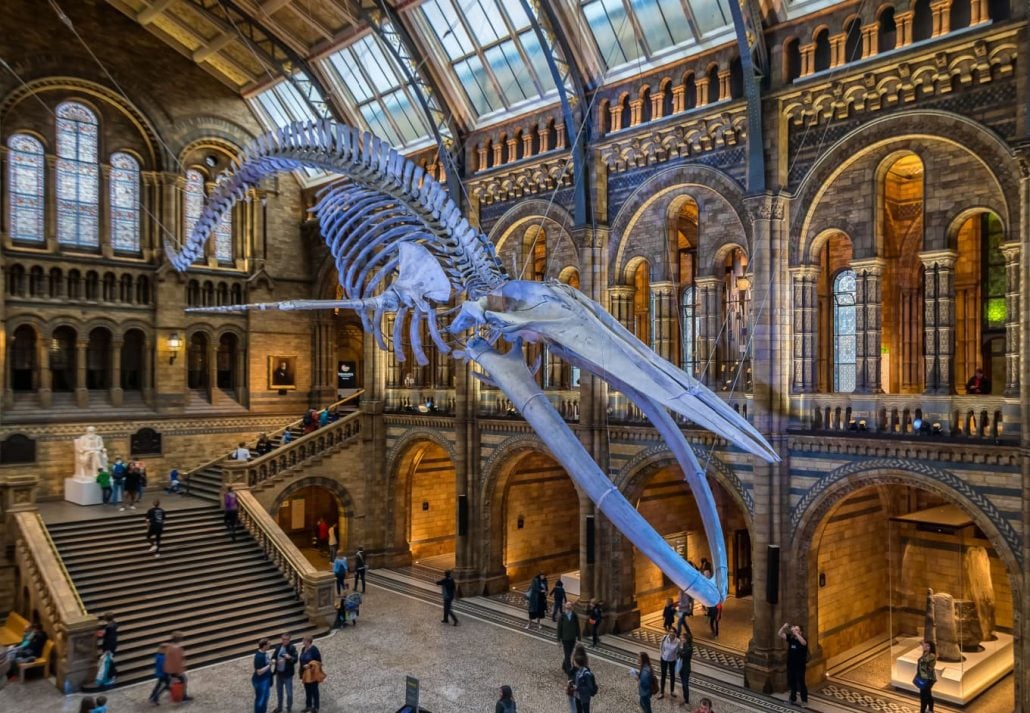 The little scientist's-to-be can't pass up the chance to see London's Natural History Museum. Located in the South Kensington area, this world-class institution is home to a dazzling collection of 80 million objects dating back billions of years.
Hope, a giant blue whale skeleton in Hintze Hall, age-old fossils in the world-leading Dinosaurs gallery, and meteorites from outer space are some of the treasures the kids will see in this museum.
Address: Cromwell Rd, South Kensington
Recommended Read: The 13 Best Free Museums in London, England
St. James's Park
St. James's Park is a go-to place for active and outdoorsy adventures. London's oldest Royal Park, this 57-acre oasis encompasses colorful flower beds and lush grounds where the kids can freely run around and play.
Located just a short walk from three palaces (St James's, Westminster, and Buckingham Palace), the park also provides a gorgeous backdrop for a scenic picnic under the canopy of trees.
Majestic oak and mulberry trees and adorable creatures like foxes, pelicans, and squirrels beautifully surround you.
Address: London SW1A 2BJ
Hyde Park
The world-famous Hyde Park is another worth-visiting green sanctuary in London. Covering an area of 350 acres, this Grade-I listed park is beautifully adorned with 4,000 trees, a large lake, a meadow, and even an ornamental rose garden.
Tried and true activities in Hyde Park include exploring the park on foot, picnicking, boating on the lake, horseback riding, and swimming.
Address: London W2 2UH, United Kingdom
Buckingham Palace
Of one thing we're sure: your kids will stand in awe with Buckingham Palace. Located in the City of Westminster, in central London, the palace was initially built as a large townhouse for Duke Buckingham in 1703 but was purchased in 1761 by King George III.
Queen Victoria made Buckingham Palace her official residence when she assumed the throne. Now, the palace serves as the London residence and administrative headquarters of the monarch of the United Kingdom.
While the little ones probably won't be able to spot His Majesty, The King, in person, they'll love watching the spectacular Changing of the Guards in front of the palace.
The ceremony happens every Monday, Wednesday, Friday, and Sunday at 10:45 am and is free to watch!
Address: London SW1A 1AA, UK
London Zoo
Located in the lush grounds of Regent's Park, the London Zoo is the world's oldest scientific zoo. It was founded in 1828 for scientific purposes and became open to the public in 1847.
The spectacular London Zoo is home to over 18,000 animals of over 750 species. Expect wild encounters with lions, flamingos, gorillas, penguins, and other creatures here. A great place to take the kids!
Address: Outer Cir, London NW1 4RY
London Eye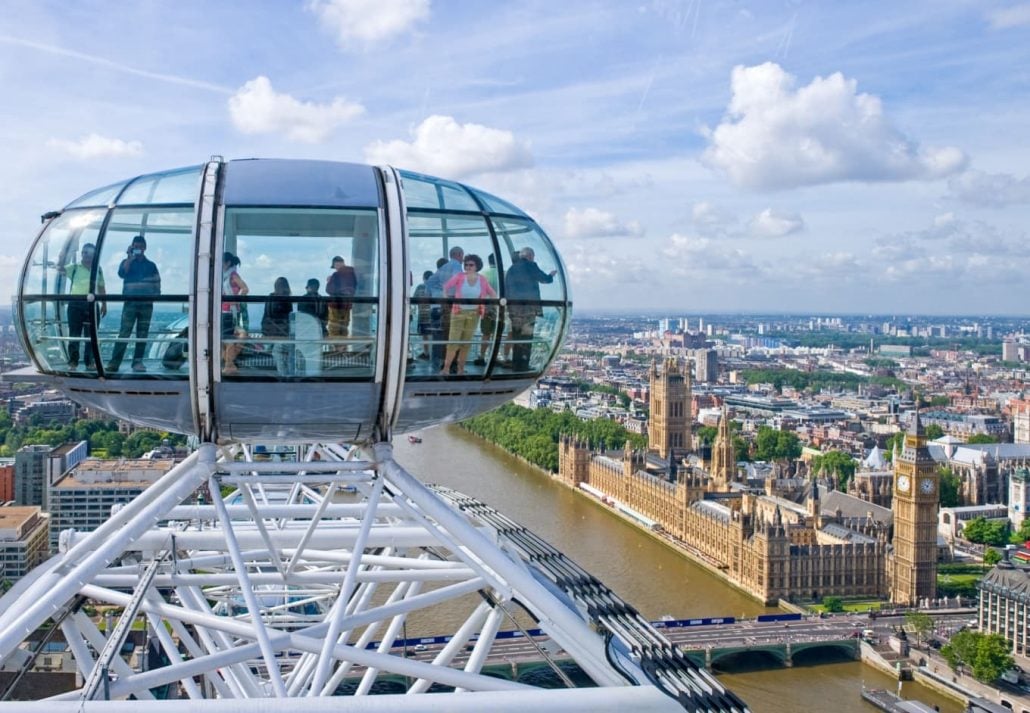 Gloriously positioned on the south bank of the River Thames, the London Eye is one of the top family-friendly London attractions. This 135 meters high giant wheel gives visitors a bird's eye view of the city's iconic skyline at 443 feet high. Simply breathtaking!
Address: Riverside Building, County Hall, London SE1 7PB
Hop-On-Hop-Off Bus Tour
A hop-on-hop-off bus tour is a fun way to explore London with the kids. While navigating around the city on a red double-decker bus, you'll see the most famous landmarks like Big Ben, the Houses of Parliament, Westminster Abbey, St Paul's Cathedral, and the Tower Bridge of London, to name a few.
The Tower Of London
The Tower Of London will take kids on a fascinating journey back in time. This 4.9-hectare castle, founded by William the Conqueror at the end of 1066, has played an important role in English history, serving as an armory, a treasury, a menagerie, and a royal residence.
Inside the tower, you'll get the chance to see the sparkling collection of 23,500 jewels — the Crown Jewels of England — which are worth around £20 billion. Take a guided tour around this historic castle to learn everything and more about British history!
Address: London EC3N 4AB, United Kingdom
Peter Harrison Planetarium
Are your kids seeking to discover the secrets of the universe? Then, take them to the Peter Harrison Planetarium. In this 120-seat digital laser planetarium, the little ones will have a glimpse of the wonders of the night sky on a 4,000-pixel strip.
Some of the top activities here include a thrilling immersive experience on Mars and an adventure around the Solar System!
Address: Blackheath Ave, London SE10 8XJ
Warner Bros. Studio Tour London
Potterheads: be sure to add a visit to Warner Bros. Studio, in London, to your bucket list. At this fabulous exhibit, visitors can explore iconic sets of the movie, including the Great Hall and Diagon Alley, learn about the special effects that brought magical creatures to life, see real-life costumes from the movie, and more.
Address: Studio Tour Dr, Leavesden, Watford WD25 7LR
Science Museum
The Science Museum is an excellent place for families seeking to uncover the innovations that shaped the modern world. Established n 1857, the museum is a significant institution and one of London's top tourist attractions, attracting over 1 million visitors annually.
While browsing through the museum's two buildings, visitors will discover an array of treasured objects of scientific achievement. These include Helen Sharman's Space Suit, dating back to 1991; the Wells Cathedral clock, one of the world's oldest clocks, from 1390; and a Pilot ACE computer from 1950.
Address: Exhibition Road, South Kensington
London Transport Museum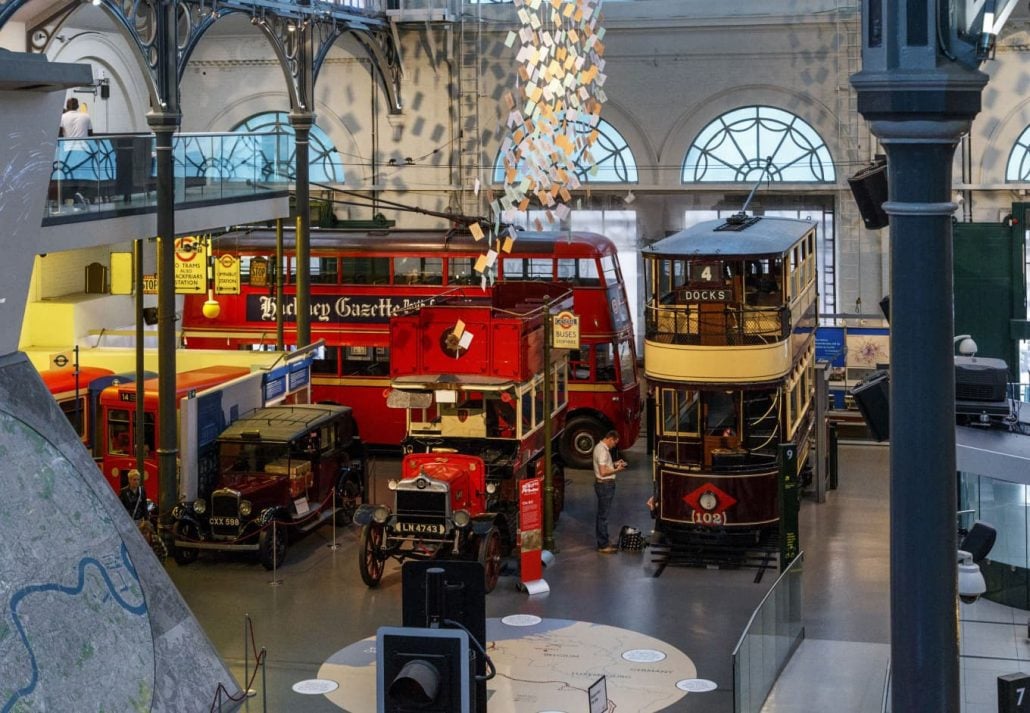 Want to learn about how London transportation shaped the growth of the city? Then, be sure to check out the Transport Museum. This museum will take you to discover over 500,000 objects, including over 80 vintage vehicles covering 200 years of London's history.
Some of the museum's highlights are a red Routemaster bus, the world's first Underground steam train, and the padded cell, a train carriage dating back to the 1890s.
Address: Covent Garden Piazza
Vauxhall City Farm
The Vauxhall City Farm is London's oldest and most central city farm. Located in Vauxhall, near the city center, the farm allows visitors to meet chinchillas, ducks, chickens, goats, guinea pigs, and even a pair of alpacas who starred in 'Star Wars: The Force Awakens.'
Address: 165 Tyers St, London SE11 5HS
British Museum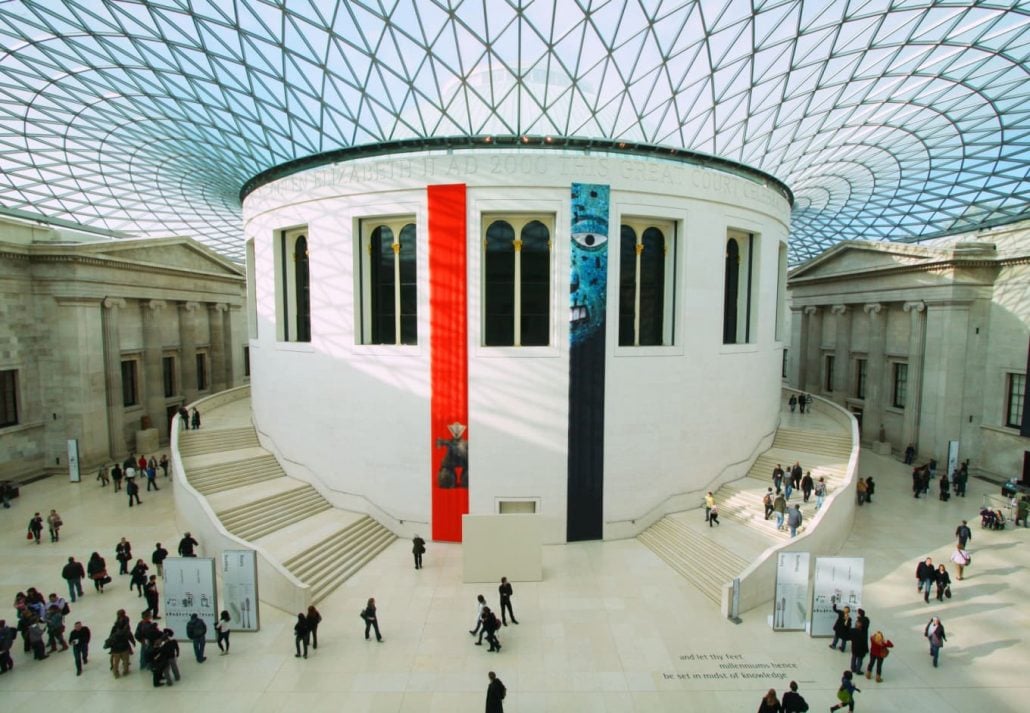 Often considered one of the best London museums, the British Museum was founded in 1753 as the first in England to cover all fields of human knowledge. While snooping around the galleries of these prestigious institutions, families will be happily surprised to find a first-class permanent collection featuring eight million objects that document two million years of human history and culture.
Some relics are the Rosetta Stone — a dark-colored granodiorite stela carved during the Hellenistic period —Parthenon sculptures and mummies from Ancient Egypt.
Address: Great Russell Street
London Bridge Experience
The London Bridge experience offers kids a fun way to learn about London's history. This
interactive walk-through adventure features live actors that play characters from the past 2000 years of London bridge History. While led by these intriguing characters, you'll learn about key moments in the city's history, including Boudicca's battles with the Romans and The Great Fire of London.
Queen Elizabeth Olympic Park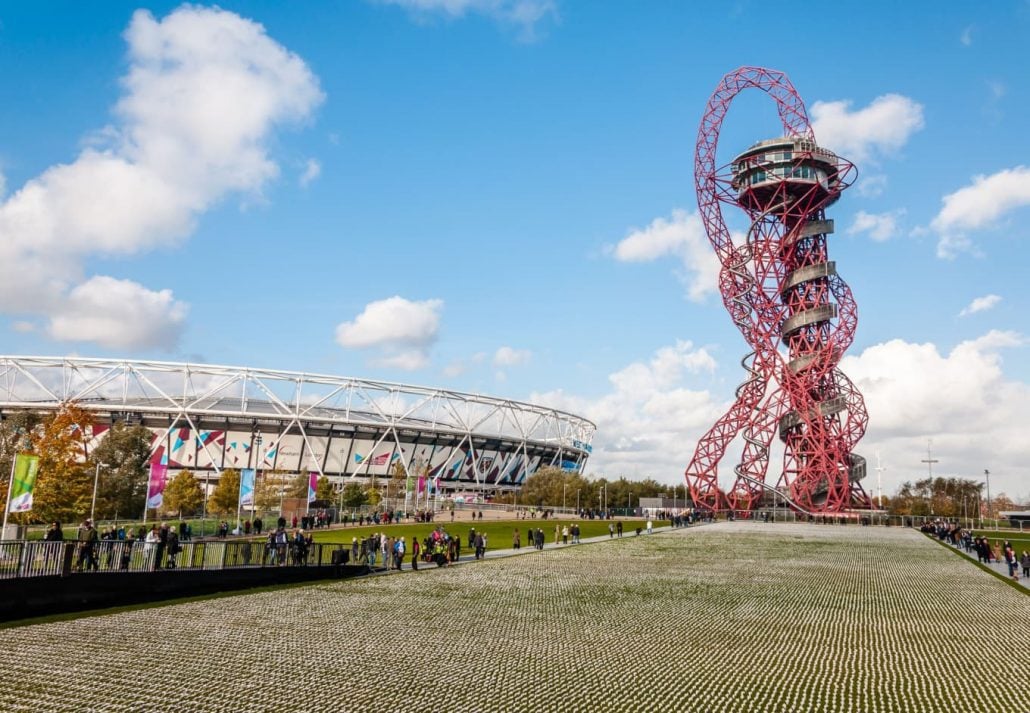 Purpose-built for the 2012 Summer Olympics and Paralympics, the Olympic Park is a prime destination for an adventurous day with the kids. This massive park straddles four east London boroughs, Newham, Tower Hamlets, Hackney, and Waltham Forest, and flaunts numerous outdoor areas where the kids can let loose.
Visitors can have a scenic picnic in the serene parklands, a boat tour along the canal, and glide down the world's longest tunnel slide!
Address: Stratford, London, E20 2ST
FAQ
What can I do in London with kids?
The top London attractions for kids are:
Sea Life London Aquarium;
The Natural History Museum;
St. James's Park;
Hyde Park;
Buckingham Palace;
London Zoo;
London Eye;
Hop-On-Hop-Off Bus Tour;
The Tower Of London;
Peter Harrison Planetarium;
Warner Bros. Studio Tour London;
Science Museum;
London Transport Museum;
Vauxhall City Farm;
British Museum;
London Bridge Experience;
Queen Elizabeth Olympic Park.
Is London worth visiting with kids?
Yes. London is a lively city filled with family-friendly attractions (parks, museums, historic sites) that the little ones are guaranteed to love.
CuddlyNest provides all accommodations to all travelers at the best price. Find unlimited travel inspiration on our blog and social media channels.
You May Also Like:
How To Get To Stonehenge From London: 4 Easy Ways
Train From London To Paris: Everything You Need To Know
11 Fun Facts About The London Eye
How To Travel From London to Edinburgh, Scotland: 4 Easy Ways
Best Destinations for Family-Friendly Holidays in the UK
Top Attractions in London
A Guide To Visiting The Tower Of London
9 Amazing Free Things to do in London, England