When it comes to finding a serene oasis amidst the bustling streets of London, you don't have to venture far.
In fact, this cosmopolitan city boasts an impressive 3,000 parks, covering nearly 18 percent of its landscape.
Whether you're a local seeking a peaceful escape or a visitor yearning to soak in the city's natural beauty, London's parks will offer you the perfect retreat.
From the iconic grandeur of Hyde Park to the charming allure of Kensington Gardens and the picturesque landscapes of Regent's Park, this blog post will take you through the X most beautiful parks in London.
Get ready to immerse yourself in lush gardens, meandering paths, and tranquil lakes, as we explore 16 green spaces that make London a true urban oasis.
The 16 Best Parks in London, England
Hyde Park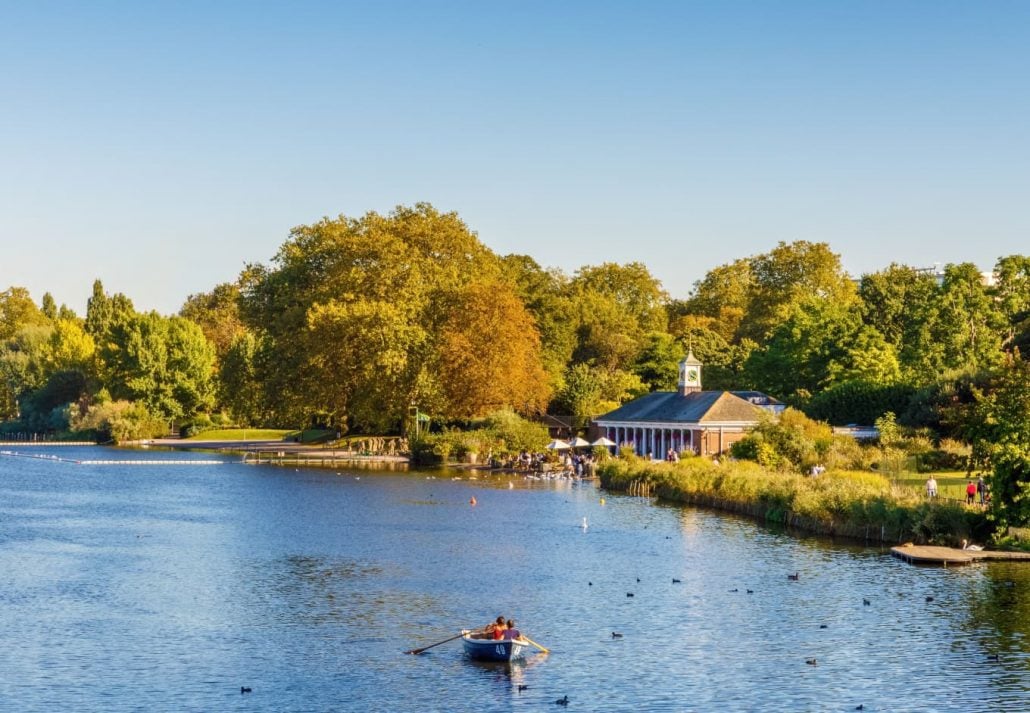 Nestled in the heart of London, Hyde Park is a quintessential green haven that has captivated both locals and visitors for centuries.
This iconic park spans a sprawling 350 acres, making it the largest of the London Royal Parks.
With a history dating back to the 16th century, this Grade-I listed park is beautifully adorned with 4,000 trees, a large lake, a meadow, and an alluring ornamental rose garden.
As you explore, keep an eye out for the serene Serpentine Lake, where you can rent a paddleboat and glide across its shimmering waters.
For a taste of royal history, don't miss the grand Kensington Palace, located on the western edge of the park.
Address: London W2 2UH, United Kingdom
Richmond Park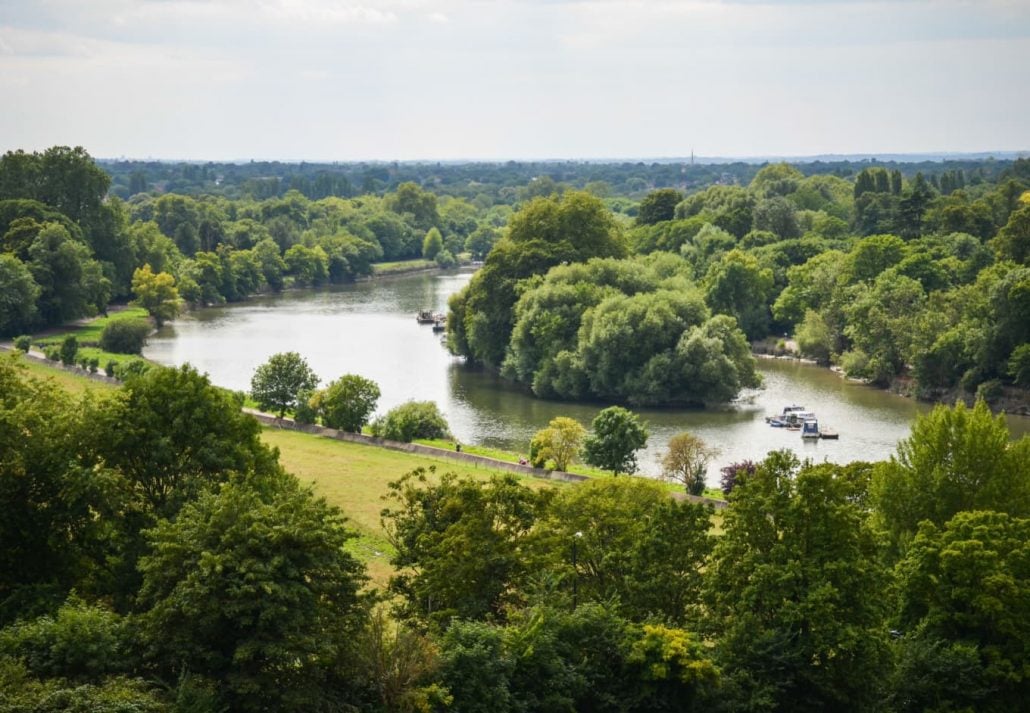 Tucked away in southwest London, Richmond Park is a hidden gem that boasts an enchanting blend of natural beauty and rich history.
This sprawling park covers a staggering 2,500 acres, making it the largest Royal Park in London.
As you wander through its vast expanse, you'll be greeted by sweeping meadows, ancient trees, and a serene woodland garden called Isabella Plantation, which was planted in the 1830's.
You can also spot hundreds of red and fallow deer roaming freely across the park's grounds.
From King Henry's Mound, Richmond Park's highest point, visitors can enjoy show-stopping views of St Paul's Cathedral.
Address: London TW10 5HS, UK
Battersea Park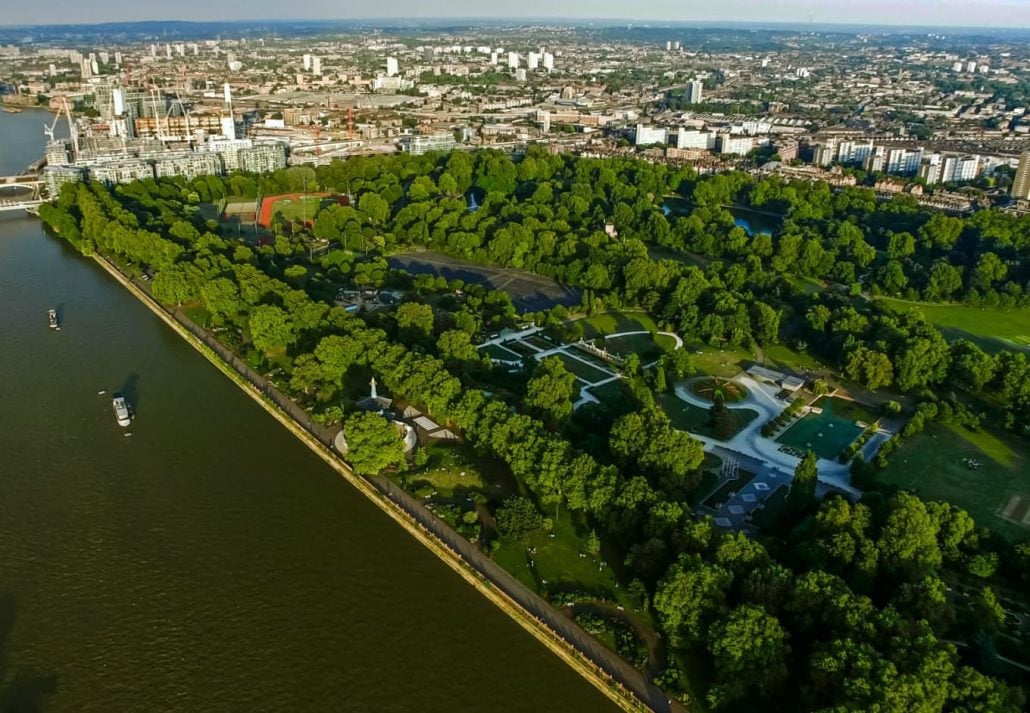 Nestled on the south bank of the River Thames opposite Chelsea, Battersea Park park covers 200 acres, providing a serene escape from the bustling city.
With a history dating back to the mid-19th century, Battersea Park was initially created as a public space to promote health and well-being during the Industrial Revolution.
Today, it stands as a cherished green sanctuary that holds a special place in the hearts of both locals and visitors.
While meandering through the park's picturesque landscapes, you'll encounter lush gardens, tranquil lakes, and vibrant flowerbeds that bloom with color.
One of the park's highlights is the London Peace Pagoda, a striking monument that features four gilt-bronze statues representing the most significant stages of Buddha's life
Additionally, Battersea Park hosts a variety of events and festivals throughout the year, ranging from food markets to art exhibitions, ensuring there's always something new to experience.
Address: London SW11 4NJ, United Kingdom
Regent's Park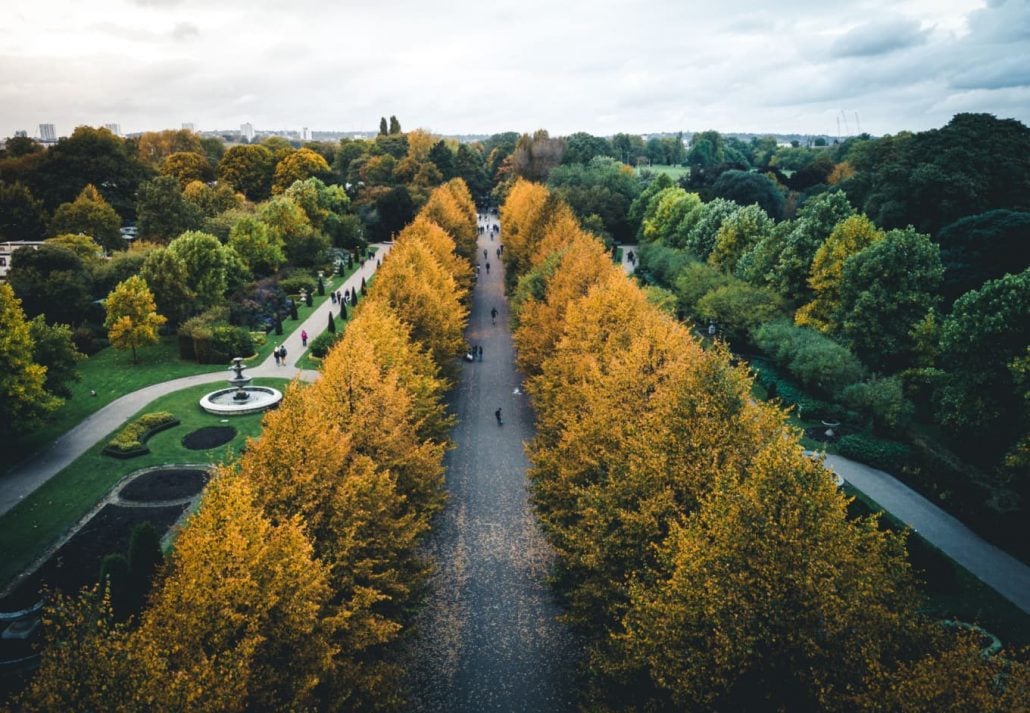 Regent's Park is a true urban oasis that covers 410 acres of elegant gardens, stunning open spaces, and a beautiful boating lake.
This exquisite park was designed by renowned architect John Nash in the 1810s and was initially intended as a royal retreat for the Prince Regent, who later became King George IV. Today.
Today, it stands as a beloved public park, renowned for its scenic beauty and diverse attractions.
Regent's Park is also home to one of the most popular attractions in London, the London Zoo. The zoo (the oldest in the world) is home to more than 18,000 animals of over 750 species, including lions, flamingos, gorillas, penguins, and more.
Besides the zoo, visitors can also visit the Queen Mary's Gardens to see over 12,000 roses in display, and the beautiful Boating Lake and Open Air Theatre, an open-air riverside cinema that screens a host of blockbusters.
Address: London SW11 4NJ, United Kingdom
Bushy Park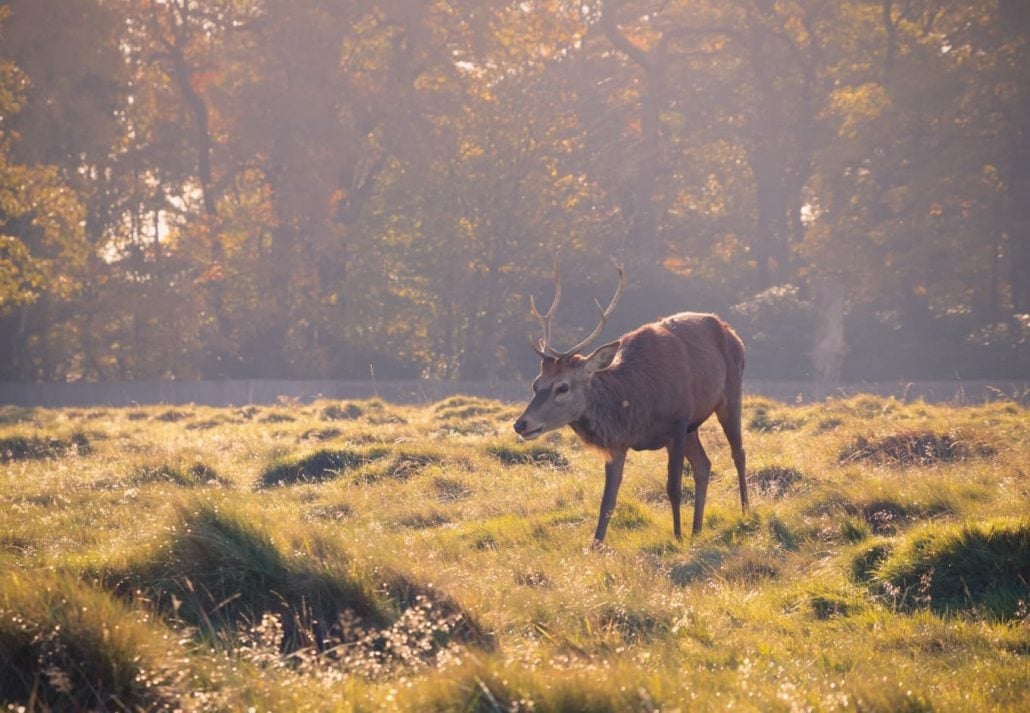 Spread across 1,100 acres, Bushy Park is one of the largest green spaces in London and is teeming with natural beauty and rich history.
Dating back to the 16th century, Bushy Park has played a significant role in British history, serving as a hunting ground for King Henry VIII and later as a royal retreat.
Today, the park remains a beloved destination, known for its picturesque landscapes, ancient trees, and diverse wildlife.
Bushy Park is particularly famous for its population of majestic red and fallow deer, which freely roam the park, captivating visitors with their graceful presence.
As you explore the park's enchanting trails, you'll encounter serene ponds, blooming gardens, and hidden woodland groves that invite you to lose yourself in nature's embrace.
For a touch of regal charm, make sure to visit the beautiful Waterhouse Fountain, a striking monument that adds to the park's allure.
Address: London TW12 2EJ, UK
Hampstead Heath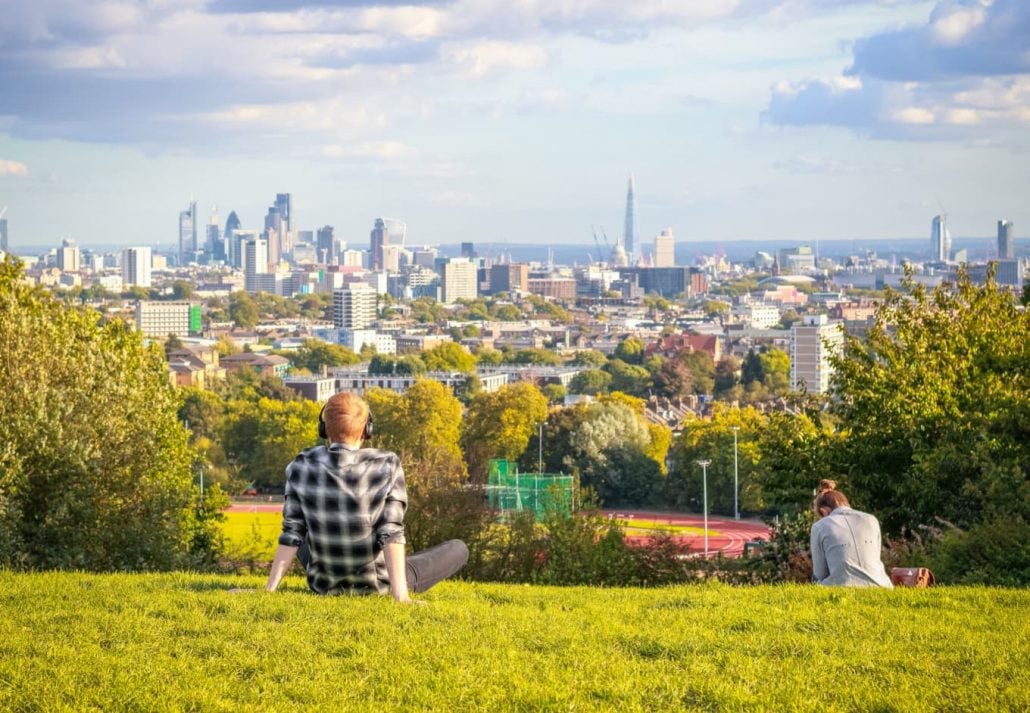 Located in northwest London, less than four miles from the bustling city center, Hampstead Heath is a famous park that encompasses 790 acres of rolling hills, lush meadows, and ancient woodlands.
With a history that stretches back centuries, Hampstead Heath is famous for its breathtaking natural features and panoramic views.
The park is home to over 25 serene ponds, as well as sprawling meadows that invite picnickers and sunbathers to enjoy a pleasant afternoon outdoors
Hampstead Heath also comprises an impressive array of flora and fauna, with wildflowers, ancient trees, and a variety of bird species.
One of the most famous attractions within the park is Parliament Hill, offering stunning vistas of the London skyline that are perfect for capturing memorable photographs.
Address: Hampstead Heath, London, UK
Greenwich Park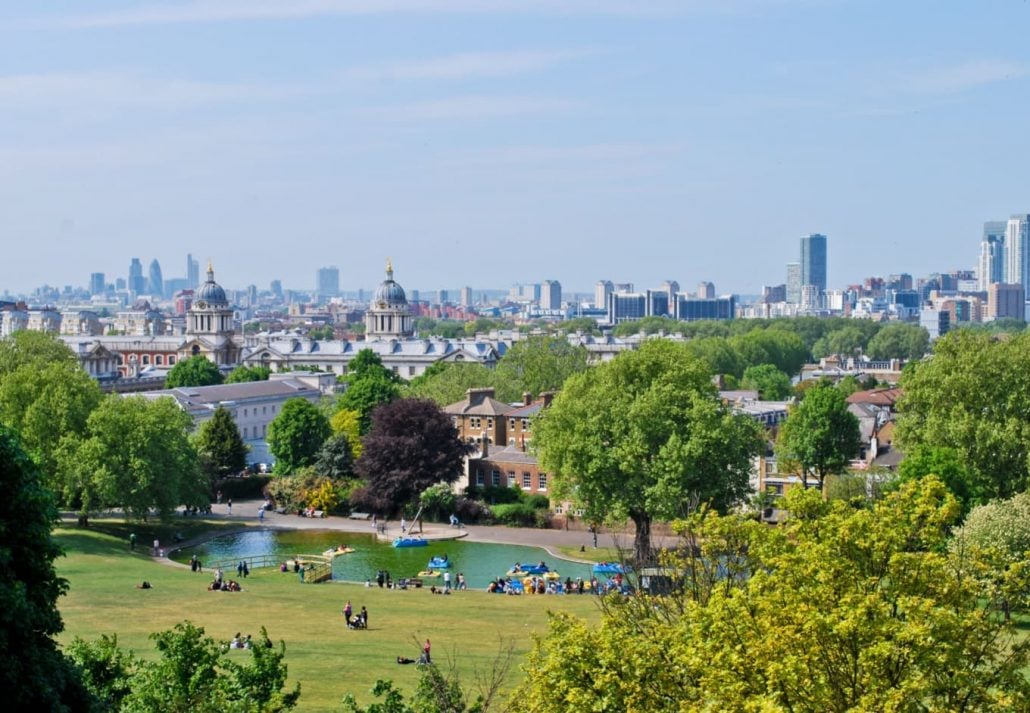 Greenwich Park is one of the oldest and most famous parks in London. Overlooking the River Thames, the park is part of the Maritime Greenwich World Heritage Site, which includes the Prime Meridian line marking the division between the eastern and western hemispheres.
Greenwich's natural features include vast open spaces, ornamental flower beds, artfully manicured rose gardens and ancient trees that provide a tranquil retreat for nature enthusiasts. 
One of the Royal Parks of London, Greenwich Park also has elevated vantage points, like the Royal Observatory, offering breathtaking views of London.
Address: London SE10 8QY, United Kingdom
Crystal Palace Park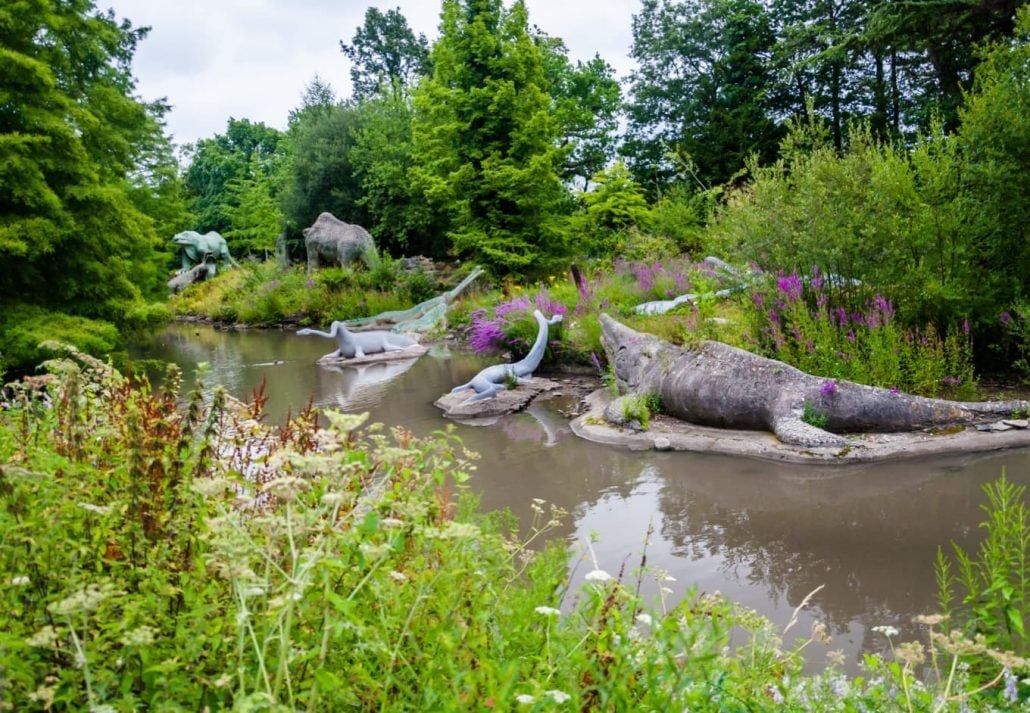 Crystal Palace Park is a hidden gem green space located on the grounds of the former Crystal Palace, in South East London.
Although the original Crystal Palace palace was destroyed by fire in 1936, the park retains its historical significance and continues to enchant visitors.
The park is famous for its impressive array of dinosaur sculptures, making it a haven for paleontology enthusiasts and curious minds alike.
These life-size models offer a glimpse into the prehistoric world and provide an educational and interactive experience for all ages.
Crystal Palace Park also boasts picturesque lakes, sprawling lawns, and beautifully landscaped gardens, providing a serene background for leisurely walks, picnics, and other outdoor activities.
Address: Thicket Rd, London SE19 2GA
St James's Park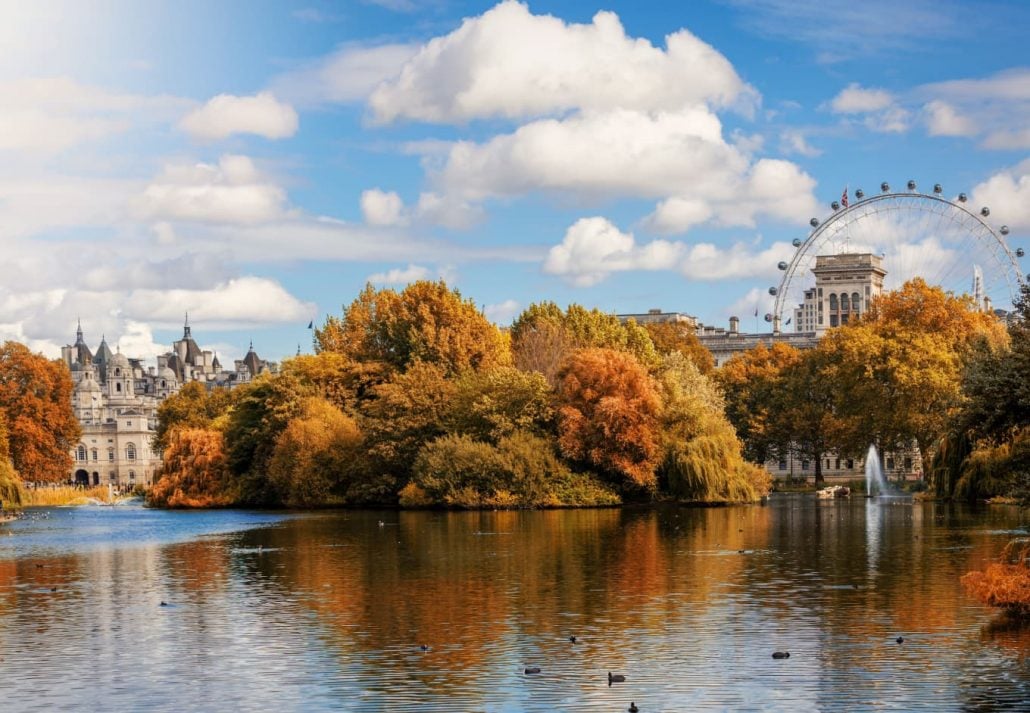 St James's Park is the oldest Royal Park at the heart of ceremonial London. Situated near Buckingham Palace and Westminster, this 58-acre park holds a rich history that dates back to the 16th century.
Originally a marshy area, it was transformed into a deer park by King Henry VIII and later redesigned into a formal garden by King Charles II.
St James's Park is famous for its stunning natural features and iconic attractions. The park's centerpiece is its picturesque lake, home to a diverse array of waterfowl, including pelicans that have resided there since the 17th century.
Lush green lawns, vibrant flower beds, and beautifully manicured gardens create the most gorgeous setting for scenic picnics and leisure strolls.
Address: London SW1A 2BJ, United Kingdom
Queen Elizabeth Olympic Park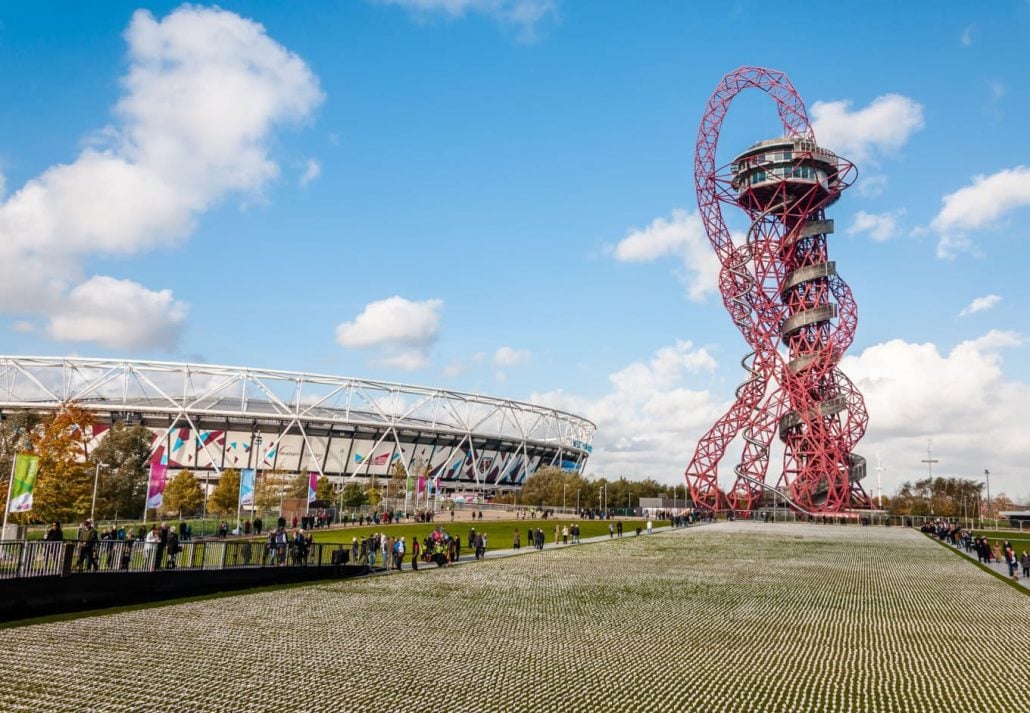 Looking for things to do in London with kids? If so, the Queen Elizabeth Olympic Park is the place to go.
Built for the 2012 Summer Olympics and Paralympics, the park is an amazing destination for an adventurous day with the little ones.
This huge park straddles four east London boroughs, Newham, Tower Hamlets, Hackney, and Waltham Forest, and flaunts numerous outdoor areas where the kids can let loose.
Families can have a scenic picnic in the park's serene parklands, enjoy a boat tour along the canal, and glide down the ArcelorMittal Orbit, the world's longest tunnel slide!
Address: Stratford, London, E20 2ST
Holland Park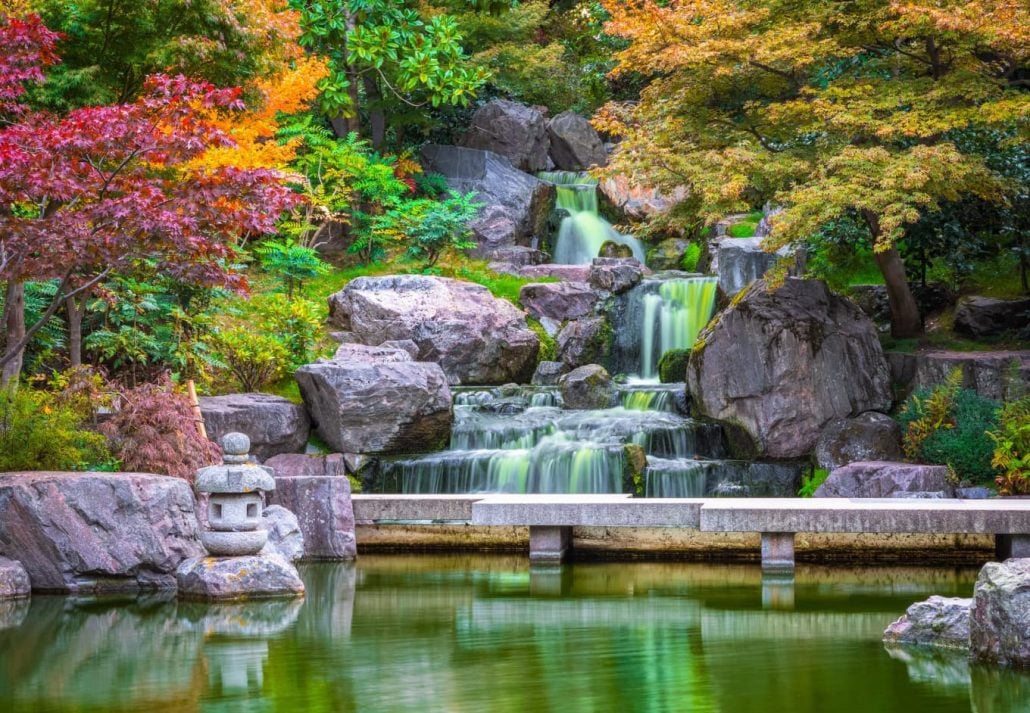 In case you to avoid crowds of tourists, Holland Park is the place to go. Best-known among London locals, this 54-acre public park is home to alluring gardens, dense woodland, and a fascinating range of mammals, birds, and insects, including peacocks.
One of Holland Park's most visited attractions is the dreamy Kyoto Garden, which is beautifully decorated with a bridge, stone lanterns, red Japanese maple trees, and a koi pond.
Additionally, Holland Park boasts a picturesque open-air theater, where live performances and concerts are held during the summer months.
Address: Ilchester Pl, London W8 6LU, UK
Victoria Park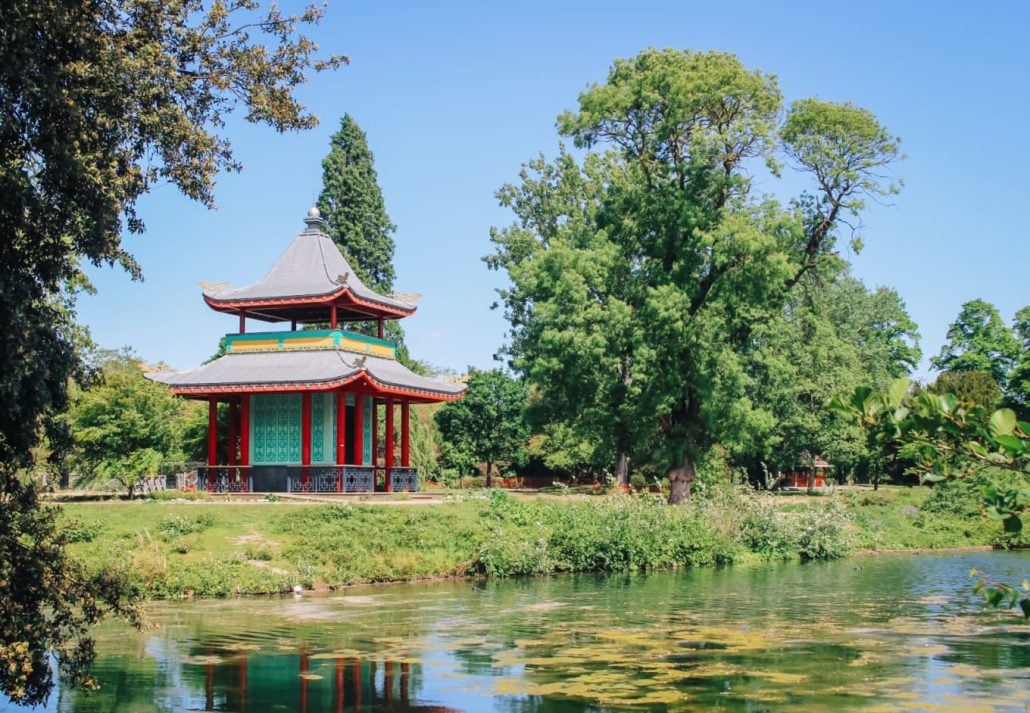 Nestled in the vibrant East End of London, Victoria Park is a lush oasis filled with sprawling open meadows, serene lakes, and enchanting woodlands.
Also known as "Vicky Park", this lively green space has a fascinating past that traces back to the mid-19th century. The park was created with the intention of providing a recreational space for the working-class population, offering respite from the bustling city streets
Today, it remains a beloved destination and is often referred to as the "People's Park."
The park's immense natural beauty provides a picturesque backdrop for walks and picnics, while facilities. Vicky Park also has sports facilities such as tennis courts and football pitches.
Address: Victoria Park, Grove Road, Tower Hamlets, East London E3 5SN
Primrose Hill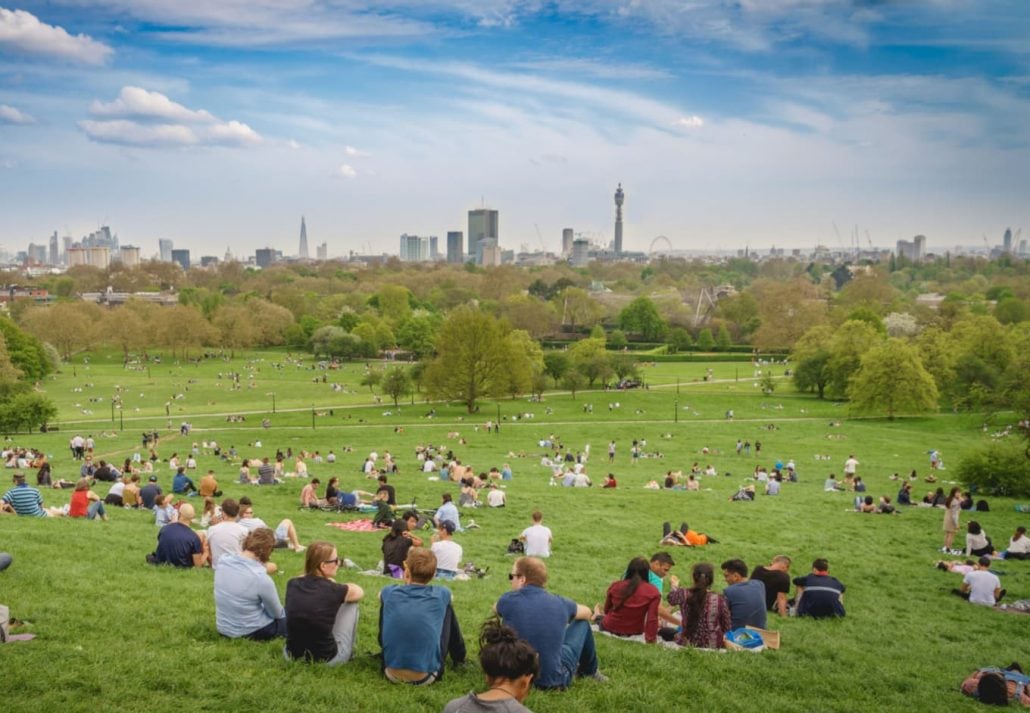 For breathtaking panoramic views of London's iconic skyline, Primrose Hill is the place to go. Located in the Borough of Camden, this famous green space encompasses a 210 ft natural hill from where you'll get the chance to spot landmarks like the Shard, the London Eye, and St. Paul's Cathedral.
The park itself is a haven of tranquility, with its rolling green slopes and picturesque pathways.
It's a popular spot for picnics, where visitors can relax and soak up the atmosphere while enjoying a leisurely meal.
Primrose Hill is also home to a vibrant community of wildlife, with numerous bird species and squirrels frolicking amidst the trees.
After visiting the park, take off to explore the nearby Primrose Hill village, a charming hub of cafes, boutiques, and pubs.
Address: Primrose Hill Park, Primrose Hill Road, Camden, London, UK
Alexandra Park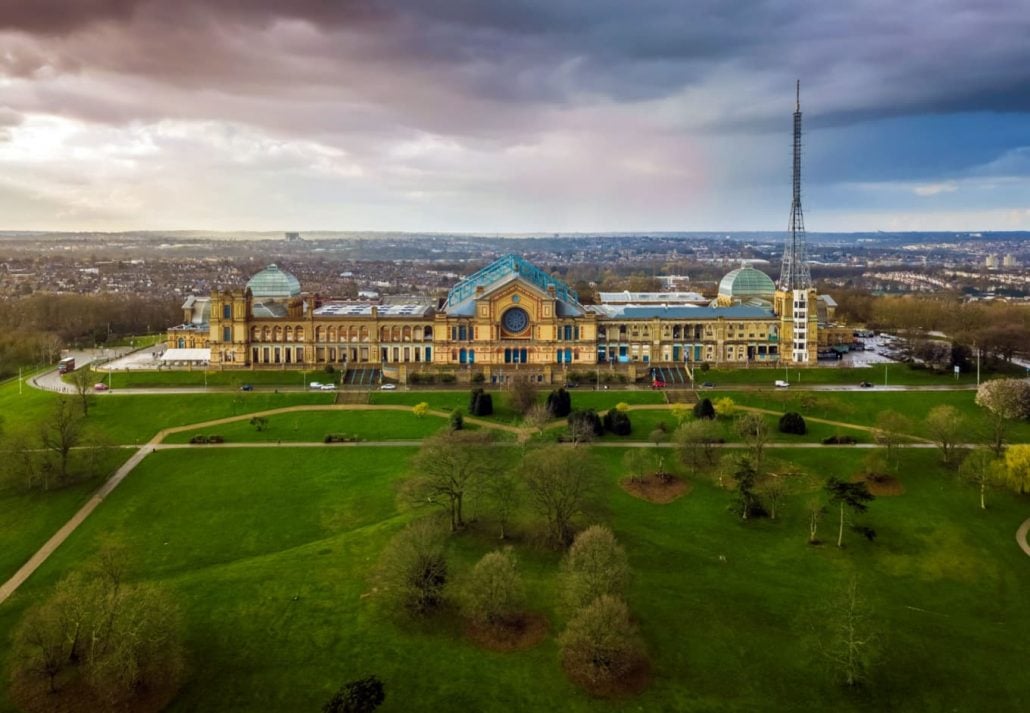 Alexandra Park is a captivating green space that has been providing people with an escape from busy city life since 1863.
Situated in north London, this 200-acre park is centered around an iconic hill, which offers panoramic views of London's skyline, including notable landmarks like The Shard and the London Eye.
Alexandra Park is also known for its bountiful wildlife, making it a prime destination for nature lovers. The park is home to over 600 different types of plants, animals and fungi, including 212 types of insects and 26 types of arachnids!
The park's tranquil lake, surrounded by lush greenery, is home to various bird species, adding to the area's serene atmosphere.
Visitors to Alexandra Park can explore well-maintained pathways, perfect for leisurely strolls or jogging, enjoy breezy picnics, and go paddle boarding on the lake.
Address: Alexandra Palace Way, London N22 7AY, UK
Kensington Gardens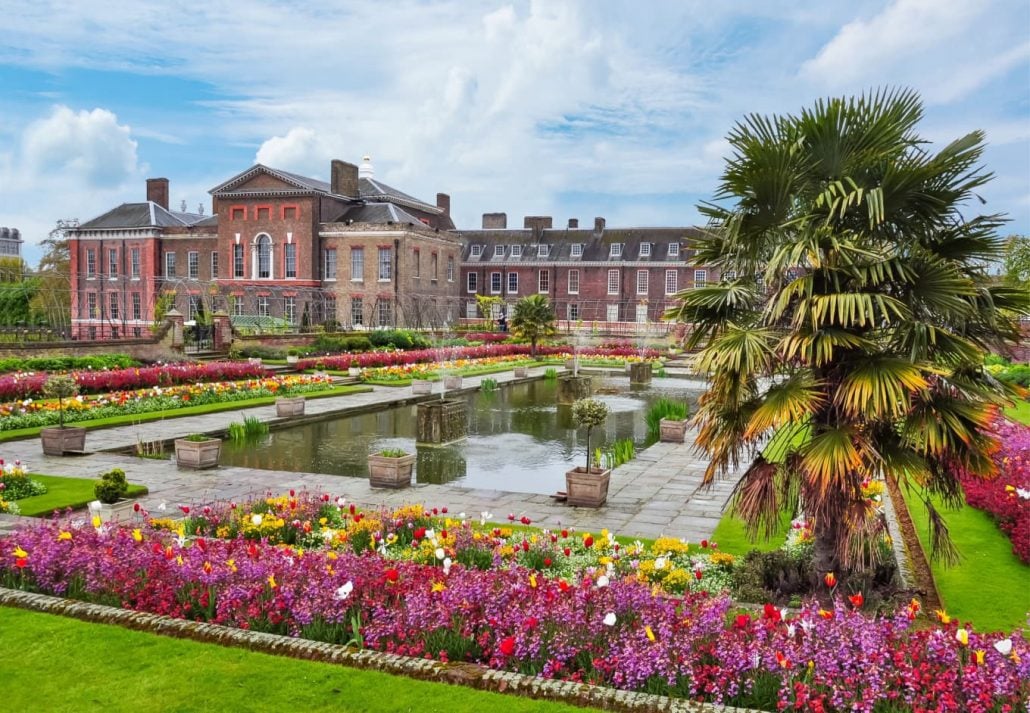 Kensington Gardens is a captivating oasis that effortlessly combines natural beauty with a worth-seeing tourist attraction.
Covering 265 acres, these enchanting gardens are home to the iconic Kensington Palace, the official residence of The Duke and Duchess of Cambridge. 
As you explore the park, you'll stand in awe of the grandeur of the palace's architecture.
You'll also get the chance to see the famous Peter Pan statue, located west of the Long Water. The exact location of the statue was chosen by Peter Pan's author, J.M. Barrie, who lived close to Kensington Gardens and used the park for inspiration. 
The park is also home to the famous Diana, Princess of Wales Memorial Playground, home to a wooden pirate ship where thousands of children play.
Make sure to also check out the Albert Memorial. This high gothic-style memorial commemorates the death of Prince Albert in 1861, and it's considered one of London's most iconic monuments.
Address: London W2 2UH, UK
Green Park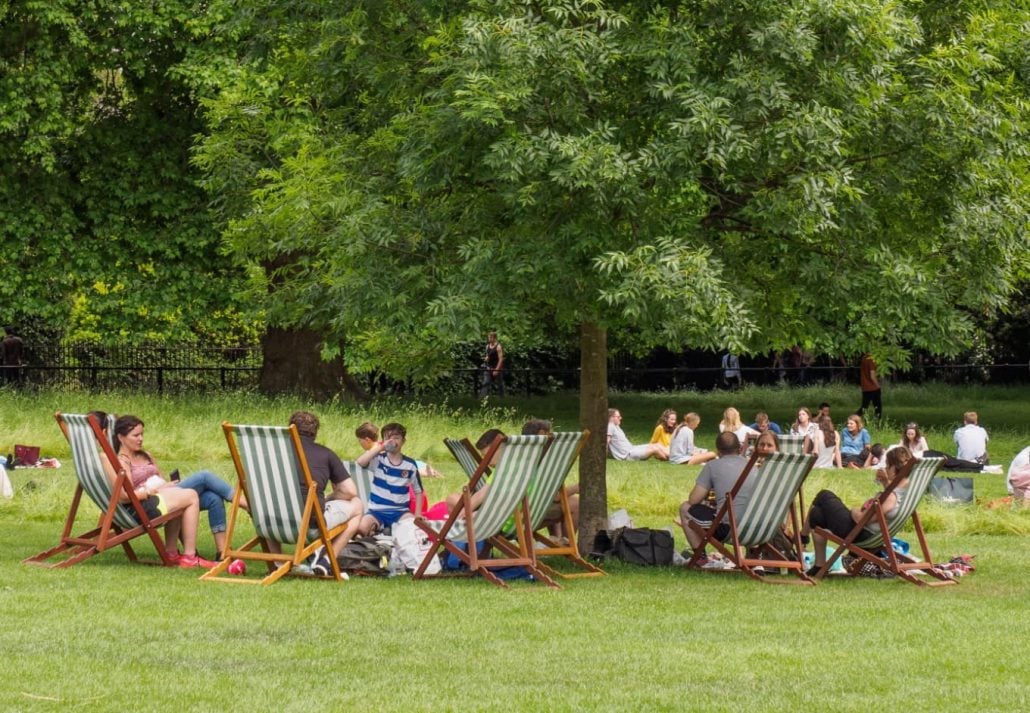 Located in the heart of London, situated across from Buckingham Palace, Green Park is the smallest of London's eight Royal Parks.
Originally a swampy area, it was transformed into a hunting ground for Henry VIII and later became a royal park.
Green Park is famous for its vast open spaces, lush grassy lawns, and mature trees that provide shade and tranquility.
The park's simplicity and peaceful ambiance make it an ideal spot for a leisurely stroll, a picnic with friends, or a sunny day lounging on the grass.
It is also a popular choice for joggers and runners, offering a scenic route for outdoor exercise.
Address: London SW1A 1BW, UK
FAQ
What are the nicest parks in London?
The 15 best London parks are:
Hyde Park
Richmond Park
Battersea Park
Regent's Park
Bushy Park
Hampstead Heath
Greenwich Park
Crystal Palace Park
St James's Park
Queen Elizabeth Olympic Park
Holland Park
Victoria Park
Primrose Hill
Alexandra Park
Kensington Gardens
Green Park
What is the most famous park in London?
Hyde Park is the most famous park in London, and the largest of the city's four royal parks.
How many public parks are there in London?
London is made of 40% public green space, including 3,000 parks.
What is the biggest park in London?
The biggest park in London is Richmond Park. Covering a staggering 2,500 acres, it holds the title as the largest Royal Park in the city.
How many parks are there in London, UK?
London is home to 3,000 parks of varying sizes.
What is the famous park hill in London?
Primrose Hill, which offers some spectacular views across London.
What is the second largest London park?
Bushy Park is the second largest of London's eight Royal Parks at over 1000 acres.
What are the eight royal parks in London?
The eigh royal parks in London are: Hyde Park, The Green Park, Richmond Park, Greenwich Park, St James's Park, Bushy and The Regent's Parks, and Kensington Gardens.