London is full to the brim with instantly recognizable attractions like Buckingham Palace, Big Ben, and Westminster Abbey.
But the worldwide-known London landmarks are not all there is to see in the city. Throughout the English capital, there's a plethora of secret spots that travelers and even locals don't know about.
From a secret lush garden hidden inside a skyscraper to the tiniest police station in Britain, we've rounded up 21 London hidden gems that'll leave you in awe.

Find Places To Stay In London
21 Best Hidden Gems in London
Leadenhall Market
Leadenhall Market dates back to 1321 and is situated in what was the center of Roman London. Originally a meat, poultry, and game market, it is now home to a number of boutique retailers, restaurants, cafes, wine bars, and an award-winning pub.
Located in what was the heart of Roman London, the Leadenhall Market was founded in 1321 as a meat, poultry, and game market. This history-filled market is set within a Grade II listed building, which was designed by Horace Jones and features a spectacular wrought iron and glass structure.
The market's current airy and light structure was created in 1881 to replace the stone market previously created by Lord Mayor of London, Dick Whittington in the 15th Century.
At this covered market in London, located on Gracechurch Street, you'll come across a delightful selection of boutique retailers, restaurants, cafes, wine bars, and an award-winning pub — The Lamb Tavern.
Curious fact: Part of Harry Potter and the Philosopher's Stone was filmed at Leadenhall Market.
Address: Gracechurch St, London EC3V 1LT
Chelsea Physic Garden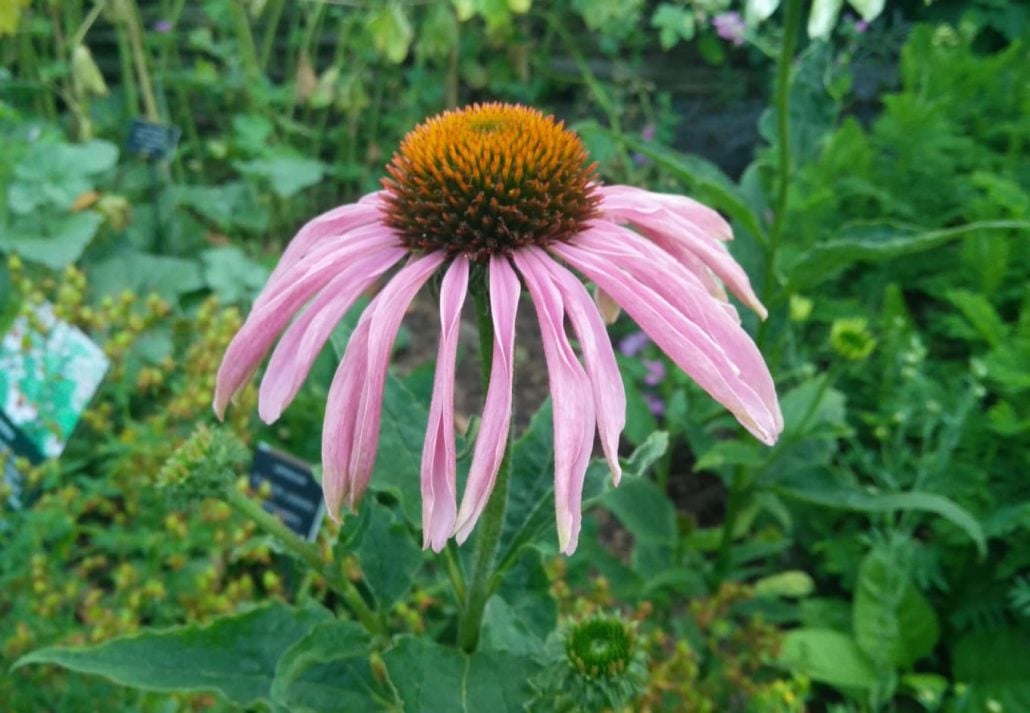 If you are itching to uncover the nooks and crannies of London, make sure to visit Chelsea Physic Garden. Located on the edge of the Thames Embankment, this lesser-known green space was founded in 1673 (it's the oldest botanic garden in London), by The Worshipful Society of Apothecaries of London for its apprentices to study medicinal plants and their uses.
Here, you'll find a unique living collection of around 4,000 edible, medicinal and historical plants. Some of the dazzling species you'll find while exploring the garden include the UK's largest fruiting olive tree, the world's most northerly outdoor grapefruit tree, and the impressive Echium Pininiana with its 8-foot blue flower spikes.
Address: 66 Royal Hospital Rd, London SW3 4HS
Maltby Street Market
Maltby Street Market is another bucket list market to visit in London. Located near Tower Bridge, this quirky outdoor market occupies a narrow private yard and reunites an array of vendors selling fresh produce, and mouthwatering food.
You'll find a much smaller selection than the iconic Borough Market here. But you won't be disappointed. Some of the highlights are La Pepia, famous for their lip-smacking Venezuelan arepas, Duck Frites, known for serving innovative duck dishes, and Amen, praised for making lip-smacking Ethiopian sautéed meat with vegetables.
Address: Arch 46, Ropewalk, Maltby St, London SE1 3PA
Sir John Soane's Museum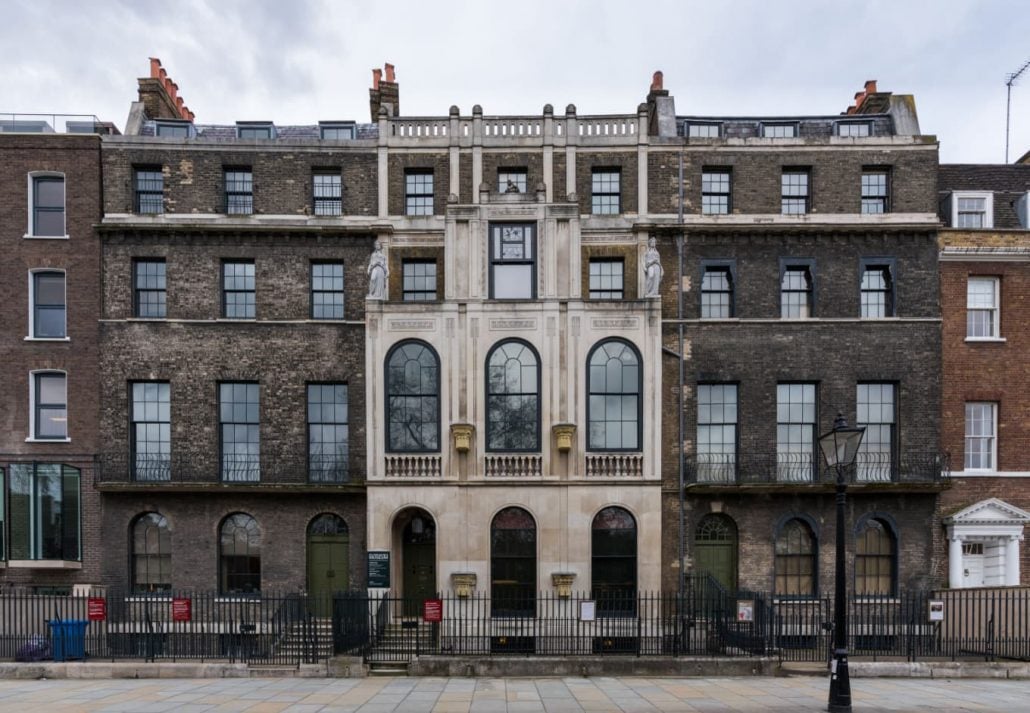 Sir John Soane's Museum is a lovely house museum located in the building that was formerly the home of neo-classical architect and avid book collector, John Soane.
The museum is home to a precious collection of antiquities, furniture, sculptures, and architectural models, as well as jaw-dropping paintings by artists like Hogarth, Turner, and Canaletto.
You'll also find 30,000 architectural drawings, which can be seen by appointment at the Research Library.
Address: 13 Lincoln's Inn Fields, London WC2A 3BP
Holland Park & The Kyoto Garden
London is embellished with ver 3,000 idyllic parks sought after by those seeking to escape the city's hustle and bustle.
Hyde Park, Kensington Gardens, and Regent's Park are some of the most visited in the city, but there's a range of lesser-known parks that provide an alluring backdrop for idle strolls, picnics, and other fun activities.
For a quieter park experience away from the tourists, visit Holland Park. This lush green space encompasses 22.5 hectares of gardens, including the dreamy Kyoto Garden, which is beautifully decorated with a bridge, stone lanterns, red Japanese maple trees, and a koi pond.
Address: Ilchester Pl, London W8 6LU
Eltham Palace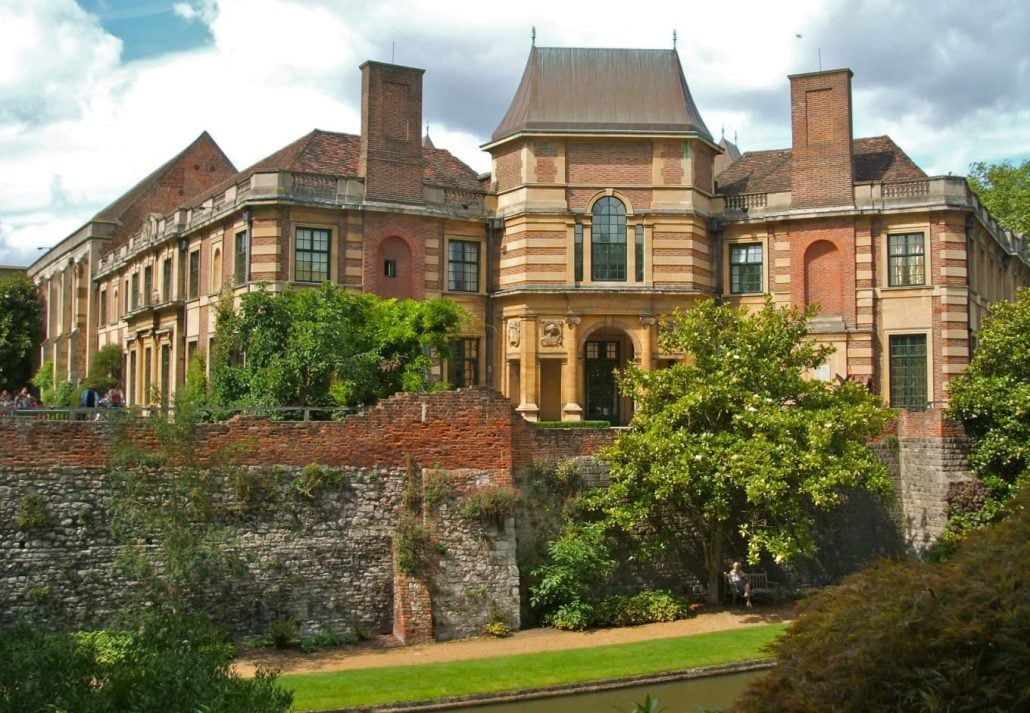 Eltham Palace is a lavish estate with a fascinating history. Often regarded as "one of London's best-kept secrets" the house is located in southeast London, within the Royal Borough of Greenwich, and was once one of the largest and most frequented royal residences in England.
Edward III spent much of his youth in Eltham and frequently visited the mansion as king. The property was also a favored hunting spot of Henry VIII.
The royal palace fell into decline until the 1930s, but still manages to dazzle and inspire thanks to its rich history and architectural grandeur. This former medieval palace was transformed into a lavish Art Deco mansion by eccentric millionaires Stephen and Virginia Courtauld.
Inside, visitors can discover a series of rooms dramatically decorated with gold mosaics and onyx tiles, black and silver doors depicting London Zoo animals, and a statue of the goddess Psuche.
Despite the renewed interiors, the mansion still preserves the magnificent great hall built for Edward IV in the 1470s for court dining, entertaining, and receptions.
Eltham is beautifully surrounded by 19 acres of well-manicured award-winning gardens.
Address: Court Yard, London SE9 5QE
London Silver Vaults
Located in central London, beneath Chancery Lane, London Silver Vaults is a large subterranean market dating back to the 1880s. This historic market features 29 shops selling antique and modern silver, and jewelry from the early 1600s to the present day.
Address: 53-64 Chancery Ln, London WC2A 1QS
Hampstead Hill Garden and Pergola
Hampstead Hill Garden and The Pergola are one of the most eye-popping secret places in London. They were part of an early 19th-century villa that was rebuilt and extended by Sir William Lever, Viscount Leverhulme.
The dreamy and artfully landscaped garden is dominated by an 800ft long pergola that rises magisterially 15 feet above the land and is entwined with gorgeous climbing plants such as wisteria, clematis, roses, and hops. This raised walkway overground with vines and exotic flowers offers showstopping views over the Hampstead Hill Gardens.
Address: Inverforth Cl, London NW3 7EX
The Smallest Police Station in Britain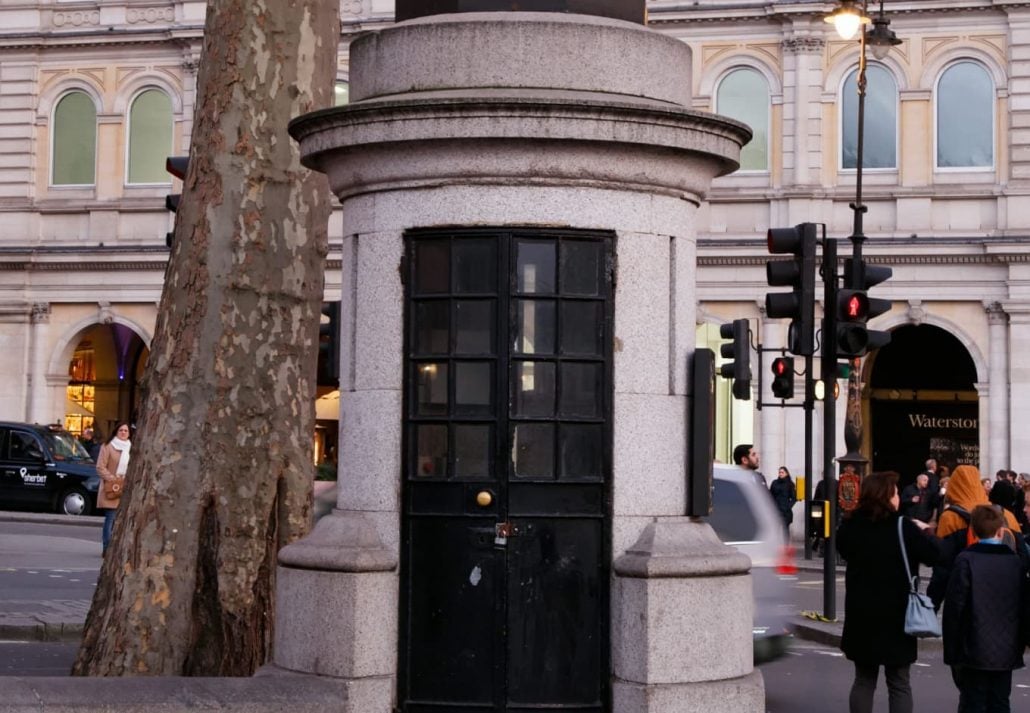 Britain's smallest police station is a picturesque treasure hidden at the southeast corner of Trafalgar Square, in central London. The statue was built in 1926 inside an ornamental light fitting so that the Metropolitan Police could keep an eye on the more troublesome demonstrators.
This hidden-gem police station can accommodate up to two prisoners at a time!
Address: 44 Trafalgar Sq, London WC2N 5DP
Charles Dickens Museum
The fascinating Charles Dickens Museum will give you a glimpse into the life of the greatest novelist of the Victorian era.
Located at 48 Doughty Street, Dickens's London home from 1837-1839 and the place in which he wrote Oliver Twist, the museum is fully set up as though Dickens himself had just left.
In this fairly typical middle-class Victorian home, visitors will get the chance to see precious relics, including a portrait of Dickens, known as Dickens's Dream by R. W. Buss, several first editions, original manuscripts, original letters by Dickens, and many personal items owned by Dickens and his family.
The only known item of clothing worn by Dickens still in existence is also displayed at the museum.
Address: 48-49 Doughty Street, London
Recommended Read: The 14 Best London Museums
Leake Street Arches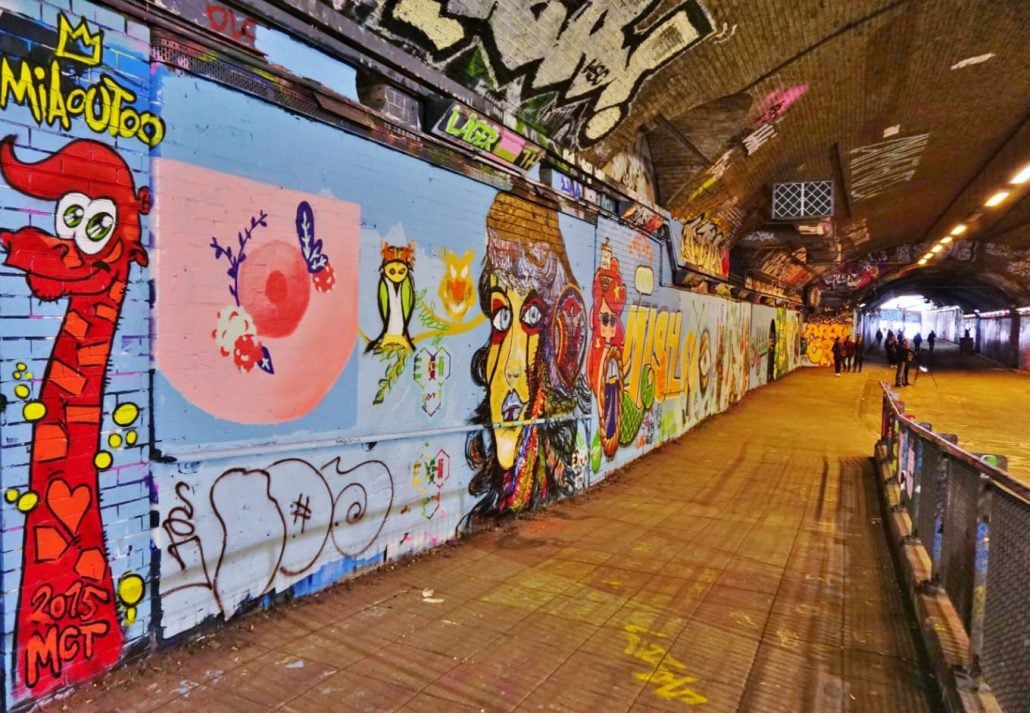 Neighborhoods like Camden Town and Shoreditch are usually the go-to destinations for seeing street art in London. But, throughout the city, there are a few secret places where you can see irreverent murals by worldwide famous artists.
Underneath the behemoth that is Waterloo Station, you'll find Leak Street, a 300-meter tunnel that is considered London's longest legal graffiti wall.
Also known as the Banksy Tunnel, the tunnel is the only place in London where graffiti is tolerated despite the fact that it is against the law.
Address: Leake St, London
St Bride's Church
With a rich history spanning 2000 years, St Bride's Church is one of the most fascinating historic churches in London. Located near St Paul's Cathedral, this parish church is one of the oldest religious sites in London.
First erected in the 6th century on the site of an ancient Roman building, the church was destroyed by the Great Fire of London and rebuilt (1672–4) by famous English architect Christopher Wren.
In 1940, St Bride's was partially destroyed again by German incendiary bombs, but miraculously its famous spire and the outer walls survived. During a restoration process that lasted 17 years, several treasures were found in the church, including archaeological remains spanning several centuries.
In fact, when you the church's crypt, you can still see the remains of a Roman pavement dating back to around AD 180, and a collection of Roman artifacts.
Address: Fleet St, London EC4Y 8AU
Old Operating Theater Museum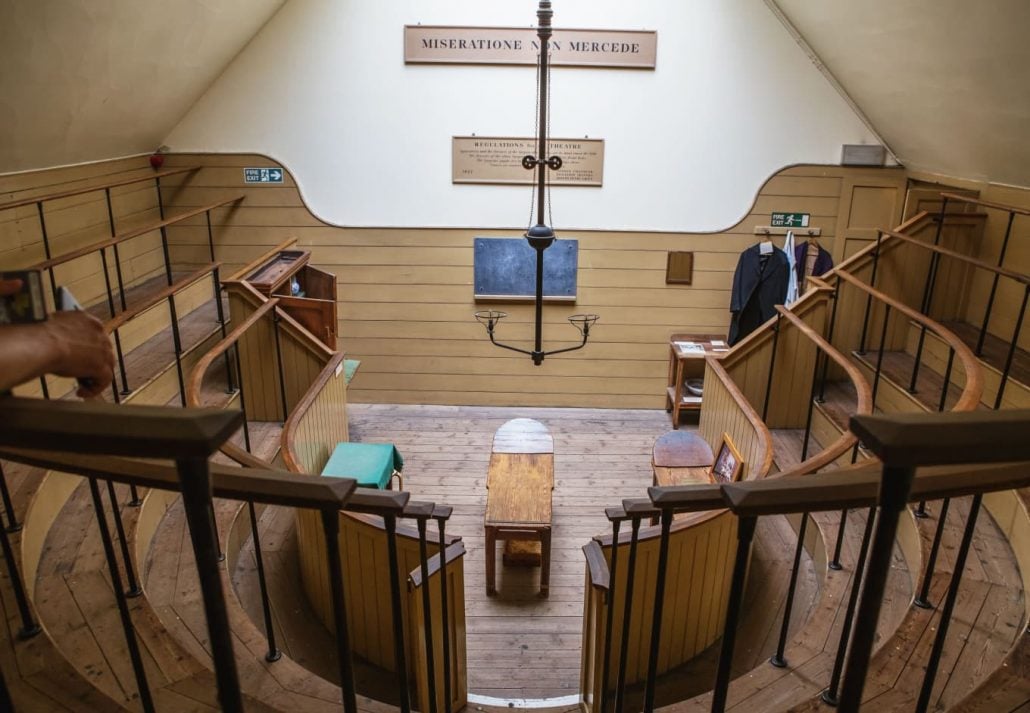 Housed in the attic of the 18th-century church of the old St Thomas' Hospital, close to London Bridge metro station, this is the UK's oldest operating theatre.
The operating theatre consists of a table surrounded by spectator galleries, where surgeries were performed during Victorian times.
Here, visitors will learn how surgeries happened in a time predating anesthetics and antiseptics and see the instruments used for amputations and other operations.
The museum also preserves its original timber-framed Herb Garret, once used to dry and store herbs for patients' medicines.
Address: 9a St Thomas St, London SE1 9RY
Saint Dunstan-In-The-East
Originally built around 1100, Saint Dunstan-In-The-East is a former church that was severely bombed in the Blitz of 1941.
After the bombing, only the tower and steeple survived. The Anglican Church did not rebuild St Dunstan's, and all it remained were the bombed-out ruins, which were donated to the city of London, and turned into a public garden.
The gothic-style ruins of the former church, framed by lush vegetation create an oddly peaceful place that contrasts with London's energetic atmosphere.
Address: St Dunstan's Hill, London EC3R 5DD
The Painted Hall At The Old Royal Naval College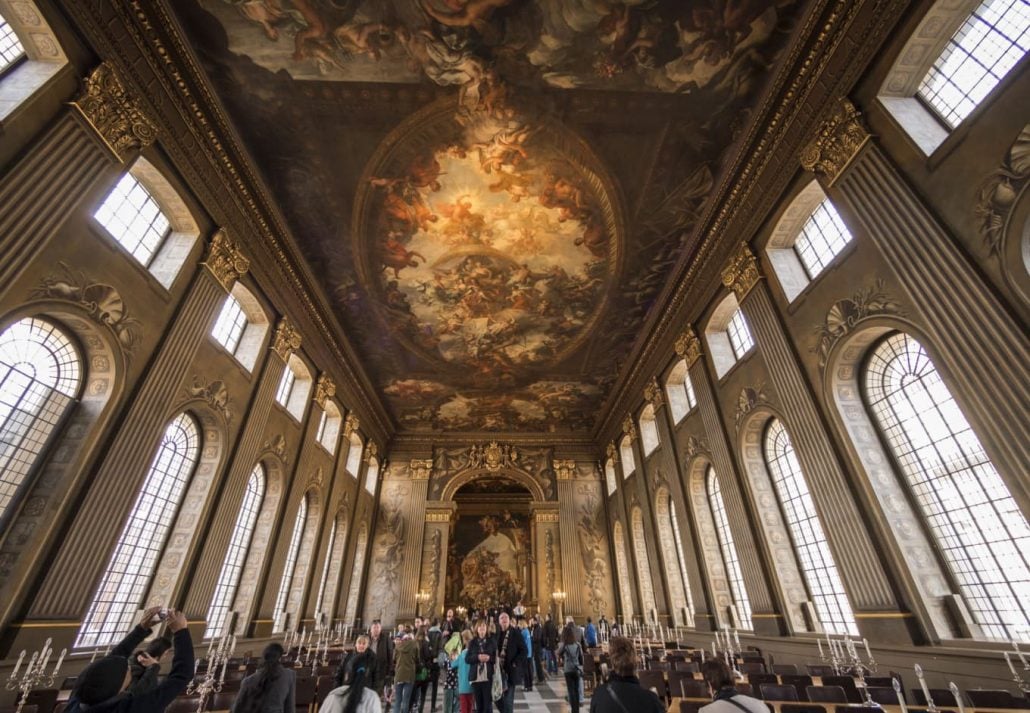 Known for its architectural grandeur and historical significance, the Old Royal Naval College is one of the most prestigious buildings in Greenwich, London.
Inside this iconic riverside estate lies one of the most awe-inspiring treasures of London: the Painted Hall. Also known as the "UK's Sistine Chapel", this Baroque-style hall was designed in the early 18th century by Sir James Thornhill and flaunts 40,000 square feet of walls and ceilings.
These surfaces are artfully covered in images depicting 200 figures including kings, queens, and mythological creatures.
Address: King William Walk, London SE10 9NN
Brown Hart Gardens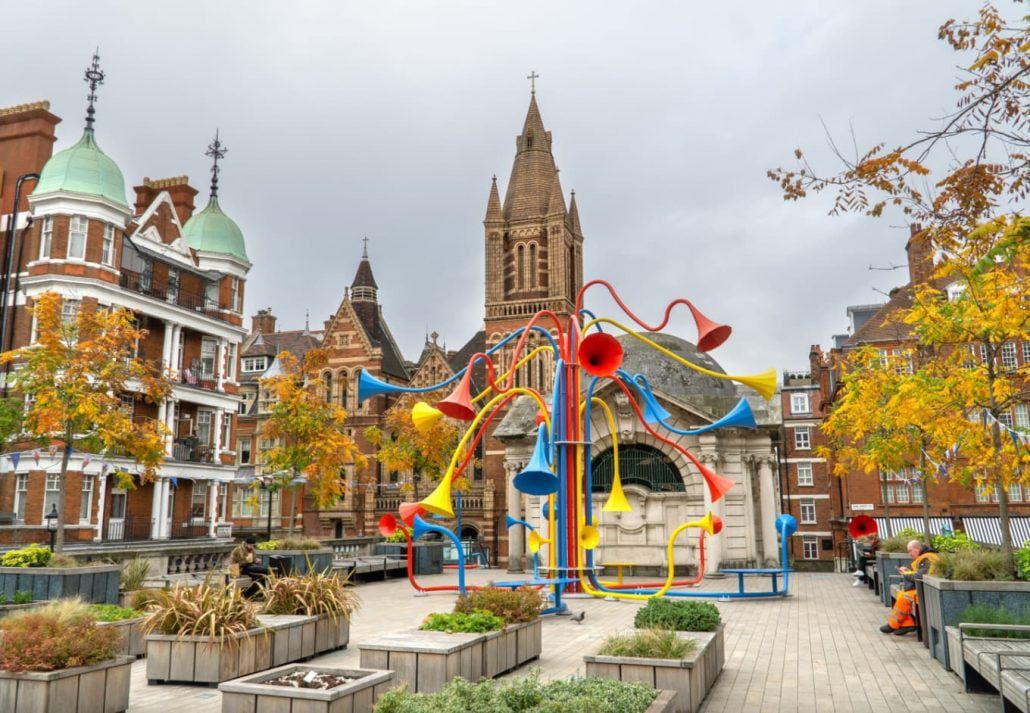 Brown Hart Gardens is a raised terraced garden in Mayfair, immediately south of London's Oxford Street.
Self-described as a "rejuvenated oasis in the heart of London", Brown Hart Gardens were built in 1906 above the old Duke Street electricity substation. Architect Sir Stanley Peach covered the substation with a 950 sq m roof, a domed gazebo, and steps at either end.
This breezy terraced garden located near Oxford Street now boasts a 50-seater café, a water feature designed by Andrew Ewing, and a rather unique set of by-laws.
Address: Brown Hart Gardens, London W1K 6WP
Horniman Museum and Gardens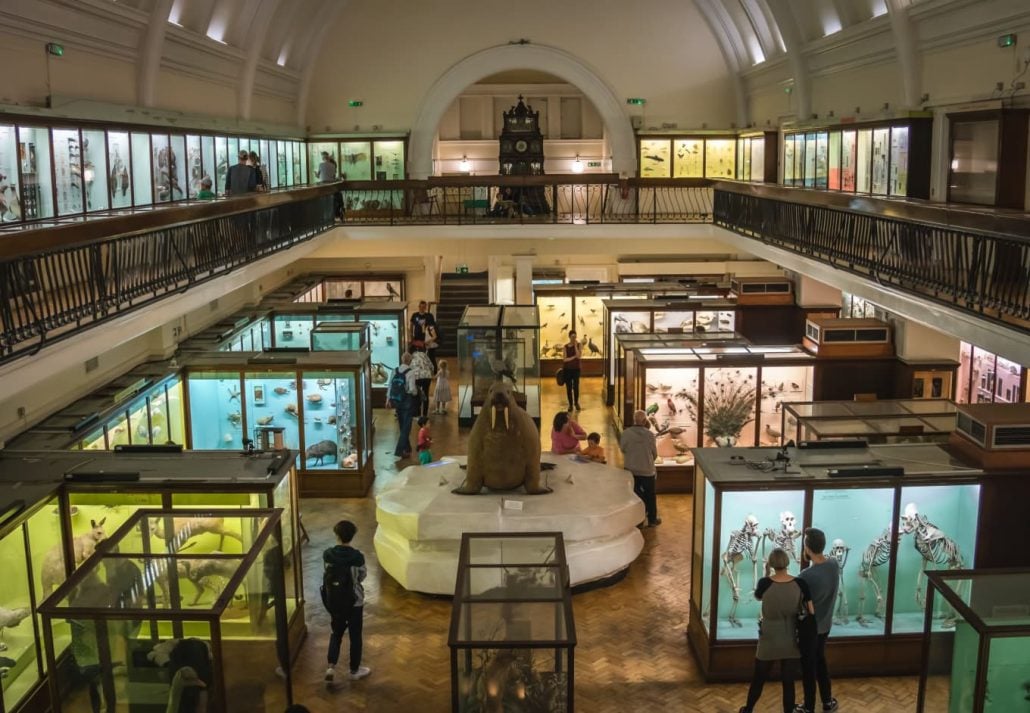 The Horniman Museum and Gardens is a lesser-known alternative to the famous Natural History Museum. Open since Victorian times, this off-the-beaten-path museum holds an award-winning collection of around 350,000 objects covering natural history, cultural artifacts, and musical instruments.
Here, visitors will stumble upon 80,000 objects from around the world, a massive collection of taxidermied animals, around 4,700 butterflies, and a pair of bone clappers in the form of human hands made in Egypt around 3,500 years ago.
Address: 100 London Road, Forest Hill, London
Queen's House In Greenwich
Commissioned in 1619, the Queen's House was originally created to be a lavish garden retreat for Anne of Denmark, the wife of King James I of England.
This former royal residence — a perfectly proportioned white cube of a villa — was masterfully designed by architect Inigo Jones, and is considered one of the most important buildings in the history of British architecture.
Some of the house's most prominent features are the graceful white exterior, Great Hall with its original black and white marble flooring, and the striking Tulip Stairs, the first geometric self-supporting spiral stair in Britain.
Queen's House is home to an acclaimed art gallery, comprising over 450 artworks and featuring pieces by Holbein, Canaletto, Kehinde Wiley, and Tania Kovats. 
Sky Garden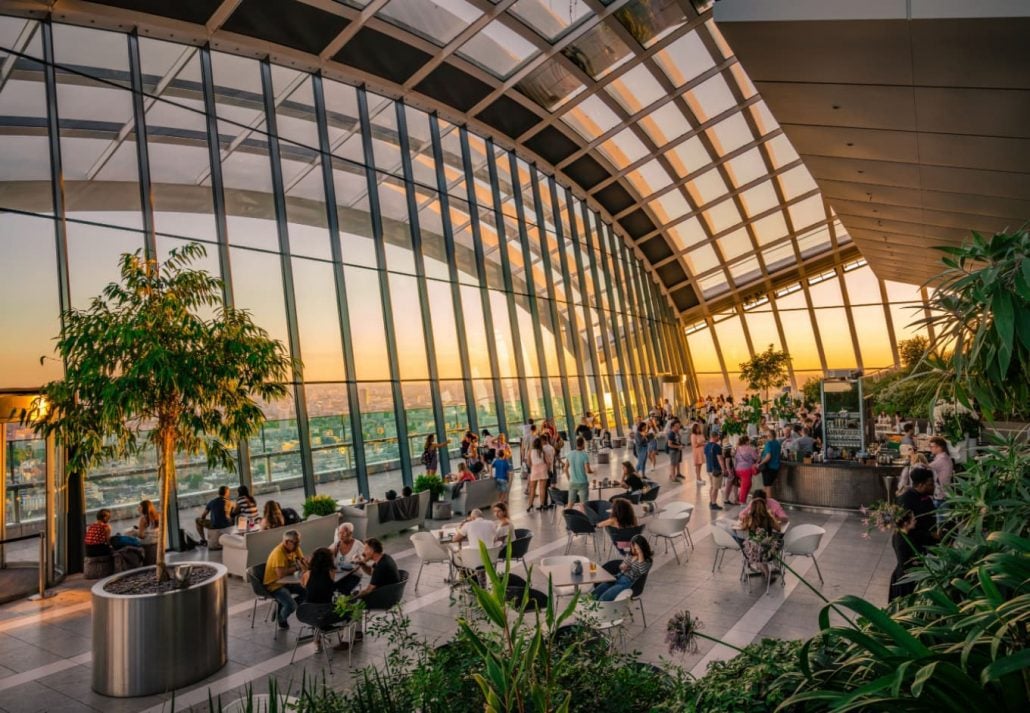 Perfectly hidden inside a towering skyscraper, Sky Garden is London's highest public garden. From up there, visitors can soak in 360º views of the city, including big-name landmarks such as St. Paul's Cathedral, the Tower of London, and Tower Bridge.
Little Venice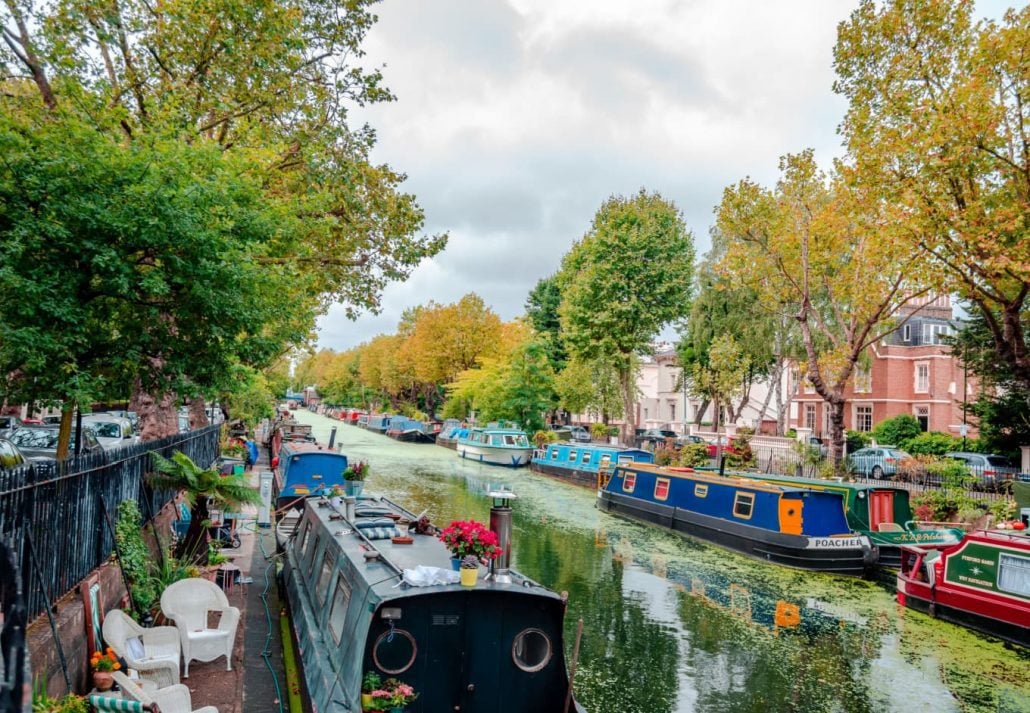 Little Venice is a dreamy place that looks as if plucked from a whimsical fairytale. Located where Regent's Canal and Grand Union Canal meet, this picture-perfect area comprises a lovely canal network beautifully framed by lush trees, Georgian buildings, pubs, and restaurants.
Serene and filled with charm, Little Venice is the ultimate escape for those seeking peace and quiet. Some of the best ways of experiencing this dreamy area are walking along the canals, going on a scenic boat tour, or having a breezy drink at a local pub.
Address: Blomfield Road, London, W9 2PF
Columbia Road Flower Market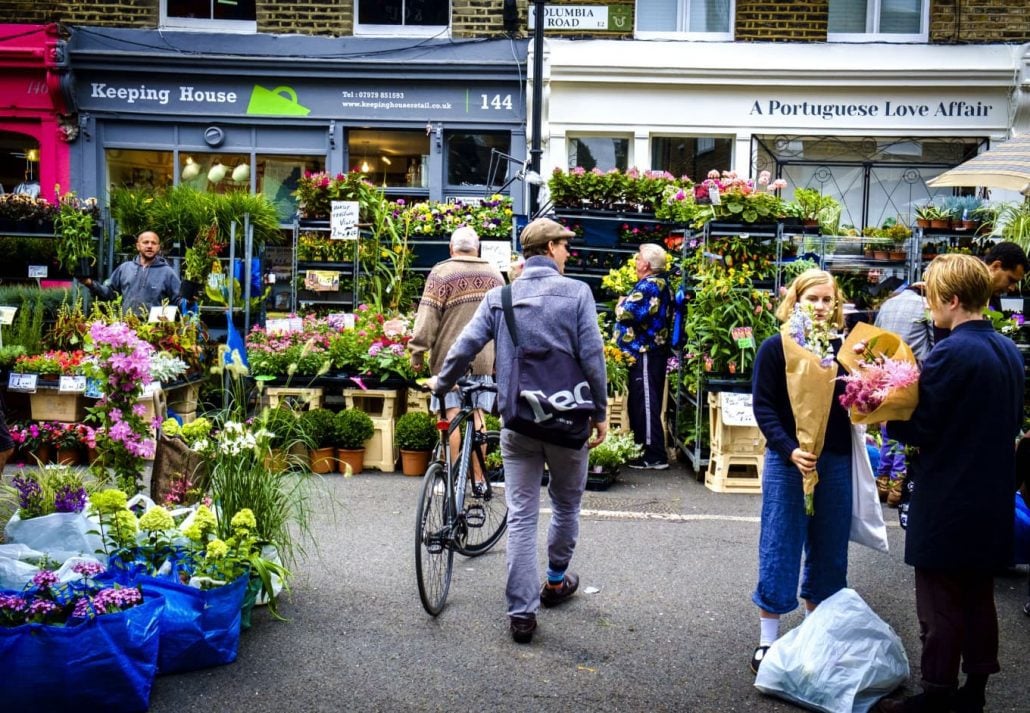 Established in 1869 as a Saturday trading fair, the Columbia Road Flower Market will entice you with its profusion of smells, colors, and sights.
This vibrant flower market is the biggest in East London and gathers small and independent traders selling a variety of colorful flowers, houseplants, herbs, bulbs, and shrubs from around the world.
Address: Columbia Rd, London E2 7RG
FAQ
What is the number 1 attraction in London?
The most famous attractions in London are:
Tower of London;
Westminster Abbey;
The London Eye;
The British Museum;
Buckingham Palace;
London Eye;
British Museum;
The Royal Botanic Gardens (Kew Gardens);
Natural History Museum.
What are the most unusual London attractions?
The best-hidden gems in London:
Chelsea Physic Garden;
Leadenhall Market;
Maltby Street Market;
Sir John Soane's Museum;
Holland Park & The Kyoto Garden;
Eltham Palace;
London Silver Vaults;
Hampstead Hill Garden and Pergola;
The Smallest Police Station in Britain;
Charles Dickens Museum;
Leake Street Arches;
St Bride's Church;
The Hidden Ears of Covent Garden;
Old Operating Theater Museum;
Saint Dunstan-In-The-East;
The Painted Hall At The Old Royal Naval College;
Brown Hart Gardens;
Horniman Museum and Gardens;
Queen's House In Greenwich;
Sky Garden;
Little Venice;
Columbia Road Flower Market.
CuddlyNest provides all accommodations to all travelers at the best price. Find unlimited travel inspiration on our blog and social media channels.
You May Also Like:
How To Get To Stonehenge From London: 4 Easy Ways
Train From London To Paris: Everything You Need To Know
11 Fun Facts About The London Eye
How To Travel From London to Edinburgh, Scotland: 4 Easy Ways
Best Destinations for Family-Friendly Holidays in the UK
Top Attractions in London
A Guide To Visiting The Tower Of London
9 Amazing Free Things to do in London, England