London is a vibrant and busy city divided into a diverse collection of neighborhoods — each offering its unique range of experiences, attractions, and accommodation options.
Whether you're looking for the perfect vantage point in London, or simply want to explore the city's many facets, learning about its coolest neighborhoods beforehand will certainly make your trip planning easier. That way, you'll know exactly where to go.
The City of London and the Westminster area, for instance, are home to a thick concentration of tourist sites. Located along the River Thames, these two London neighborhoods play host to well-known landmarks such as Tower Bridge, the Tower of London, Westminster Abbey, and Big Ben.
Shoreditch, in the East End of London, is known for its trendy cafes, art galleries, and vintage shops. This up-and-coming neighborhood is also a prime destination for seeing irreverent street art murals, including eye-popping graffiti by Banksy.
Chelsea is an affluent area that harbors world-class art galleries, posh restaurants, and chic shops, as well as an array of lavish hotels.
To help you decide which area to stay in and visit, we've compiled a guide to the 9 best London neighborhoods and the very best things to do in each of them.
The Best Neighborhoods To Stay In London
Notting Hill
Notting Hill is often regarded as one of the "prettiest London neighborhoods". Located in the Royal Borough of Kensington and Chelsea, west London, this alluring area charms locals and visitors alike with its pastel-colored houses, chic brunch spots, and charming boutique shops.
Some of the best-known attractions in Notting Hill include the iconic Portobello Road Market, where you'll find an array of stalls selling vintage clothing and knick-knacks, and the colorful Notting Hill Carnival, which happens in August every year.
If you decide to stay in this upscale area (note that this is not the most budget-friendly neighborhood in London), you'll also be close to big-name attractions such as Holland Park, and the Kensington Gardens.
This affluent and fashionable neighborhood also flaunts great transportation links with other areas in London. The closest tube station is Notting Hill Gate.
South Kensington 
South Kensington is a real treat for the eyes. Located just west of Central London in the Royal Borough of Kensington and Chelsea, this atmospheric neighborhood was Nicknamed Little Paris thanks to its breathtaking beauty.
Here, you'll find dreamy tree-lined streets dotted with white-washed mansions and idyllic garden squares. Not by chance, this lovely area is consistently ranked as the best place to live in London
South Kensington is incredibly family-friendly, featuring a dazzling array of museums and cultural landmarks that please both adults and kids alike. These include the Natural History Museum, the Science Museum, the Victoria and Albert Museum, and the Royal Albert Hall.
South Kensington also provides visitors with easy access to the lush Hyde Park. One of London's eight Royal Parks, Hyde Park encompasses a large wetland area, spectacular gardens, children's playgrounds, sports facilities, and historic sites.
The area is also home to a variety of restaurants and cafes catering to all tastes and budgets, as well as shopping destinations (be sure to check out High Street Kensington's incredible shops).
South Kensington has a Tube station served by the Piccadilly line, the Circle line, and the District line. There are also some bus routes that go through the area.
Camden Town
The eccentric Camden Town district, in London's West End, is the ultimate destination for offbeat travelers seeking to discover the quirky side of the city.
Here, you'll come across a delightful mix of live music venues, independent boutiques, vibrant pubs, cute cafes, and picturesque street performers.
Well-known attractions in Camden include Camden Market, home to over 1000 unique shops and food stalls, Camden Lock, one of London's first antique markets, and the well-known Abbey Road thoroughfare.
Camden Town also features a good selection of budget-friendly accommodation options, including a plethora of stylish hostels.
From Camden Town, you'll be able to easily reach other areas in London. The neighborhood is just a short walk from green spaces such as Regent's Park, and Primrose Hill, one of the top North London neighborhoods featuring a lush park that offers the most sweeping views of London!
The City of London
The City of London is a vibrant area located at the center of Greater London. Located on the northern bank of the River Thames, it comprises around 2 square miles of space with only around 10,000 residents.
Nicknamed "The City" or the "Square Mile", the area also corresponds to the London financial district, as several prestigious institutions such as the Stock Exchange and the Bank of England are located here.
The City welcomes around 400,000 commuters every day, making it one of the most vibrant neighborhoods in all of London. Here, travelers are happily surprised by the wide range of restaurants, cafes, stores, and hotels.
This non-stop neighborhood also encompasses a range of attractions such as the Museum of London, St. Paul's Cathedral, Leadenhall Market, and Barbican Center. A lesser-known place that is worth visiting in The City is the Sky Garden, which is tucked into a towering skyscraper and offers spectacular views of the city skyline.
Situated opposite the central City of London is the London Borough of Southwark. A bustling district by the River Thames, in south London, Southwark harbors several cultural attractions like Tate Modern Gallery, Shakespeare's Globe theatre, Tower Bridge (aka the London Bridge), and the Tower of London.
Foodies visiting Southwark can't pass up the chance to stop by Borough Market, which is punctuated by a myriad of delectable street food stalls.
Covent Garden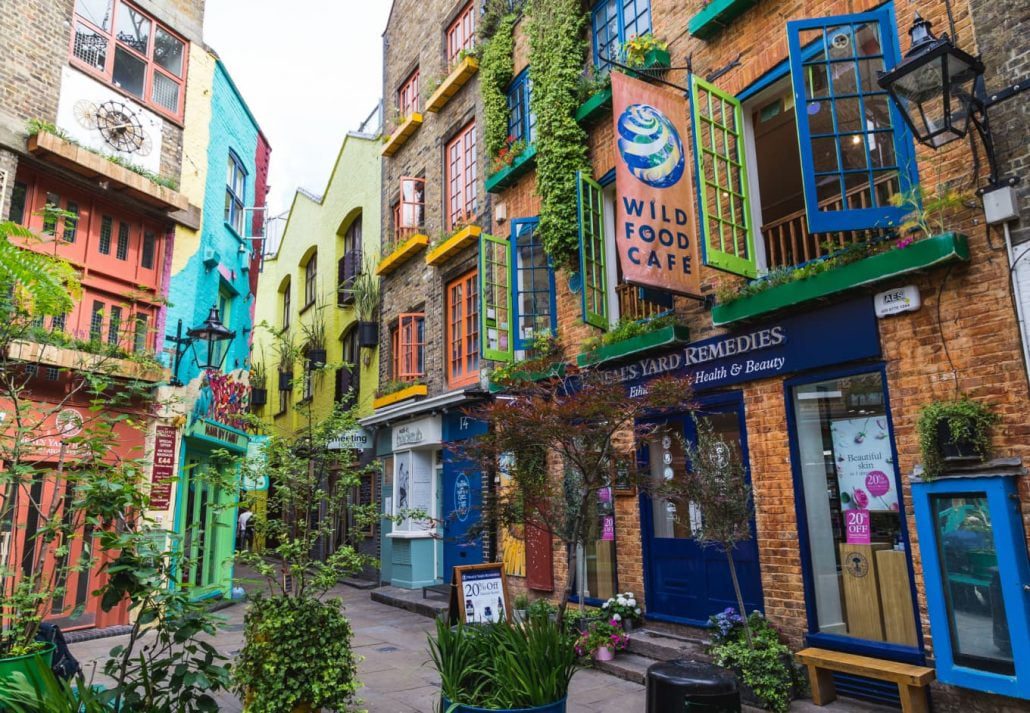 Covent Garden is a wonderful place to base yourself in London. Situated in the West End of London, between St Martin's Lane and Drury Lane, this stylish district has a little bit of everything — independent shops, award-winning restaurants (try Clos Maggiore), historical buildings, and world-class museums.
Tried and true activities in Covent Garden include visiting the multicolored Neal's Yard, a tiny alley with lovely cafes and shops, and watching The Royal Ballet of London at the Royal Opera House. Be sure to also drop by the iconic Apple Market, which holds a signature fruit and vegetable market, and the London Transport Museum, home to a collection of vintage vehicles.
While staying in this London neighborhood, you'll be within walking distance of other bucket-list attractions such as the National Gallery, and Leicester Square.
Westminster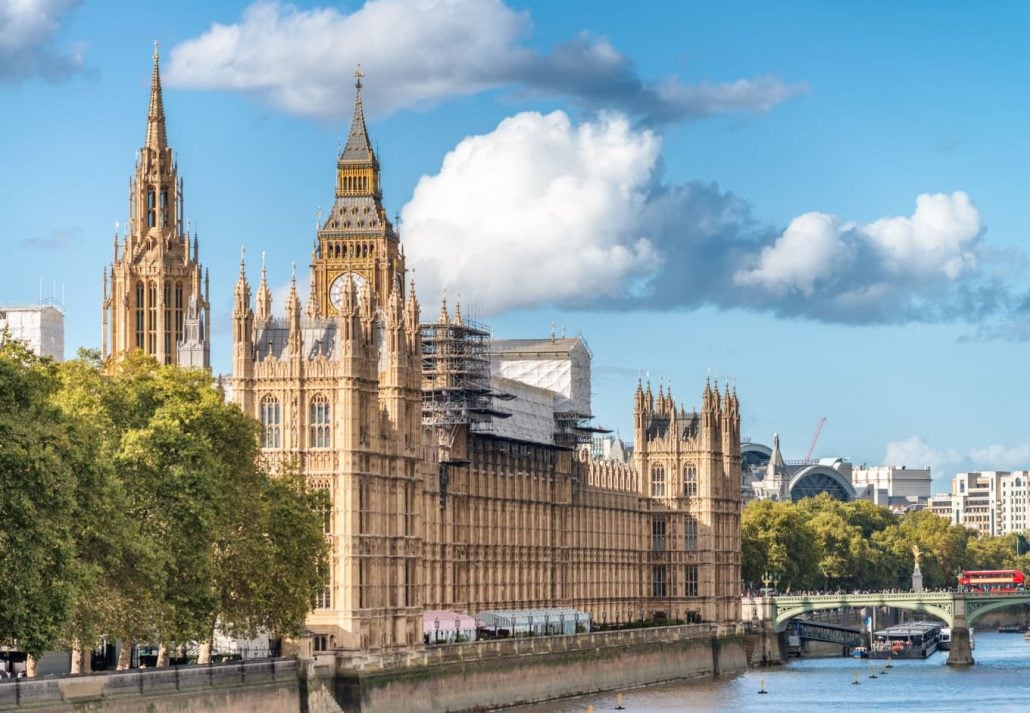 Westminster is a charismatic city and area of Central London. This lively area plays host to many of London's top attractions, like Westminster Abbey, the Houses of Parliament, Big Ben, and Buckingham Palace, making it a prime destination for first-timers visiting the city.
The area is also known for being one of the best places to go shopping in London. Running from Tottenham Court Road to Marble Arch via Oxford Circus, Oxford Street is home to over 300 stores, making it the busiest shopping street in Europe.
Aside from a glorious central location, Westminster is well-served by public transport (St. James Park is the closest underground station), so you'll easily reach other parts of London.
Bloomsbury
Bloomsbury is a district in the West End of London. This charming area is a go-to destination for cultural vultures, as it harbors a range of respectful museums, art galleries, and bookstores.
While meandering through Bloomsbury's quiet streets, you'll stumble upon prestigious institutions like the British Museum, aka one of the best London museums, and the renowned University College London.
And there are lesser-known options here, too. Gay's the Word, the UK's oldest LGBTQ+ bookstore (actor Ian McKellen is a fan of the library) is located in Bloomsbury. This creative neighborhood is also home to the Charles Dickens Museum, which was the place in which the notable English author wrote Oliver Twist.
Mouth-watering restaurants catering to every taste and budget also abound in Bloomsbury. Must-visits include Bloomsbury Street Kitchen, where you'll feast on Mediterranean-inspired dishes, and Ciao Bella, famous for its trattoria-style Italian dishes.
Shoreditch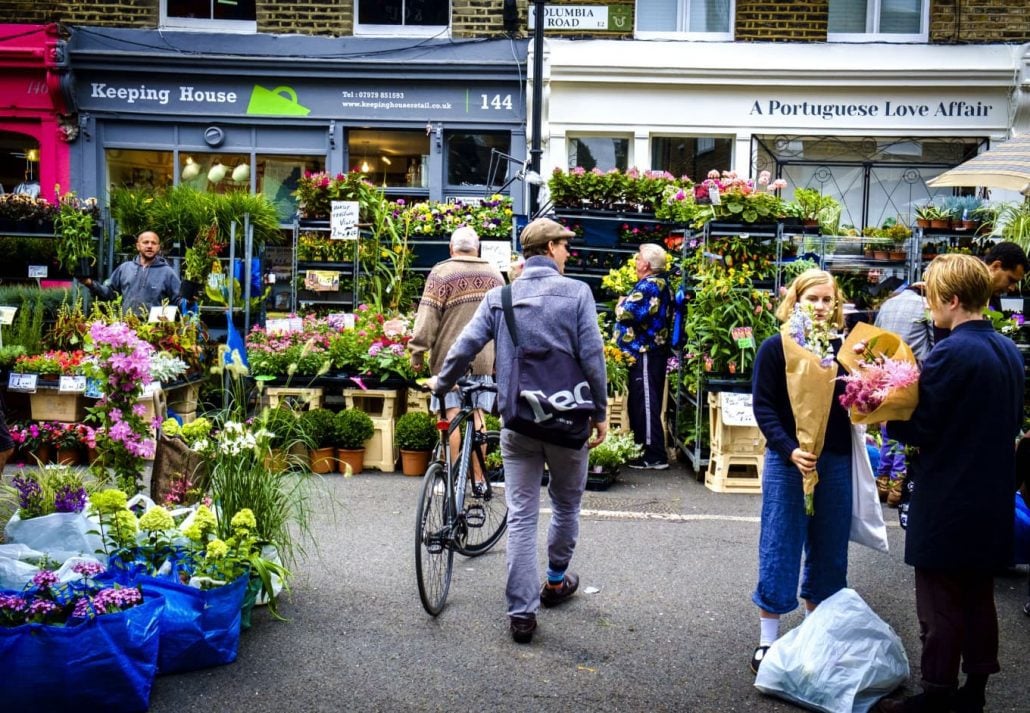 Shoreditch is one of London's most eclectic neighborhoods. Regarded as the "beating heart of east London", the area is a favorite among young creatives and trendsetters thanks to its intriguing collection of nightclubs and bars, bustling high streets, alternative cinemas, and top-notch independent shops (head over to Brick Lane to discover London's best vintage shops)
There are several free things to do in Shoreditch, making it a top London area for budget travelers. For free, you can explore the area on foot and spot irreverent street art murals by famous artists like Banksy, ROA, and Stik.
Every Sunday, Shoreditch hosts the Columbia Road a long-running flower market that market gathers small and independent traders selling a variety of colorful flowers, houseplants, herbs, bulbs, and shrubs from around the world.
Last but not least, Shoreditch is served by two underground stations — Old Street and Shoreditch High Street —and several bus routes.
Chelsea
Chelsea is a wealthy area in west London. The neighborhood is bordered by the north bank of the River Thames, Pimlico, Belgravia, Kensington, Fulham, and the city center, so you'll be within easy reach of several popular London areas.
This affluent neighborhood is home to quiet residential streets that are simply a joy to explore on foot. Some of the most beautiful are Bywater Street, Burnsall Street, Godfrey Street, and Swan Walk, which are lined with candy-colored houses.
Another great spot for an idle stroll is the Chelsea Embankment, a mile-long stretch along the Thames's north bank. While making your way through this scening pathway, you'll find many London treasures, including the beautiful Albert Bridge, and Swan House at no.17.
Be sure to go for an idle walk in Battersea Park, a 200-acre green space that has a riverside promenade, a large lake, and alluring gardens.
Chelsea also features bustling shopping areas like King's Road, which is smothered top to bottom with an array of trendy shops, and culture-filled places such as the iconic Saatchi Gallery, and Physic Garden, one of the oldest botanical gardens in Europe.
FAQ
What are the best neighborhoods in London?
The best neighborhoods to stay in London are:
Notting Hill;
South Kensington;
Camden Town;
The City of London;
Covent Garden;
Westminster;
Bloomsbury;
Shoreditch;
Chelsea.
Where can I stay in Central London?
The best places to stay in Central London are:
Covent Garden;
Soho;
Mayfair;
Marylebone;
Fitzrovia;
Bloomsbury;
Holborn;
Clerkenwell.
What are the best areas to stay in East London?
Canary Wharf, Hackney, Shoreditch, and Bethnal Green are the best areas to stay in east London.
What are the best areas to stay in South London?
The leafy borough of Greenwich, home to the Old Royal Naval College, is a great area to stay in south London.
CuddlyNest provides all accommodations to all travelers at the best price. Find unlimited travel inspiration on our blog and social media channels.
You May Also Like:
How To Get To Stonehenge From London: 4 Easy Ways
Train From London To Paris: Everything You Need To Know
11 Fun Facts About The London Eye
How To Travel From London to Edinburgh, Scotland: 4 Easy Ways
Best Destinations for Family-Friendly Holidays in the UK
Top Attractions in London
A Guide To Visiting The Tower Of London
9 Amazing Free Things to do in London, England