Home to a dazzling wealth of postcard-worthy attractions, San Francisco also harbors a huge range of lesser-known experiences that go way beyond tourist destinations (we're looking at you, Golden Gate Bridge, and Alcatraz).
Are you itching to uncover the nooks and crannies of the "City by the Bay"? Then read on to discover the 11 worth-visiting hidden gems in San Francisco!
Find Hotels In San Francisco, California | Find Homes In San Francisco, California
San Francisco Off the Beaten Path: Unusual Things to Do In The City
Wave Organ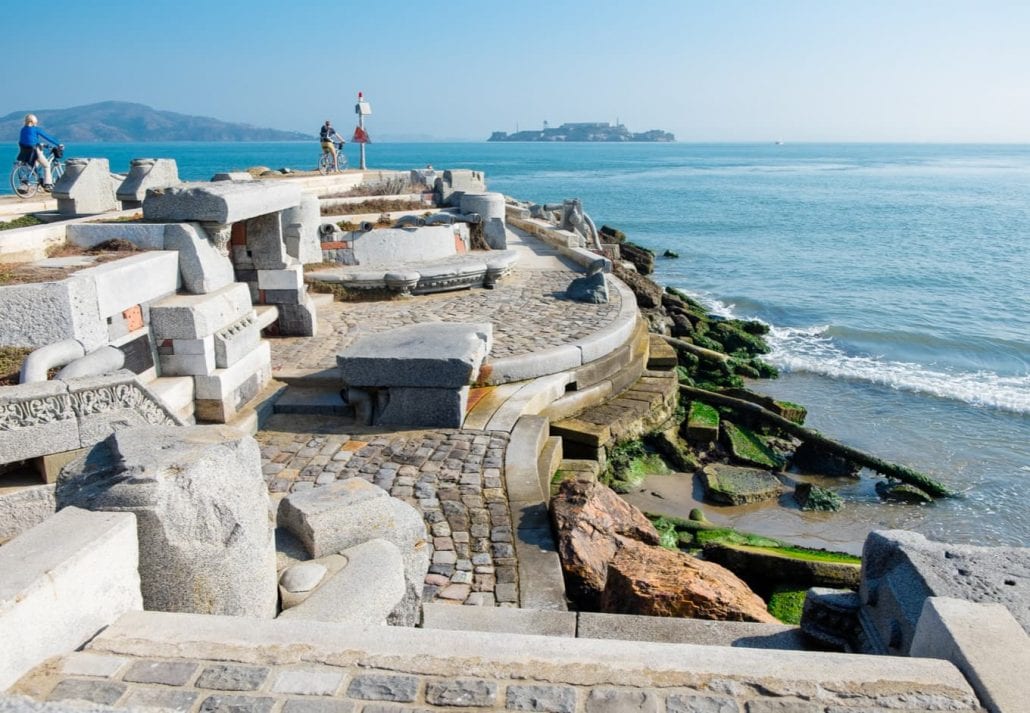 A giant organ placed on the shore of San Francisco Bay creates a poetic and gentle symphony played by the ocean. Made of 25 pipes located at various elevations within site, the instrument was built in 1986 with material taken from a demolished cemetery and is activated by the crashing of the waves. Tip: the music is best heard around high tide.
Address: 83 Marina Green Dr, San Francisco, CA
Moraga Steps On 16th Avenue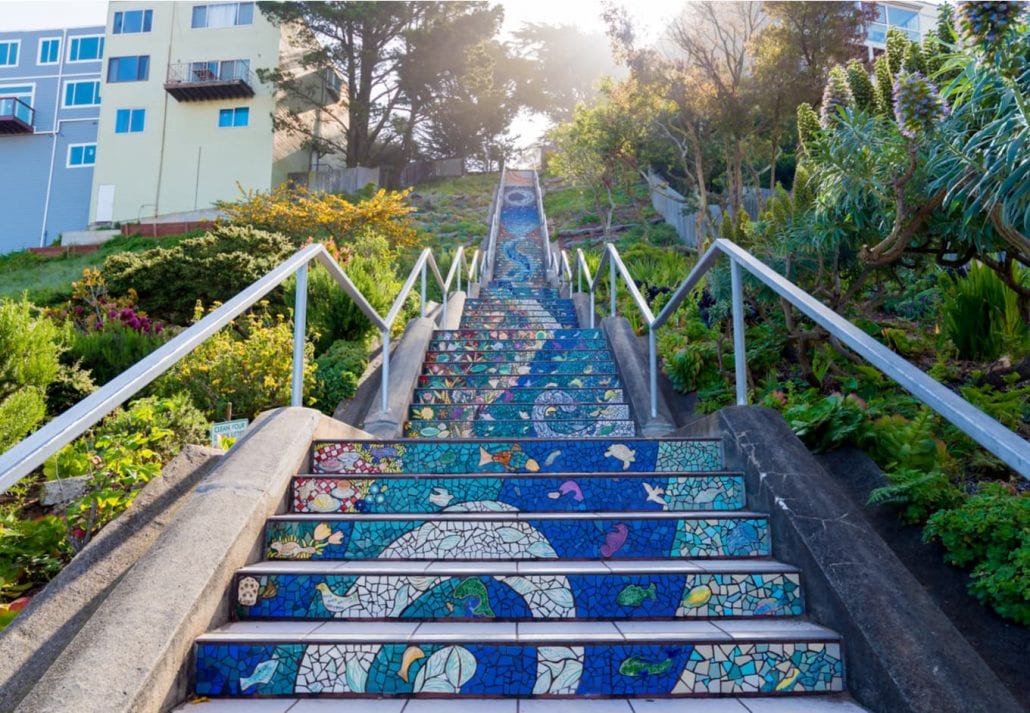 It's not a secret that San Francisco is filled with many Instagrammable places, including famous attractions like the Golden Gate Bridge and Pier 39. But the city is also home to some cool photo spots you won't find in the travel guides. The whimsical Moraga Steps, for instance, is a precious hidden gem that almost only locals know about.
Located on 16th Avenue in San Francisco's Golden Gate Heights Neighborhood, the staircase features 163 steps artfully decorated with more than 2,000 handmade tiles comprising 75,000 fragments of tiles, mirrors, and stained glass.
When climbing the "16th Avenue tiled stairs", be sure to have a closer look at the tiles, which are beautifully crafted in the shape of birds, stars, flowers, and other whimsical patterns.
Address: 16th Ave, San Francisco, CA
Mission District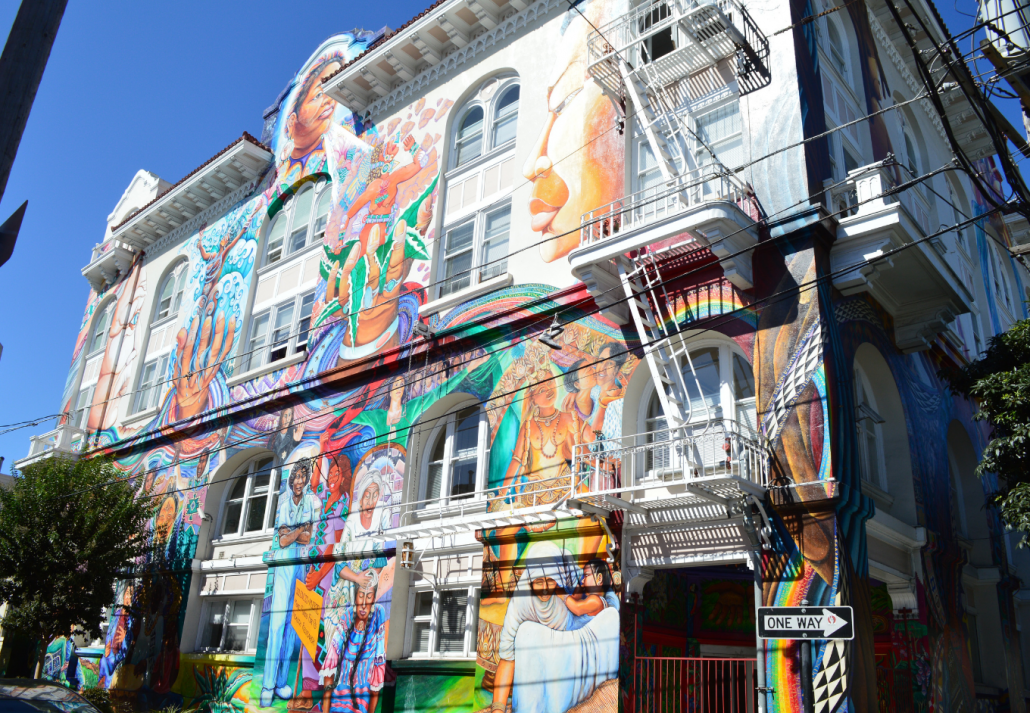 The Mission District is where you can experience the whole breadth of San Francisco's art and culture scene. Whenever you feel like getting your creative juices flowing, go for an unscheduled walk around this vibrant neighborhood, which is deeply influenced by the city's Latino communities.
While snooping around "The Mission," expect to come across lip-smacking Mexican eateries, trendy boutique shops, and quaint art galleries. If you're an art-lover, go on a free walking tour to explore the area's fantastic patchwork of colorful street art murals that reflect various artistic styles.
Camera Obscura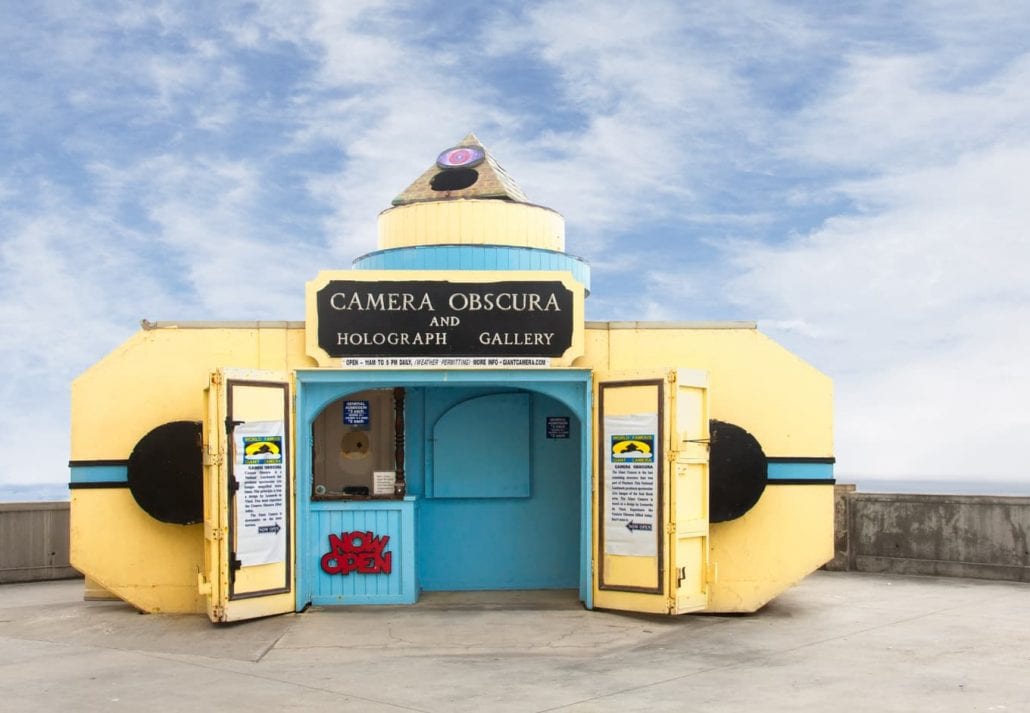 Wide-eyed travelers who want to see San Francisco from a new perspective must add the Giant Camera to their travel bucket list. Perched atop the cliffs north of Ocean Beach, this large-scale camera obscura creates whimsical 360 live images of the Seal Rock Area.
Address: 1096 Point Lobos Ave, San Francisco, CA
Labyrinth at Lands End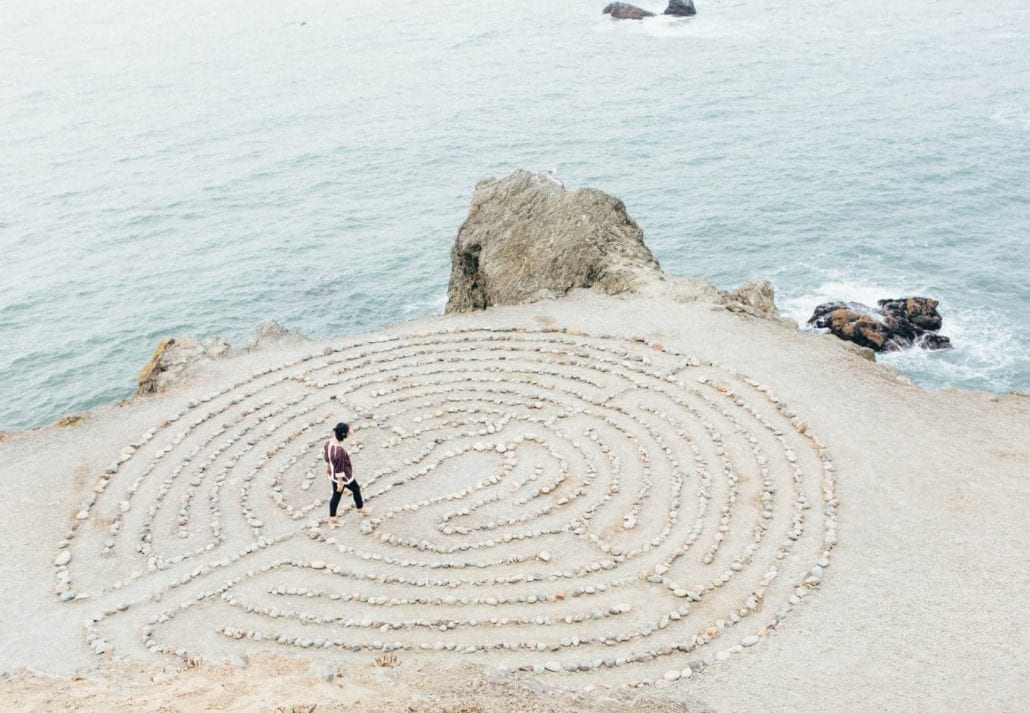 This stone labyrinth is a beautiful gem located along the rocky shoreline of Land's End park, designed by San Francisco artist Eduardo Aguilera. The creation has been destroyed twice but restored by the artist, always in the same spot: a scenic outcropping with gorgeous views of the Golden Gate Bridge, the Marin Headlands, and the Pacific Ocean.
Address: Lands End Trail, San Francisco, CA
Sutro Baths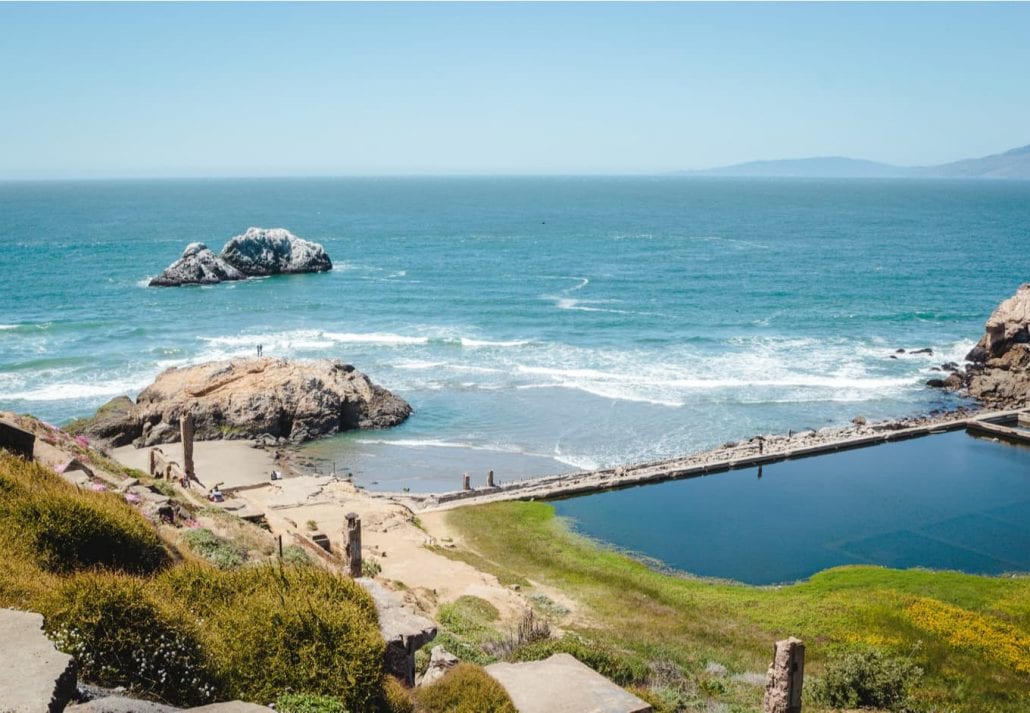 After taking in the restoring and serene atmosphere at Land's End Labyrinth, venture further out to the nearby Sutro Baths, just a short walk from Cliff House. A true icon in San Francisco's history, the baths were built in 1896 by Adolph Sutro, a self-made San Francisco millionaire, and were once the world's largest indoor swimming pool complex. They could accommodate 10,000 people at one time!
Covering three acres and featuring seven salt-water swimming pools fed by the tides at the entrance to San Francisco Bay, the baths went on the decline. Now all left is an eerie yet beautiful assortment of ruined pools and crumbling walls overlooking the Pacific Ocean.
Address: Lands End Trail, San Francisco, CA
Little Italy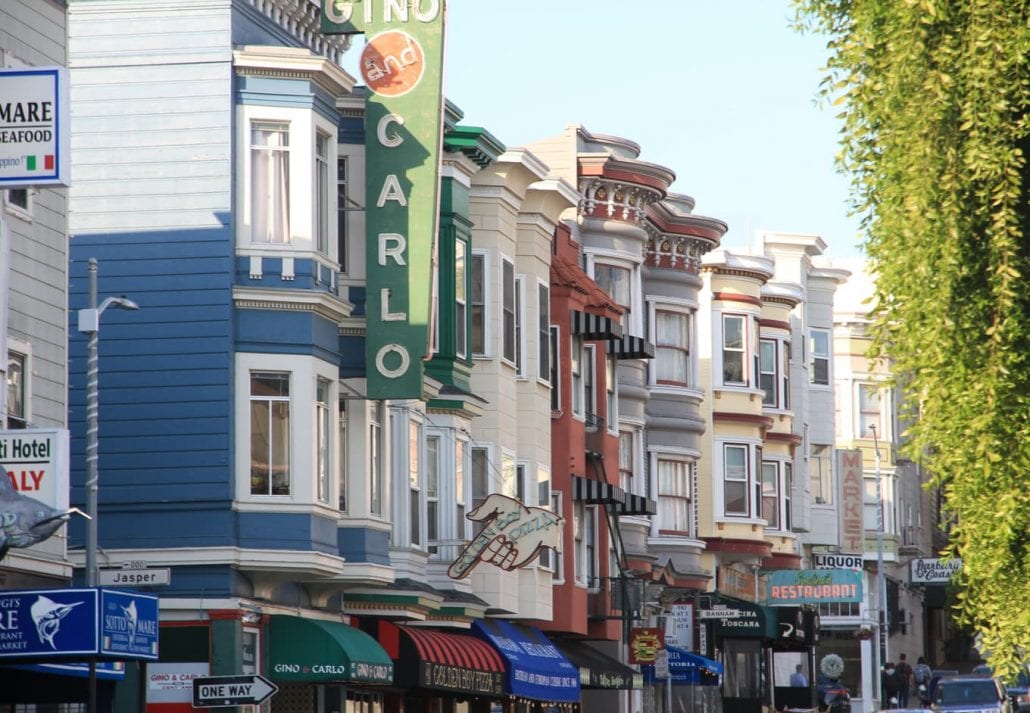 An amazing collection of Italian restaurants makes Little Italy a favorite destination for travelers seeking to feast on some unbeatable food in San Francisco. Located between Fisherman's Wharf and Chinatown, the neighborhood (originally called North Beach) has historically been home to a large community from Northern Italy and boasts some of the restaurants in the city.
While visiting Little Italy, try the lip-smacking focaccia at Liguria Bakery, the tiramisu at Trattoria Pinocchio, and the golden-crust pizza at Tony's Pizza Napoletana.
Coit Tower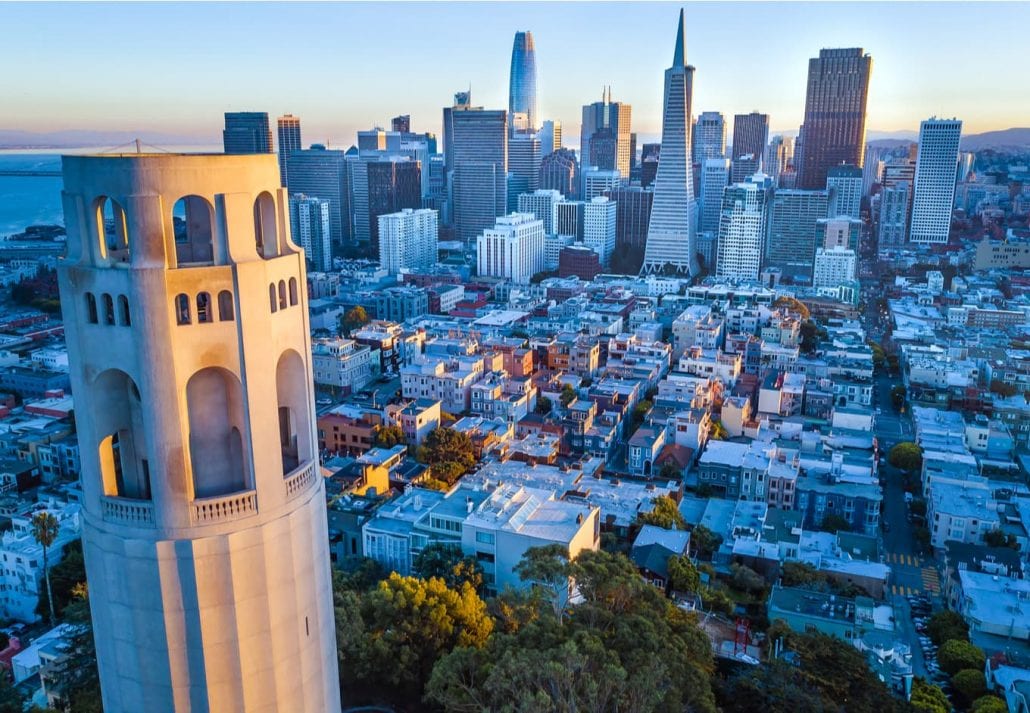 Perched atop Telegraph Hill, Coit Tower has been a crown jewel in San Francisco's skyline since 1933. Visit the observation deck of this 210-food slender building for a jaw-dropping 360º view of the city, including landmark attractions such as the Golden Gate and Bay bridges. During your visit, catch a glimpse of the tower's murals depicting life in California during the Great Depression.
Address: 1 Telegraph Hill Blvd, San Francisco, CA
Botanical Garden and Shakespeare's Garden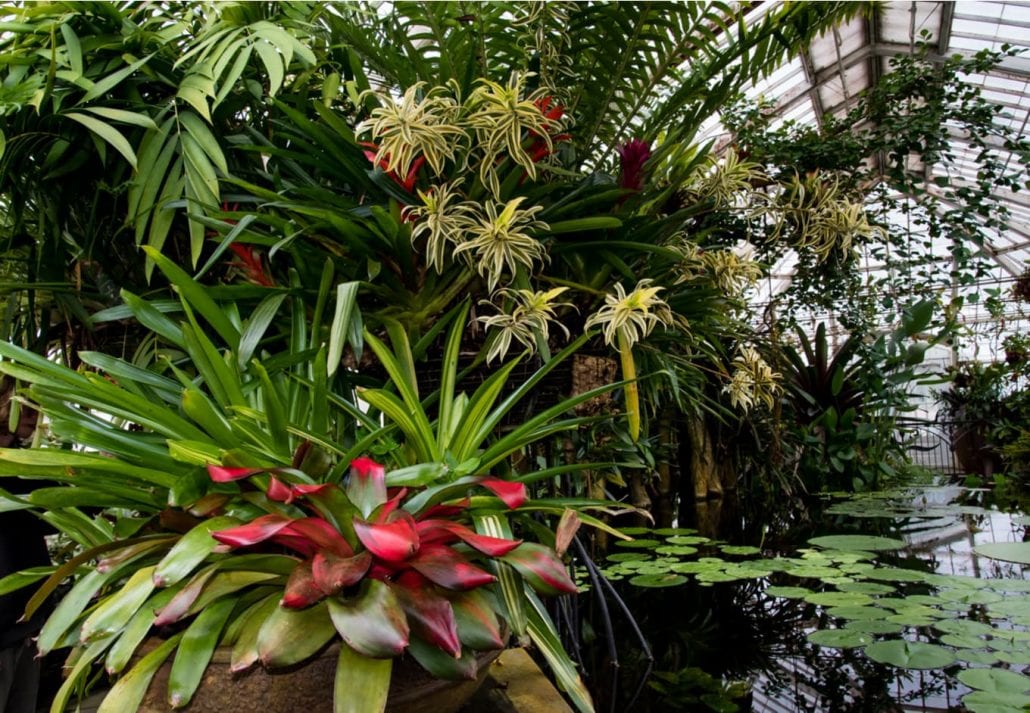 Perfectly located in the Golden Gate Park, the San Francisco Botanical Garden, and Shakespeare's Garden are quiet pockets of greenery in the middle of the city. 
In the Botanical Garden, expect to marvel at more than 8,000 different kinds of plants worldwide, including towering palm trees and alluring flowers like camellias, magnolias, and rhododendrons. 
After exploring San Francisco's Botanical garden, head over to the dreamy Shakespeare's Garden, which is dotted with more than 200 flowers and plants mentioned in the works of William Shakespeare!
Address: 335 Martin Luther King Jr Dr, San Francisco, CA
Golden Gate Fortune Cookie Factory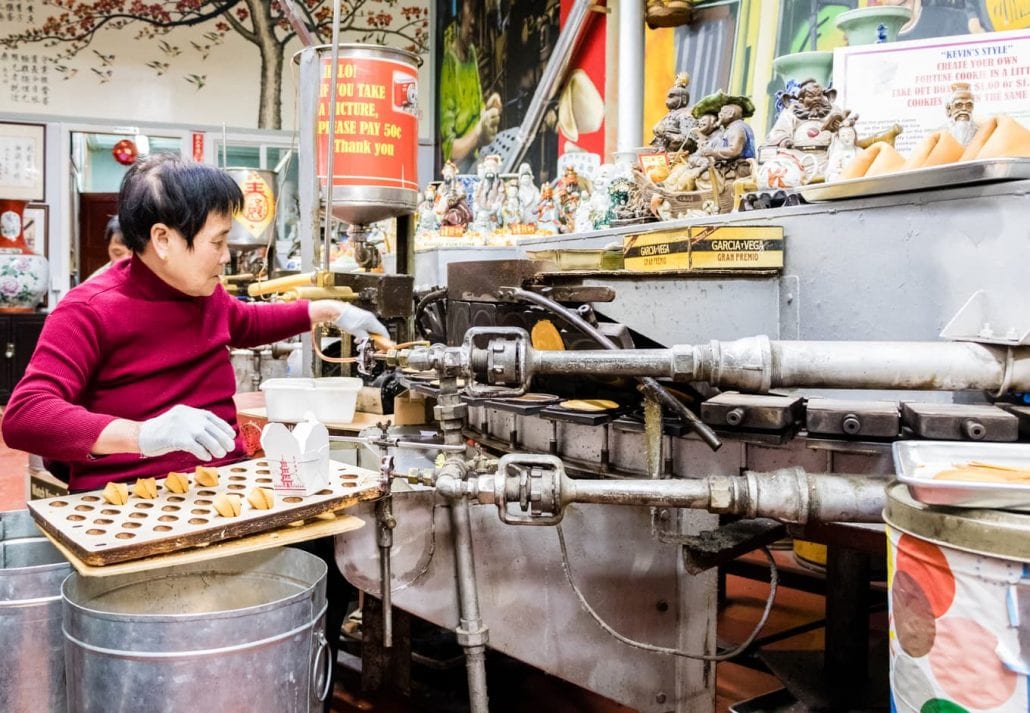 Of all the unusual things to do in San Francisco, visiting the city's Fortune Cookie Factory is one of the most exciting. Founded in 1962, the factory makes up to 10,000 fortune cookies baked daily on a copper slow-release heat-rotating griddle wheel.
During your visit, you can try a free sample of the cookies or buy a bag to binge-eat them later!
Address: 56 Ross Alley, San Francisco, CA
Treasure Island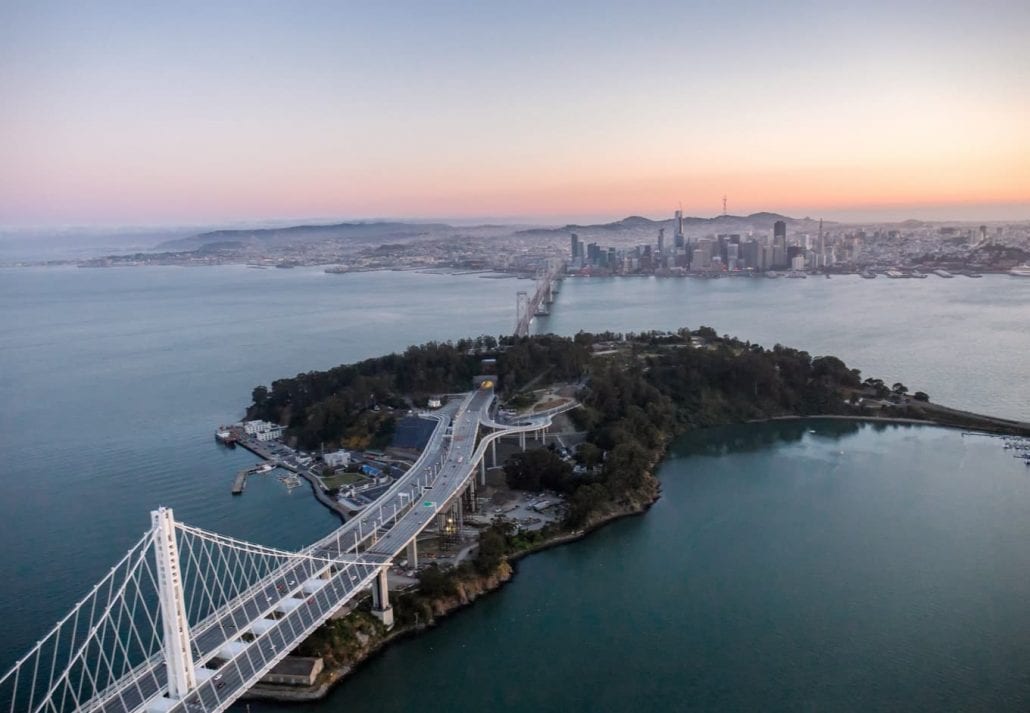 Are you looking for a prime spot to indulge in some fantastic views of San Francisco? Then Treasure Island is definitely worth the trip. An artificial island in the San Francisco Bay, this area hosts some of the city's most exciting events, including the San Francisco International Dragon Boat Festival, the Treasure Island Flea Market, and the annual two-day Treasure Island Music Festival. 
Frequently Asked Questions About San Francisco
Where do locals go in San Francisco?
Locals don't usually go sightseeing but rather explore the city's diverse collection of neighborhoods. If you want to experience the city like a local, walk around areas like Hayes Valley, The Mission, and North Beach. This is an unusual way to absorb San Francisco's energy and stumble across world-class hidden gems!
What should I avoid in San Francisco?
If you want to go off the beaten path and uncover the lesser-known marvels of San Francisco, avoid the city's most touristic attractions, such as Union Square, Alcatraz Island, and Fisherman's Wharf.
What can I see in San Francisco aside from the Golden Gate Bridge?
11 non-touristy places to visit in San Francisco:
Wave Organ;
Moraga Steps On 16th Avenue;
Mission District;
Camera Obscura;
Labyrinth at Lands End;
Sutro Baths;
Little Italy;
Coit Tower;
Botanical Garden and Shakespeare's Garden;
Golden Gate Fortune Cookie Factory;
Treasure Island.
Browse. Book. Stay.
CuddlyNest provides all accommodations to all travelers at the best price. Find unlimited travel inspiration on our blogs and our social media channels Facebook, Instagram, Pinterest
You May Also Like:
North America Travel Guide
Most Romantic Weekend Getaways in the United States
Long Weekend Getaways in the United States
Best Family Vacations In The United States
Best National Parks In The United States
Best Cabin Rentals in the United States
Best Dog-Friendly Vacations In The United States
Best Getaways In Southern California
The Ultimate California Travel Guide