Instantly recognizable landmarks create a cinematic backdrop for exploring the streets of San Francisco. With astoundingly creative and gastronomical clout, the city holds limitless possibilities. In one minute, you can find yourself marveling at a masterpiece by Frida Kahlo at SFMOMA; in the other, you can be feasting on dim sums in Chinatown.
A land of well-educated palates, boundless culture, and staggering sights, San Francisco has something for all.
This comprehensive San Francisco travel guide will give you all the information you need to plan a unique trip to Golden Gate City. Read on to discover the top attractions in the city, tips for visiting, the bucket list experiences you can't miss, and more!
San Francisco Travel Guide: Useful Information
| | |
| --- | --- |
| Language | English |
| Currency | US Dolar |
| Country Code | +1 |
| Voltage | 110 Volts |
| Standard Plug Types | Type A and B. |
| Time Zone | Pacific Time |
| Perfect For | Nature lovers, outdoor enthusiasts, couples, families, and foodies |
| About Safety | Overall, San Francisco is a very safe destination to travel to. Still, when traveling somewhere new, it's always important to be careful with your belongings. |
Where To Stay In San Francisco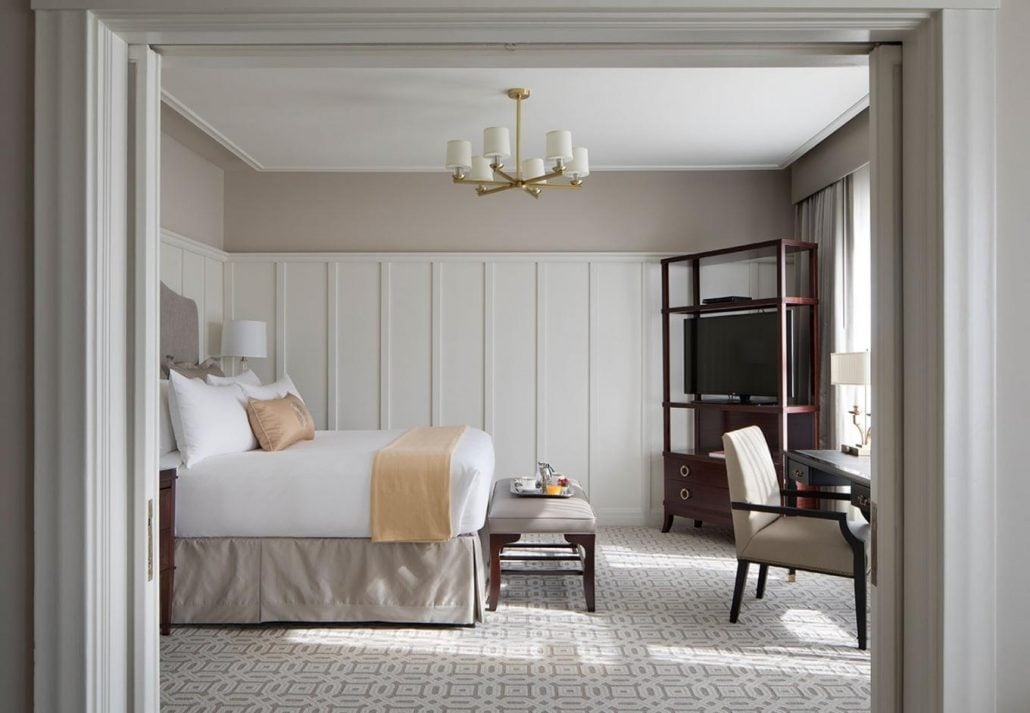 San Francisco has a rich mix of hotels — from 5-star b&bs filled with stellar amenities to low-key boutique hotels — vacation rentals, and hostels catering to every budget and style.
To help you find a cozy place to stay, we've created a comprehensive guide to the best hotels in San Francisco.
If you're looking for a dreamy seaside escape, check out this guide to the best hotels near beaches in San Francisco.
You can find all these hotels and other accommodation types at the best prices at CuddlyNest. 
Find Hotels In San Francisco, California | Find Homes In San Francisco, California
The Best Time To Visit San Francisco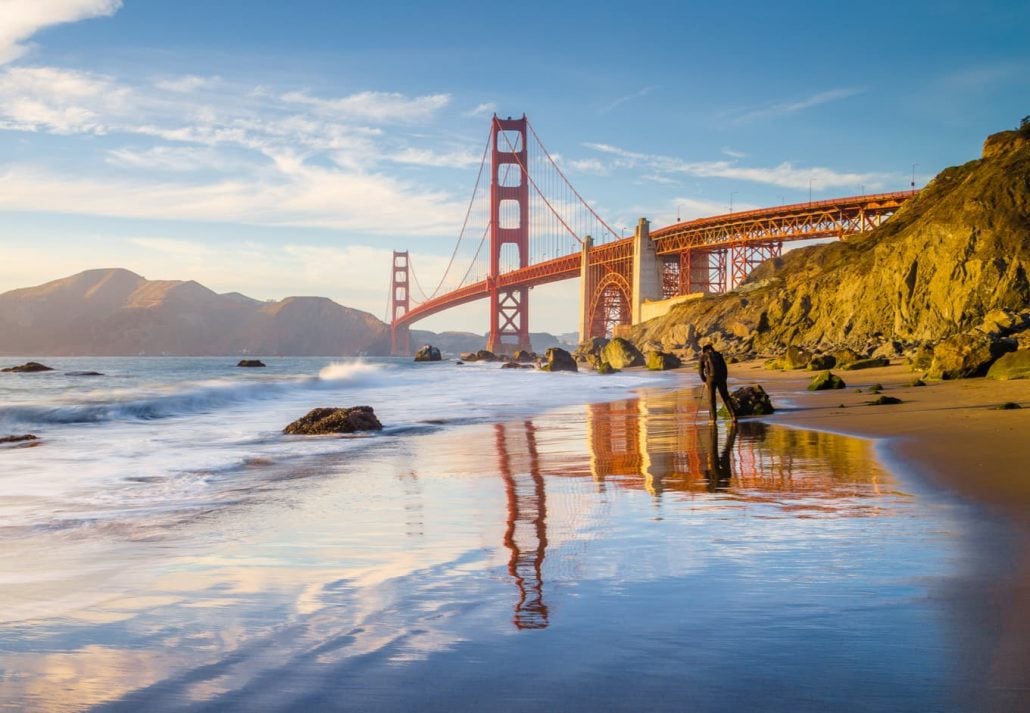 In a nutshell, September is the best time to visit San Francisco. This is when the city experiences the "Indian Summer," an unseasonably warm weather that happens during autumn in some places in the northern hemisphere.
So, if you're looking for clear skies, less fog, mild temperatures, and no rainy days, September — just after Labor Day weekend — until early November is the best time to visit San Francisco.
However, this is the high season for tourism in San Francisco, meaning prices for accommodation and flights will be higher. In this complete guide to the best time to visit San Francisco, you'll find cheaper alternatives of when to go to the city.
5 Bucket-List Experiences In San Francisco
The Mission's Street Art Tour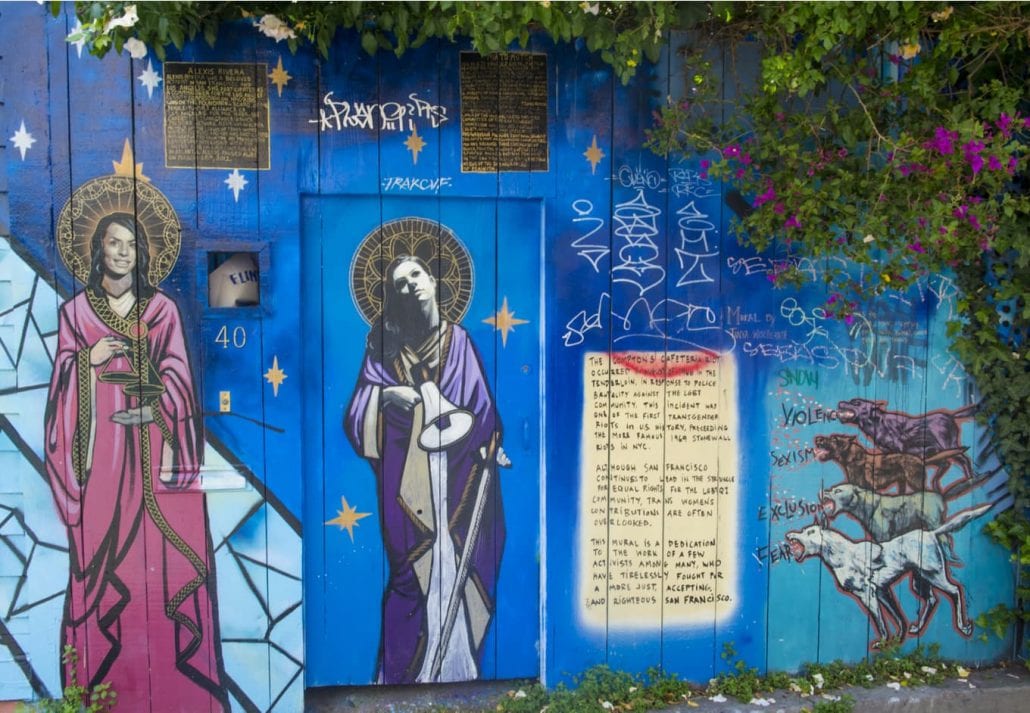 Creativity is one of the great hallmarks of San Francisco, and a robust array of museums and new independent art galleries abound in this city, which keeps inventing new ways of inspiring.
One of the best ways to experience San Francisco's creative flair is by taking a free tour of the Mission District. Also known as "The Mission," this vibrant neighborhood has been historically related to the Latin communities of San Francisco, and it's dotted with a medley of art galleries, lip-smacking taquerias, bustling bars, and quaint boutique shops.
The Mission became a mecca for the cultural vultures thanks to its colorful medley of eye-popping murals centered around various themes ranging from cultural heritage to social-political statements.
To fully take in the area's creative flair, don't miss the chance to walk along Balmy Alley and Clarion Alley, which are home to a thick concentration of murals reflecting a variety of artistic styles.
Ride The Iconic San Francisco Cable Cars
If you're a first-time visitor looking for an exciting way to explore San Francisco, say no more! Hop aboard a cable car and prepare for a thrilling ride around the city. 
San Francisco's cable cars are the world's last manually operated cable car system and are a true icon of the city.
To glimpse the most famous local attractions, hop on the Powell/Hyde line, which runs from the bustling Union Square to Pier 39 and Fisherman's Wharf.
Along the way, you'll indulge in unbeatable views and catch a glimpse of major attractions like the picture-ready Lombard Street, a.k.a the "Crookedest Street in the World"!
Tour The Castro District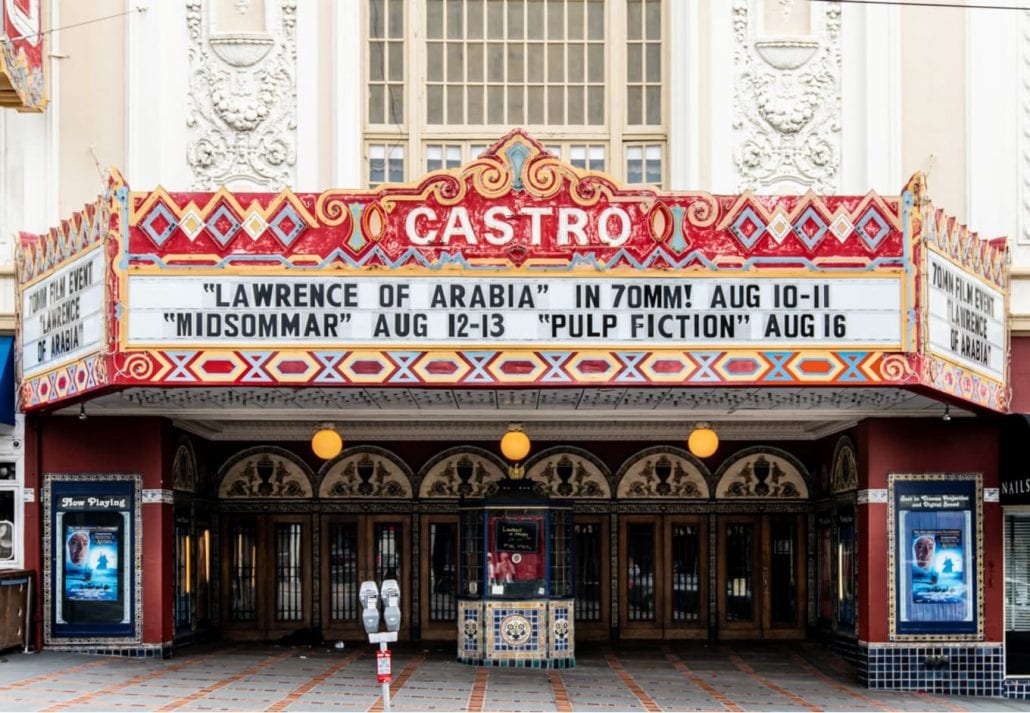 One of the first gay neighborhoods in the United States, The Castro is a must-visit area for travelers who want to bask in a bustling nightlife scene and learn more about San Francisco's reputation as a city of tolerance.
While visiting The Castro, make sure to stop by the iconic Castro Theatre, the city's last remaining movie palace and famous for its outside neon sign that has become a symbol of the neighborhood. 
After catching a glimpse of the colorful street art murals on 16th street, grab a bite at Anchor Oyster Bar and venture further out to the Harvey Milk Photo Center. This photo center is dedicated to Harvey Milk, the first openly gay elected official in California, and it's considered the "oldest and largest community wet darkroom in the United States."
Eat Your Way Through The City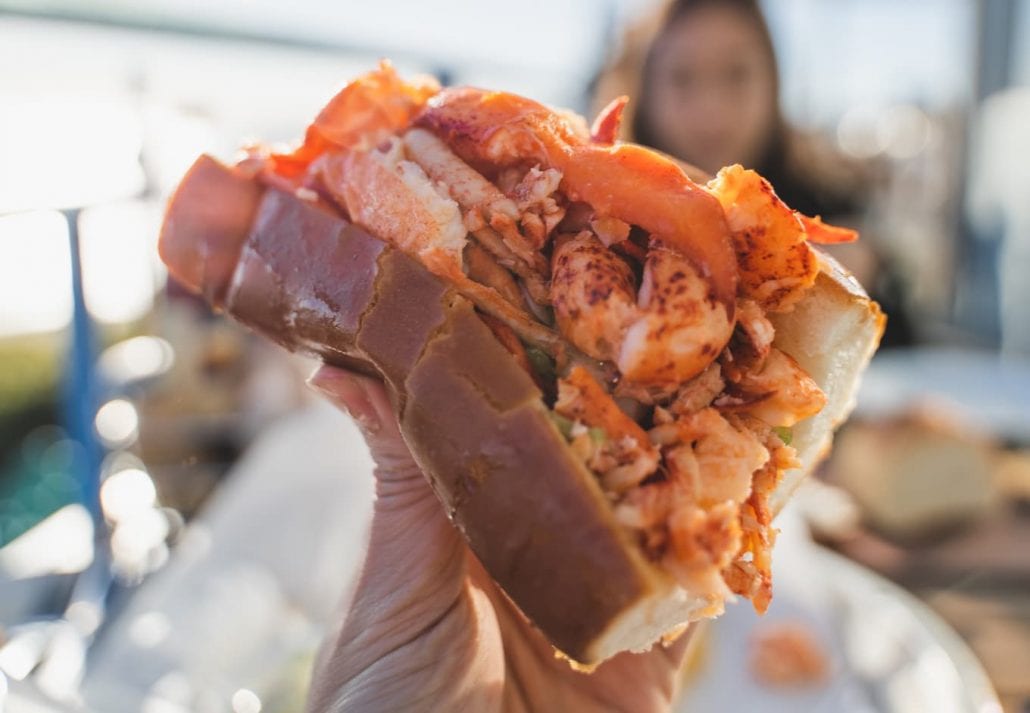 When it comes to food, San Francisco does not fool around. The city's world-renowned cuisine spans from impeccable Michelin restaurants to laidback eateries, making this destination a veritable foodie heaven.
In one minute, you can be feasting on a 10-course tasting menu at the three-starred Michelin restaurant Quince, and in the next, you'll find yourself sampling rice rolls, pork buns, and dumplings at Dim Sum Bistro in Chinatown.
Representing every type of cuisine, San Francisco's multicultural food scene will surely tantalize your taste buds. So whether you're feasting on Yucatecan-style tacos in Taqueria Los Mayas, a soothing bowl of Pho Ga in Tin Vietnamese Cuisine, or an Italian Focaccia at Liguria Bakery, your tastebuds will be positively surprised.
And since the city is perfectly located on a peninsula between the Pacific Ocean and San Francisco Bay, many restaurants offer tantalizing seafood-centered dishes.
For a creamy bowl of clam chowder, visit Gigi's Sotto Mare Oysteria & Seafood. For jet-fresh oysters, the Swan Oyster Depot is an amazing spot. For feasting on a garlic-roasted whole Dungeness crab with stunning views of the Golden Gate Bridge and Alcatraz, have lunch at the Fog Harbor Fish House!
Tour The 49-Mile Drive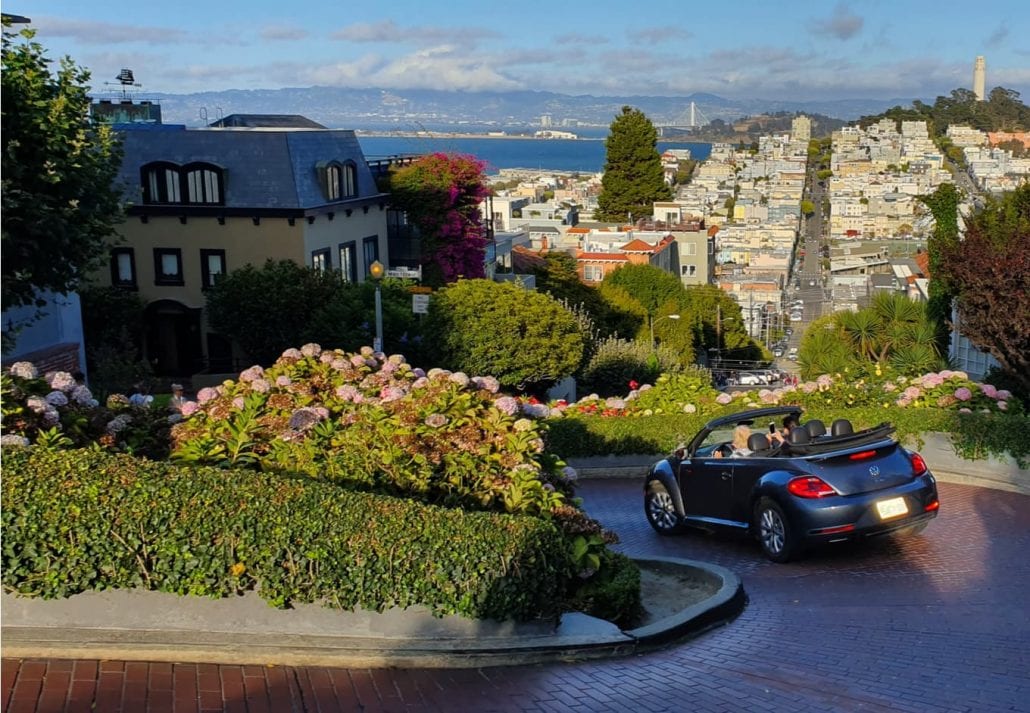 If riding San Francisco's cable cars doesn't give you the full picture of the city's scenic beauty, the 49-Mile Scenic Drive tour is a great way to take in the beautiful scenery of this destination. This designated route starts in Union Square and ends at the City Hall, and it takes around 4 hours of driving to cover it entirely.
One of the most breathtaking stretches of the 49-Mile Scenic Drive is the Great Highway alongside the Pacific Ocean. During the drive, you'll also be able to spot landmarks such as Alcatraz and both the Golden Gate Bridge and the Bay Bridge.
The Top 11 Attractions In San Francisco
Golden Gate Bridge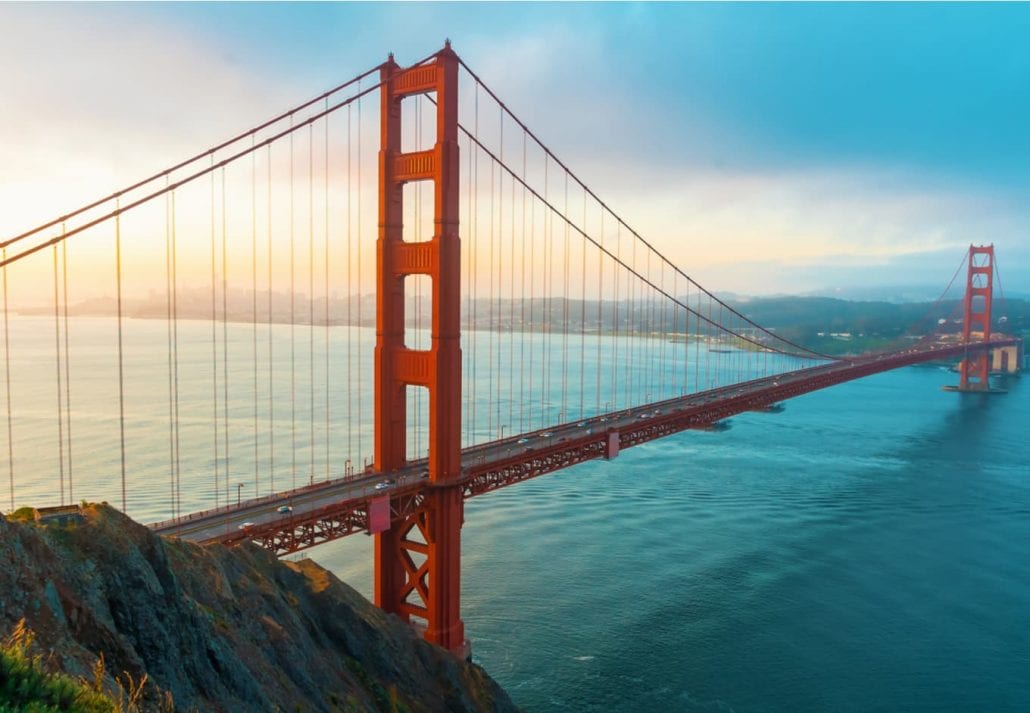 Many people think immediately about the Golden Bridge when it comes to what to see in San Francisco. Made of two 746-foot tall towers and sweeping main cables, this instantly recognizable landmark crosses the strait of the Golden Gate from San Francisco's Presidio to the Marin headlands, and it offers the best views of the San Francisco Bay area.
To experience the Golden Gate at its best, visitors can either bike across the bridge or marvel at it from viewpoints like the Fort Point National Historic Site, Baker Beach, or Fort Baker.
Golden Gate Park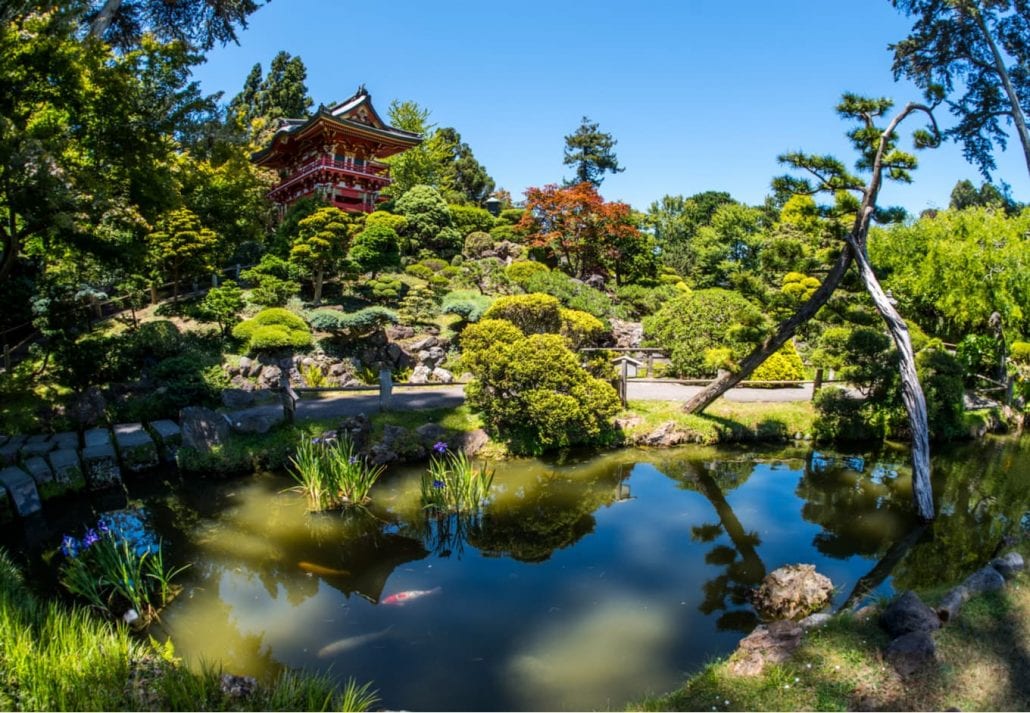 Golden Gate Park is a quiet pocket of lush greenery in the middle of the city, Golden Gate Park offers visitors the opportunity to experience nature in a whimsical setting filled with sparkling lakes, meadows, and ornate gardens.
Encompassing more than 1,000 acres of land, the park is home to the Conservatory of Flowers, a Victorian building that houses almost 2,000 species of aquatic and tropical plants, including a 100-year-old giant Imperial Philodendron.
Another must-visit spot in the park is The Japanese Tea Garden, the oldest in the United States, featuring artfully manicured plants, Japanese maples, and cherry trees.
Fisherman's Wharf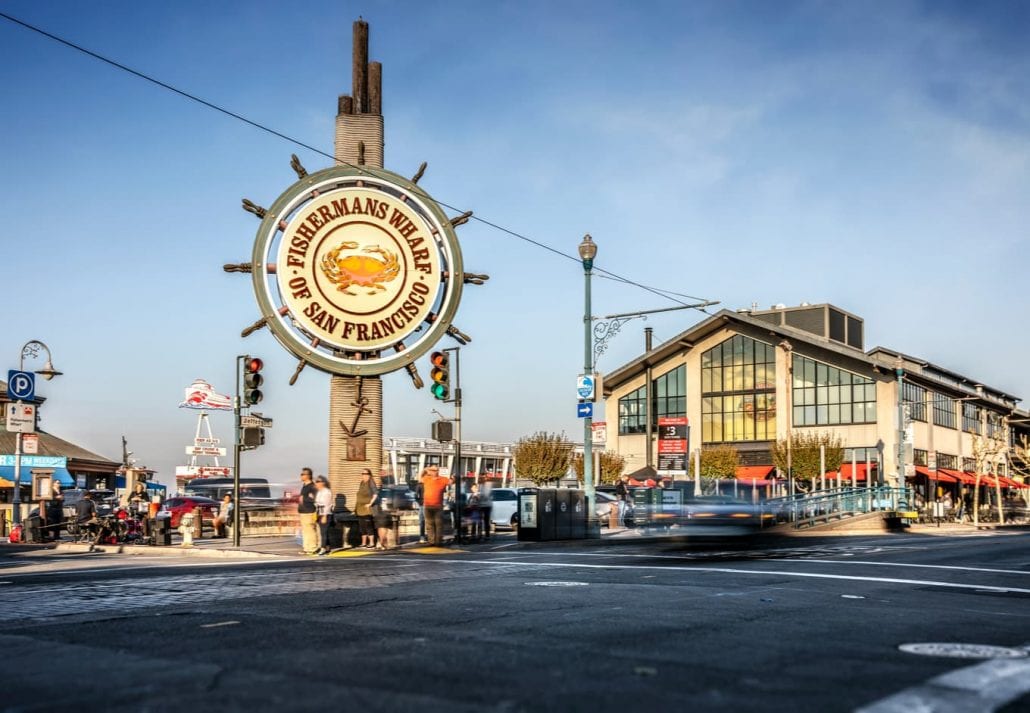 Located on the northern waterfront of San​ Francisco, Fisherman's Wharf is one of the busiest and liveliest neighborhoods in the city. This bustling area boasts a unique fusion of things to see and do, and no matter what your plans are, be sure to visit PIER 39, a 45-acre waterfront complex that offers scenic views of Golden Gate and Bay Bridges, Alcatraz, and Angel Island.
Families with children can enjoy the area's list of kid-friendly attractions, including the Sea Lion Center, The Cartoon Art Museum, Madame Tussaud's, and the Aquarium of the Bay. 
Did the hunger strike? Then you're in the right place because there's plenty of great food on offer at Fisherman's Wharf. Head over to the iconic Ghirardelli Chocolate Factory to curb sugar cravings, to Buena Vista Cafe for the most famous Irish Coffee in San Francisco, and to The Codmother for the most delicious fish tacos in the city.
The Painted Ladies at Alamo Square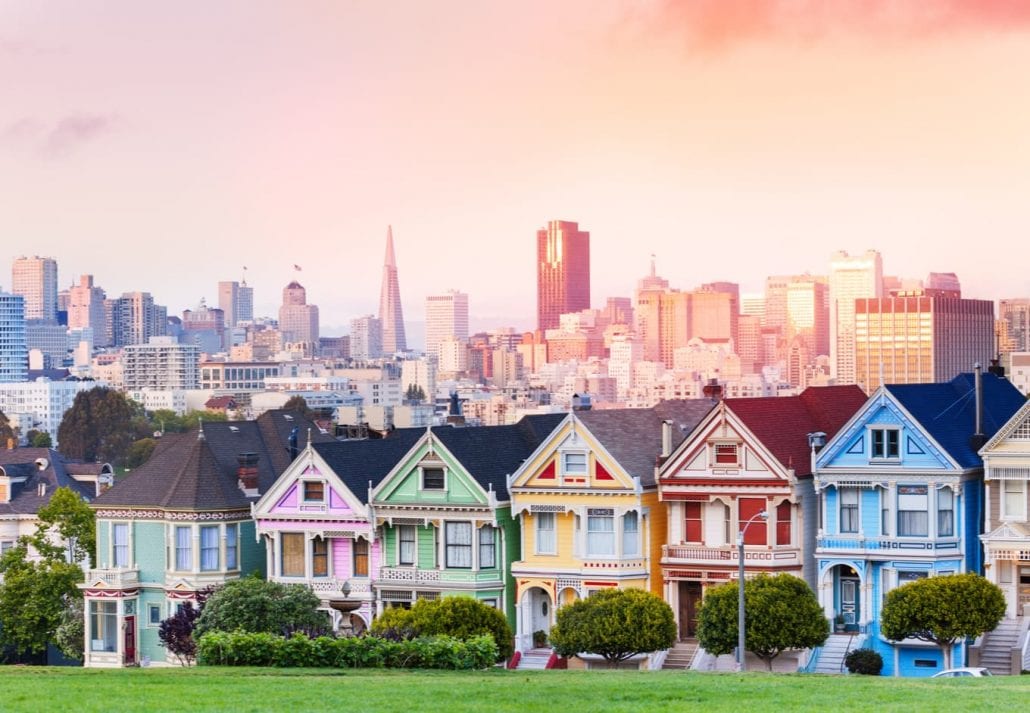 It's no secret that San Francisco is home to some of the most Instagrammable places in the world — each with its unique spin. One of the most eye-popping locations in the city is, unarguably, Alamo Square's famous "Painted Ladies", a line of colorful and side-by-side Victorian and Edwardian houses on Hayes and Steiner Streets. Thanks to its picture-perfect charm, the area was nicknamed the "postcard row" of San Francisco!
Alcatraz Island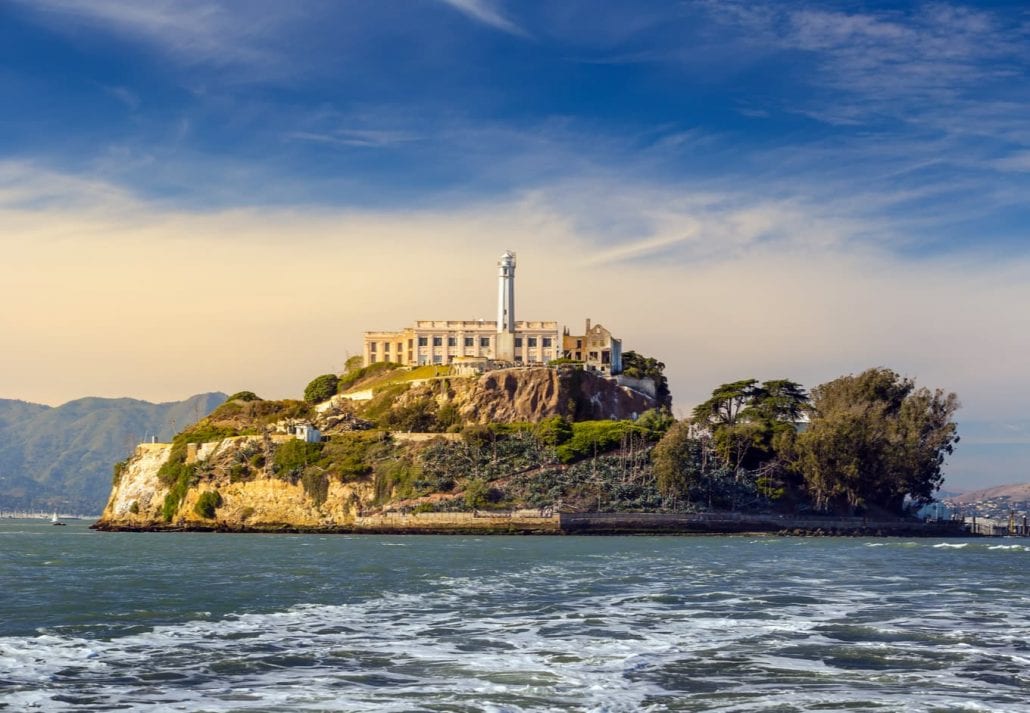 Located in San Francisco Bay, 1.25 miles offshore from San Francisco, Alcatraz Island resents an iconic narration of the rich history of American incarceration. Once a fort, a military prison, and a maximum-security federal penitentiary home to some of the US's most dangerous criminals, including Al Capone himself.
After touring "The Rock," the abandoned prison, visit the Alcatraz Island Lighthouse and walk around the island to explore artfully designed gardens and have close encounters with several migrating seabirds who visit the place.
Chinatown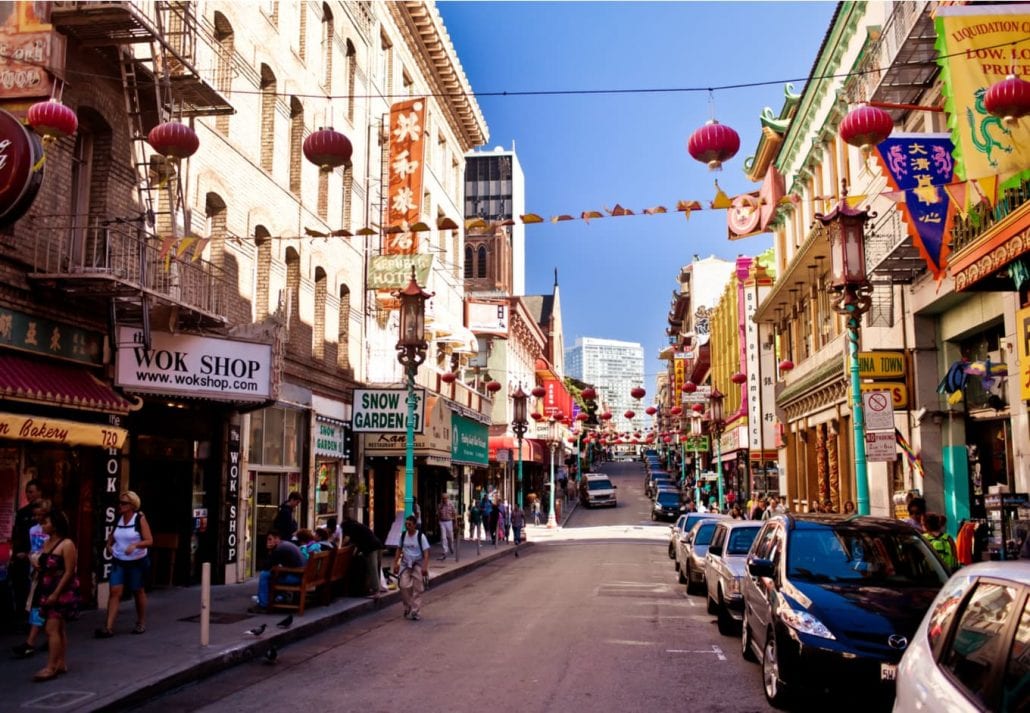 A cacophony of sights and sounds, colorful neon signs, glowing lanterns, and back-to-back traffic is what everyday life looks like in San Francisco's Chinatown. The largest Chinatown outside of Asia, this frenetic jigsaw puzzle is one of the most fascinating places to visit in San Francisco.
In Chinatown, every lane hints at possible discoveries. Snoop around the area to discover traditional herbal shops selling ingredients for Chinese medicine, family-owned tea houses, and even a fortune cookie factory. When hunger strikes, drop by Kam Po Kitchen to sample roast duck with rice and go to Hing Lung Company to try a life-changing crispy skin roast pork belly.
The Legion of Honor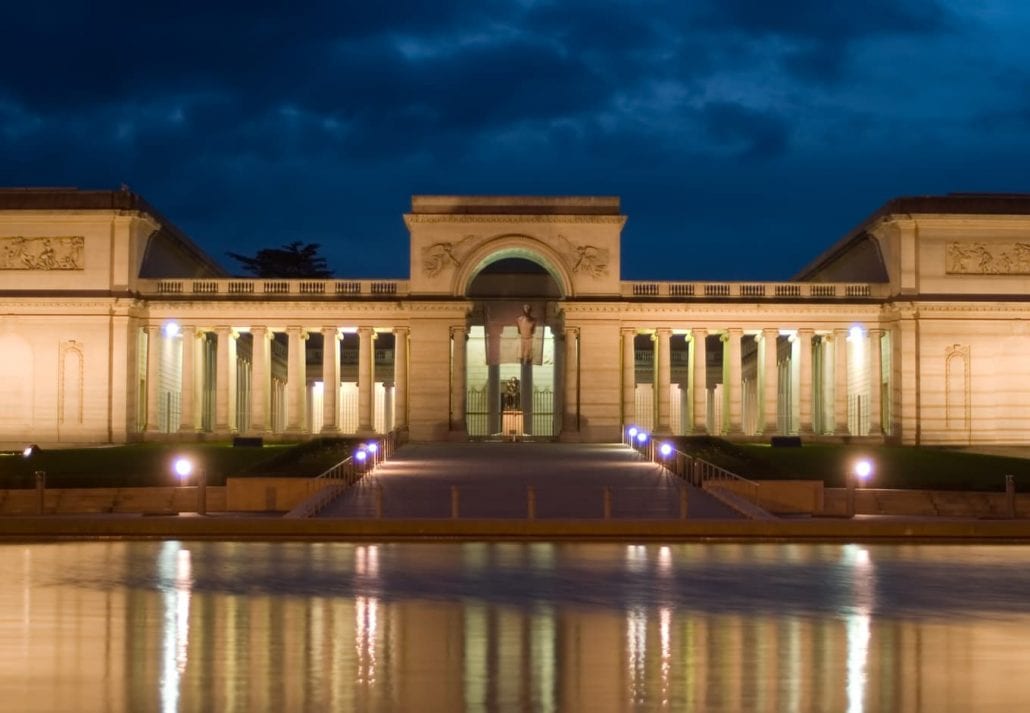 Visit the Legion of Honor to experience the breadth of San Francisco's arts and culture. Steeped in history, the museum holds a spectacular collection of art, precious objects, and artifacts that span literal centuries.
Wander the museum's inside galleries to uncover a dazzling wealth of European artworks, including Rodin's Thinker and Monet's Water Lilies, antiquities received by Spreckels from Elisabeth, the Queen of Greece, and ancient objects like Egyptian mummies, and carved ivories from the ancient site of Nimrud.
San Francisco Museum of Modern Art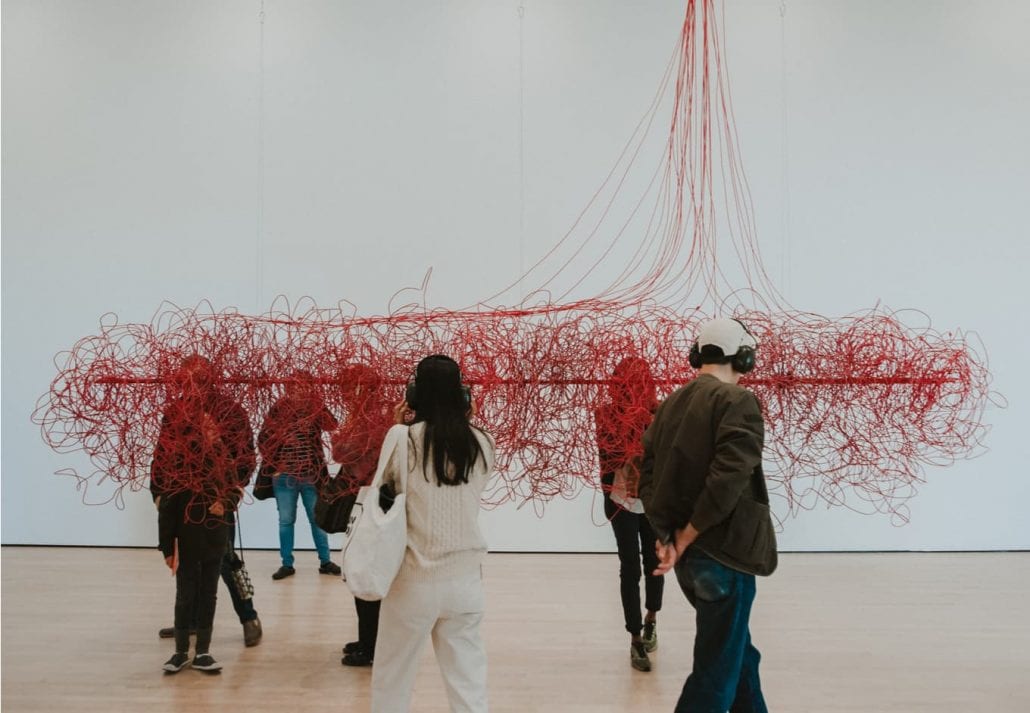 After catching a glimpse of The Legion of Honor's century-old relics, it's time to gain some fresh perspectives on art by visiting SFMOMA. Regarded as one of the largest museums of modern and contemporary art in the United States, the institution in Downtown San Francisco is home to over 30,000 works, including pieces by Henri Matisse, Georgia O'Keeffe, and Zaha Hadid. 
Twin Peaks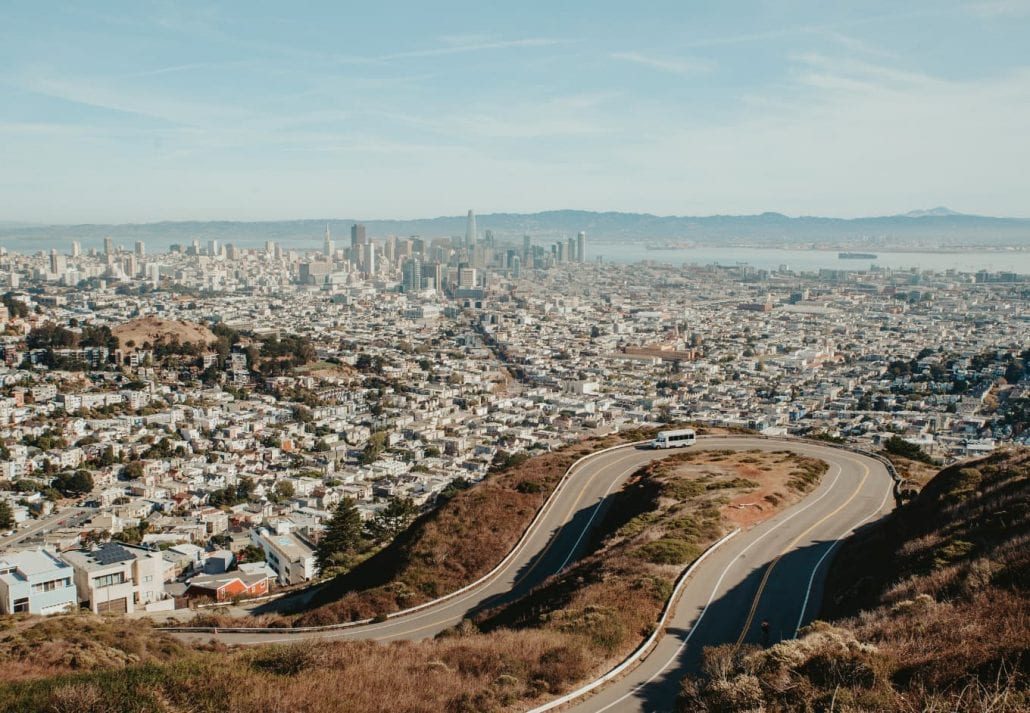 To truly soak up the most drop-dead views of San Francisco, hike the 0.7-mile trail network that ascends to Twin Peaks. Located 922 feet above sea level, this 64-acre hilltop park offers 360º scenic vistas of the Bay Area, and it's a prime location for watching the San Francisco sunset.
Palace Of Fine Arts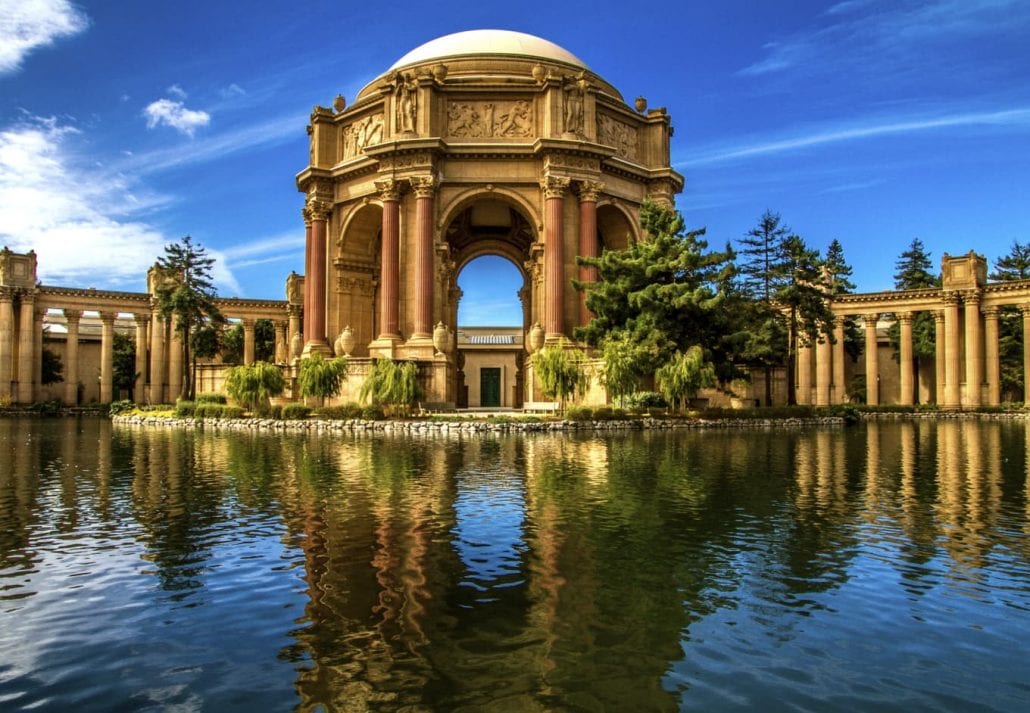 Whenever you feel like spending some quality time beyond the bustling streets of San Francisco, head over to  The Palace of Fine Arts. Known for its restoring atmosphere, the venue features an alluring Greco-Roman rotunda and colonnades, artfully planted grounds, and a lagoon. It is the perfect spot for some idle afternoon stroll in San Francisco.
Ferry Building Food Market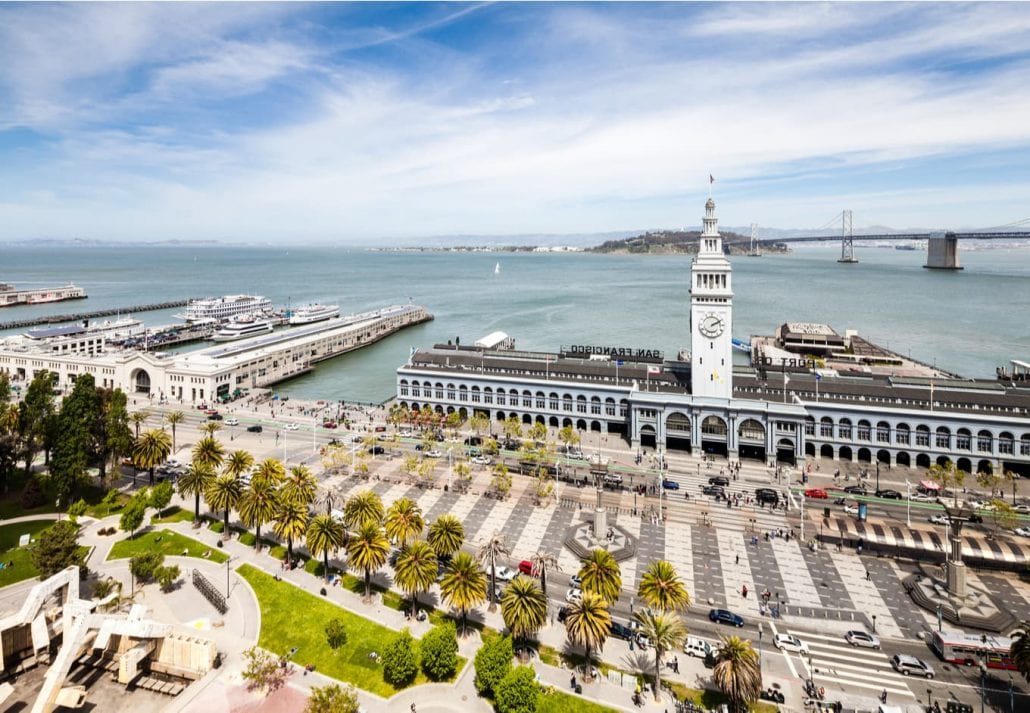 Founded in 1898, the Ferry Building was initially built as a terminal for ferries that traveled across San Francisco Bay, making it the primary portal of San Francisco.
The building was designed in Beaux-Arts Style by architect A.Page Brown and has a majestic 245-foot-tall clock tower inspired by the 12th-century Giralda bell tower in Seville, Spain.
This historic building is now home to the iconic Ferry Building Marketplace. In this world-class public food market, expect to find an array of stalls selling fresh farm products and artisan and prepared foods.
FAQ About San Francisco
How many days do you need in San Francisco?
Three to four is a good time to get a feel for the city. However, if you have a week, take the opportunity to go on day trips around San Francisco. Cities like Napa and Sonoma, in California's Wine Country, are some of the best places to visit around Golden Gate City.
What should I Not Miss In San Francisco?
When traveling to San Francisco, visit the Golden Gate Bridge, Alcatraz Island, Union Square, and Fisherman's Wharf.
What Is the Best Time To Visit San Francisco?
September is the best time for traveling to San Francisco when the city experiences the "Indian Summer" — an unseasonably warm, dry weather that happens during autumn in some places in the northern hemisphere.
What are the top attractions in San Francisco?
The best attractions in San Francisco are:
Golden Gate Bridge;
Golden Gate Park;
Fisherman's Wharf;
The Painted Ladies at Alamo Square;
Chinatown;
The Legion of Honor;
Alcatraz Island;
San Francisco Museum of Modern Art;
Twin Peaks;
Palace Of Fine Arts;
The Beaches;
Union Square;
San Francisco Zoo;
California Academy of Sciences;
San Francisco Cable Car Museum;
Angel Island State Park;
Telegraph Hill;
Lombard Street.
Browse. Book. Stay.
CuddlyNest provides all accommodations to all travelers at the best price. Find unlimited travel inspiration on our blogs and our social media channels Facebook, Instagram, Pinterest
You May Also Like:
North America Travel Guide
Most Romantic Weekend Getaways in the United States
Long Weekend Getaways in the United States
Best Family Vacations In The United States
Best National Parks In The United States
Best Cabin Rentals in the United States
Best Dog-Friendly Vacations In The United States
Best Getaways In Southern California
The Ultimate California Travel Guide