San Francisco is probably one of the most beautiful cities in the United States. Whether it's because of the city's never-ending daytime attractions, vibrant art scene, nightlife, or cuisine; the bay area has long been a favorite travel destination. To make your travels easy in this hilly metropolis that radiates the gilded hills of southern California; we've put up a list of The Best Hotels in San Francisco that are ideal for business, leisure, and family getaways.
Explore the picturesque bay region studded with historic landmarks, pier 39, ferry buildings, bell-ringing cable cars, a gorgeous shoreline, and stunning bridges.
Every trip meets its end at the hotel, and hotels in San Francisco meet their expectations for comfort and luxury; indulge in many wine tastings and world-class cuisines as you relax in the modern green spaces of the city.
With its plethora of lodging options, we've selected the ones close to the city's major attractions, including the Golden Gate Bridge, Union Square, and the San Francisco International Airport, so that your comfort is not compromised and your research is slashed in half.
Find Places To Stay in San Francisco, California
Top 9 Hotels in San Francisco, CA
Aloft San Francisco Airport Hotel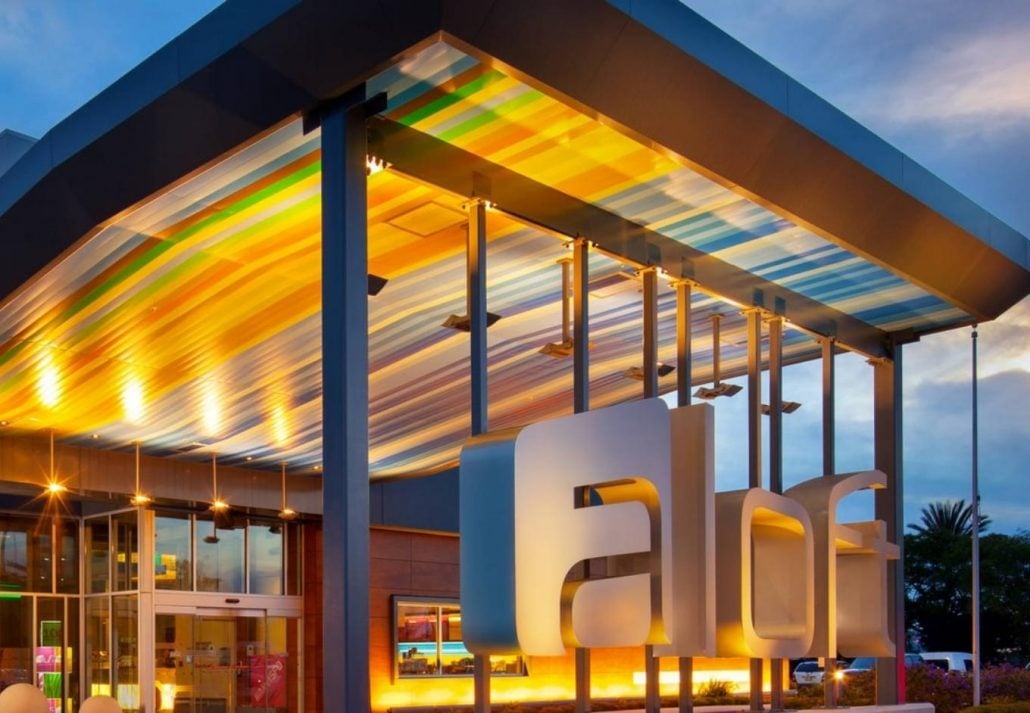 If you're seeking a comfortable and relaxing stay without going over budget, the top spot on our list goes to a cozy hotel, Aloft San Francisco airport.
The hotel is conveniently located among the most popular tourist destinations near the airport, only a short drive from downtown San Francisco and less than a mile from San Francisco International Airport.
The staff at the hotel is welcoming, and you can easily hop onto the free airport shuttle to San Francisco International Airport that the hotel provides or a cab to reach the airport in no time.
If you're looking for entertainment, the hotel has a sleek cocktail bar with Live music, specialty drinks, and delectable nibbles, and between 4 pm-6 pm all their Beer, wine, and wings feature a special discount.
Situated 15 miles south of San Francisco's city center, the hotel is equipped with comfortable, king-sized beds, free WiFi, workstations, a fitness center, and an indoor pool. Your stay in San Francisco will be unique thanks to Aloft San Francisco Airport's friendly service and gorgeous ambiance.
Address: 401 E Millbrae Ave, Millbrae, California, CA 94030, United States
Hotel Nikko San Francisco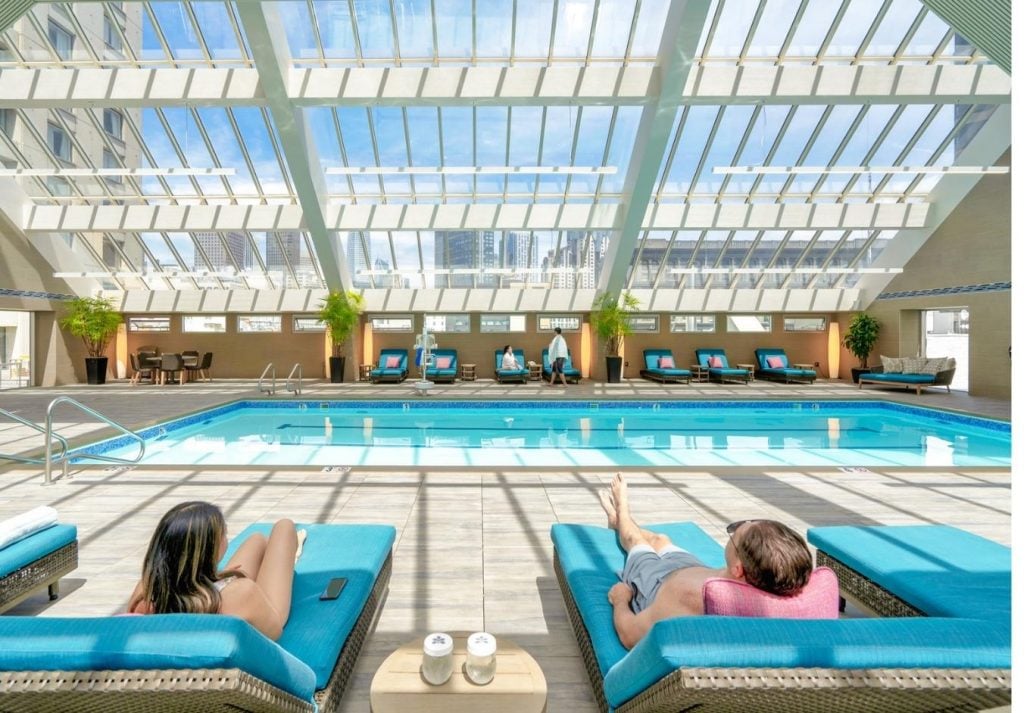 Experience the ambiance of Downton San Francisco luxury in hotel Nikko San Francisco; this boutique hotel in union square provides a charming and welcoming environment to its guests with great care and hospitality. Explore the beautiful City by the Bay, from Union Square to the Golden Gate Bridge.
The amenities at the hotel include free Wi-Fi in every room, a 24-hour front desk, facilities for guests with disabilities, luggage storage, and multilingual staff; the hotel has taken extra care to meet all the attention and requirements the guest might have.
The atmosphere of the guestrooms is cozy and comfortable, and the guests have access to the hotel's hot tub, fitness center, sauna, indoor pool, and spa making their stay more pleasant.
Moscone convention center, San Francisco City Hall, and Coit Tower are all popular attractions close to the hotel, and the Oakland International Airport is just 11 miles from the Hotel Nikko San Francisco.
Address: 222 Mason St, 94102, San Francisco, California, United States
San Francisco Marriott Marquis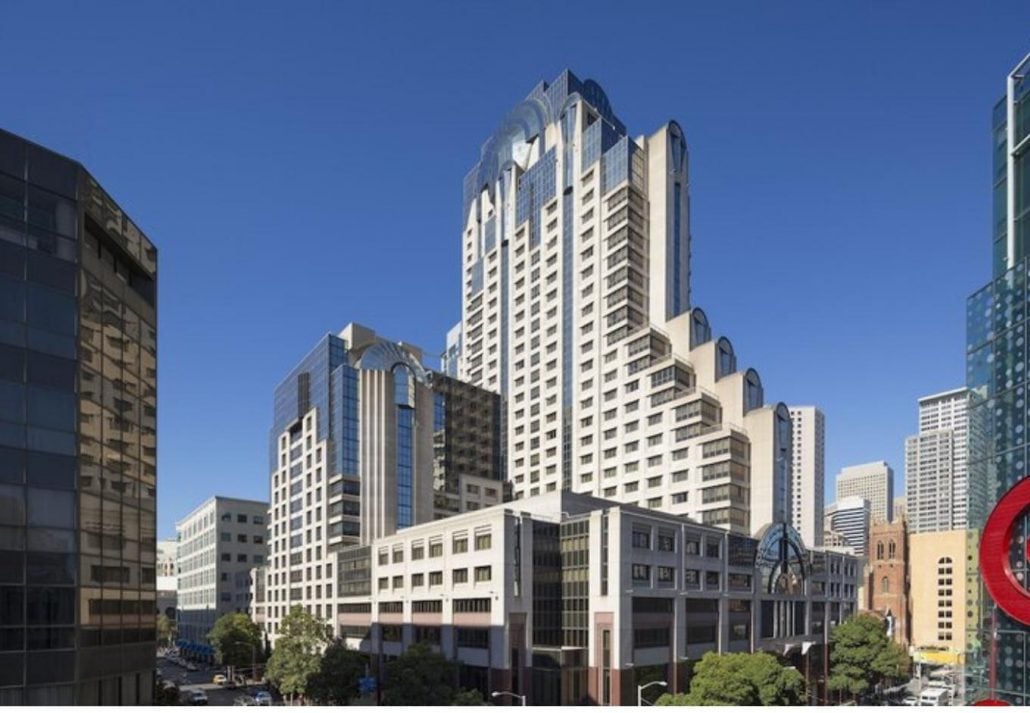 The San Francisco Marriott Marquis hotel offers friendly service, spacious hotel rooms, and suites; It's a stunning building housed in the convenient location of premier downtown, making it an ideal stay for any trip.
The hotel offers amenities like a 24-hour gym, valet parking, meeting space, limo/town car service, free wi-fi, bilingual front desk staff available around the clock, and laundry facilities.
Take advantage of the proximity of Chase Center, Oracle Park, Union Square shopping, and the museums in SoMa and Yerba Buena, all conveniently accessible to visitors from the hotel.
Unwind and refresh from your travels in the hotel's luxurious contemporary stay; you can enjoy delicious food with a stunning view that offers panoramic views of San Francisco on the 39th floor.
Address: 780 Mission Street, San Francisco, California, 94103, United States
Handlery Union Square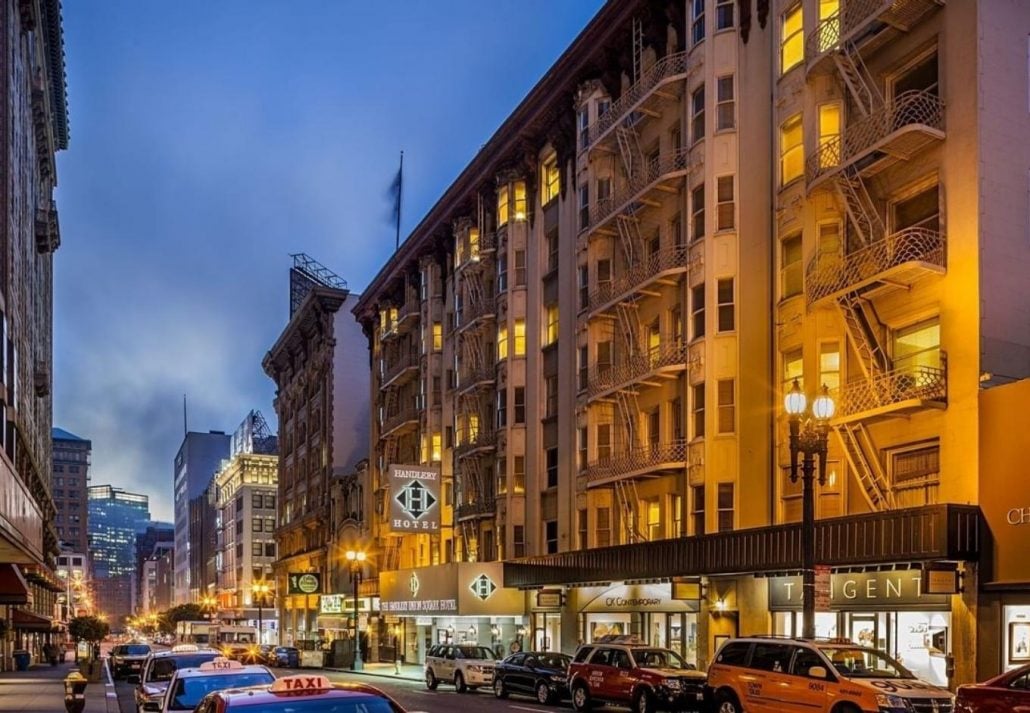 As a family-run hotel, Handlery union square hotel, San Francisco provides its guests warm hospitality; located at one of San Francisco's most popular locations, the hotel is an ideal lodging option; for tourists and business travelers.
The hotel offers individualized service, cozy accommodations, an outdoor pool, and a welcoming environment with exquisitely furnished rooms and suites; With just a walking distance from the world-famous cable cart stop, you're in for a restful and comfortable stay at this accommodation.
Most hotels fail to match the standards of affordable luxury set by The Handlery Union Square Hotel. With decor inspired by the charm of old San Francisco and contemporary style, this family-friendly hotel offers 377 guestrooms and suites that make it a cozy, tranquil haven for families, couples, business travelers, and vacationers.
Address: 351 Geary Street, San Francisco, California, CA 94102, United States
The Westin St. Francis San Francisco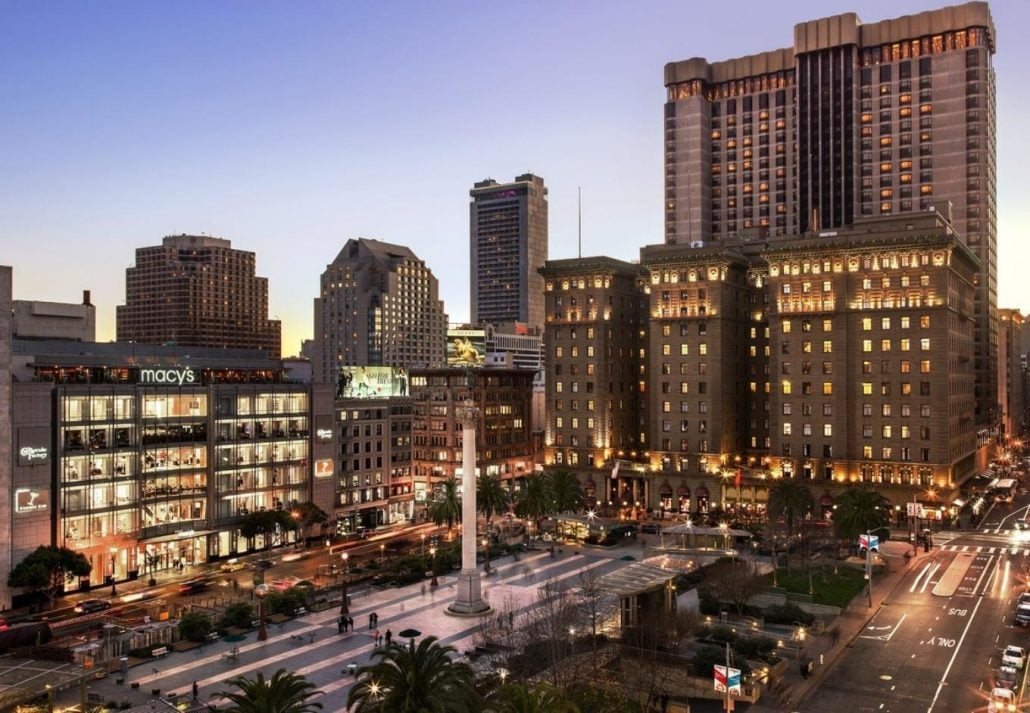 San Francisco landmark hotel since 1904, Westin St. Francis, San Francisco on Union Square, is located in the city's epicenter of social, literary, and artistic life.
You will undoubtedly enjoy the richness of the bay city in the only hotel on Union Square, SF.
This hotel is close to the Financial District, Moscone Convention Center, business center, and cable cars just outside the front doors and within walking distance from Chinatown and North Beach.
Without the hassle of cabs and transport, spend the day exploring the city's well-known museums or shopping centers at the top-notch stores, then wind down by night with a theater or exciting nightlife.
Enjoy the hotel's contemporary accommodations and comfortable stays, or go all out and reserve one of their suites for breathtaking San Francisco views and spacious living and dining areas.
After a tiring tour filled with adventures in the city, take advantage of the hotel's fantastic assortment of options in the hotel's bar, restaurant, cafe, and wine tasting room.
Westin St. Francis certainly knows how to make a pleasant stay even better!
Address: 335 Powell St, San Francisco, CA 94102, United States
Hotel Drisco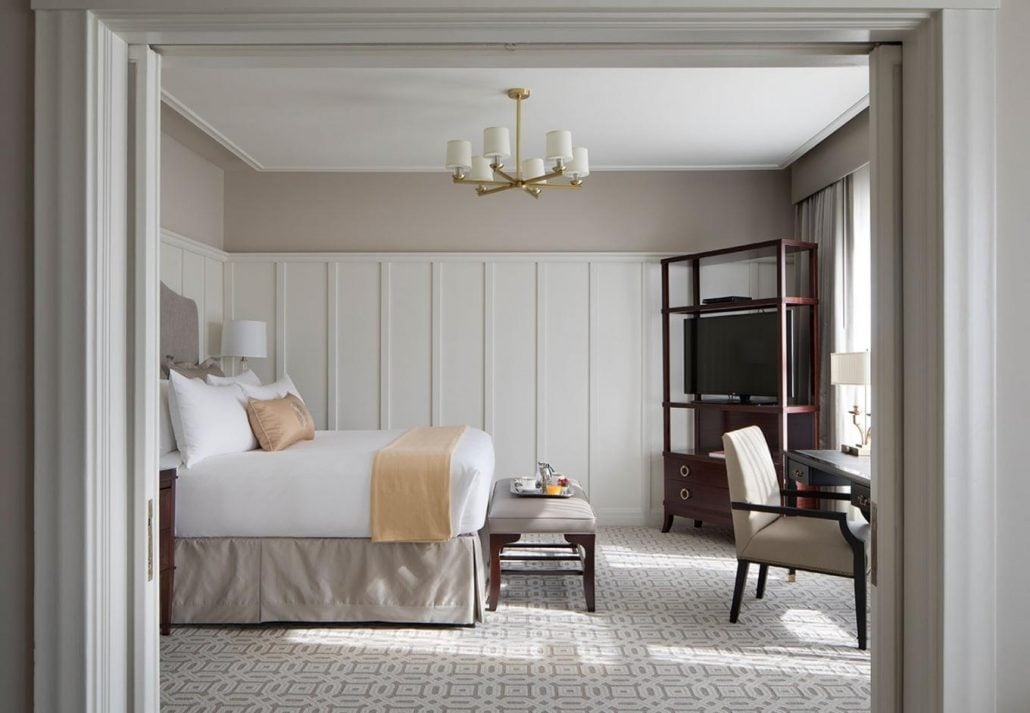 The San Francisco Hotel Drisco offers cozy, comfortable accommodations to its guests. The hotel prioritizes comfort, offering the best pillow top mattresses and premium bedding exclusive to the property. You will also find a pillow menu and a sleep machine that will cater to all your needs and ensure; that you get a good night's sleep before beginning your adventures in the incredible bay city.
Hotel Drisco takes comfort seriously and is undoubtedly one of the best San Francisco hotels with other attentive decorations and accents.
The contemporary hotel Drisco has successfully combined elegance and timelessness in its decor. With its top-notch service staff, free internet, chauffeured services, and complimentary breakfast and evening wine reception, you'll be in the lap of luxury throughout your stay.
The Fillmore, Union, and Sacramento Streets are all within walking distance from Hotel Drisco; stroll through three well-known districts for dining, shopping, and entertainment, each with its eccentricities.
Address: 2901 Pacific Ave, CA 94115, USA, San Francisco, California, United States
San Francisco Palace Hotel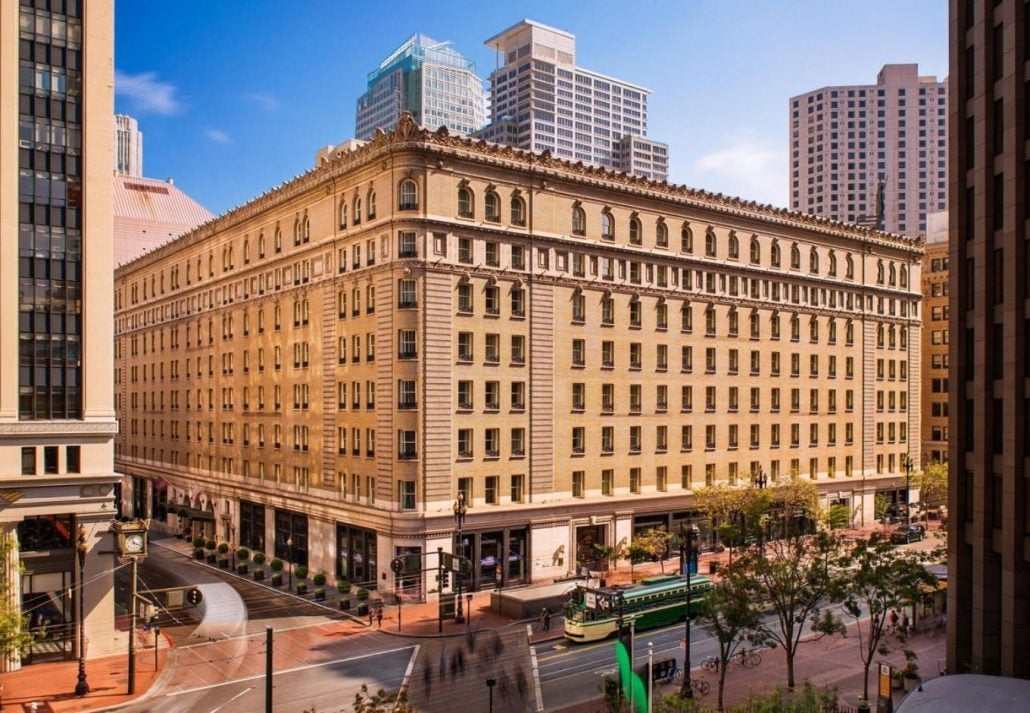 The San Francisco palace hotel is a luxury collection hotel adorned with stunning architecture, world-class services, and timelessness; centrally located in downtown San Francisco, the hotel strikes a perfect balance of the classics of old San Fran with contemporary touches.
The hotel ensures utmost comfort with facilities like professional concierge assistance, a well-equipped fitness center, a business center for corporate purposes, valet parking, in-room dining, a heated indoor pool, event services, and more available to its guest.
San Francisco palace hotel provides an experience that you will expect from one of the best luxury hotels in the city, with two renowned restaurants and breathtaking views; the hotel also has a great location.
Explore downtown San Francisco during your stay with adventures in Chinatown, union square, and cable cars, all within a few blocks from the hotel.
Rest easy with the top-notch five-star services of this exemplary property and fitted amenities suited for the first luxury hotel in San Francisco, CA.
Address: 2 New Montgomery St, San Francisco, CA 94105, United States
Holiday Inn Golden Gateway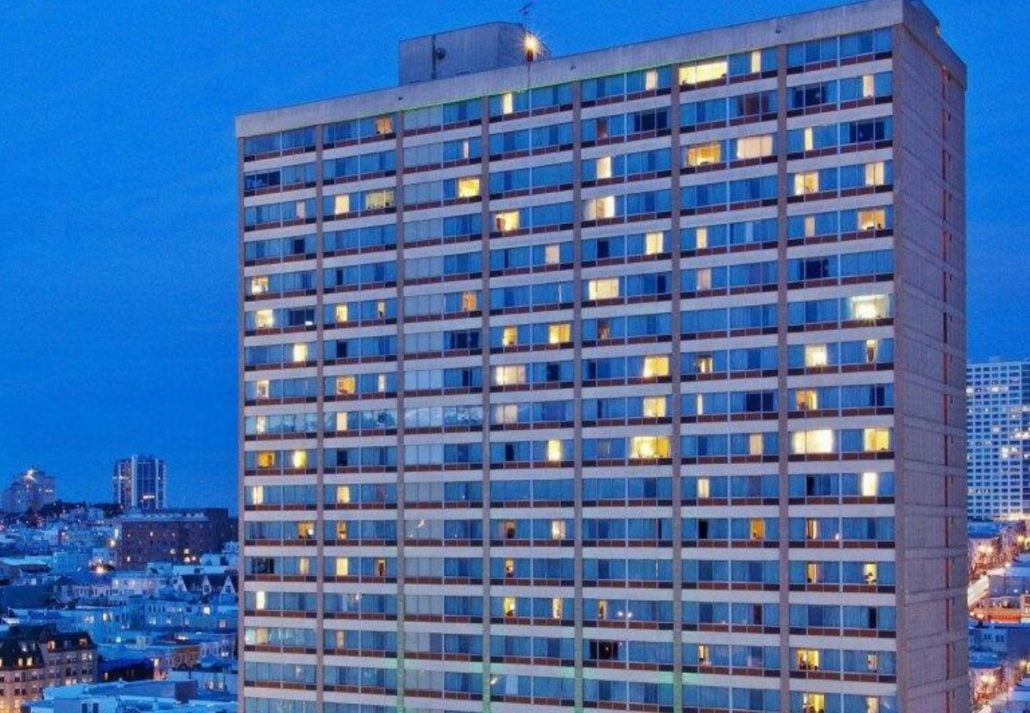 Discover solace in the Holiday Inn Golden Gateway hotel, conveniently located near downtown San Francisco with breathtaking views.
The hotel is well-equipped with modern amenities and friendly staff; it has 13 conference rooms, free WiFi, valet parking, a dining area, a fitness center, an outdoor pool, and express check-out services; making it an ideal fit for business travels as well as holidays.
Wander around San Francisco's intriguing destinations, like the Golden Gate Bridge, Golden Gate Park, Nob Hill, Oracle Park, Palace of Fine Arts, Alcatraz Island, cable car route, and more, all close to the hotel.
Come back and soak in the comfort of triple-sheeted beds, blackout draperies and a range of craft beers, cocktails, and wines with delicious American cuisine in the hotel's restaurant.
Address: 1500 Van Ness Ave, San Francisco, California, CA 94109, United States
InterContinental Mark Hopkins San Francisco, an IHG Hotel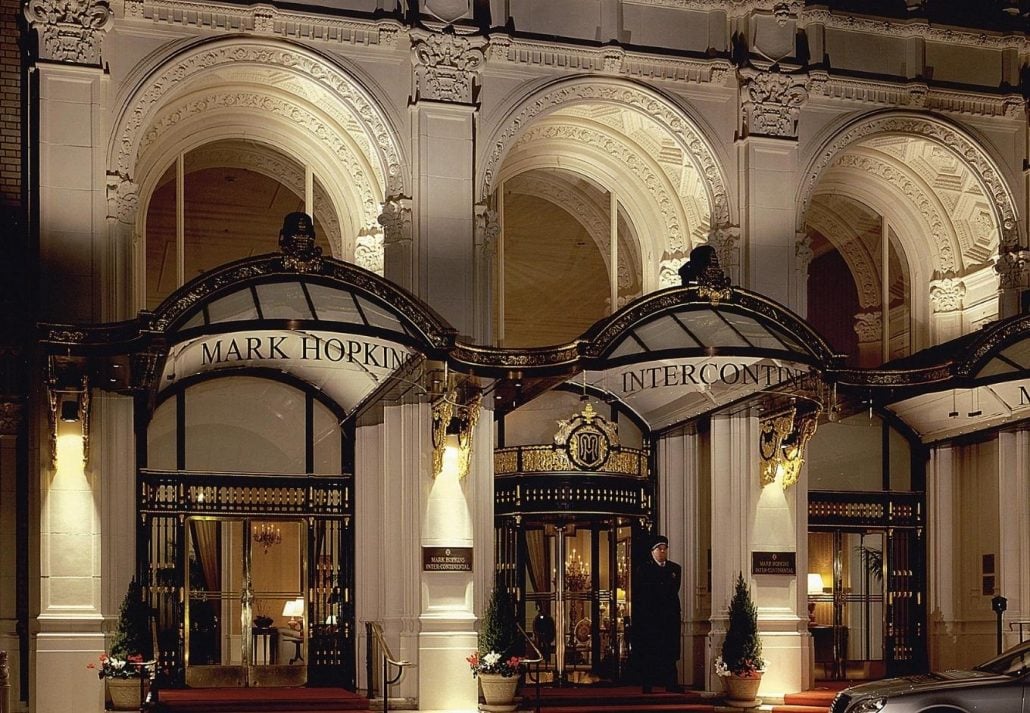 Located in Nob Hill is the Intercontinental Mark Hopkins, San Francisco is a chic and opulent hotel in the city of the bay, complete with luxurious amenities and cutting-edge architecture.
Its spacious hotel rooms offer stunning views of San Francisco's SoMa neighborhood, making your stay even more luxurious.
It is also conveniently located close to the Financial District, Union Square, San Francisco's Chinatown, and Fisherman's Wharf.
The hotel has an indoor lap pool, a 24-hour fitness center, a restaurant, and a bar available to its guests and with contemporary conveniences like flat-screen TVs, minibars, and coffee machines in the hotel rooms.
Explore the marvels of San Francisco at the Intercontinental Mark Hopkins hotel.
Address: 999 California Street, San Francisco, 94108, United States
FAQ
What is the average cost of a hotel in San Francisco?
A hotel room in San Francisco costs an average of $350 – $397 a night.
Are four nights in San Francisco plenty for a trip?
Take advantage of San Francisco's dynamic neighborhoods, top-notch cuisine, and other attractions. It is an excellent city that can be explored every day. Exciting daytime activities and thriving nightlife will occupy your four nights!
Which are the hotels in downtown San Francisco?
Hotel Emblem San Francisco
Hyatt Regency San Francisco Downtown SOMA
Handlery Union Square Hotel
Staypineapple
Which are the best hotels in San Francisco?
Four Seasons Hotel San Francisco
The Ritz-Carlton, San Francisco
Four Seasons Hotel San Francisco at Embarcadero
The St. Regis San Francisco
Which San Francisco hotels have the best views?
The Fairmont Heritage Place Ghirardelli Square

Hotel Drisco
Four Season Hotel, San Francisco
St. Regis San Francisco
Which are the best budget-friendly hotels in San Francisco
Civic Center Inn
Hotel Triton
Amsterdam Hostel San Francisco
Hotel G San Francisco
Which are the best hotels in San Francisco union square?
Hilton San Francisco Union Square
Warfield Hotel
Handlery Union Square Hotel ·
King George Hotel.
Which are the best hotels in San Francisco near fisherman's wharf?
Holiday Inn Express & Suites San Francisco Fishermans Wharf, an IHG Hotel
Hyatt Centric Fisherman's Wharf San Francisco
San Francisco Marriott Fisherman's Wharf
Hotel Riu Plaza Fisherman's Wharf
CuddlyNest provides all accommodations to all travelers at the best price. Find unlimited travel inspiration on our blogs and our social media channels Facebook, Instagram, Pinterest.
You May Also Like:
11 Off The Beaten Path Experiences In San Francisco
The 20 Best Restaurants In San Francisco
The Best Time to Visit San Francisco, California
A Guide To The 7 Best Beaches in San Francisco, California
The 5 Best Amusement Parks in San Francisco, California
5 Amazing Wineries In San Francisco, CA
The 9 Best Outdoor Attractions in San Francisco, California