When it comes to the top experiences in San Francisco, many people think of exploring multicultural neighborhoods, riding iconic cable cars, indulging in mouthwatering seafood, and, of course, marveling at the legendary Golden Gate Bridge. But there's a lot more on offer in this one-of-a-kind city.
San Francisco also boasts a splendid array of theme parks and amusement parks that are perfect for when you're seeking an extra dose of fun.
Whether you want to scream your head off on crazy roller coasters or battle the California heat in a huge wave pool, you're sure to find the perfect amusement park around the San Francisco Bay area.
Here's a round-up of 5 bucket-list amusement parks in and around San Francisco. From parks filled with adrenaline-inducing amusement rides to sprawling zoos hosting heart-warming animal encounters, we've included places that are suitable for all ages and profiles. Have a look below.
Find Places To Stay in San Francisco, California
5 Bucket List Amusement Parks In San Francisco, CA
California's Great America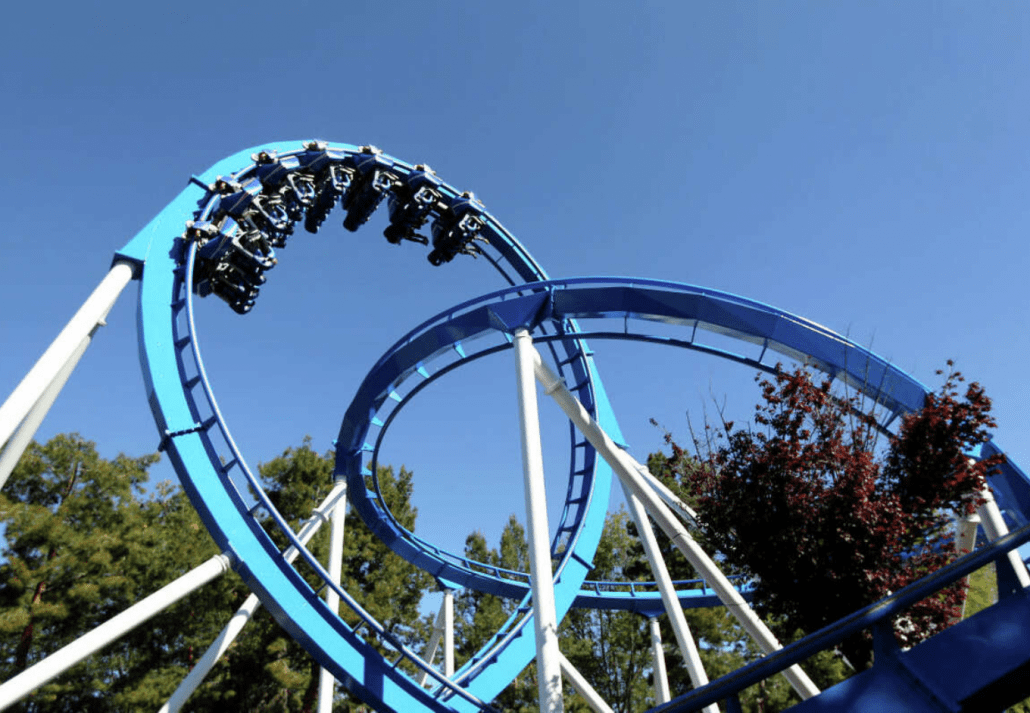 California's Great America is often dubbed one of the top amusement parks in Northern California. Located near San Jose, the park is home to more than 60 exciting rides, making it the perfect destination for thrill seekers.
Those who want to get their hearts racing can't pass up the chance to ride the RailBlazer, Great America's single-rail steel coaster, and Demon, a high-speed, looping roller coaster that turns riders upside down four times.
Are you visiting the park with the kids? No worries, Great America has plenty of gentler options too. A bucket list experience for the little ones is riding an antique car in the Barney Oldfield Speedway and getting the excitement of driving on their own!
California's Great America is also home to a waterpark, South Bay Shores, which is the ideal place for beating the hot summer heat of California.
From pulse-pounding water slides like the six-story drop on Pacific Surge to the relaxing streams of Rushin' River, there's something for every adventure level.
Address: 4701 Great America Pkwy, Santa Clara, CA 95054
Best rides & attractions: Gold Striker, RailBlazer, Flight Deck, Demon
Six Flags Discovery Kingdom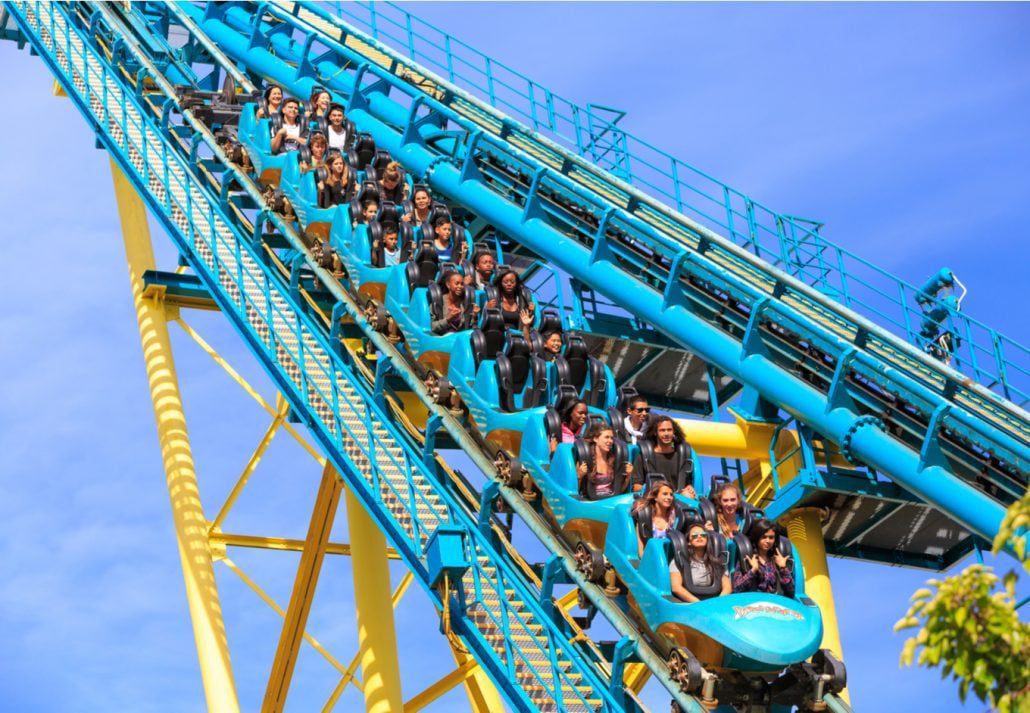 Six Flags Discovery Kingdom is the ultimate destination for adrenaline junkies. Located in Vallejo, 30 minutes from San Francisco, this 135-acre animal theme park is home to a dazzling array of thrill rides, including some of the fastest, tallest, and wildest, coasters in the country.
One of the highlights of this fun-filled amusement park is the SUPERMAN Ultimate Flight, which features world-class twists that warm you up for an utterly unique non-inverting loop. Other worth-experiencing attractions are BATMAN: The Ride, a state-of-the-art 4D Free Fly Coaster that thrusts you into a high-speed Gotham City adventure, and the Dare Devil Chaos Coaster, where you'll be looping full speed around a single circular track up to seven stories high.
Six Flags also flaunts a variety of kid-friendly attractions such as swinging ships, bumper cars, rock walls for climbing, and wave swingers. Little kids will also enjoy visiting "Alligator Island", where they'll get face to face with the largest reptile in North America and the park's animal nursery/vet clinic, home to lizards, bats, sloths, and other friendly animals.
Address: 1001 Fairgrounds Dr. SW, Vallejo, CA 94589
Best rides & attractions: Kong, Medusa, BATMAN: The Ride, SUPERMAN Ultimate Flight, THE JOKER.
Santa Cruz Beach Boardwalk
The Santa Cruz Beach Boardwalk is one of the few beachfront parks on the West Coast of the United States. Offering breathtaking views of the Pacific Ocean, this admission-free amusement park boasts a plethora of fun rides for the entire family.
Daring riders will have a great time in the aerodynamic Cliff Hanger, where they'll enjoy the sensation of hang gliding as soaring past the beach and over the Boardwalk, and the Giant Dipper, of the top wooden coasters in the U.S. There's also Double Shot, a thrilling 125′ tower ride with breathtaking ocean views, and Typhoon, which will launch you six stories above the Boardwalk for some serious upside-down thrills.
Family-friendly rides include the gentle Free Fall, which springs riders up and drops them down for a joyful good time, and the iconic Cave Train a glow-in-the-dark train ride that takes passengers on a journey under the Boardwalk.
And there's more! Aside from thrilling rides, the Boardwalk is also home to a casino arcade, a mini-golf course, a massive laser tag arena, and a bowling facility with live entertainment, and karaoke.
Address: 400 Beach Street, Santa Cruz, CA 95060
Best rides & attractions: Cliff Hanger, Crazy Surf, Cyclone, Double Shot, Giant Dipper
Six Flags Hurricane Harbour Concord
Known for its spectacular beaches, California also has a variety of world-class water parks that provide visitors with a refreshing escape from the summertime heat. One of the most coveted is Six Flags Hurricane Harbour, the largest water park in the Bay Area. Located in Concord, a city northeast of San Francisco, the park is known for its numerous water slides ranging from adrenaline-filled to family-friendly.
Worth-experiencing water rides include the Hurricane Slide Complex, an epic collection of turbo slides featuring ultra-twisted routes, and Tornado, a six-story funnel that swirls riders 75 feet in the air.
While visiting this exciting water kingdom, families will certainly enjoy the Big Kahuna, a raft slide with twists, turns, and exciting lurches, the gigantic wave pool, and the lazy river, which is the longest in the area
Address: 1950 Waterworld Parkway, Concord, CA 94520
Best rides & attractions: Hurricane Slide Complex, The Big Kahuna, Tornado, Typhoon Slide Complex, Caribbean Complex
Sonoma TrainTown Railroad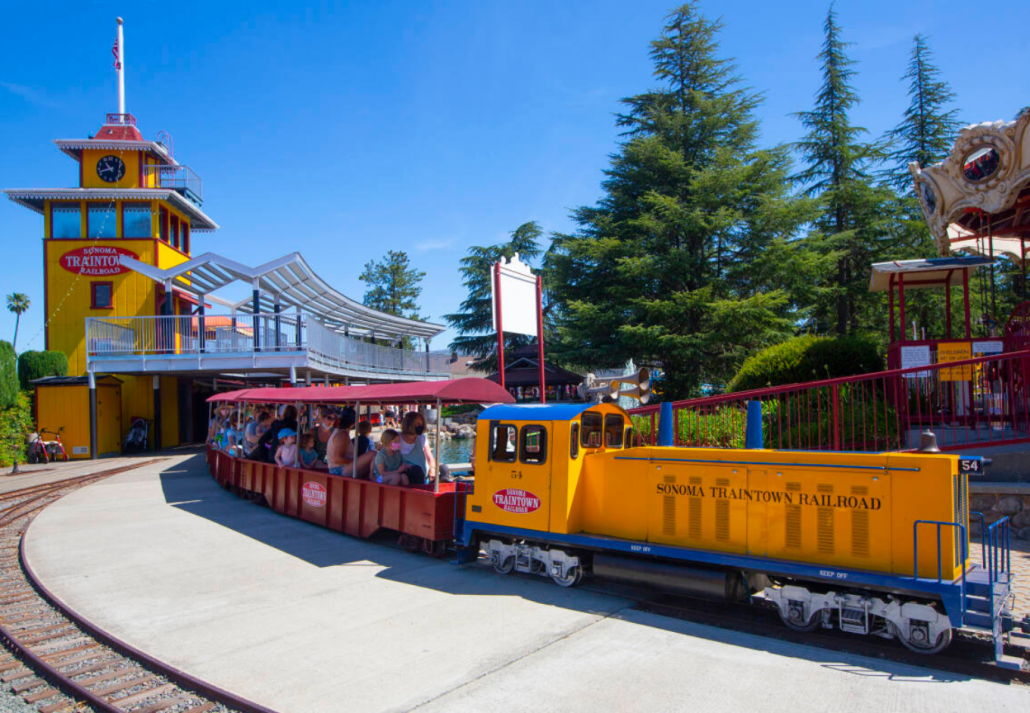 Founded in 1958 by Stanley L. Frank, an Oakland printing magnate, TrainTown is one of the finest garden-estate railways in the world. This wooded 10-acre amusement park in Sonoma is filled with family rides, including a giant Ferris Wheel, a coaster, and a horse carousel, all railroad-themed.
The park's top attraction, however, is the train ride that travels through a quarter-scale railroad on four miles of track. Train rides last 20 minutes and take passengers through tunnels, and over bridges. They also make a stop at Lakeview — a miniature town and petting zoo.
Park admission and parking are both free for the whole family. Instead, visitors buy individual tickets for the attractions.
Thanks to its unique rides and attractions, and a gorgeous location within lush gardens, TrainTown Railroad is one of the top theme parks near San Francisco.
Address: 20264 Broadway, Sonoma, CA
Best rides & attractions: Train ride, High Iron Ferris Wheel, Mine Train Coaster
FAQ
Does San Francisco have an amusement park?
There are several amusement parks located near San Francisco, less than a 40-minute drive from the city.
Is there a roller coaster in San Francisco?
Close to San Francisco, less than a 40-minute drive from the city, there are several amusement parks home to some of the wildest roller coasters in the U.S.
Is Great America and Six Flags the same?
California's Great America and Six Flags, in California, are different parks.
What are the best amusement parks in San Francisco?
The best amusement and theme parks near San Francisco are:
California's Great America;
Six Flags Discovery Kingdom;
Santa Cruz Beach Boardwalk;
Six Flags Hurricane Harbour Concord;
Sonoma TrainTown Railroad.
What are the best water parks near San Francisco?
The South Bay Shores Waterpark and the Six Flags Hurricane Harbour Concord are considered the best water parks near SF, California.
Browse. Book. Stay.
CuddlyNest provides all accommodations to all travelers at the best price. Find unlimited travel inspiration on our blogs and our social media channels Facebook, Instagram, Pinterest
You May Also Like:
North America Travel Guide
Most Romantic Weekend Getaways in the United States
Long Weekend Getaways in the United States
Best Family Vacations In The United States
Best National Parks In The United States
Best Cabin Rentals in the United States
Best Dog-Friendly Vacations In The United States
Best Getaways In Southern California
The Ultimate California Travel Guide
11 Off The Beaten Path Experiences In San Francisco
The 20 Best Restaurants In San Francisco
The 15 Most Instagrammable Places In San Francisco, California
The 10 Best Beaches Near Orlando, Florida
The 10 Most Beautiful Islands in Florida
A Guide To The 7 Best Pensacola Florida Beaches
The 15 Best Beaches In The United States
The 10 Best Theme Parks in The USA
The 8 Best Theme Parks in Orlando, Florida
7 Best Water Parks In Orlando, Florida
The 15 Best Water Parks in the World